SMSC and PSHE
Head Pupil Nominations
Nominations for our Head Pupils this year took place virtually on Friday, 11th September. Year 6 pupils delivered amazing speeches to the whole school, via Microsoft teams! All the pupils who took part were incredible! Pupils voted in their classes, using a variety of voting techniques, including a ballot box. Results will be announced on Monday.
Kindness
The Duchess of Cambridge has led an assembly today discussing how kindness positively impacts on mental health and well-being.
https://www.youtube.com/watch?v=AI8ox2bX_rQ
Look at the Oak National Academy website for more assemblies with special guests.
Sports Relief
As part of Sports Relief, Year 5 pupils designed and created a range of sports circuits for the pupils to complete. They had one minute to complete the exercises- great fun was had by all!
Washing our hands
Children have been embedding their hand washing skills outdoors to try and wash the germs from the rubber gloves hands. We certainly had lots of bubbles and did a great job remembering how to wash our hands.
Handwashing song
Seedlings children have been learning a catchy song to help them to remember how to wash their hands!
---
Watch a different song about how to wash your hands
Safer Internet Day
The Sunflowers have been learning all about how to stay safe when they go online.
W- My dad checks my games before he lets me play them.
T- Don't tell anyone on the internet your real name and where you live- they might be strangers.
G- Ask an adult to help you find the right games for your age.
C- Don't write horrible messages online.
G- If you see something scary or not very nice on the internet, tell a grown up straight away.
B- If you put your name, age, address and what your school is called on the internet, you are telling everyone in the world your personal information.
They designed some internet safety posters, which have some very important messages.
Friendship Event
Our after-school 'Friendship Event' was a great success - the pupils enjoyed the craft, decorating a biscuit and playing fun games with their friends. Well done everyone. There was a lovely, friendly atmosphere and everyone had a super time. Thanks for your support.
Mental Health Awareness Week
LQ: Can I recognise ways to take care of myself?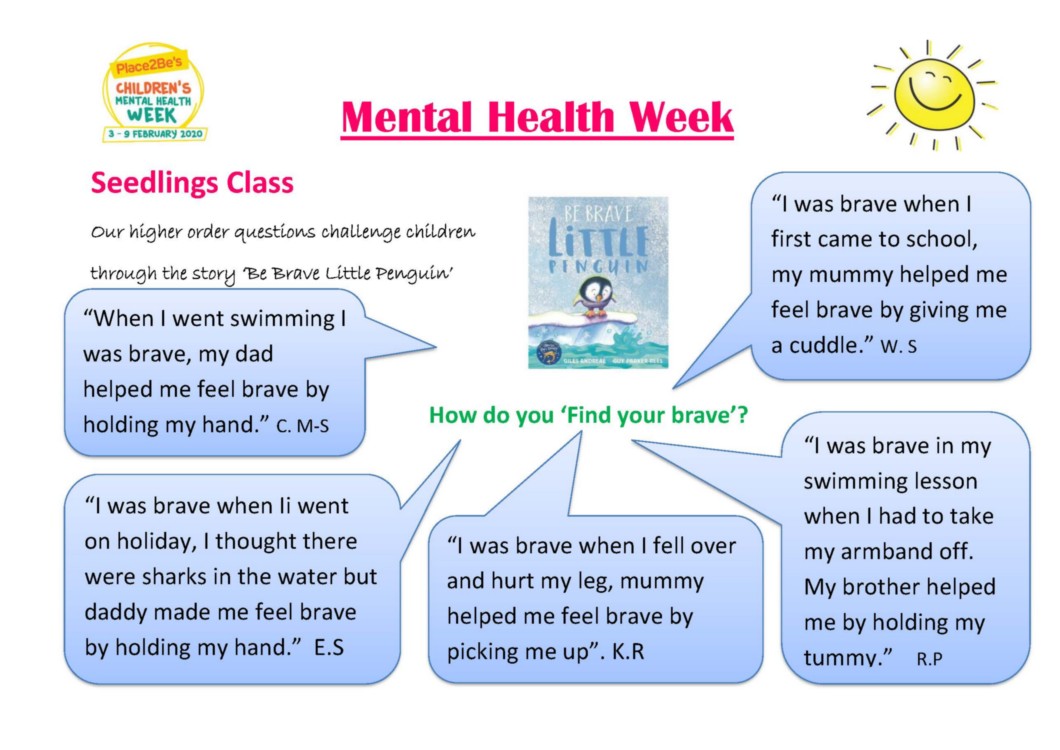 As part of mental health week Seedlings class have been talking about when they have 'felt brave', following the story 'Be Brave Little Penguin'.
Seedlings children then joined together with pupils for Year 6 to relax, be calm and learn some yoga moves!
Sunflower Class
Sunflower's got some great relaxation tips through yoga exercises from Year 6 pupils.
G- It was good to learn things from Year 6 people.
F- It made me chill out.
W- I liked the finger exercise to help you breathe calmly.
M- It was a bit like when we did animal yoga in PE.
Basic Hygiene Practice
Year 6 Pupils have shared the importance of practicing good basic hygiene in order to stop the spreading of germs.
Top Tips include;
always carrying tissues and using these if you need to cough or sneeze
disposing of tissues in the bin when used
washing hands after coughing or sneezing
washing hands after going to the toilet
always using soap and water to wash your hands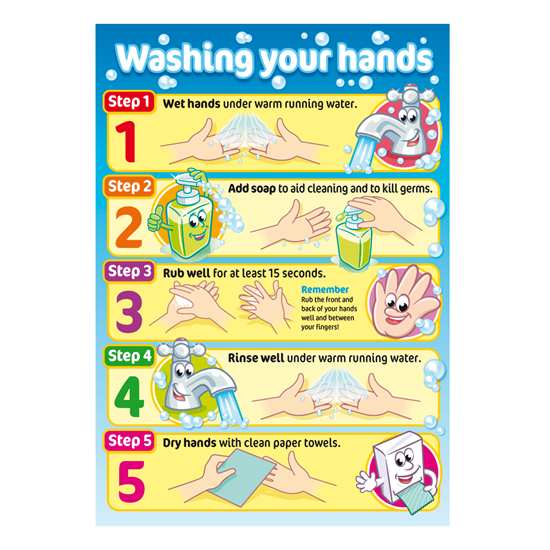 Charity Supporter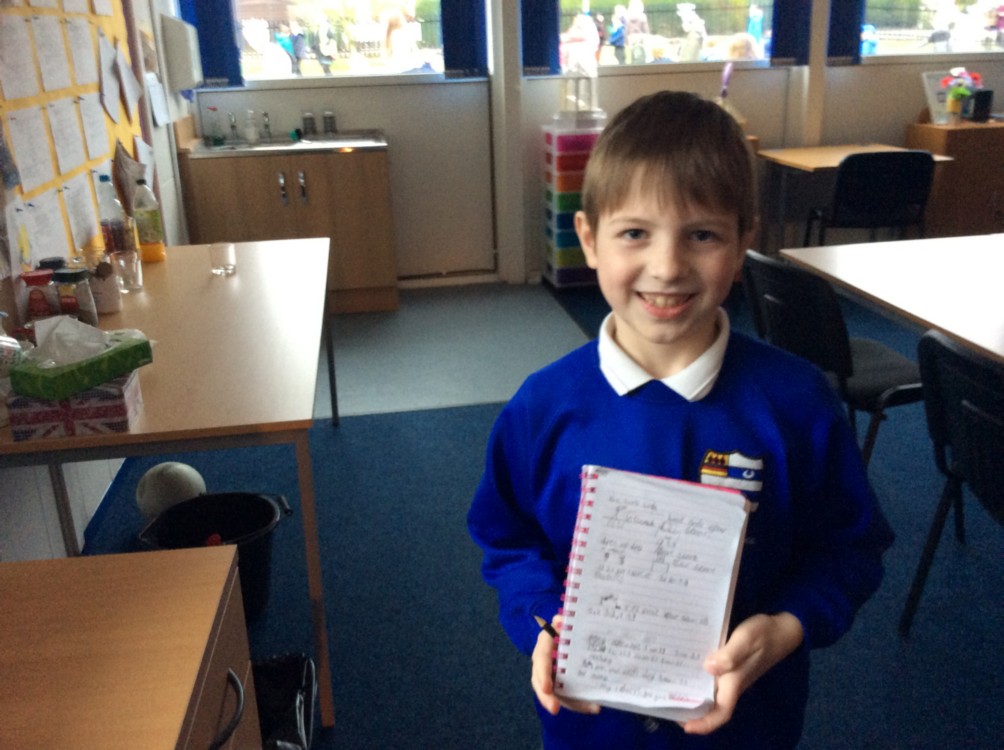 Well done - a wonderful Yr 4 pupil has a super plan to help a charity. He has planned to lead an assembly and a fund-raiser activity to help 'Liberia Chimp Rescue.' Very impressive organisation skills shown and a very caring nature.
LQ: Can I explore ways to celebrate Chinese New Year?
Gung Hay Fat Choy! – Happy New Year.
This week we have been celebrating the Chinese New Year, the year of the 'Rat'. There have been lots of different activities including, listening to the Chinese Zodiac story and sequencing the animals, tasting Chinese food, using chop sticks to pick up small objects and writing Chinese symbols too!
Community Thank You Coffee Morning
Well done to all the pupils for their performances at our 'Community Thank You Coffee Morning.' We are so grateful for the help and support we receive from this wonderful group of volunteers who help the school in so many different ways. The nurture group pupils helped make delicious scones for the cream teas and all classes performed - they shared songs a wonderful range of poems and songs. The pupils showed super performance skills and spoke with confidence and clarity. Thank you to all the staff who helped with the refreshments and organisation - it was a really lovely community event.
One visitor said, 'Fabulous morning! Such a wide range of skills demonstrated with such enthusiasm.'
LQ: Can I recognise and sort things that can be recycled?
Today we listened to Jenny from North East Lincs Council, talk about recycling. First we learnt about the words 'Reuse', 'Reduce' and 'Recycle' and what each of them mean before finding out which things can be recycled around our classroom and at home. Then we sorted some items into the correct recycling boxes and bins.
Can you tell a grown up which things can be recycled?
Can you find things you could reuse at home?
Building Works Complete!
Big thanks to the LA Assets Team - we have a new nurture space, group room and toilet block. This provision will help ensure continued excellent outcomes for our pupils at Stanford. We are really excited about our pupils having access to these new spaces.
ROAR#2019
Well done to the Year 6 team that were voted to have the best ROAR#2019 enterprise product - 'Inflatacozzy'.
Martyn, from Caistor Lions, came to watch the team's presentation and was very impressed! He presented the girls with their certificates and £10 book token.
Well done! You worked hard on your product and should be very proud!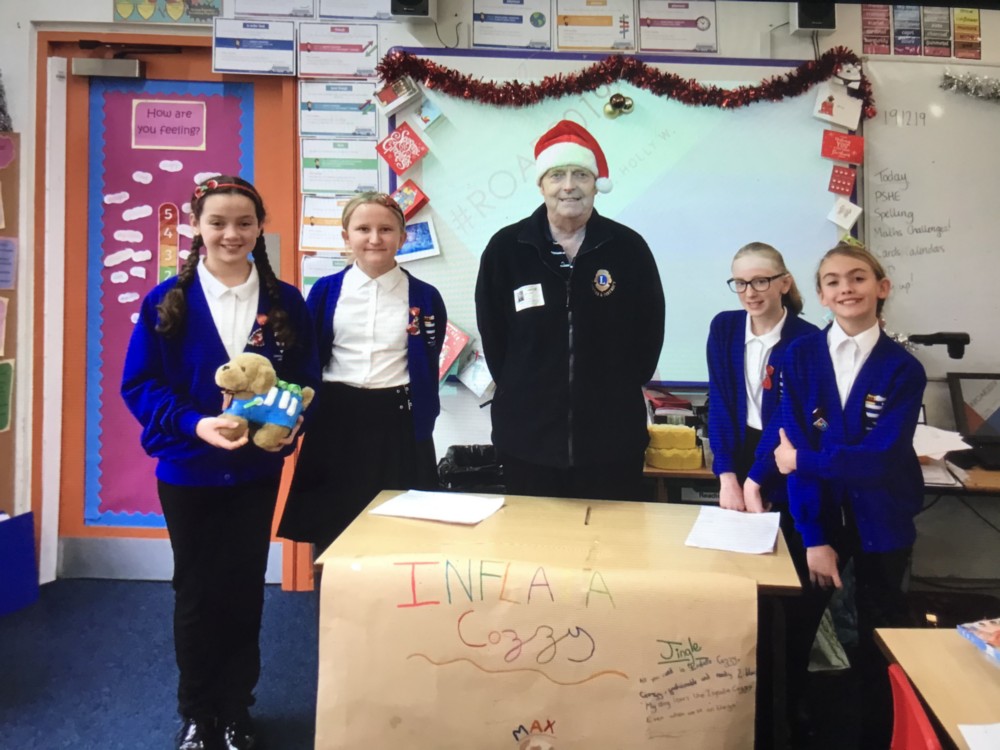 Our Christmas Trio
Well done to our Christmas Trio who entertained the school with their fabulous Christmas musical routine. Spreading Christmas joy!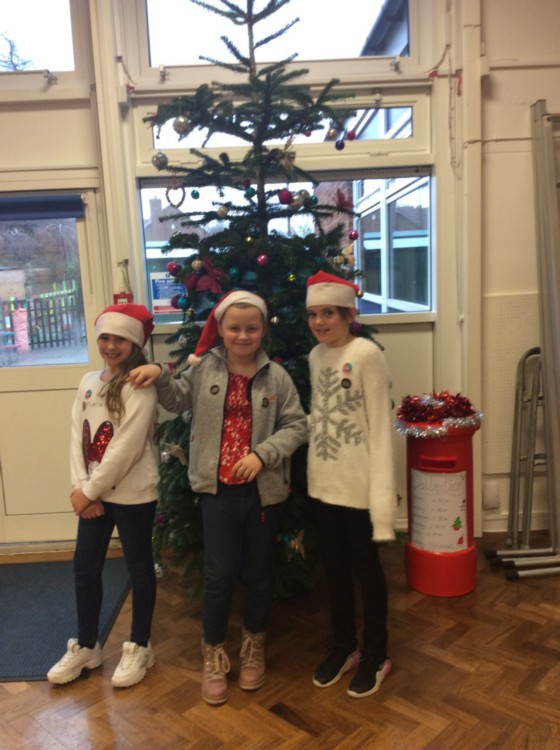 Building Works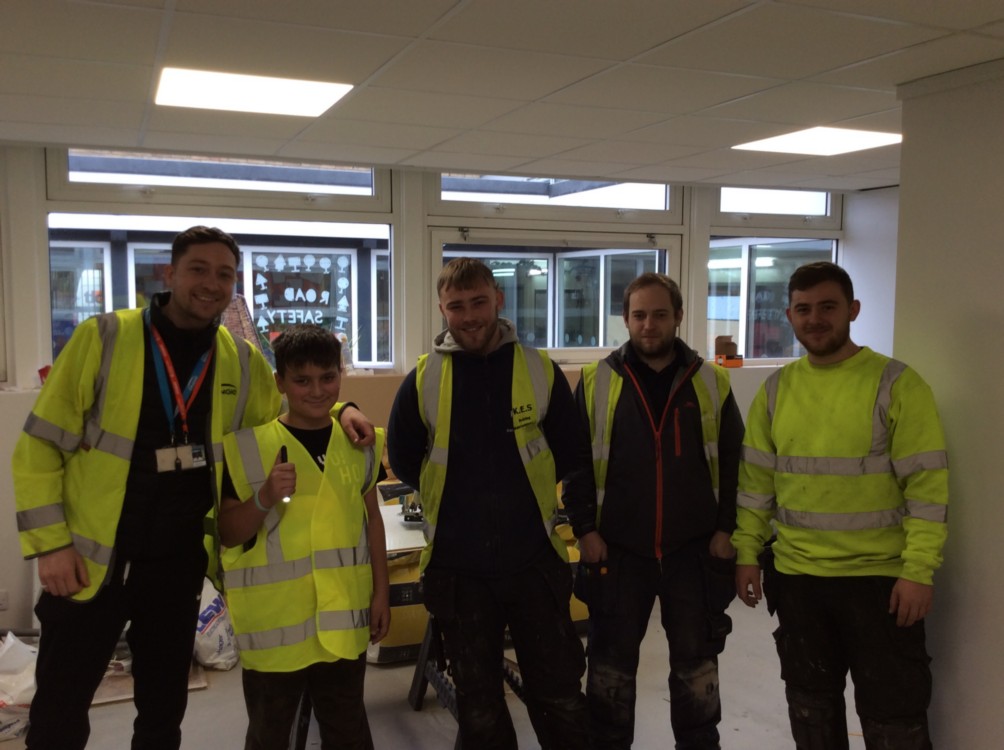 The Assets Team and builders are doing a great job - we are so excited to see the finished new nurture space, corridor and toilet block. This work has inspired some of our pupils o ask questions about the role of builders and the skills they need. Some pupils are considering this profession for when they grow up!
Thank you For taking part in Save the Children's Christmas Jumper Day
Your donation of £137.70 will help save children's lives and make sure they get the things they need to grow up healthy and happy. By taking part in the festive fun and fundraising you really have made the world better with a sweater.
Christmas Lunch
LQ: Can I express my thoughts and opinions by voting?
Today has been the General Election and Seedlings class have learnt about different party leaders, houses of parliament and how different party leaders might decide how to spend the country's money!
We linked this with the our Christmas enterprise and decided to vote on how best to spend the money!
Christmas Fayre
Fantastic turn out for our Christmas fayre - thank you for all your support! The pupils designed and created wonderful products for sale, Santa visited, Governors and volunteers helped out in the refreshments, parents/carers donated towards the tombola, staff led the stalls with the pupils, Mrs Drury and Miss King made the magic happen, year 6 led the games and local businesses supported the raffle prizes! A fantastic atmosphere helped by Pumpkin Class sharing their Christmas songs. Thank you everyone. All money raised will go towards school funds to purchase resources/events for our pupils.
Anti-Bullying Week
The ABA (Anti-Bullying Alliance) defines bullying as: The repetitive, intentional hurting of one person or group by another person or group, where the relationship involves an imbalance of power. Bullying can be physical, verbal or psychological. It can happen face-to-face or online.
Anti-Bullying Week 2019 was all about making a change - 'Change Starts With Us'
At Stanford we had a whole school assembly and then held discussions in our classroom to think about what we could do to make a difference in our school to tackle bullying.
There was one clear message;
Small change. Big difference.
Whether it is verbal, physical, online or in-person, bullying has a significant impact on a child's life well in to adulthood. By making small, simple changes, we can break this cycle and create a safe environment for everyone. Because together, we can challenge bullying. Change starts with a conversation. It starts with checking in. It starts with work together.
Change starts here.
Change starts now.
Change starts with us.
Year 6 Pupil - 'With one small change - such as smiling and saying 'Good Morning!', or including someone in our games if they are looking sad, we can help to make someone's day better.'
Year 6 Pupil - 'It is everyone's responsibility to stop bullying, we all play a part in it.'
Year 4 Pupil - 'One small change we can do it to make sure that no one eats their lunch alone or is left with nobody to play with on the playground.'
Year 5 Pupil - 'It is important to be a good friend, look out for each other and listen to a friend's problems. Being there and supporting each other is really important.'
Little Princess Trust
Well Done - so proud of our Year 3 pupil who supported the Little Princess Trust.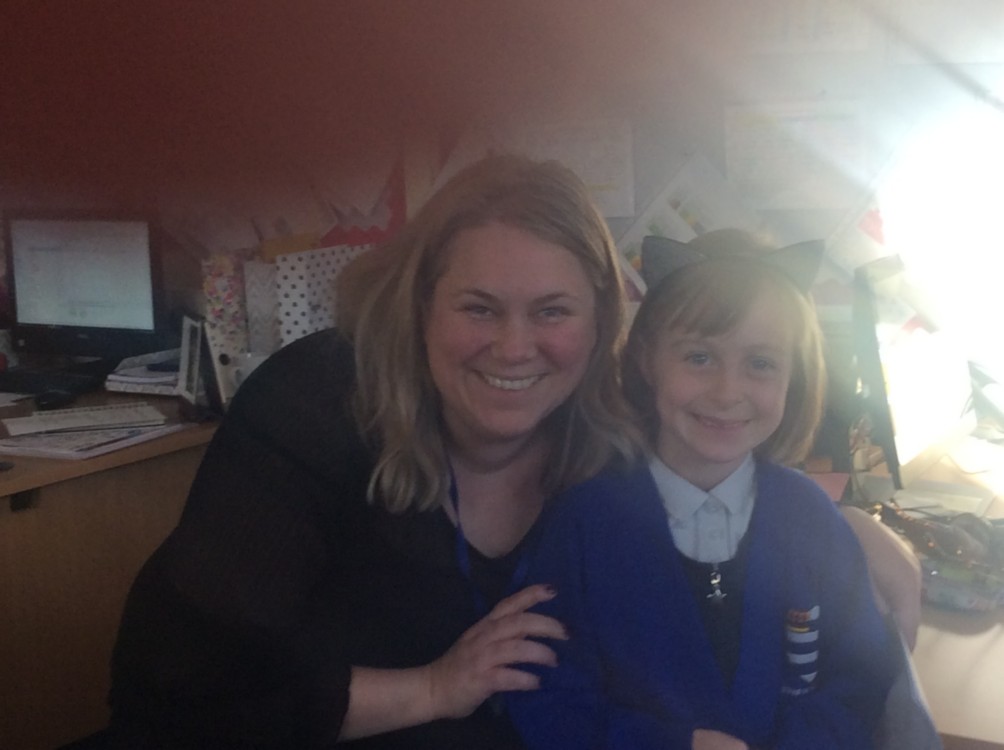 #ROAR2019
Year 6 have taken part in the 7 Billion Ideas Enterprise Project this term. Children worked in small groups to design a new product, create a poster, jingle and PowerPoint to present to the school in an assembly. The Year 6 children worked incredibly hard on this project and were very enthusiastic and professional during their presentations. Well Done!
After the assembly, each child in the school voted for their favourite idea.
A huge congratulations to the winning team - Inflata Cozzy!
Further details about the final will be revealed soon!
LQ: Can I talk about ways to keep safe near roads?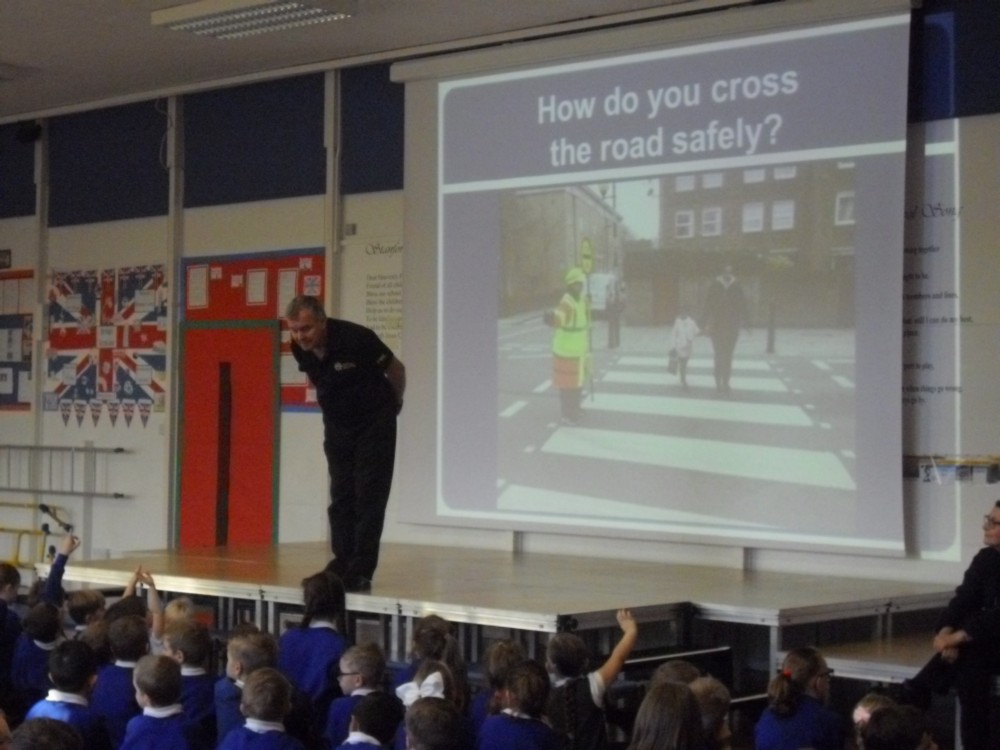 Seedlings class have been learning about ways to keep safe when near traffic. In assembly, Mark, Kieran and Alison talked about road safety, safe places to cross a road, such as a zebra crossing and the importance of wearing hi viz jackets and seat belts in a car.
Can you tell a grown up how to safely cross a road?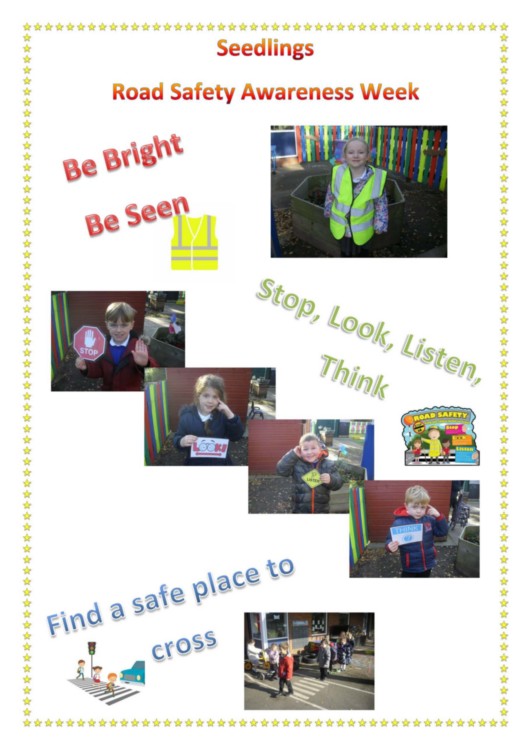 Young Minds Matter
Our Young Minds Matter link worker, Jayne Jennings, came and delivered an assembly to the whole school on What is Mental Health
LQ: Can I recognise ways to be kind to others and be a good friend?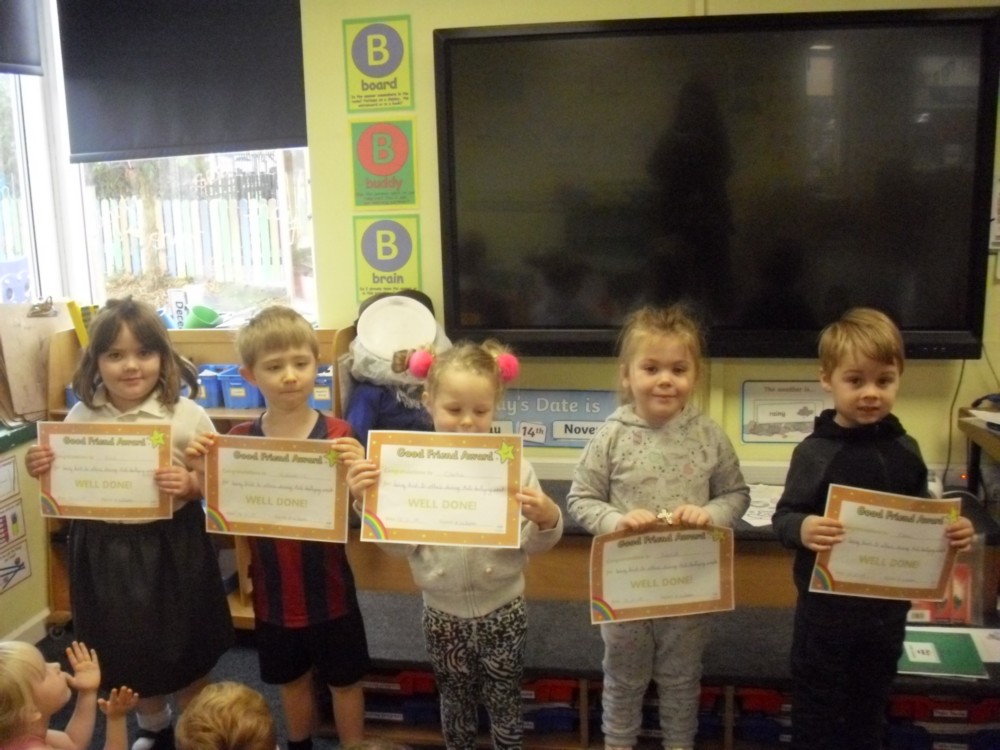 This week our focus has been about 'Anti-bullying '. During the week children from Seedlings class thought about who they might talk to if they felt sad, talked about 'top tips for a happy class and school' and played with a new or different friend. We also recognised extra friendly children during the week.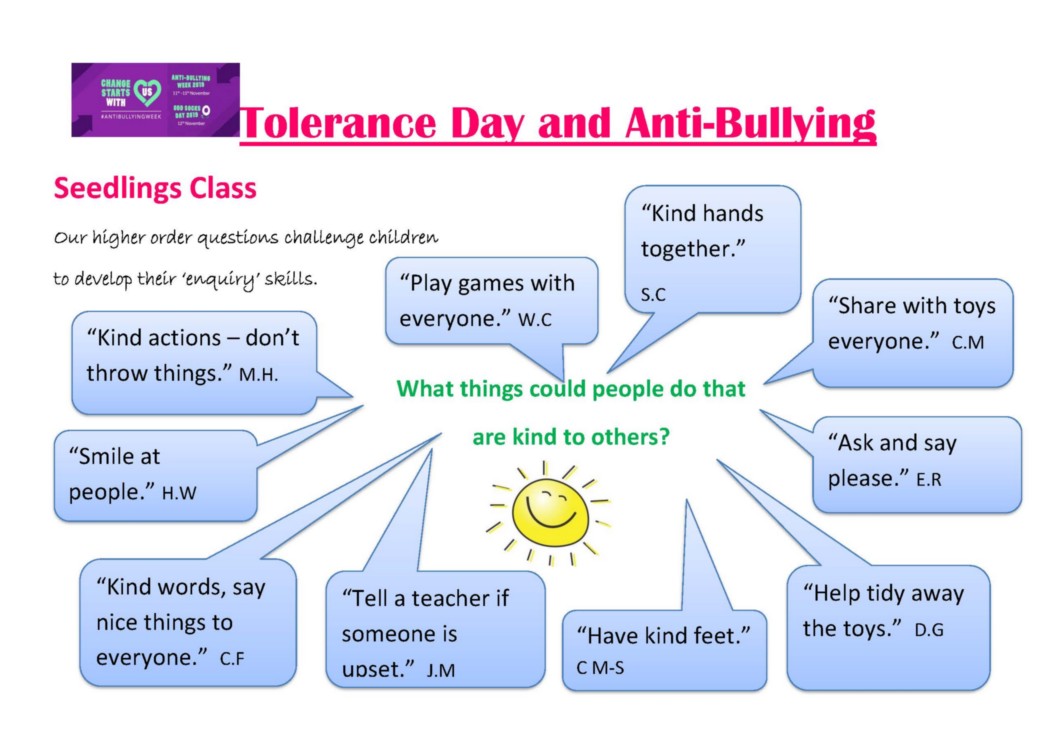 LQ: Can I take part in raising awareness for Diabetes?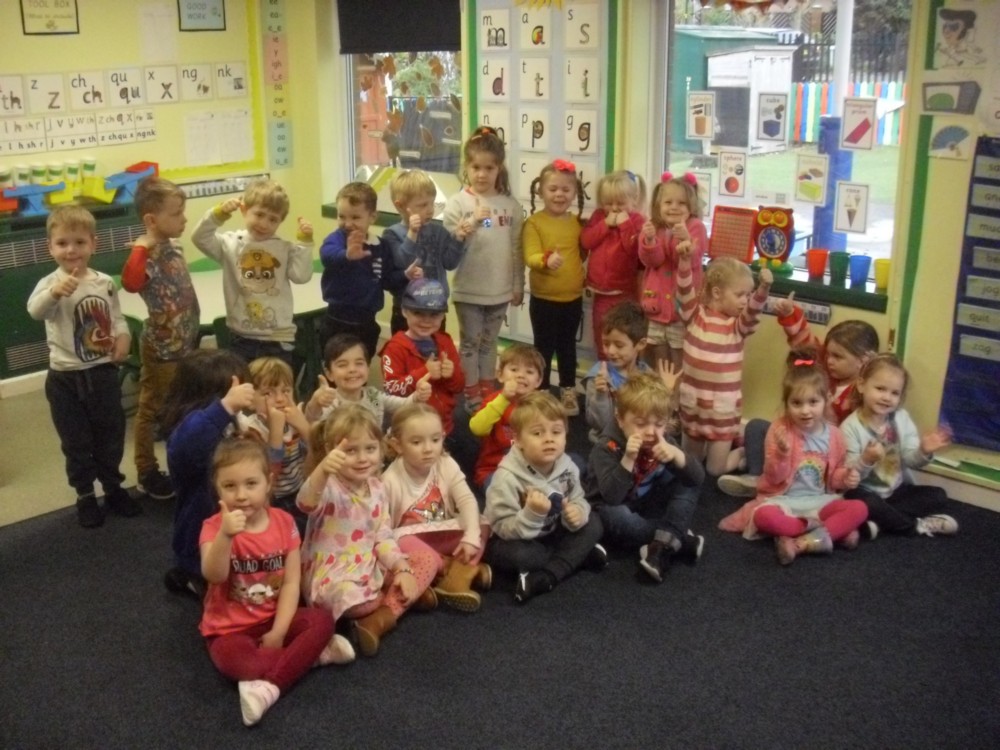 Well done and a very big 'thank you' to the children in Seedlings class for rising £24.70 for the local Diabetes NE Lincolnshire Support Group. Children enjoyed dressing up in as many different colours as they could and decorating a gingerbread biscuit.
Worries Workshop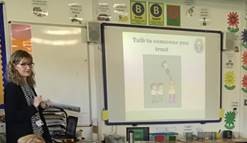 A member of the YMM team (Young Minds Matter) came to help us understand about worries. We now understand what worries are and realised that everyone worries. We learnt how worries can make us feel and most importantly learnt strategies to deal with our worries in a healthy way.
Flu Vaccination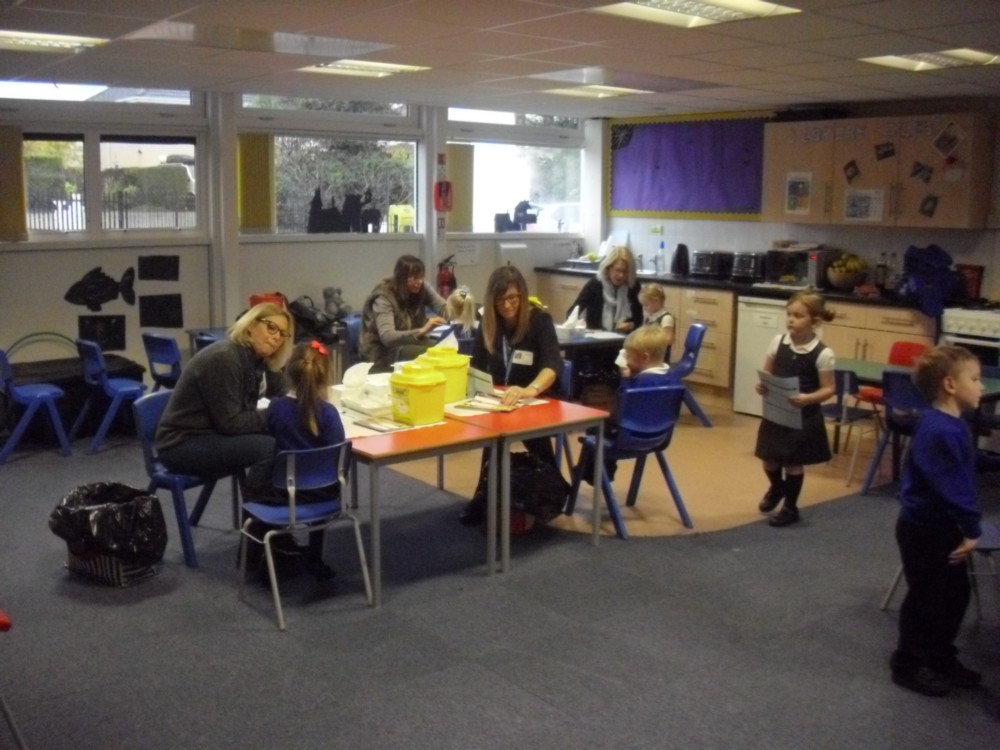 Children from Seedlings class recognised ways to help take care of themselves by having the flu vaccination by the NHS School Nurses Team at school today.
Team Building
In Year 6 we look forward to our Friday afternoon Golden Time as a reward for working so hard all week! This term we have enjoyed playing team games - particularly the parachute game and Just Dance. It is a fun way to develop our social and team building skills, as well as Pupil Voice to pick what the activity will be each week.
Lifestyle 2019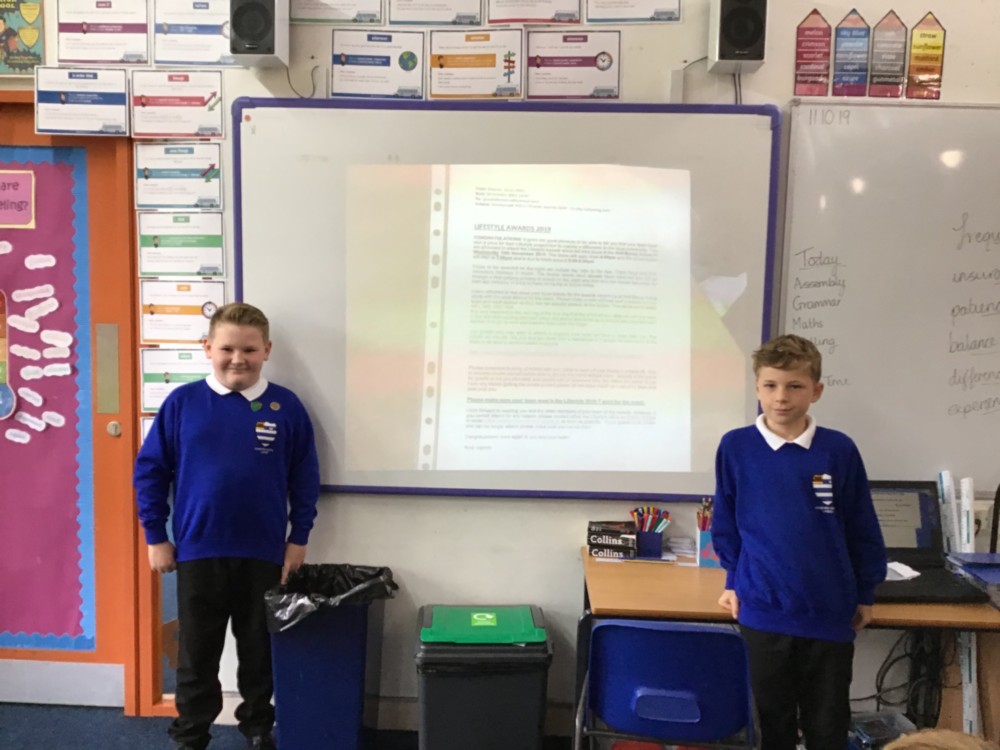 Congratulations to two Year 6 pupils for winning a top three prize in the Humberside Police Lifestyle Project! The two boys (with a little help from their family) went out into the local community worked on improving the scout hut notice board, gardening and developing a small allotment area for the local community. Well done!
The Very Hungry Caterpillar
Chartwells school lunch company came today and read us the story of The Very Hungry Caterpillar. We learnt about healthy eating and eating 5 portions of fruit or vegetables every day.
Then we made caterpillars and butterflies using a rainbow of coloured fruit and veg. We had so much fun!
LQ: Can I recognise ways to keep myself healthy?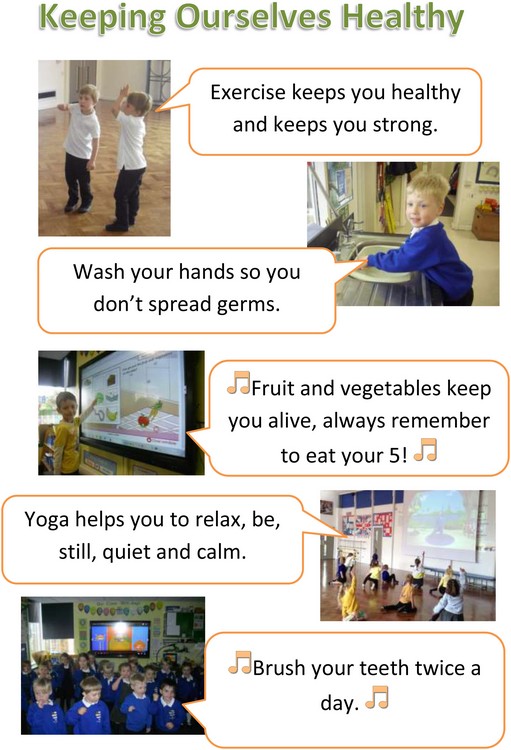 World Mental Health Day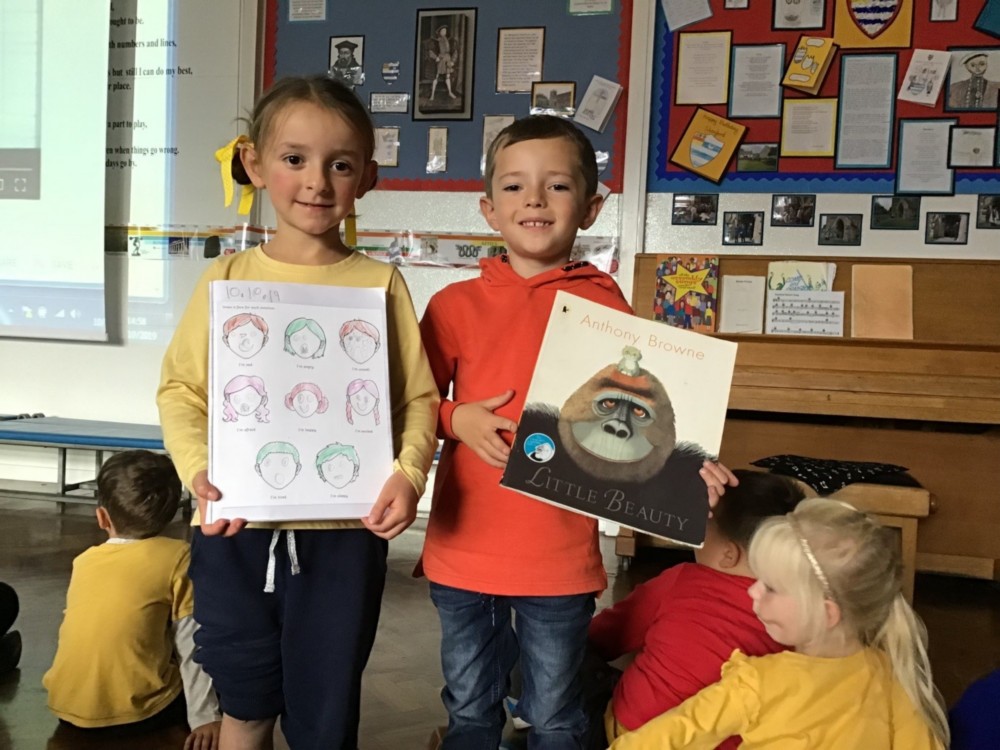 As today was World Mental Health Day the children have been thinking about how we can promote positive mental health and what we can do to help us to control our emotions if we are experiencing negative emotions.
In Year 1 they looked at a book called Little Beauty where a gorilla goes through different emotions. The children talked about the different emotions and thought about whether the gorilla had done the right thing to help himself. In
Year 2 the children coloured in hearts and then thought about what they could do if they wanted to feel calm.
LQ: Can I recognise different feelings and ways to relax?
LQ: Can I experiment different ways of moving through yoga?
As part of World Mental Health day, Seedlings class wore yellow. We talked about things that help us to feel happy and calm and learnt some yoga moves too!
Pupil voice
Being with friends - L.B
Watch TV, I feel happy - W.C G
oing to the park with my family - P.D
Special times like birthday parties - E.R
Holding 'Avra' my favourite toy - H.G
World Mental Health Day
Sunflower Class know how important it is to look after their mental health. They discussed the different kinds of feelings people might have. They soon realised that some feelings can make you feel good and some feelings can make you feel bad.
O- We all put on yellow clothes.
T- We collected £26.00 for the charity.
C- If you feel sad, you should talk to people.
T- If we are upset we can talk to staff, mums and dads and grandparents.
Tree Planting for Gemma
A special tree planting service today at school for Gemma - a lovely moment and her memory lives on.
MacMillan Coffee Morning
Thank you everyone for supporting the MacMillan Coffee Morning - the pupils performed lovely poems, songs and dances and it was wonderful to see so many community members come along to support this worthwhile cause. A massive thank you to the volunteers at the Stanford Library for helping with refreshments and organisation in our joint event. We raised £401.32! Thank you for your support.
Sunflowers and Seedlings entertained their parents and friends at the Stanford Centre today.
They enjoyed singing 'If You're Happy and You Know it!' The Sunflowers also performed a new version of 'Aiken Drum' with different kinds of food for the man in the moon's clothes.
F- We wanted to sing for our parents.
W- We raised money for poorly people who need special nurses.
A- We enjoyed a drink and a cake too.
7 Billion Ideas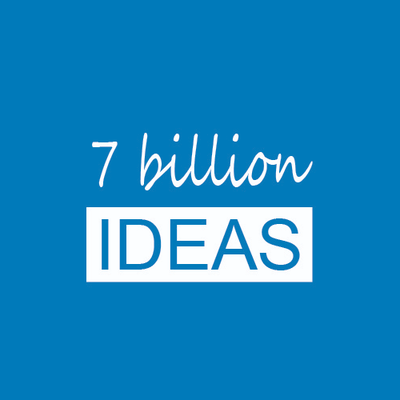 This week in Year 6 we had Sam from '7 Billion Ideas' invite us to join in with this years competition. We will be working in groups to generate potentially life changing inventions! Year 6 are very excited about creating presentations, prototypes, posters and jingles for their ideas. We shall post updates on our class and SMSC blog as we continue work on the project.
To find out more, please visit the website https://www.7billionideas.com/education/uk-schools.
Head Boy and Head Girl at Stanford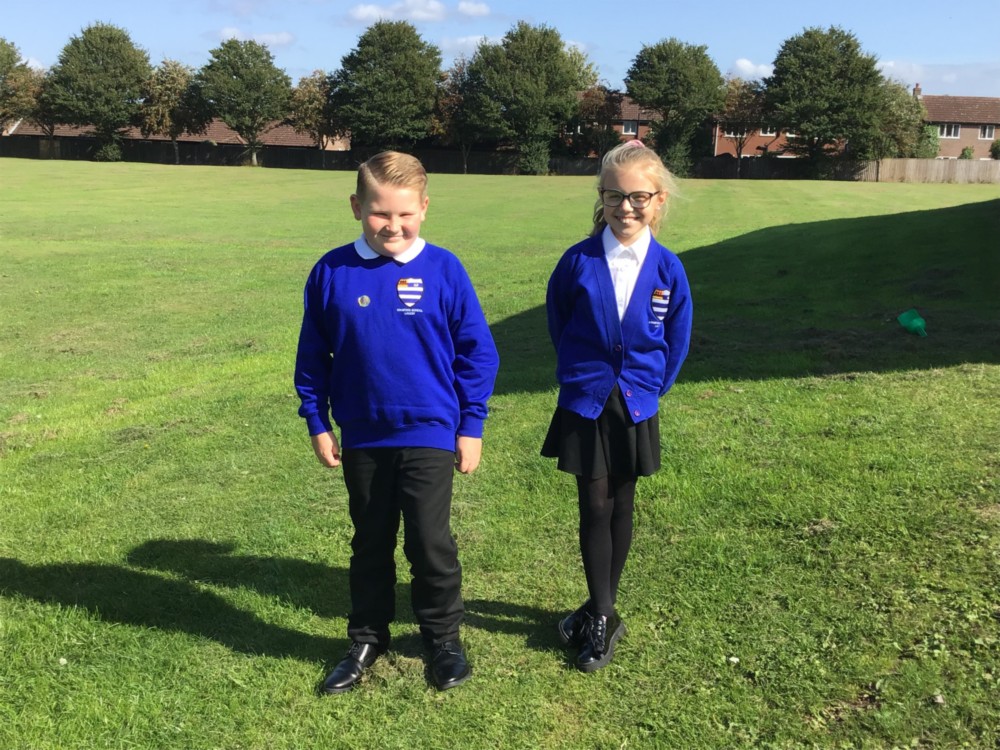 This week at Stanford we listened to twelve candidates from Year 6 deliver speeches in front of the whole school in a bid to become Head Boy and Head Girl. Each candidate spoke brilliantly in the assembly and should be very proud of their hard work.
Every child in school cast their vote and the results are in...we would like to introduce our new Head Boy and Head Girl!
Head Boy - Hi, I am really excited and happy to be your new Head Boy for this year. I promise to do my best to help make our school even better than it is already with the help of you and your ideas too. If any of you have any concerns, I'm approachable and more than happy for you to come and talk to me.
I wanted to be Head Boy because I want Stanford School to continue to be a great place to learn exciting new skills and knowledge in a safe and friendly environment where everyone has the opportunity to do their best.
I promise I will do my best to make Stanford the coolest school in town!
Thanks again for voting for me and thanks for taking time to read this.
Head Girl - Hello and good morning, I'd like to start off by introducing myself, I am your new Head Girl! I'm excited and thrilled to be Head Girl and can't wait for my new possibilities to make any positive changes within the school as well as supporting all staff and pupils.
If you have any concerns, worries or even just want someone to talk to, you can always come and talk to me.
Thanks again for voting and taking your time in reading this.
Learning about democracy
Today the school children voted to decide who the new Head Boy and Head Girl would be. All the candidates were very professional and prepared a presentation about why they would be perfect for the position. When we went back to class we set us a polling station where the children could choose their candidate and cast their vote. The children enjoyed having this experience and having a say on what happens at this school.
Barley Class
Well done to our wonderful Barley Class - we had an amazing Leaver's Service - we will miss your passion and enthusiasm. Good luck at Secondary - you will be brilliant.
Thank you to all those who attended, the Stanford Trust for their donation, the year 6 staff for their hard work, Mrs Brady for organising the violas ('Uptown Funk' was amazing!) and to the pupils for singing their hearts out! Remember - Dance Like No One is Watching!
Butlin's
On our way home after a fantastic residential at Butlin's!!!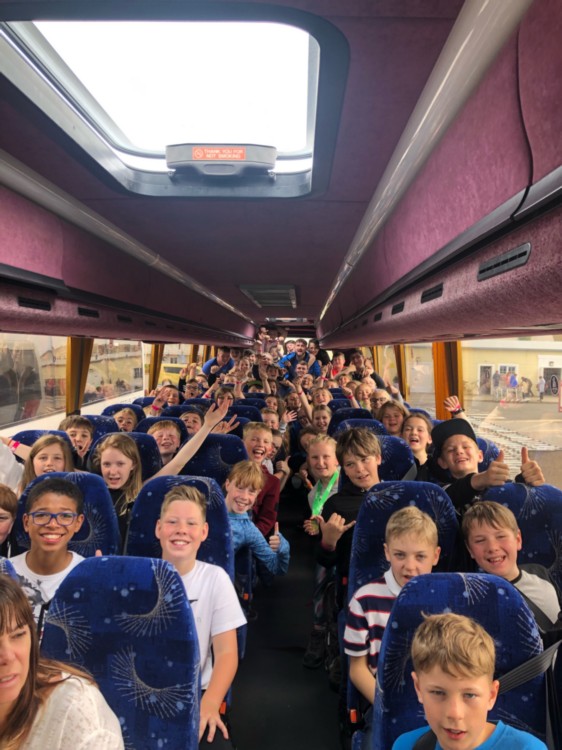 Disco Time!!
Pupils had a great time at the Butlin's disco last night. Dancing and Teaching classic songs was a hit... Oops up side your head!!!
Chilling by the Beach!
Good Morning from Butlin's!!!
We have had our breakfast and are now going to our activities!! These include: bowling, archery, free fall, high ropes and quasar. We are having a great
We have arrived at Butlin's!!
We've had a fantastic afternoon at the fun fair, enjoying the rides, just about to go for tea!!!
Enterprise Events
Pony rides, dream catchers, cakes, ice-creams and football games - just some of the brilliant enterprise events going on today in our year 5 and 6 Activity Day. Thank you for all your support as we are sure this will be a great fund raiser for school. Well done to all the year 5 and 6 pupils for planning, organising and leading the events. Slime was very popular! Also big thanks to Ms Smith and Poppy for sharing their ponies for the day - greatly appreciated and the pupils really enjoyed it.
Action for Happiness: Can I take care of my body?
Sunflowers and Seedlings have begun to learn about the 'Ten Keys to a happier life.'
They joined together this week to look at number three: Exercising! They had fun exercising together and playing lots of team games.
Here is why exercising is so important: Our body and our mind are connected. Being active makes us happier as well as being good for our physical health. It instantly improves our mood and can even lift us out of a depression. We don't all need to run marathons - there are simple things we can all do to be more active each day. We can also boost our well-being by unplugging from technology, getting outside and making sure we get enough sleep!
Look at all the Sunflower Superheroes!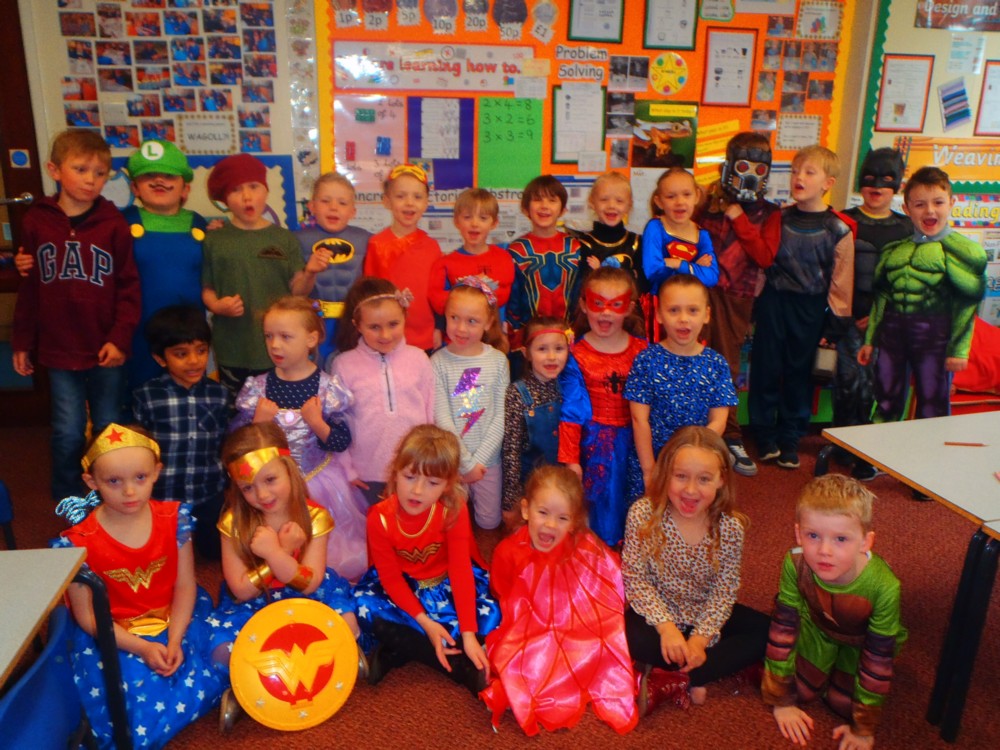 Sunflower Class enjoyed helping our Head Boy to raise money for vulnerable and disabled children in our local area. Well done everyone!
100% Attendance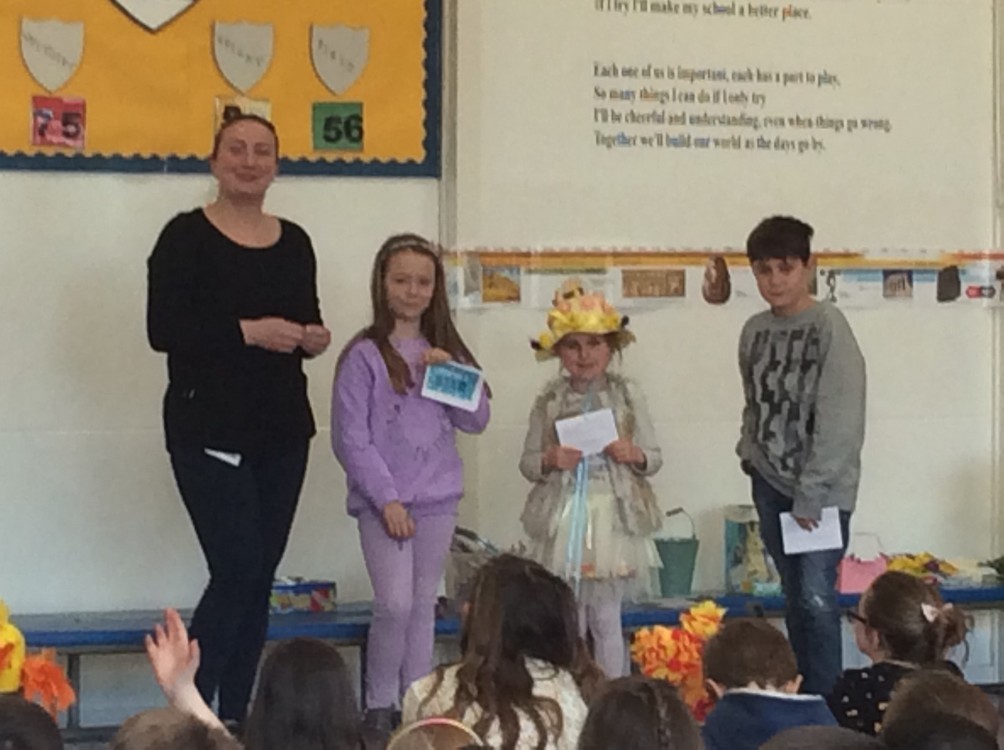 Well done to our termly attendance raffle winners. We are very proud of all the pupils who reach 100% attendance and no lates!
Film Night
We enjoyed a fantastic film night at school - we watched 'Peter Rabbit' and ate hot-dogs and pop-corn. A great time was had by all. Thank you to the staff and volunteers for their help. Happy Easter!
Yoga Namaste!
Mental Health and Well-Being are an integral part of our curriculum at Stanford. One way to promote this is to take part in whole class yoga sessions!
Year 5 have been enjoying their Friday afternoon yoga sessions, here is a link if you would like to continue your yoga sessions at home www.cosmickids.com
LQ: Can I listen to others about the role of a school nurse?
The school nurses Liz and Lorraine came to talk to Seedlings class about how they use their hands to help children in our school. Liz explained how they might check if children are healthy by measuring their weight and height. They showed us some glasses they might use to check our eyes and showed us how to check our hearing using the special machine and the earphones.
"What a lot of things the school nurses do!"
Finally we have enjoyed being nurses and doctors in our role play area too!
LQ: Can I listen to others? Can I ask questions?
As part of our 'Helping Hands' work the children in Seedlings classes learnt about the role of the Police Officer. PCSO's Andy, Kirsty and Becky talked about how the police help us and keep us safe. They showed us the different parts of their uniform such as their badge number, their body protection vest and their radio. We also looked at the police van's blue flashing light, listened to the siren and even sat inside the police van!
J.N. "I liked the siren on the van, it was very loud!"
L.D. "I liked everything"
C.P. "I asked the PCSO if the police helicopter had a name!"
C.S. "I liked sitting in the back of the van. It waas called the cage."
G.W. "I tried the jacket on, it was heavy."
Design an Outfit Competition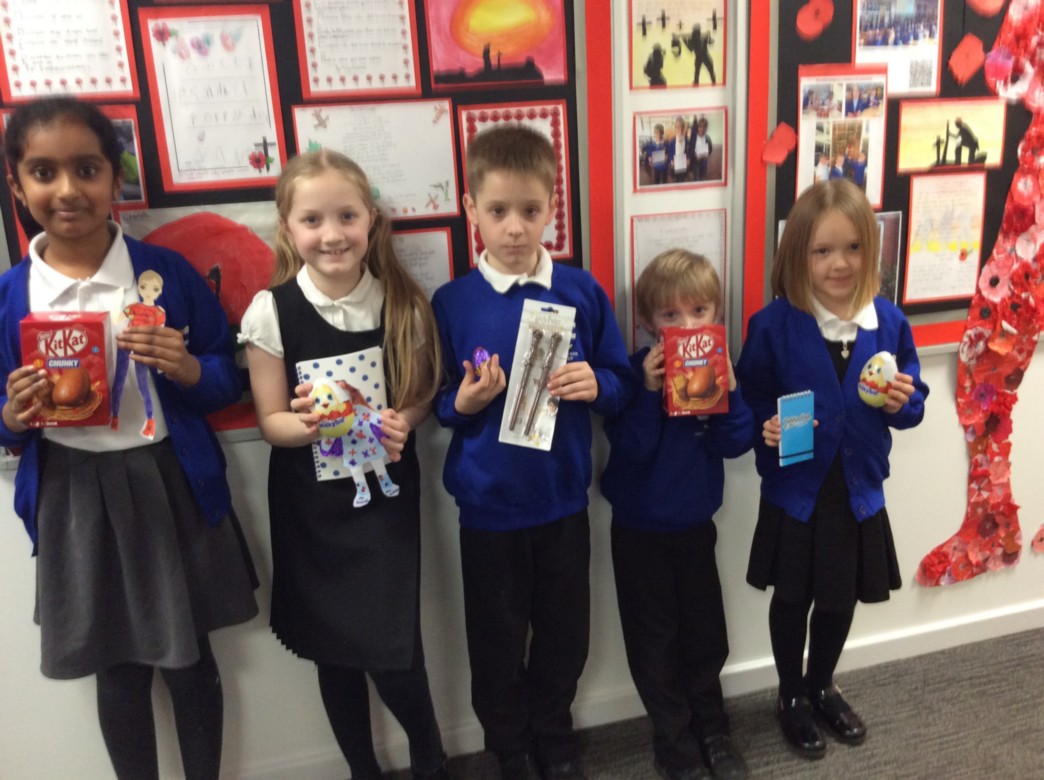 Well done to the winners of the 'design an outfit' competition organised by a group of year 6 pupils. The year 6 team led the special assembly, organised the work and chose the winners. Excellent designing skills, interesting colours and a range of materials were used.