SMSC, PSHE and RSE
Healthy Schools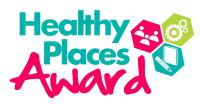 The Healthy Places 'Education' award is designed to help educational settings in North East Lincolnshire to create a programme of work to promote health, as they act as vehicles to empower individuals to live well where they work, learn and play.
This is a fantastic award for schools and academies to work towards, which not only benefits the children and young people but also has a positive impact on the health of staff, parents/carers and wider community.
Be a Swap Rockstar!
Take a look at the leaflet and website for great ideas on how to make healthy food choices for the whole family.
Paying our Respects
Mrs Hackfath, Mrs Smith and our Head Pupils visited St Margaret's Church this morning to pay their respect to Queen Elizabeth II. Head pupils laid flowers as well as all signing the book of condolence for Her Majesty. A very special morning.
👑 Thank you for 70 years of loyal service 👑
Stanford School Head Pupils ⭐️
Wow! Well done to our amazing Year 6 pupils who delivered their Head Pupil speeches in our assembly this morning. Their commitment, dedication, kindness and motivation shone through from all of the candidates. We are all very proud of you!
Every pupil voted and the results are in… please see the last photo for our new Head Pupils!! ⭐️
Author Visit: Grandad Wheels
Pumpkin Class
The author Brian Abram aka Grandad Wheels visited our school and told us all about his disability, his family and the great stories he writes.
R- People with disabilities might be in wheelchairs, but it doesn't stop them doing things like writing books and playing sport.
E- We learnt that people with disabilities are just like us. E- Grandad wheels told us how people in a wheelchair get dressed, get a shower and go to the toilet!
E- Grandad Wheels uses a banana board to help him get dressed.
H- I think he is a really good writer, as he has written lots of stories.
W- He donates money from his book to people with spine injuries.
J- He writes stories about him and his grandson- they are exciting and funny adventure stories.
F- I really enjoyed listening to his story and then we found some more on YouTube to watch.
W- Grandad Wheels was in a wheelchair because he'd banged into a tree. I love how he has changed his life and is writing books for children to read. He makes children realise what it is like to be in a wheelchair.
C- We all had to design a new wheelchair for Grandad Wheels. Mine was crazy and I drew one with a food tray, springs for bouncing and a disco umbrella!
Juniper and Barley Classes
This morning, we had the wonderful opportunity to meet Brian Abrams, author of the Grandad Wheels series of books. He shared his personal experiences of using a wheelchair and also helped to address any misconceptions around wheelchair users.
We found the workshop really fun and certainly learnt a lot. We also had a great time stretching our imaginations to create unique and rather spectacular wheelchair designs (including popcorn machines, jet packs, TV screens, giant springs and hot dog holders!) which Brian thought were fantastic when he came to the classroom to see them.
Thank you Brian, 'Chaos at the Supermarket!' was hilarious!
Year 5 and 6 Activity Day
Our marvellous Year 5 and 6 pupils used their fabulous enterprise and teamwork skills to organise and host this year's Activity Day to the whole school.
The children researched their ideas, advertised their stalls and worked so very hard to ensure that the Activity Day was a success - which I am sure, by seeing the photographs, you will agree it was!
A huge £575.38 was raised on the day which will be used to help fund some of our school events as well as donated to local charities (Woodland Trust and Lincolnshire Wildlife Trust).
Thank you for all of your support with our fundraising event at school, it is greatly appreciated.
Barley Class Learning Share
This week Barley Class had their final Learning Share at Stanford School! It was wonderful to see so many parents and family members join us to learn more about the activities and challenges that Y6 children have been working on this year.
The children decided which elements of the curriculum they wanted to share and set up different tables to display their work and set some challenges for the adults to take part in.
As you may be able to see in the photographs, it was a fabulous morning and the children felt very proud to showcase their work.
Thank you to all of the adults that came to support our Learning Share and a special mention to the mother and daughter TT Rockstars champions with super times of 1 min 14 seconds for the Y6 pupil and 1 min 23 seconds for her mum - well done!
It was lovely to read some of the community feedback from the adults that attended the Learning Share, thank you for your support.
'Absolutely fantastic event. Well organised and lovely to see all the pupils so well engaged in a relaxed but stimulating environment. Perfect end to their Stanford journey.'
'An enjoyable experience. Was great to be able to see some of the work the class have been doing. Nice for the children to share their learning and be proud of what they have achieved. Lovely to be back in school again, especially as their journey comes to an end.'
RSE
This week the children have been:
learning about the special people in their lives and how they care for one another
drawing and talking about their own special people
explaining what makes people special to us and why they are important in our lives
describing the different ways our special people care for us
recognising how we can care for them in return
They also produced these two amazing posters!
Lifestyle 2022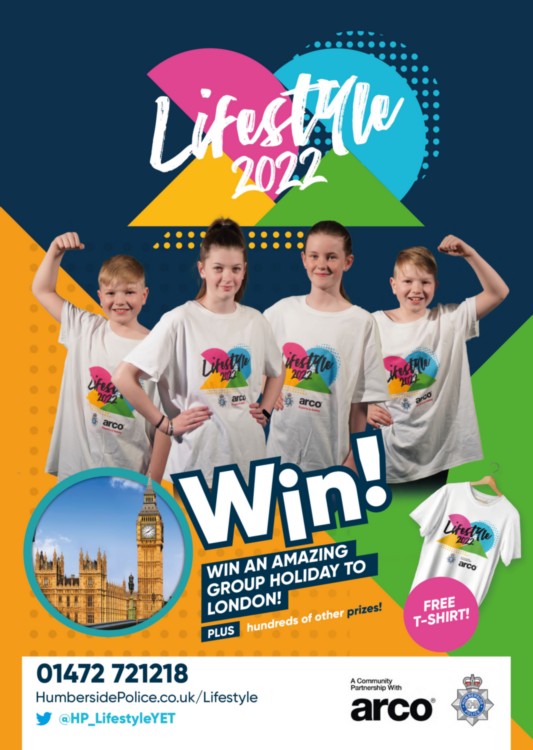 Crime and Punishment - PCSO Bell
As part of our Crime and Punishment and British Values curriculum this term, PCSO Bell kindly came into Y6 to discuss the Rule of Law and consequences that citizens face when breaking the law.
We explored the criminal system - from being cautioned to being imprisoned, how sentencing varies depending on the crime and discussed what we thought appropriate consequences should be.
PCSO Bell also brought one of the police vehicles with her to show us (even allowing us to press the button for the siren!). The pupils had some wonderful questions and the experience really helped them to enhance their understanding of how crimes and punishments have changed over time.
Thank you, PCSO Bell.
Pumpkin and Barley Coaching and Collaboration
This afternoon, Year 2 and Year 6 collaborated together to focus on their sketching and shading skills.
As it was such a glorious afternoon, we decided to use nature as our inspiration and worked together under the oak tree in our school field.
E - I liked when O showed me how to make the grass and tree trunk look 3D by using the side of my pencil.
B - We drew half the picture each, it was really interesting to try to make out lines match up for the leaves.
Allison Homes
We are thrilled to have received the donation from Allison Homes. The children can't wait to start planting the seeds that they've received, and we're looking forward to purchasing new equipment and resources to encourage our pupils to get further involved with gardening.
Brownlee Foundation Triathlon
As a well done for working so hard in the run up to the SATs, our Year 6 pupils have had a wonderful day today at the Brownlee Foundation Triathlon! They swam 50m, completed an 800m cycle and then a 300m run. It was wonderful to see the children cheering each other on and thoroughly enjoying themselves.
O - I loved today, it was fun to do something new and even better that I could do it with my friends.
C - Today was amazing, my favourite part was the swimming. I would definitely recommend other people to do it too.
C - I really enjoyed today, I would like to do a full triathlon in the future.
D - I am not really keen on doing sport, but today was awesome! I would definitely recommend it to other people to take part, even if they aren't usually really sporty.
Year 6 Crime and Punishment Hook Day
We had a marvellous day in Barley Class today (or HMP BARLEY as it will now be known!), to introduce our new topic, 'Crime and Punishment'.
We looked at the different types of crimes that can be committed in modern day Britain, how they can be different in other countries and also how they have changed over time. We also explored the different types of punishments that can be given when a crime is committed.
Part of solving crimes is investigating what has happened - we began to find out about the importance of DNA and fingerprints - analysing our own and identifying if we have whorls, swirls or ridges - then compared the fingerprints of twins in our classroom!
We are very excited about this topic - keep checking our blog to see all of the fabulous things we will be learning about this term.
Yorkshire Wildlife Park
Wow! What an amazing day!
Willow and Barley classes had a wonderful day at Yorkshire Wildlife Park last week! The day was spent exploring the park, focusing on the animal's habitats and how animals are adapted to their environment, which links to their science topics of 'Rainforests' and 'Evolution and Inheritence'.
Children visited the different animal's enclosures and discussed the types of vegetation, the similarities and differences between males, females and offsprings and how the animals are well suited to their environments.
It was a fantastic day, made even better by the glorious weather.
Keep checking our class blogs for further work related to our trip.
A Surprise Visitor
This afternoon in Foundation and Year One we have been appreciating the beautiful things around us. We learnt this can help how we feel, by taking time to stop, and appreciate the small things in our life that we may take for granted. We went on a nature walk to see if we could do this first-hand. However, we all got a massive shock when a surprise visitor came to see us!
Ukraine Collection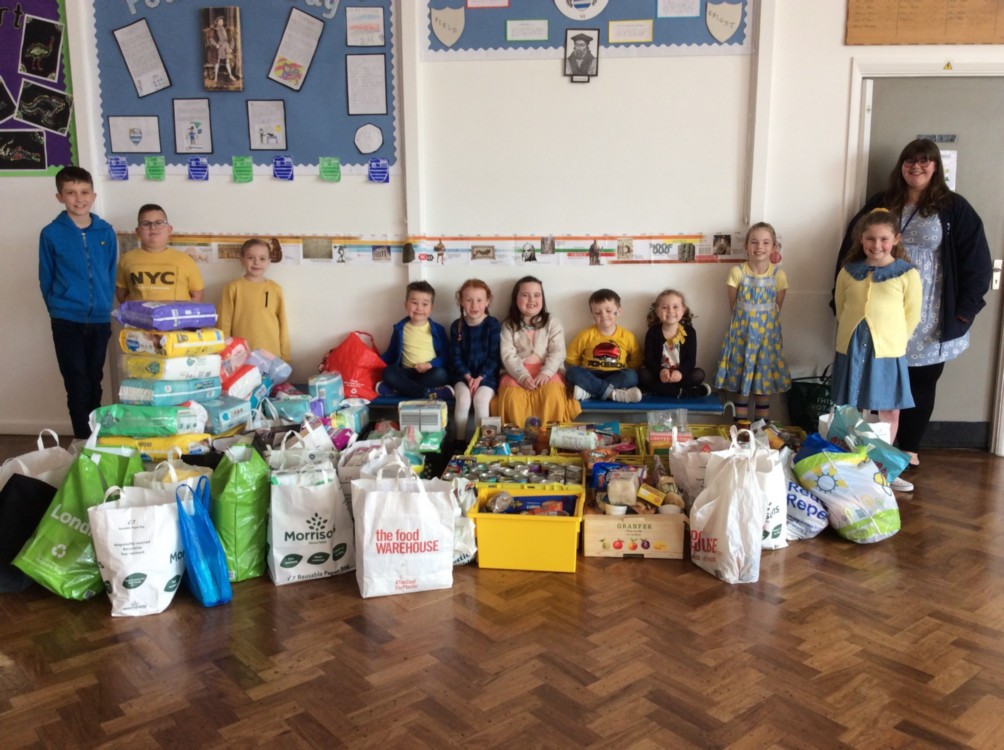 Miss Purshouse would just like to say a massive THANK YOU to everyone who donated to our collection for Ukraine today. We will be dropping our donations off tomorrow afternoon. Thank you again for everyone's support!
Travel Plan Team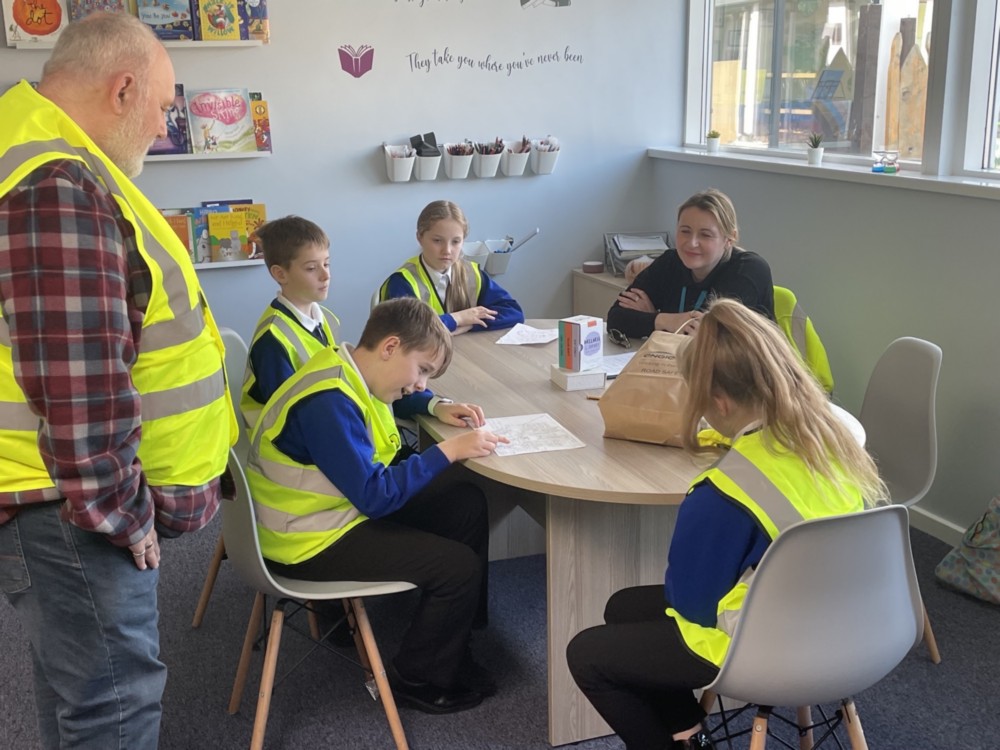 Our Travel Plan team met with The Highways and transport team at EQUANS and the council to discuss their plan and the actions needed to improve safety concerns. They walked around the village discussing key hot spots and danger zones. They want to do something positive to make things better for future pupils and the whole village! Keep up the great work!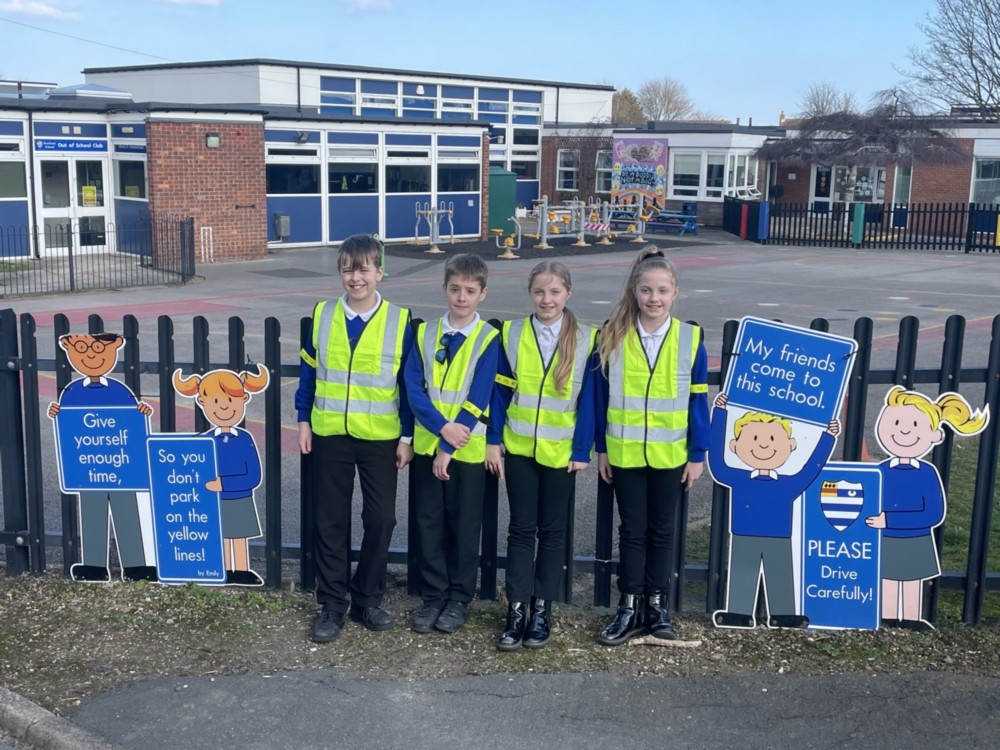 Comic Relief 2022!
Pumpkin Class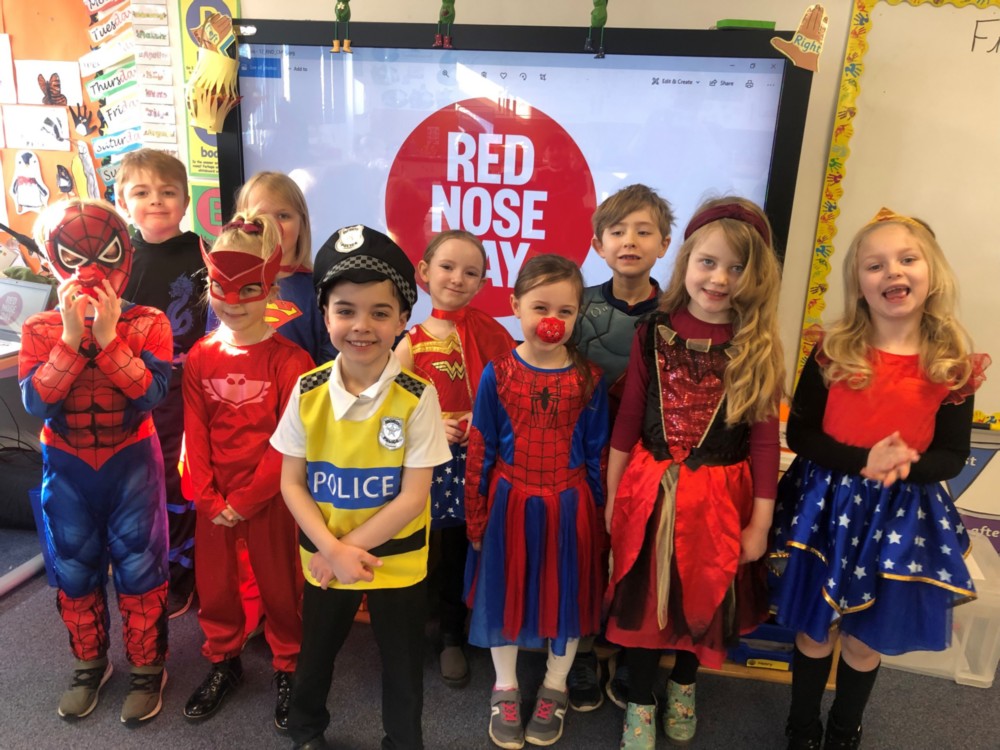 Pumpkin Class enjoyed choosing different things to wear for Red Nose Day. There were lots of funny red noses, lovely own clothes and amazing super hero outfits. Well done everyone for taking part for Comic Relief.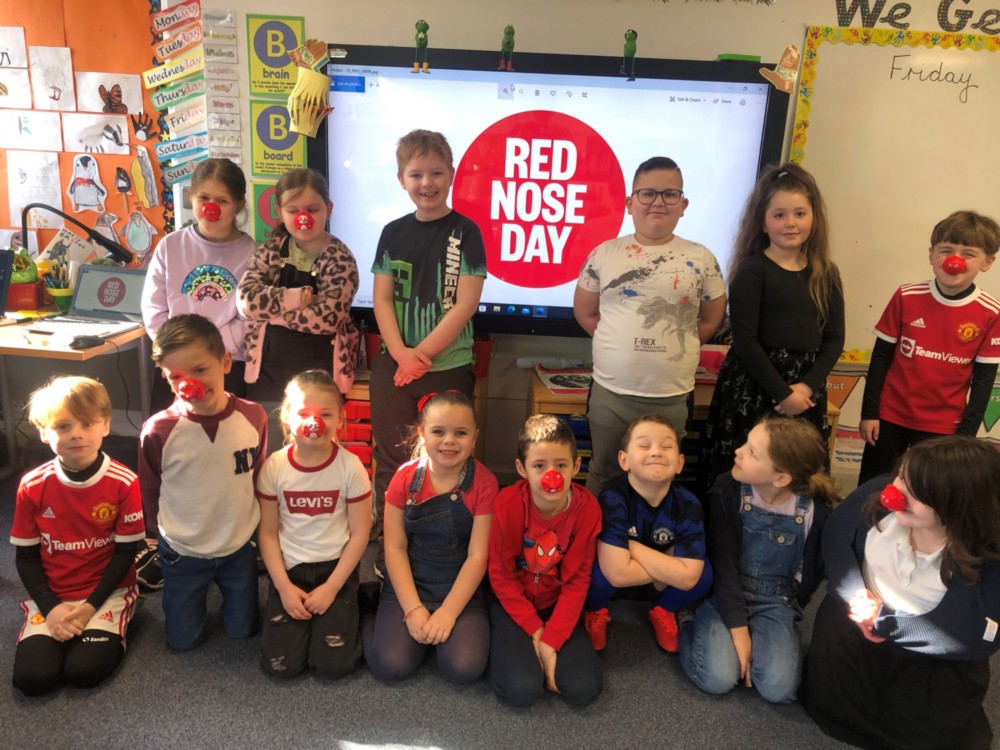 Poppy Class
Today the children enjoyed either dressing in casual clothes or as a superhero of their choice......and they just showed that heroes come in all forms. They are not just those in movies & on the TV.... but people who make a difference to our daily lives.......even teachers or TAs. Miss Perrin is now a little worried that she is going to be replaced by her 'mini-me'.
Juniper Class
Juniper class had a great day celebrating Red Nose Day!!
Civic Awards
A huge congratulations to our pupils who were nominated by Mrs Hackfath at the Civic Awards!! They had a great evening and we are all extremely proud of them! Well done! 🌟
Road and Bicycle Safety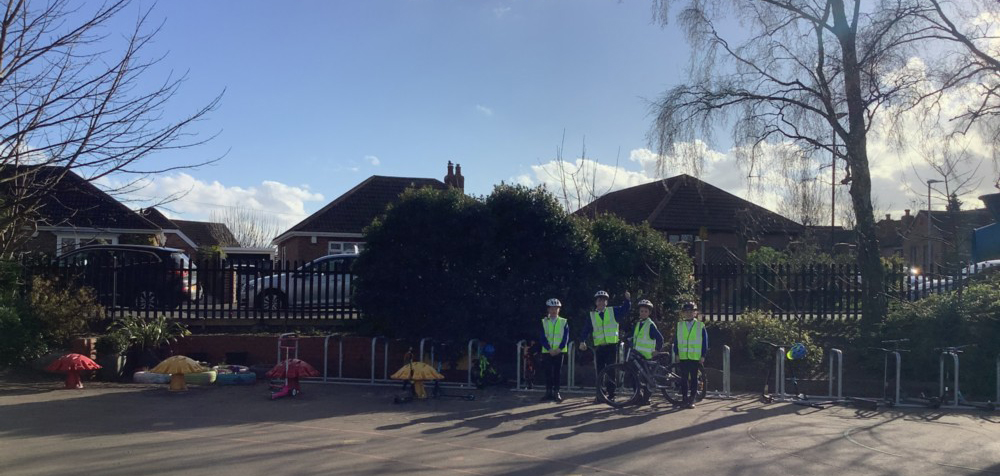 Our superb Travel Plan committee have been working very hard, alongside ENGIE, Lock-It-Safe and the Road Safety Team to help promote safety of our local community when travelling to and from school, and around our village.
What do you think to our new bike racks, scooter pods, hi-vis jackets and bike helmets?
We have lots of exciting information to share with you soon from our Travel Plan Committee - watch this space!
Gymnastics
Our PE topic this term is Gymnastics. Mr Dean has been teaching us how to use the apparatus to move, balance, counter-balance and worked in small groups to create a routine.
Thank you to some of our talented gymnasts who were supporting and coaching others in the class.
S - I have loved using the apparatus today, I was a little scared at first because it seemed so high, but I just used the balancing techniques Mr Dean showed us.
L - We worked well as a team and H helped us with ideas for our routine from her gymnastics lessons.
Children's Mental Health Week
As part of our Children's Mental Health Week (which was on Friday 4th February), we are really proud that with your generous donations we have raised an amazing £146.69!
With this money, we decided that we would like to donate to Aghan Aid, to help the families that have been devastated by the recent events. The amount we have donated is going to enable a family to have a waterproof shelter to live in and 40 apple trees to plant – this will support the family not only with food, but also financially.

Poppy Class
On Friday the children were encouraged to express themselves by showing their personality through their clothes.
Pupil Voice – Express yourself day
Expressing yourself means being who you want to be
Everyone is different but that's ok because the world would be boring otherwise
Expressing yourself through clothes is one way to help your mental health
During this week we have discussed how important our mental health is.
We created our personal support bubble. This shows all the people who can support us when we need help. It's important to reflect on those who care for us, and how lucky we are to have a network there to support us.
Rights Respecting
Foundation Stage
On Friday we looked at one of our Human Rights. The right to be ourselves, the right to be different, the right to be heard.
We listened to the story of Rosa Parks and compared this to Elmer the Elephant. Rosa fought against being different and segregated and Elmer didn't like being different either. We learnt that it is GOOD to be different, it is GOOD to be ourselves and we are all AMAZING!
To show our work, we each made a 'patch' in the pattern we liked and we glued them all onto Elmer. We love our display do you?
'I drew dinosaurs because that's what I like.'
'I drew flowers because they make me smile'
'I drew rainbows and unicorns because I love them.'
'My patch has stripes because I like the pattern.'
United Nations Convention on the Rights of the Child- UNCRC
Pumpkin Class have been learning all about this special promise that most countries have made to look after the rights of all children.
W- The UNCRC is there to make sure that all children are treated fairly
P- All children have the right to eat healthy food and to drink clean water.
D- The UNCRC tell us that all children have the right to feel safe.
H- All children have the right to go to school. This is called getting an education.
C- I think it is good that the UNCRC are making sure that all the children in the world can have a say. People should listen to children.
M- Everyone is the world has rights. It is important to treat everyone the same.
Behaviour Discussion
Pumpkin Class discussed good and bad behaviour choices and they reflected on their own behaviour in school. They worked co-operatively to discuss scenarios and sorted the pictures into 'Acceptable Behaviour' and 'Unacceptable Behaviour.'
L- I always sit nicely in lessons and I always like to listen carefully.
C- I think it is important to share the equipment with everyone. I don't like it when people snatch things.
H- Talking in lessons can be good if it's about our work. It's rude to talk when Mrs. Brady is speaking to the class.
D- Pushing isn't good because someone could get hurt.
A- I am always polite and I say 'please' and 'thank you.'
P- I always have kind hands. I care about my friends.
J- I love to be a Behaviour Ambassador and help my friends make the right choices.
H- Our class motto is 'We Get On.' We try to be friends and get on well together.
T4U Shoebox Appeal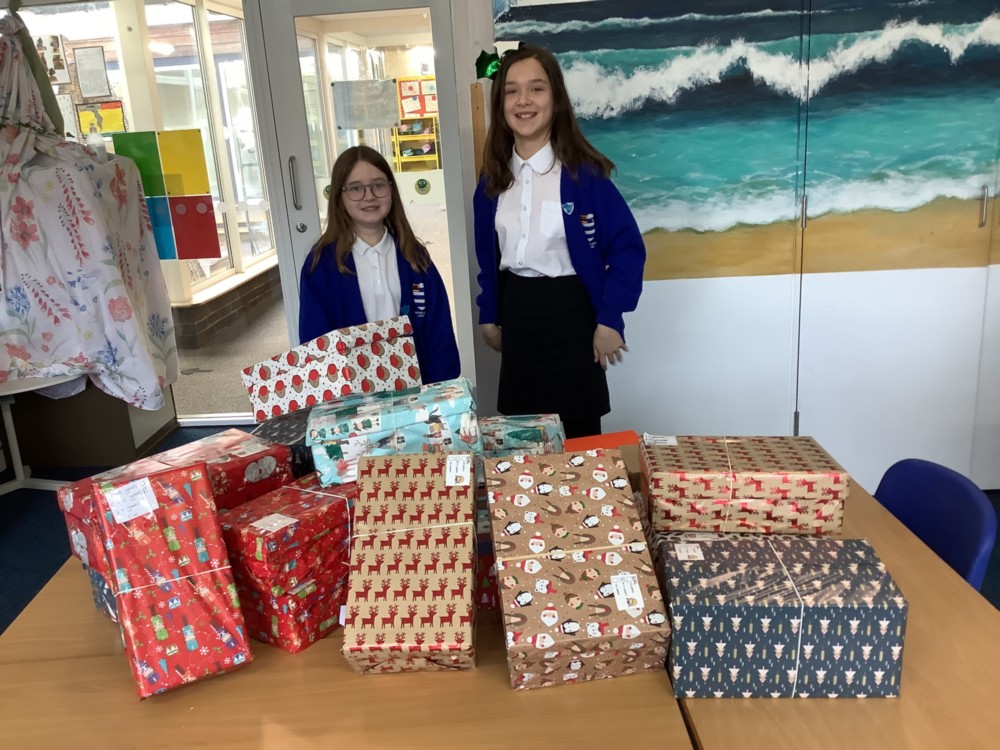 Wow! Thank you for your wonderful generosity with donating shoeboxes and items for the T4U Shoebox Appeal for children in Belarus and Romania.
Some of our Y6 pupils have worked hard to organise the shoeboxes and make them extra special before they were collected.
Thank you for your support with this
It's Beginning to Look A Lot Like Christmas...!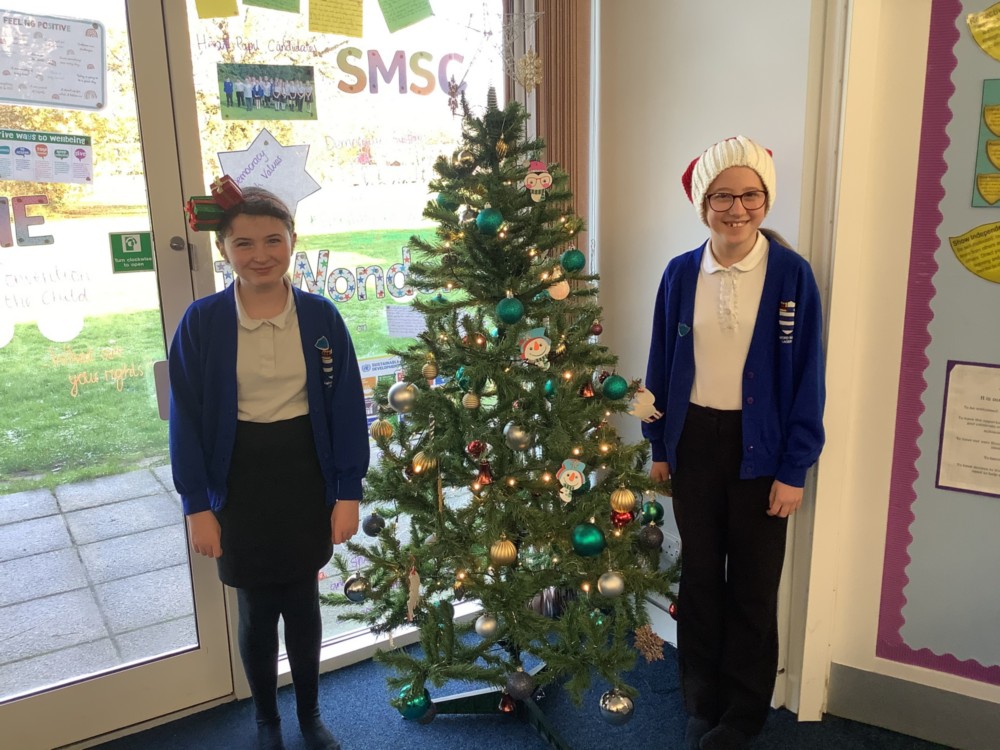 We would like to say a huge thank you to Nanna Barb (Mrs Marsden's Nanna) for donating a Christmas tree and decorations to Barley Class.
We had lots of fun decorating the trees and the twinkly lights have helped to create a lovely, relaxing classroom environment.
Thank you, Nanna Barb!
Indian Experience
Willow Class - Rangoli Art
Willow class had a fantastic experience with Sunita as she visited the school this week. We had a special lesson where we learned all about creating Rangoli patterns. Our main focus was to ensure that the artwork was symmetrical and colourful. We worked really well in teams to make sure that we communicated the symmetrical patterns across our group.
Barley Class
We had a wonderful Indian Experience Workshop this afternoon with Sunita.
We discussed the similarities and differences between the UK and India - identifying misconceptions and stereotypes surrounding houses, pets, vehicles, transport, schools, toys and games, sports, festivals and celebrations, roads and streets and children working.
We discovered that there are lots of unexpected similarities between India and England, however we did also find out two surprising differences - although England has a Royal Family, India has a Space Centre!
From our discussions with Sunita, a very important message was clear - skin colour, hair colour and clothing does not tell you where someone is from, you should never judge someone by the way that they look and never assume you know something about someone because of their appearance.
Thank you, Sunita.
Coaching Partners - Year 6, Foundation Stage and Year 1
Some of our Year 6 pupils discussed how they would like to support some of the younger children with their learning. This week, a group of six Year 6 children choreographed and delivered some PE/fine motor development moves to music in the hall with Marigold and Cornflower class. As you can see, it was enjoyed by all!
Shoebox Appeal
Yesterday, pupils had a special assembly to learn more about the Teams4U Shoebox Appeal.
We learnt about children in Belarus and Romania who do not have basic necessities such as warm clothes, hygiene products and certainly don't have toys and crafts.
We would like to create some shoeboxes in school (or prepare at home and bring in) to donate to this wonderful charity, and would greatly appreciate any donations you would like to contribute.
Please see the leaflets that children received yesterday or visit the website https://teams4u.com/ to find out about some of the items that can be donated and make such a huge difference to these children's lives.
"People say 'it's just a shoebox' but it isn't. It tells that child someone, somewhere has done this for them; that someone cares about them." Dave Cooke: Founder
Can all donations please be brought into school by Wednesday 1st December.
Thank you for your support.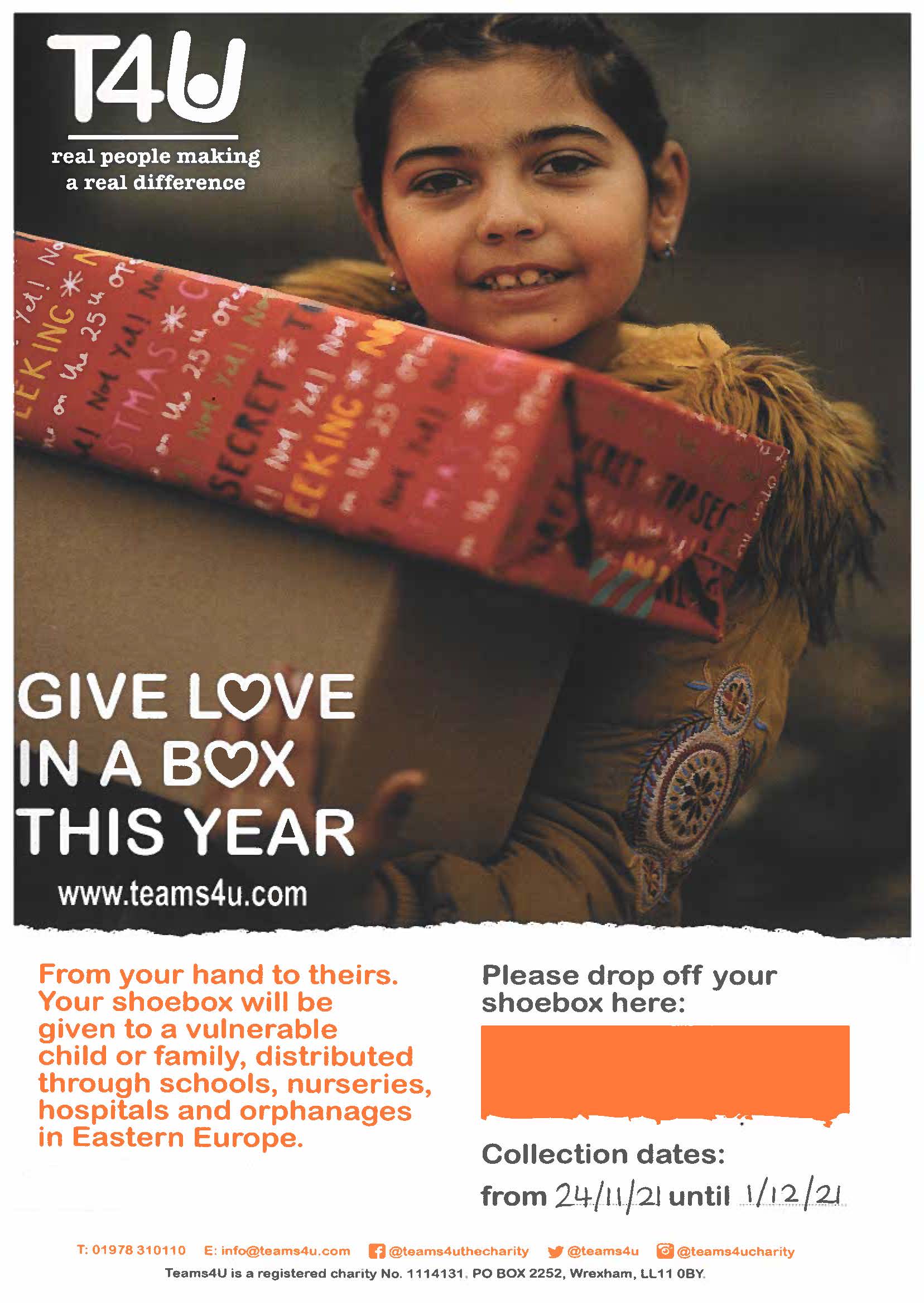 The Boy at the Back of the Class
In Willow class we have been following the story from a wonderful book, called 'The Boy at the Back of the Class', by the author Onjali Q. Rauf. The book tells the story of a young boy called Ahmet, who has travelled as a refugee from Syria to the United Kingdom. We have also compared this story to the book 'The Journey' by Francesca Sanna, which is also a tale about refugees.
From these books, we have produced a lot of purposeful and creative writing. This has included writing letters to politicians to ask for more help to be provided for refugees in crisis. We have also used lots of strategies to add description to our writing, including exploring some exotic fruits (based on some fabulous description of pomegranates in the book).
In addition to this we have completed some comparison work about the UK and Syria in our geography lessons. Learning about refugees through these stories has taught us important skills of empathy and understanding other people.
Challenging Gender Stereotypes
Pumpkin Class
The Pumpkins were asked to draw a picture of a builder and then a picture of a florist. There were lots of male builders and female florists drawn. The children then watched a video, where they saw both men and women doing a wide variety of jobs.
E- I saw that ladies can be builders, as well as men.
K- Men and women can all build things.
H- I didn't realise a man could be a florist and work in a flower shop.
H- The man's flower arrangements were really good. I thought they were beautiful.
E- Anyone can work with flowers and plants, like gardeners. They can be boys and girls.
C- We have teachers who are men and women.
W- If you have the skills and you work hard, you can be anything you want to be.
Poppy Class
Year 3 - Challenging Stereotypes
As it was Transgender Awareness week we looked at our perception of males & females. The children were asked to draw what they thought several people would look like - a builder, a florist, a car mechanic, a magician, a make-up artist & a ballet dancer and the majority of the children drew stereotypical images of these career choices. We then looked at pictures of people who do not follow these stereotypical choices. We looked at stereotypical behaviour of males & females and the toys children are given to play with to conform with these opinions.
The children then concluded that people should be able to make their own choices in their behaviours, toy choices and careers and that they should be allowed to be whatever they want to be.
Willow Class
During Transgender Awareness Week, Willow class had a fantastic discussion about gender stereotypes and how these impact our hobbies and habits. We looked at some adverts and how they were tailored to appeal to stereotypical ideas of boys/girls.
We then watched this video, called 'Redraw the Balance', which really opened our eyes about how ideas about job roles can be unfairly represented from a young age:
---
We talked about our favourite books and stories that contain characters that don't fit into stereotypical roles and then completed a task based on the film 'Inside Out'. In this task, we drew and wrote about our different "personality islands". As well as being a fun task, it showed that our interests and hobbies are not defined by our gender. In the words of Dr Seuss, "Today you are you, that is truer than true, there is no one alive who is youer than you."
Pupil comments:
"Boys should feel it is okay to cry - it is not a weakness"
"Girls or boys can have pink rooms and clothes. It's just a colour"
"Girls and boys should be able to play on sports teams together"
"We should all feel free to be who we want to be"
BBC Children in Need
Pumpkin Class have had a busy day learning all about this worthwhile charity, exercising with Joe Wickes and enjoying some great outdoor fun. Thank you very much for all your kind donations.
Knife Safety Awareness
We had some special visitors this week, including the PCSO, who spoke to us about the importance of being careful with knives and other objects. Some great discussion was had and we learned some important messages about safety and respect from watching some powerful stories.
Interfaith week
Children really enjoyed engaging with the wealth of RE resources that we have in school, displaying a range of religions and allowing children to learn about faiths in a practical and exciting way.
"I learned a lot from the Jewish display"
"The Christian display was so colourful"
"I was shocked at how long the Jewish scroll is"
"Hinduism is a much more colourful religion than I knew"
"The Muslim resources were really interesting - particularly the Qur'an"
Road Safety Week
This week Pumpkin Class have been learning all about road safety.
M- We had a special assembly with a police lady. We asked her questions and she told us how to cross the road safely.
E- We listened to road safety stories and watched videos. We talked about how people should cross the road.
H- You need to stop, look, listen and think.
C- I put all my instructions in the right order. I know how to keep myself safe.
E- I always hold my mum or dad's hand when I am near busy roads.
J- Keep looking and listening when you cross the road.
Baby Cooper
Marigold, Daisy and Cornflower Class: To help with our keeping clean topic, we were lucky enough to have a lovely visit from Mrs Smith's new baby- Cooper! We watched how Cooper enjoys bath time and what Mrs Smith and his Grandma do to keep Cooper clean. This was a great experience to help us with our understanding of the world which features in the EYFS curriculum.
A big thank you to Mrs Smith, Cooper and his Grandma for coming to visit us, and helping us learn!
Remembrance Assembly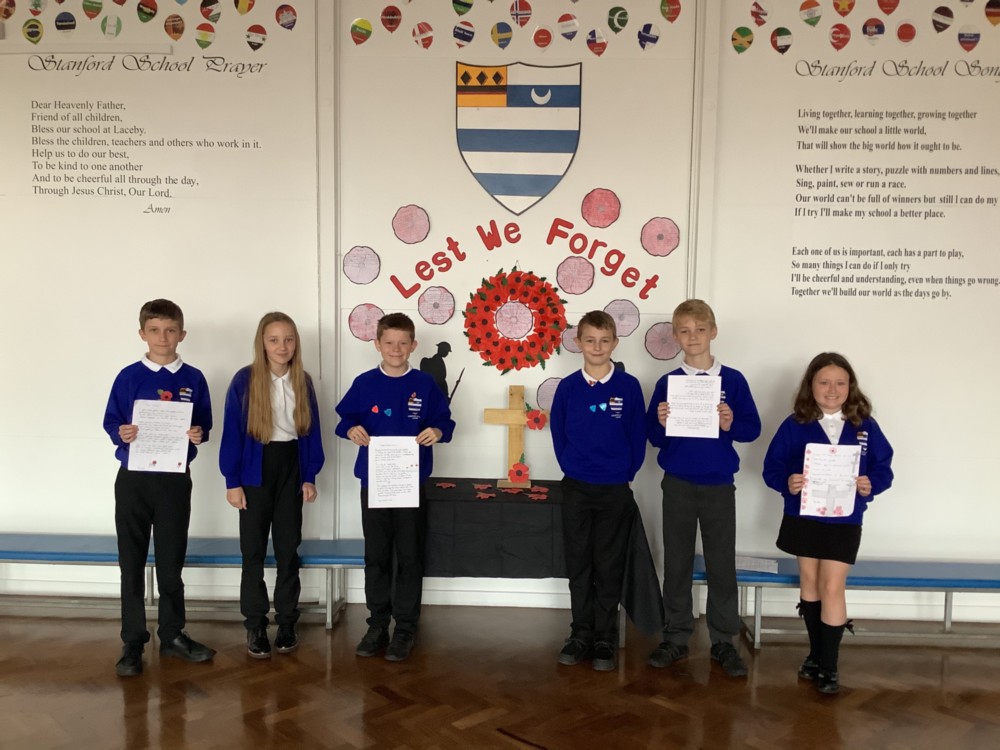 On Armistice Day, some of our Year 6 pupils delivered a whole school assembly to help share the importance of Remembrance Day and to also lead our 2 minute silence.
The pupils lead a truly remarkable assembly, they were sensible, emotive, considerate and mature surrounding a very sombre event. Well done, you should feel very proud of your hard work.
We would also like to say thank you to all of our classes who helped to donate money for The British Legion through the Poppy Appeal and well done for the fantastic work shared in our assembly.
Anti-Bullying Week
Pumpkin Class
W- We all wore odd socks today to tell everyone that it's OK to be different.
E- Anti-Bullying week is important because it helps to stop people getting hurt and tells them what to do if they are being bullied.
P- Bullying isn't nice. It is bullying when someone is being unkind on purpose and doing it lots of times.
E- You should tell a trusted adult if someone is being horrible to you. I would tell my mum or Mrs. Brady.
D- We decided to write kind messages to each other. Being kind is much better than upsetting people.
L- I smiled when I got a kindness letter.
Poppy Class
Odd Socks day was chosen to kick start anti-bullying week as it's an opportunity to encourage people to express themselves and celebrate their individuality and what makes us all unique! The children enjoyed being a little different and showing off their odd socks. We then designed our own pair of odd socks to show how unique we are.
Juniper Class
As part of Anti bullying week, Juniper class used their computing skills to give advice on how we would help and support others in different scenarios using and showing Kindness and respect. #antibullyingweek2021
Barley Class
As part of our computing lessons we are focusing on staying safe online. In this lesson we were using an online application to identify whether a character had posted too much content
Thank you Mrs Wink!
We would like to say a huge thank you to Mrs Wink for very kindly organising and donating some new books to help enhance our curriculum at Stanford.
Pupil Voice discussed how they would like some more non-fiction books in classrooms about the topics we are learning about. Mrs Wink donated almost 100 books around a range of topics, including; Anglo Saxons, Vikings, Ancient Greeks, religious festivals and religions, equality and diversity, farming, homes and keeping our bodies healthy.
Our helpful Year 6 pupils distributed the new books to the classrooms on Friday - we can't wait to start reading them!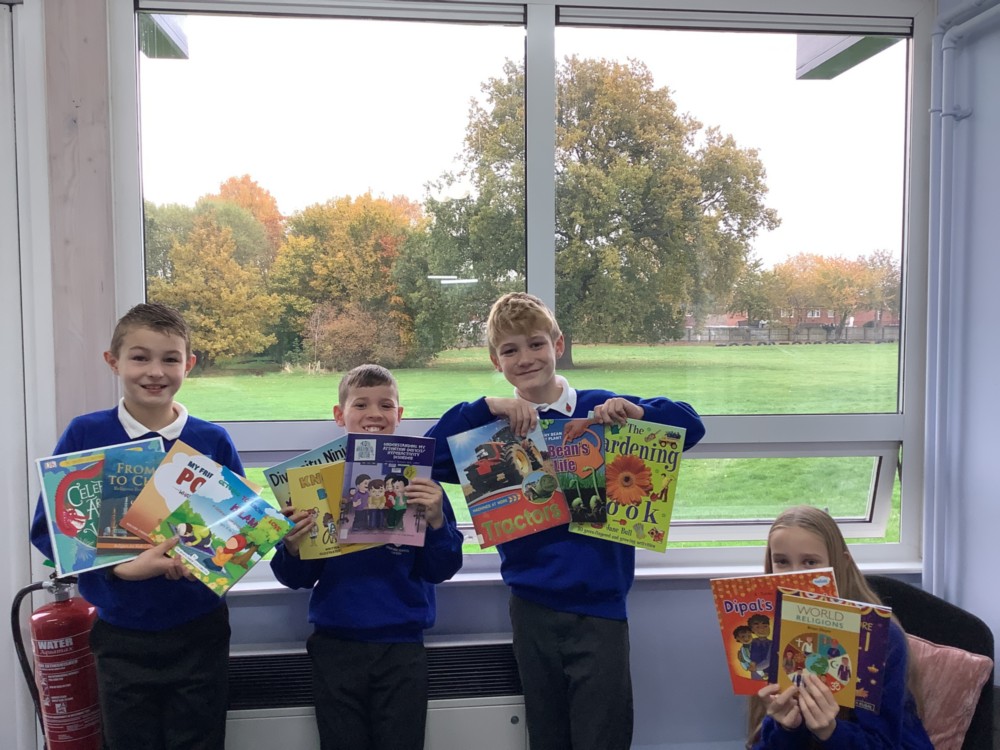 Year 6 Responsibilities
Our Year 6 pupils work marvellously around school with their additional responsibilities, such as; Head Pupil, Team Captain, Prefects, Well-Being Committee, Pupil Voice Committee and so much more!
They have taken on these extra responsibilities with a superb attitude and wear their badges with pride - keep it up Year 6!
Poppy Appeal Assembly
This week, John Smith from the Laceby British Legion came to Stanford to talk to us about how important the Poppy Appeal is. We learnt about the symbolism of the Poppy flower - the red to show the blood loss on the battlefields and the black to show grief that the world endured due to the wars. We also learnt about how we can help to raise funds and support The British Legion so that they can continue to help to support veterans and also to help future generations to never forget the sacrifices that were made.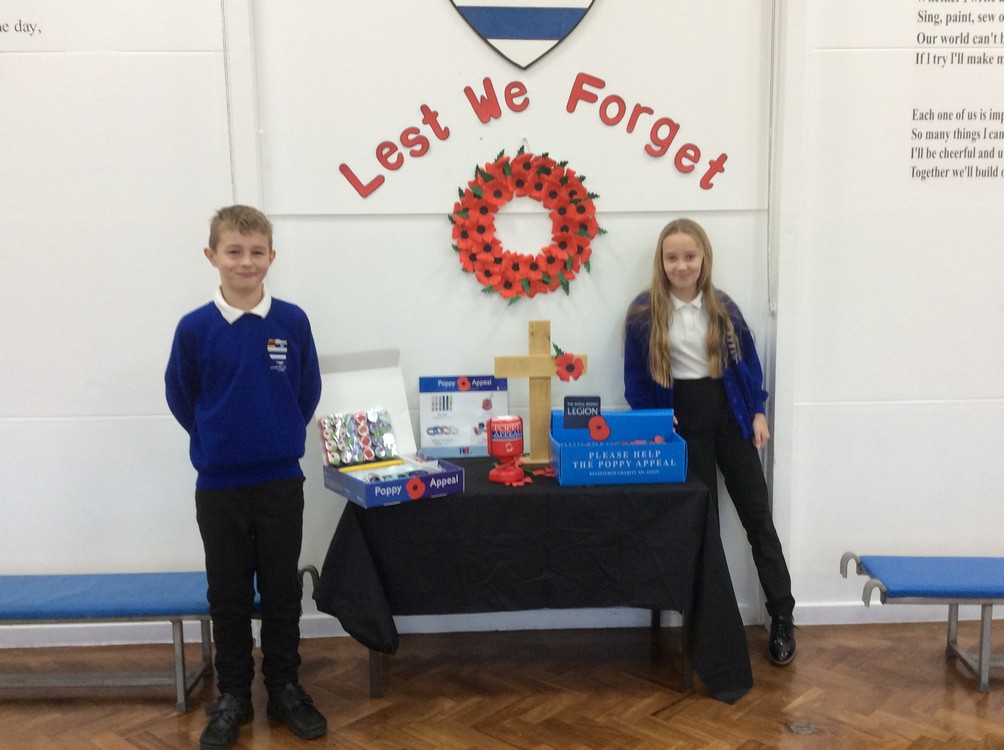 Our Head Pupils will be visiting each class every day until Thursday 11th November (Armistice Day) with the merchandise from The Poppy Appeal. Cash or Scopay donations can be made.
Bonfire and Firework Safety assembly with Humberside Fire and Rescue Service.
Foundation, Year 1 and Year 2 children had a very special assembly today to learn all about keeping themselves and others safe on Bonfire Night.
J- My mum puts a carrot on the end of my sparkler to stop me burning myself.
D- Children must never touch fireworks. Grown-ups need to be in charge of them.
S- Loud fireworks can scare pets. They should stay inside.
C- Don't stand too close to fireworks or bonfires, so you don't get hurt.
E- Don't throw fireworks- they are very dangerous.
W- If a spark lands on your clothes, you must stop, drop and roll. Don't roll back into where the fire is.
Black History Month
The children in Pumpkin Class have been finding out all about the life of American artist Alma Thomas.
They discovered that during her life she had been treated very unfairly because of the colour of her skin.
The children enjoyed exploring her art work and found her colourful pictures inspiring and so they decided to create some of their own.
Mental Health in an Unequal World
Mental Health and Well-Being is a huge part of our curriculum at Stanford, we have recently had a whole school focus on Mental Health in an Unequal World as part of Mental Health Week.
Children decided that they would like to design a mental health awareness badge to wear in school and showcase to other pupils. All of these designs were to help spread the message of talking about mental health and understanding that we cannot always see who perhaps needs a friend to talk to, or someone to help make them feel valued and appreciated. Each and every badge was unique and generated discussions with children across school and made others smile too - well done Barley Class.
Barley Class Responsibilities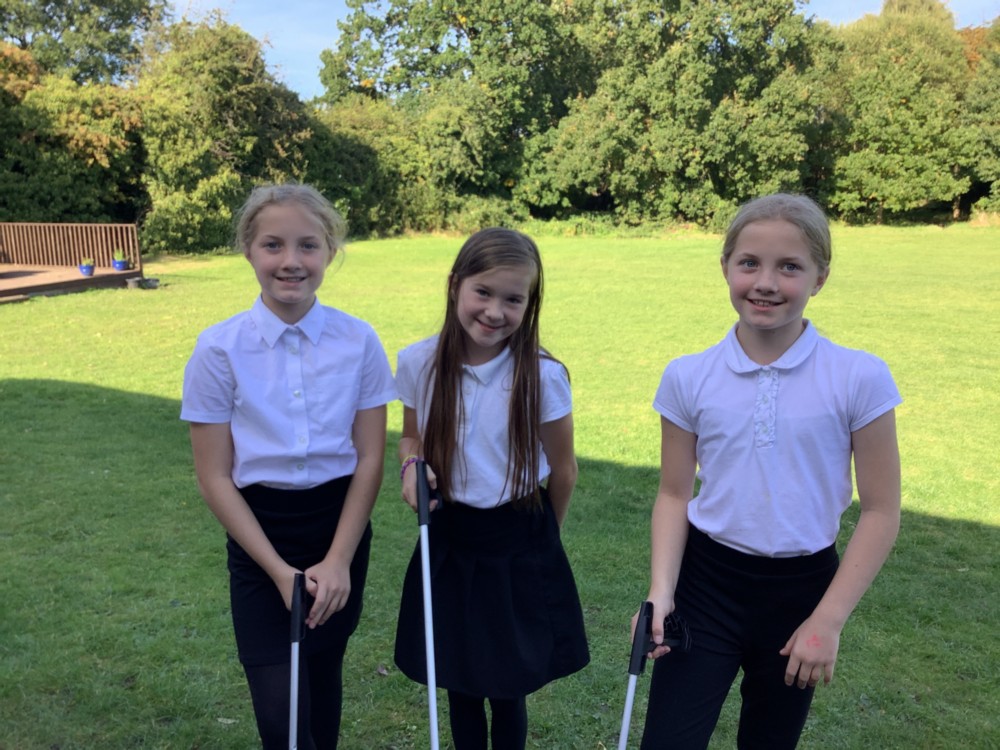 In Year 6 we have some wonderfully sensible and responsible pupils!
Some of our pupils volunteered to help keep our school community looking tidy and clean by using the litter pickers on the school field and around the school.
Thank you for helping to keep our school environment looking fabulous!
Wow! Sport Event
Today, Barley Class took part in the Wow! Sports Event which Pupil Voice decided would be Tag Rugby.
As you can see, we had a fantastic morning practising our throwing, catching and team building skills!
Go Read! Reading Challenge
Some of our Y6 pupils have been helping to promote our weekly home reading challenge and using our new Go Read app.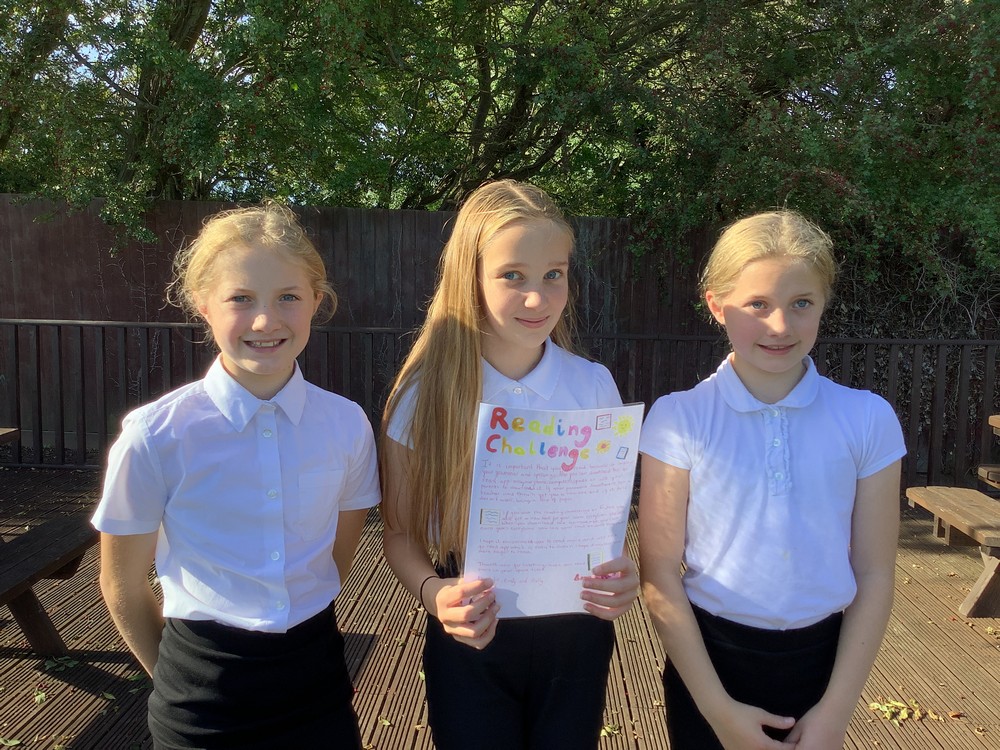 They have made posters to put around school and will also be visiting each class to share why reading is so important and how fantastic our new online app is.
Well done to all of the pupils who have been successfully logging their home reading this term.
World Mental Health Day
Pumpkin Class
Pumpkin Class have been discussing how important it is that we look after both our physical and mental health. Here are some of the posters that they made. H- Mental health is important and so is drinking water, eating fruit and going to bed on time. Look after yourself- don't be sad, sad is bad.
K- We can help each other.
L- Don't Worry Be Happy. I love that song, it cheers people up if they are feeing sad.
D- Let's help each other, so we can all feel better.
C- If you see someone sad, do not judge them. You ask them why they are sad.
J- It's OK to not feel OK. We all have good days and bad days. We can look after each other.
E- If you feel worried or sad you could talk to a teacher, a friend or someone at home.
P- You could talk to your doctor if you feel sad and poorly.
W- I think talking to people and telling them how you feel really helps.
Year 3 - Poppy Class
As a part of our learning about mental health & equality we thought about what we can do to make ourselves happy and what we can to do make the world a fairer and nicer place.
The children had lots of fun making stickers with positive messages and lovely illustrations on them.
Pupil Voice team and Mental Health Ambassadors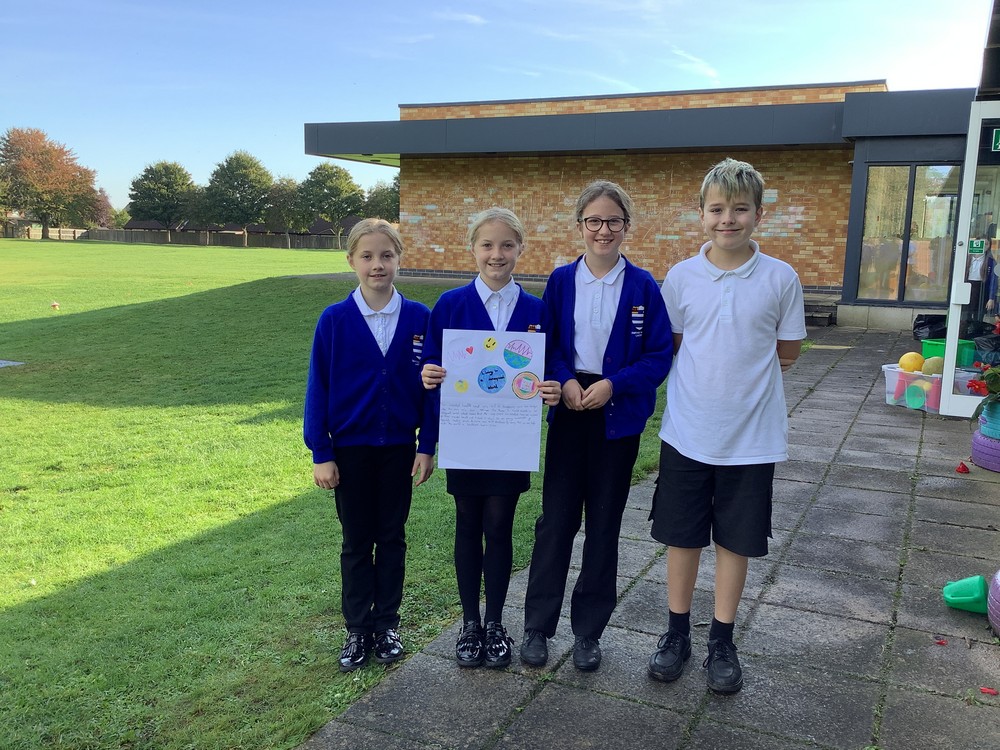 World Mental Health Day is on Sunday 10th October, the theme is 'Mental Health in an Unequal World'.
Our Pupil Voice team and Mental Health Ambassadors thought it would help to raise awareness of this important issue by having our PSHE sessions next week to focus on Mental Health and Equality. All children will also create a sticker that represents mental health to them.
A Balanced Lifestyle
In our PSHE sessions we have learning about the importance of leading a balanced lifestyle. We have discussed ways we can help ourselves to be physically and mentally healthy.
Some of our top tips include regular exercise, eating fruit and vegetables, hobbies, spending time with family and friends, meditation, spending time alone when needed, bubble baths and spending time outdoors.
Anti-Bullying Ambassador Training
Recently, some of our Juniper and Willow pupils have participated in an exciting new project at Stanford! They have begun their Anti-Bullying Ambassador training - a marvellous project delivered by The Diana Award. They spent the day with Clio, a representative from The Diana Award, who worked with the children to help them understand how they can spread the message of helping and supporting one another, abolishing bullying and feeling safe and happy at school and online.
Our Anti-Bullying Ambassadors will help to train other children and each month will be working with Mrs Jones, Learning Mentor, to continue embedding their training across the school.
For more information, please visit diana-award.org.uk/anti-bullying
Keep checking our class and SMSC blogs for upcoming exciting events with this project!
Harvest Celebrations at Stanford
Please see below for information from our Head Pupils regarding our Harvest Celebrations. Thank you for your support.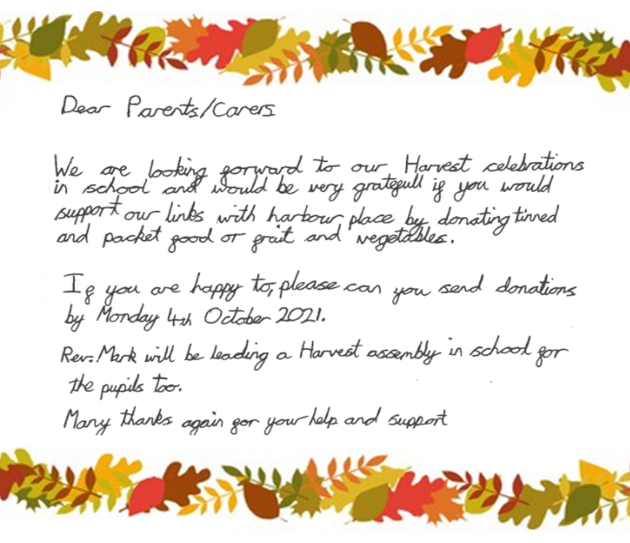 Y2 and Y6 Reading Collaboration
On Friday, Barley and Pumpkin classes had a wonderful time sharing their stories during reading collaboration.
F - I really liked reading my book with the Y6s because it had nice pictures in it.
E - It was fun to sit with another class and listen to them reading to me.
K - The Pumpkin Class reading corner is so cosy! I enjoyed helping the younger children sound of the words in their stories.
Starting the day with a smile
To greet each child in a unique way the children were asked to come up with ways that we can greet each other in a socially distanced manner. It always makes the children smile and it's a good way to start the day!
World First Aid Day
To celebrate this Year 3 looked at how they should call for assistance in case of emergencies, how to care for burns & scalds and treatment for bites & stings. In addition to this Miss Perrin showed the children how to place someone in the recovery position if they were unconscious. Some people had a chance to try this for themselves by 'helping' Mrs Lawson who we found on the floor! What great skills to have!
---
Ancient Greek Hook Day!
This term we will be learning all about the Ancient Greeks.
For our Hook Day, we discovered where the legend of the Minotaur and The Labyrinth came from, different Greek Gods and Goddesses, Ancient Greek art and architecture and discussed how the Ancient Greeks have influenced the modern world.
We are really excited to learn more about the Ancient Greeks - we will keep you posted on our Barley Class Blog!
Head Pupils
The votes are in....!
A huge welcome to our newly appointed Head Pupils who received the most votes across the school after the Head Pupil Assembly on Friday.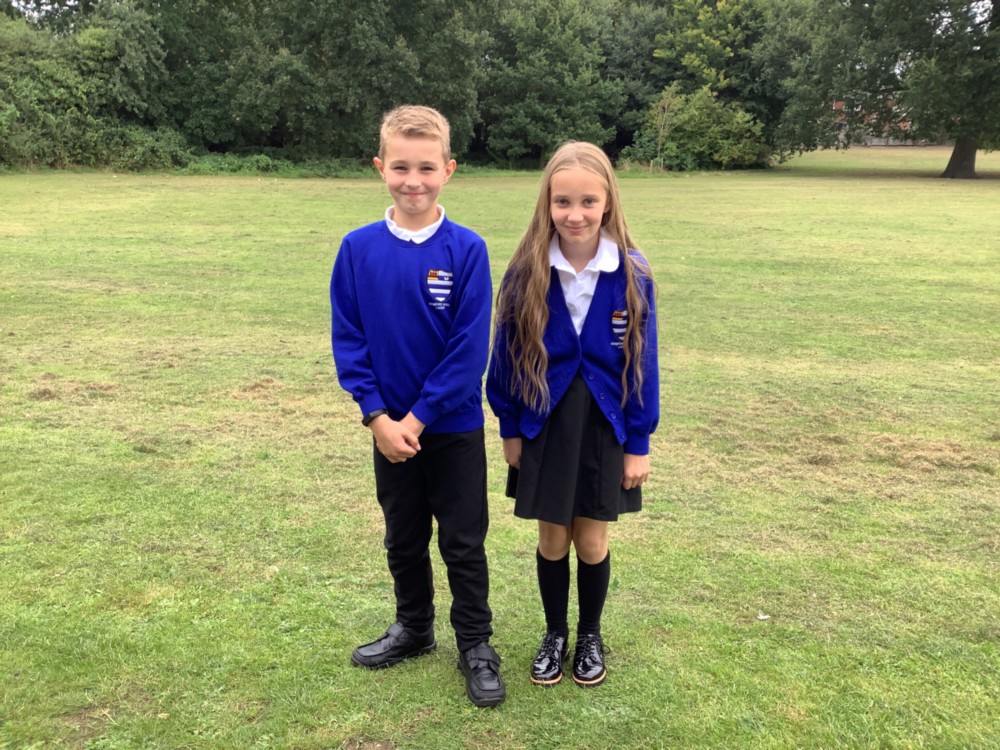 They have already delved into their responsibilities and are looking forward to representing Stanford school and the pupils this year.
Stanford School Head Pupils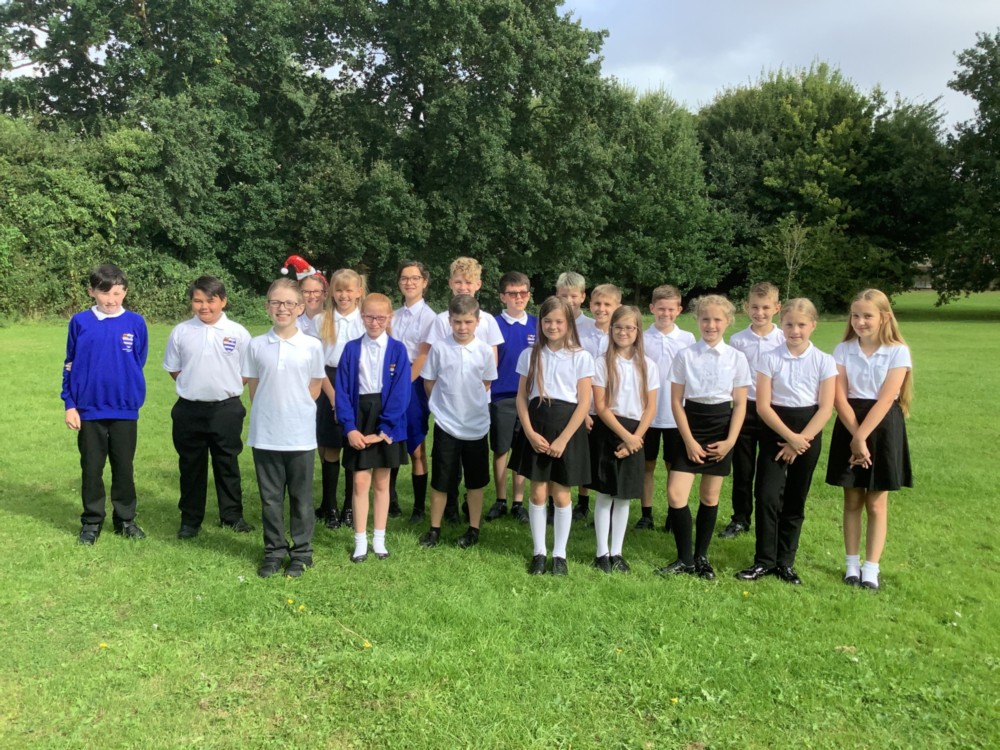 Wow! Well done to our amazing Year 6 pupils who delivered their Head Pupil speeches in our assembly this morning. The commitment, dedication, kindness and motivation shone through from all of the candidates. We are all very proud of you!
We will update you with our two Head Pupils when all classes have voted.
PSHE: RSE Day Celebrating Positive Relationships
The children have been thinking about their families.
Are all families the same?
Families can be made up of people of all different shapes, sizes, cultures, races and relationships. Families are made when people who love each other want to care for each other. They don't have to live together to be a family.
The children enjoyed listening to a special story about all different kinds of families called 'And Tango Makes Three.'
The children drew great pictures of their own families and made beautiful hearts to celebrate RSE Day. Well done everyone!
Pupil Voice Sports Equipment
As part of our latest Pupil Voice meeting, children in each class discussed how they would like to have more playtime equipment, including bats, balls and a volleyball net.
Here we are enjoying this equipment on the playground and field.
Basic First Aid
As part of our PSHE curriculum, we have been learning about how to respond to an emergency, who to call and what immediate support and assistance we can give.
In this session we learnt about the recovery position and how it is a vital piece of basic first aid that everyone should know how to confidently deliver.
DM - it is so important to learn how you can help someone in an emergency, I'm glad we have been learning about it!
MM - recovery position is important, as it can stop someone from vomiting and choking.
GH - you need to make sure you tilt the head up and to the side to clear their airways and also stop someone from biting their tongue.
Well done Barley Class for your mature and sensible attitudes in our First Aid lessons!
Nature Photography
In Year 6, we were inspired by Andy Goldsworthy to create, and photograph, some Nature Art. We used the Nature Area and school field to collect materials of different shape, size, texture and colour to create our 3D art pieces.
We created flowing patterns in concentric circles and explored different filters with camera. We will continue learning about different effects and filters using the cameras - keep checking our class blog for updates!
Dental Hygiene: We all have lovely smiles!
The children have been learning all about the importance of looking after their teeth. They listened to lots of stories and songs and even found out how toothpaste is made. The children found information on the displays around the school and made their own information posters.
H- Everyone should brush their teeth.
L- My teeth are shiny. I brush them every day.
F- I know which food can be good for my teeth and that sugary food can make your teeth go bad.
C- I look after my teeth because I don't want any fillings.
K- I made a poster to tell everyone to brush their teeth properly.
R- You must brush your teeth twice a day and do it for two minutes each time.
W- The germs in your mouth can attack your teeth and make them have holes.
E- I want to go to the dentist and get my teeth checked out.