History
At Stanford School we hope to inspire the children through our History teaching to be curious about the past and the way it affects our lives today. We aim to give the children a greater understanding of the World they live in and it's History, and so have better informed values and attitudes. We endeavour to deepen our pupil's knowledge and understanding of people in other societies, religions, and cultures and countries, as well as their own. We teach history skills progressively from Foundation to Y6 so that the children are able to find evidence, weigh it up and reach their own conclusions.
The children's knowledge is enhanced by many visitors, school trips to places of historical interest as a well as drama workshops, themed historical days, and close links with the local history group. We are also very proud of our heritage at Stanford School and enjoy a special celebration each year on Founder's Day.
You can find information on local history at the Laceby History Society website.
Geology Rocks!!
Linking to our English book and our learning about rocks we arranged for a geologist, Mr Evans, to come and talk to us about rocks, volcanoes & fossils. He brought some of his collection of different types of rocks and fossils for the children to look at and handle.
The children really enjoyed this experience and had lots of questions for him. He was very impressed and surprised by our knowledge of rocks and the questions that the children asked. The children loved handling the fossils and the different types of rocks.
Can I find out about toys and games long ago?
Mrs. Griffiths visited Sunflower Class and gave a very interesting and interactive talk about lots of different old toys and games. She told the children how her Grandad and Dad used to make her toys out of wood when she was little. The children had fun exploring many toys, including; a diablo, a yo-yo, tiddlywinks, jacks, a spinner, a whip and top, cats cradle, marbles and a space invaders game. She also demonstrated how toys could be made from paper, such as a fortune teller and a paper plane.
Mrs. Brady would like to thank Mrs. Griffiths for sharing all her wonderful toys and games. Everyone learnt something new today!
History Home Learning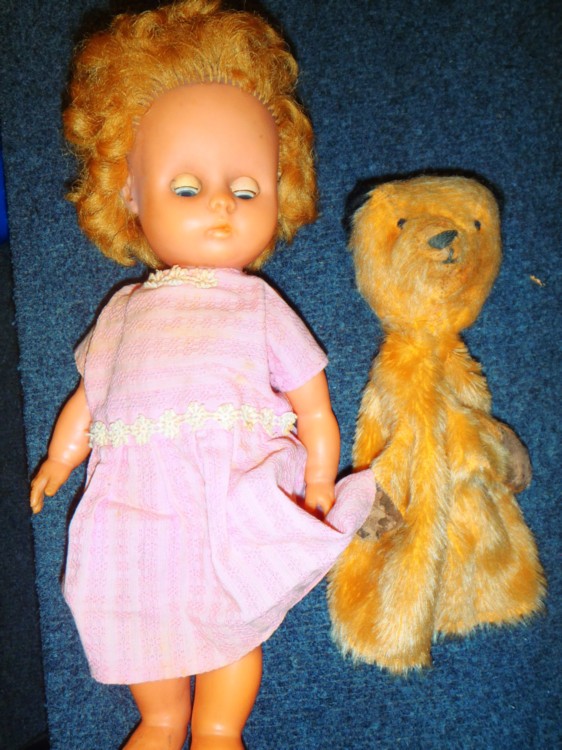 The Sunflowers are busy finding out about old toys.
They have been looking at these lovely old toys that Mrs. Brady's mum played with when she was little.
JS- Sooty doesn't feel very soft and he has lost some fur.
CJ- Sooty looks like his neck has been mended.
RJ- I think Sooty's head feels hard. It could be stuffed with sawdust.
PR- The doll is called Rosie. Her dress is all dirty which makes her look old.
OB- Rosie's hair is not very soft like my new dolls. It feels rough.
The Sunflowers will be asking their parents and grandparents about the toys that they played with when they were little. We would very much like to borrow any old photographs or old toys for our class Toy Museum!
Year 5 Heritage Centre Trip
Year 5 visited the Grimsby Fishing Heritage Centre as part of out history topic 'Local Area Study'. We have been learning all about how Grimsby has changed in the past 100 years, particularly focusing on how fishing impacted the local area and how lifestyles have changed.
We had a fantastic time touring the museum taking us back to Grimsby in the early-mid 1900s, learning about how people lived, the role of trawlerman and other crew members and also how the local communities benefited from living in a busy fishing area.
As you can see from the photographs, we thoroughly enjoyed our visit and would like to say a big thank you to David for our museum tour and Ron for our superb tour of the Ross Tiger! We learnt so much and enjoyed every second of the day!
Can I create a war poem using powerful and emotive language and Imagery?
Can I create Remembrance art using silhouettes and shading, using different mediums?
Barley Class work this week linked with remembrance Day. We analysed a range of different poems, written by different writers, on the war. We then used these as inspiration to write our own war poems using powerful language and imagery.
We also used a range of art mediums to create silhouette artwork linked to Remembrance Day. To create the background we used the shading technique to create a sunset effect.
Some of these were also shared on our Remembrance Service on Friday.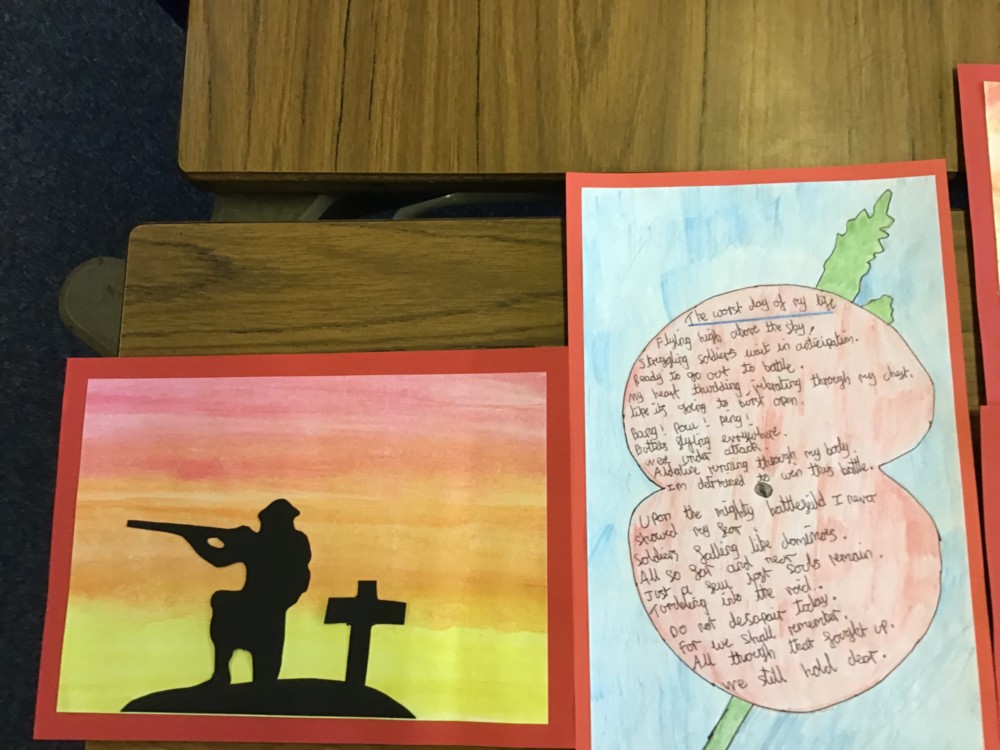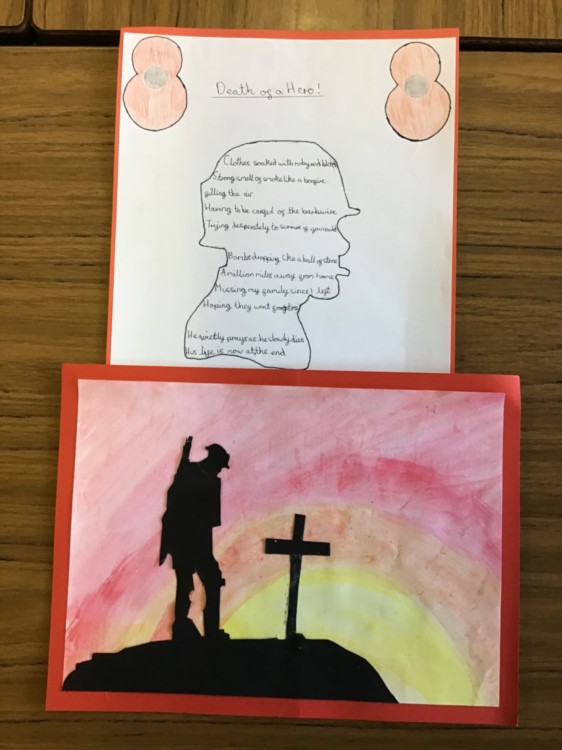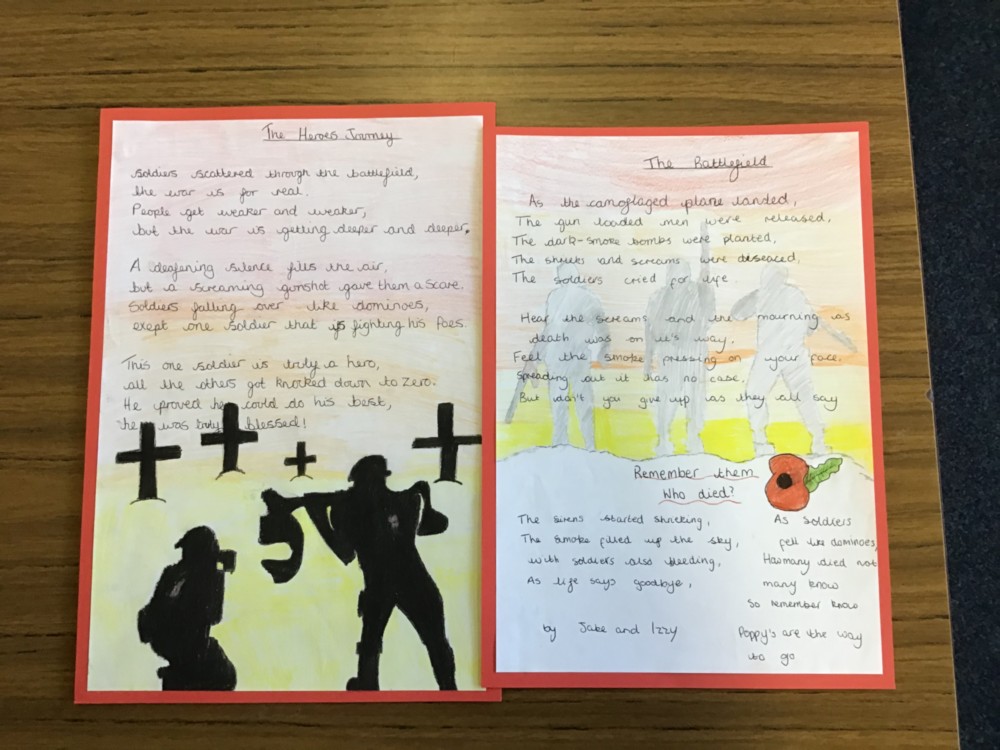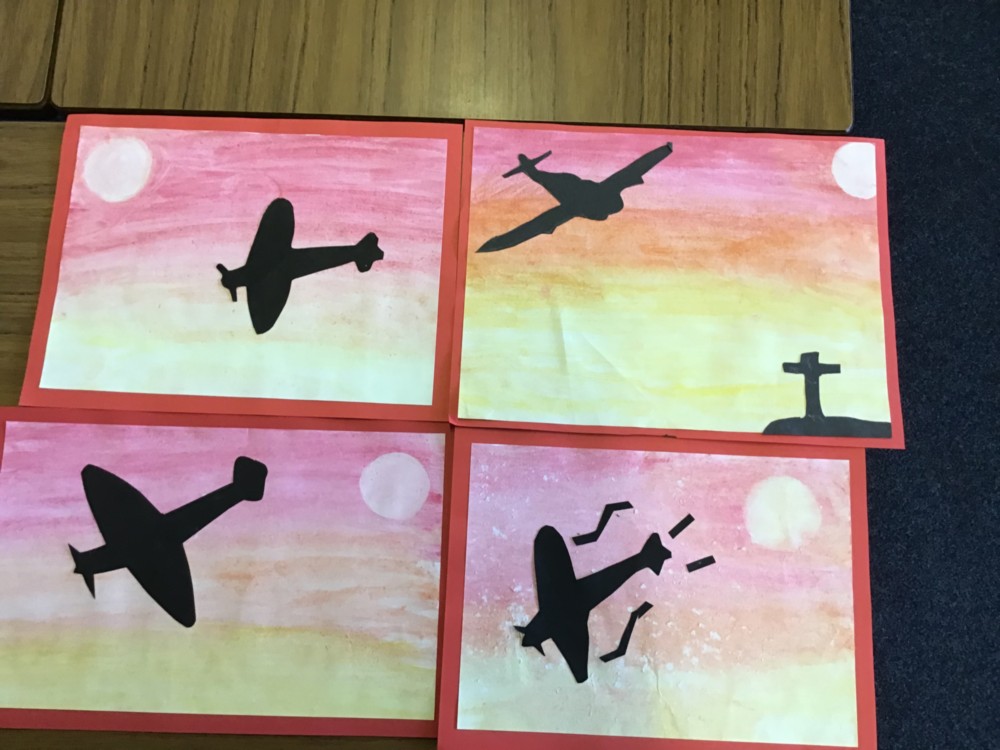 Lest We Forget
As part of commemorating 100 years since the end of WW1 some members of Star Anise and Barley helped make poppies as part of a display in the KS2 playground. "Lest We Forget"
Can I learn about a significant historical event?
Sunflower Class have found out why we celebrate Bonfire Night. They have enjoyed making a Guy, painting firework pictures and retelling the story of The Gunpowder Plot. They particularly enjoyed finding out some gruesome details!
Do you know why we eat toffee apples on Bonfire Night? Do you know why Guy Fawkes is remembered? Do you know who was the King of England in 1605?
For more interesting facts and information visit: www.theschoolrun.com/homework-help/guy-fawkes-and-bonfire-night
LQ: Can I create a poppy for Remembrance?
Children have been creating poppies at part of remembering 100 years since the end of World War I. Children moulded clay poppies, cut paper poppies and painted poppies too.
Children also wrote about poppy day and sat silently in our assembly for 2 minutes. We will remember them.
LQ: Can I talk about and join with with customs and celebrations?
We have been celebrating Bonfire Night and learning all about the story of Guy Fawkes and the Gunpowder Plot.
Children have been sequencing pictures of 'The Gunpowder Plot' story, splattering paint to represent fireworks and making toffee apples with the play dough. We used our maths knowledge and cutting skills to make 2D shaped rockets and in P.E we have been dancing with ribbons and scarves to both classical and pop music. It has been a sparkling week!
Can you tell a grown up the 'Fire Safety Code'?
Normanby Hall
We went on a fabulous trip to Normanby Hall to learn about what it was like to be a Victorian.
In the morning we visited the main house.
There we met the housekeeper. Mrs Harding. We considered how this building was different to the homes that we live in.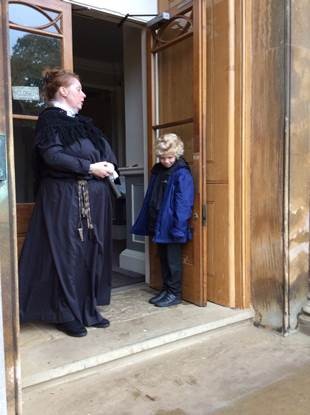 Mr Marrows, the Butler decided if we could enter the hall. We had to greet him very politely.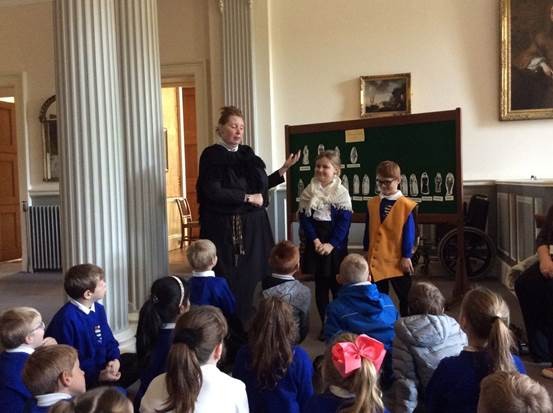 In the hall we learnt about the Sheffield Family using information from the 1892 census return.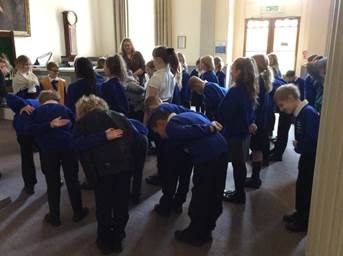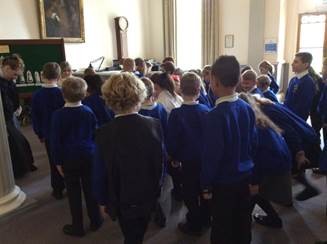 The boys practised our finest bows and the girls practised their most gracious curtsies.
We closely looked at Lady Sheffield's drawing room. From this we were able to see the sorts of activities she spent her time doing.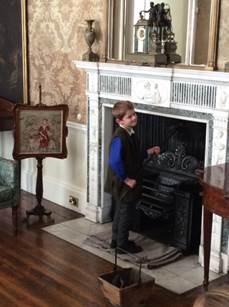 The fire was kept clean by a young male servant who had the job of cleaning the chimney. He had to start work really early.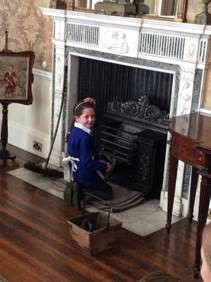 The House maid had to do all the cleaning including blackening the hearth. If she didn't do a good enough job she would be punished or get the sack!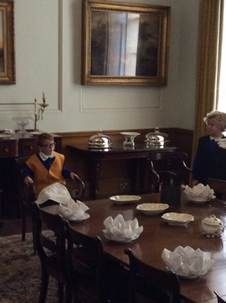 Meals were very extravagant. The Sheffield family were served their meals by the butler. The meals were prepared by the cook. The Kitchen servants would do all the chopping and preparing as well as the washing up. There were lots and lots of courses. Sir Berkeley would sit at the head of the table. Lady Sheffield would sit the opposite side.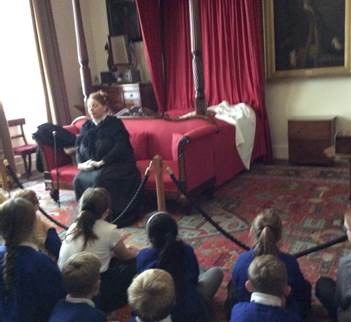 In Sit Berkeley's bedroom we learnt about how he would have help to get dressed, undressed and washed. The cupboard at the side of the bed was actually the toilet! It was the servant's job to empty it each time.
After lunch we learnt about what it was like to be a laundry maid. Washing during the Victorian times was quite different from today.
We learnt about the process and discovered it was hard work!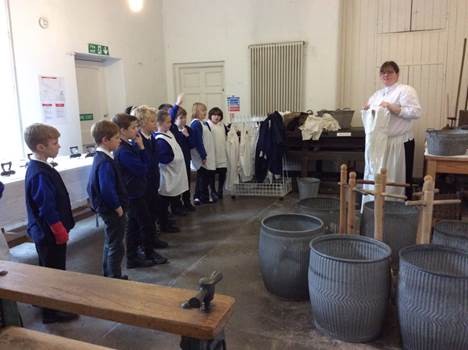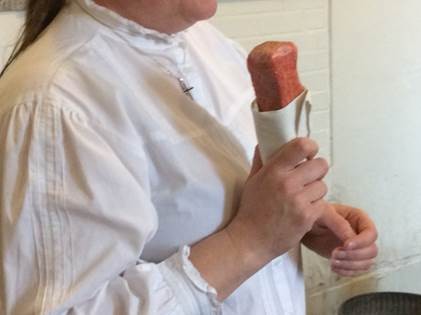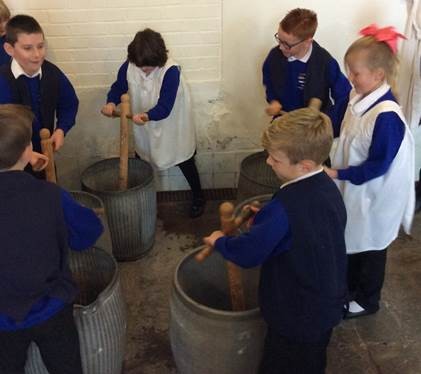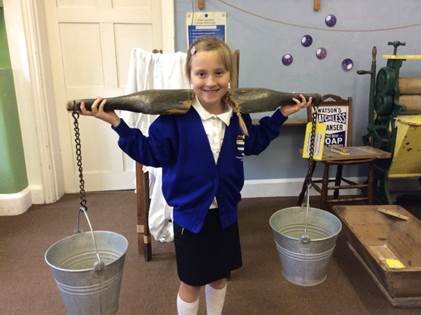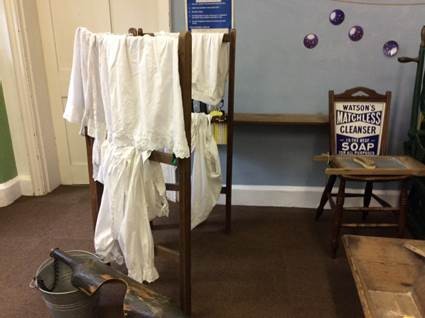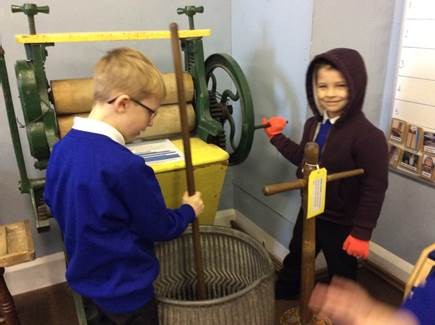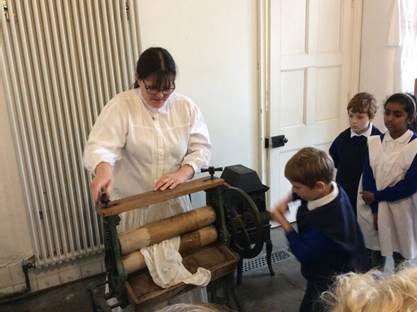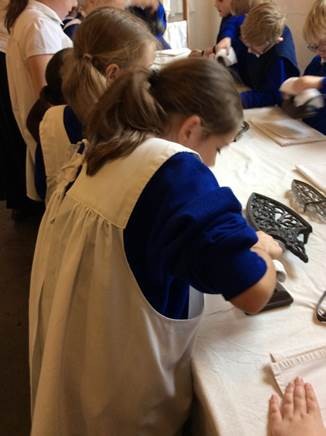 Egyptian Hook Event
Poppy class has a wonderful morning launching our learning about the Ancient Egyptians.
Papyrus Making
First the children learnt about how the Egyptians were the first civilisation to start writing on a form of paper called papyrus.
We tried making our own version of this. It was very messy!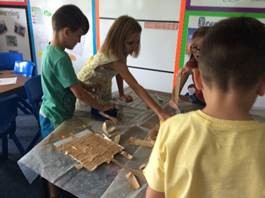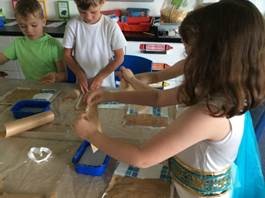 Keep looking out on the blog for these as we have great plans for them once they are dry.
Egyptian Necklaces
The Egyptians liked to look good and most of the wealthy people wore necklaces as they were a status symbol. They liked them to be made of gold with lots of bright colours and beads on them. The children started to design their own necklaces which we will be making shortly, so keep checking the blog to see the finished results.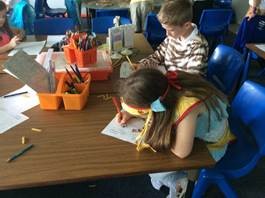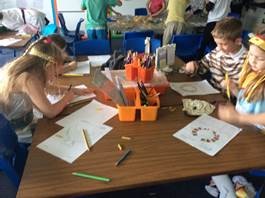 The children looked fantastic dressed as Egyptians, Mummies and Explorers.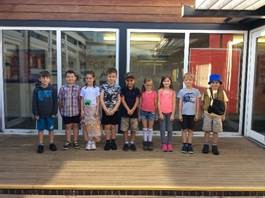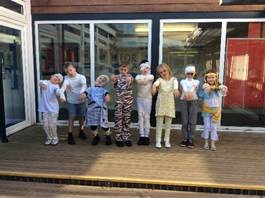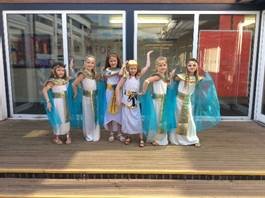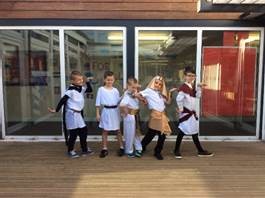 Thank you for all the effort you put into making the children look so fabulous!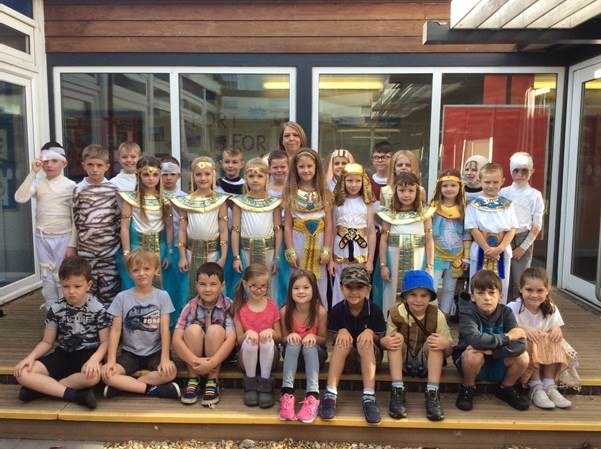 Barley Hook Day
The children in Barley class had lots of fun and a fantastic start to the term with our Ancient Greek Hook Day. Many of the class wore exciting costumes; dressed as soldiers, emperors, or even Gods and Goddesses. We designed and painted some terracotta pots in the style of Ancient Greek pottery as well as designing and crafting theatre masks and tasting some Greek salad! We look forward to sharing some of our work, as well as lots of writing and other art projects, in our class learning share that will take place before Christmas.
School History

Seedlings class learnt about the history of Stanford school and about Sarah and Philip Stanford. Children then wrote about Founders' day.
Events beyond living memory that are significant globally:
Can I learn about the moon landing? Can I learn about the life of a significant person from the past?
Sunflower Class have enjoyed learning about the first moon landing and finding out lots of facts about astronaut Neil Armstrong. Why not try this quiz and see how much you know? Take the quiz!
Can I create an historical newspaper report?
The children in Barley class produced some outstanding work recently, showing their knowledge of an historical event – the execution of Anne Boleyn (linked to their learning about the Tudor's). Children were challenged to write in the style of a newspaper journalist and we were very impressed with the writing they produced.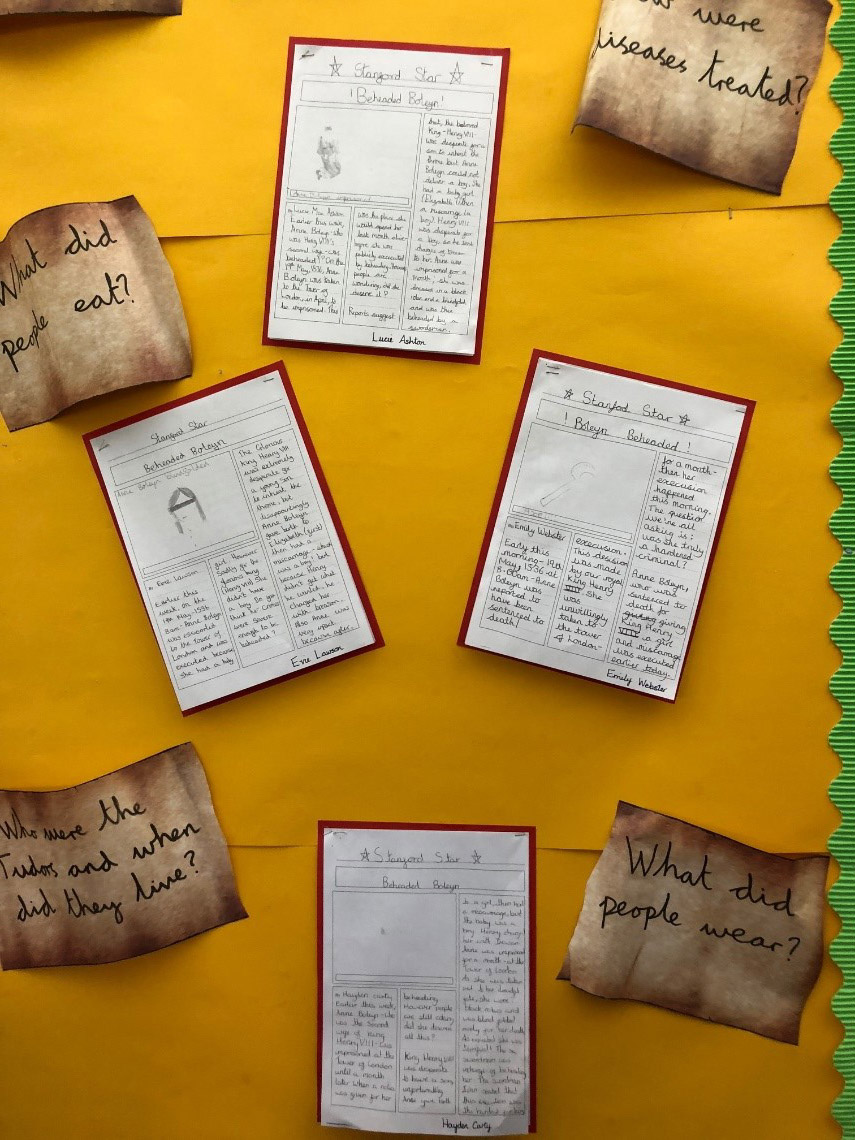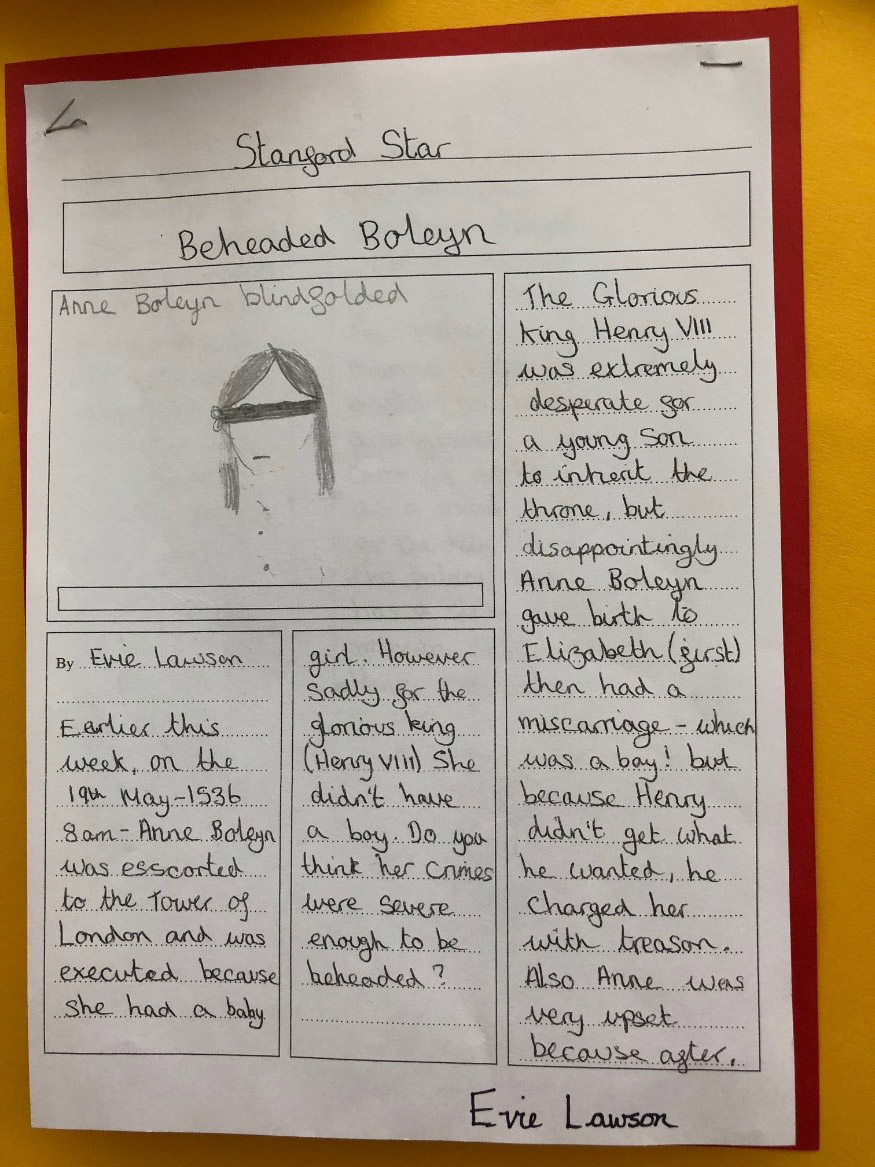 Creating masks in the style of the Ancient Mayan Mask?
We researched the different masks that were discovered from the Ancient Mayans. We used this as a stimulus to create our own mask designs. We are using a variety of different media to complete our masks.
Some of our designs:
Today we started to create our masks from our designs.
FS & KS1 Founders Day Service
Mrs Brumfield and Mr Lingard from the Stanford Trust came to speak to us about the history of our school and to help us to celebrate Founders Day.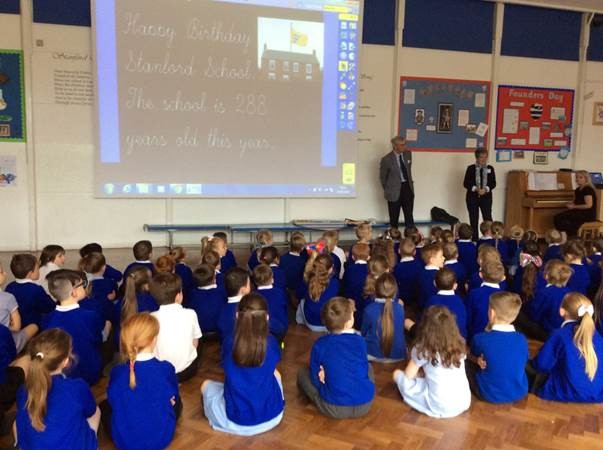 They were very impressed with our outstanding assembly behaviour.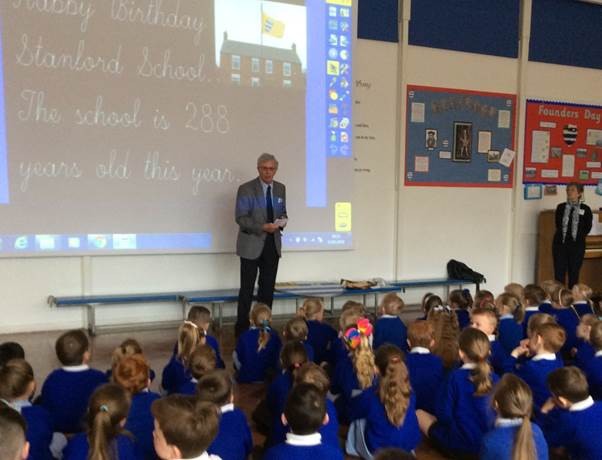 We learned that the school was 288 years old. We sang happy birthday to the school.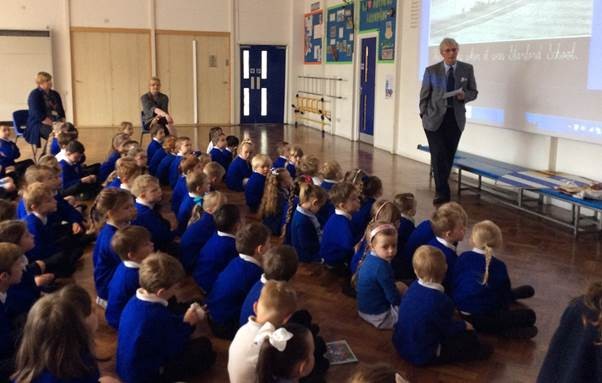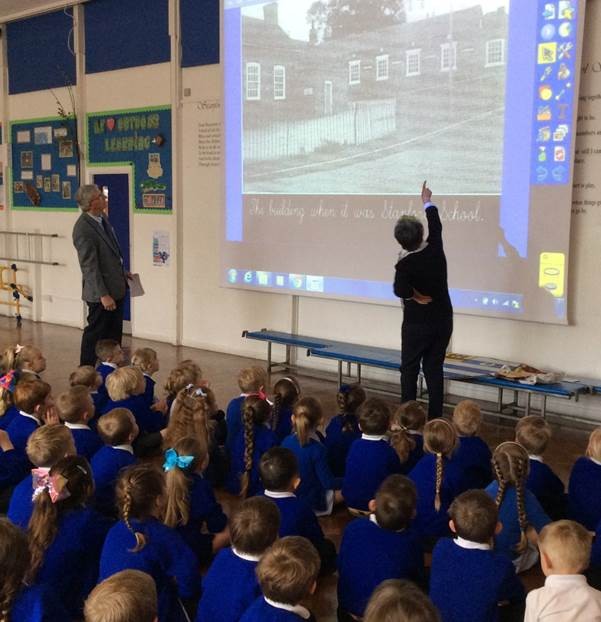 We looked at lots of different photographs from the past and listened to stories about Mr Lingard and Mrs Brumfield's school days.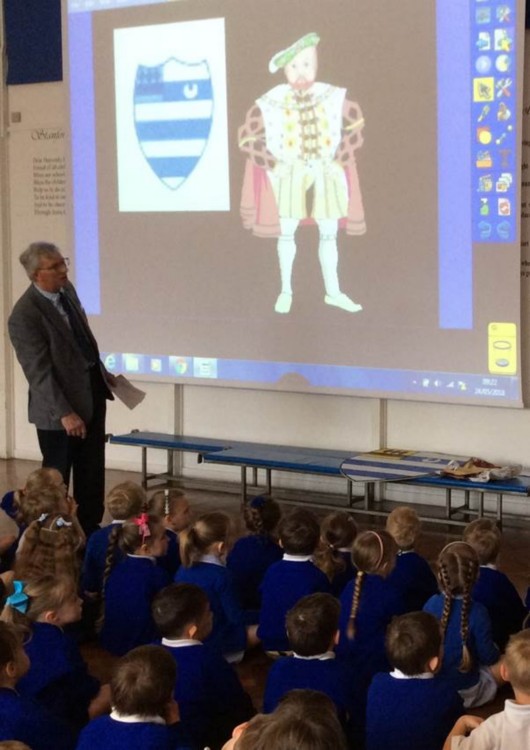 The school badge was granted to William Stanford (ancestor of Philip Stanford) by King Henry VIII on 6th May 1543. Even today we are all very proud to wear our school badge on our jumpers.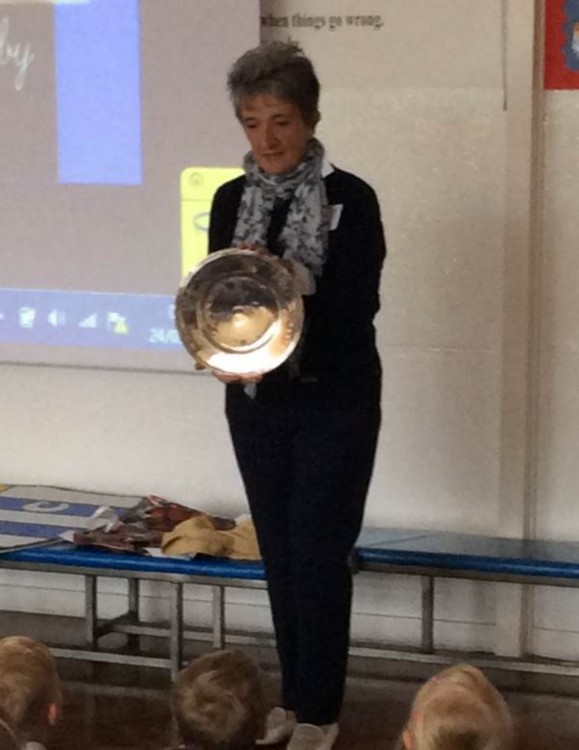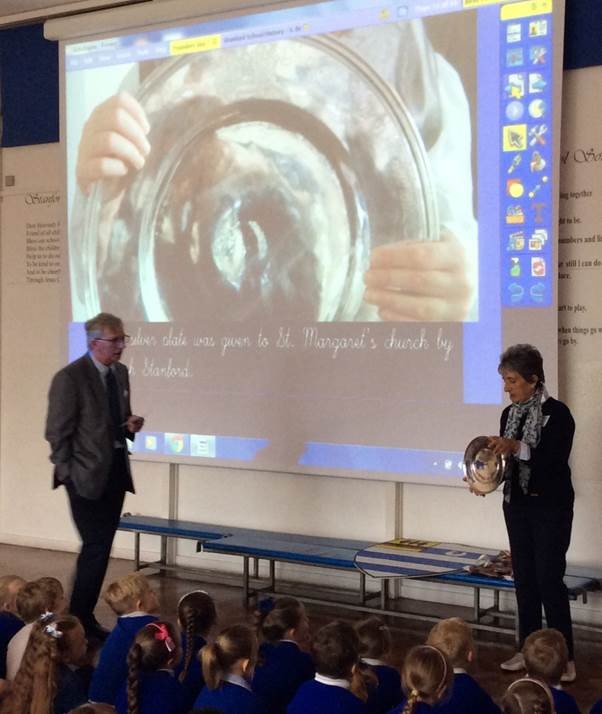 This precious plate is made of real silver and is kept at St Margaret's Church in Laceby. It was presented soon after Sarah Stanford died.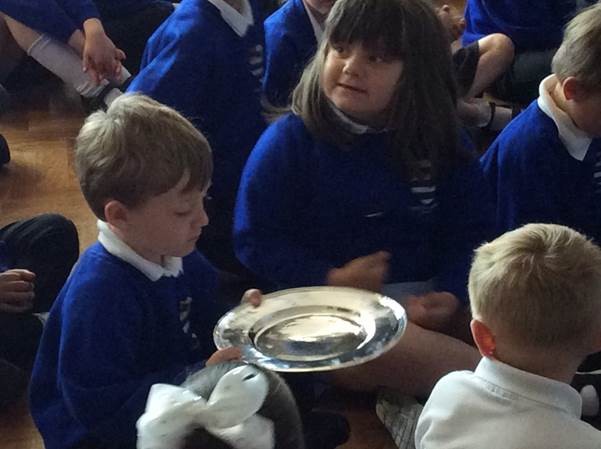 We even spotted the badge on the silver plate.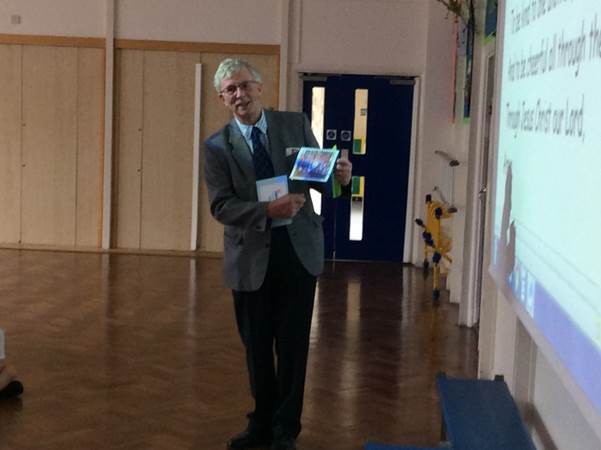 Mr Lingard was delighted with the birthday cards that we made.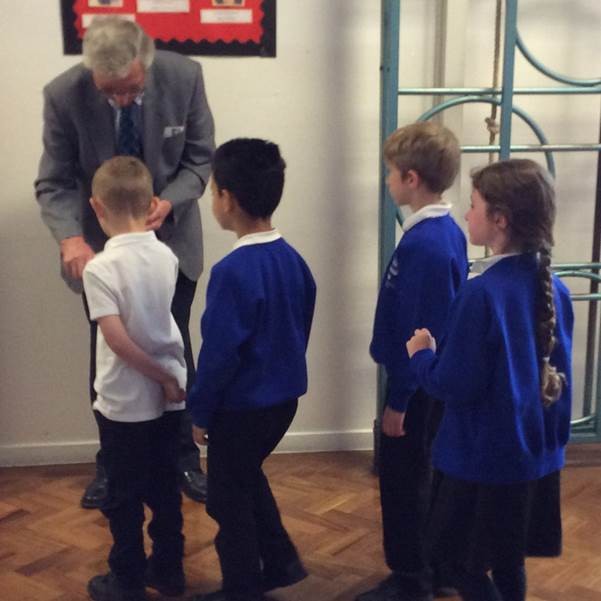 At the end of our service everyone in our school was presented with a 5p coin.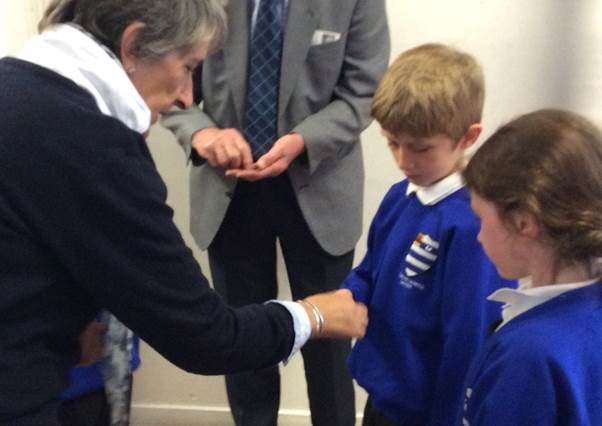 Oscar said "I really enjoy receiving my five pence coin, it feels very special."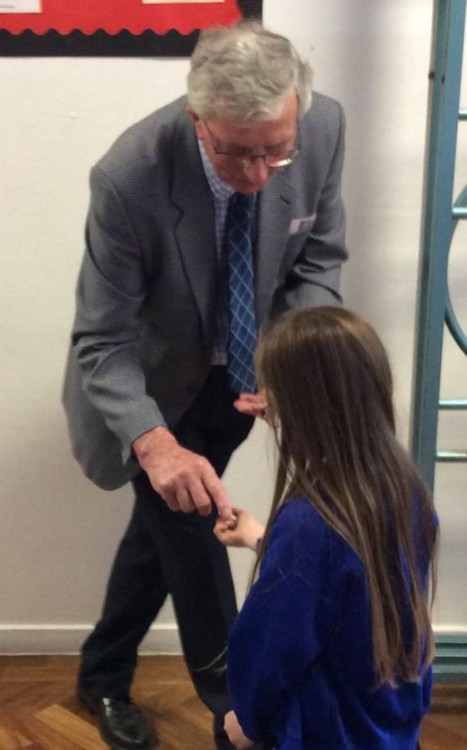 "I don't think that I will spend my five pence", said Ella "I will keep it forever on my window sill."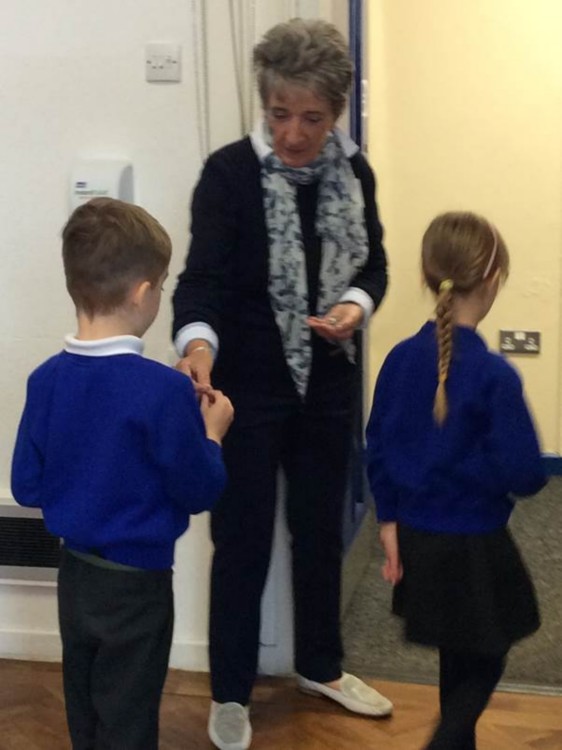 Happy Birthday Stanford School, 288 years old today!
Victorian Prison Visit
Today 8th May Star Anise had a fabulous day at The Victorian Prison in Lincoln. This is part of our history theme of Crime and Punishment through the ages.
The children learnt about Joseph Ralph who escaped twice and about many other prisoners and their gory punishments. As well as dressing up, learning about the history of the prison and the jobs the prisoners had to do.
Look out for more pictures and work to follow!
Romans on the Rampage! Y3 Hook Day
We had lots of fun on our hook day. Both parents and children have worked really hard in putting together some amazing costumes. The children really enjoyed dressing up as citizens, soldiers, gods and goddesses. Don't they look amazing?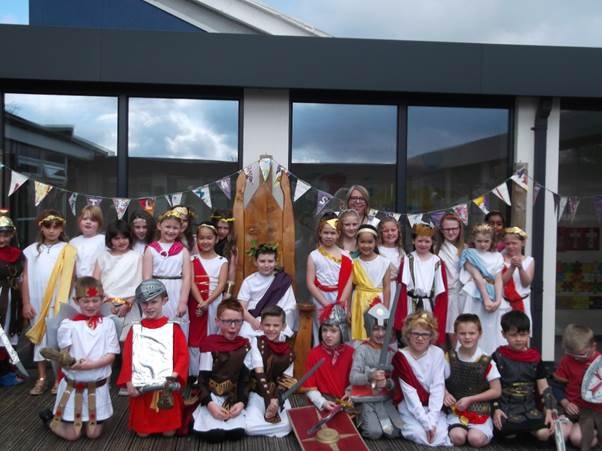 The children enjoyed taking part in the different activities and more importantly learning about the Romans.
Roman wreaths
The Romans liked to wear laurel wreaths on their heads. It was a symbol of victory and honour. The children made their own laurel wreaths using paper plates and paper.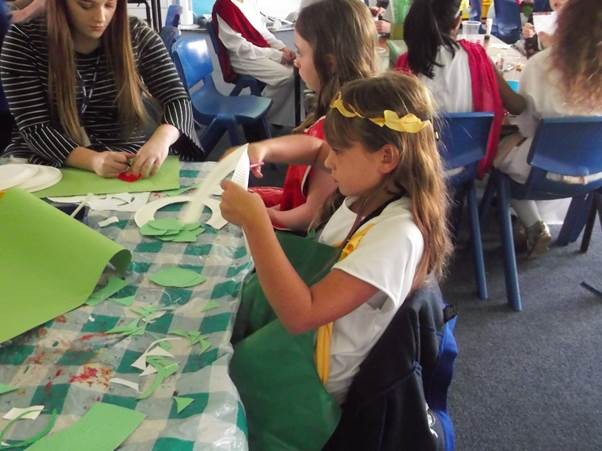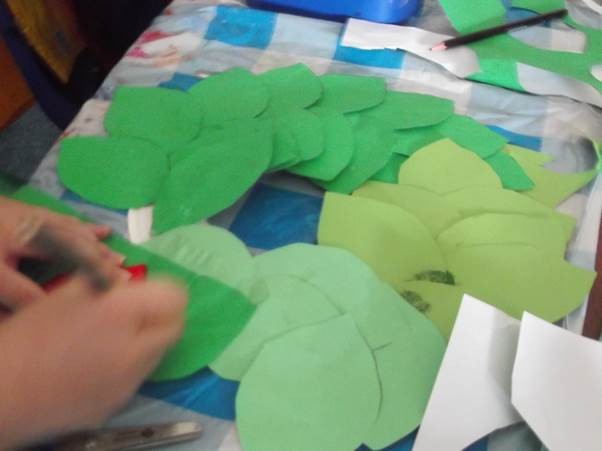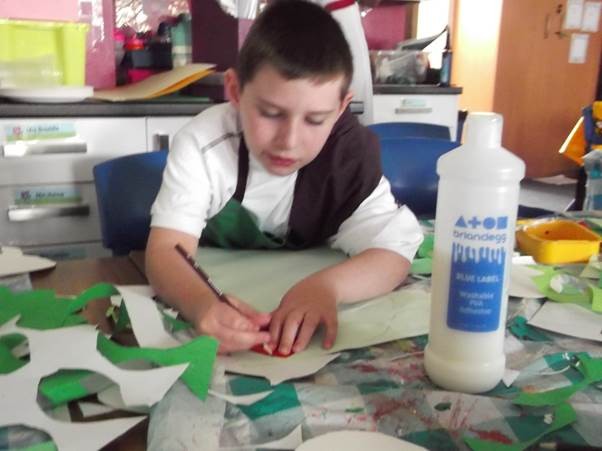 Roman Masks
Another activity was preparation for a Roman mask. In the theatres the Romans played lots of different parts, they used masks to show different characters and emotions. Today we started to make the base for the masks by using papier mache and balloons. We are going to work on these and produce masks for our very own Roman tragedies.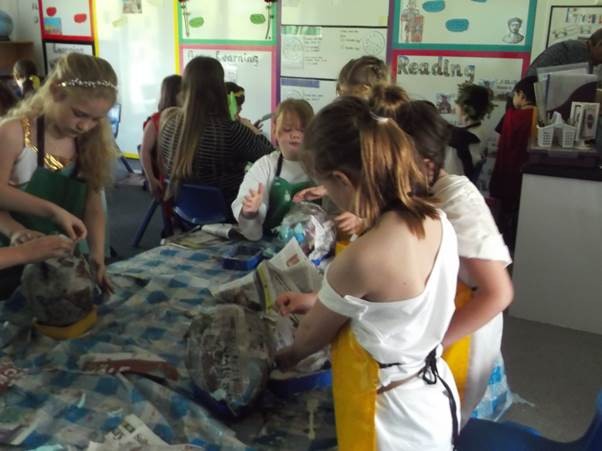 Roman Mosaics
The romans used tiles to make pictures which they called Mosaics. The wealthier the Romans were, the more intricate the mosaics they had on their floors. The children designed their own tiles and then created them with tiny paper squares. It was quite tricky getting the tiny pieces in the right places. Some children helped with larger mosaics which we will put outside our classroom for everyone to see.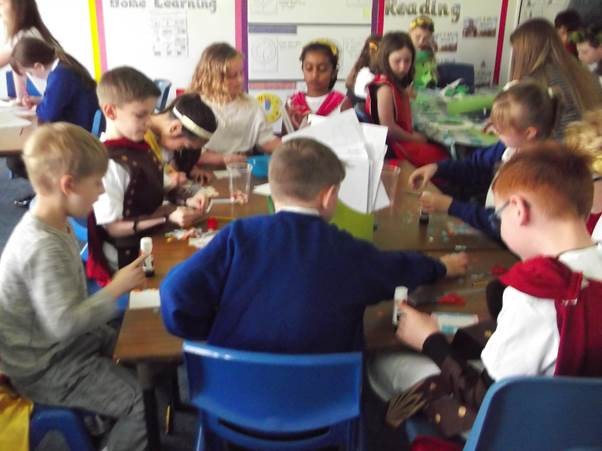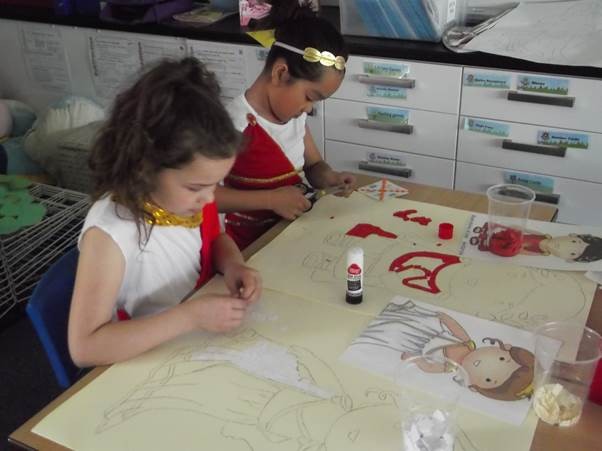 Roman Numerals
We learnt about how the Romans wrote their numbers as letters. It is very tricky working them out as they have to be in a certain order and they work from the largest value to the smallest
We learnt a way of remembering the order and value of the letters by using a mnemonic.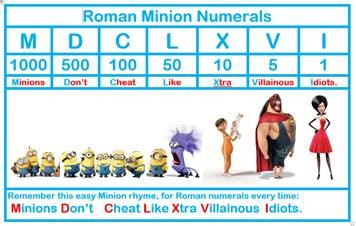 The children enjoyed using Roman numerals in different ways using them to work out shopping lists, break codes and simple addition and subtractions problems. Roman numerals are also handy for telling the time.
Roman costumes
The children looked at the different costumes that the Romans wore, depending on their social status. They chose an appropriate outfit for a Roman citizen or soldier.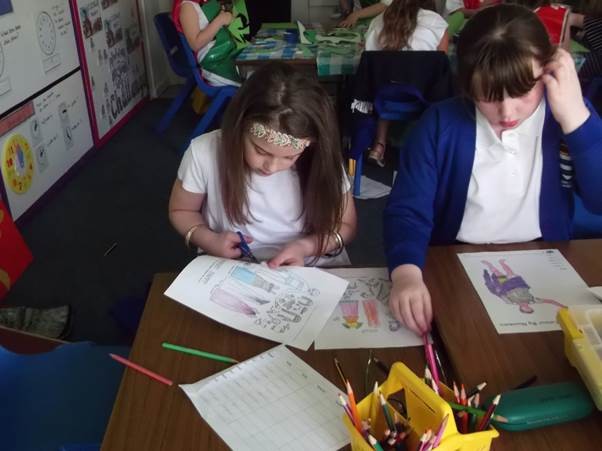 Roman Forum – Recyclng from different eras
The Romans had a place called a Forum where they discussed important matters of the day. At the end of the day the children were split into 2 teams and took part in a discussion. We looked at an important matter – Recycling first from a Roman point of view where they didn't consider it important and then discussing how recycling is far more important today considering the polution of the oceans and its harm to the environment.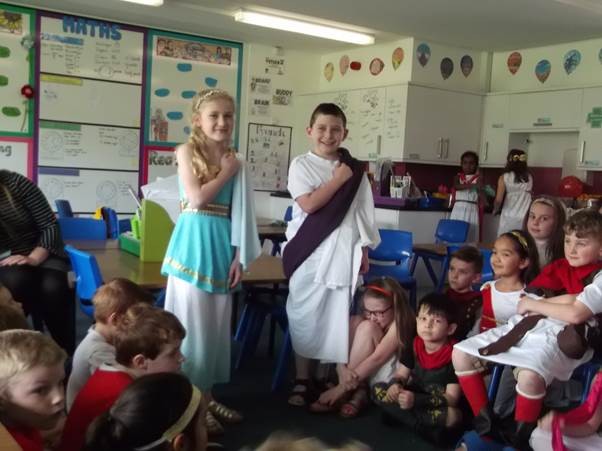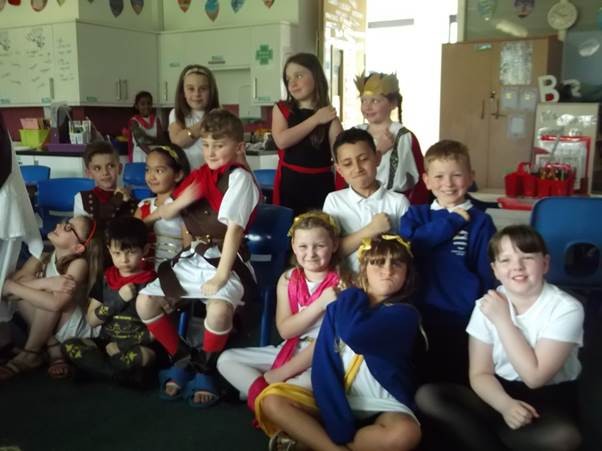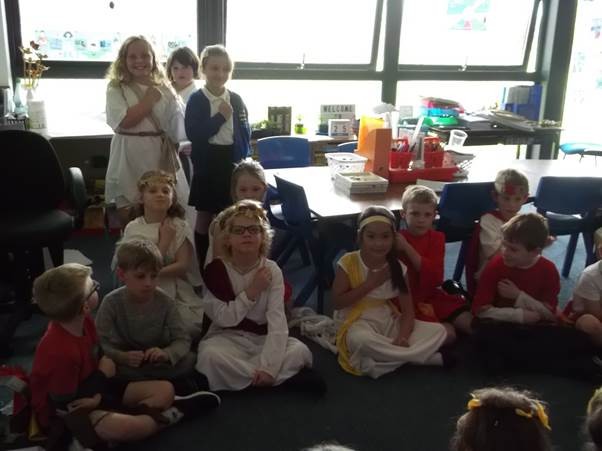 Can I learn about the History of Communication?
Sunflower Class found out how people communicated with each other in the past. James- We found out about Morse Code. People communicated with dots and dashes.
Joshua- The Egyptians drew hieroglyphics which were pictures on the wall or on tablets to send messages to each other.
Summer- I found out that Alexander Graham Bell was the first person to invent the telephone.
Mason- We had a telephone museum in our classroom. I brought in an old dial phone that my grandad used to use.
Viking Invasion Dance
Year 5 are very proud of their Viking Invasion Dance and wanted to share with the rest of the school! We are extremely proud of their hard work, creativity and teamwork too! Well Done Star Anise!
Access Cambridge Archaeology
As part of our Vikings vs Anglo-Saxons learning, we were very lucky to have a special visit from Miss Ryley from Access Cambridge Archaeology. We spent the morning finding out about the role of an archaeologist, looked at specialist tools and took part in a variety of exciting and interactive activities.
We examined and sketched real animals bones, using reference cards to identify the skulls of a lion, sheep, pig and full skeleton of a fox.
We utilised our map skills and compared maps from present day Laceby and Laceby a century ago.
We had to show our patience and use tools delicately to excavate seeds from mud and then identified what they were and where in the world they are from.
We examined excavated pottery pieces and worked as archaeologists would, identifying the type of pottery and which era it came from.
We looked st the different layers of soil and how we can tell how old something is based on where we found it and similar objects it may have been found with.
Finally we examined artefacts from different eras and discussed what we could find out about people living in those times just by the things they leave behind.
We had a fantastic morning! Thank you Miss Ryley!
"It was amazing to be able to touch the artefacts and the animal skulls, I've never done anything like that before" - Alfie
Our trip to Scunthorpe Museum
We had a fantastic history trip to Scunthorpe museum to take part in some exciting workshops about the Anglo-Saxons.
We got to handle real life artefacts from Anglo Saxon times like their spoon made from antlers , bits of pottery, stone tools. We had to guess what mysterious objects were and how the Anglo Saxons used them.
We used quills and ink to practice writing runes and illuminated letters. "Most people found this tricky but fun" Holly.
We got the opportunity to dress up in clothes similar to Anglo Saxons and learn about what garments would have been made out of and what colours. We learnt that fabric was dyed using things like onion skills. "My clothes were quite rough and itchy" Cameron
We learnt about the difference between Anglo Saxon armies and Viking armies.
It was a fantastic opportunity to view real life artefacts that have been discoveried locally that date from around the Anglo-Saxon period. Our local area had lots of Anglo Saxon settlements and we had the opportunity to learn about some of these.
What an interesting, memorable day!
Hospital Inspectors in Scutari
Can I describe conditions in Scutari?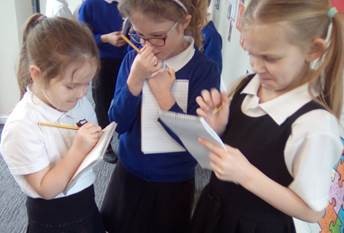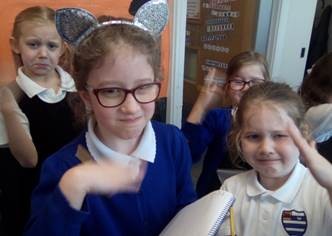 We took our notebooks and inspected the hospital before Florence Nightingale arrived. Can you imagine what we smelt? The inspectors don't look very happy do they!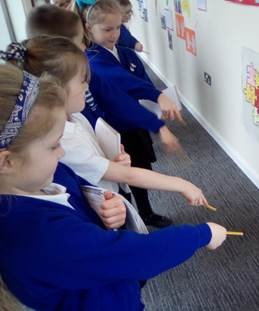 Wounded soldiers lay on the floor! Rats and insects roamed freely around and worse than that no one seemed to care! Conditions simply were not good enough and they certainly required lots of improvement so we decided that we needed to make a return visit.
The Hospital Inspectors return!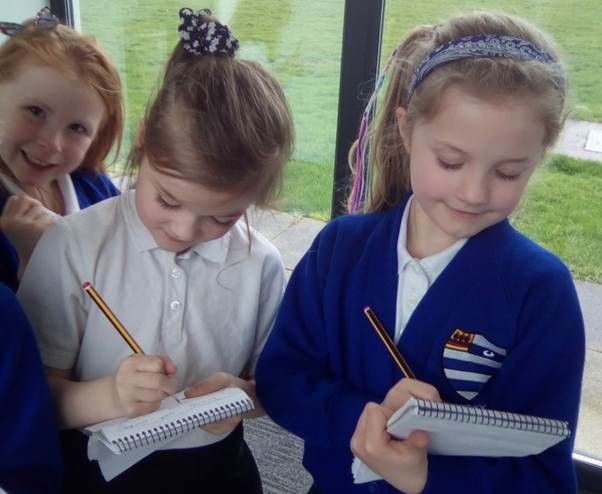 We were much happier as we found
Fresh beds with blankets and clean clothes
Heating
Open windows and a much lighter and brighter room
Medicine and bandages
Chamber pots that were emptied regularly and cleaned
Nurses who cared and looked after the wounded soldiers
Well done Florence and your team of nurses, keep up the good work.
Viking Invasion!
Year 5 have been learning about Vikings and Anglo-Saxons. We have researched how they came to England on longboats and pillaged their way through different villages and towns, taking wealth and land. Our PE focus this term is dance, so we decided to perform a Viking invasion! We have really enjoyed working as a team and choreographing our dance routines. In fact, we have enjoyed it so much that we even made props at home to use in our routines!
Was it easy for Florence Nightingale to become a nurse?
When Florence Nightingale was a little girl she dreamed of becoming a nurse. She asked her Mother and Father if she could train to become a nurse.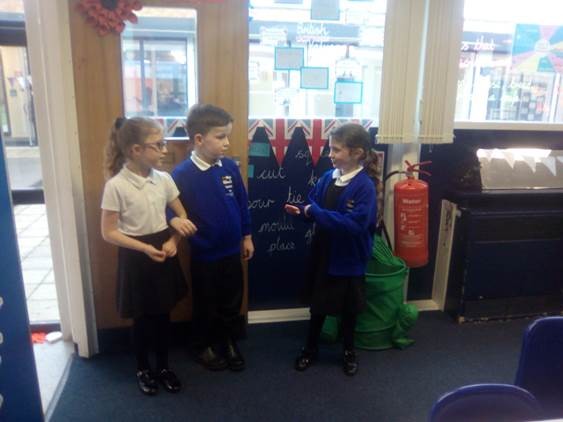 Her parents said 'NO!' because in Victorian times it wasn't seen as a job for a lady! Her Mother and Father did not approve and they thought that Florence should find a wealthy husband and run the house.
Lots of wealthy young men asked Florence to marry them.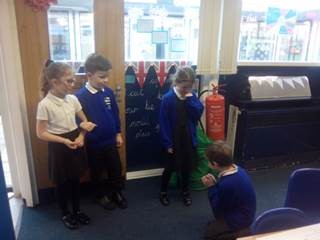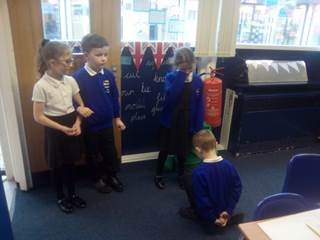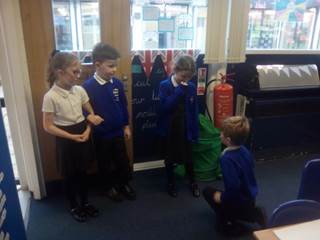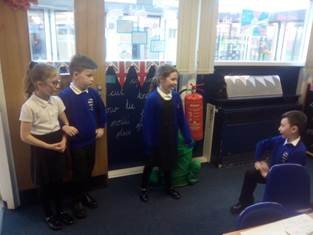 She said 'No thank you' to every single one!
She kept asking her parents if she could train to be a nurse.
Eventually when she was 31 years old they agreed. Florence was very happy.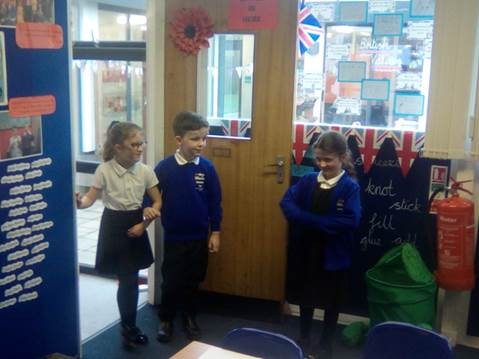 Elissa said 'I really enjoyed being Florence and I will remember that forever.'
Jacob added 'Acting helped me to learn about how the rich men asked her to marry them. I asked her and she was very sure when she said NO!'
Can you imagine what life was like in the Scutari hospital? Did Florence Nightingale try and improve conditions there?
We thought about the awful squalor in the hospital.
Luckily there were no rats roaming around our classroom.
We thought Isabella may have bled all over Olivia! 
We are thankful that we only had to imagine the awful smell of overflowing chamber pots!
Can you spot the person who is playing the part of Florence?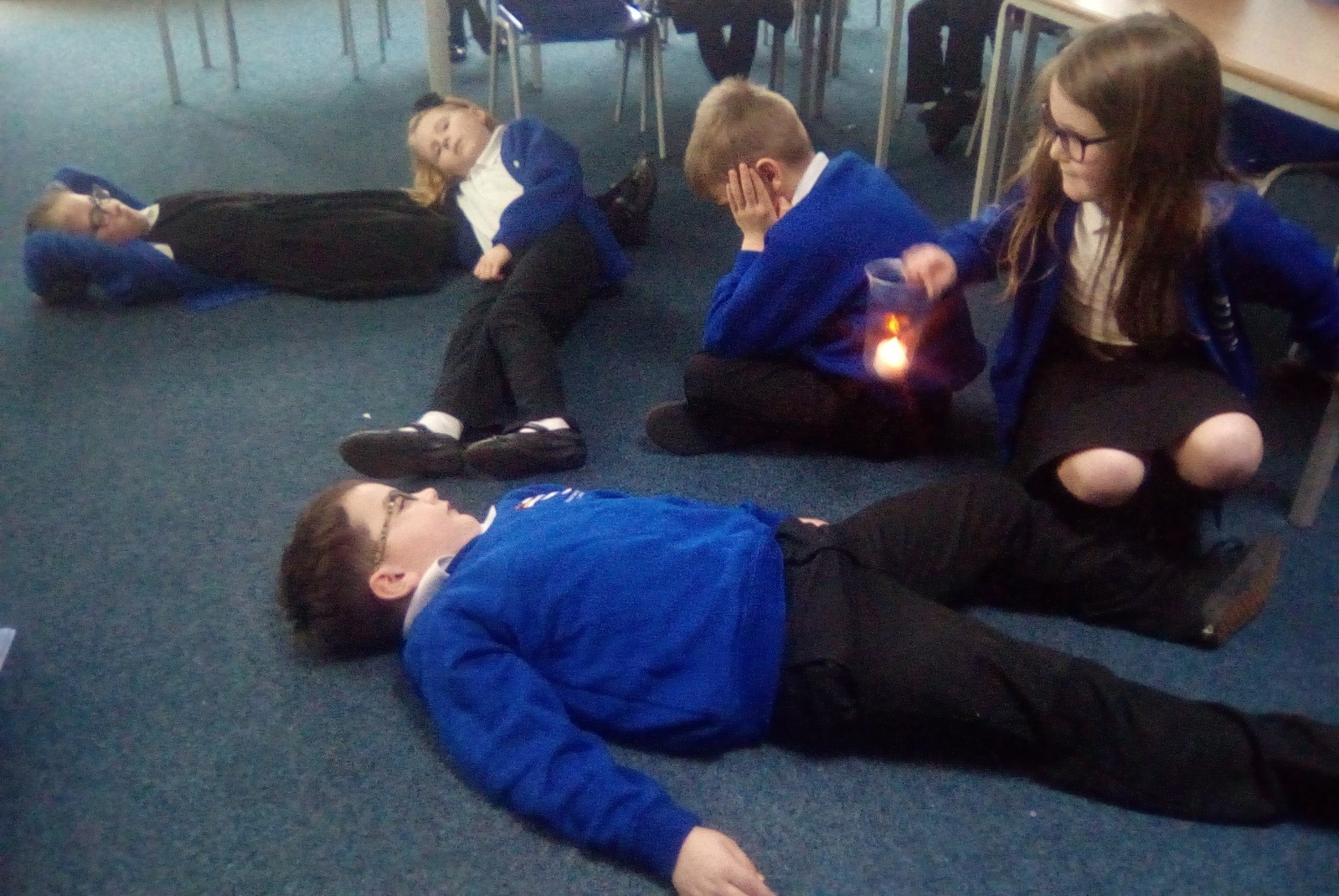 Florence used her lamp to guide her around the dimly lit hospital as she checked on the soldiers and tried to make them more comfortable. She became known as the 'Lady of the Lamp'.
We tried to imagine how crowded and unpleasant the hospital was. The actors and actresses of Poppy class did a very convincing job!