History
Year 3 - The mummification process
We were shocked and stunned to find a 'corpse' in the classroom. Cleopatra had been bitten by an asp and needed our help to get her ready for the afterlife!!! First we cleaned the body then we stuck a hook up her nose to remove the brains (yuk!) and throw them in the bin. A cut was made in her side to remove her internal organs (I know they look like balloons but let's use our imagination here!!!). She was left tilted at an angle so the liquids could drain out and then given a salt bath to dry her body out. Her internal organs were put in canopic jars to keep them safe for the afterlife and we put her heart back in her body. She was then stuffed with linen to retain her shape then painted with tar to preserve her skin. Next over to hair & make up to keep her looking good for the afterlife. She was then wrapped in linen while we all said prayers. We added good luck amulets as we wrapped her then we added a scroll with prayers & a map to find the afterlife. Her death mask was the finishing touch so her soul could recognise her body when they are finally reunited.
Rest in peace Cleopatra we were glad we could help!
Remembrance
Pumpkin Class
Year 2 have been learning all about why we wear poppies and what happens of Remembrance Day.
L- When I wear my poppy, I think about soldiers who died in wars.
C- Poppies grew after WWI on the battlefields in France. The red colour also reminds us of all the blood that was shed.
D- We give money to The Royal British Legion to buy poppy things and to help injured soldiers and service people.
J- Mrs Brady told us about someone in her family who was killed in WWI. She was thinking about him during the two minutes silence.
Willow Class
Willow class created some beautiful artwork and some wonderfully descriptive poetry as we learned about Remembrance.
Remembrance Day Poems
Juniper class worked with their peers to create an emotive poem for Remembrance Day. The emotive language and word choices created wonderful poems- Well Done Juniper.
These poems are displayed on our display in the school hall and were shared in our Remembrance assembly.
Can I explain how the Egyptian Society was organized?
First we thought about how our school was structured from the head teacher downwards. We then looked at some pictures of Egyptian people and tried to put them in order of importance. Miss Perrin told us about the structure of the Egyptian Society then we acted this out so we understood it better. We had lots of fun doing this as you can see by the video clip…….All hail the Pharaoh!!!!!
Ancient Greek Hook Day!
This term we will be learning all about the Ancient Greeks.
For our Hook Day, we discovered where the legend of the Minotaur and The Labyrinth came from, different Greek Gods and Goddesses, Ancient Greek art and architecture and discussed how the Ancient Greeks have influenced the modern world.
We are really excited to learn more about the Ancient Greeks - we will keep you posted on our Barley Class Blog!
Egyptians, Mummies & Explorers
The children had lots of fun dressing up on hook day. The costumes were amazing and we would like to thank the families at home who made such an effort with these. Don't the children look amazing?
Year 4 - Virtual Visit
Obviously a trip to Central America is out of the question at the moment so we went for a virtual trip around the Mayan ruins. First a lovely tour guide told us about the ruins then we were able to explore ourselves on a virtual site. The children loved exploring the area in close detail.
IS - I liked it because I could go where I wanted to see things
SM - I liked the view from the top of the temple where you could see everything.
OR - I liked the temples
LD - it feels like you were actually there
Try it yourself on
Virtual Field Trip - Mayans
Mayan Ruins
Founder's Day 2021: Stanford School is 291 years old!
The Sunflowers and Seedlings enjoyed celebrating the school's birthday today. They had a special assembly with Mrs. Brady and learnt all about the history of the school.
C- I wrote all about Sarah Stanford and how she left her money to build our school.
L- I wrote about the Stanford people and how sad it was that their children died.
W- I was interested to find out that the badge came from King Henry VIII. Mrs. Brady said it was given to the Stanford's in 1543.
O- Our school started in 1730.
L- The children didn't know how to read and write, so Sarah Stanford thought they would like a school to help them learn things.
C- I enjoyed playing instruments to the school song.
H- I can draw the school badge.
H- We had cakes and juice today.
A- I liked it when we went to see the school flag.
E- I have made birthday cards for the school.
I- We all got 50p.
D- I would like to say thank you to Sarah and Philip Stanford for giving us our school.
T- We all watched the Deputy Mayor. He used to come to our school when he was a little boy.
When civil rights, history & music combine with art
In music we have listened to a piece of music by The Beatles called 'Blackbird'. When we investigated further we discovered that Paul McCartney created this piece of music after he learnt about the struggles of civil rights for black people in America. We researched further into how people of colour were treat in history including slavery in America. We looked at the piece of music again to further understand the music then we created a piece of art to accompany this track.
Here is the link if you would like to listen to this poignant piece of music while you enjoy our art - Blackbird
Make Do & Mend
In history we learned about how people would need to repair and re-use their clothing during World War 2. During this time, one quarter of the population were in services that required uniform, so clothes manufacturing had to prioritise this. Ordinary people at home would therefore need to "make do and mend". Manufacturing toys was not a priority because the factories were re-purposed for the war effort, meaning that some families would take to making their own toys. Inspired by this piece of history, in Year 5 we have been making our own toy bunnies out of our old socks!
Welcome to the rainforest
As we are learning about the Maya culture and rainforests we have built a fantastic immersive welcome to excite the children and let them 'step into' this wonderful environment. The children have been busy creating art and writing poems to show how talented we are. Doesn't it look wonderful??
Juniper Class Roman Hook Day
For our Hook Day many of us enjoyed dressing up as Romans. We learnt that Romans sometimes wore laurel wreaths as a sign of victory or triumph. We made our own.
In maths we learnt about Roman Numerals.
In the afternoon we looked at Roman life and how the Roman children lived. We found it strange how the Romans shared toilets! We looked at some of the games that the children would have played and enjoyed them ourselves. We played dice guessing, tic-tac-toe and marbles.
We next looked at what mosaics are and how they are created. We investigated some examples of the different Roman patterns and then had a go at creating some of our own. We used squared paper with colouring pencils to practice our design and then we used foam squares to fill our pattern in. We really enjoyed this!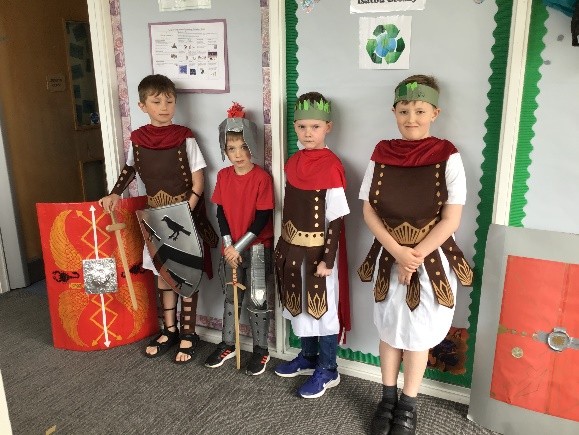 WW2 Stories
The children in Year 5 are already showing great enthusiasm for their new history topic! It has been fascinating to hear the stories that some of the children have been able to share with us so far, about their relatives who were involved in the war. So far, children have shared photos of their relatives, real-life stories (including the discovery of an un-detonated bomb!), and other artefacts such as rationing books and newspapers from the time.
I wonder what other fascinating stories we might discover about pupil's ancestors during this term...
Year 1 History Hook Day
The children's were introduced to The Great Fire of London. They had so many questions to ask.
'When was the Great Fire?' 'What started the fire?' 'Where did the fire start?' 'How long did the fire last?' 'How did the people put the fire out?'
They had a great day finding out all about it and enjoying some exciting activities.
E- We had to read instructions about how to make bread.
H- We put the bread making instructions in order, so we would know what to do.
W- We made bread with Mrs. Christie. We did this because we found out that the Great Fire started in a bakery in Pudding Lane.
C- The bread was very crispy and crunchy.
M- We went to the cinema (in the hall) and watched an exciting film all about The Great Fire. There was a magic Grandad that told us all about it.
C- We made 3D houses out of paper. They looked like the wooden houses from 1666.
H- We found out that Samuel Pepys wrote a diary and that's how we know all about the fire.
D- We had a go at writing with a feather (quill pen), just like Samuel Pepys did. I liked doing it.
Pumpkin Class Learn about Florence Nightingale
As part of our history theme this term we have been learning all about the life and work of Florence Nightingale and what a significant person she was. The soldiers called her 'The lady with the Lamp' and the children at home and in school enjoyed making their own lamps as well as other events in Florences life.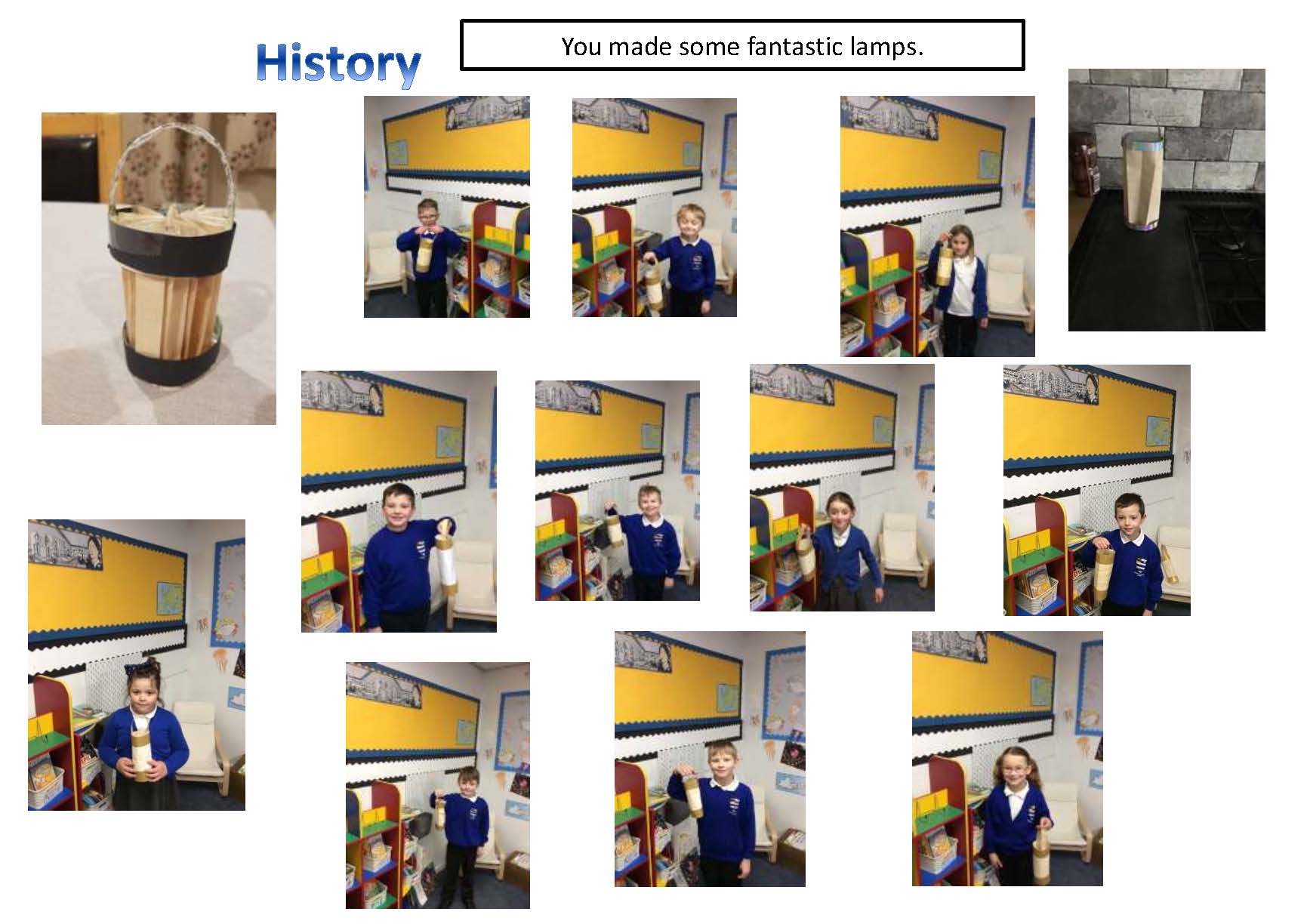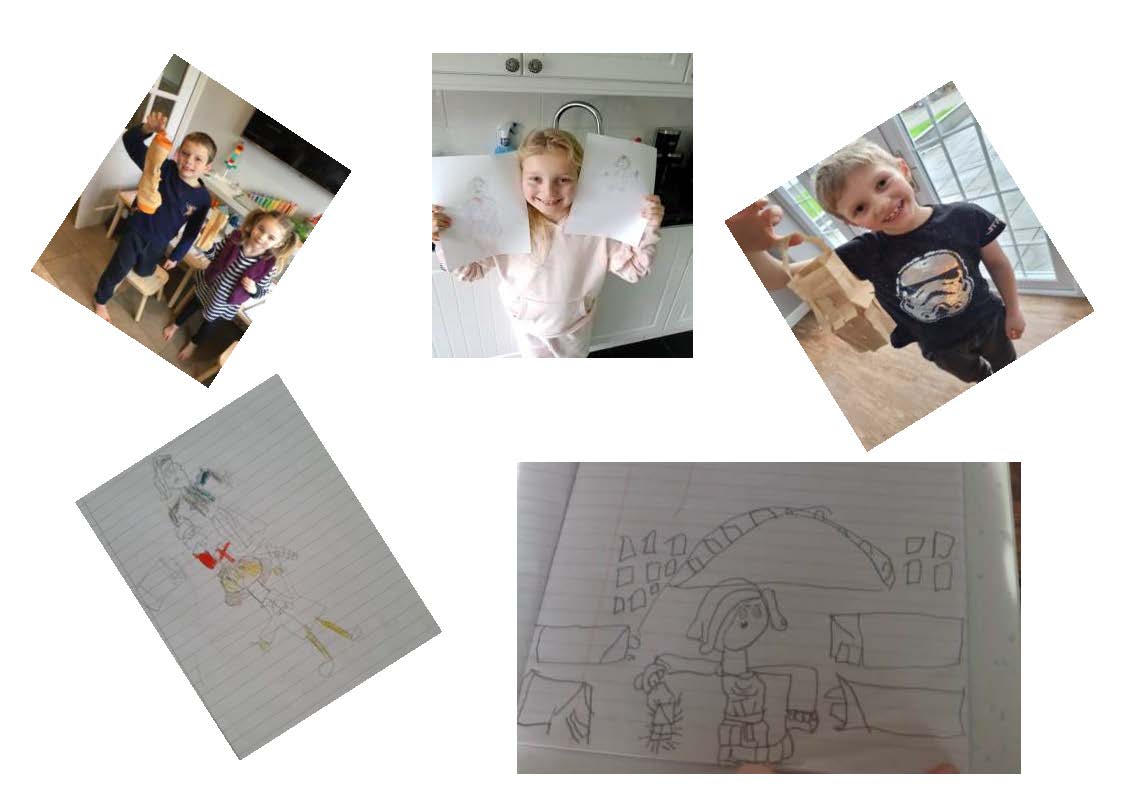 As part of their History work on Florence Nightingale, the children in Pumpkin Class watched a video showing them how to draw her. Here are their fantastic drawings!
Pictish Stones
In history we have been learning about the Picts and the Scots who tried to invade England.
The Picts used Ogham to write their names on stones, this involved a central line where they made diagonal and horizontal lines to spell out letters.
First we figures out how to write our names using Ogham then we made a design to go around the edge of the stones. We made the stones using salt dough and after they were baked we painted them so they looked like old stones.
Some of the children made theirs at home and either sent in pictures or brought them in with them when they were in school. They all look great.
Juniper Hook Day at home and at school
Today we learnt about people survived in the Stone age looking at threats and assets.
Here are some of the posters that were created:
Remembrance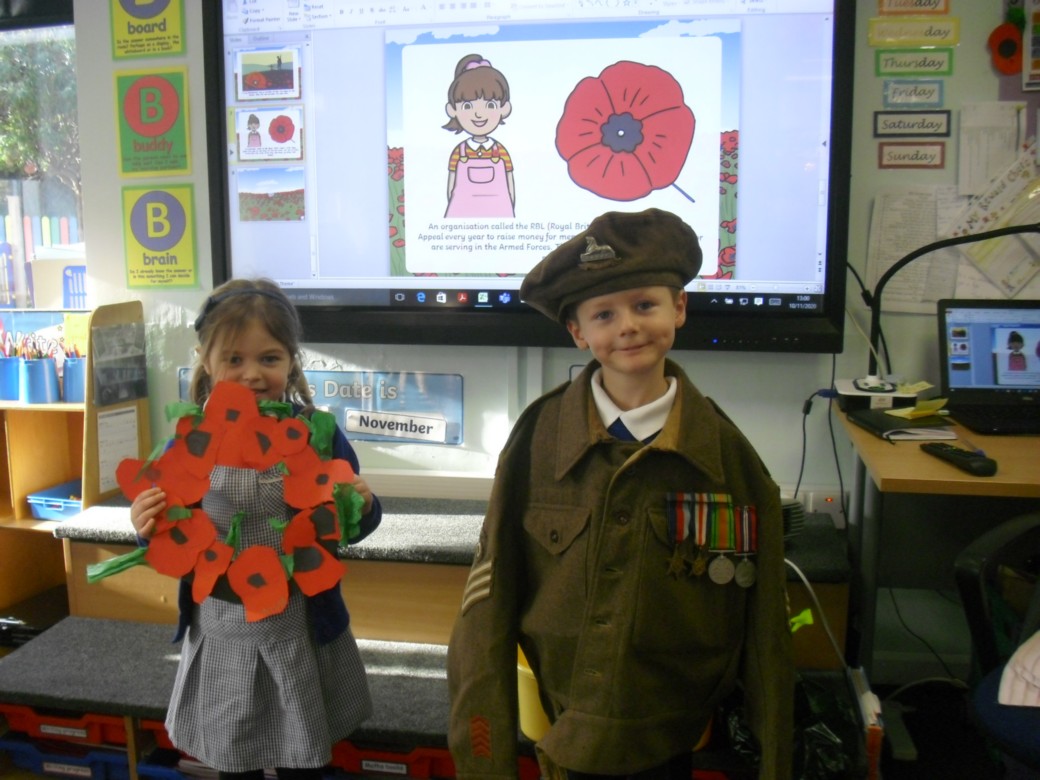 Children cut poppies to make a wreath for Remembrance Day, observed the 2 minute silence and looked at artefacts from WW2 such as a soldier's uniform.
Bonfire Night and Guy Fawkes
Take a look at our Bonfire work this week.
We used chalk to draw fireworks outside and make firework in the purple sparkly sand.
Humberside Fire and Rescue shared an assembly online about keeping safe during bonfire night and we sequenced pictures from the Gunpowder Plot story learning all about Guy Fawkes, King James 1 and the 36 barrels of gunpowder hidden in the Houses of Parliament!
Some beautiful firework paintings and play dough toffee apples too.
In our Humberside Fire and Rescue online assembly we learnt;
T.T - If you get fire on your jumper you must roll over on the floor.
E.A - The Fire Safety assembly I learnt that you must 'STOP, DROP and ROLL' if you catch fire.
A.T - You don't play near the fire.
E.E - The quiz was good, you had to say 'Yes' or 'No' to the things that you could or couldn't play with and I got them all right.
O.B - Put sparklers in a bucket of water when they have finished.
S.P - Don't throw fireworks, it's dangerous.
"Have a safe and happy Bonfire Night everyone."
---
Congratulations Stanford Trust!
The Stanford Trust is celebrating its 300 Birthday this weekend!
Here is a special message from Mr. Lingard.
---
Happy 300th Birthday Stanford Trust!
The children enjoyed celebrating this special event. They made birthday cards for the Trustees, watched a special video message from Mr. Lingard, learnt all about the history of the school and the Stanford family with Mrs. Brady and enjoyed some lovely cakes and juice. They were all so excited to receive their 50p coins and commemorative mugs!
Seedlings Class
The children enjoyed celebrating this special event. They made birthday cards for the Trustees, watched a special video message from Mr. Lingard, learnt all about the history of the school and the Stanford family with Mrs. Brady and enjoyed some lovely cakes and juice. They were all so excited to receive their 50p coins and commemorative mugs!
Sunflower Class
Pumpkin Class
Pumpkin class celebrated Stanford Trust's 300th birthday with cakes and special gifts from the trust. We all made a card to send to the trust and enjoyed a morning of art and craft, which we all loved.
Barley Class
Barley class enjoyed celebrating Stanford Trust's 300th Birthday. They designed bunting for the school gates, enjoyed a cake and drink and had their photo in front of the school flag- Happy Birthday!
Ancient Greek Warfare
Barley Class studied Ancient Greek Warfare and why the Ancient Greeks needed an army or navy. We looked at the Greek warfare and learnt about the different kinds of armour and weapons that were used, how we know about certain battles and what types of ships they used. We recreated the power in standing side by side like the Hoplites, with their shields held tightly across each other so that they were stronger against the enemy. This formation was called a Phalanx.
Victorian Hook Day
We had lots of fun on our hook day pretending to be Victorians. Miss Perrin greeted us at the door ringing her school bell to say that our school day had begun.
First we were given rags and we had to work to make the building clean.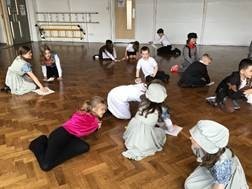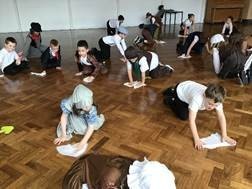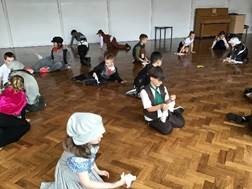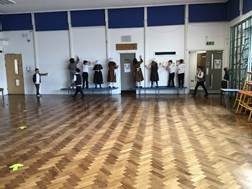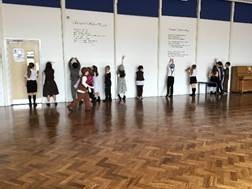 Then we lined up outside the classroom and we paid Miss Perrin a penny for our education.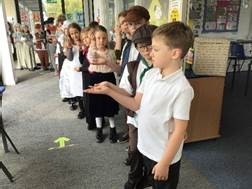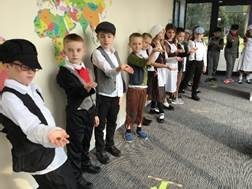 In the classroom we practised handwriting and practised out times tables. We then went for our morning constitutional.
The boys had to march like soldiers and the girls had to walk with 'like ladies'.
Then we went out to play. Victorian children liked to play with hoops and sticks, they also liked to skip. We had a go at both of these but it wasn't easy!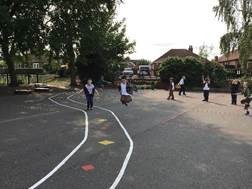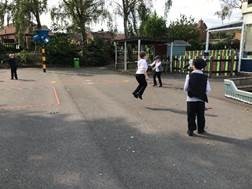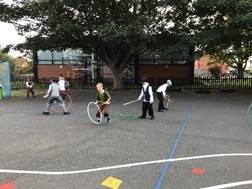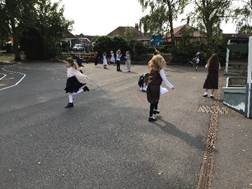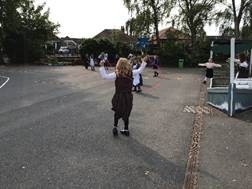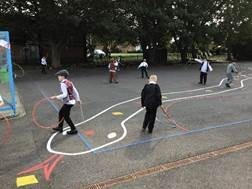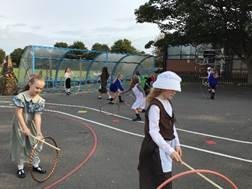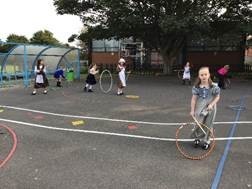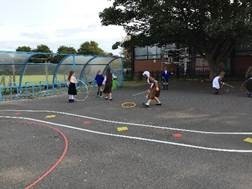 Life was so bad for Victorian children you can understand why they looked miserable as their lives were so bad.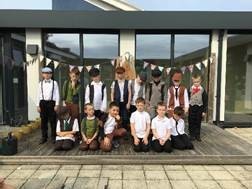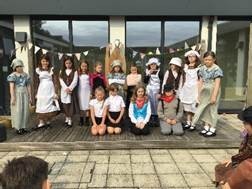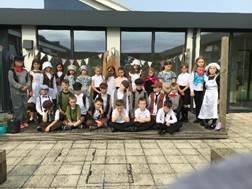 It's a good thing that we were only pretending to be Victorians because we had lots of fun!!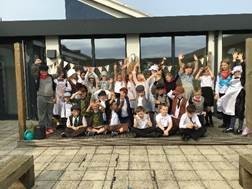 Stanford School Celebrate the School's 290th Year!
Thank you to everyone who celebrated today. A wonderful community spirit- thank you!
---

Singing in the sunshine. Thank you to everyone who joined in the celebrations.
Founder's Day (Penny Day) Gone By
Many thanks to Mrs. Chambers from The Laceby History Group for sharing these wonderful photos.
Many thanks to Mrs. Chambers from The Laceby History Group for sharing these wonderful photos.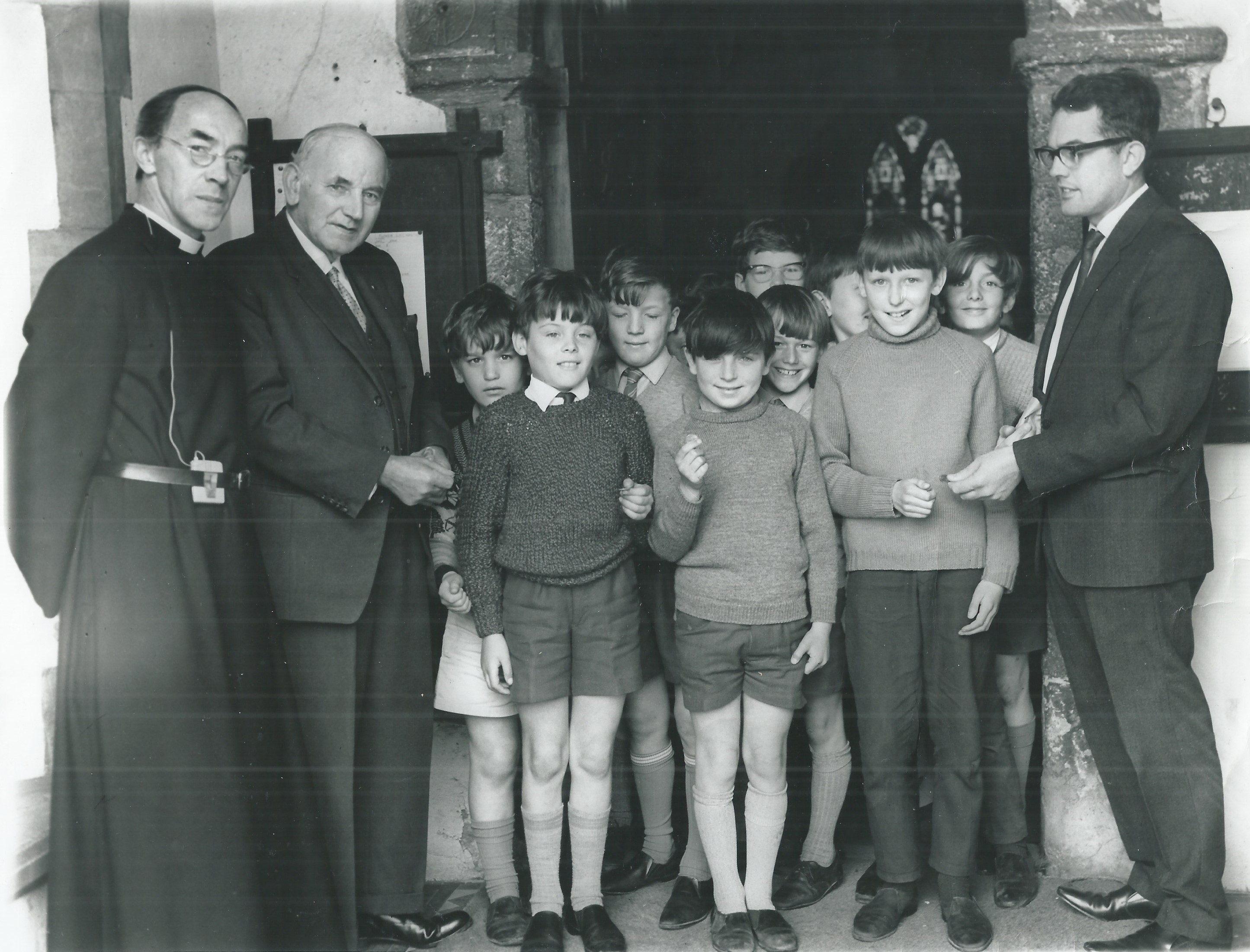 1969 Founders Day with Rev Sam Riley, Ronnie Mawer and Dennis Read
Founder's Day Thursday 21st May
VE Day Celebrations
Thank you for all the photos you sent in, it looked like everyone had a fantastic day celebrating VE Day!
Learn About The Legend of St. George
The 'Lady of the Lamp'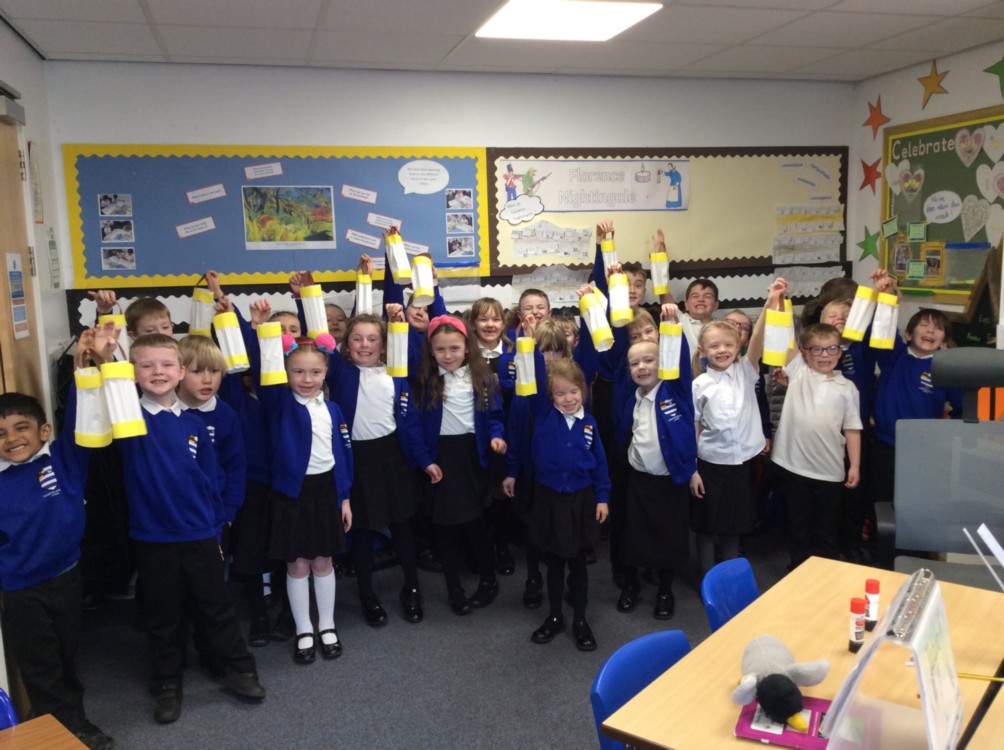 We have combined our learning skills this week to make Florence Nightingale's lamp.
In History we have learnt about the work Florence did in the past and how nursing changed because of her.
In Design Technology we have used skills to join materials to make her lamp.
In English we are writing diaries in character as Florence – watch out for these – we will be publishing them very soon.
Creating Pictish Stones
A Pictish stone is a type of monument that the Picts used to carve symbols. They decorated them with designs or wrote on them using the ogham alphabet. During Poppy classes' Art lesson, we looked at the Pictish stones. We designed one using the ogham alphabet and then made them using clay. The children had lots of fun making them.
Can I find out about toys and games long ago?
Mrs. Griffiths visited Sunflower Class and gave a very interesting and interactive talk about lots of different old toys and games. She told the children how her Grandad and Dad used to make her toys out of wood when she was little. The children had fun exploring many toys, including; a diablo, a yo-yo, tiddlywinks, jacks, a spinner, a whip and top, cats cradle, marbles and draughts. She also demonstrated how toys could be made from paper, such as a fortune teller and a paper plane.
Mrs. Brady would like to thank Mrs. Griffiths for sharing all her wonderful toys and games. Everyone learnt something new today!
B- I learnt how to play draughts today, it was fun.
J- I knew how to play draughts, so I showed everyone.
J-Marbles were fun, I rolled them.
O- They yo-yo was easy to do.
M- We used wool to play with. I had never thought that wool could be a toy.
T- Tiddlywinks are fun, I didn't know how to play that before.
F- I had seen jacks before, but I didn't know what they were called.
A-Thank you Mrs. Griffiths for a lovely afternoon!
Can I make a replica of an Anglo-Saxon broach?
As a part of our Hook Event, the class were given an introduction to the Anglo-Saxons. They discovered where they came from and where they fit on the timeline of events in British history. We know a lot about the Anglo-Saxons through the discovery of a burial ship at Sutton Hoo. The Anglo-Saxons were experts at metal work and created some fine pieces of jewellery.
The children then learnt about Jewellery, its uses throughout history, and about the different types of gemstones and their names. We discovered that Anglo-Saxon broaches were often circular, symmetrical, and intricate. They were decorated with gemstones and enamel. The designs were usually made by embossing the metal.
The children were asked to design a broach similar to the ones we have researched. We made the designs by using thick cardboard and string to raise parts of the pattern. The children then covered their brooch with tin foil and gently pressed it down so the pattern emerged through the foil. The brooches were then painted and 'gems' were added.
Watch out for pictures of the finished products on this blog!
Stone Age Hook Day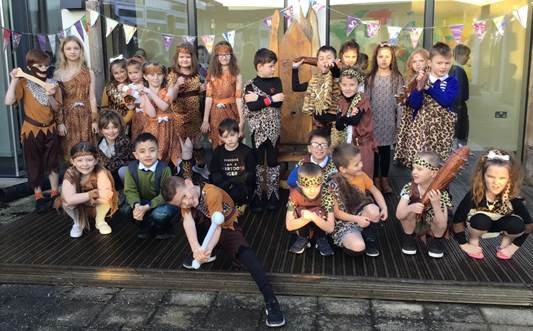 We started the day learning that the early stone age people were hunters and gatherers.  We enjoyed searching for food on KS1 playground. We learnt the sorts of foods that they might find to eat and that they would have to move places throughout the year to find food.
We thought about how Stone age Hunter-gathers survived by thinking about Assets and threats in the environment.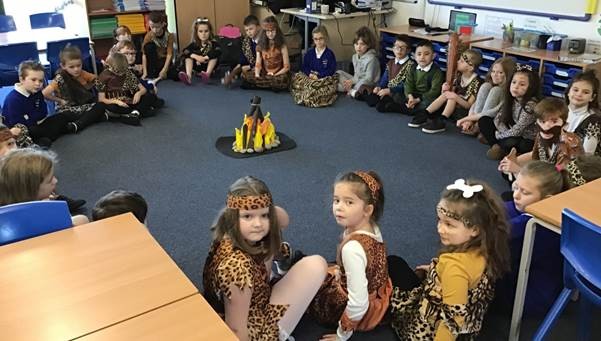 We researched the sorts of creatures that were alive in the Stone age that the people would hunt.  Also we looked at how they made their weapons.