History
Access Cambridge Archaeology
As part of our Vikings vs Anglo-Saxons learning, we were very lucky to have a special visit from Miss Ryley from Access Cambridge Archaeology. We spent the morning finding out about the role of an archaeologist, looked at specialist tools and took part in a variety of exciting and interactive activities.
We examined and sketched real animals bones, using reference cards to identify the skulls of a lion, sheep, pig and full skeleton of a fox.
We utilised our map skills and compared maps from present day Laceby and Laceby a century ago.
We had to show our patience and use tools delicately to excavate seeds from mud and then identified what they were and where in the world they are from.
We examined excavated pottery pieces and worked as archaeologists would, identifying the type of pottery and which era it came from.
We looked st the different layers of soil and how we can tell how old something is based on where we found it and similar objects it may have been found with.
Finally we examined artefacts from different eras and discussed what we could find out about people living in those times just by the things they leave behind.
We had a fantastic morning! Thank you Miss Ryley!
"It was amazing to be able to touch the artefacts and the animal skulls, I've never done anything like that before" - Alfie
Our trip to Scunthorpe Museum
We had a fantastic history trip to Scunthorpe museum to take part in some exciting workshops about the Anglo-Saxons.
We got to handle real life artefacts from Anglo Saxon times like their spoon made from antlers , bits of pottery, stone tools. We had to guess what mysterious objects were and how the Anglo Saxons used them.
We used quills and ink to practice writing runes and illuminated letters. "Most people found this tricky but fun" Holly.
We got the opportunity to dress up in clothes similar to Anglo Saxons and learn about what garments would have been made out of and what colours. We learnt that fabric was dyed using things like onion skills. "My clothes were quite rough and itchy" Cameron
We learnt about the difference between Anglo Saxon armies and Viking armies.
It was a fantastic opportunity to view real life artefacts that have been discoveried locally that date from around the Anglo-Saxon period. Our local area had lots of Anglo Saxon settlements and we had the opportunity to learn about some of these.
What an interesting, memorable day!
Hospital Inspectors in Scutari
Can I describe conditions in Scutari?
The Hospital Inspectors return!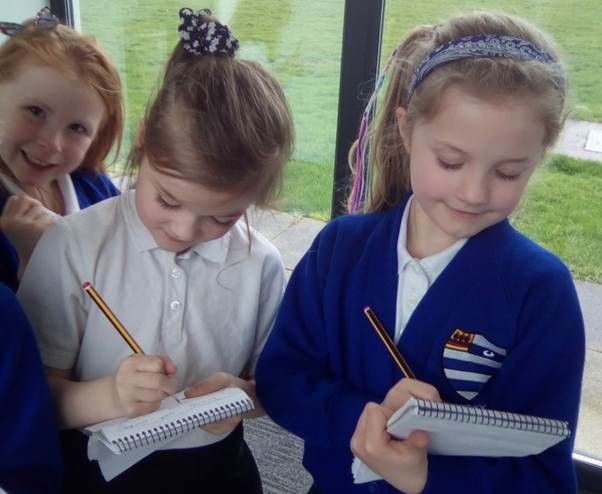 We were much happier as we found
Fresh beds with blankets and clean clothes
Heating
Open windows and a much lighter and brighter room
Medicine and bandages
Chamber pots that were emptied regularly and cleaned
Nurses who cared and looked after the wounded soldiers
Well done Florence and your team of nurses, keep up the good work.
Viking Invasion!
Year 5 have been learning about Vikings and Anglo-Saxons. We have researched how they came to England on longboats and pillaged their way through different villages and towns, taking wealth and land. Our PE focus this term is dance, so we decided to perform a Viking invasion! We have really enjoyed working as a team and choreographing our dance routines. In fact, we have enjoyed it so much that we even made props at home to use in our routines!
Was it easy for Florence Nightingale to become a nurse?
When Florence Nightingale was a little girl she dreamed of becoming a nurse. She asked her Mother and Father if she could train to become a nurse.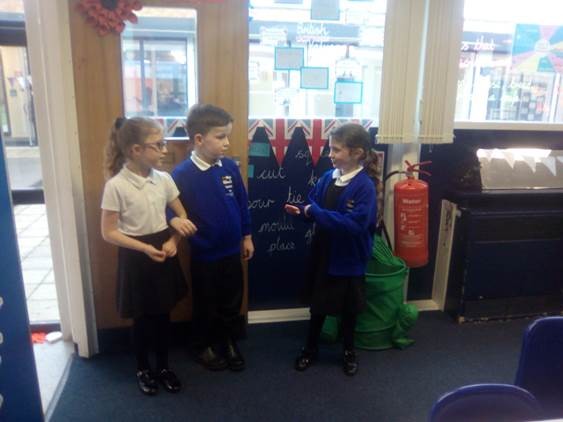 Her parents said 'NO!' because in Victorian times it wasn't seen as a job for a lady! Her Mother and Father did not approve and they thought that Florence should find a wealthy husband and run the house.
Lots of wealthy young men asked Florence to marry them.
She said 'No thank you' to every single one!
She kept asking her parents if she could train to be a nurse.
Eventually when she was 31 years old they agreed. Florence was very happy.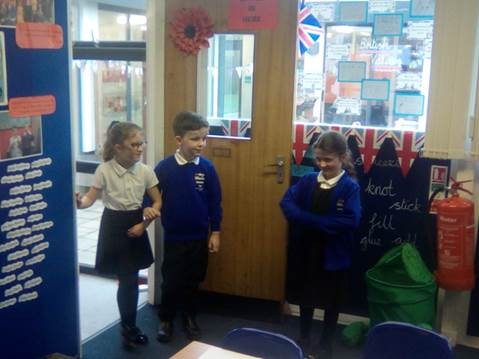 Elissa said 'I really enjoyed being Florence and I will remember that forever.'
Jacob added 'Acting helped me to learn about how the rich men asked her to marry them. I asked her and she was very sure when she said NO!'
Can you imagine what life was like in the Scutari hospital? Did Florence Nightingale try and improve conditions there?
We thought about the awful squalor in the hospital.
Luckily there were no rats roaming around our classroom.
We thought Isabella may have bled all over Olivia! 
We are thankful that we only had to imagine the awful smell of overflowing chamber pots!
Can you spot the person who is playing the part of Florence?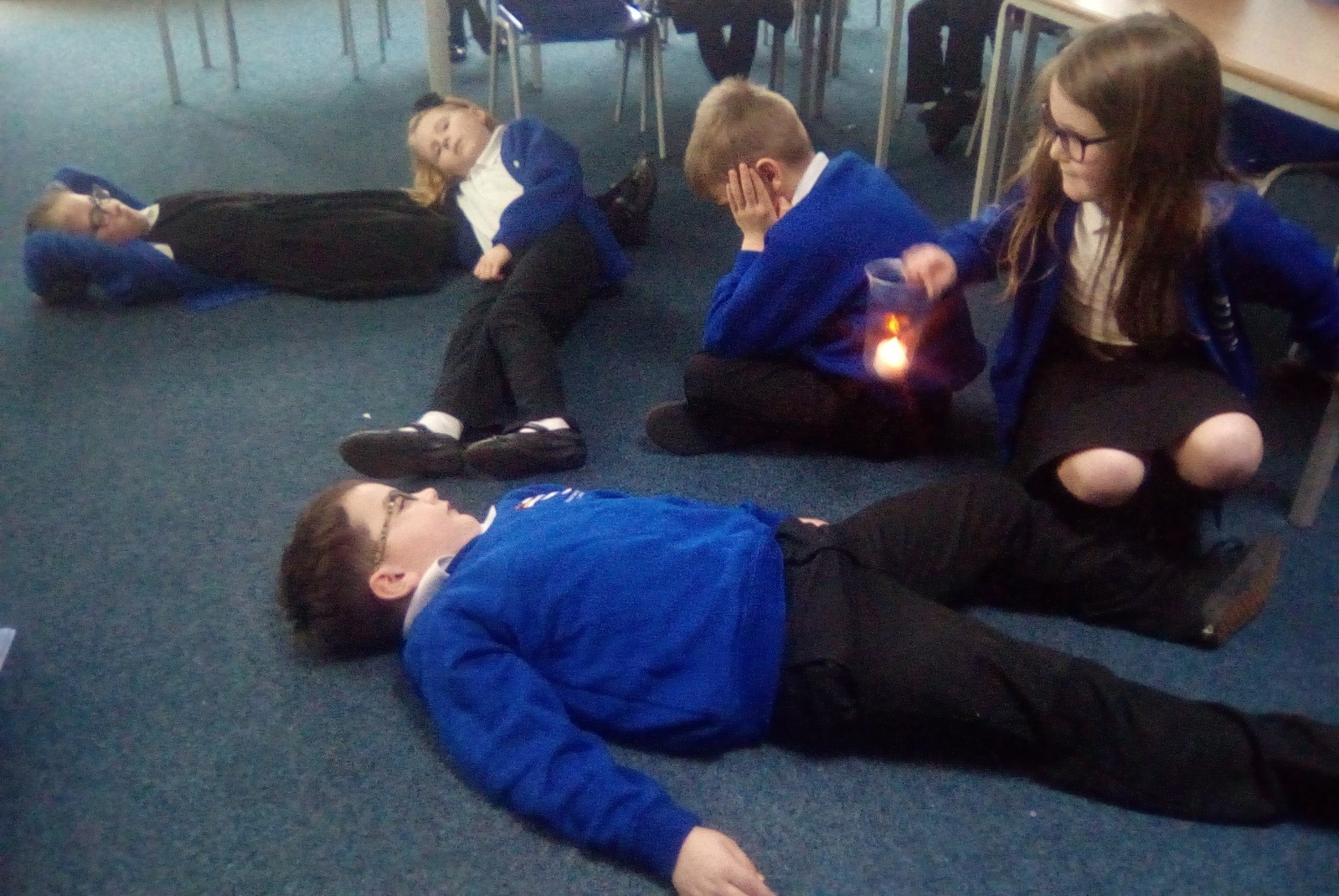 Florence used her lamp to guide her around the dimly lit hospital as she checked on the soldiers and tried to make them more comfortable. She became known as the 'Lady of the Lamp'.
We tried to imagine how crowded and unpleasant the hospital was. The actors and actresses of Poppy class did a very convincing job!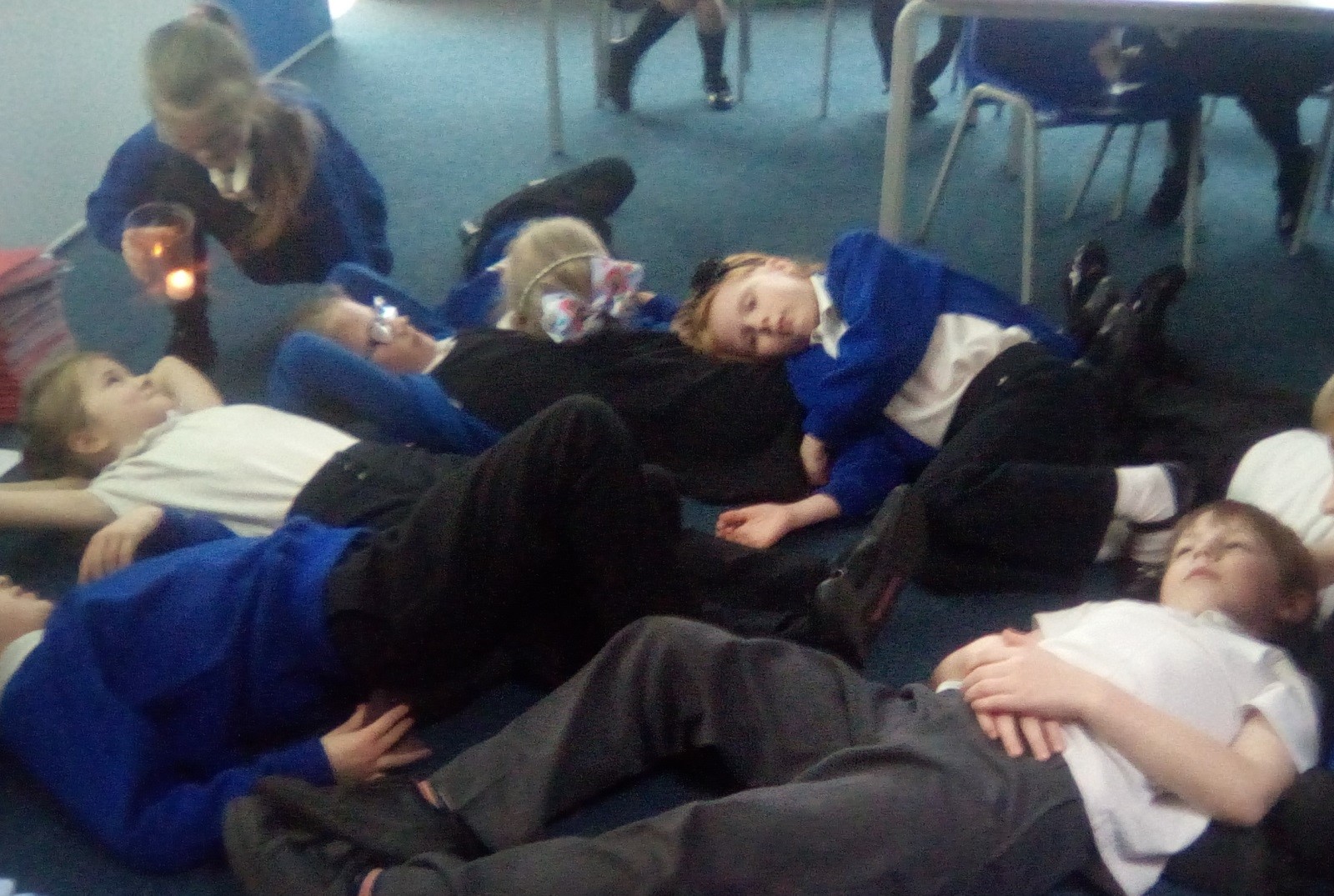 Posters from World War 2
Isobel brought in some posters to share from Laceby history society to share. We discussed these sources of evidence thinking about what information they gave and why. We compared them with how information is shared from the government today.
Anne Frank Freeze Frames
In Juniper Class, we have been learning about the experiences of Jewish children during World War 2. We were all very shocked at how people were treated so badly just because they had a different faith. We used our "making links" learning power to relate back to our previous work looking at tolerance and how we all felt it was important to value and respect everyone.
We looked at the overview of the Life of Anne Frank and in groups freeze framed part of her story. We used our class tablets to photograph each other's freeze frames. Here are a selection:
Mummification
Can I recreate and observe the mummification process?
After practising the mummification process on a doll we have moved onto mummifying creatures. Miss Perrin found Mac, the mackerel, 'chilling' at a local supermarket and decided to save him for posterity….or at least for the next few weeks.
We filled his inside with a combination of table salt, Epsom salt and Bicarbonate of Soda salt and covered him with the rest of the salt. He initially weighed 268g.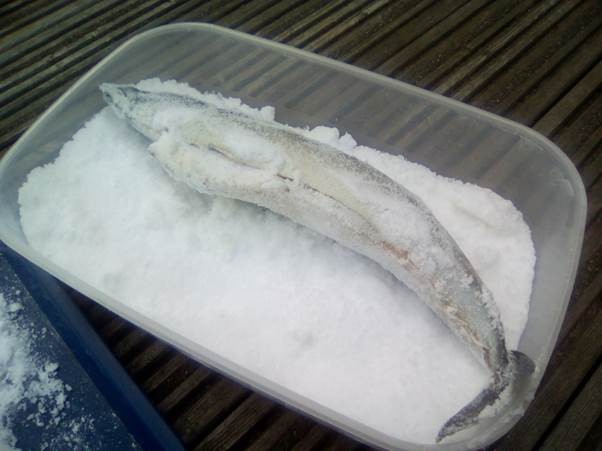 He will be left for 40 days and then we will see how much he has changed.
Can I explain the mummification process?
The Ancient Egyptians believed that when they died their soul went on a long journey to the Afterlife. They also believed that their soul could return to their bodies when they wanted to visit Earth. They needed to make sure that their body was preserved for their return and that it looked its best for the Gods.
Unfortunately there was a 'death' in the classroom.
Cleopatra needed our help to prepare her body for this great journey and as we are so helpful we just could not refuse.
---
After that the body was cut on the left hand side so the internal organs could be removed.
---
All the internal organs were placed in canopic jars to be kept with the body. The heart was left inside the body as they believed that people think, feel and act through their heart.
After that the body was tilted so the liquids could drain from the body.
---
Rich people had a death mask made of gold to show what the person liked like. The body would then be put in a mummy case and be placed in a sarcophagus.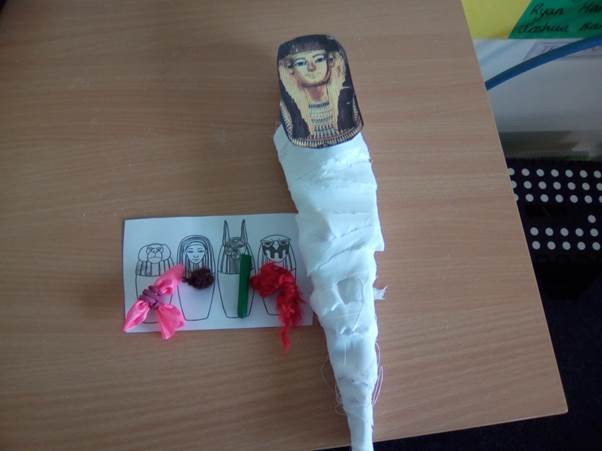 When the body arrived in the afterlife the heart was measured to see how your life had been led. If you were good and it was as light as a feather you would join the gods. If it was heavy with bad deeds the soul would be eaten by the god Ammit who looked like a crocodile!
If you would like to try the mummification process there is a great interactive game for you to play on. I am sure the children would love showing you this gruesome process.
Can I compare aspects of life in different periods?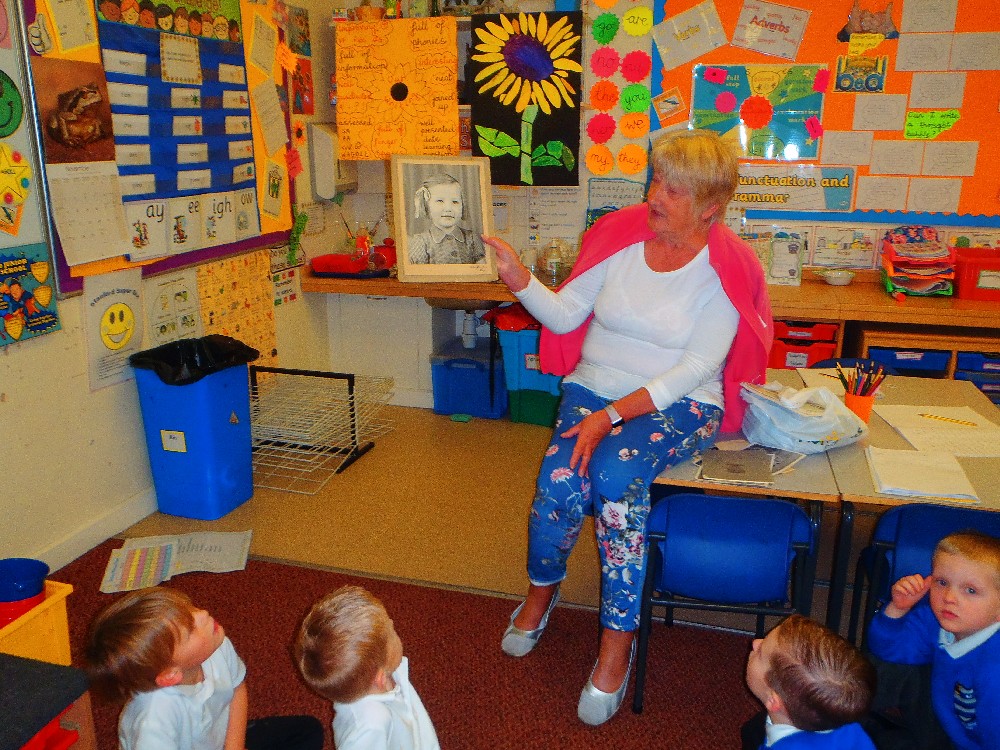 Mrs. Wink came to talk to us about her childhood. She showed us old photographs, books and items from her past. We asked questions to find out more and thought about how aspects of her childhood were the same as ours and how some things had changed a lot.
Mollie- Mrs. Wink's photos were brown and black, but ours are bright and we can look at ours on a computer.
Libby- Mrs. Wink showed us her school books and she had writing inside them, just like ours.
Oscar- Mrs. Wink said she liked gardening when she was little and that's the same as me, I like gardening too.
Neve- Mrs. Wink enjoyed skipping when she was a girl and I like skipping too.
Eliza- Mrs. Wink said she had to get eggs from her chickens and food from her garden when she was little. She said her mum cooked roast dinners and there were no places to eat out, like McDonalds. I think we have a lot more food to choose from.
Home Learning Challenge
We will be interviewing our parents and grandparents to find out about their childhoods. We will want to know about the toys and games they played with, their hobbies and what they did when they were at school.
Many thanks to Mrs. Wink for such an interesting talk.
Can I learn about a significant historical event? What was the Gunpowder plot? Who was Guy Fawkes? Why do we celebrate Bonfire Night?
Sunflower Class have been very busy learning all about the Gunpowder Plot. They have drawn pictures and written detailed accounts of what happened in 1605. Watch their video clip. Can you join in with the 'Remember Remember' rhyme?
World War 2 Hook Day
Can I understand why evacuation happened in WW2 and where children were sent to live?
Wow! What a fantastic day. Everyone made a fantastic effort to come dressed in World War 2 attire.
We learnt that many children were evacuated from the towns and cities and went to live in the countryside, often with complete strangers. We reflected on what that would have been like. We thought about what we would take with us if we had to be evacuated and give reasons.
In addition we were lucky enough to examine some real life artefacts including photos, metals, ration books.
Egyptian Hook Day
On Thursday 7th September we had a hook day to start off our learning about the Ancient Egyptians. As ever the parents were incredibly supportive and creative with the costumes based upon the theme 'Egyptians, Mummies and Explorers'. The children looked wonderful.
(Keep the togas safe Mum and Dads as we will be 'visiting' the Roman Era in the summer.)
---
Can I create a canopic jar?
This will link into a DT project where the children will design their own canopic jar. The children used kitchen paper towels with glue to cover a plastic cup. The children were full of questions about what these jars were used for, and we will find out about the gory details of the mummification process later this term…..if they can wait that long!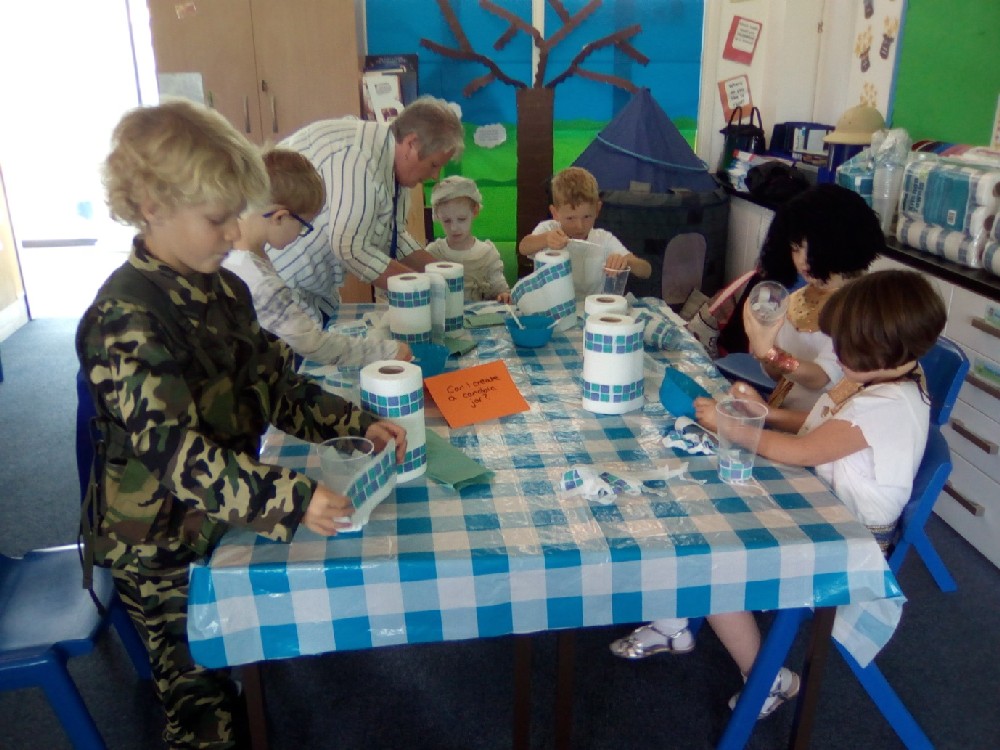 Can I make papyrus?
The children learnt about how the Ancient Egyptians invented the earliest paper. They made it from the papyrus plant which is where the word paper comes from. Papyrus was made by splitting the stems of the plant into thin strips and soaking the strips in water. The strips were then placed onto top of each other in a criss-cross pattern. The sheet would then be hit with a mallet to bond the fibres together and then left for a few days to dry with heavy weights on the top. We used strips of newspaper and placed them in a criss-cross pattern. We had to use several layers to make one piece of paper. We then had to leave it until it had thoroughly dried which took 4 days. We are going to try drawing and writing on the paper. What a lot of hard work! Let's hope we don't make a mistake as it took days to make 1 sheet!
Maths Challenge: Can I estimate, calculate and check how many cubes it would take to make a pyramid?
The children were given a base of 10x10. The children had to first estimate how many cubes it would check. Then they had to look at the base & visualise each layer and work out how many cubes would be in each layer and find the total number of cubes. Finally the children were allowed to get the cubes and check their work. This wasn't easy as they needed steady hands!! Luckily they had plenty of friends to help.
Can create an Egyptian Costume?
The children were given paper dolls for them to create Egyptian costumes. The children enjoyed getting creative.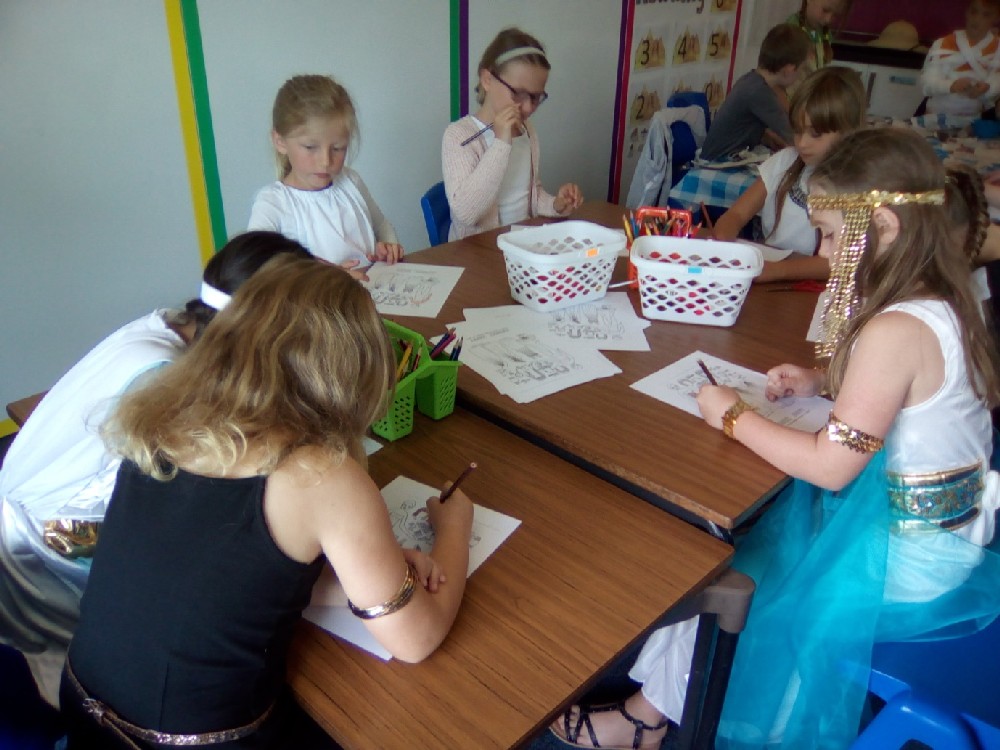 These are just some of the activities we enjoyed. We built pyramids. We tried 'Walking like an Egyptian' and we have learnt some Egyptian songs which I am sure you will be hearing the children sing at home.
We had a fabulous day and we had lots of fun! 
Music Workshop
We learned about different styles of music from the 1940s up to 2017, from a professional band. The band also backed us as we sang 'Summer Holidays' - it was a fantastic day full of learning opportunities.
Harrison played 'Apache' on his guitar: 'I was overjoyed and really excited to be performing with an actual professional band. It was awesome!'
Olivia and Thomas were able to play the cowbell and the tambourine too: 'I loved learning about the different styles of music and about the different instruments. It was great to join in and play ' Play that Funky Music' with the band.'
Lucie: 'I enjoyed listening to the band, especially learning about the different styles of music and how much music has changed over the decades. They were fantastic!'
Learning about significant historical events, people and local historic places.
Y2 had an enjoyable visit to Gainsborough Old Hall which linked into our current learning about famous kings and queens.
Gainsborough Old Hall is a beautiful building situated in the centre of Gainsborough.
First we went into the Banquet Hall which was very impressive.
Our guides told us about some of the history of the hall.
Lord Thomas Burgh III was a friend of Henry VIII. When Henry VIII married Catherine Howard he went of a tour of England to show off his new bride. One of his stops was at Gainsborough Old Hall. He brought thousands of guards, soldiers, servants and courtiers with him. The most important 100 went with him to Gainsborough Old Hall. Those who couldn't be accommodated in the Hall had to set up camp in tents around the building. Henry VIII loved having banquets and parties so we re-enacted one of these events.
First we were given parts to play and we had to put on costumes.
Henry VIII – Kye, Catherine Howard – Amelia, Lord Thomas Burgh III – Alfie, Frances Vaughan (Thomas' wife) – Ruby and their children Robert & Elizabeth – Finlay & Emily.
Even the adults had to join in!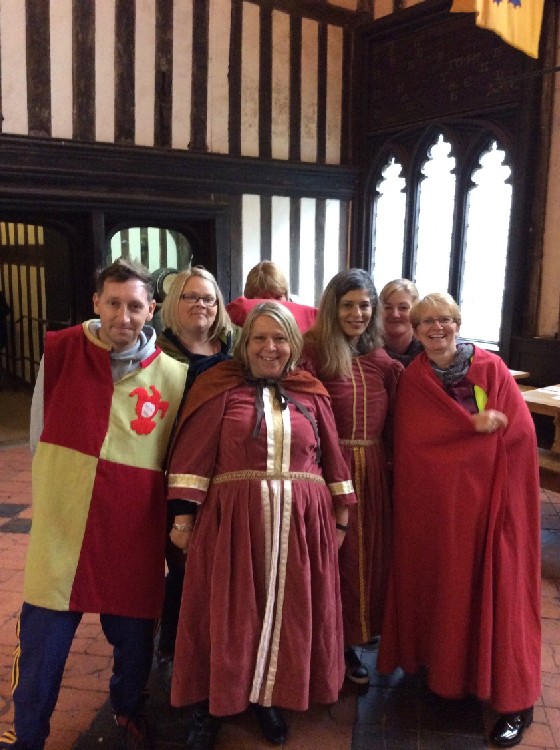 They appointed Gracie to be in charge of the kitchen and Tilly to be second in command and then we were all set to work.
We then went up to the bedrooms to see where the king may have slept.
This 'luxury' room had all the 'mod cons' we enjoy today.
The children had lots of fun exploring.
Outside the bedroom was a gallery where they could relax and where the children would play.
Then we looked at the room where Catherine Howard would have slept. It was much smaller,
Then we looked around the Hall and saw some costumes. We were surprised by how short everyone was in the Royal party.
At last it was time for the banquet! While Henry ate the room was guarded closely.
At the beginning of a banquet the royal hand washers would clean Henry's hands (Kye was ticklish so this was really funny!). The wine was brought forward for the king but the royal food taster had to check it first. Yes that will do nicely!
The people were served in order of their importance.
Musicians played while everyone ate.
Then it was time for the entertainment.
Sorry Mr Leech but don't give up your day job! Some of your jokes weren't funny!
Jugglers
Dancing
Henry and Catherine had a lovely time so noone was worried about having their heads chopped off!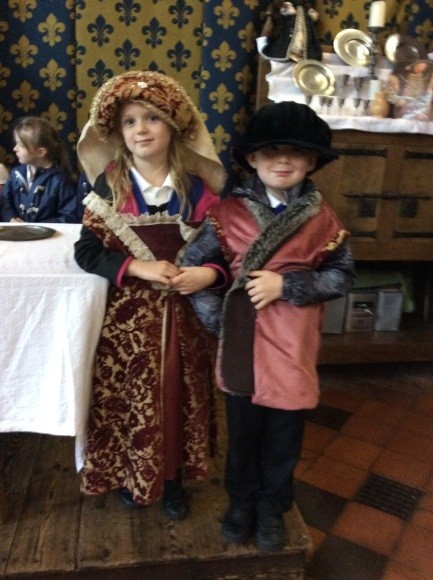 We had such a lovely day. It was really interesting and the children had lots of fun.
Juniper Class Assembly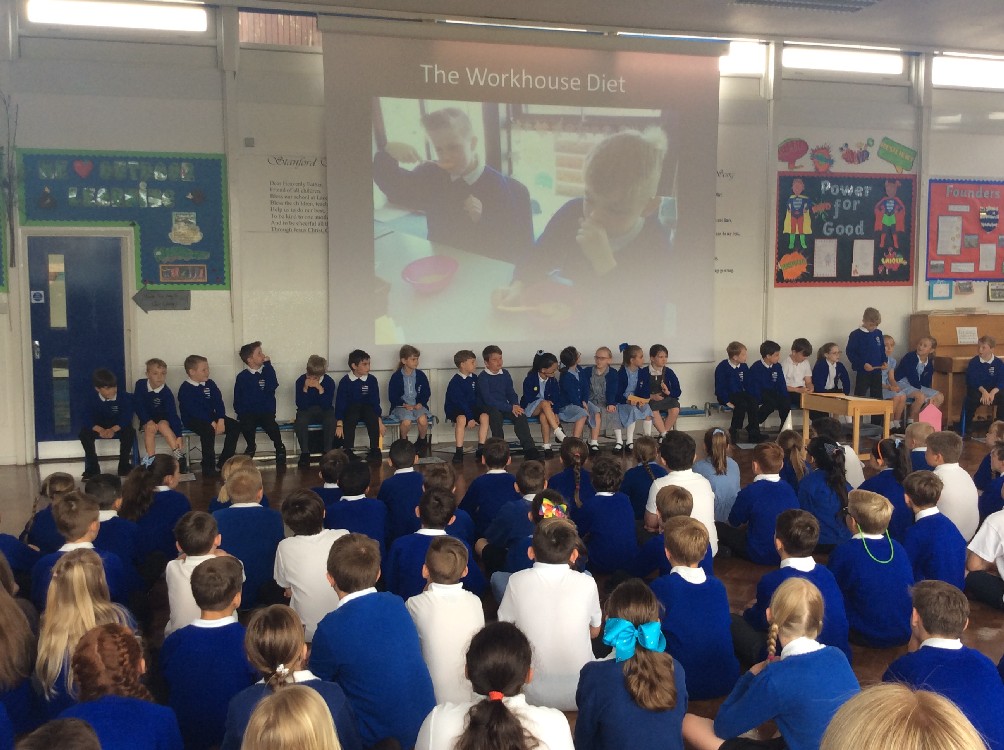 Juniper class impressed the audience during their class assembly today – they spoke eloquently about their history curriculum. The pupils shared reports about the workhouse, information about Normandy Hall, feedback on gruel (!) and shared stunning William Morris inspired designs. The role play all about Victorian education was particularly well-received as was the Victorian song that the class shared as their finale. Well done Juniper. Many thanks too to the parents, grandparents and community members who came along to support the event.
Normanby Hall
Year 3 & Year 4 Victorian Trip to Normanby Hall
Year 3 visit Normanby Hall
Learning through role-play using authentic artefacts.
Then it was time to lead our own learning trough role-play, making comparisons and looking at real artefacts.
The Victorian Workhouse
We researched information about the workhouse. We wondered what the food tasted like so we sampled some gruel and broth. Also we shared an extract from "Street Child" which described Jim Jarvis being sent to the workhouse and the conditions there. These are helping to inspire us to create diary entries that describe a day in the life of a child in the Workhouse.
Founders Day Assembly at Stanford
We learned about Sarah and Philip Stanford who are very significant people in our school's history.
We were proud to sing our school song and to say our school prayer. We celebrated the anniversary of our school and even sang Happy Birthday.
At the end of the assembly we received a very special gift! Every child in our school received a shiny five pence piece which is from the Stanford Trust. It made us think about Sarah and Philip Stanford.
Sunflower class use their environment to inspire their learning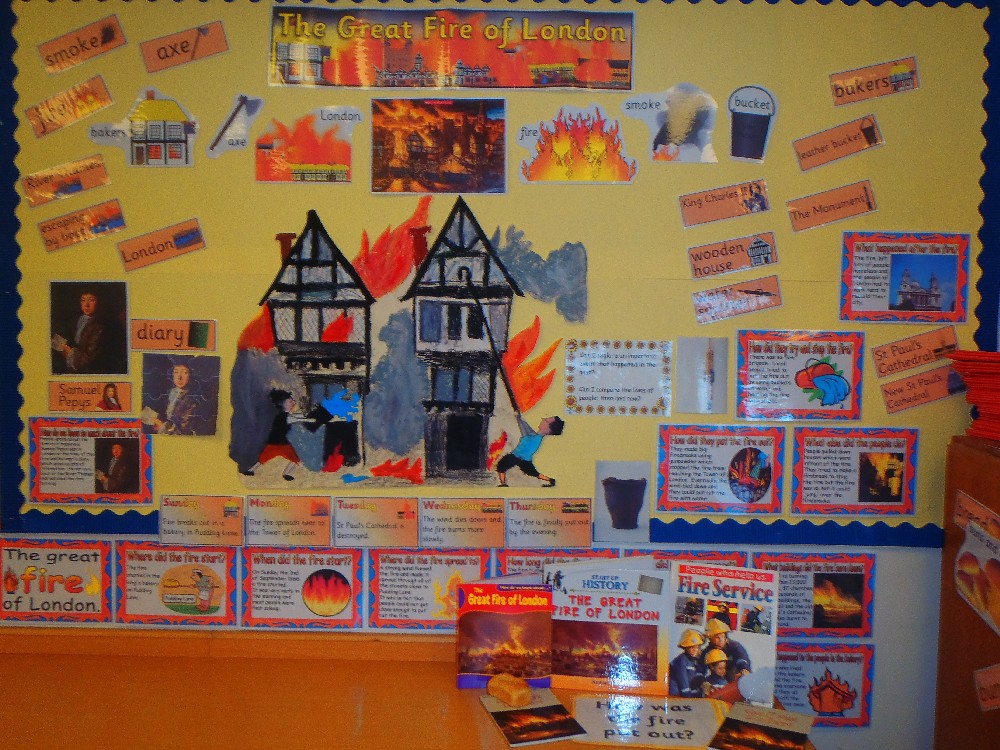 Our Victorian Hook Day
We really enjoyed experiencing would it would have been like in a Victorian Classroom.
We lined up outside the classroom – girls and boys had to enter from a different door.
As we entered the room we had to pay our teacher a penny as school wasn't free until towards the end of the Victorian period.   We had to take our caps off in the classroom. We had to stand behind our desks until we were asked to sit down.
It was very strict.  We weren't allowed to speak until we were spoken to.
Our work was done with chalk on slate.  We tried to write in Victorian script.  It was really difficult if we were left handed because we had to try with our right hands.Speaking of hands our teacher did a hand inspection.  We had to sit up straight too.   Also we recited our 3 times table.   We were given a real Victorian poem to learn off by heart.
Our Victorian Hook Day
Today Star Anise and Juniper Year 4s had a wonderful Hook Day linked to their History Theme "Children In Victorian Britain". The children had the opportunity to experience what it would have been like to be a child at school during this period of time, including writing lines, sitting in the corner with a Dunce hat on, an object lesson painting flowers, reciting The National Anthem and The Lord's Prayer. making balsa boats and making peg dolls. All the children chose a Victorian name for the day and wrote in Copperplate writing on a slate board.
Can I act out the story of Boudicca?
At first the children were asked to be critical thinkers and answer these questions:
What does a queen do?
How does a queen live?
What is the job of a queen?
The children thought that a queen wears fancy dresses and shoes, lives in a palace, sits on a throne, has servants and doesn't really work.
The children then learnt about the Celt warrior Queen Boudicca. The children were asked to act out her story using freeze frames.
The children really enjoyed the story and the acting. At the end of the lesson the children compared the life of Boudicca to their original ideas of a queen. The children then decided that a queen didn't have to have nice clothes, palaces and servants. The children thought that Boudicca was a great queen because rather than sending others to fight she joined in and fought, which they decided was a queen's real job….to protect her country.
The Great Fire of London
Can I learn about a significant event that happened beyond living memory?
Can I use a range of tools and materials to create a Tudor-style house?
Can I design a costume for a Tudor person?
During the recent Hook Day the children worked hard to make Tudor houses and design costumes. Their work has been used to create a wonderful display about the Hook Day and the Great Fire of London. The children were 'dressed' in their designs and can be shown trying to work together to put the fire out.
Immersive Door
Here is Barley Class Immersive Door for the Summer Term. Our focus is Britain since 1948, where we will be studying the different decades from the 50's to the 80's. We have wrote our targets for this term on old records!
KS1 Hook Day
The Great Fire of London: Can I learn about a significant event that happened beyond living memory?
Ryan: It all started in a bakery down Pudding Lane in London.
Finlay H: The Great Fire of London started in September 1666.
Cerys: The fire lasted for 4 days.
Bailey: The fire spread because the wind blew the flames.
Maisy: The houses caught fire easily because they were made of wood.
Joe: The houses were too close together. I know that lots of people were injured.
Leo: They used leather buckets and water from the River Thames to put the fire out.
Charlie W: They used big long hooks to pull the houses down.
Joshua: They ended up blowing the houses up with gunpowder to stop the fire spreading.
Gracie: I was surprised that only 16 people died.
Darcy: People escaped in boats on the River Thames.
Katie T: We looked at how people dressed in the 1600s.
Jacob: I designed some clothes like the people wore in 1666.
Maisy: I liked designing the dresses for the dolls.
Samuel Pepys: Can I learn about the life of a significant individual from the past?
Tilly T: Samuel Pepys was famous for writing about The Great Fire of London in his diary in 1666.
Monty: Samuel Pepys used a quill which was a feather and he dipped it in the ink.
Olivia H: I enjoyed writing with a feather.
Kajithra: We coloured in a portrait of Samuel Pepys and wrote like him with a feather. I liked doing this.
Tilly T: I liked learning about Samuel Pepys because he hid his cheese in the garden.