Modern Foreign Languages
The learning of a foreign language provides a valuable educational, social and cultural experience for the pupils at Stanford Junior and Infants School. Learning French helps our children to develop communication and literacy skills that lay the foundation for future language learning, as well as appreciate the origins and structure of English in more detail.
Learning another language raises awareness of the multilingual and multicultural world and introduces an international dimension to pupils' learning, giving them an insight into their own culture and those of others. The learning of a foreign language also provides a medium for cross-curricular links and for reinforcement of knowledge, skills and understanding developed in other subjects.
We aim to foster an interest in learning other languages in a way that is enjoyable and fun. We hope to stimulate and encourage children's curiosity about language, through developing their speaking and listening skills and laying the foundations for future study of foreign languages.
Useful Resources
Why not try some of the following link to order to improve your French at home!
http://www.french-games.net/ - a wonderful site with plenty of interactive resources, games and activities for every level of French speaker
http://www.crickweb.co.uk/ks2french.html - loads of interactive resources to help you get to grips with basic vocab.
Mamalisa - poetry, songs and links from around the world
BBC - Primary French
Primary Resources - French: numbers, colours, animals, time, weather, food & drink, the body, clothing, friends & family, hobbies & sport, school, around town, seasonal
Momes.net - a fabulous French site, always up to the minute news, good for inter-cultural development
A series of Powerpoint documents todownload that build into a French language course.
Unit 5: Quelle heure est il? (Part 1)
Unit 7: Quelle heure est il? (Part 2)
Unit 8: Qu'est-ce que tu veux?
All About Me - French
The children in Poppy Class have enjoyed learning French and have learnt a lot in a very short time. Here they are showing off their linguistic skills
Can I count to 31 in French?
The children have been fantastic at learning a new language. So far they have learned how to say "Hello" and "Goodbye" in different ways. They can say what their name is, how they are feeling and how old they are. We have started looking at numbers to 31. To make it fun we had a game of Bingo so the children could practise their numbers. 'Les yeux baissés pour une salle comble'……..eyes down for a full house!
Juniper French Café learning Share
This morning we transformed the hall into a French café. We practised our French ordering our breakfast. We also shared some of the fantastic learning that we have been doing in Juniper class including our Stanford Bake off projects, our Mayan masks and our inspirational logs. We also showcased how we improve our writing skills by using edit stations.
Here are some of our wonderful reviews: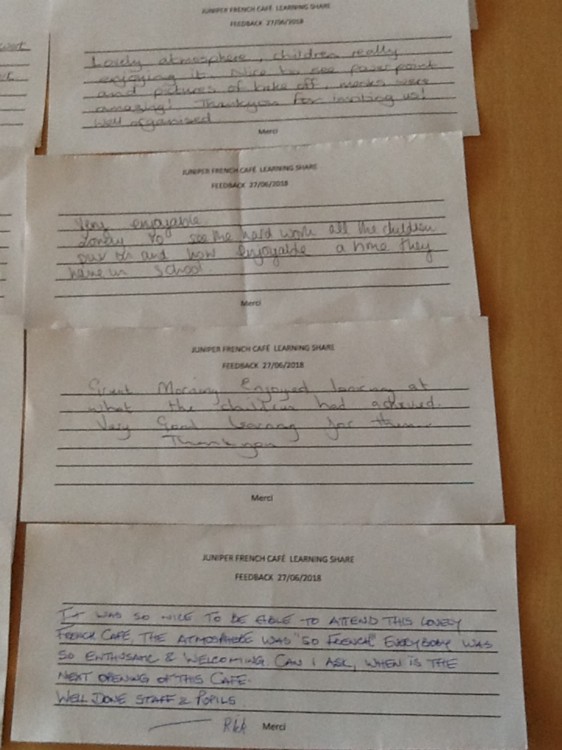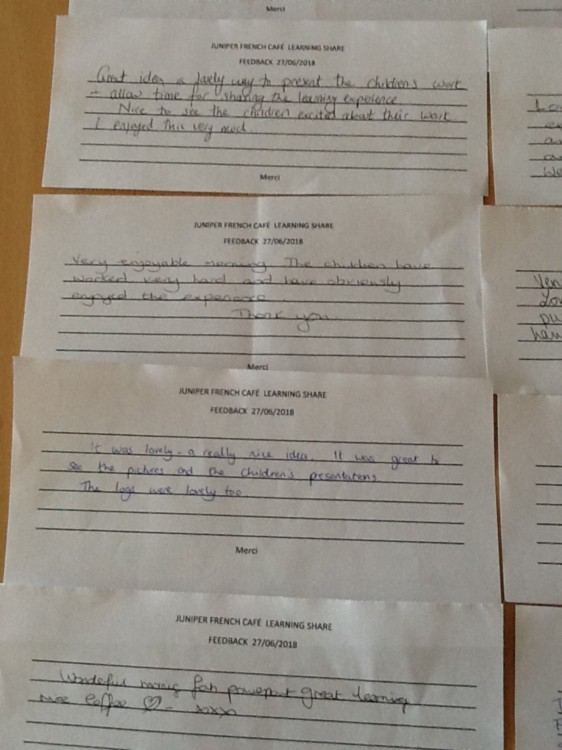 Can I follow simple classroom instructions?
The children have been learning to follow instructions in French.
These are the ones we have been trying…..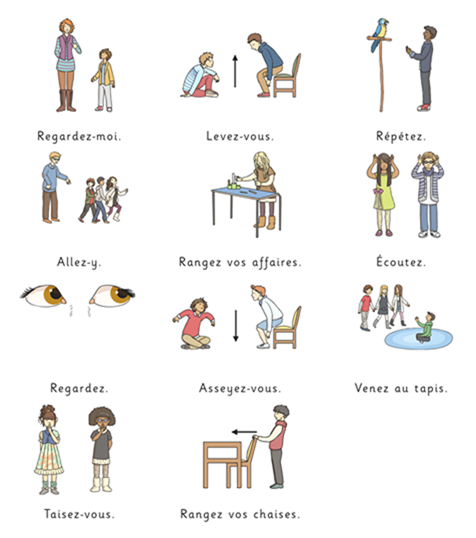 If you are not having any luck with English try telling them what to do in French……it works for me!!!
Beijing Calling
As Pumpkin class enjoy learning foreign languages we arranged for a video call to Beijing so the children could learn about China and its language Mandarin. Approx 1 billion people in the world speak Mandarin making it the most spoken language in the world.
The children were able to speak to a teacher called Jining Wang who lives in China's capital city. Jening showed us what her home looked like and showed us pictures of China's famous places – the Forbidden City and the Great Wall of China. She then taught the children how to say 'hello' and 'goodbye' in Mandarin.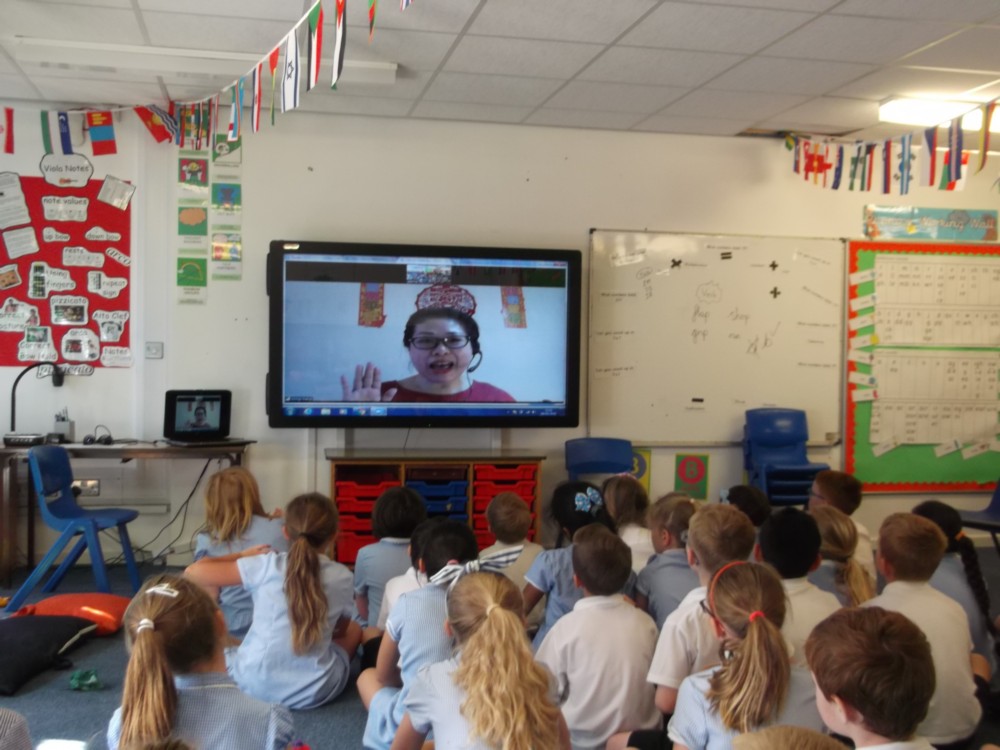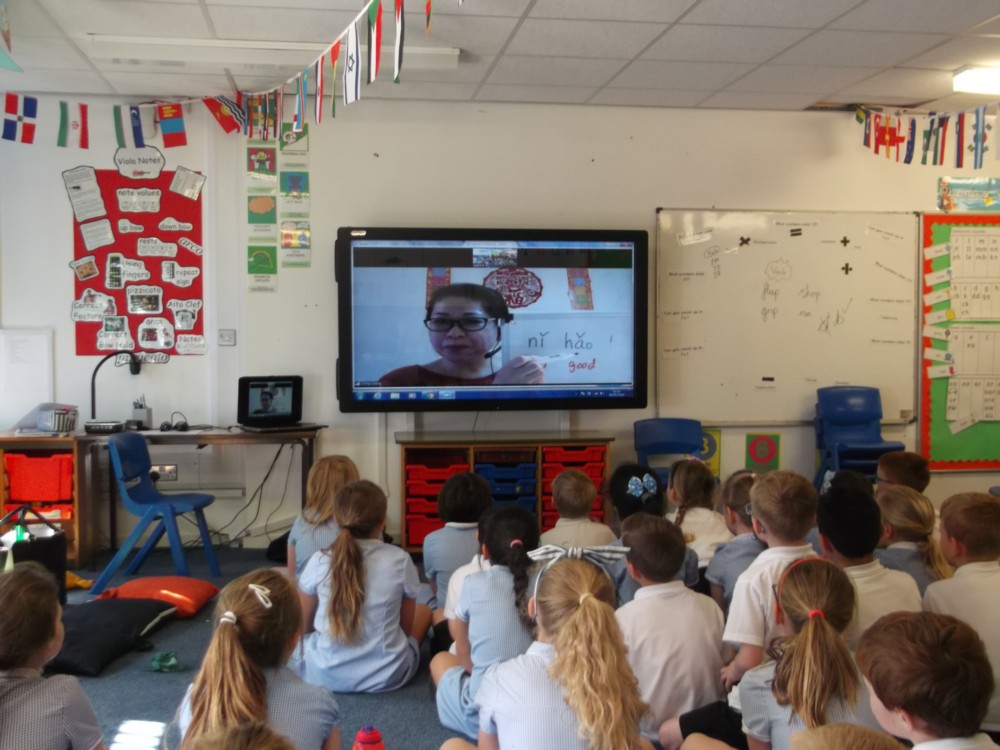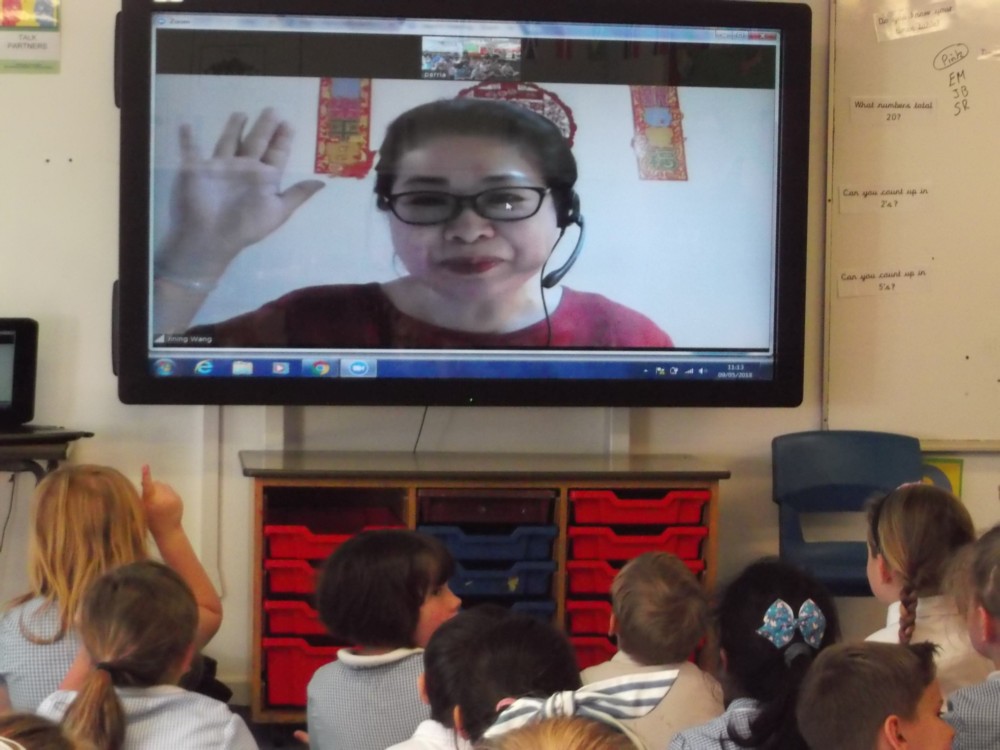 The children were really quick to grasp the language and the teacher was very impressed with them. She tried to catch the children out with a game of Simon Says but the children were too clever to be caught out!
This was a fantastic opportunity for the children, some of whom have never had video calls before, and they really enjoyed it. They were talking about it all day they were so excited.
见 (zài jiàn): See you again!
As tu un animal?
In Pumpkin Class we have been learning about the names of different animals in lots of different ways.
First we gave each animal an action to for us to do as we say the name, then we played a game of pairs and animal bingo. They children loved practising this language in lots of different ways