Mathematics
The curriculum at Stanford Junior and Infant School
The Intent, implementation and Impact of our Curriculum – Maths
Traditionally, Maths has been taught by memorising key facts and procedures, which tends to lead to superficial understanding that can easily be forgotten. At Stanford, we believe that children should be able to select which mathematical approach is most effective in different scenarios.
All pupils can achieve in mathematics! There is no such thing as a 'Maths person', that is the belief that some pupils can do maths and others cannot. A typical Maths lesson will provide the opportunity for all children, regardless of their ability, to work through Fluency, Reasoning AND Problem Solving activities.
Intent
Maths is a journey and long-term goal, achieved through exploration, clarification, practice and application over time. At each stage of learning, children should be able to demonstrate a deep, conceptual understanding of the topic and be able to build on this over time.
There are 3 levels of learning:
Shallow learning: surface, temporary, often lost
Deep learning: it sticks, can be recalled and used
Deepest learning: can be transferred and applied in different contexts
The deep and deepest levels are what we are aiming for by teaching maths using the Mastery approach.
Implementation
Multiple representations for all!
Concrete, pictorial, abstract
Objects, pictures, words, numbers and symbols are everywhere. The mastery approach incorporates all of these to help children explore and demonstrate mathematical ideas, enrich their learning experience and deepen understanding. Together, these elements help cement knowledge so pupils truly understand what they've learnt.
All pupils, when introduced to a key new concept, should have the opportunity to build competency in this topic by taking this approach. Pupils are encouraged to physically represent mathematical concepts. Objects and pictures are used to demonstrate and visualise abstract ideas, alongside numbers and symbols.
Concrete – children have the opportunity to use concrete objects and manipulatives to help them understand and explain what they are doing.
Pictorial – children then build on this concrete approach by using pictorial representations, which can then be used to reason and solve problems.
Abstract – With the foundations firmly laid, children can move to an abstract approach using numbers and key concepts with confidence.
Impact
Quick recall of facts and procedures
The flexibility and fluidity to move between different contexts and representations of mathematics.
The ability to recognise relationships and make connections in mathematics
A mathematical concept or skill has been mastered when a child can show it in multiple ways, using the mathematical language to explain their ideas, and can independently apply the concept to new problems in unfamiliar situations.
Maths Basic Schools
At Stanford School we are focussing on developing our basic maths skills. Each class dedicates 15 minutes of the day to basic maths - we focus on mental maths skills, calculations and number.
We have lots of exciting resources to help us improve our basic skills, including number squares, fans, whiteboards, dice, counters, stopwatch challenges and iPods.
We also enjoy helping each other with basic skills and pair up with our partner classes for some of these sessions, which we really enjoy!
Here are examples of the Maths Basic Skills targets for each year group:
About our Calculation Policy
The following Calculation Policy has been designed to meet the requirements of the National Curriculum 2014 for the teaching and learning of mathematics, and is also designed to give pupils a consistent and smooth progression of learning in calculations across the school, Please note that early learning in number and calculation in Reception follows the "Development Matters" EYFS document, and this Calculation Policy is designed to build on progressively from the content and methods established in the Early Years Foundation Stage.
Age stage expectations
The Calculation Policy is organised according to age stage expectations as set out in the National Curriculum. However it is vital that pupils are taught according to the stage that they are currently working at, being moved onto the next level as soon as they are ready, or are working at a lower stage until they are secure enough to move on.
Download our Calculations Policy
Times Table Challenge
We are introducing a new Mathematics challenge aimed at developing quicker recall of the multiplication facts (times tables). The new National Curriculum from 2014 states that: 'By the end of year 4, pupils should have memorised their multiplication tables up to and including the 12 multiplication table.'
The new Key Stage 2 tests that came into place this year has an arithmetic test specifically on calculations. Therefore to ensure children are confident and prepared, learning tables' facts plus recalling these quickly and accurately will give children a distinct advantage.
Learning multiplication facts does not have to be boring and repetitive; we will be encouraging the children to recall facts in different ways through games, challenges and investigations as well as the weekly speed tests that will be held in class each week. We will be using an online resource, in school, called TT Rockstars, which focuses on times table challenges, improving pupil's rapid recall. This will be completed in class and will follow a programme of teaching and learning times tables. Pupils must though spend the time trying to learn the facts to make it easier in the classroom. Each child will have a record sheet for them to copy in their multiplication facts and record their progress.

The rewards for this will be bronze, silver and gold stickers that will be presented by class teachers and eventually the children will receive the platinum certificate for Multiplication Excellence which will be presented in the Friday assembly. Each year group will have their own targets which are outlined below:
FS and Y1- Counting on in steps of 2, 5 and 10
Y2- 2, 5 and 10.
Y3- 2,3,4,5,8,10
Y4- ALLTABLES FACTS TO 12× 12
Y5- ALL and completed 12× 12 mixed tables square in under 8 minutes
Y6- ALL and completed 12× 12 mixed tables square in under 6 minutes
TT rockstars is a daily practice of the times tables, through listening to rock music. Pupils have to answer 50 questions and time themselves. This will then work out your rick status. The idea is that pupils' rapid recall will become quicker for each times table.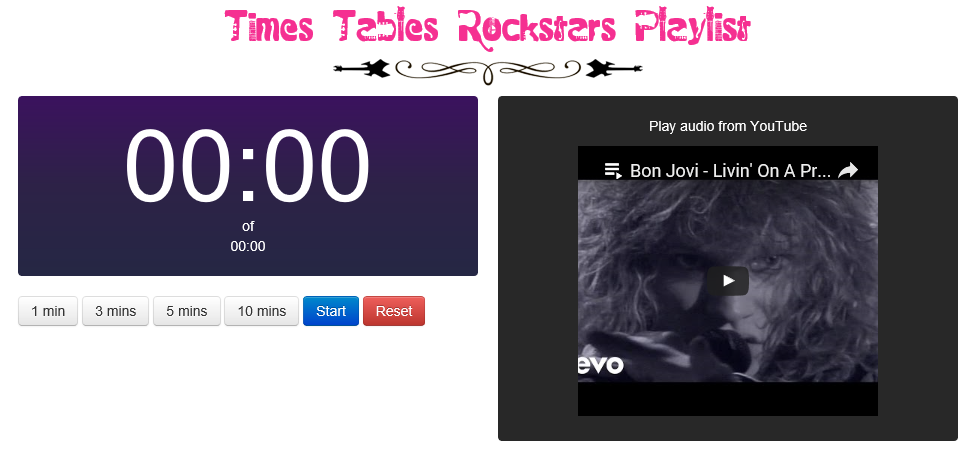 Here are some websites that offer games, grid challenges and interactive tests:
For more information please go to the website www.ttrockstars.com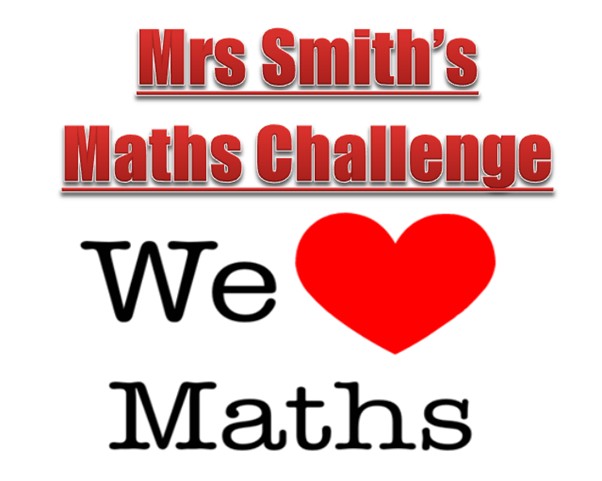 Algebraic equations
Barley class were using unifix cubes to help them form algebraic equations- great job Barley Class!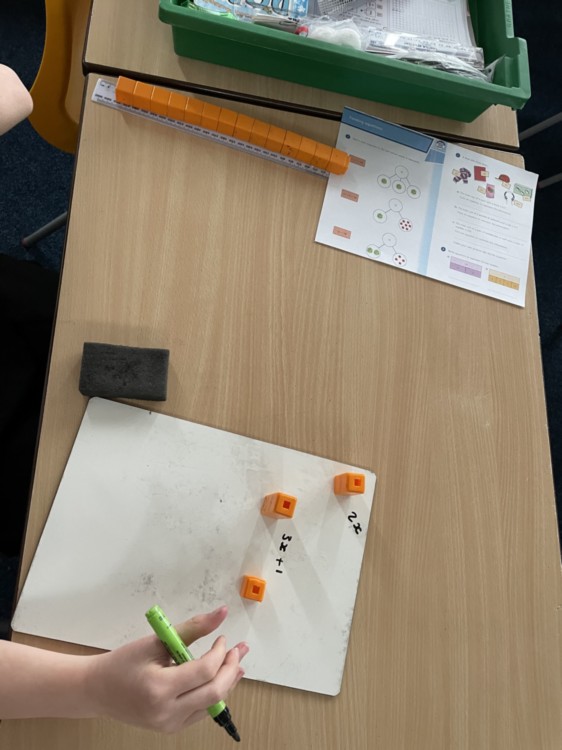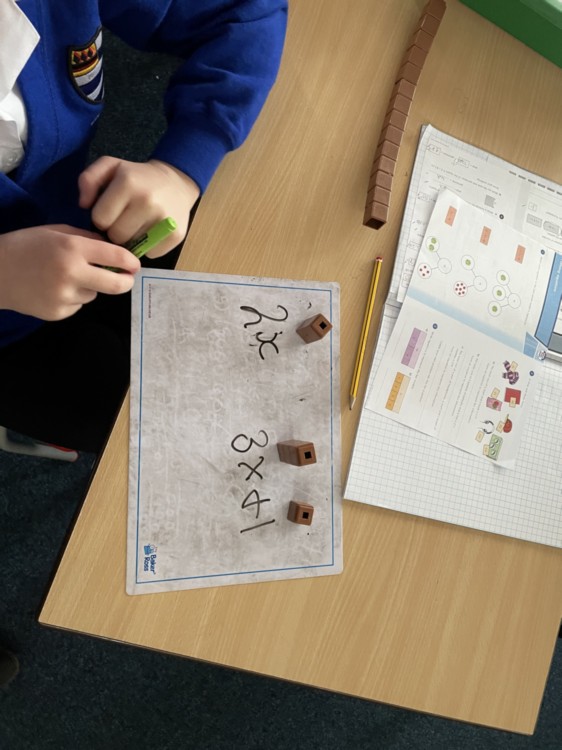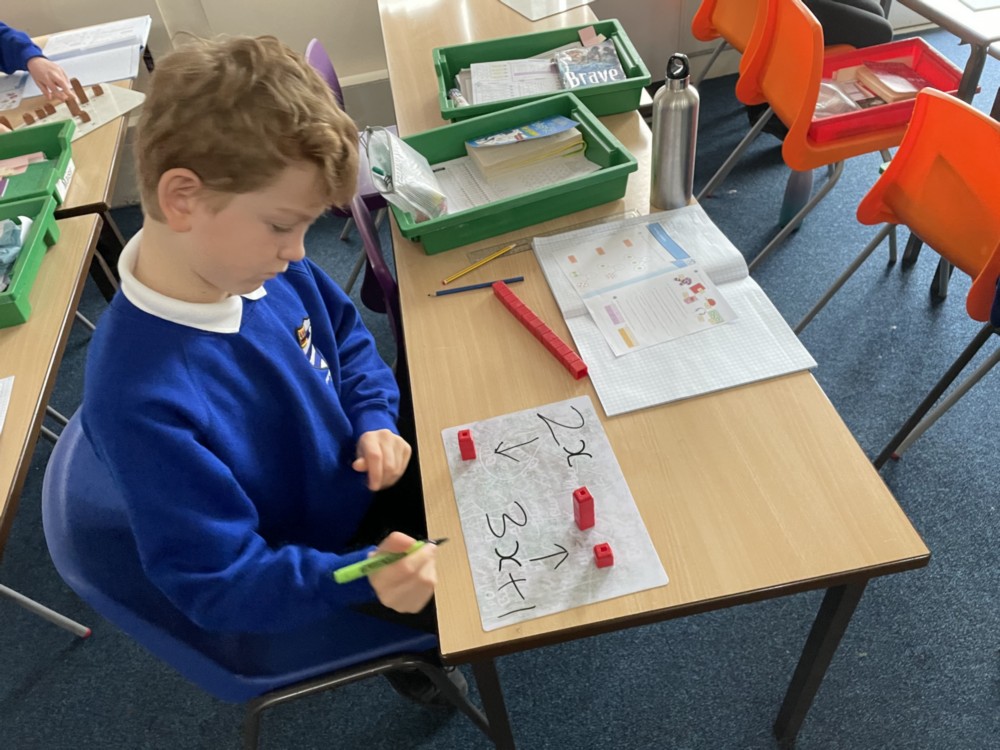 Fun with Shapes
In Pumpkin Class today we have been exploring 2D and 3D shapes. We have taken apart cuboids to investigate how many faces they have. Some of us even got inside the big ones!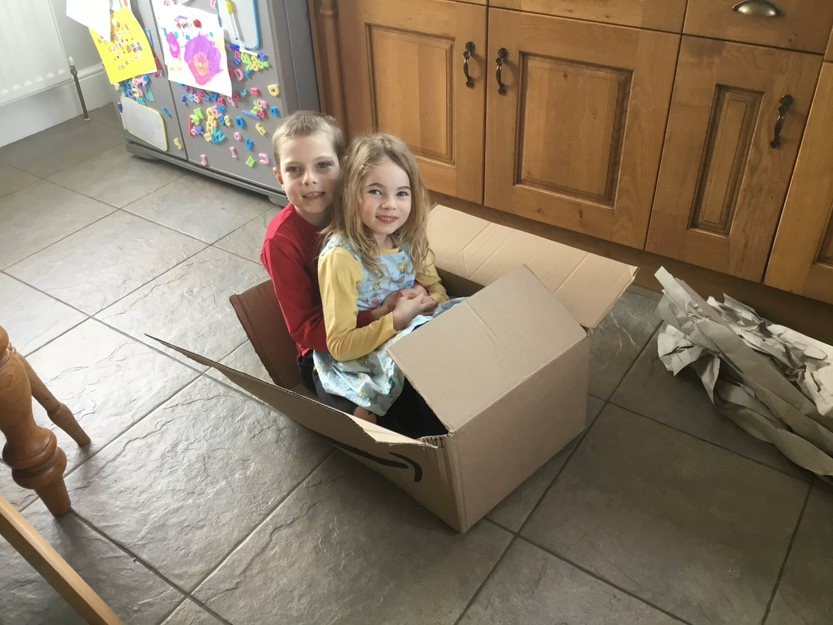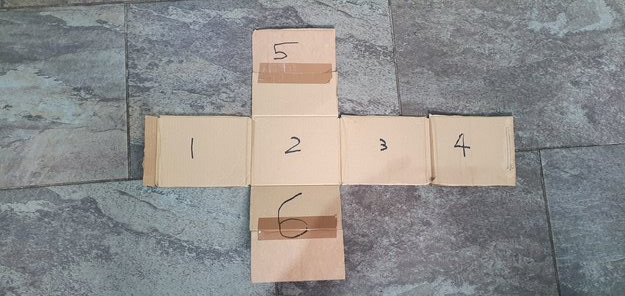 Then we started making many different 2D shapes.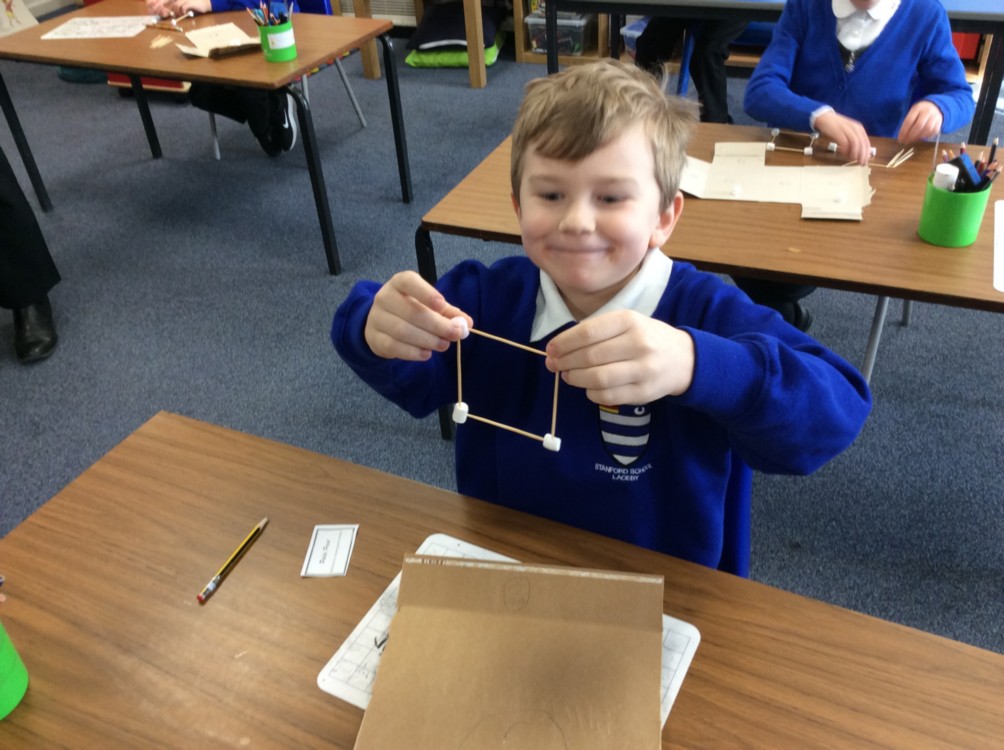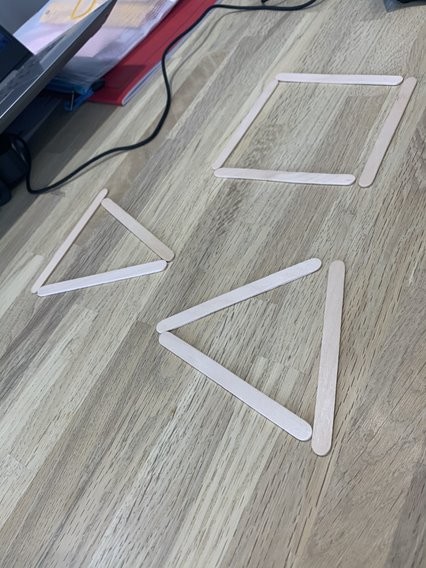 Finally we made 3D shapes in different ways
.
We had so much fun and learnt so much at the same time. Our new vocabulary is: cube, cuboid, 3 -dimensional, 2-dimensional, faces, edges, vertices and corners. We look forward to sharing more shape work soon.
Pumpkin Class Maths
Today we have been investigating how many different ways we can share 20 cubes equally.
We have worked systematically to find out which divisions work fairly.
We are great at this!
Can I make shapes with the same area?
In maths we have been looking at the area and perimeter of shapes. We have learnt that the inside of the shape is the area and we can calculate it by counting the squares used to make a shape. We were then set a challenge to make different shapes with the same area.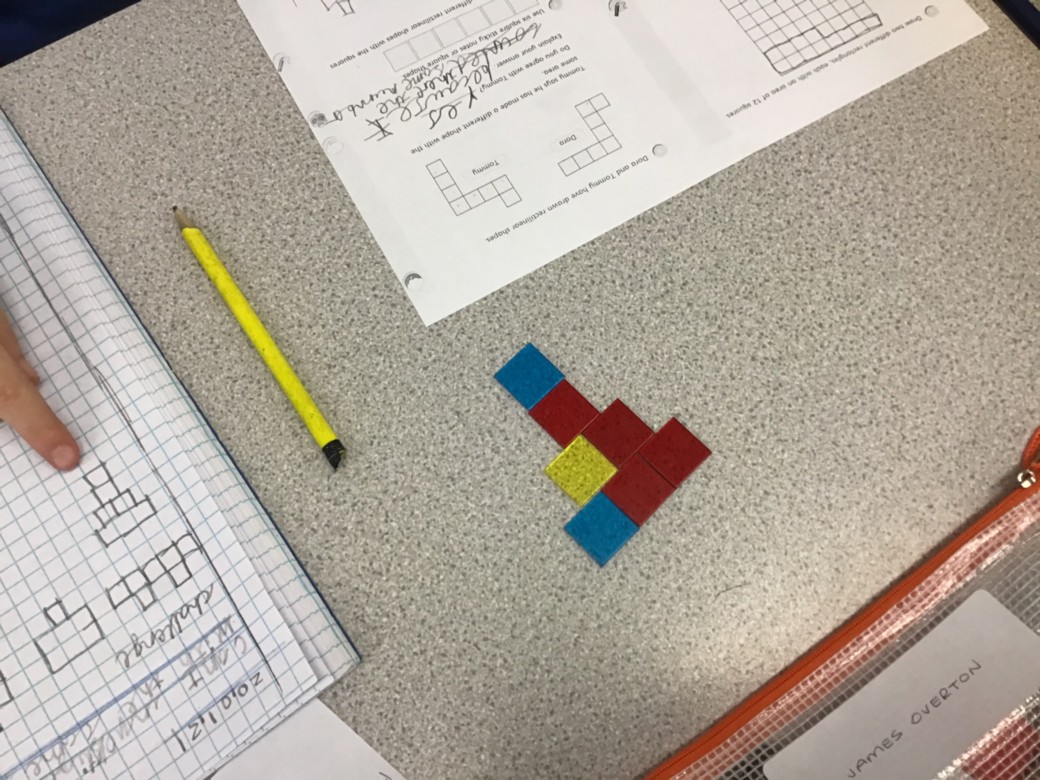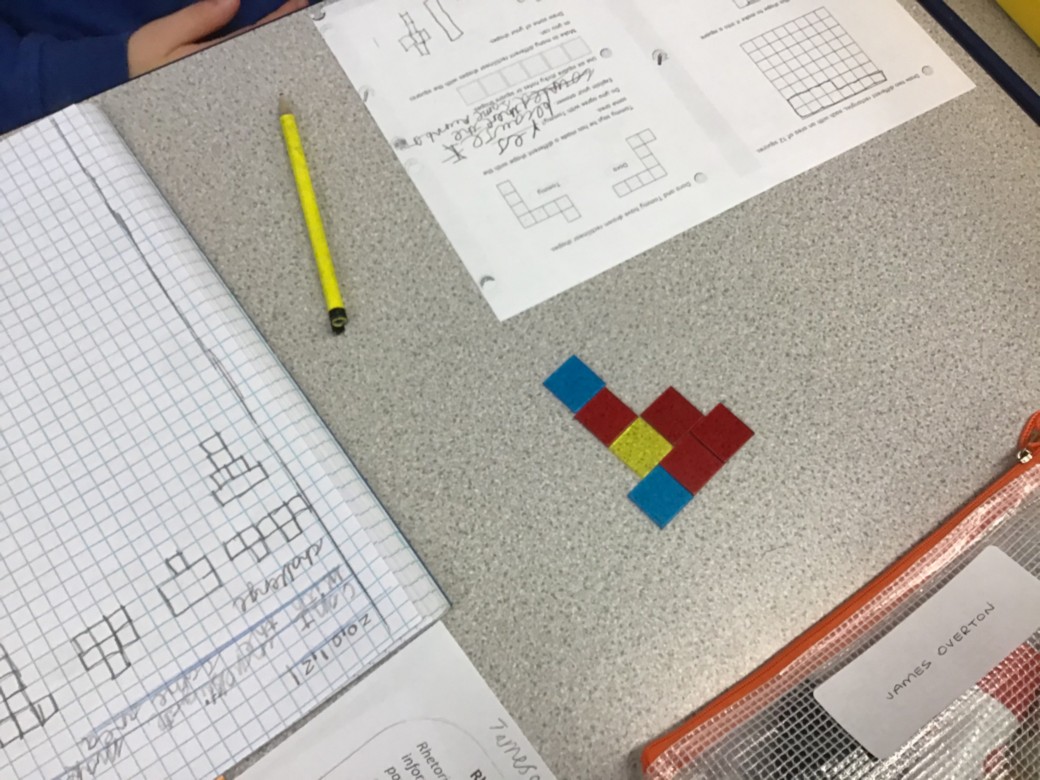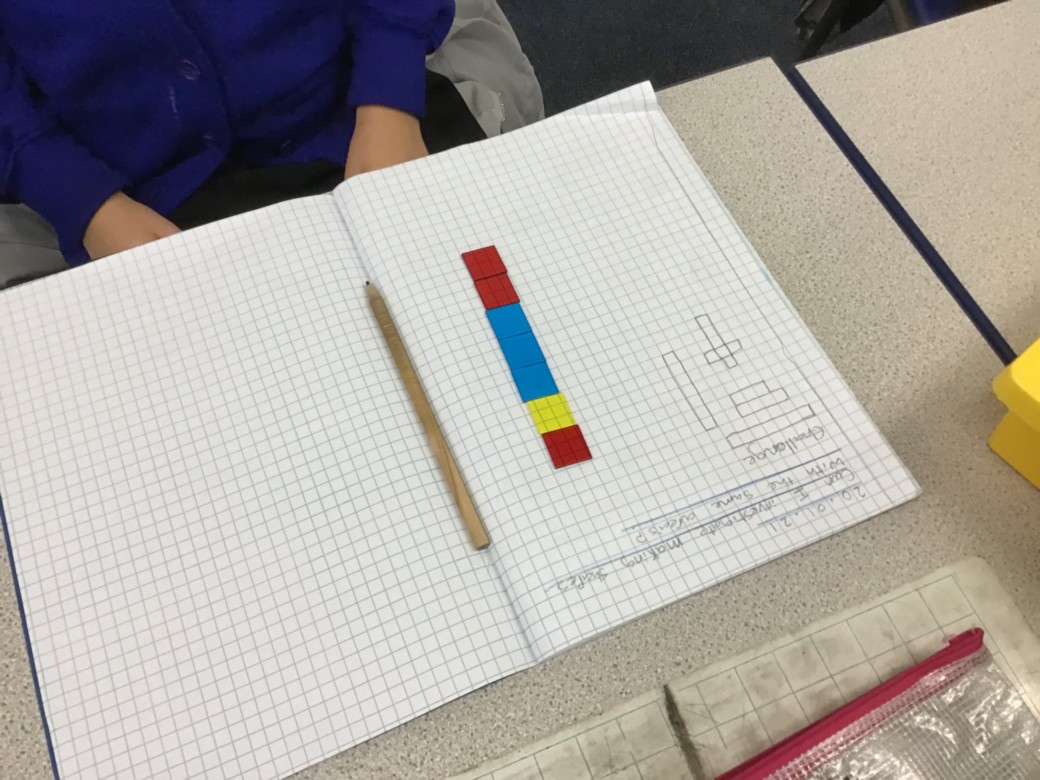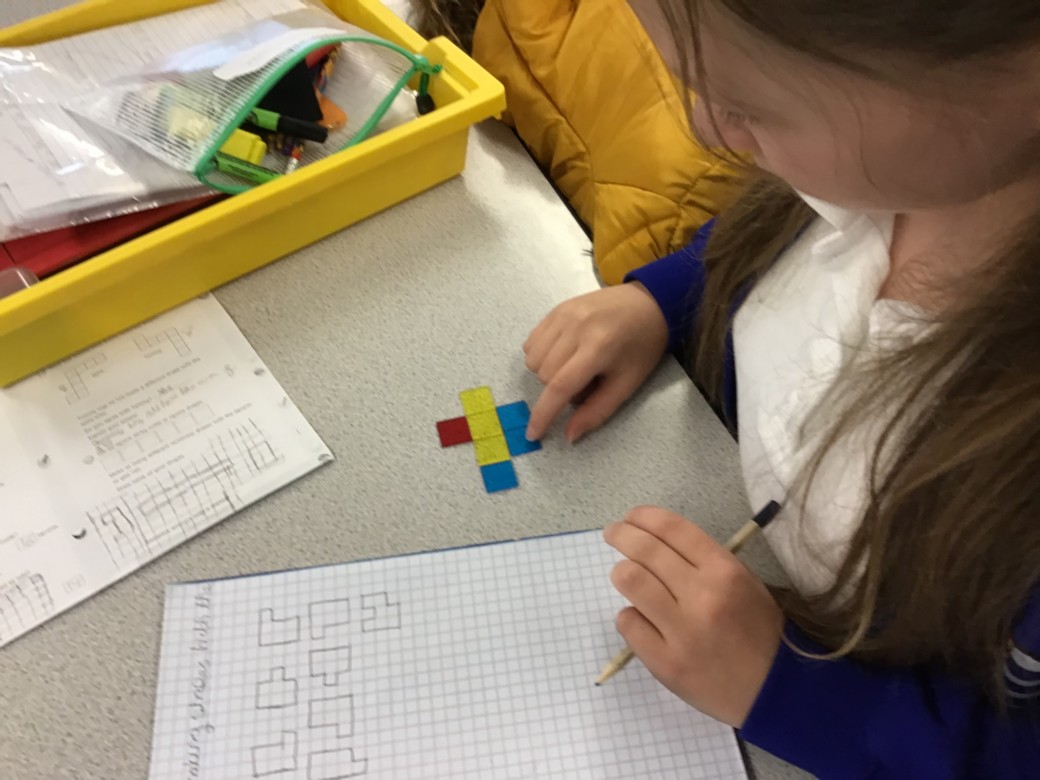 Festive Crafts
Foundation stage children designed festive crafts as part of our enterprise projects.
They decorated a felt gingerbread man and created winter tree photo frame. Children learnt some new words and what they mean, including design, profit, cost and total. They used their Maths skills involving money, recognising 100p is the same as £1!
Finally, children then found the total of the two items by adding them together.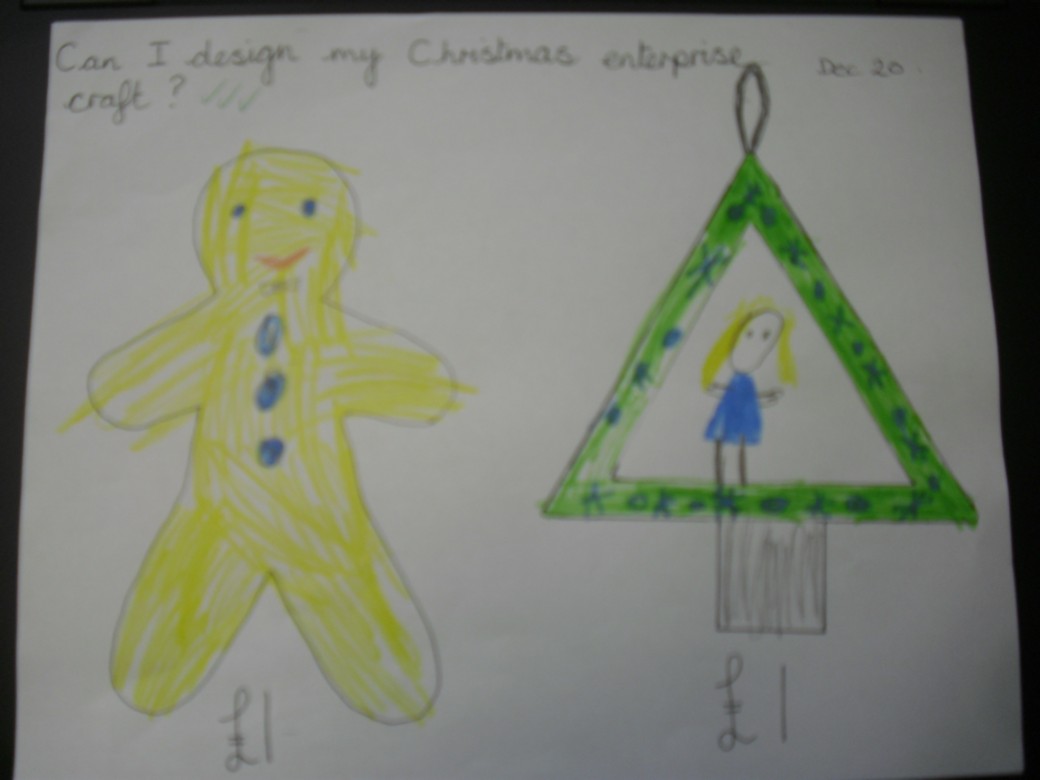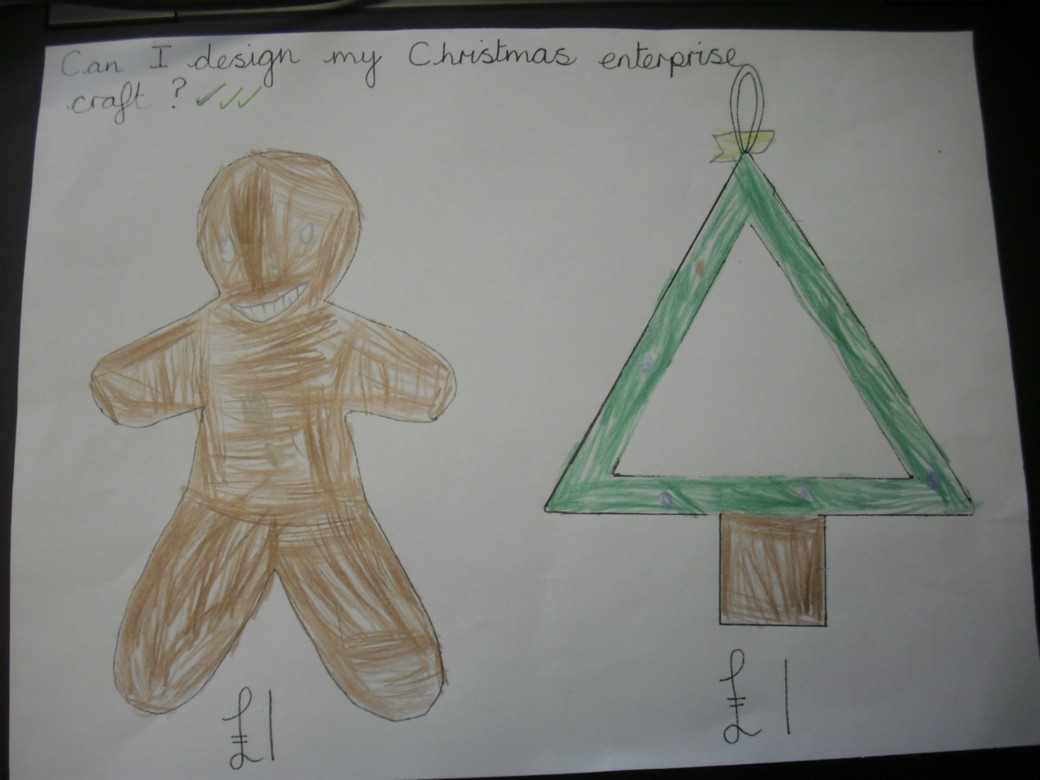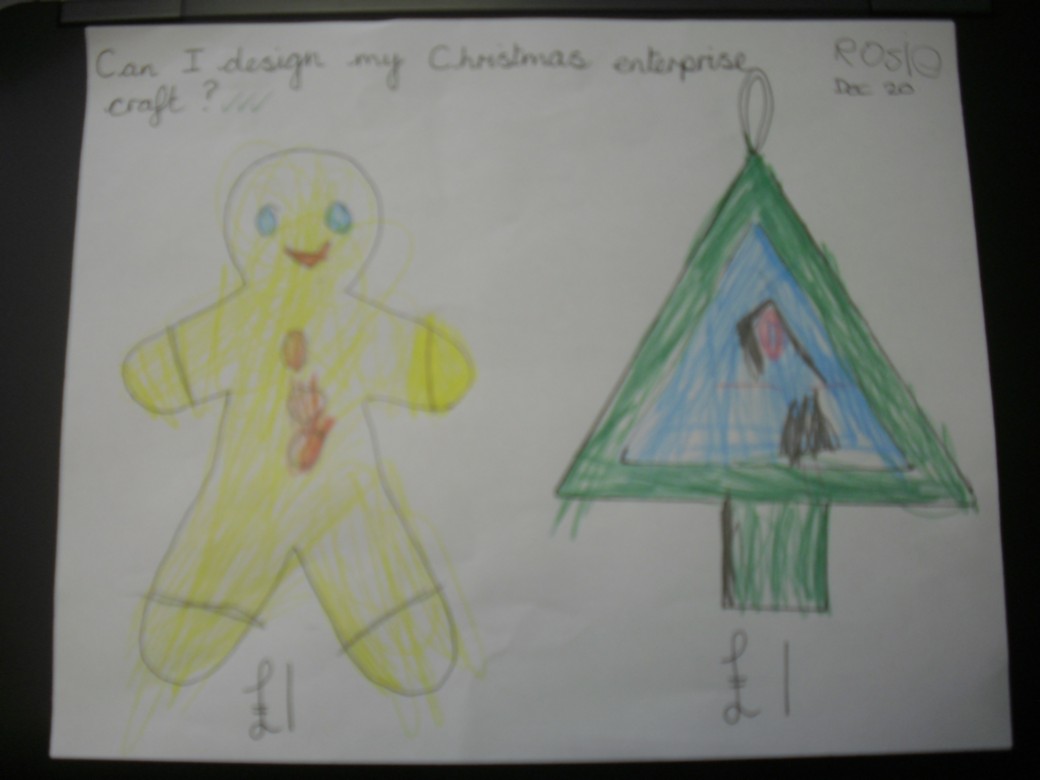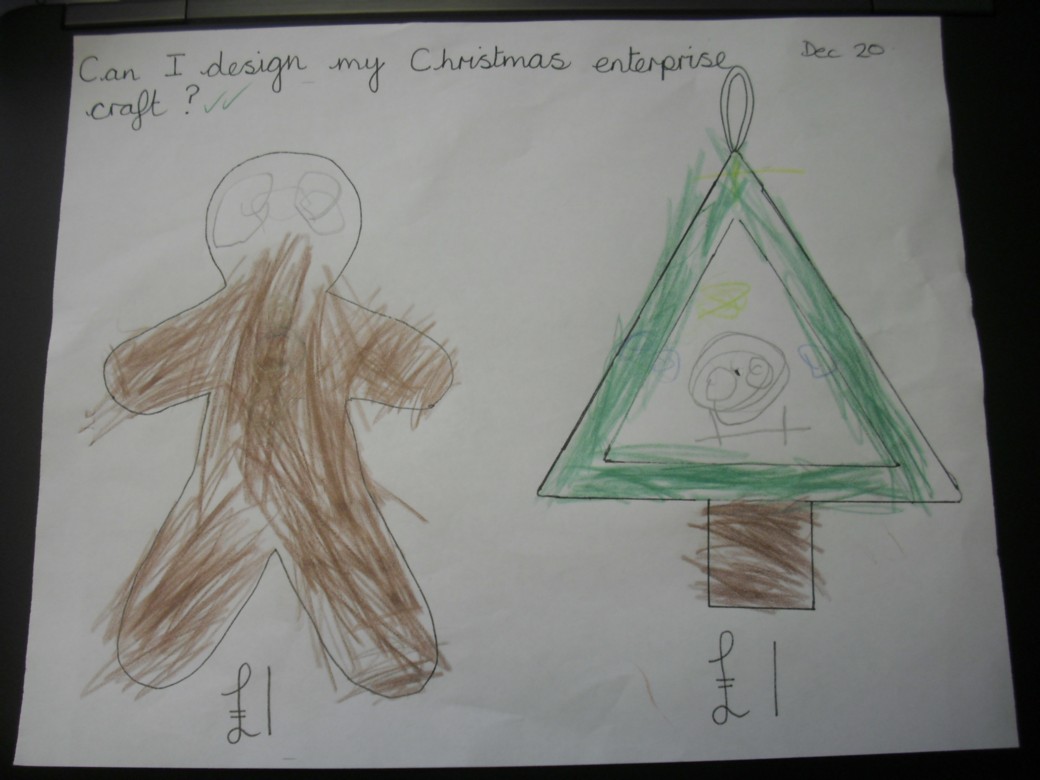 Times Tables
We have been doing lots of times tables practice and games in our class. We use TT Rockstars and Hit the Button to help us answer times tables questions quickly. Our current TT Rockstars time to beat is 39 seconds and our highest Hit the Button score is 23 - keep up the good work Year 6!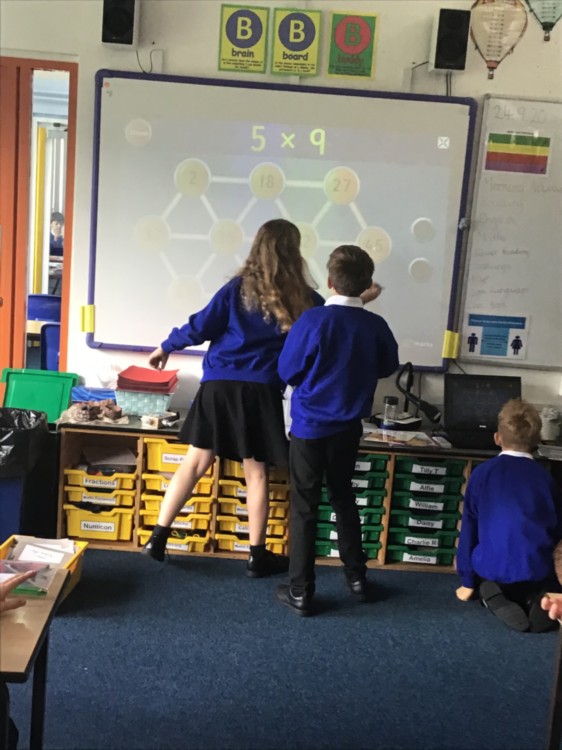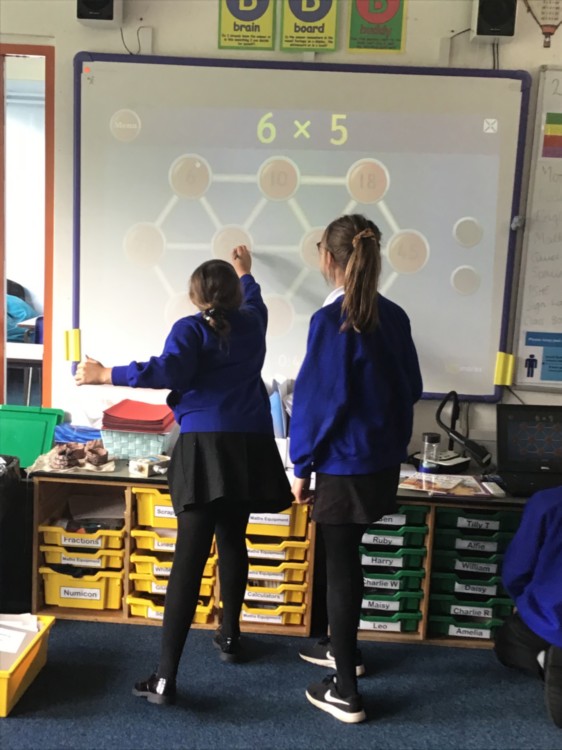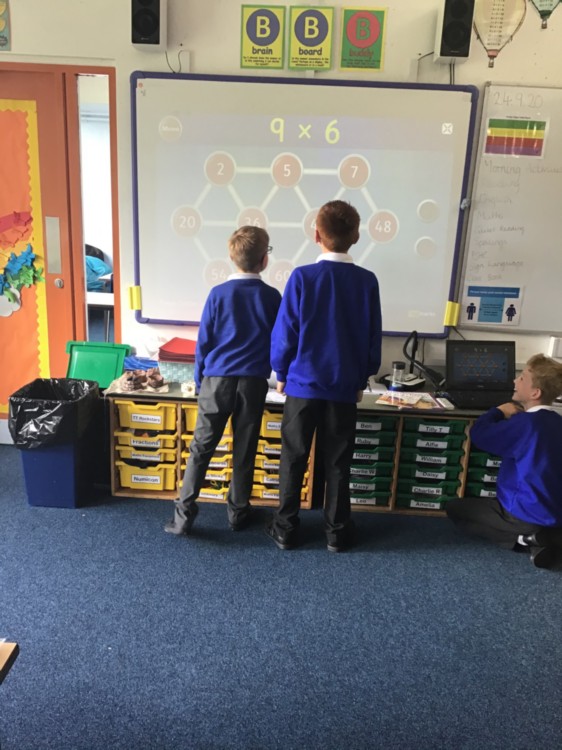 Sorting
Foundation children have been learning about sorting. We sorted ourselves and objects such as bears, camels and cubes.
Representing numbers to 10,000,000
We have been looking at identifying numbers up to ten millions in our maths lessons this week, today we were representing these numbers in different ways and identifying the value of each digit within the number - we love to challenge ourselves in Barley Class!
Year 1 Maths
The children have been exploring sorting this week in Maths.
E- I sorted mine into different colours.
W- I counted my cubes and sorted them into how many was in each group.
K- I sorted my objects into shape groups.
Measures
In Green Bubble we have been measuring in different ways.
First we measured the height of real daisies in cm. We ordered them from shortest to tallest.
Next we drew tall flowers on the playground and used a metre wheel to measure them. They measured between 28m and 50m tall.
Clocks
In Green Bubble we have made our own clocks and can tell the time using o'clock.
At 3 o'clock we go home.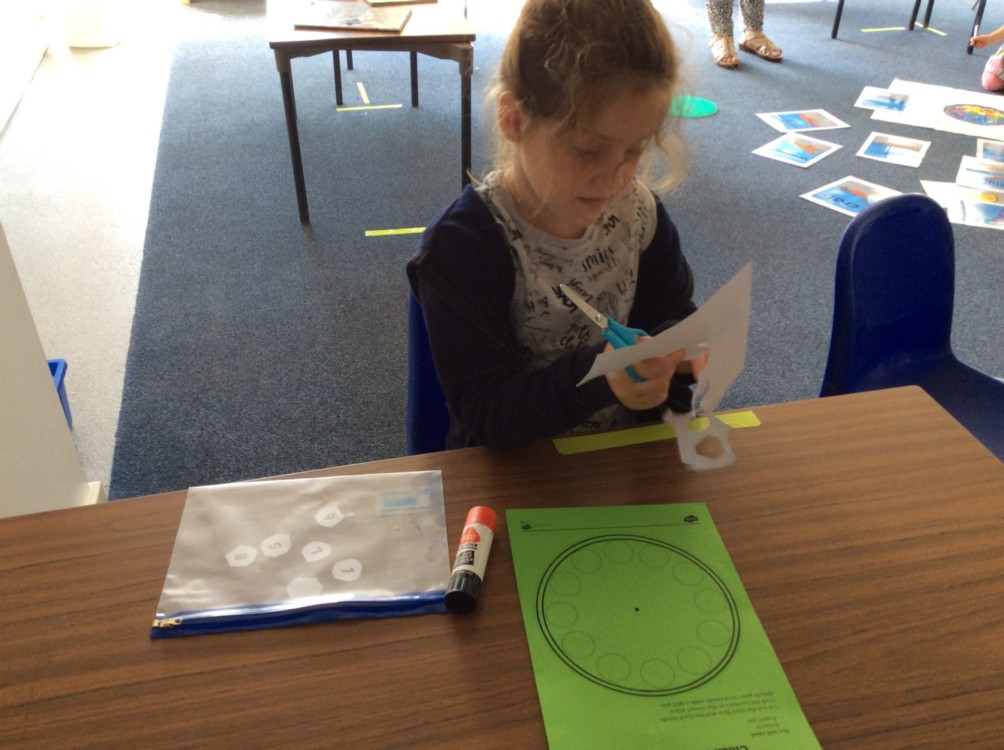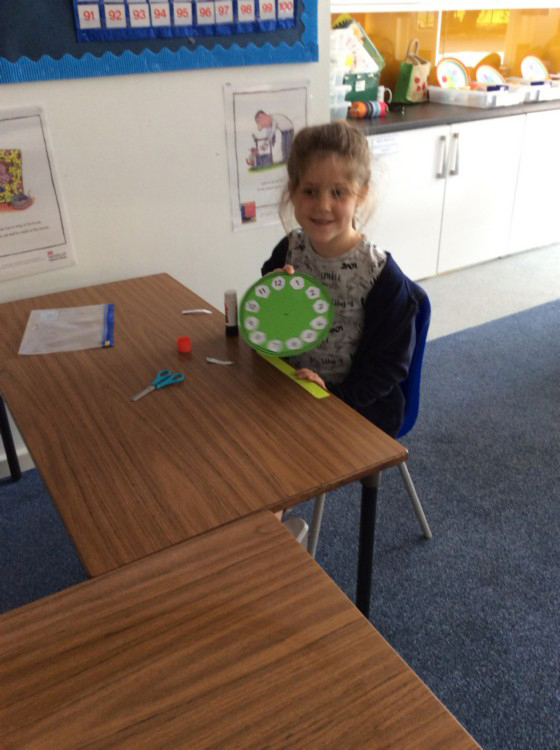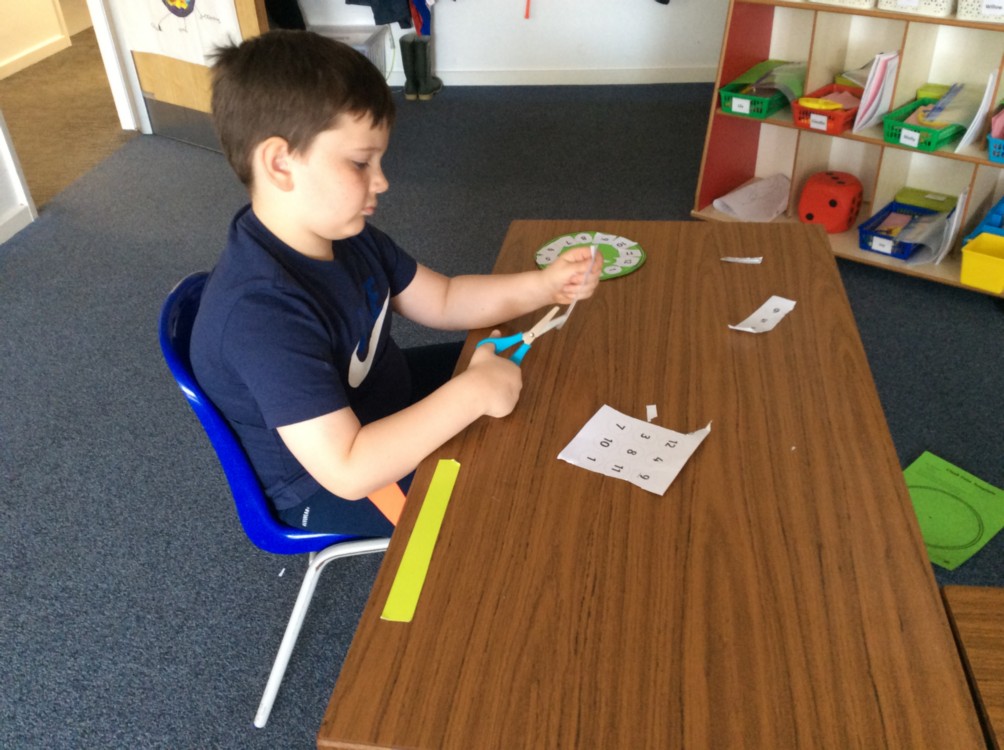 Year 1 Kite Making
The Sunflowers have made a great start on making their kites. They are using a great range of skills, including Maths skills.
M- We cut out a paper diamond shape.
G- We carefully measured the kite with a ruler to see how long the pieces of wood would need to be.
L- My pieces of wood were 22 cm and 17 cm.
O- I liked sawing the wood. I drew a pencil mark first when I measured, so I knew where to cut the wood.
A- Mrs. Bennett helped me join the pieces of wood together by tying some string.
A- I fixed my wooden frame on my diamond kite with sellotape.
Our favourite books
Today some of Seedlings and Pumpkin children worked together for the day with Mrs Smith.
Our whole day was about our favourite books. In Maths we made pictograms and tally charts showing the most popular book we've read this year.
In English we wrote about our favourite books and shared our fabulous reading together.
In art we read FUNNYBONES by Janet and Allen Ahlberg, then made skeletons out of many different pasta shapes.
What a great day we had!
Pictograms
This week in maths we have been making pictograms - this one shows our favourite colours.
First we organised ourselves into which was our favourite colour.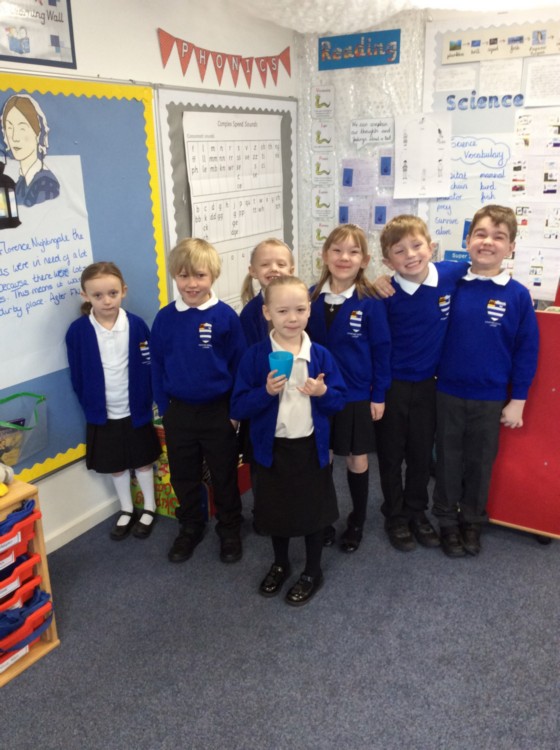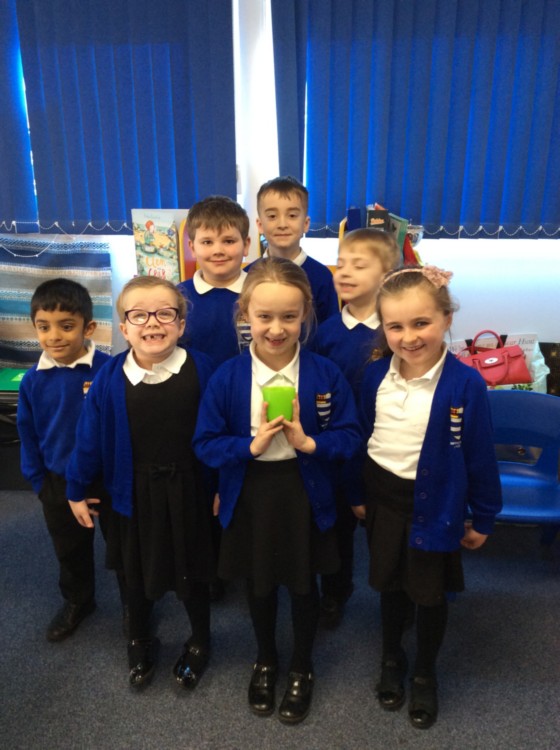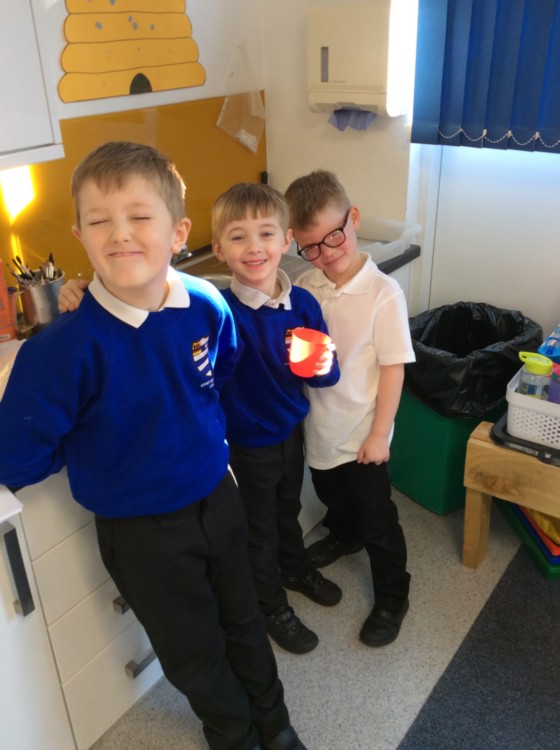 Next we represented this information as a pictogram.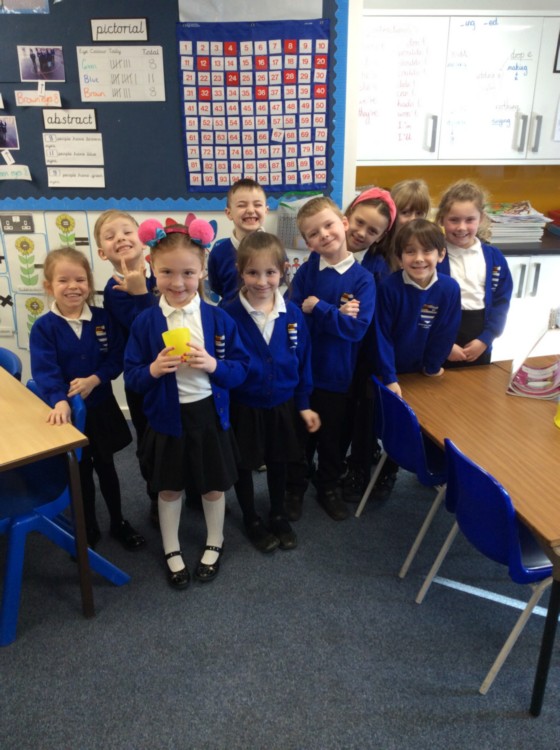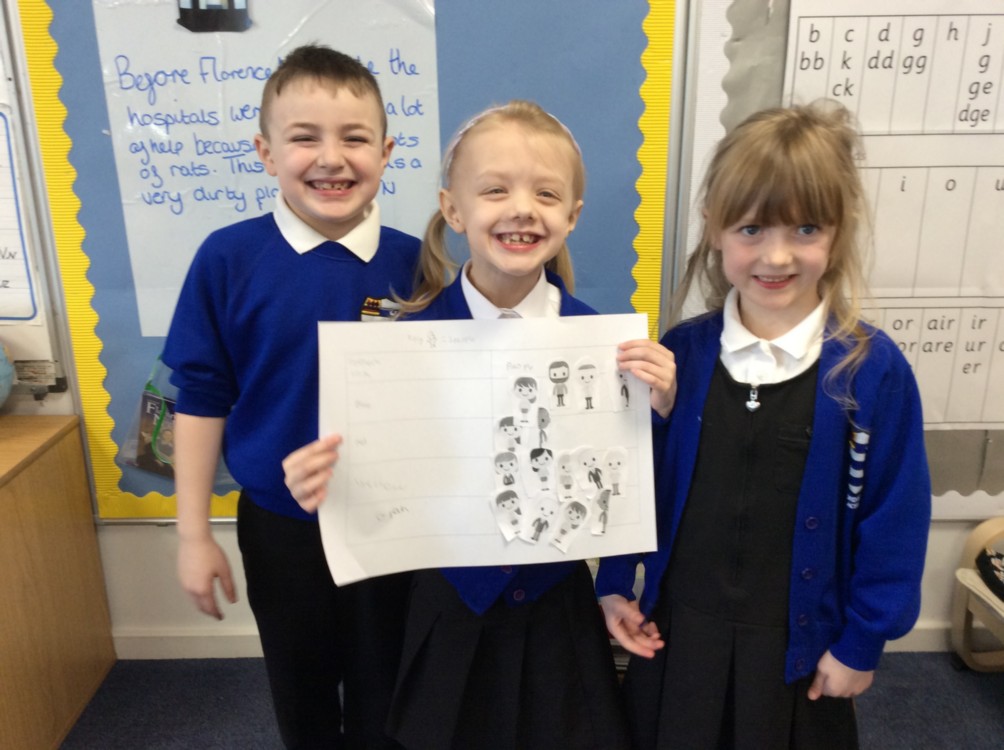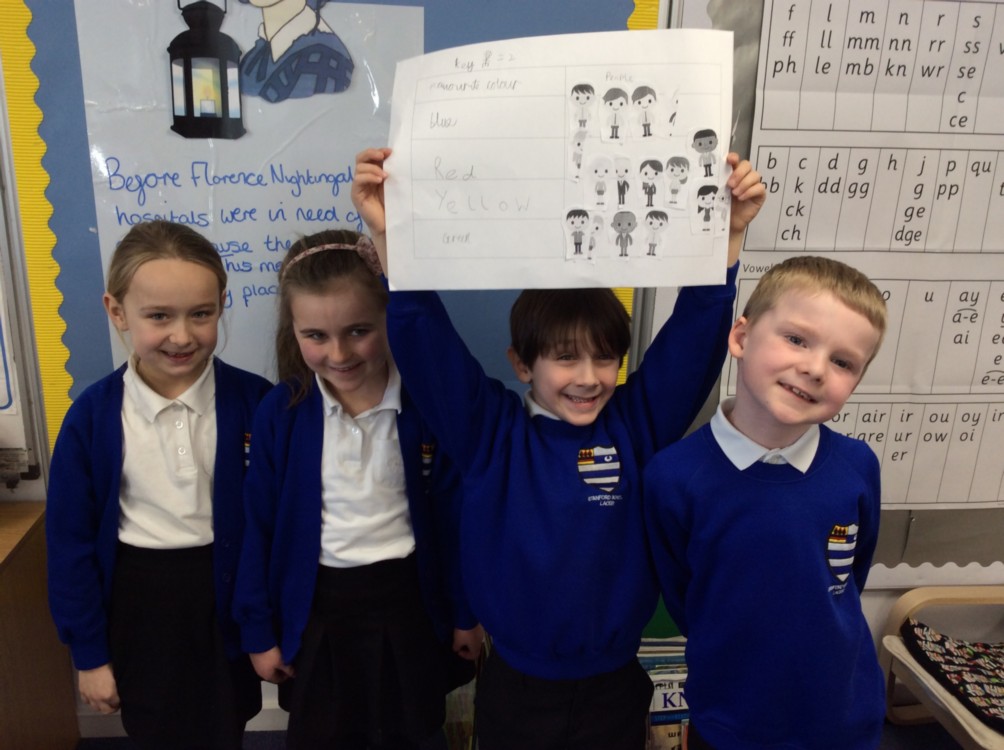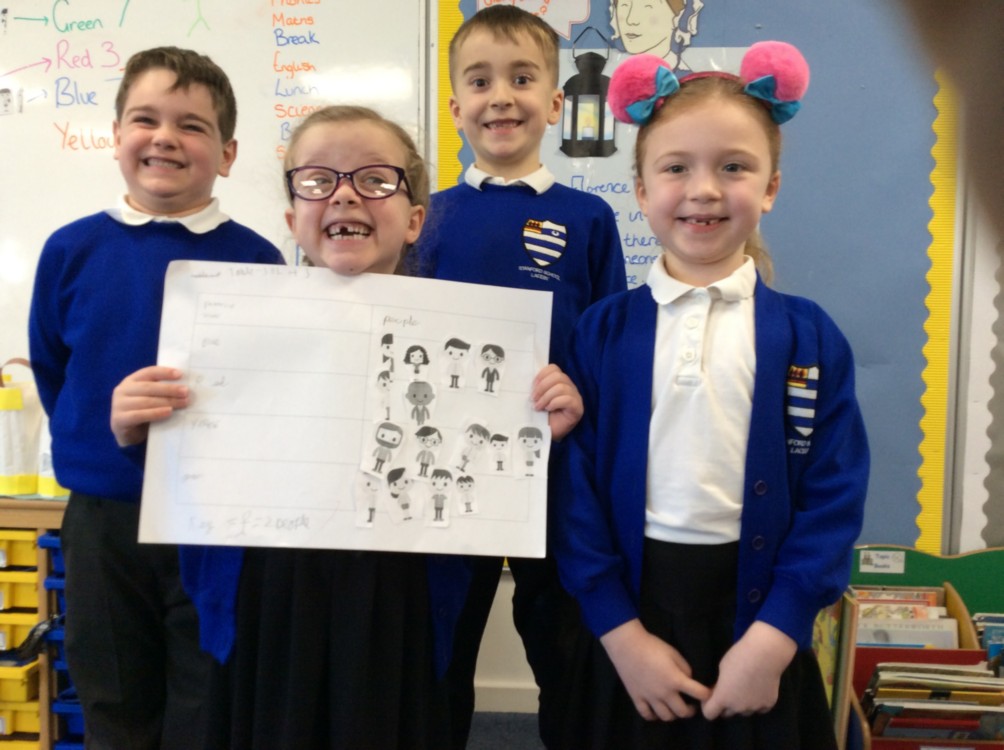 Foundation and Year 6 Collaboration
Seedlings had a fabulous time practising their maths skills with Barley class. We played an adding to 10 game using our fingers to help and there was amazing peer support and lots of fun too!
Estimating and measuring length accurately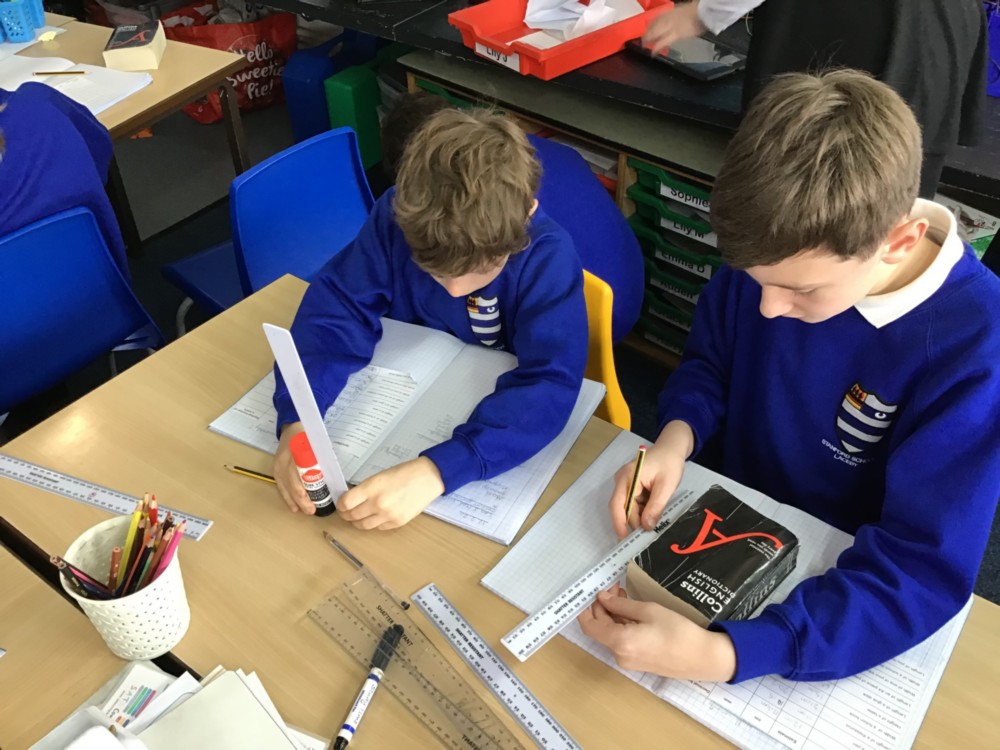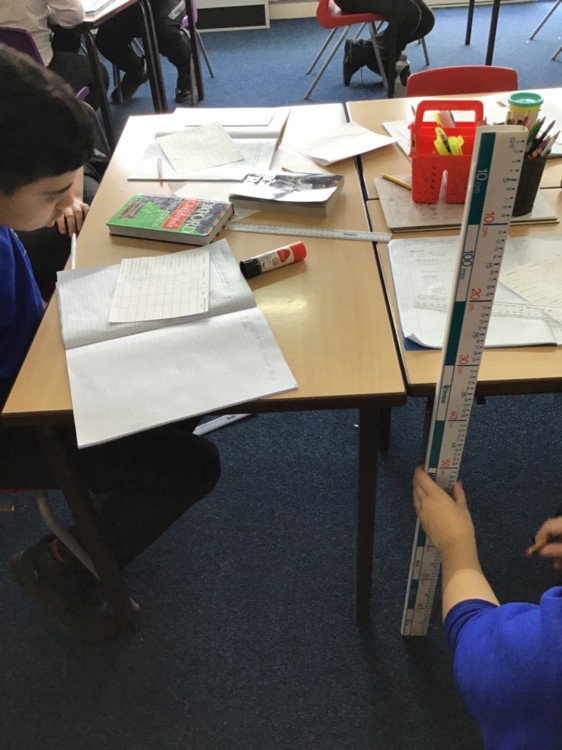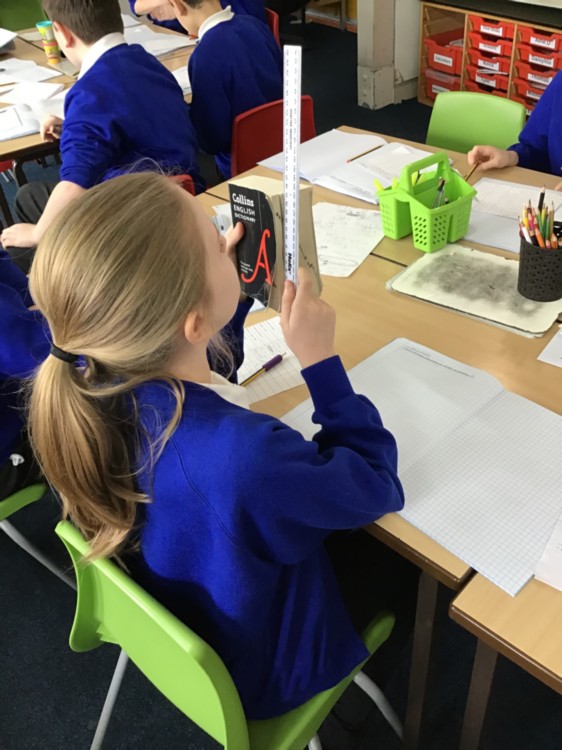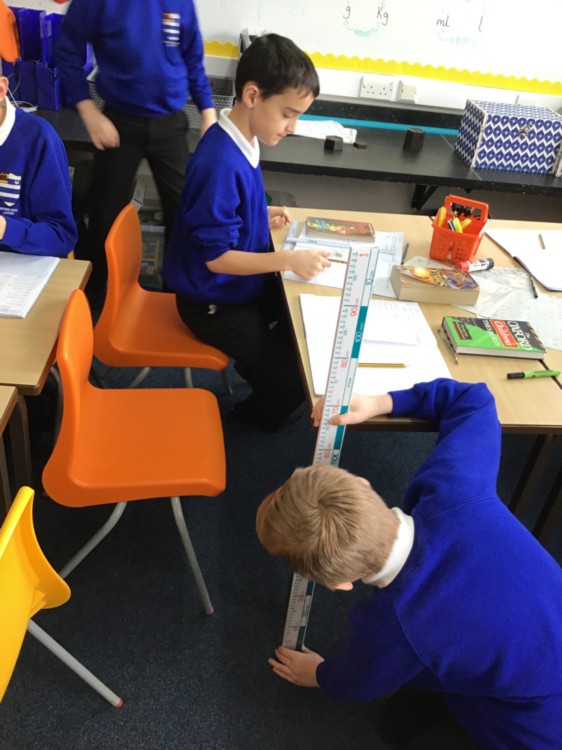 Fractions Problem Solving
Year 6 have been working on solving fractions calculation and reasoning problems - we have used a range of resources to assist with solving these types of questions, including unifix and numicon.
Here are some useful links for further support and practice with fractions work.
Purple Mash (set as a 2do on PurpleMash)
BBC Bitesize
Genius Maths - KS2 Maths Organiser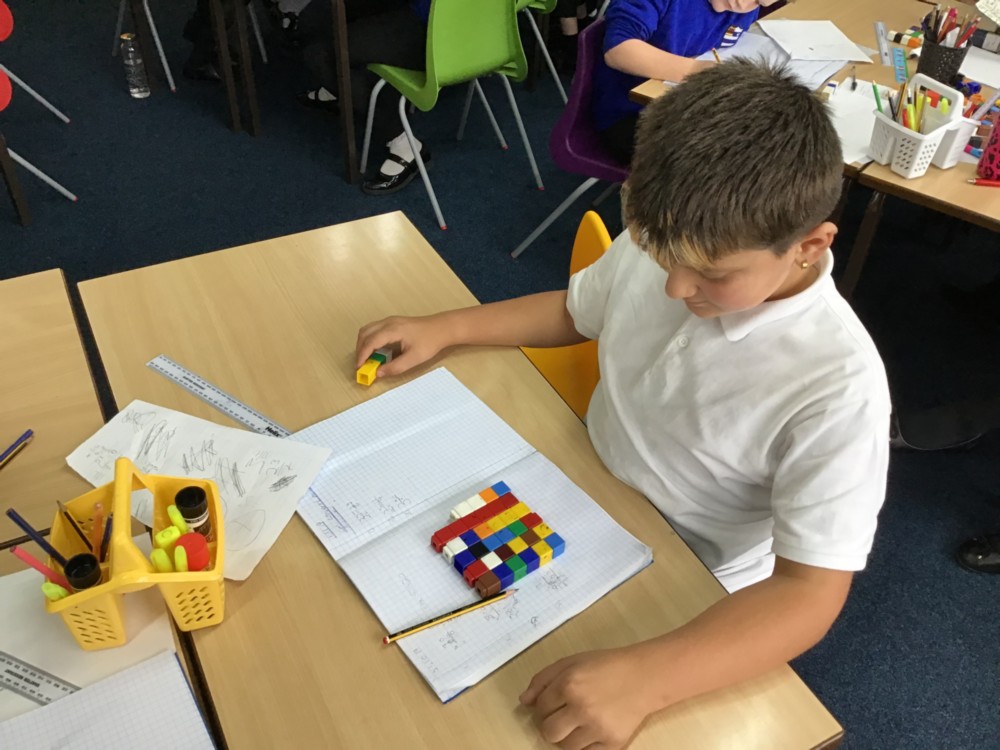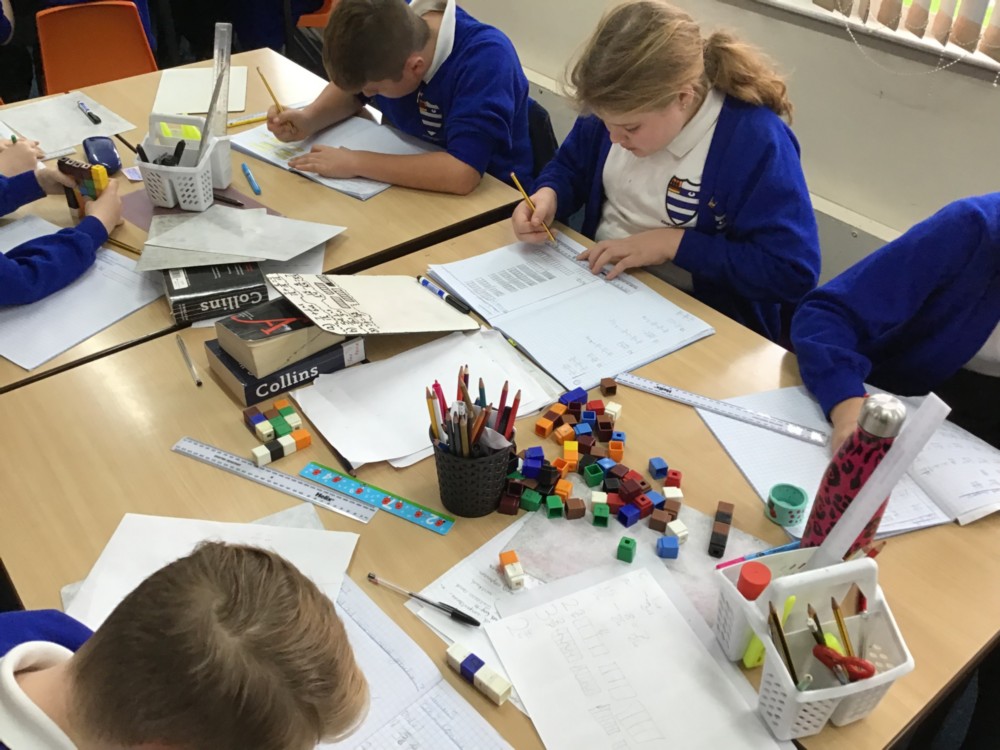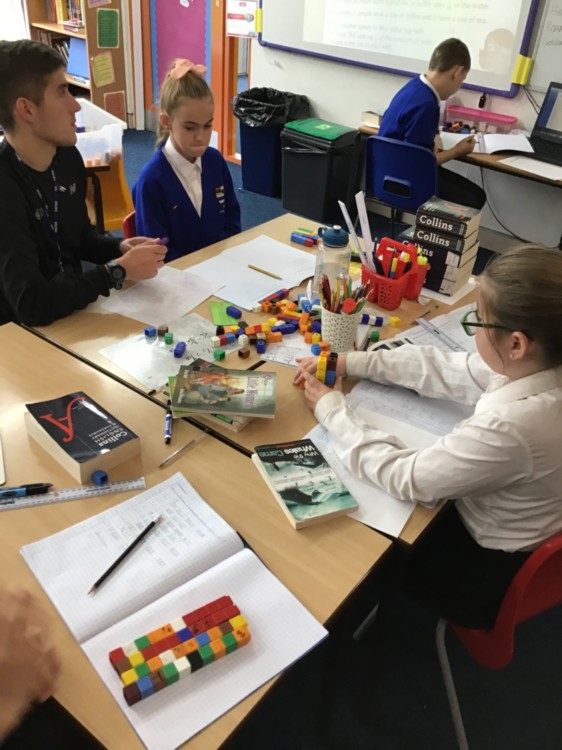 LQ: Can I match 1p coin to the price label?
To ensure we are on the 'good' list children worked with Sparkle the elf to complete today's challenge. Children shopped for Christmas toys matching the 1p coins to the price labels.
LQ: Can I collaborate with different children to develop maths skills?
Seedlings children have enjoyed working with pupils from Barley class to show their maths skills. From reading, ordering and counting numbers to playing simple adding games it has been lots of fun.
LQ: Can I explore and improve my Maths skills?
Take a look at a selection of the maths work Seedlings class have been enjoying this term. Ordering familiar events, sorting and grouping objects, matching Numicon to its number and making '1 less' than a number.
TT Rockstars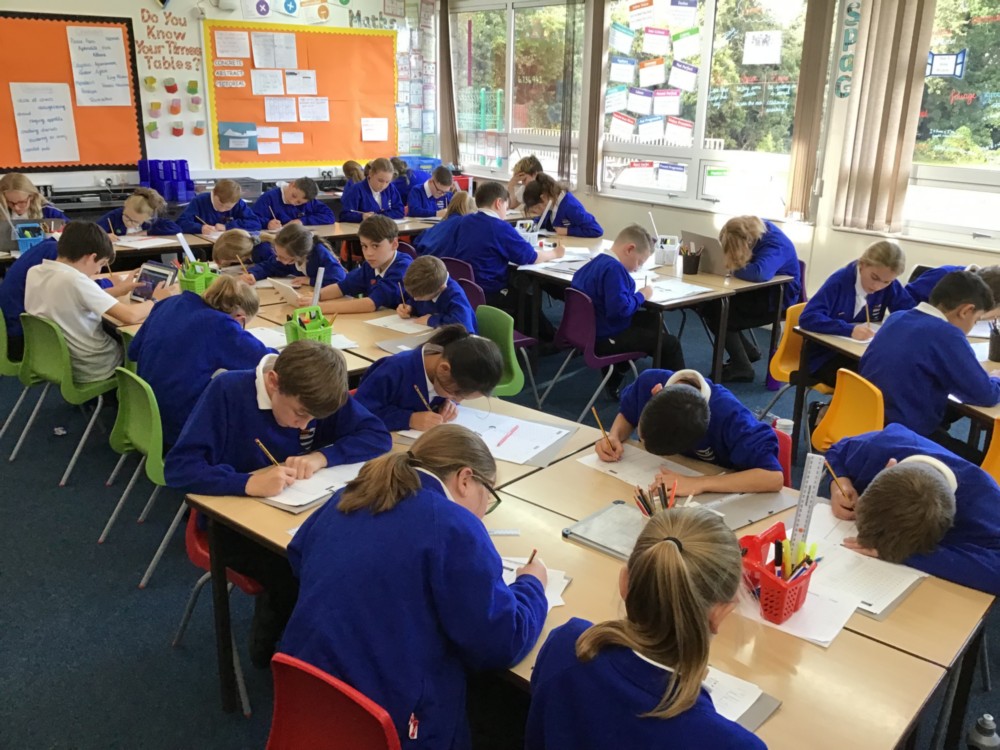 In Year 6 we take part in the TT Rockstars challenge every day - our aim is to complete the 60 question times table challenge in under one minute! The hard work is paying off - our class average score is currently one minute and thirty seven seconds!
Keep practising at home ttrockstars.com
Can I identify and represent the place value of each digit in a four-digit numbers?
The children had lots of fun today showing the value of each digit in four-digit numbers in a variety of ways. Miss Perrin set out a carousel activity with lots of different resources and the children had to use them to make four-digit numbers. We were able to make them very quickly by the time we had finished.