Mathematics
Daily Arithmetic Practice
In Year 6 we have daily arithmetic practice, it has turned into quite the competition amongst the table groups to see who can answer the quickest and come to the whiteboard to share how the problems can be worked out.
As you can see, lots of children are very keen to share their ideas!
Maths Peer Coaching
Our current unit in maths is division, which has been a little tricky as we have been working on 4 digit divided by 2 digit numbers. Today, we used factor pairs to help solve division problems - we used peer coaching partners to help to solve these problems and set mastery challenges for one another.
As you can see, some of our peer coaches today really enjoyed their roles! Well done Barley Class!
Fruit Patterns
Today the Foundation children finished their Maths unit by making their very own fruit patterns. (It was hard not to eat the fruit before we made a pattern!)
Amazing Maths
Foundation children have been learning how to compare amounts in maths. They have made two groups of bears – one with less and one with more bears. They also made towers – one with more cubes and one with less cubes. Look at our amazing work.
Can I partition numbers?
The children have been exploring ways to represent numbers by splitting them up into tens and ones.
R- I like drawing part-whole models with chalk.
L- We used Base 10 equipment. It is sticks of 10 and small cubes called ones.
J- I like to challenge myself to partition big numbers.
E- It's fun to do Maths outside.
Ten Frames
Year 1s have been learning how to represent numbers on a ten frame this week. We have used all sorts of materials to help us.
Year 3 - Place Value
To start our work in maths we played games where the children had to represent numbers using different materials - diennes, place value counters and arrow cards. The children had lots of fun and got lots of team points for being so clever!!
Finding angles in quadrilaterals
In maths, we have been learning about how to find angles in quadrilaterals.
We know that angles in a quadrilateral add up to 360 degrees, so we practiced creating quadrilaterals and then using a protractor to measure the angles. Using formal calculations, we checked our measurements by ensuring they added up to 360 degrees.
Measuring Maths Outdoors
Pumpkin Class took their maths outdoors this week to practise their measuring skills. We measured small lines in cm and larger ones in m. We had so much fun learning outside and now we are really good at measuring!
Repeating Patterns Are Fun!
The Foundation children have been exploring lots of different ways to make repeating patterns in Maths. These repeating patterns are beginning to pop up all over the place!
A- I can make patterns with shapes.
F- I like to make patterns with colours.
R- I make patterns, using things which are different sizes.
Challenge! Can you make some repeating patterns at home? Can you describe your pattern?
Fantastic Fraction Feast!
In Pumpkin Class this week we are learning about fractions and what better way to do this than eating them!
We learnt that two halves is the same as one whole and four quarters is also the same as one whole. We also learnt how to represent halves and quarters in words, pictures and numerals. Look at our delicious pancake and waffle cutting!
YUMMY!
"It was a Yummy maths lesson!"
"It was hard to cut the pancakes because they were circles."
"The waffles were easier to cut equally because we could count the squares!"
"To see if the pieces were equal we put one on top of the other and mine was spot on!"
3D Shapes
This week in Pumpkin Class we have been exploring 3D shapes. We wanted to find out how many faces each 3D shape has; how many vertices and how many edges. We had fun doing this! Pictures………
Algebraic equations
Barley class were using unifix cubes to help them form algebraic equations- great job Barley Class!
Fun with Shapes
In Pumpkin Class today we have been exploring 2D and 3D shapes. We have taken apart cuboids to investigate how many faces they have. Some of us even got inside the big ones!
Then we started making many different 2D shapes.
Finally we made 3D shapes in different ways
.
We had so much fun and learnt so much at the same time. Our new vocabulary is: cube, cuboid, 3 -dimensional, 2-dimensional, faces, edges, vertices and corners. We look forward to sharing more shape work soon.
Pumpkin Class Maths
Today we have been investigating how many different ways we can share 20 cubes equally.
We have worked systematically to find out which divisions work fairly.
We are great at this!
Can I make shapes with the same area?
In maths we have been looking at the area and perimeter of shapes. We have learnt that the inside of the shape is the area and we can calculate it by counting the squares used to make a shape. We were then set a challenge to make different shapes with the same area.
Festive Crafts
Foundation stage children designed festive crafts as part of our enterprise projects.
They decorated a felt gingerbread man and created winter tree photo frame. Children learnt some new words and what they mean, including design, profit, cost and total. They used their Maths skills involving money, recognising 100p is the same as £1!
Finally, children then found the total of the two items by adding them together.
Times Tables
We have been doing lots of times tables practice and games in our class. We use TT Rockstars and Hit the Button to help us answer times tables questions quickly. Our current TT Rockstars time to beat is 39 seconds and our highest Hit the Button score is 23 - keep up the good work Year 6!
Sorting
Foundation children have been learning about sorting. We sorted ourselves and objects such as bears, camels and cubes.
Representing numbers to 10,000,000
We have been looking at identifying numbers up to ten millions in our maths lessons this week, today we were representing these numbers in different ways and identifying the value of each digit within the number - we love to challenge ourselves in Barley Class!
Year 1 Maths
The children have been exploring sorting this week in Maths.
E- I sorted mine into different colours.
W- I counted my cubes and sorted them into how many was in each group.
K- I sorted my objects into shape groups.
Measures
In Green Bubble we have been measuring in different ways.
First we measured the height of real daisies in cm. We ordered them from shortest to tallest.
Next we drew tall flowers on the playground and used a metre wheel to measure them. They measured between 28m and 50m tall.
Clocks
In Green Bubble we have made our own clocks and can tell the time using o'clock.
At 3 o'clock we go home.
Year 1 Kite Making
The Sunflowers have made a great start on making their kites. They are using a great range of skills, including Maths skills.
M- We cut out a paper diamond shape.
G- We carefully measured the kite with a ruler to see how long the pieces of wood would need to be.
L- My pieces of wood were 22 cm and 17 cm.
O- I liked sawing the wood. I drew a pencil mark first when I measured, so I knew where to cut the wood.
A- Mrs. Bennett helped me join the pieces of wood together by tying some string.
A- I fixed my wooden frame on my diamond kite with sellotape.
Our favourite books
Today some of Seedlings and Pumpkin children worked together for the day with Mrs Smith.
Our whole day was about our favourite books. In Maths we made pictograms and tally charts showing the most popular book we've read this year.
In English we wrote about our favourite books and shared our fabulous reading together.
In art we read FUNNYBONES by Janet and Allen Ahlberg, then made skeletons out of many different pasta shapes.
What a great day we had!
Pictograms
This week in maths we have been making pictograms - this one shows our favourite colours.
First we organised ourselves into which was our favourite colour.
Next we represented this information as a pictogram.
Foundation and Year 6 Collaboration
Seedlings had a fabulous time practising their maths skills with Barley class. We played an adding to 10 game using our fingers to help and there was amazing peer support and lots of fun too!
Estimating and measuring length accurately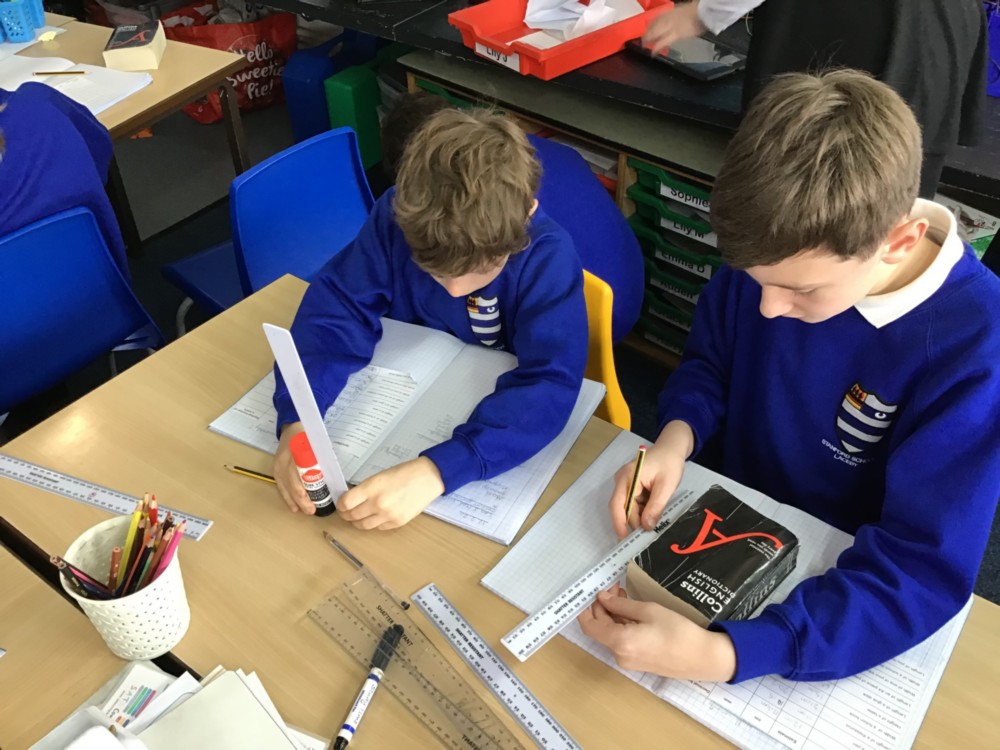 Fractions Problem Solving
Year 6 have been working on solving fractions calculation and reasoning problems - we have used a range of resources to assist with solving these types of questions, including unifix and numicon.
Here are some useful links for further support and practice with fractions work.
Purple Mash (set as a 2do on PurpleMash)
BBC Bitesize
Genius Maths - KS2 Maths Organiser
LQ: Can I match 1p coin to the price label?
To ensure we are on the 'good' list children worked with Sparkle the elf to complete today's challenge. Children shopped for Christmas toys matching the 1p coins to the price labels.
LQ: Can I collaborate with different children to develop maths skills?
Seedlings children have enjoyed working with pupils from Barley class to show their maths skills. From reading, ordering and counting numbers to playing simple adding games it has been lots of fun.
LQ: Can I explore and improve my Maths skills?
Take a look at a selection of the maths work Seedlings class have been enjoying this term. Ordering familiar events, sorting and grouping objects, matching Numicon to its number and making '1 less' than a number.