The Stanford School Song
Our very special school song was written several years ago by former teachers; Joan Blandford and Wendy Elsey. When we sing the song it makes us feel proud to be part of Stanford School and by singing it we keep an important tradition alive.
Macmillan Coffee Morning
Sunflower Class entertained family and friends at The Stanford Centre.
Taylor: I brought some money to buy a cake.
Bella: We sang 'One Potato' and everyone joined in.
Evie: I know someone with cancer and I want to help.
James: We sang our class song again.
Rylea: We got a biscuit, a drink and a cake. It was good there!
Mrs. Wilkinson (visitor): The children were so well behaved and they all sang so well. They all knew what to do. Mrs. Dabb (visitor): Mrs. Brady's class sang beautifully.
Harvest Festival
We will have bread baking photos to follow!! Our Harvest Festival was a great success, with everyone joining in to sing songs and actions. Reverend Stevens came to say a prayer and give thanks for the food at harvest time. Thank you to everyone who contributed to our celebration, the donations of food will be sent to the homeless charity, Harbour Place.
Can I round numbers to any degree of accuracy?
Barley class have focused on rounding numbers in our Maths lessons. We used a Rounding rap song to help us learn a quick step- by- step guide to rounding numbers. Take a look at our videos to help you round numbers
Can I read musical notation, rehearse with an orchestra and perform in a concert?
The Year 6 viola players performed in the Megastra School Prom at Grimsby Auditorium. They sang songs, demonstrated 'body percussion' and played very tricky viola parts for the pieces: 'Uptown Funk' and 'The Kraken' (From Pirates of the Caribbean).
Many schools from the local area also took part and so a wide range of musical instruments could be heard. The children were accompanied by The North East Lincolnshire Youth Orchestra. After a morning of intense rehearsals, the children put on a concert for parents.
Mrs. Wink (Music Governor): What an experience for the children to play with a range of instruments by children from local schools as well as the local Youth Orchestra. The music, the behaviour, playing, enthusiasm and enjoyment of our pupils was outstanding. If you ever get a chance to attend one of these concerts go along. Mrs. Brady you are a star for all the time and effort you put in. At last but not least how proud all the musicians made me.
Mrs. Brady: The principal Viola player in the Youth Orchestra, Chloe Brown met all the viola players. She explained to them how she had started learning the viola at Stanford School and told them how much pleasure she was getting from carrying on with it. It was great to see Chloe again. She has progressed into a really great player. I hope some of these children continue learning the viola when they go off to Secondary School.
Mrs. Lawson: It was great to see Mrs. Brady playing her viola in a big orchestra. The children were amazed when she started playing 'We Will Rock You!'
Alice: I really enjoyed it. I think we all played very well. Reenad: I was chosen to lead the actions for 'We Will Rock You'.
Freddie: I had lots of fun at the Auditorium.
Singing Festival
Mustard class had an exhilarating day at the Singing festival, yesterday
Thomas said: 'I really enjoyed singing with a live band and hundreds of other children. It was nerve racking, but I enjoyed it.'
Matthew: ' I really loved the Singing Festival because we got to perform in front of lots of parents. It made me nervous, but I loved it anyway.'
Grace: 'The Singing Festival was amazing! I enjoyed being accompanied by a professional band and performing in front of an audience.'
Music Workshop
Can I learn about different instruments in a band?
Sunflower Class were invited to hear a professional band play. The band featured local musicians, including our visiting drum teacher; Mr. Cook.
Elliott- Mrs. Brady explained what the different guitars were doing. Harrison played the lead guitar and the man in the band played the rhythm guitar. I have seen the bass player before. He plays in Cleethorpes a lot.
Sam- The bass looked a lot like a big violin. Mrs. Brady explained that it has a much lower sound and is part of the string family in an orchestra.
Finley- Some instruments were plugged in and they were electric.
Ella R- The sound came out of big speakers. Mrs. Brady told me they were called amplifiers.
Millie- It was very loud, but I enjoyed it.
Lily- I liked listening to Harrison, he was really good.
Olivia- I had a lovely surprise because the band sang 'Happy Birthday' to me. I chose the pop music style. Mrs. Brady wanted it in the rock style!
Mrs. Brady- It was great to hear live music in our school. The children have learnt a lot about acoustic and electric instruments and they have also experienced listening to different genres of music.
Mustard Class
We learned about different styles of music from the 1940s up to 2017, from a professional band. The band also backed us as we sang 'Summer Holidays' - it was a fantastic day full of learning opportunities.
Harrison played 'Apache' on his guitar: 'I was overjoyed and really excited to be performing with an actual professional band. It was awesome!'
Olivia and Thomas were able to play the cowbell and the tambourine too: 'I loved learning about the different styles of music and about the different instruments. It was great to join in and play ' Play that Funky Music' with the band.'
Lucie: 'I enjoyed listening to the band, especially learning about the different styles of music and how much music has changed over the decades. They were fantastic!'
Barley Class
We learned about different styles of music from the 1940s up to 2017, from a professional band. The band also backed us as we sang 'Fernando'- it was a fantastic day full of learning opportunities.
The 'Great Get Together'
'The 'Great Get Together' was a great success! All the visitors enjoyed listening to the school choir, classes singing songs, playing the glockenspiels and the violas. Harrison performed his electric guitar too to rapturous applause. Well done everyone for showcasing superb musical talents.
Can I appreciate and understand a range of high-quality live music drawn from different traditions? Can I perform using my voice with increasing accuracy, fluency, control and expression?
Mrs. Brady surprised Mustard Class with a Friday afternoon of singing and learning new songs with a live band. The class met three local professional musicians; Josie Moon (singer/composer), Pat McCarthy (guitarist/composer) and Warren Jolly (bassist). The band played live music in the hall all afternoon. The class were learning new songs in preparation for a special performance in July at Grimsby Auditorium where they will perform 'A Sea Story' with songs about Grimsby's fishing heritage and Grimsby's future.
Simon- I liked all the songs because they made me think of Grimsby.
Thomas- I liked the idea of thinking what the future might be like in Grimsby.
Dale- I liked seeing the real musicians. I even got their autographs! Evie- The rock song was my favourite because it was enjoyable and energetic.
Olivia- I enjoyed meeting the band.
Mrs. Hackfath- It was truly wonderful to hear live music in our school. I have really enjoyed listening to both the band and the children singing.
Mrs. Brady- The children experienced many different genres of music, including reggae, folk, rock and gospel. They will be looking forward to performing on the stage in the summer.
NEL Key Stage 2 Singing Festival group
Mustard enjoyed the visit and live music from NEL Key Stage 2 Singing Festival group. The pupils enjoyed learning new songs from the songbook, 'A Fishy Tale.' Many thanks to the group for helping us learn the songs. We are looking forward to developing our performance skills soon when we join with pupils from other schools to perform at the Grimsby Auditorium.
Mustard Hook Day
Mustard enjoyed their hook day yesterday and the music was brilliant.
Harrison said: 'I absolutely loved learning about the Beatles and singing their songs, because I love 60s music.'
Jorja: 'I think playing the glocks was cool and I enjoyed learning how to play 'Yellow submarine.'
Mustard also produced their own artistic patterns of everyday objects in the style of Andy Warhol.
Can I listen with concentration and understanding?
Poppy Class listened to a special piece of classical music. They discussed how it made them feel and drew pictures to show what they imagined.
Alfie- It reminded me of a parade.
Sam- It sounded a bit stormy when it became loud in the middle.
Kye- I imagined a concert.
Daisy- I would listen to it again. If I was drawing, I might put it on to relax me.
Mrs. Brady explained that the music was from Haydn's Clock Symphony. The children answered questions about the music and listened carefully to identify the instruments.
Have a listen to this piece. Can you explain why it's called The Clock Symphony? What can you hear?
Can I perform operatic songs in a concert?
The KS1 Choir performed at Grimsby Auditorium for the Infant Singing Festival. The concert was led by members of The Garsington Opera Company and many of the children's parents and family members came to watch. The songs were centred around and enchanted fairy story.
Katie- I liked singing. My mum came to watch.
Angel- I liked singing on the big stage.
Amelia- I really liked the 'I am looking for a witch' song.
Lacey- I loved singing the butterfly song.
Alfie- All the costumes were great.
Lily- I danced with the butterfly and the opera man came to look at the butterfly.
Mrs. Brady- The children were mesmerized when they heard the opera singers singing their arias.
Mrs. Groves- It's not every day the children get to perform with a professional opera company. I think they did very well to learn the songs.
Mrs. Wink- The behaviour of all the children was absolutely superb!
Mrs. Brady and Mrs. Groves would like to thank Mrs. Drury for making the beautiful butterfly prop, the children's parents for organising the wonderful costumes and for Mrs. Wink for her help throughout the day
Can I listen carefully to music?
Sunflowers listened to some Peruvian Pan Pipe music and drew pictures as the listened. Mrs. Brady wondered if they would all like the music and they all did.
Anthony- It reminded me of going into a jungle.
Ella M- It was lovely.
Olivia- It was cheerful and relaxing.
Cerys- It reminded me of playing with my friends and dancing.
Juniper Class: Our Rainforest Musical Poem
In groups we composed music to add to our class rainforest poem. We practised our parts developing an increased accuracy, fluency, control and expression. We look forward to sharing this poem with the school and parents in our class assembly on Friday 3rd March.
Rainforest Instruments
Well done Charlie for super home learning designing and making rainforest instruments.
Making Music
In Pumpkin class we have been learning about music. We have learnt that music is written on 5 lines called a 'stave'. The names of the notes changes according to their position on the lines.
To help up remember this we say this
Every
Good
Boy
Deserves
Fun
We have also been learning about the beat/pulse of music and how long different notes last.
We have started to play the Glockenspeil.
When we are learning a song first we learn the pulse by clapping.
Then we sing to learn the notes.
After that we get to play on our instruments.
So far we have learnt 2 notes E and D.
If you look closely you can see the music on the screen.
Cloverdale
The KS2 Choir entertained the residents at Cloverdale Residential Home. Everyone enjoyed singing Christmas songs and the residents played along on percussion instruments.
Pre School Christmas Sing-a-long
Children from Seedlings class went to St Margaret's Pre-school to sing festive songs. There were lots of actions and dancing too.
KS1 Christmas Concert 2016
Mrs Brady and Mrs Lawson would like to say well done to all the lovely Year 1 performers. Your singing was beautiful and you all looked amazing. Here are some photos from our dress rehearsal
Christmas Songs 6 December
Sunflower class entertained their parents and community members at Laceby Library with some great Christmas singing. Many thanks to everyone who came along and joined in with the singing. Thank you to Mrs. Wink for organising it.
'Christmas Counts' Nativity
The children from Seedlings class performed their nativity 'Christmas Counts' with great success. Wonderful speaking, singing, dancing and actions. Thank you to parents, Governors, helpers and residents from Cloverdale who came to watch our show. What an amazing performance, enjoyed by everyone! Many thanks for adding Switch off winner too,
Viola Players
Exciting news- Mrs. Brady has 81 KS2 children learning the viola this year!!!!
Well done to Year 5 Group 2, who are learning lots of new pieces and are enjoying carrying on with the viola.
Year 4 Group 2 are enjoying learning the viola. They are able to pizzicato the open strings.
Well done to Year 6 Group 2 viola players who are enjoying learning lots of new pieces.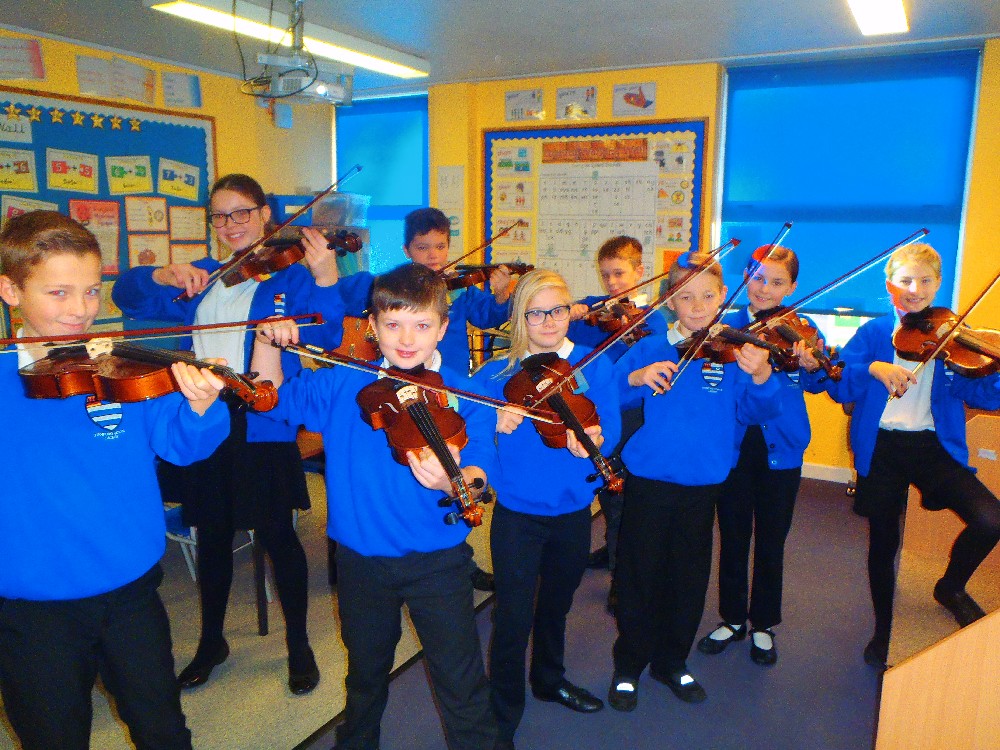 Mrs. Brady is delighted that so many Year 5 children have chosen to continue learning the viola. Here are Group 1 who are all very keen and have just started to read musical notation.
Year 4 Group 1 are enjoying learning the viola. Here they are learning the names of the open strings. Their challenge is to think of a phrase to help them remember CGDA, e.g. Can Granny Do Aerobics?!
Here are Group 1 Year 6 Viola players. Mrs. Brady is delighted with their enthusiasm and the progress they are making this term. Well done everyone!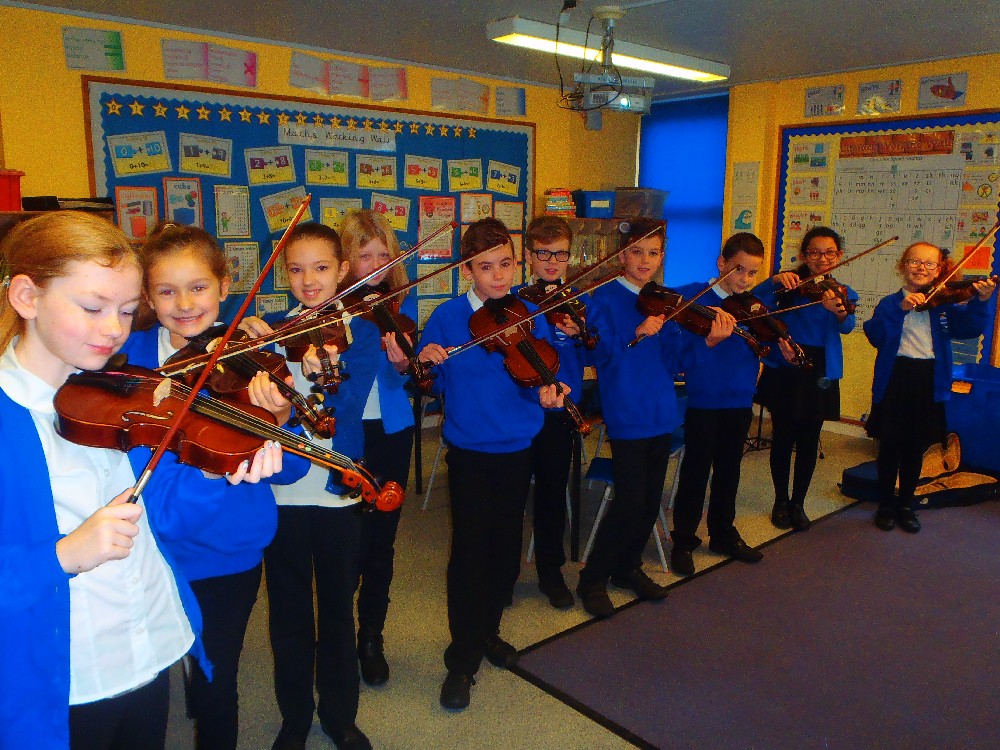 Christmas Fair
Well done to the Stanford School Choir for their lovely singing at the PTFA Christmas Fair.
LQ: Can I use percussion to create a storm composition?
Barley class worked in small groups to compose and perform a piece of storm music using various percussion instruments. Pupils looked at tempo, rhythm, sounds and texture to work together to create their piece.
' The different percussion instruments changed the sound of the music to link with a storm'
' I really enjoyed this session as I enjoyed making different sounds as a team!'
Taiko Drumming 3 November
The children thoroughly enjoyed the energetic taiko drumming this afternoon.' It was hard work, but great fun at the same time.
CRASH BANG WALLOP!
Sunflower Class had a great time at the Central Hall today.
Ella M- I liked the Central Hall.
Joe- I liked playing all the instruments.
Awis- I played a shaker. Louie E- I liked the singing. I learnt new songs.
Cerys- The factory song made me move my hands and legs.
Betsie- The clapping songs were really good.
Katie- The man on the drums was good.
Mrs. Wink (Governor for Music)- The children were amazing and it was super to see such enthusiastic singing, instrument playing and total involvement.
Mrs. Brady- Well done to everyone, including all the helpers. It was great to make music with professional musicians and sing with all the children from other schools
Junior Olympic Singing 12 July
The Key Stage 2 Choir participated in the Junior Singing Festival at Grimsby Auditorium. They performed lots of new songs that had been written to celebrate the Olympics. Mrs Brady and Mrs Groves would like to congratulate all the children for their lovely singing and wonderful behaviour.
First Djembe Lesson 22 June
Poppy Class Year 3 children have their first Djembe lesson.
BBC Ten Pieces Artwork 20 June
Mrs Brady introduced ten exciting pieces of classical music to all the children in the school. Everyone was engaged and immersed in the music.
The BBC film 'Ten Pieces' presented the music in a creative way through vibrant action and animation. It took the children on a journey of wonder through its wide range of pieces. Each class looked at one of the pieces in more detail, learning about the Composer and doing further listening and appraising. The children responded by producing exciting art work.
'Mars' from 'The Planets' by Holst had Pumpkin Class drawing with chalk. Seedlings wanted to know more about the story behind the music of 'In the Hall of the Mountain King' by Grieg and they watched a video.
A Night on the Bare Mountain' by Mussorgsky inspired Poppy Class to create volcanoes and scary chalk drawings.
Juniper Class explored Kandinsky style designs whilst listening to 'Short Ride in a Fast Machine' by Adams.
'The Storm Interlude' from 'Peter Grimes' by Britten was analysed in depth and historical and geographical facts were researched by Star Anise Class before they began drawing.
'Symphony No. 5' (1st movement) by Beethoven inspired interesting pencil sketches of the composer by Barley Class.
'Zadok the Priest' by Handel inspired imaginative drawings from Mustard Class.
'The Firebird' (Finale) by Stravinsky inspired Sunflower Class to create vibrant collages of birds.
There are two more pieces, that you might like to listen to at home: 'Horn Concerto No. 4' (3rd movement) by Mozart and 'Connect it' by Meredith.
Poppy Class
The whole school enjoyed the BBC Ten Pieces Concert.
Each class was given one of the pieces to study in more depth.
Poppy Class worked with A Night On The Bare Mountain composed by Mussorgsky. If you would like to find out more on the BBC website.
We thought that the piece was very dramatic and at times even a little scary. We imagined ghostly figures flying through the air, fire and flames dancing fiercely, volcanoes erupting dangerously. Look at all of the different tools and materials that we used and the different effects that we created.