Music at Stanford
Intent: The Music curriculum at Stanford School is unique. It is broad and balanced with a breadth of engaging opportunities. It is carefully planned and sequenced with key skills, concepts and knowledge that build on previous learning. Pupils revisit their learning and use and apply their knowledge fluently.
Implementation: The Music curriculum is purposeful and relevant to the pupils. The knowledge and skills pupils acquire, build on their previous learning, allowing them to transfer key skills, knowledge and concepts to their long-term memories.
Impact: We are proud of the achievements of our pupils in Music. Our pupils fluently apply their skills and knowledge within Music and make connections to their existing knowledge and to other curriculum areas.
Music is a real strength of the school. Pupils enjoy singing, composing and listening to a wide range of music. We place a strong emphasis on practical music making from Foundation all the way up to Year 6. Many opportunities for performing are provided throughout the year. E.g.: Christmas concerts, assemblies, church services, 'The Stanfest' and inter-school singing festivals.
We aim to give the pupils unique musical experiences. They have the opportunity to perform alongside pupils from other schools and experience working with professional or visiting musicians. Mrs. S. Groves, a specialist in World Percussion music offers experiences including; Samba, Taiko and Djembe.
We are unique in that every pupil in Year 4 learns to play the viola for one year with Mrs. Brady. The pupils are encouraged to continue their lessons and currently we have 70 viola players in Key Stage 2!
Extra-curricular music includes; a school choir, drum-kit lessons, samba club and also visiting peripatetic teachers who offer a wide range of instruments for the pupils to learn.
Music in the community is also important and embraced at Stanford School. The choir, individual classes and instrumental players regularly perform for various community groups in Laceby and its surrounding areas.
The Stanford School Song
Our very special school song was written several years ago by former teachers; Joan Blandford and Wendy Elsey. When we sing the song it makes us feel proud to be part of Stanford School and by singing it we keep an important tradition alive.
Living together, learning together, growing together,
We'll make our school a little world
That will show the big world how it ought to be.
Whether I write a story, puzzle with numbers and lines,
Sing, paint, sew or run a race,
Our world can't be full of winners but still I can do my best.
If I try I'll make my school a better place.
Living together, learning together, growing together,
We'll make our school a little world
That will show the big world how it ought to be.
Each one of us is important; each has a part to play,
So many things I can give if I only try.
I'll be cheerful and understanding, even when things go wrong.
Together we'll build our world as the days go by.
Our School Prayer
Dear Heavenly Father,
Friend of all children,
Bless our school at Laceby ,
Bless the children, teachers and others who work in it.
Help us to do our best,
To be kind to one another,
And be cheerful all through the day.
Through Jesus Christ our Lord
Amen
Music Mark
We are very proud to have become members of Music Mark. Music Mark is the national subject association for music education.
Music Mark believes in the fundamental right of a first-class music education for all children and young people, in and out of their schools.  As a subject association and membership organisation we:
support the development of high quality teaching and learning
enhance subject knowledge of music curriculum and effective leadership of music
share the good practice and expertise of our membership
We became a member because it has Stanford
recognises the value of music education as part of a broad, balanced and relevant school curriculum
demonstrates a willingness to engage in the development and improvement of music provision for all children and young people within your school community

Lincolnshire Music Service is an active member of Music Mark and we are delighted our school has been commended by them to join our national membership organisation.
Fun Songs to Sing along to home
BBC Bring the Noise
Learn to sign and dance-a-long to the songs.
Watch the music videos and see how they vary in different genres, from electronic synthesiser sounds, slow ballads to pop, upbeat and lively summery tunes.
You can dance along, make up your own actions or learn BSL (British Sign Language) actions.
Have fun!
BBC Bring the Noise
Macmillan 'Coffee Morning' Event
As ever we are being resourceful and thinking about how we can adapt our lives and carry on regardless. Normally we would be performing in person but this year we will be celebrating this wonderful organisation virtually.
Seedlings
Seedlings took part to raise funds for Macmillan by designing and colouring a cupcake sticker and singing a sign language song 'Hands in the air'. We certainly did a great job!
Pumpkin Class
Poppy Class
We can't sing but we can definitely sign, so grab a coffee, get a cake and "you're gonna hear us roar".
Barley Class
As ever we are being resourceful and thinking about how we can adapt our lives and carry on regardless. Normally we would be performing in person but this year we celebrated this wonderful organisation virtually. We can't sing but we can definitely sign to 'Dance Monkey'
Amazing Home Learning
A wonderful pianist who has passed Grade 1!
Washing your hands
Seedlings children have been learning a catchy song to help them to remember how to wash their hands!
---
Watch a different song about how to wash your hands
KS1 Singing Festival 2020
The KS1 Choir gave an amazing performance of 'Sail Away' at Grimsby Auditorium. They enjoyed a full day of singing songs, learning actions and dancing. It was great to perform to such a large audience at the end of the day. Well done to everyone in the choir.
L- I used my face to make Carlos the Crab's moody face. F- The band played rock music. I played air guitar.
L- I got to be a member of Bonny the boat's
crew.
O- I could do all the different actions.
A- I really enjoyed singing the songs.
G- Lots of people from my family came to watch me.
C- The songs were all about all the plastic that has got into the sea.
Key Stage 1 Choir
Sunflower and Pumpkin members of the choir enjoyed a fantastic workshop with the musicians and actors from MAPAS (Music and Performing Arts Service).
They have been learning lots of new songs written by local musicians Josie Moon and Pat McCarthy called 'Sail Away'. They are due to perform these songs at Grimsby Auditorium with children from many other schools.
C- I love these songs. I can't stop singing them.
A- I like the ones when we can dance like a crab or wave at a whale.
A-A real band with guitars came to our school.
S- Carrie and Cosmo were very funny.
F- I love Dance of the Dolphins because it's rock music.
J- Carlos the Crab made me laugh so much.
A- We have lots of fun in the choir.
L- I can't wait to sing at the Auditorium on the stage.
A- I just love singing with my friends.
Key Stage 1 Choir
Members of the choir from Sunflower and Pumpkin Classes are enjoying learning lots of new songs ready for The Key Stage One Singing Festival at Grimsby Auditorium in March.
They have been attending lots of lunchtime rehearsals as well as a special rehearsal with local musician Sue Baker. Sue showed them her violin and played sea shanties for them to listen to. Mrs. Brady read the story of 'Sail Away' and the children sang songs about sea creatures. They added lots of exciting dance moves and actions.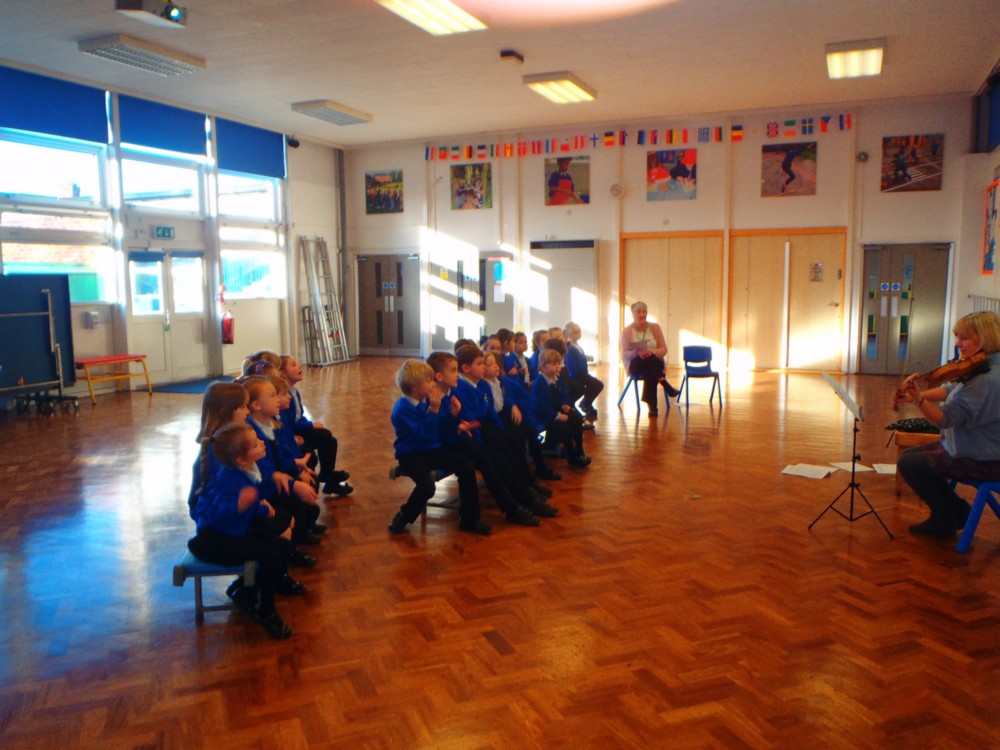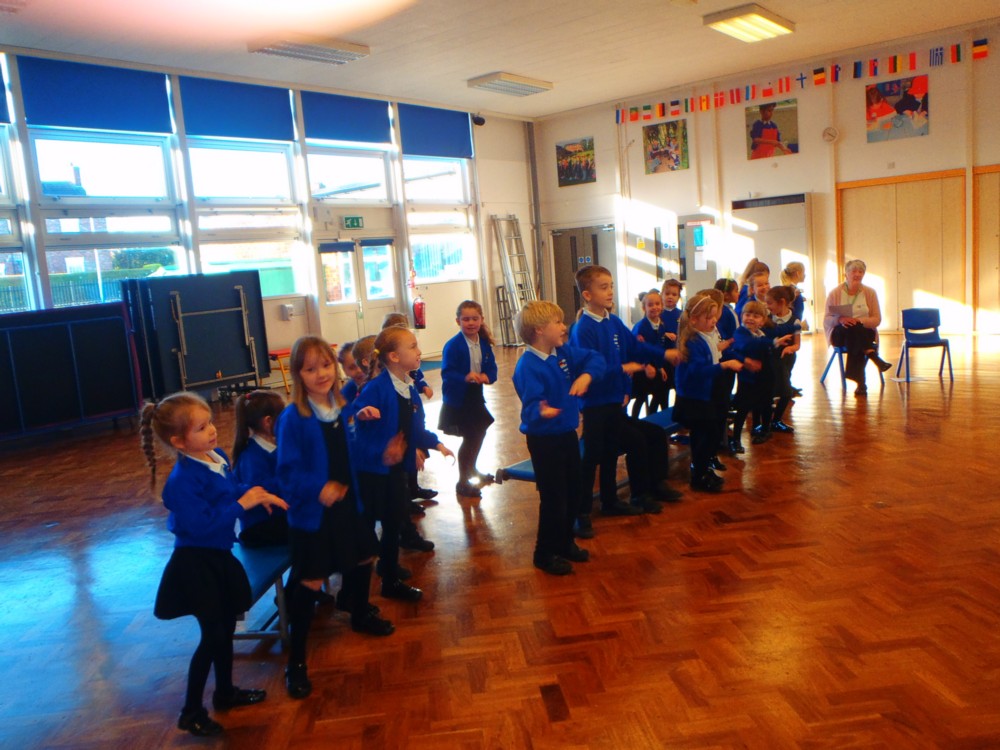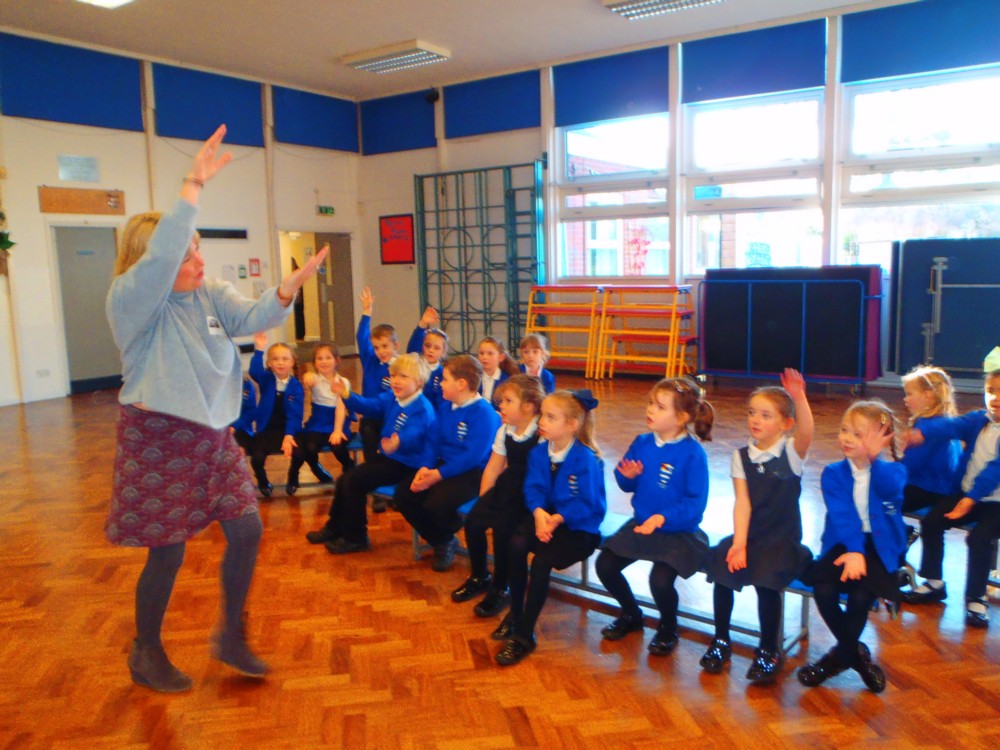 LQ: Can I sing songs to an audience?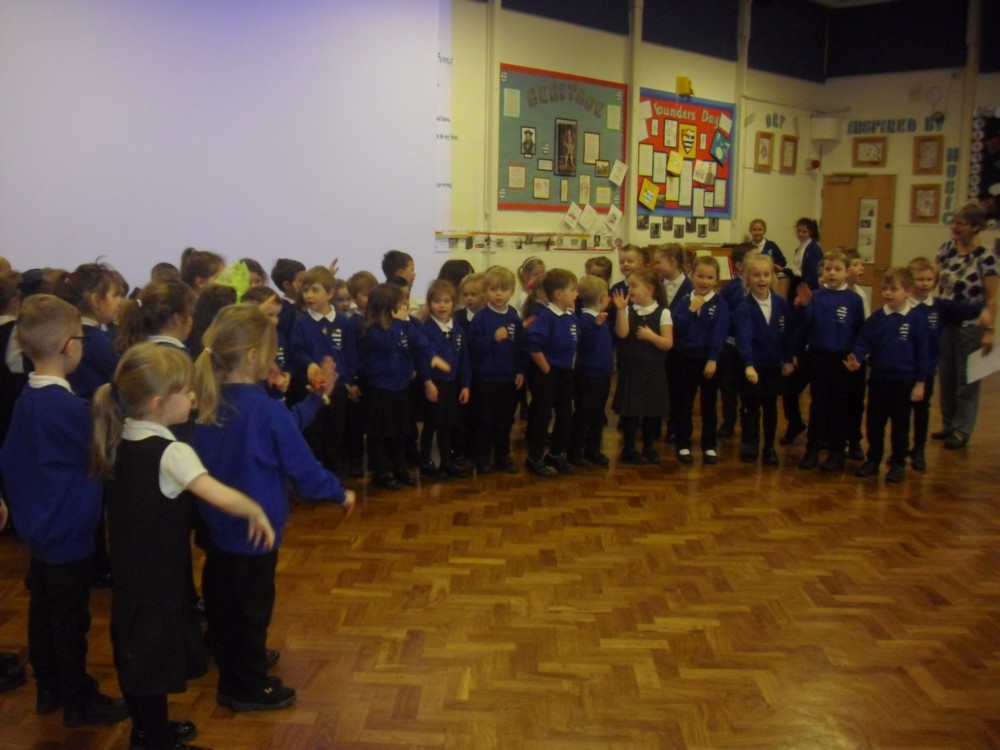 Seedlings and Sunflower children joined together to sing songs and actions to say thank you to the volunteers and helper in our school.
Can I change the pitch of a sound?
We have been investigating the pitch of sound and how we can change it from low to high. We looked at stringed instruments, wind instruments and percussion instruments.
We discovered the shorter something was the more it vibrated sound and the higher the pitch. The longer something was it vibrated less and the pitch was lower.
We then tried to show this by making straw instruments and shortening them as we blew into them.
It was really hard, especially as we couldn't stop laughing…… but we got there eventually!
Spring Term Music Recital At Stanford School
We enjoy performing and listening to a wide range of music. This term's musical recital featured wonderful pianists and vocalists.
We saw one pianist reading sheet music and playing a piece called 'Lonely Road', another pianist performed 'The Snowman' - all from memory and the third pianist improvised and created his own piece for us. There were lively performances of 'Bohemian Rhapsody' and 'Beat the Drum' and a vocal trio who sang 'Flashlight' beautifully.
Well done to everyone who performed in this term's recital. We shall look forward to the next one.
See Mrs. Brady if you would like to perform in front of our lovely school audience next time!
Christmas Service
As a part of the Christmas Service the Year 4 children sang an acapella version of ' Love shine a light'. We hope you enjoy this
Our Christmas Trio
Well done to our Christmas Trio who entertained the school with their fabulous Christmas musical routine. Spreading Christmas joy!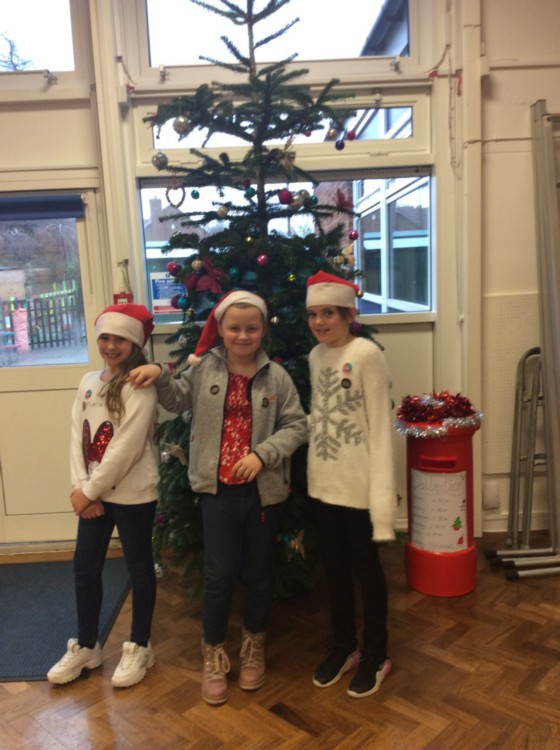 Key Stage One Stars Shine in Christmas Nativity Performances
Well done to Sunflower and Pumpkin classes for their wonderful performances of 'Shine Star Shine.' Lovely singing, acting, dancing, reading and instrument playing.
Key Stage 2 Choir Members Out and About at Christmas!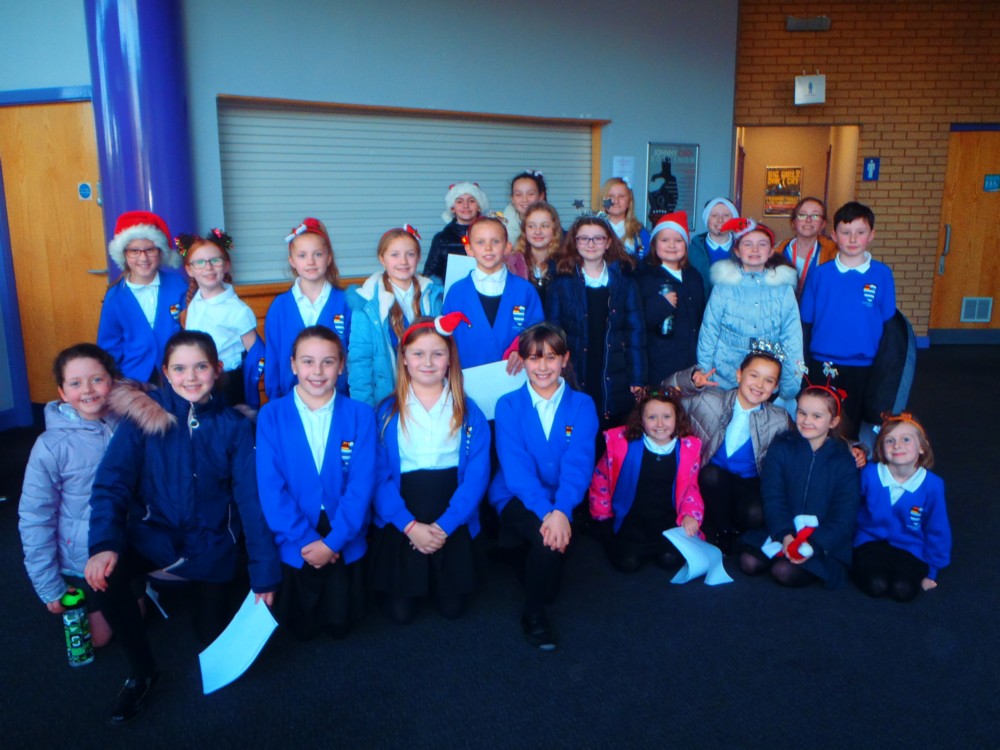 The Key Stage 2 choir have had a very busy time!
Some children sang at Grimsby Auditorium in the Christmas Big Sing and some children entertained the residents at Cloverdale Nursing home with lots of fun Christmas songs.
The children have all worked very hard and have shown great commitment: attending lots of lunchtime rehearsals, learning new songs and performing a wide variety of festive songs with their beautiful singing. Well done everyone!
LQ: Can I listen to the musical performance 'Giraffes Can't Dance'?
We thoroughly enjoyed the story 'Giraffes Can't Dance' performed through music by MAPAS. There were lots of actions and we learnt all about the different types of musical instruments including 'percussion' and 'string' instruments.
Pupil Voice
R.M "The shakers were a percussion instrument."
O.B "I liked the big taiko drums."
E.S "I liked the giraffe song when he learnt to dance."
S.C "I was chosen to play a percussion apple, I had to shake it in time with the music."
J.M "A bow is made from a horse's tail!."
Glockenspiels
This term we are beginning to play the Glockenspiels.
Today we are practicing reading musical notation. It takes a lot of practice and concentration but great fun.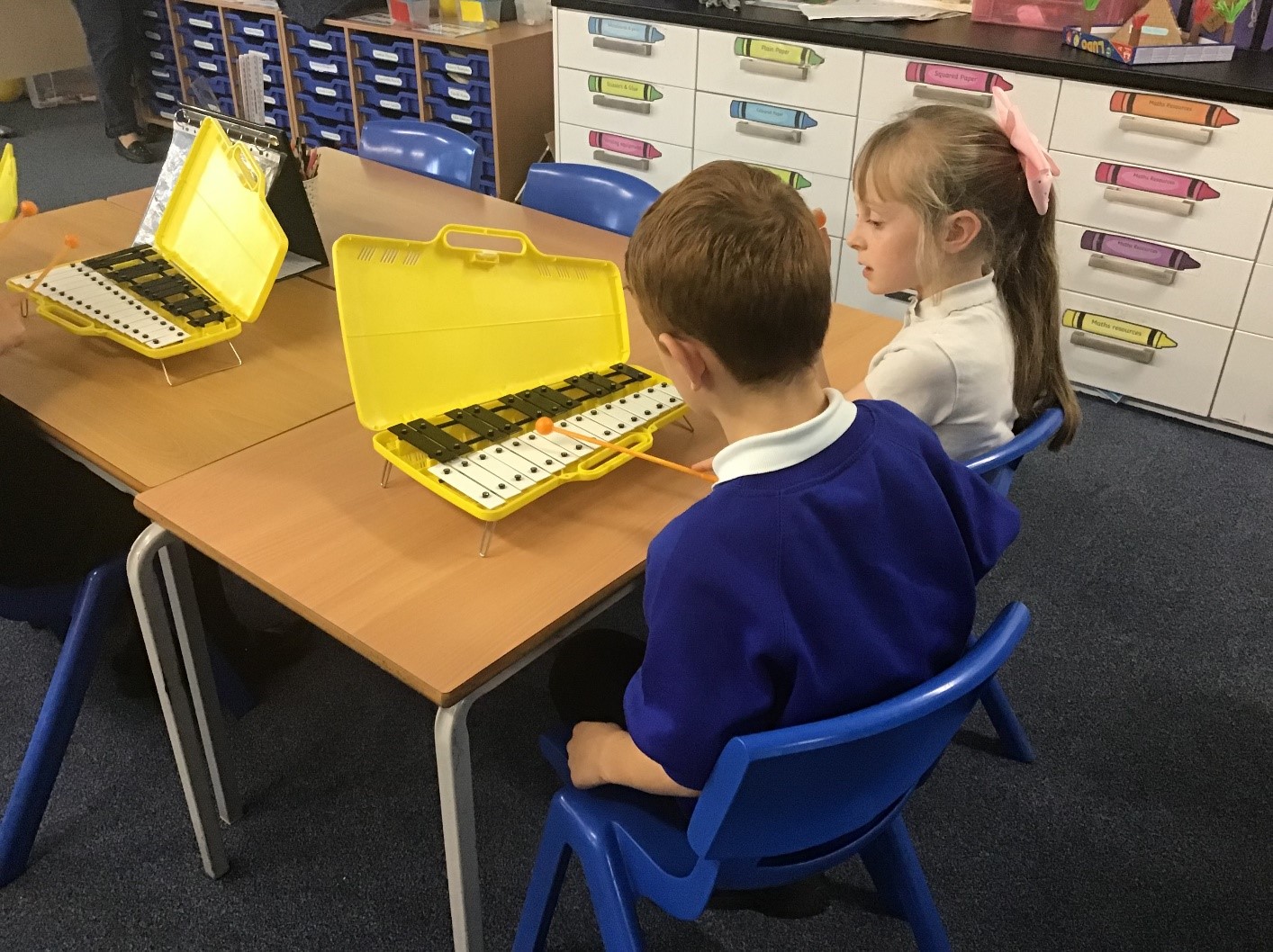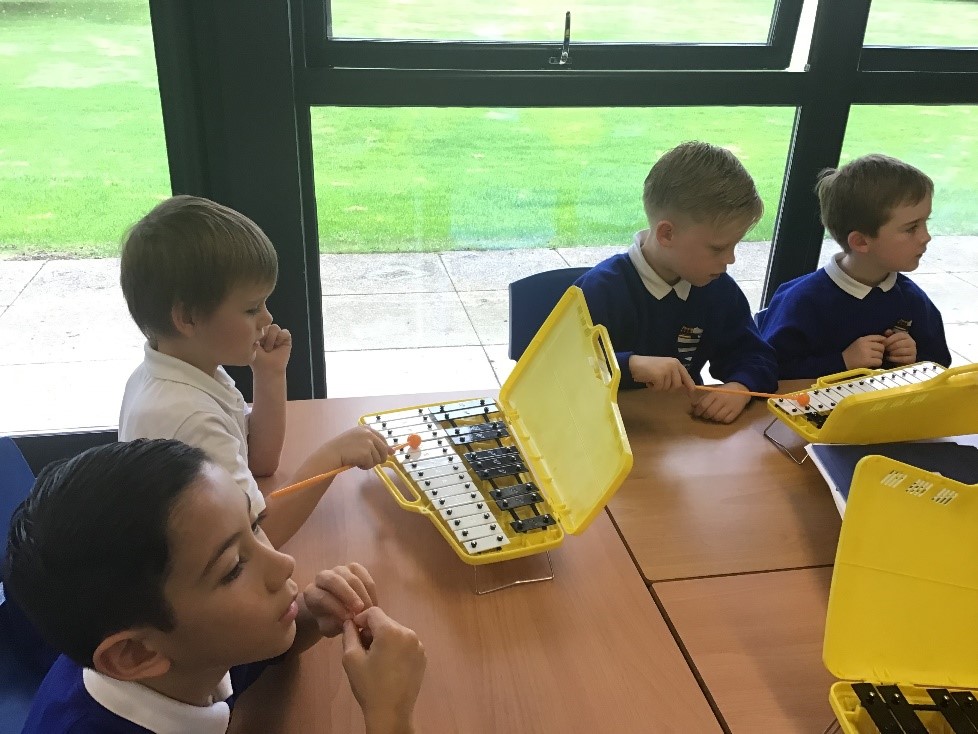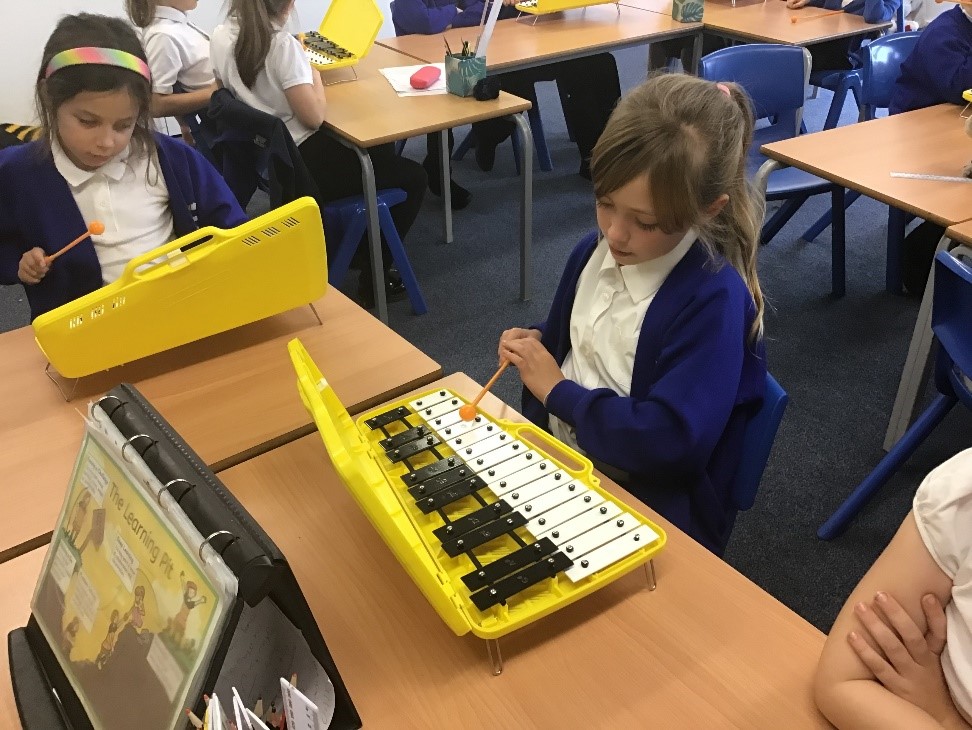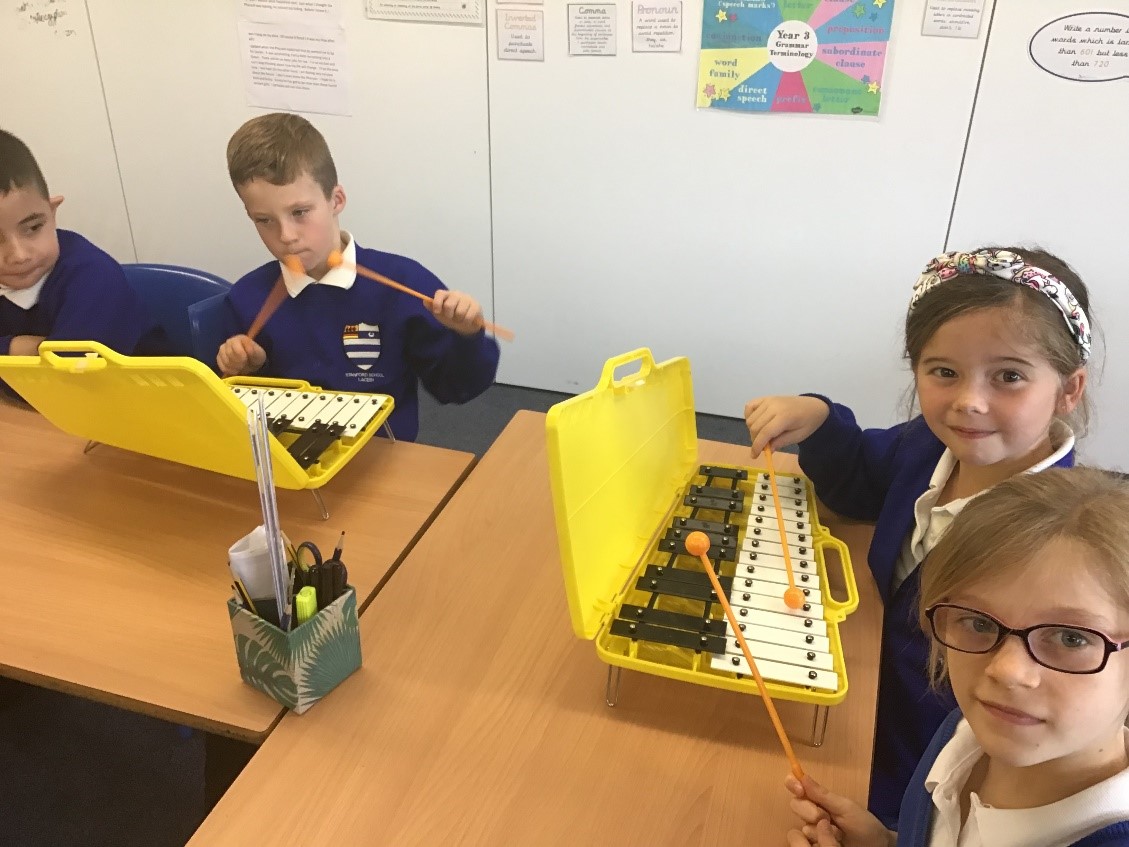 Can I perform for an audience?
These talented pupils performed in this term's music recital. It was wonderful to hear solo singers, a vocal group and several pianists. The school enjoyed listening to a wide range of music from classical, jazz to contemporary pop songs. Well done to everyone who performed for us.
"The Stanfest"
What an amazing music festival we had, with every child having the opportunity to perform an item for parents, carers, friends and community members. All pupils were involved in a whole class singing performance. Musicians were able to perform pieces on the instruments they are learning and groups of pupils played or sang in ensembles. Many thanks to all who attended.
Thank you to the volunteers who kindly served the refreshments which were donated by Laceby Lodge Spar and of course well done to every performer!
Audience Feedback
What a morning, you had my feet tapping all the way through.
I very nearly got up to practice my new dance steps.
You have some talented pupils and it was nice to see so many parents come along.
Well what a treat this morning was.
Every single class excelled.
The children's performances, enthusiasm and behaviour were all brilliant.
So many items gave me goose-bumps.
Please pass on to every single staff member and every child how much I enjoyed the morning. Special thanks to Mrs Brady. Without your tireless work none of this would have been possible.
What an amazing morning, the children had worked hard on their musical overtures and demonstrated some great talent and achievements.
Thank you to the teachers for their hard work and patience in putting on such a wonderful festival- Thank you again to all.
Wow, what amazing morning of music, talent and achievement from all the children.
Excellent time listening to the children, absolutely loved it. Well done and thank you.
The children looked to be enjoying singing a classic from 'The Jungle Book'.
Really enjoyed the performances of the class, and well done to the individuals doing the drum solos. I played the drums as a teenager, but never mastered the art of reading music. Well done to everyone. Some very talented pupils here.
Thoroughly enjoyable morning. Mrs. Brady and Mrs. Groves have obviously worked very hard with the children. Lovely to see all the children's musical talents.
*****Excellent! I was pleasantly surprised with viola, all the children performed really well. Loved that more children had a turn with viola.
LQ: Can I perform songs to others with actions?
Children took part in our Stanford School music event reciting a 'Summer' poem and singing songs 'Down at the station' and 'Lovely summer's day'.
Pupil Voice
O.S "I liked the actions especially the bumble bee bit!"
F.G "I liked seeing the grown ups watch me sing the songs I have learnt at school".
C.P " I liked standing on the big stage".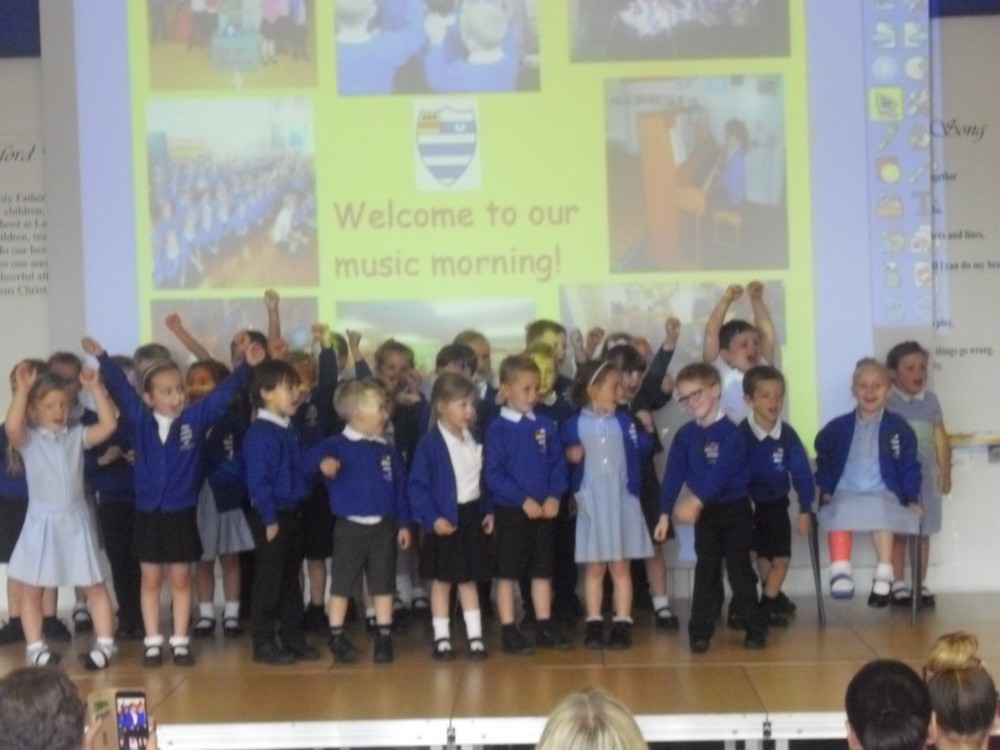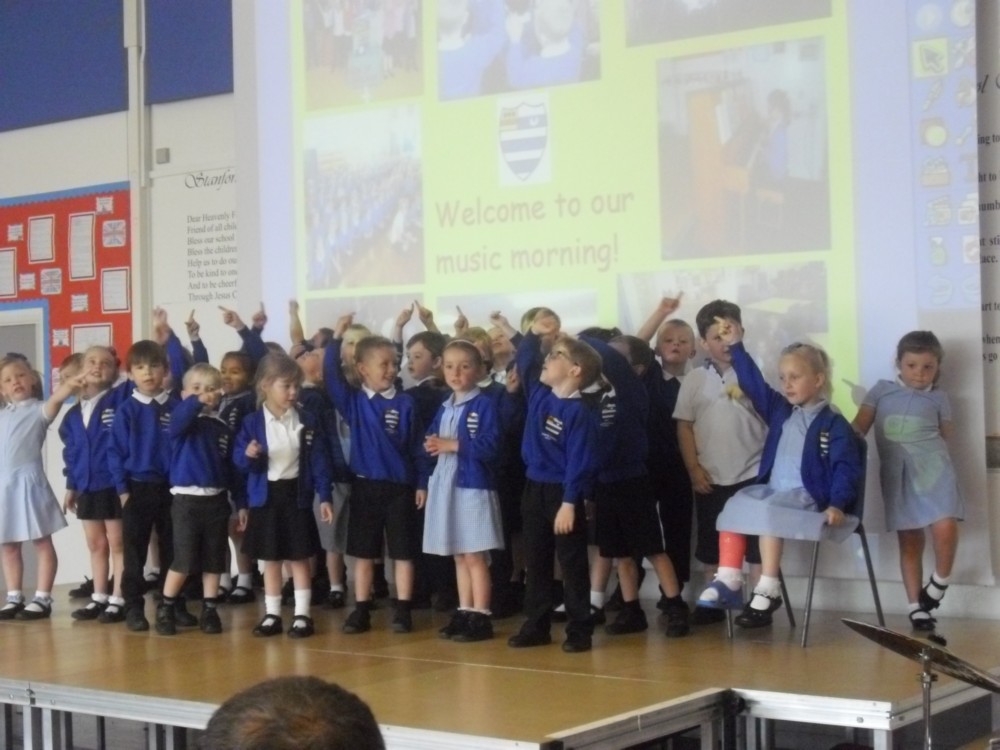 Grade 1 Piano with Distinction!
Congratulations on this wonderful achievement.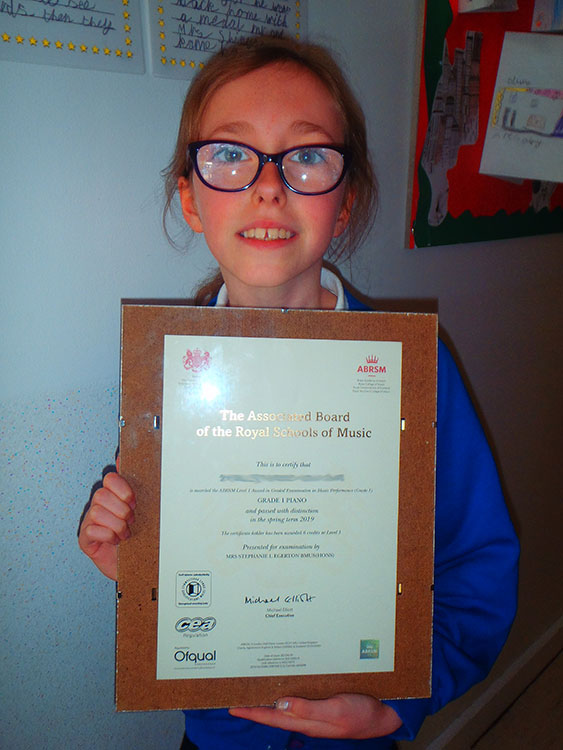 Samba Club
We are delighted to have Mrs. S. Groves back with us teaching the drums again! She has recently started a Samba Band who meet in Sunflower Class on Thursday's after school from 3.15pm-4.15pm. The children really enjoy playing new and instruments and learning exciting rhythms.
We are looking to expand our band. If you would like to join us, please see Mrs. Brady for more details.
Opera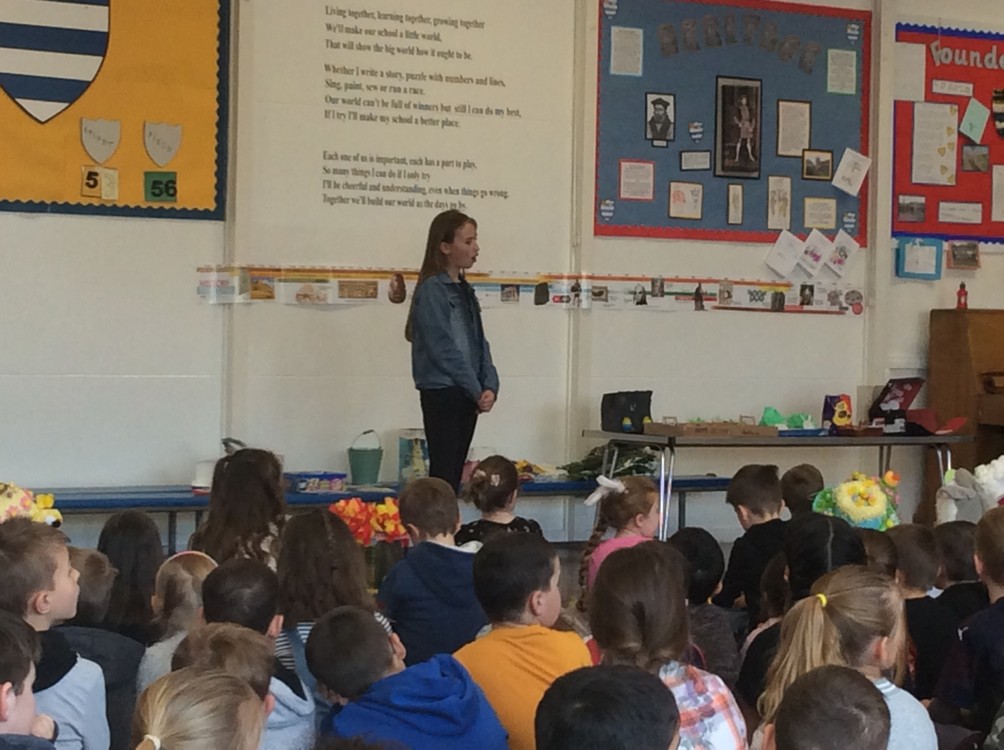 Excellent singing from our pupils -opera at Stanford! Amazing!