North East Lincolnshire Pop Prom
Congratulations to all the Year 6 viola players who took part in this great event at Grimsby Auditorium. The children performed as part of a huge orchestra and played 'Billie Jean', 'Walking on Sunshine', 'Blinded By Your Grace' and 'Castle on the Hill.' During the afternoon, parents enjoyed a fantastic concert. Not only, could this group play the viola, but they could also sing beautifully! Well done to everyone!
Community Music Morning
Well done to everyone who participated in our wonderful music festival. We had a wide range of talented singers, instrumentalists and dancers.
Thank you to all our parents and friends for coming along and supporting this lovely event. Mrs. Brady would also like to thank Mrs. Warton, Mrs. Wink and Mrs. Bennett for serving all the refreshments and also to Laceby Lodge Spar Shop for their kind donation towards the refreshments.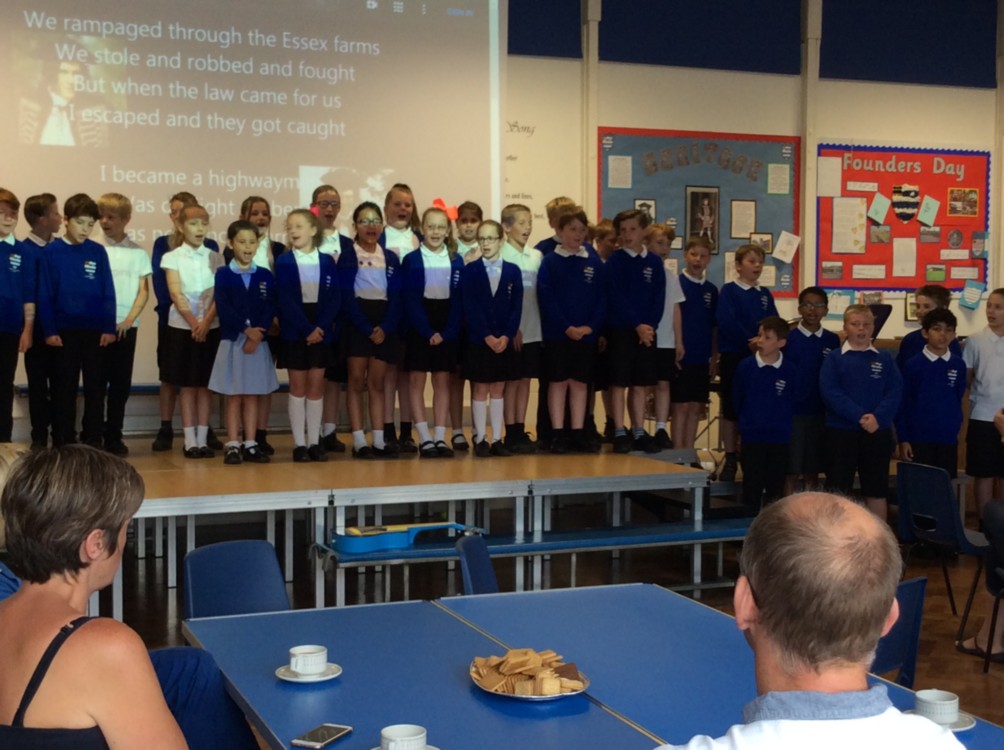 Here are a few examples of some of the lovely feedback from members of our audience:
'Wow amazing from all children. Brilliant effort from both children and staff. The refreshments were lovely. Thank you.'
'Great morning, lovely interaction with the children.'
'Well done- a lot of effort and well prepared. Enjoyed it.'
'Such talent! Wonderful and confident performers. The staff have worked very hard to get the children to this standard. Well done!'
'Lovely relaxed setting for parents. I saw a mixture of years perform and each was different- all children performed brilliantly. Fantastic to see their learning.'
'What a fantastic morning! All the pupils were amazing, it made me smile all the way through. You were GREAT!!!'
Seedlings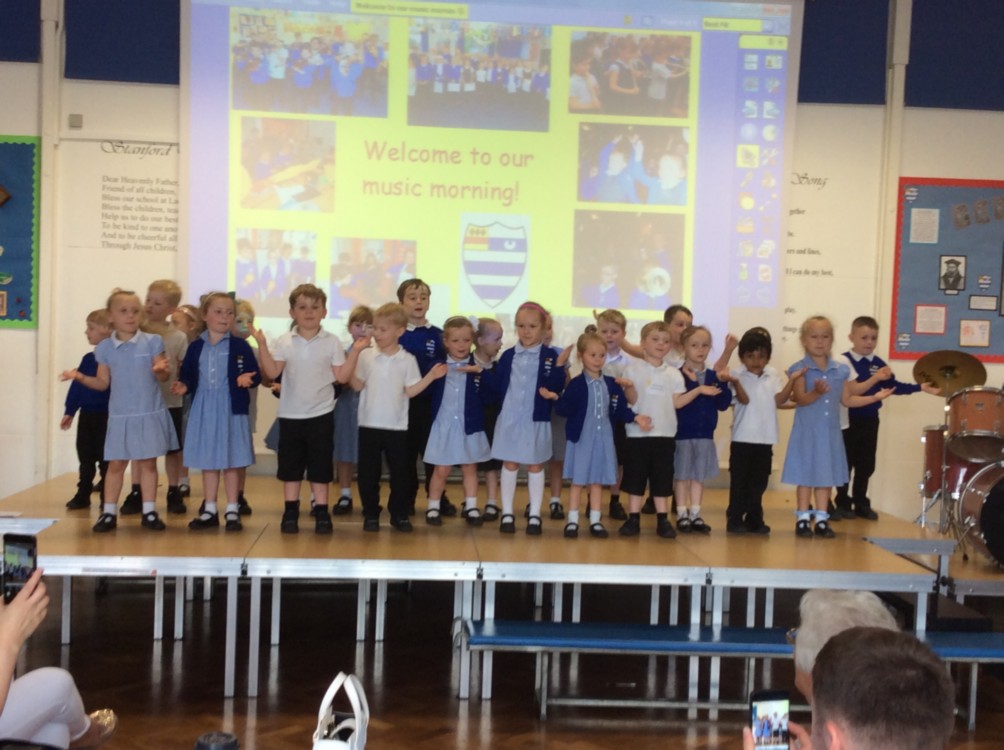 Seedlings class performed their songs about summer to family and friends. They accompanied the songs with actions too.
Pupil Voice
Oliver. L - I liked doing the actions to our songs.
Ollie - I like to see the grown ups smiling when we were singing.
Freddie - The grown ups were proud of us.
Charlie. R - I liked the songs they made me happy.
Poppy Class Enjoy Stanfest
We combined our musical talents with our awareness of diversity to celebrate Stanfest. We learned that Makaton is used alongside spoken language to help with language development. One of the children in our class used Makaton when they were learning to talk.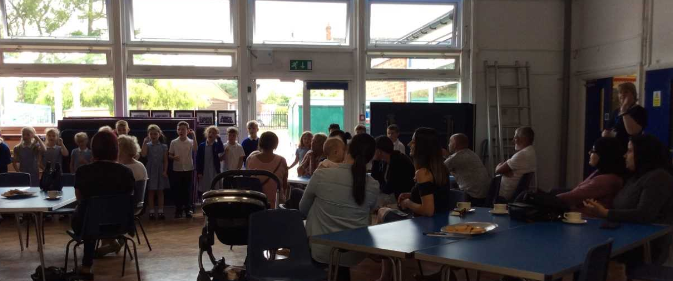 We worked hard to practise our finished musical pieces. Our parents and carers were delighted with our performance.
Mrs Harib said "What a well organised and lovely event. All of the children did very well."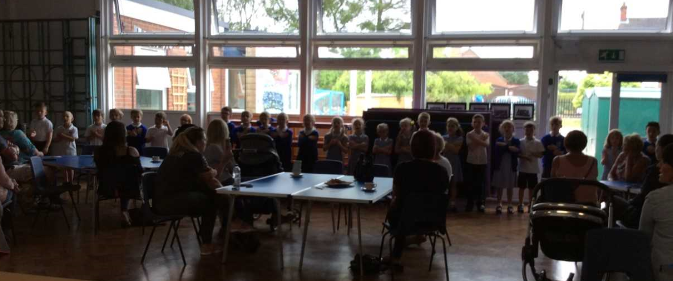 Anthony's Mum was so impressed that she wants to learn the songs with Makaton signs too!
Here are the links if you would like to learn along with us.
Pumpkin Class
Pumpkin Class – The Greatest Showmen….and women, that I could ever want! So proud of them! Enjoy!
Djembe Assemblies
Mrs Groves led two djembe assemblies with year 3 and 4 pupils – the musical skills, co-operation and listening skills were excellent. Parents, carers and friends of the school joined the assemblies. One visitor commented ,'Thoroughly enjoyed the performance, the children have obviously enjoyed learning to play. Lovely to be invited to come and watch.' Thank you everyone for making the event so memorable.
Pumpkin Class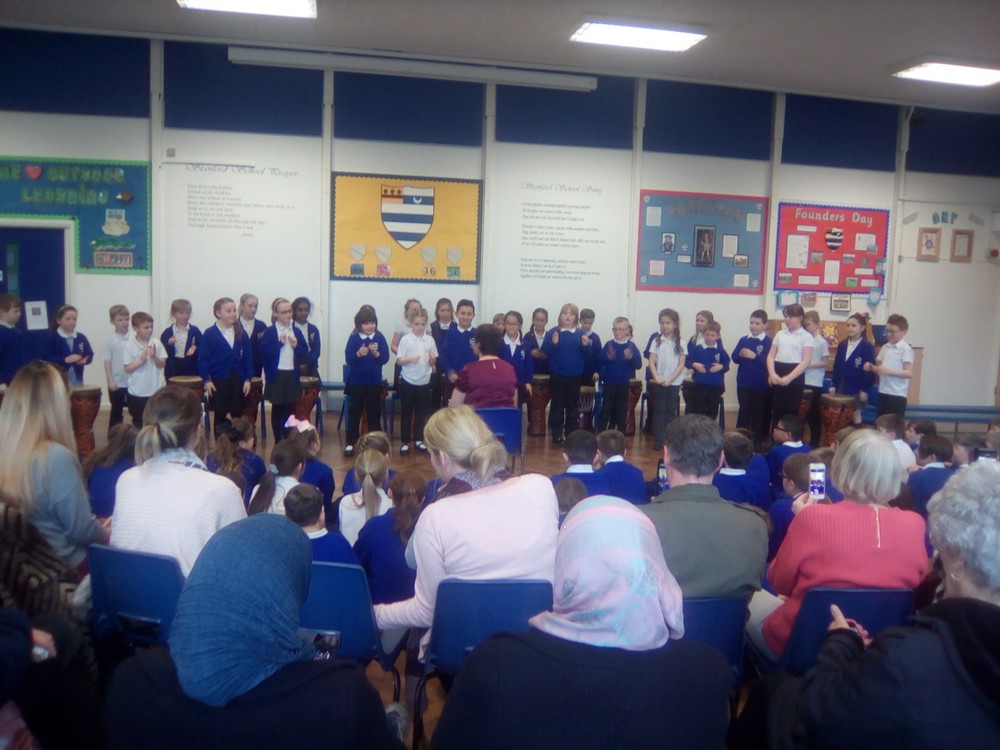 Mrs Groves has been teaching the class about djembe drums which originated in Africa. To play the drums it takes good listening skills and the ability to maintain a beat. To help with this Mrs Groves has taught children to think of phrases to go with the different beats e.g. macaroni, macaroni, macaroni cheese. The children have really enjoyed these musical sessions and loved showing their skills to their parents.
Infant Singing Festival
On Wednesday we travelled to the Auditorium and took part in the Infant Singing Festival.
We have been working hard to learn the songs and we had the chance to perform with other schools from our local area.
We performed confidently and we brought some of that confidence and skills back to school.
We enjoyed our day tremendously. We were supported by school governors Mrs Wink and Mrs Tatler.
Mrs Wink commented "Poppy class were outstanding, listening attentively, singing their hearts out and enjoying every minute of the experience of performing on a stage to a live audience."
Can I find out about other musical instruments?
Star Anise were very lucky to meet local musician Mr. Amos today. Mr. Amos gave an inspirational talk and demonstration of some of the instruments he can play, including the harmonica and the acoustic guitar. Mr. Amos also spoke about the band he plays bass in and how music has enriched his life.
George M- I have just begun to learn the guitar.
James B- I would like to be able to play drums in a band.
Jacob- I liked the sound the harmonica made.
Mrs. Brady- While the children played a jazz piece on their glockenspiels, Mr. Amos joined in on his harmonica. It was great when he started to improvise!
Can I play a tuned instrument musically?
Sunflower Class shared their lovely singing and recorder playing with their parents and friends during their Musical Learning Share afternoon. They have worked hard learning action songs, learning about rhythm and reading musical notation with Emma Middleton from the local Music and Performing Arts Service. Many thanks to Emma for her wonderful lessons.
Can I perform in an ensemble? Can I begin to read musical notation?
Star Anise Class have been learning all about jazz music and improvisation. They have listened and appraised music by Stan Getz. They have learnt how to play 'The Three Note Bossa' by Ian Gray on their glockenspiels by reading and following musical notation. They improved their performance of this piece with improvised sections, a percussion section and a melody which was played on glockenspiels and violas.
The Greater Depth learning here was where some children could read and play music using both the alto clef (viola) and the treble clef (glockenspiel)!!!
Home Learning for Music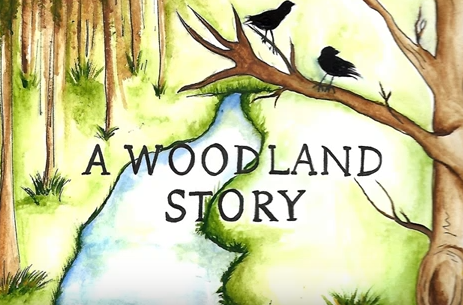 Poppy Class will be attending the Infant Singing Festival at the Auditorium this year. We have been listening to part of the story and looking at some of the songs already.
Please feel free to practise these lovely songs at home, which you can find on their YouTube Channel
There are six songs to practise and learn altogether.
Can I learn about musical notation?
Mrs Brady worked with Barley class to learn about musical notation. They identified and named different kinds of notes- from crotchet, minim and semibreve and learnt their notational value. They also learnt about the stave and played a scale on the glockenspiel. We all learnt so much!
Can I begin to learn how to play the recorder?
What a great surprise Sunflowers had today, when Emma brought a big bag full of brand new recorders. The children played a follow my leader game, where they copied the rhythms Emma played on her recorder.
Eliza- I wanted to say thank you. I loved it!
Mason- I enjoyed playing.
Oliver H- You had to listen carefully. Joshua We learnt how to play the note B.
Amelia- We had to copy Emma's tune.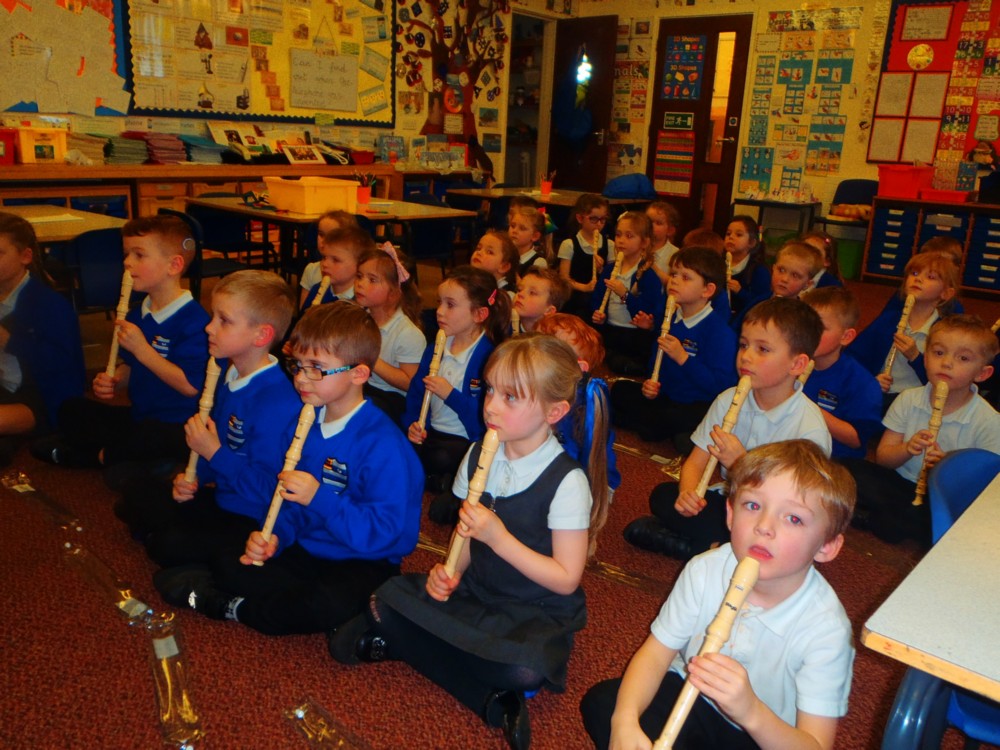 Djembe Drumming
Mrs Groves gave us our first lesson on how to play the Djembe drum. They learnt about the technique of holding the drum and importance of keeping a steady rhythm . We also practiced taking turns and team work.
Cloverdale at Christmas
Well done to the Key Stage 2 Choir for entertaining the residents of Cloverdale. The residents thoroughly enjoyed the children's singing, they joined in and some played percussion instruments.
Comments from residents:
Many thanks for your good singing. Keep it up. - Olive
Thank you for coming to visit and singing for us. -Elise
It brought back a lot of happy memories. -Eileen
I enjoyed it very much. -M. Hasthorpe
Enjoyed your performance. -Dorothy
Dear Children, I have enjoyed your singing, it was lovely music which Santa and I enjoyed BLESS YOU ALL. MERRY CHRISTMAS. - ME Frances
Can I perform in a talent show?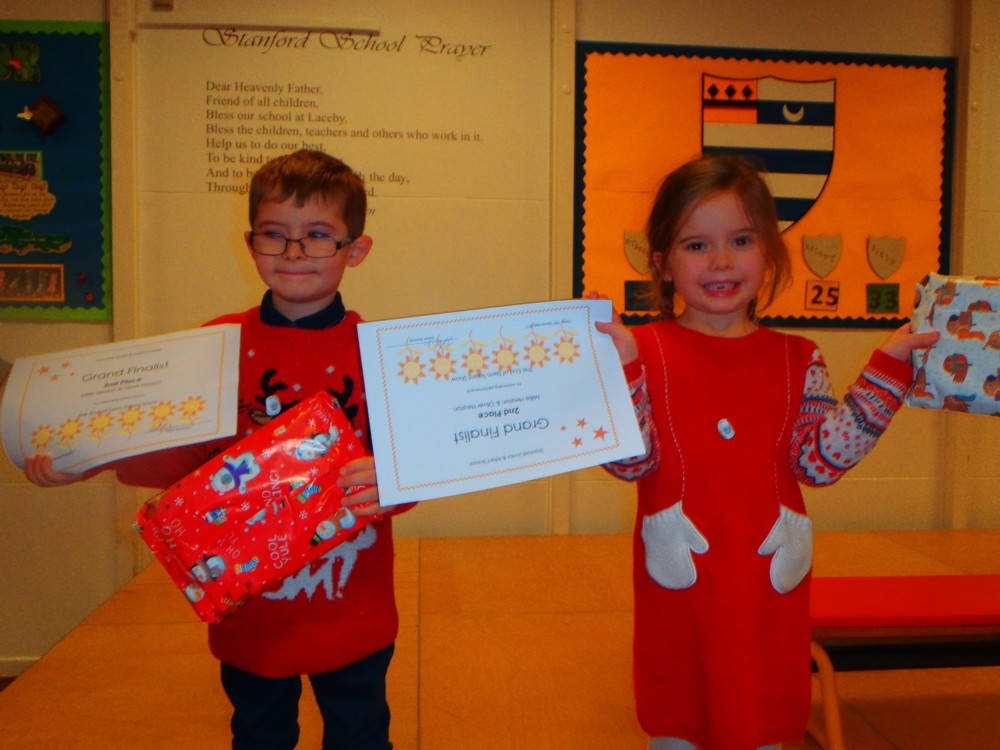 Very well done to Oliver and Millie who performed on the stage today in front of the whole school.
They came 2nd in the competition with their beautiful singing of Twinkle Twinkle Little Star and The Alphabet Song.
Stanford Choir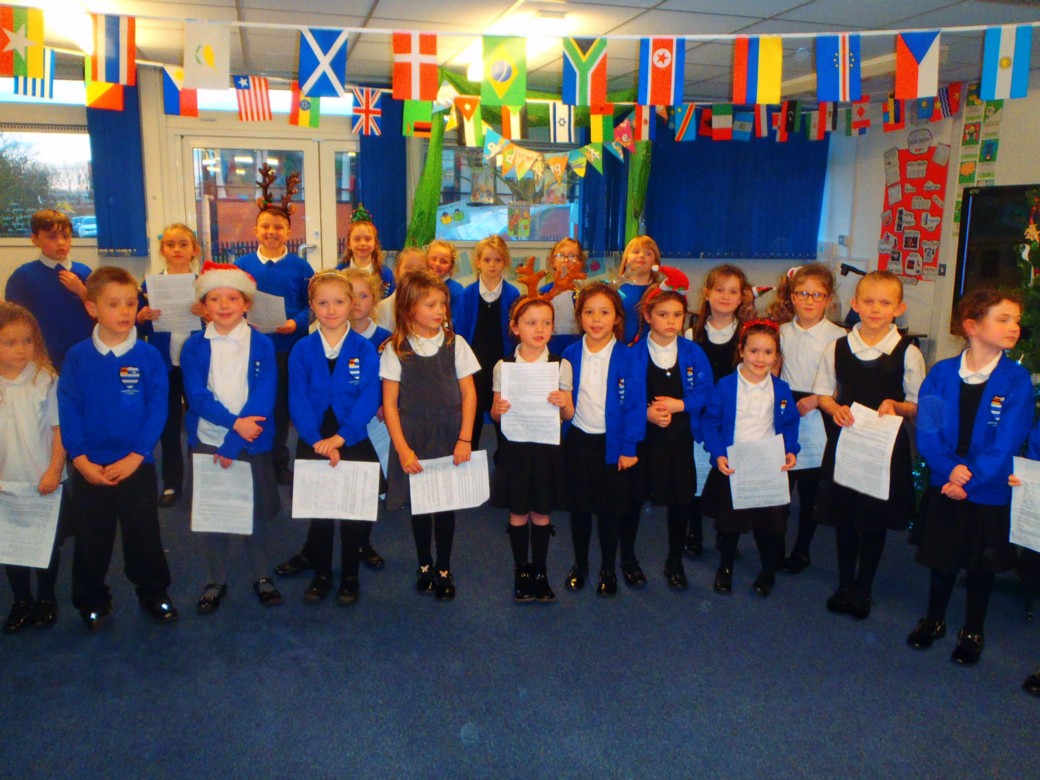 Well done to all the members of the school choir who sang festive songs beautifully for parents and friends at the Christmas Fair.
Nativity
The children in Seedlings class played the claves and woodblocks in beat to the music to accompany our nativity songs.
Can I sing for fun?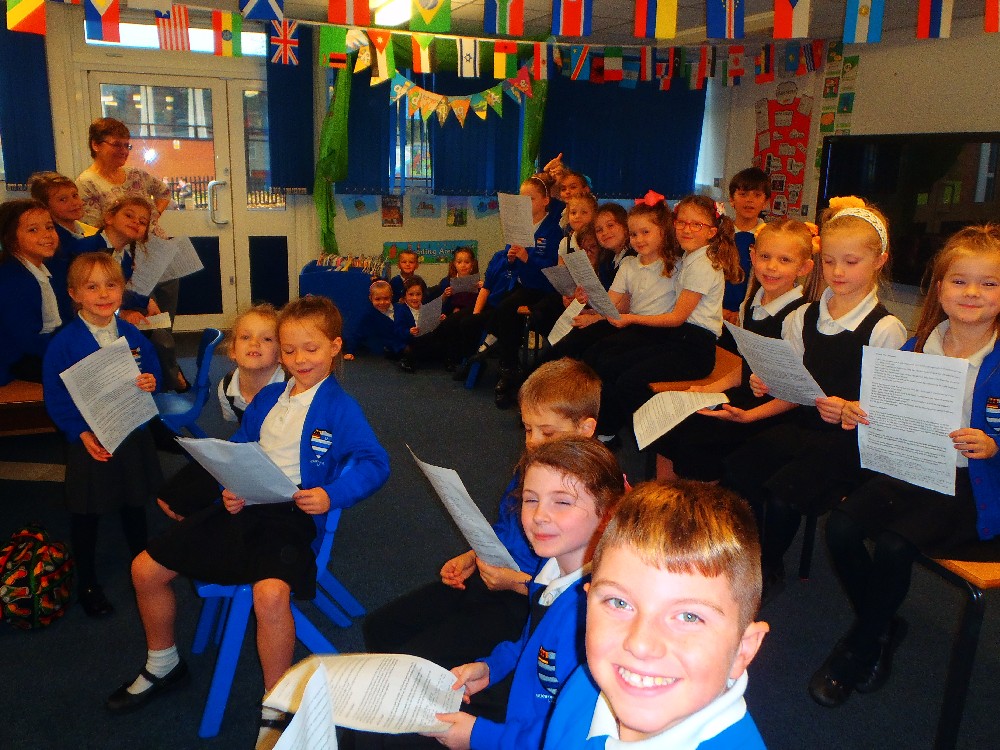 Stanford School Choir are busy learning lots of festive songs for Christmas.
If you like singing, come along and join the fun. We meet at 12 o'clock in The Zone on Tuesdays.
CRASH BANG WALLOP!
Can I sing songs and chants? Can I play untuned instruments? Can I listen with concentration to live music?
The answer to all those questions was yes for Sunflower Class who went to the Central Hall in Grimsby to perform with other schools. Crash Bang Wallop was led by local professional musicians; Tim Brain and Sue Baker.
Bella- I liked learning new songs.
Kobi- I liked the biscuit and lemonade treat!
Lily C- I liked playing different instruments.
Isabelle B- I liked listening to the other school's play. Mollie- I liked watching Tim playing the piano and the djembe drum.
Robbie- I liked singing the songs and doing all the actions.
Can I feel the pulse and maintain the rhythm?
Sunflower Class are enjoying learning about pulse and rhythm with Emma Middleton from MAPAS. They use buckets as drums, clap rhythms, say rhymes and sing songs.
Can I play in an ensemble with increasing accuracy, fluency, control and expression?
Great to see Year 5 (Group 2) enjoying their viola playing. They are learning about staff and musical notation and trying hard to improve their technique. Well done everyone!
Great to see Year 6 (Group 2) continuing to play the viola. They are developing their technique, learning to play new notes and gaining a greater knowledge of musical theory. Well done to everyone!
Can I begin to learn how to play the viola?
Year 4 are enjoying learning the viola with Mrs. Brady. They have learnt the names of the open strings (CGDA) and can pizzicato (pluck) simple pieces. They have made a great start!
Group 1
Group 2
Can I play in an ensemble with increasing accuracy, fluency, control and expression?
Year 5
Great to see Year 5 (Group 1) enjoying their viola playing. They are learning about staff and musical notation and trying hard to improve their technique. Well done everyone!
Year 6
Great to see Year 6 (Group 1) continuing to play the viola. They are developing their technique, learning to play new notes and gaining a greater knowledge of musical theory. Well done to everyone!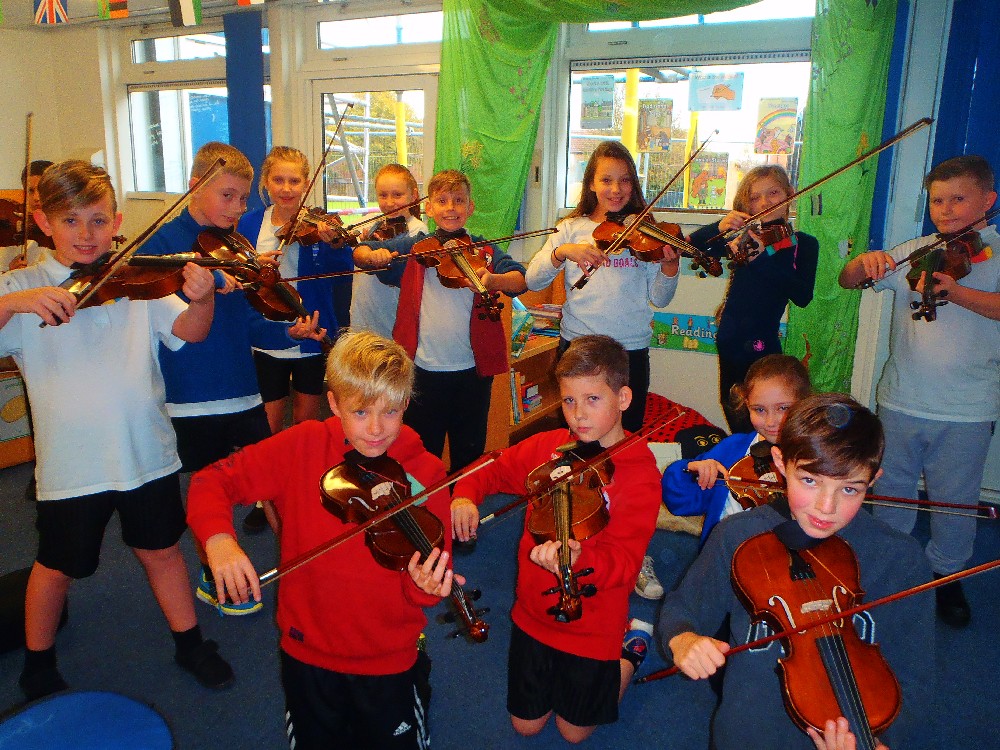 Macmillan Coffee Morning
Sunflower Class entertained family and friends at The Stanford Centre.
Taylor: I brought some money to buy a cake.
Bella: We sang 'One Potato' and everyone joined in.
Evie: I know someone with cancer and I want to help.
James: We sang our class song again.
Rylea: We got a biscuit, a drink and a cake. It was good there!
Mrs. Wilkinson (visitor): The children were so well behaved and they all sang so well. They all knew what to do. Mrs. Dabb (visitor): Mrs. Brady's class sang beautifully.
Harvest Festival
We will have bread baking photos to follow!! Our Harvest Festival was a great success, with everyone joining in to sing songs and actions. Reverend Stevens came to say a prayer and give thanks for the food at harvest time. Thank you to everyone who contributed to our celebration, the donations of food will be sent to the homeless charity, Harbour Place.
Can I round numbers to any degree of accuracy?
Barley class have focused on rounding numbers in our Maths lessons. We used a Rounding rap song to help us learn a quick step- by- step guide to rounding numbers. Take a look at our videos to help you round numbers
Can I read musical notation, rehearse with an orchestra and perform in a concert?
The Year 6 viola players performed in the Megastra School Prom at Grimsby Auditorium. They sang songs, demonstrated 'body percussion' and played very tricky viola parts for the pieces: 'Uptown Funk' and 'The Kraken' (From Pirates of the Caribbean).
Many schools from the local area also took part and so a wide range of musical instruments could be heard. The children were accompanied by The North East Lincolnshire Youth Orchestra. After a morning of intense rehearsals, the children put on a concert for parents.
Mrs. Wink (Music Governor): What an experience for the children to play with a range of instruments by children from local schools as well as the local Youth Orchestra. The music, the behaviour, playing, enthusiasm and enjoyment of our pupils was outstanding. If you ever get a chance to attend one of these concerts go along. Mrs. Brady you are a star for all the time and effort you put in. At last but not least how proud all the musicians made me.
Mrs. Brady: The principal Viola player in the Youth Orchestra, Chloe Brown met all the viola players. She explained to them how she had started learning the viola at Stanford School and told them how much pleasure she was getting from carrying on with it. It was great to see Chloe again. She has progressed into a really great player. I hope some of these children continue learning the viola when they go off to Secondary School.
Mrs. Lawson: It was great to see Mrs. Brady playing her viola in a big orchestra. The children were amazed when she started playing 'We Will Rock You!'
Alice: I really enjoyed it. I think we all played very well. Reenad: I was chosen to lead the actions for 'We Will Rock You'.
Freddie: I had lots of fun at the Auditorium.
Singing Festival
Mustard class had an exhilarating day at the Singing festival, yesterday
Thomas said: 'I really enjoyed singing with a live band and hundreds of other children. It was nerve racking, but I enjoyed it.'
Matthew: ' I really loved the Singing Festival because we got to perform in front of lots of parents. It made me nervous, but I loved it anyway.'
Grace: 'The Singing Festival was amazing! I enjoyed being accompanied by a professional band and performing in front of an audience.'
Music Workshop
Can I learn about different instruments in a band?
Sunflower Class were invited to hear a professional band play. The band featured local musicians, including our visiting drum teacher; Mr. Cook.
Elliott- Mrs. Brady explained what the different guitars were doing. Harrison played the lead guitar and the man in the band played the rhythm guitar. I have seen the bass player before. He plays in Cleethorpes a lot.
Sam- The bass looked a lot like a big violin. Mrs. Brady explained that it has a much lower sound and is part of the string family in an orchestra.
Finley- Some instruments were plugged in and they were electric.
Ella R- The sound came out of big speakers. Mrs. Brady told me they were called amplifiers.
Millie- It was very loud, but I enjoyed it.
Lily- I liked listening to Harrison, he was really good.
Olivia- I had a lovely surprise because the band sang 'Happy Birthday' to me. I chose the pop music style. Mrs. Brady wanted it in the rock style!
Mrs. Brady- It was great to hear live music in our school. The children have learnt a lot about acoustic and electric instruments and they have also experienced listening to different genres of music.
Mustard Class
We learned about different styles of music from the 1940s up to 2017, from a professional band. The band also backed us as we sang 'Summer Holidays' - it was a fantastic day full of learning opportunities.
Harrison played 'Apache' on his guitar: 'I was overjoyed and really excited to be performing with an actual professional band. It was awesome!'
Olivia and Thomas were able to play the cowbell and the tambourine too: 'I loved learning about the different styles of music and about the different instruments. It was great to join in and play ' Play that Funky Music' with the band.'
Lucie: 'I enjoyed listening to the band, especially learning about the different styles of music and how much music has changed over the decades. They were fantastic!'
Barley Class
We learned about different styles of music from the 1940s up to 2017, from a professional band. The band also backed us as we sang 'Fernando'- it was a fantastic day full of learning opportunities.
The 'Great Get Together'
'The 'Great Get Together' was a great success! All the visitors enjoyed listening to the school choir, classes singing songs, playing the glockenspiels and the violas. Harrison performed his electric guitar too to rapturous applause. Well done everyone for showcasing superb musical talents.