Computing
Spoof websites
Pumpkin class has been focusing on E-Safety in ICT this week. We looked at examples of 'spoof' web pages and how we can tell if the information on these sites are accurate or not. We then had ago at creating our own 'spoof' web pages.
"I did mine about a player going to a football club when they aren't"
"I created a 'spoof' web page about spotting unicorns at Stanford"
"I wrote about elves helping at Christmas"
Year 1 - Learning About Pictograms
We have been learning about pictograms. This is where pictures are used to show data in graphs and charts. First we made a pictogram as a class then the children worked in pairs to create their own.
Digital Footprint 👣
In Computing, Barley class learnt about the digital footprint and how and why people use their information and online presence to create an image of themselves. They then looked at what information is appropriate to be shared online and identified what could be changed/ improved to keep them safe.
Interactive Scenes
Today in computing Pumpkin class have been designing and creating their own interactive scenes. Children planned their scenes using different algorithms and made several things happen in the scenes.
Using Maths Games to Practise our Computing Skills
This week in Year 1 we have been developing our computer skills, learning to 'grab and drop' using a laptop.
We got really good at using the two handed skill to sort shapes and other objects in different ways on the Purple Mash Games site.
Pupil 1: 'I found it tricky but I'm getting better with practise.'
Pupil 2: 'I worked with my partner and showed her how to do it.'
Pupil 3: 'I love using the laptops, we can all have our own.'
Animation
This week in computers we have been extending our knowledge on animation. All the children learnt about " onion skinning" which is a process where the shadow image of the previous frame is present to help line up the objects of the animation correctly.
They were also able to add backgrounds and sound to their animation.
Year 3 Computing: Branching Databases
We have been learning about Branching Databases. Computers use these to sort out data using questions with yes/no answers. The children had lots of fun coming up with their own branching databases.
Animated stories
In Year 1 Computing we have been designing our own animated story book. We have been adding animations and drawing on a picture. Next week we will be adding sounds to our stories.
Writing for different audiences
Our new topic in ICT is" writing for different audiences." We discussed a variety of written material where the font size and type are tailed to the purpose of the text. Then we used text formatting to make a piece of writing fit for its audience and purpose.
Maze Explorers
Today in Year 1 Computing we have been maze explorers. We used the direction keys to successfully complete the maze.
Safer Internet Week
Foundation Stage
Foundation Stage learned the importance of being safe on the internet this week during Safer Internet Day. We learned the story of 'Chicken Clicking' that showed us that we should always be with one of our parents/carers when we go on the internet. Lots of us made pictures of us with our family playing on computer games or made model laptops that we played on with friends.
Pumpkin Class
Pumpkin Class have been discussing ways to keep safe when they are online. They think it is important to tell an adult if they see anything on the internet that worries them. They thought it was important to send out safety messages, to help other children know what to do.
M- Don't share personal information with people online, like your name and where you live.
V- Let your mum or dad see what you are playing on.
T- Don't have chats online with strangers.
H- If someone is saying horrible things online, get your mum to block them.
Year 3
As a part of our learning about internet safety the children took part in an online safety quiz on Kahoot set by Miss Perrin. The children got very competitive with this! Afterwards the children made posters to show their learning and to offer advice to others.
Juniper Class
Juniper class have been learning about internet safety week, we did a quiz on Kahoot to retrieve our past knowledge and remind ourselves on the 'SMART' rules! We then took this learning and created a leaflet on how to be smart online making sure it had all the key information on it.
Year 6
This week in Year 6, we watched a very interesting, live Safer Internet Assembly. This aided lots of discussion regarding internet scams, how to identify safe websites and the precautions to take when sharing anything online.
We then able to make our Safer Internet Charters- explaining what kind of place we would like the internet to be and how this can be achieved.
Year 3 - Spreadsheets - Creating bar graphs & pie charts
In our computing lessons we have been learning about spreadsheets and how we can use them to collate information. We have now found out how to turn this information into charts & graphs so the information can be presented in a visual and easily interpretable form
Creating bar charts of weather data linked to Rainforest learning in geography
In our computer lessons we have been learning all about spread sheets, and how to make a bar chart using the information we input into 2 Calculate.
We thought it would be interesting to create a bar chart using the data we have found out in our geography lessons exploring the climate in Manaus and London.
We are going to use the bar chart to compare and analyse the information.
Year 3 – Retrieval practice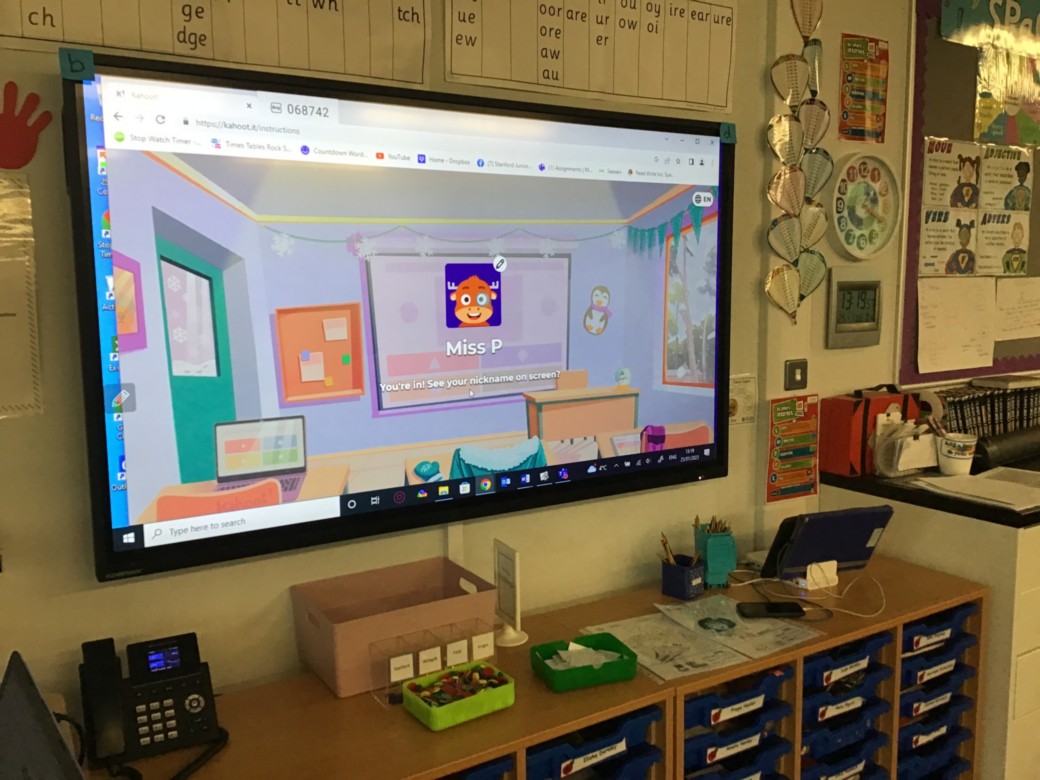 To help with our learning & retrieval practice we have started using Kahoot with its interactive quizzes. Miss Perrin sets questions for the children to answer about our previous learning. This week it was 'Rocks & Soils'. The children really enjoyed this and got quite competitive!
Year 6 Computing 💻
Year 6 pupils have been using spreadsheets to calculate the discount and final prices in a sale. They created formulas to help work out the prices of items in the sale!
Creating Penguin Art
Pumpkin Class enjoyed creating pictures of different kinds of penguins on their laptops, using the 2paint program on Purple Mash.
A- I love drawing pictures and trying out the different colours and different sized pens.
G- I looked at pictures of real penguins first, so I could get the shape and colours right.
J- I like drawing pictures on Purple Mash because I can save them and work on them later.
Sometimes I do some more drawing at home.
L- I like penguins. I like to draw them.
Y3- Being a computer programmer
The children have been learning about how programs are made using coding. This week they were asked to showcase these skills by making an interactive digital scene where buttons were clicked to make different things happen. They really enjoyed this task and gave it a Halloween twist!
Year 6 Coding- Functions 💻
Pupils in Year 6 were understanding how functions are used and how useful they are when coding. They organised codes into functions and Call functions to eliminate surplus codes in the program.
Computing: Using a Timer
Pumpkin Class have been learning about algorithms in their computing lessons. In this lesson they were creating a program on Purple Mash and using a timer-after command.
E- I like this program, it's called The Magician.
R- I could make the rabbit disappear and then appear again.
H- You have to get your instruction in the right order or it doesn't work.
J- I set different timers so that the magician could move sideways and then the rabbit could change into a frog after 10 seconds.
Juniper Class: 3D Modelling 🚗 🛻 🚐 🚌
In Computing Juniper pupils are using the 2Design and Make tool to explore the effects of moving points when designing a 3D model.
Pupils were adapting one of the vehicle models by moving pints to alter the shape of the vehicle while still maintaining its form.
Barley Class: Blogging
In Barley class we are learning about blogging this half term. In this lesson we were working collaboratively to plan a blog based on our time at Stanford School. We used the mapping tool to plan and record our ideas.
Juniper Class- Game Creator
Juniper class have started to create their own game environment this week, with a specific theme linked to our topic on Vikings. We uploaded images and used different tools to design and create our setting.
Year 3 - Using Spreadsheets to create graphs
Over the last few weeks we have been learning about spreadsheets. The children have learnt how to draw pictures by colouring in blocks, use them to calculate additions and how to input data then turn the data into different types of graphs.
Safer Internet Day
"All fun & Games? Exploring respect and relationships online"
Pumpkin Class have been learning all about keeping themselves safe online.
They discussed lots of scenarios about how to keep themselves safe and what to do if something worries them when they go online.
M- We watched an assembly and it was all about treating people nicely online. Some people send horrible messages and I think that can hurt some people's feelings.
L- I wouldn't want to play a game if people were saying horrible things to me. I would tell my mum and switch it off.
A- You should treat people how you want to be treated.
A- Send polite messages, not nasty ones.
E- We listened to a story about Smartie the Penguin and we helped him decide what to do when he saw a scary picture or when there was an advert that popped up on his tablet. I thought it might have been a scam.
R- We sang a little song to remind us to ask a grown-up for help if we feel worried or upset online.
P- We've been making internet safety posters to help people, so they know what to do to keep safe when they are on the internet.
Year 6 Barley Class: Using Formulas
Pupils in Juniper class were creating and using formulas within a spreadsheet to convert measurements of length and distance.
Year 6 Barley Class: Spreadsheets
Pupils in Barley class were exploring probability through the use of the count tool in spreadsheets. They also created formulas to generate and answer mathematical questions relating to probability.