Community Links
Seedlings
Seedlings class shared their work about our school and its community during the 'Great Get Together' coffee morning. Their was singing, music , cakes and lots of fun to celebrate what unites us and all the things that we have in common.
Juniper Class
In Juniper class we have been thinking about the meaning of Community. We considered the benefits of the different communities we each belong to. We thought about how this related to Jo Cox's Quote, " We are far more united and have far more in common with each other than things that divide us."
Together we created a poster with what community means to us. We used the symbol of a tree.
We thought how are communities like trees? Here are some of our ideas:
Rebecca, " Roots hold the community strong for lots of Years."
Auden "The branches are like the different community groups. Some are long and some short. All different but all part of a larger group. "
Sophie, "The leaves like people are all different. They may have different patterns, shades, sizes, textures but they are all leaves and do the same jobs - shelter and make food. People are all different shapes and sizes and have different things they like but every one is human and lots of the same things we need are the same. We need family and shelter and food and friends. Also everyone likes to have fun."
James, "The tree is home to lots of different species all different but in harmony with each other."
Jacob, "Each tree is individual but everyone does a similar jobs with the same parts."
George, "The bark protects the tree and communities support and protect people."
Esmae, "The leaves make oxygen which we all need to live and people need communities."
We shared our ideas during todays Great Get together event.
During the week some of us made cakes and biscuits for the event which we shared together - our own Juniper Class community
Barley Class
A wonderful community event took place at Stanford- for community members, Governors, Parents and Carers, for The Great Get Together, in memory of Jo Cox. Each class showcased the wonderful work that has been going on in our school with songs and musical interludes also taking place. Refreshments and cakes were sold also. Barley class showcased the Numicon Quest project, their wonderful writing in Year 6 and the fantastic, inspirational and thought-provoking poems they have written linked with Love, Hope and Unity. A wonderful morning was had by all!
Growing Up and Keeping Safe
Big Talk Education were asked to lead a workshop for parents all about our SRE curriculum about 'Growing Up and Keeping Safe.' This work links to Internet Safety work too. Thank you to those who attended – the feedback was very positive. Big Talk Education will be leading lessons in school this term and working with the teachers and pupils.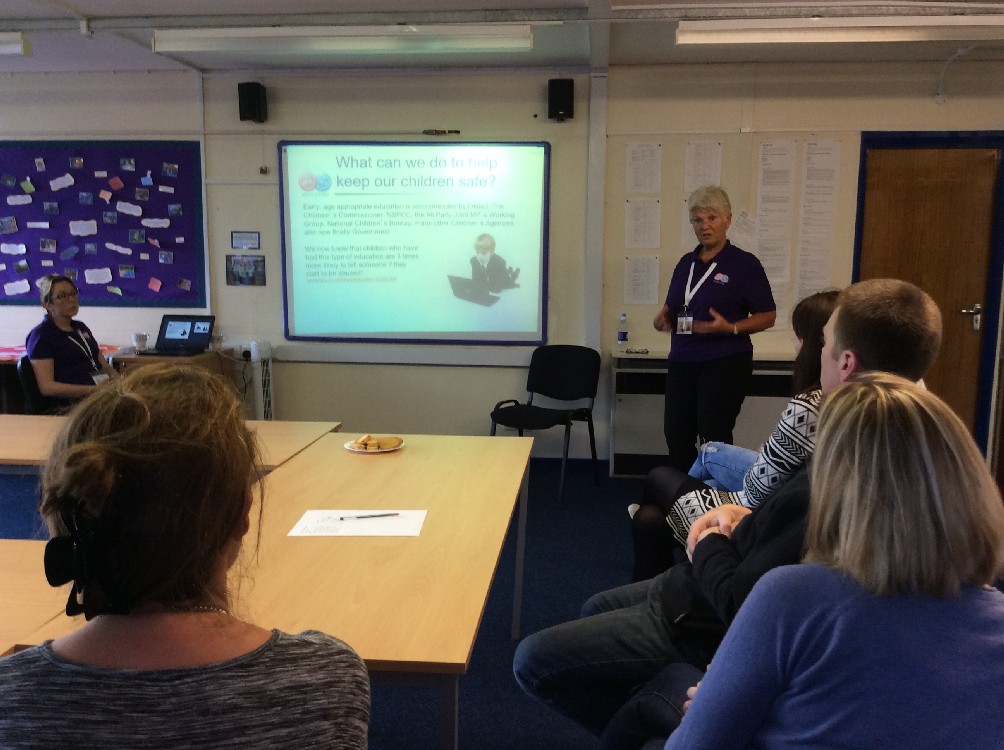 Water Safety
Callum from Grimsby Aquatics Swimming School led our school assembly today on the theme of 'Water Safety.' Keeping yourself and other safe is very important to us at Stanford and this links with the work we do on Internet Safety, Fire Safety and Road Safety etc.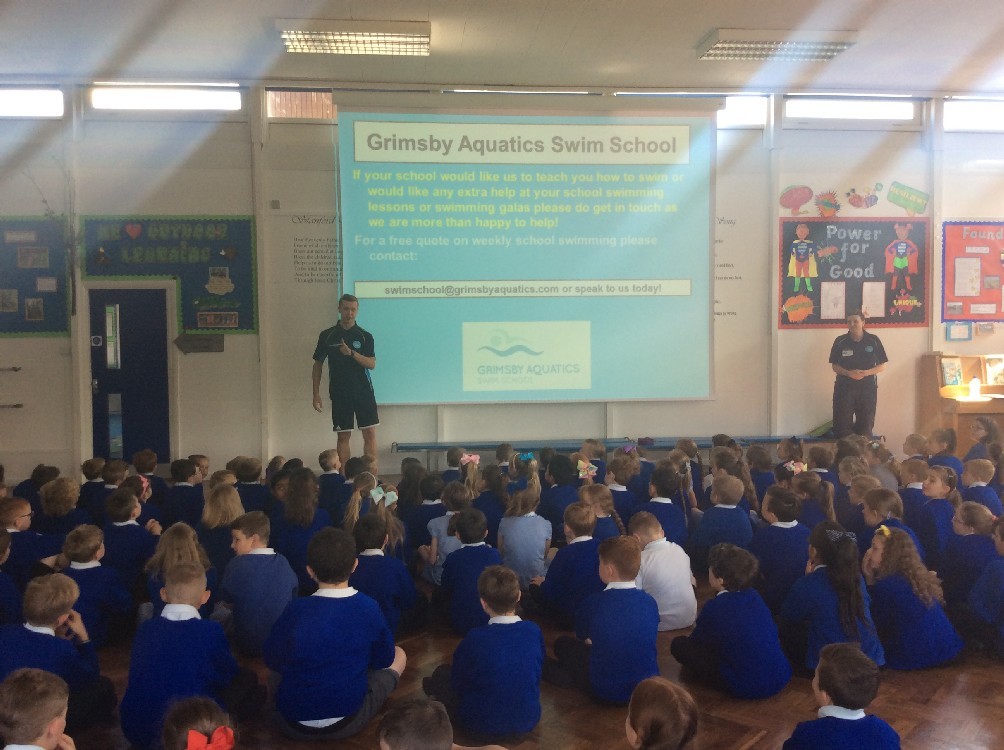 Voting in our Election for Outdoor Equipment
Founders Day Assembly at Stanford
We learned about Sarah and Philip Stanford who are very significant people in our school's history.
We were proud to sing our school song and to say our school prayer. We celebrated the anniversary of our school and even sang Happy Birthday.
At the end of the assembly we received a very special gift! Every child in our school received a shiny five pence piece which is from the Stanford Trust. It made us think about Sarah and Philip Stanford.
Healthy Eating Workshops
Food for Fitness led workshops for parents and pupils all about health eating. Pupils enjoyed preparing food from scratch and tasting the delicious choices – they were inspired to start cooking! Thank you to the families who attended and to Mrs Harvey for leading these workshops.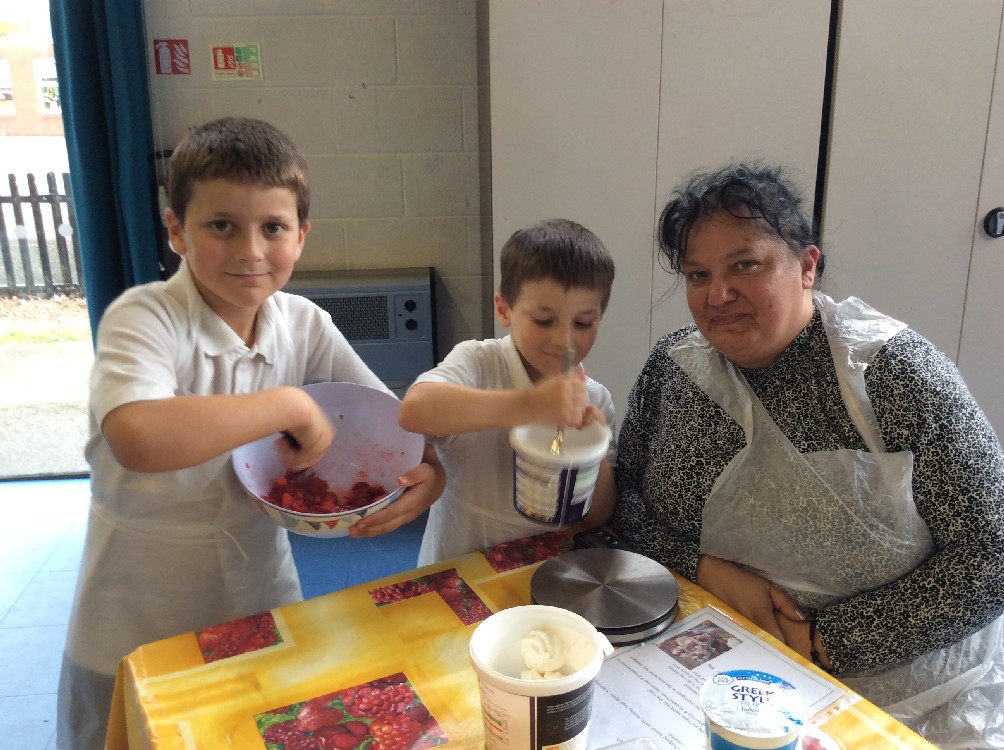 Road Safety Sticker Day
This month's Road Safety Sticker Day was another great success – 207 pupils (89%) chose to walk, bike or scoot to school today to help reduce traffic congestion and make healthy choices ! Well done! Great community links, support from parents, pupils and staff. Abi (Head Girl) and Connor (Head Boy) were great role models too and also helped hand out stickers. Many thanks.
The Club - Thank you!
We are very grateful for the community links we have – thank you for the donations from His Church Charity and GTFC regarding free breakfast cereal for The Club at Stanford.
NEL Key Stage 2 Singing Festival group
Mustard enjoyed the visit and live music from NEL Key Stage 2 Singing Festival group. The pupils enjoyed learning new songs from the songbook, 'A Fishy Tale.' Many thanks to the group for helping us learn the songs. We are looking forward to developing our performance skills soon when we join with pupils from other schools to perform at the Grimsby Auditorium.
Church Trip
Sunflower Class would like to thank Mr.Stevens and Mrs. Mawer for showing the class around St. Margaret's Church, Laceby. Mrs. Brady would like to thank Mrs. Warton, Mrs. Wink and Mrs. Bennett for their help throughout the morning.
Well Done Emily!
We are so proud of Emily who swam 5Ks for the Marie Curie Charity – she has raised £855! Well done Emily! Thanks to those who supported her too – Alysia was there to cheer her friend on and award the medal!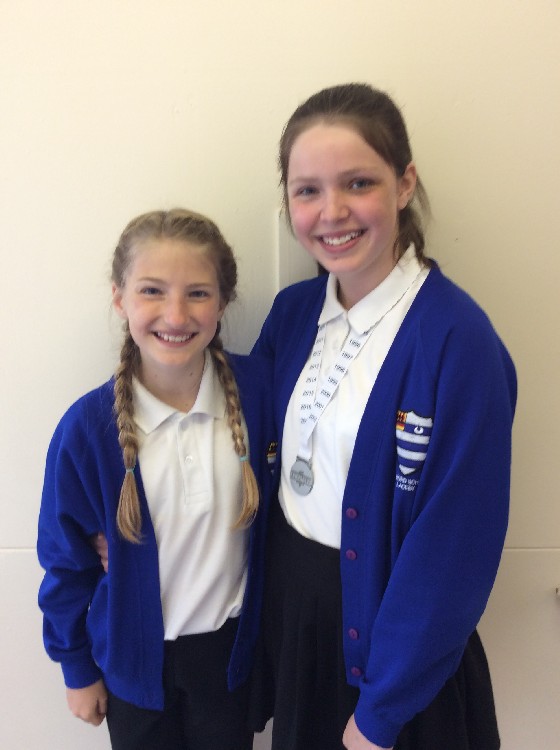 Radio Humberside
Phil White on the road with Radio Humberside visited Stanford today! Pupils sang the school song beautifully, discussed our engaging curriculum and talked about the litter picking we do! Community members met with Phil about Laceby in Bloom, the Stanford Trust, the work of the Parish Council and the history of Laceby. The pupils really enjoyed finding out more about mobile radio stations!
Stranger Danger
An excellent effort from all the children who completed the colouring competition led by PSCO Marc to highlight the import message of 'Stranger Danger' and ways to keep ourselves safe. We especially value the support from our local communityPSCO Marc and Lindum packaging for the donation of prizes.
Humberside Fire service
Today we had a visit from the Humberside Fire service. They shared important advice about keeping ourselves safe and what to do if there is a fire in our home.
Here are a few things we learnt:
"If your clothes are on Fire then you have to stay calm, stop, drop to the floor and roll about to put the fire out." Daisy Lou
"Remember to unplug your electrical equipment before you go to bed" Charlotte
"Test your smoke detector once a week for example Check it Tuesday" Ollie
"If you discover a fire you need to get out the building as quickly as possible because fire gets big really quickly. Ring 999 and ask for the fire service. You need to say your address. It is helpful to know our Postcode." Lauren
"Don't have phone chargers in your bedroom or on your bed" Emma
If you are trapped in your bedroom stand by your window, open it so you don't breathe in smoke and shout for help. The Fire people will be able to see you and rescue you." Freddie
Sticker Days
At Stanford road safety and healthy choices are important to us. Pupils and community members help make our monthly 'Sticker Days' a real success. Well done to all the families who chose to walk, bike, or scoot to school. We really appreciate the families that choose to park safely either in the Stanford Centre or nearby car parks to ensure congestion at Stanford is reduced. Pupils really enjoy the fresh air in the morning and knowing they can come to school safely. Thank you for your support especially to the Governors, Community Members, Parish Councillors, Connor ( Head Boy,) Abi (Head Girl) and staff who give their time to support this event and help give out the stickers!
Easter at St Margaret's Church
KS1 Easter Service
Well done to all the pupils who took part in the Easter Service today. Thanks to Rev Stevens for visiting school to lead the service. Pupils listened well and were able to explain the story. Pupils were able to consider how spring blossom represents new life and how this links to the Easter story. Pupils sang beautifully and reflected on the importance of the Easter Story with great maturity.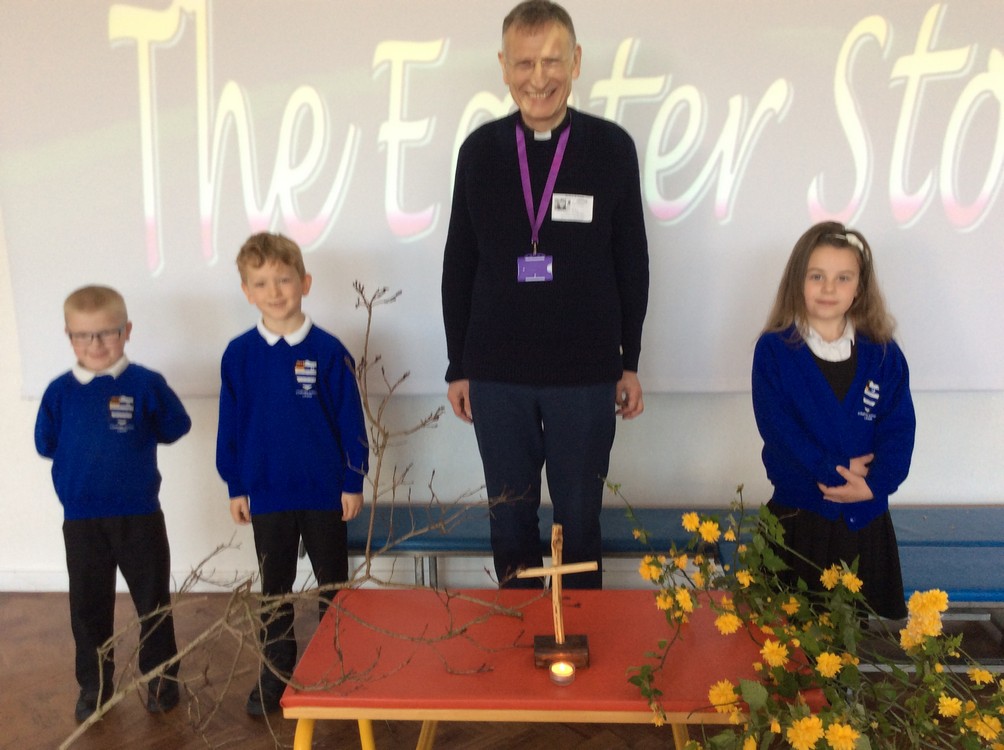 Easter Service
Well done – the Easter Service today at St Margaret's Church was excellent and showed great maturity in the way the pupils told the Easter Story through bible readings, songs and art work. Thanks to Rev Stevens and Mrs Mawer for making us so welcome.
KS1 Disco
Great fun was had by all at the FS and KS 1 Easter Disco – hot dogs, sweets, prizes, dancing, games and an egg to take home!
KS2 Easter Disco
Great fun was had by all – super dance moves, great choice of music, prizes, food and an Easter egg to take home. What a fantastic atmosphere!
Passover
Mrs Cockerill and Mrs Maskell, who help lead the Seekers Club in school, visited to lead an assembly about Passover. The pupils were engaged and listened well to hear all about the symbolism of different foods and objects. This helped pupils develop higher ordering thinking skills and reflected on what is important to them and reasons why.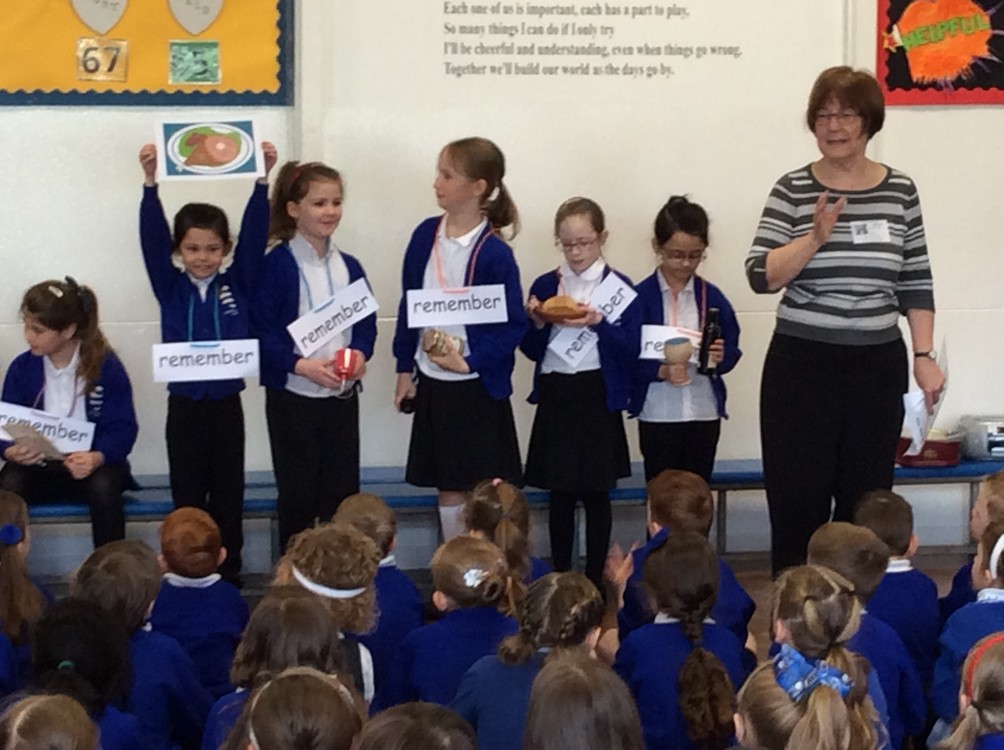 We Care about Our Environment
Litter picking teams give up time during playtimes and lunchtimes to ensure that our school is litter free
This how much litter they collected on one playtime!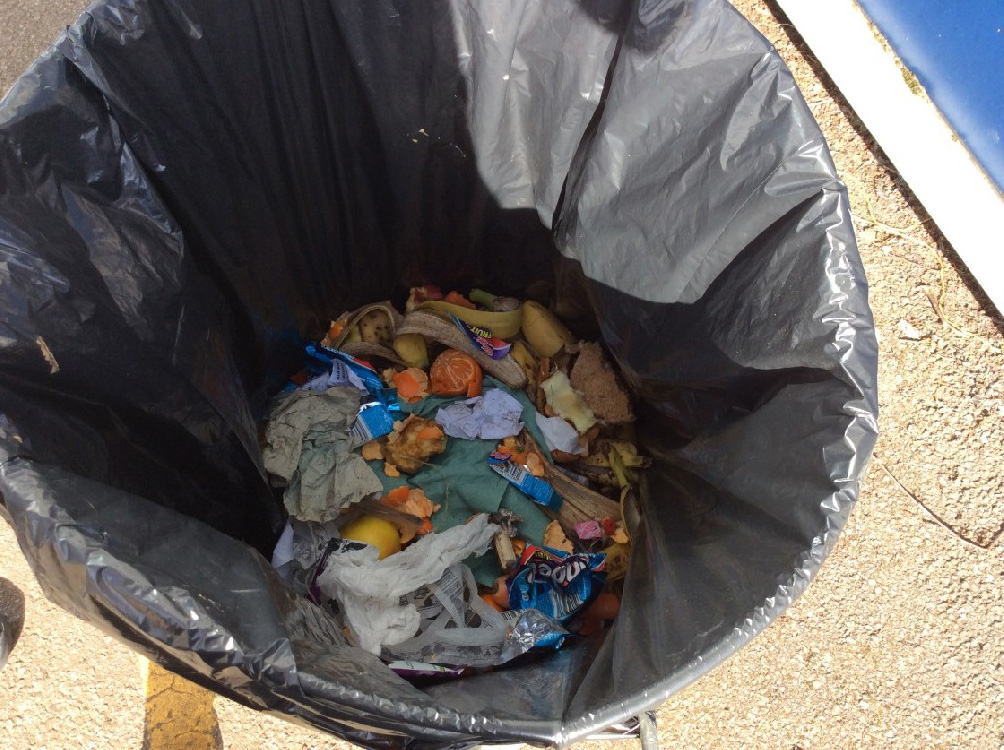 Pre-School Easter Visit
Today, St. Margaret's Pre-school children came to visit us as part of our Easter activities. Seedlings class were extremely helpful towards our younger visitors, sharing and taking turns.
Police Visit
As part of our 'Helping Hands' topic the children in Seedlings class learnt about the role of the Police Officer. PCSO Marc talked about how the police help us and keep us safe. He showed us the different parts of his uniform such as his radio and high-viz jacket. We also looked at the different parts of the police van including the blue flashing light and even sat inside the police van!
Community Feedback
Click on the images below to read feedback from some of our Community Events.
Sunflower Class interviewed their Reading Champion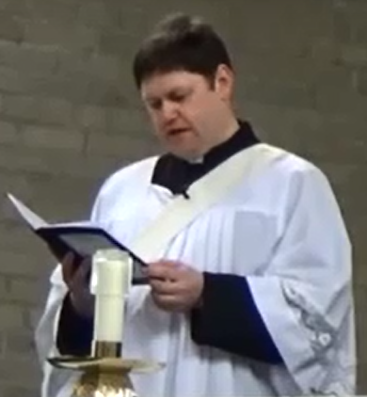 They emailed their questions to Mr. Callan. Mr. Callan is a Secondary School Science Teacher, a Church Minister and a Musician.
When you were five, what stories did you like?
I liked Mr. Men. My favourites were Mr. Bump and Mr. Uppity. Also Mr. Snow, he was nice because he reminded me of Christmas.
What kind of things do you read when you are at school?
I read Science books at school, children's work and information on the internet.
Can you read music notes?
Yes, I can play a church organ. I began learning when I was seven. I also sang in a Cathedral choir.
Do you enjoy reading?
Yes, I like to read the news and know what's going on in the world every day. I have two little nephews and I love to read bedtime stories to them.
Do you get much time to look at books?
Yes, particularly when I'm on holiday and then I have time to relax and enjoy a good book.
How did you learn to read?
I had reading books and I read every night to my parents.
Are you a good reader?
I have to be a good reader to be a teacher. I spend evenings marking school books and reading all the children's work. When I'm in church I have to be able to read tricky words in the Bible.
What do you read when you are in church?
I read the New Testament in the Bible. I read the Gospel's of Matthew, Mark, Luke and John. They tell you all about Jesus and how he helped people.
After School Club
Thank you to the members of the after-school club for donating their lovely baking to raise funds for Red Nose Day. The pupils enjoyed developing their baking skills too and there were lots of happy customers.
Maths Resources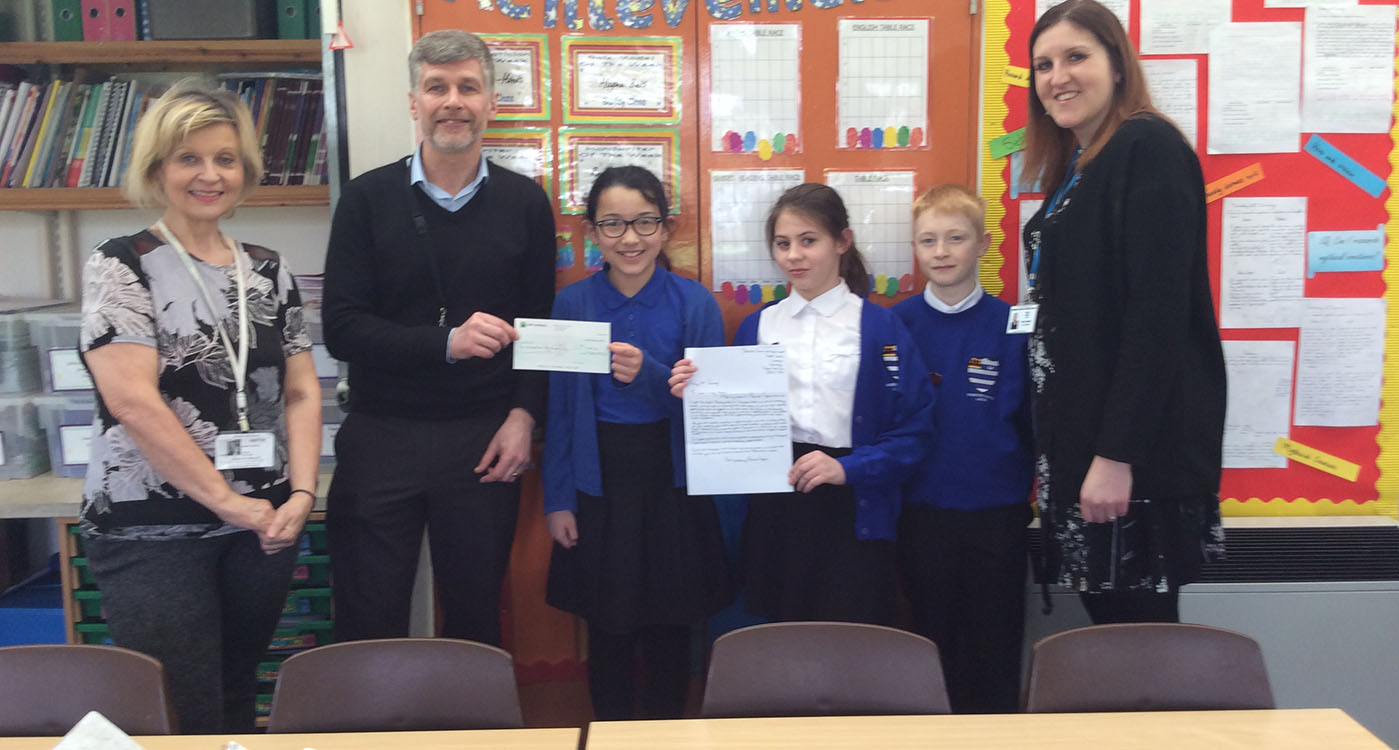 Well done to all the pupils who have helped raise funds for new maths resources. Well done to Reenad - her letter to Cristal really impressed them and they kindly donated £450! Thank you – we really appreciate the community links and support.
Star Anise Assembly
A very well done to all of Star Anise for a wonderful assembly. I am very proud of you all. Great confidence in your reading, with clear loud voices. Also a big thank you to all of those who came to watch, the children love to show case all their hard work.
LQ: Can I learn about eating healthy eating and how to have a balanced diet?
Key Stage 2 pupils had a fantastic afternoon, learning how to have a balanced diet and learning about the key food groups. A 'Ready, Steady, Cook' Interactive Challenge was created with Chartwells. Four pupils worked in two separate teams to create two healthy and nutritious meals... in 15 minutes! It was a great afternoon with critiques from our audience members and tasters as well!
Lovely Leaves
Our finished leaves have finally arrived in school. Each of them is absolutely unique, just like us!
We were delighted with our leaves and we will treasure them forever.
Poppy class would like to thank Zoe from Firefly Ceramics for all of her hard work.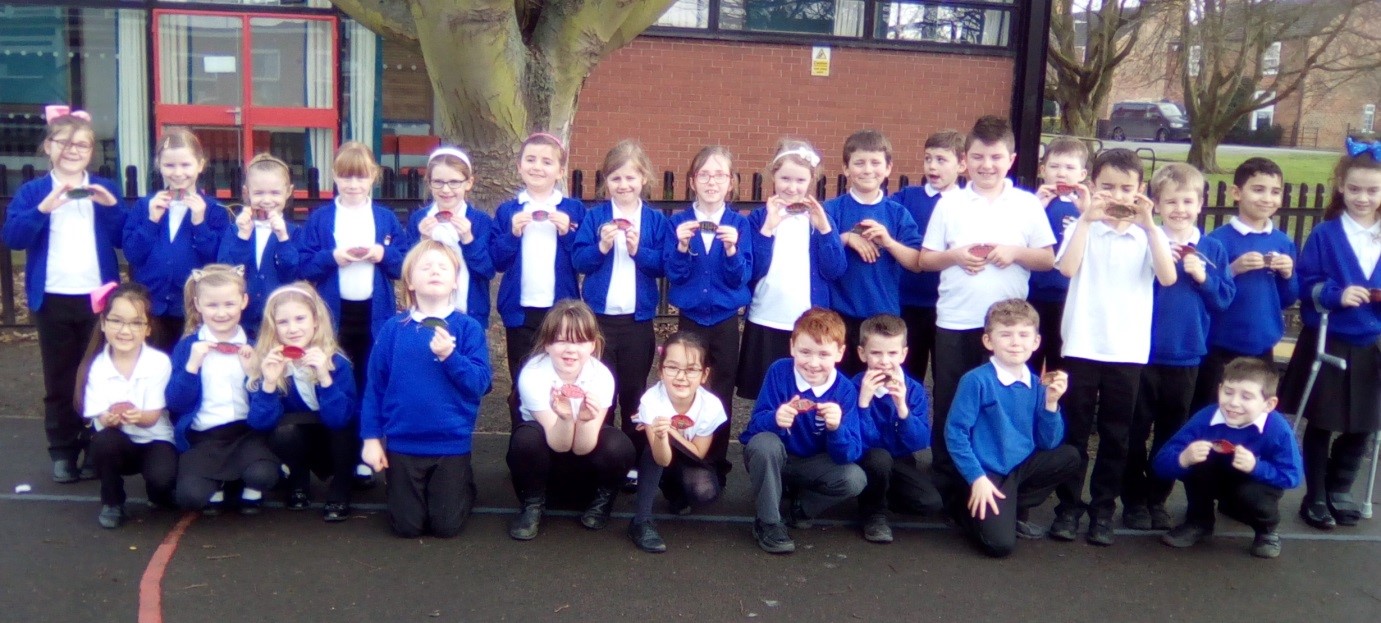 Harry Potter Evening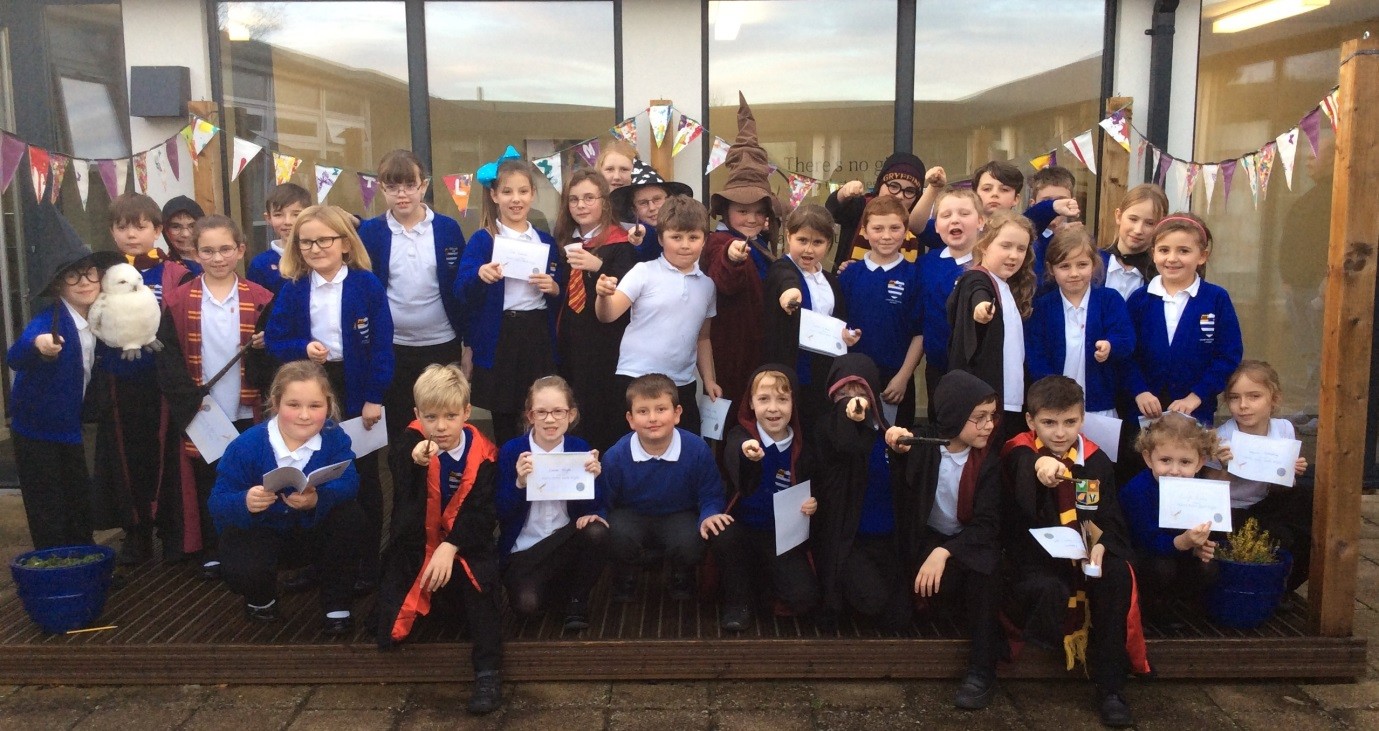 The sorting hat started the fun.
Reading by candlelight was quite magical.
PE Fun for Poppy Class
We invited some PE specialists into school. It looks like Poppy Class is listening very carefully.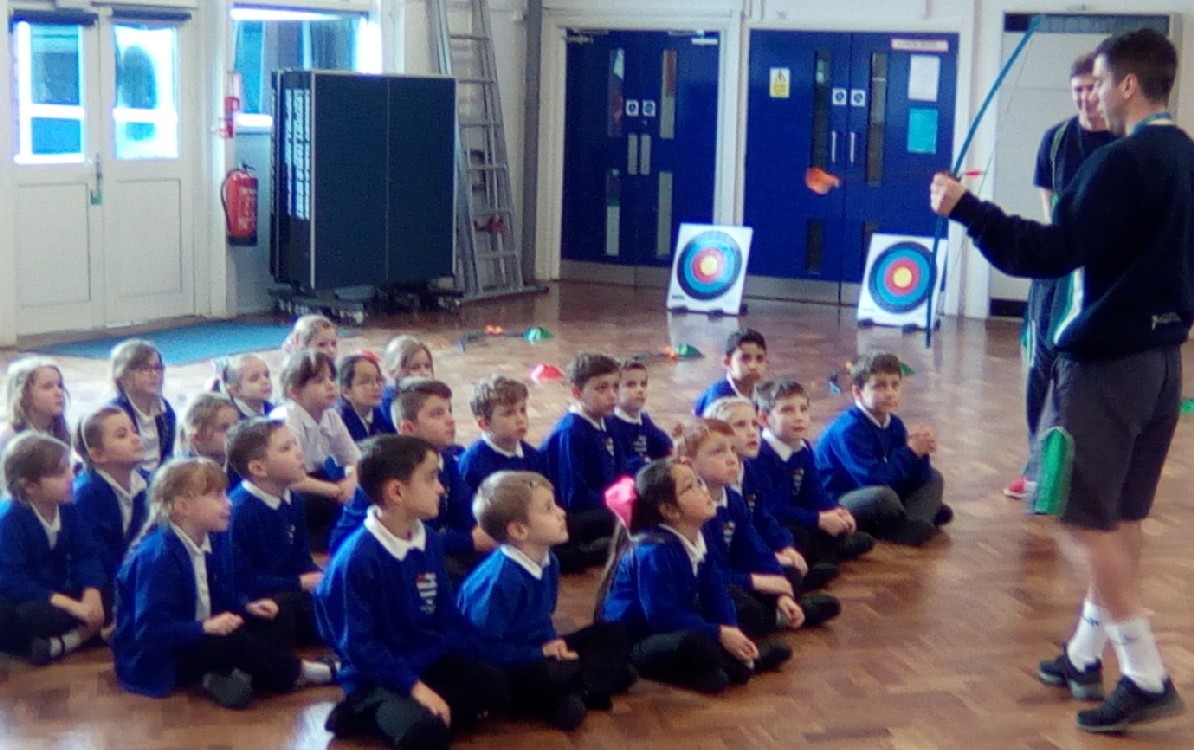 Archery was a brand new experience for many of us.
Fencing Fun
Sticker Day Campaign
Stanford takes road safety very seriously. Pupils, Parish Councillors, Governors, staff and parents support our Sticker Day' campaign. Pupils are encouraged to make healthy choices to walk, ride a bike or scoot to school every day. This help develop a healthier life style and also helps reduce traffic congestion in and around school. Pupils receive a sticker in recognition of their support. Today 207/234 pupils chose to support the event – our highest number yet! A big thank you to all involved.
Safer Internet Day
Mr Nicholls from Halifax led safer internet use workshops for Year 5 and 6 pupil on Safer Internet Day.
Morrisons
Thanks to Morrisons for inviting us to tour the store, enjoy the pizzas and learn how to use the tills! We really enjoyed developing our life skills.
Daffodils
We are so proud of our positive community links. Thank you to Laceby in Bloom for donating the daffodil bulbs and to Mr Lester for leading the lunchtime gardening club. We are looking forward to seeing the daffodils grow.
Animal Encounters
Today on the 9th of February Year 4's from Star Anise and Juniper class had an exotic animal visit from Tony Butler and his many unusual animals, including a polecat and a Komodo dragon. This was to help us understand and classify animal groups which we have been learning about in Science. "Living Things and their Habitats".
Millipede
Valentine's crafts
A Valentine's craft session after school brought children together of all ages to learn new skills and produce beautiful craft items. Many thanks to all the staff for their help and to Mrs. Drury for all her wonderful craft ideas and hard work!
Megan (age 8)- It's really good and it helped people to improve their sewing.
Betsie (age 6)- It's nice sewing.
Olivia (age 5)- I like doing lots of crafts.
Katie (age 6)- The love heart making was tricky.
Emma (age 7)- I made a Valentine's box. The cutting was hard, but the decorating was easy.
Ruby (age 9)- I was pleased with my card. I liked making the hanging heart.
Sam (age 6)- I enjoyed being with other people and having a drink and a biscuit.
Lorry Safety
Today the 8th of February we had a visit from Hargreaves Industrial Services who distribute bio fuel. They came to inform us about Road Safety concerning their huge lorries.
Scarlett:- The lorries have many blind spots, which means they can't see small children at the side and at the front.
George:- When I sat in the lorry it was very difficult to see any of my class mates. I could only see in the distance.
James:-Inside there is a camera to help with reversing.
Mrs Amos made us all jump beeping the horn!!!!!
RSPB BIRDWATCH 2017 - Stanford Nature Area
On Monday 30th January, 4 children from each class were chosen to represent Stanford School to record valuable data for this year's RSPB Big Birdwatch. We were lucky enough to have mild weather with reasonably clear skies. We were wrapped up very warmly for the hour of observation. The birds were very 'chirpy' and we were able to locate and identify them through their bird calls.
Children worked in pairs to complete the counting sheet. Each pair had a pair of binoculars, a recording chart, a bird identification sheet & a comfy cushion! After half an hour Miss Lucas came round with Birdwatcher Biscuits for sustenance. The children were all very enthusiastic and observant, they were openly grateful for the opportunity to be part of this experience
Community Volunteers 1 February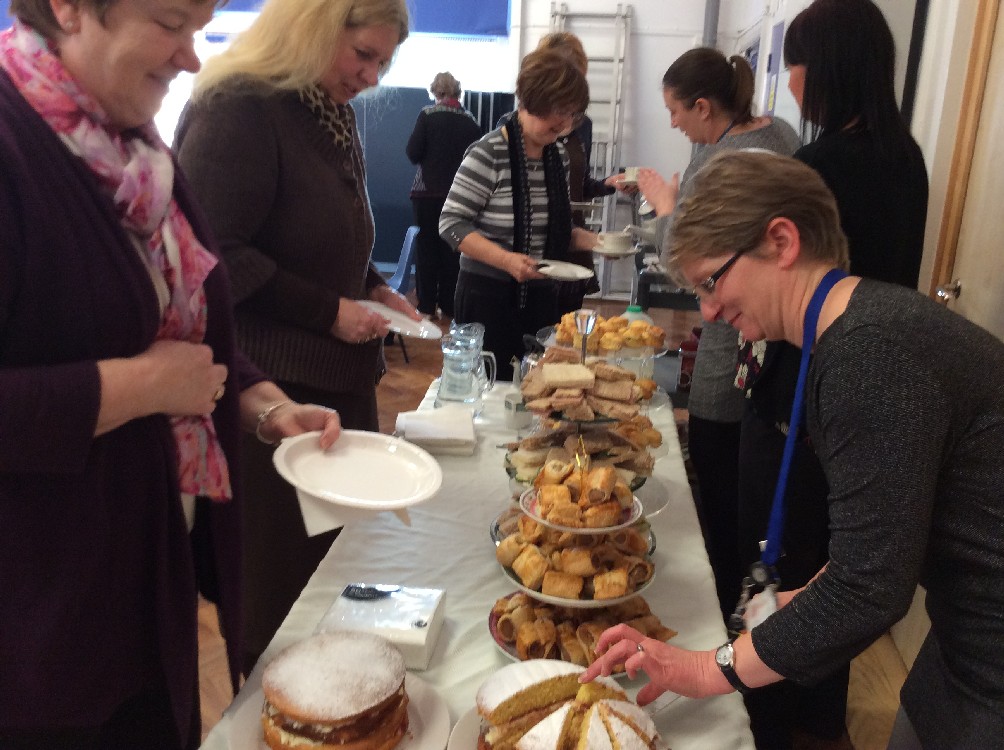 Stanford appreciate all the support they receive from community volunteers. We organised a 'Thank you High-Tea' and were delighted that so many parent and grandparent helpers, Governors, agencies, Stanford Trust, St Margaret's Church and PTFA members could attend.
Each class presented a poem, song or dance and pupils made mini-scones, finger sandwiches and cakes for the guests. We had a lovely afternoon.
One guest commented, 'I so enjoyed the afternoon. The children obviously enjoy their learning at Stanford. So many aspects of life skills, such as helping each other were seen etc along with the inspiring staff. Thank you for the varied entertainment and lovely tea.
Owl Day
Today, our school field has some special visitors -
Julie and Mark from Lincoln Owl Rescue. They have brought with them an European Eagle Owl, Tawny Owl , Barn Owl, North American Screech & Australian Boobook for the pupils to see and learn about.
"I liked Jesse the Eagle owl the best because of his massive orange eyes." Owyn
"I loved seeing Sunbeam the tawny owl. His feathers looked so soft." Archie
Virginia McLean 17 January
Visiting author Virginia McLean shared her book 'Journey to the Beginning of the World' with Mustard and Barley. The pupils developed their deeper thinking skills and posed thoughtful philosophical questions. Many thanks to Virginia for visiting our school. Many pupils enjoyed receiving signed copies!
Energy Heroes 13 Janaury
Rob and Kate came to talk to us in our school 'Energy Heroes' assembly about taking care of our world and using less electricity.
KS2 Carol Concert
The KS2 carol concert was amazing. Mustard Class thoroughly enjoyed singing, dancing and bell ringing to Jingle Bell Rock. Well done, Mustard Class!
KS2 Christmas at St Margaret's Church
We were lucky enough to hold our Christmas service at our local church.
All of the children gathered together and were supported by parents and the local community to celebrate Christmas.
Poppy Class Year 3 children performed the Christmas Alphabet with Makaton signs.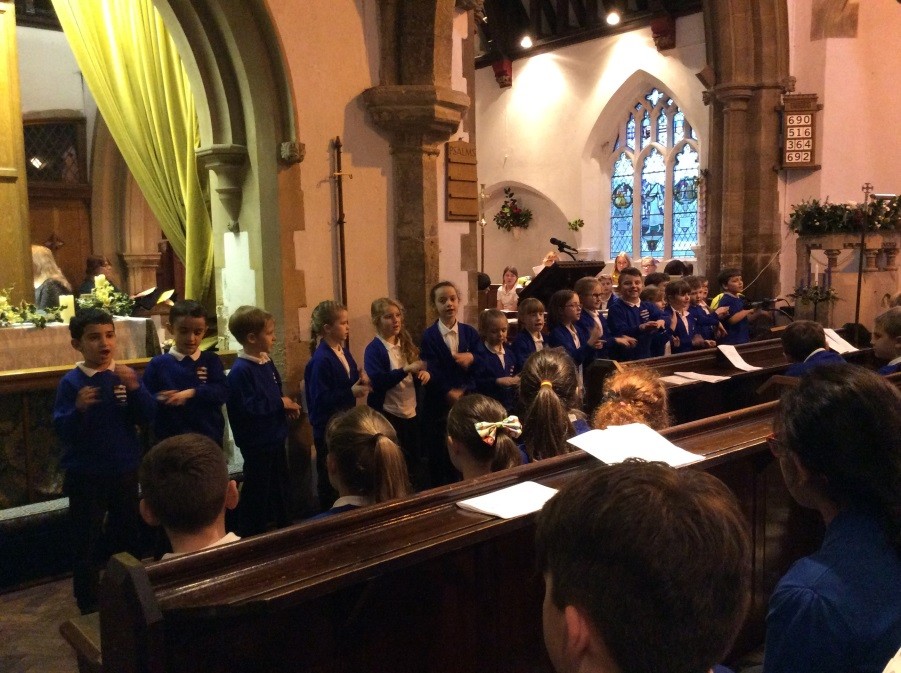 Merry Christmas everyone.
Enterprise Craft Sale
In Seedlings Class we have been overwhelmed by the support from family and friends who came to our Christmas craft sale following our Nativity. Children made a wreath decoration, Christmas tree photo frame and sewed a felt bell.
'Christmas Counts' Nativity
The children from Seedlings class performed their nativity 'Christmas Counts' with great success. Wonderful speaking, singing, dancing and actions. Thank you to parents, Governors, helpers and residents from Cloverdale who came to watch our show. What an amazing performance, enjoyed by everyone!
Christmas Songs
Sunflower class entertained their parents and community members at Laceby Library with some great Christmas singing. Many thanks to everyone who came along and joined in with the singing. Thank you to Mrs. Wink for organising it.
Christmas Fayre
We all enjoyed the PTFA Christmas fayre – lots of planning, designing, making and selling took place – great enterprise skills and fabulous festive fun!
Advent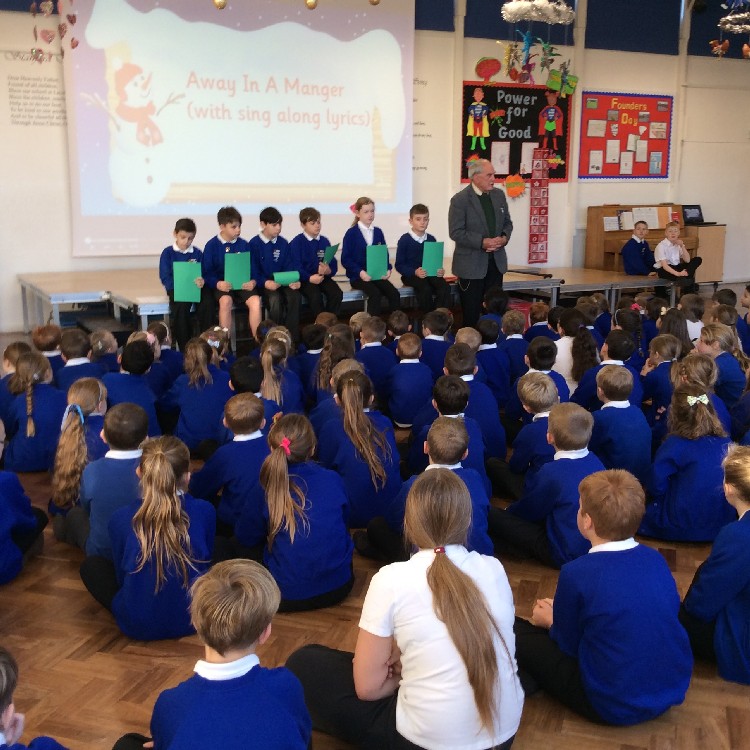 Many thanks to Mr Read for leading the Advent Assembly in school – the pupils listened very well to the important message.
Road Safety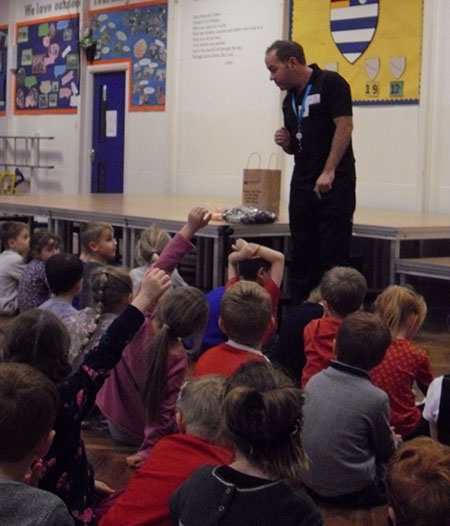 Mr Cullum from NEL Road Safety Dept kick started our 'Road Safety Week' at a special assembly attended by community members , councillors and governors. We ensure road safety is an important part of the curriculum as Stanford. Mr Cullum was very impressed with the work we do and the excellent listening skills and knowledge the pupils showed.
Our Poppy Art Work
The class representatives displayed the school's poppy art work at The Knoll, Cleethorpes as part of the Armed Forces Events locally. Remembrance Day is a thought provoking time and the pupils have shown great reflection and maturity.
 A reward trip to meet Oreo and Friends at Cloverdales
A super-scary Halloween disco was fiendishly fun
Roald Dahl Evening KS2
We celebrated Roald Dahl's 100th birthday with a gloriumptious evening of hopscotchy fun and frolics.
The BFG
Painting Giant Feet
I wonder if they will be seen around school?
Making Dream Jars
Making BFG Ears
Food for Giants
James and the Giant Peach
Charlie and the Chocolate Factory
Making and Eating Wonka Bars
Lickable Wallpaper
The Twits
Oh No! Bird Pie!
Goerge's Marvellous Medicine
Some people even found time to enjoy a good book.
A fantabulous evening was had by all.
Are you inspired to read a Roald Dahl book?
MacMillan Coffee Morning
For the Macmillan Coffee morning, Sunflower Class sang their favourite songs to their parents, friends and community members. It was the first time they had performed their very own class song which had been written by Mrs. Brady.
She said: 'The children love having their own special Sunflower song. They enjoy singing together and have been really looking forward to this event.'
The children sang 'How Do You Feel Today?' and 'Heads, Shoulders, Knees and Toes.'
It was great to see the audience joining in with the actions too! Many thanks to Mrs. Wink and all the helpers at the Stanford Centre.
PGL 2016 September
PGL: This afternoon has been a glorious afternoon....
Kayaking on the lake!! Everyone really enjoying themselves!!!
PGL: Another fab morning at Caythorpe Court....
We all enjoyed the problem solving games and giant swing!!!
Day 2 of PGL....
we are doing Giant Swing and Problem solving and crawling through tunnels!!!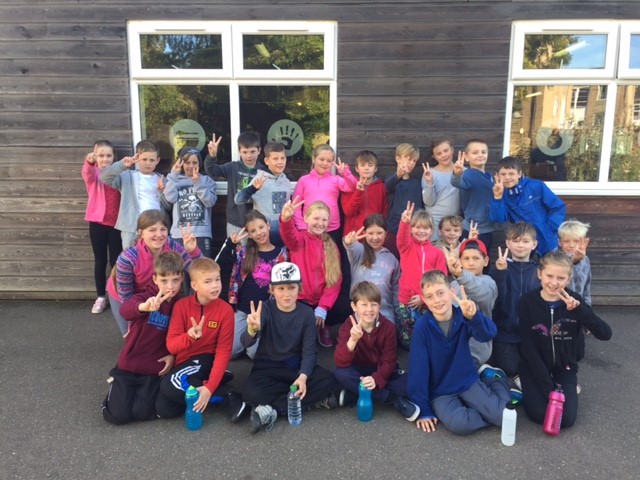 Day 1
Phonics Reward Outing
As a reward for all their hard work in phonics this year, the children enjoyed a fun morning at the park. They also visited Kajithra's shop and bought an ice lolly. The children handled their coins confidently and it was good see them counting in 5s and 10s. Mrs Brady would like to thank Kajithra's parents for all the lovely lollies, the staff and parents for helping out and all the children for their excellent behaviour!
Olivia- 'I liked playing in the park.' Alfie- 'I spent 30p and bought a whistle ice lolly. I loved it!' Tilly T- 'I liked going to the park and spinning around on the round-a-bout.' Cole- 'We got lots of exercise.' Ryan- 'I could hang upside down.'