Community and Enterprise
Introducing Stanford's Community Pantry - A Place of Support and Sharing! 🛒❤️
We are thrilled to introduce and open our Community Pantry.
🛍️ What is the Stanford Community Pantry, you might wonder? It's a pantry filled with care, generosity, and essential items right here in our school. Whether you want to contribute or need a helping hand, this is the space to connect.
🤗 How it Works:
Give: Have some extra baby supplies, snacks, or essentials? Share them in our pantry for fellow parents. Let's create a nurturing environment together!
Take What You Need: If you find yourself running low on supplies or facing a challenging day, visit the pantry to pick up some essentials. We're here to support each other without judgment.
🕐 Location & Access:
Our Stanford Community Pantry is conveniently located in the Reception main office. It's accessible 9:00am - 4:300pm, making it easy for you to use when it suits your schedule.
🤩 Join us in building a fantastic support system! Share your surplus or receive assistance when you require it. Let's strengthen our parent community, one act of kindness at a time. 💪
Thank you for being part of our extraordinary parent community. Together, we can make life a little easier and more joyful for all our families. 💞👨‍👩‍👦‍👦 #ParentingTogether #SupportingParents #SharingIsCaring
Pumpkins bake for tuck shop for well-being Wednesday!
Pumpkin class have made some delicious oat-meal and raisin cookies for tuck shop this week for our well-being Wednesday. Children weighed out the ingredients and then added all the ingredients together to bake. Although Miss Purshouse nearly forgot the cinnamon, oops! We can't wait to sample these in our tuck shop on Friday selling for 50p.
Metal Flowers Project
Today Pumpkin class were the first class to start the metal flowers project with VANEL. Year 3 created designs linking to their class artist Maud Purdy. They then painted these designs onto the metal flowers using key terms such as strokes, light, dark, pattern, layering. We were then joined by year 2 who came to have a look at how we were getting on and looking at the different designs we had created!
"I had lots of fun painting"
"I think they looked really pretty once they were finished"
"I liked mixing different colours to get the colour I wanted"
"I can't wait to see all the flowers when they are up!"
Bollywood Dancing
Pumpkin class worked with Sunita this afternoon to do some Bollywood dancing as part of our Hindu experience work. Children wore suitable attire to dance in and Sunita showed us lots of different dance moves to try.
"It was so fun!"
"I really liked trying all the different dance moves"
"I got 2 team points for my dancing"
"It was funny that Miss Purshouse was the Queen"
"I hope we get to go that again"
Topcon Competition Winners
A huge well done to these year 6 pupils on winning the poster competition Topcon set!!
Pupils had to design safety posters to be placed on our building site to remind people to stay safe… Zoe from Topcon came and presented prizes to the winning designs- how amazing do they look!
These will now be displayed around school site and then used for future building sites- well done!! 🌟
Inspirational talk
Mr Bray, Governor at School came in today to talk to Year 6 pupils about his career progression and job role at Orsted. Mr Bray gave an inspirational talk about the wide range of job roles within the sector. Pupils gained an insight into this industry and impressed them with the vast size and location of wind farms. Year 6 pupils asked inquisitive questions to further expand their knowledge and encourage them to think about their aspirations and careers for the future! Thank you Mr Bray!!
" I really enjoyed the talk from Mr Bray, I would like to be an engineer when I am older"
" It was great to learn about the companies within our area!"
" I didn't realise how many opportunities there was in the Orsted company"
MacMillan
A BIG thank you to everyone who came and supported our Macmillan coffee morning. We hope you enjoyed it as much as the children did. We raised a fantastic £370.63.
"It's great to come and see the children at school and donate to a fantastic charity"
"The children clearly worked very hard, well done to all involved."
"We loved it, thank you so much!"
"Lovely get together and nice to see the children showcasing their learning!
"We had a lovely time today thank you so much for this event"
Again, big thank you to everyone who donated!
Harvest Festival
The Harvest Festival was an amazing event. Each of the classes prepared something to share - pieces of art, letters, poems and songs. It was lovely seeing the Foundation children join us to share their song. Rev Chris came to talk to us about harvest and spoke about how it is important to share and care for each other, qualities which we treasure within our school.
Gardening Club: Choosing Plants
Today our gardening club have been to Grimsby Garden Centre. The reason behind the visit was to purchase some herbs and plants for new our sensory walk way we are creating in our nature area. A big thank you to Grimsby Garden Centre for all their help, and our school helpers for supporting with the visit.
A Super Reading Breakfast
The Year 2 children enjoyed sharing books and delicious food with their family, friends and community members. It was great to see everyone enjoying reading together!
P- My mum got to read with me and she had a smile through the whole entire thing!
C- I really enjoyed eating the fruit and talking to my friends about books.
F- My mum and dad both came. We all read together!
C- It was the best day ever! W- I loved reading to my mum.
R- It was a lovely morning. I enjoyed reading two books and loved eating my breakfast!
O- I liked reading with Grandma and eating lots of yummy food!
R- I really enjoyed my mummy coming into my school to read with me.
Parents and Carers Feedback:
*It was great for parents to get involved.
*A lovely morning, thank you. Lovely food, welcoming atmosphere, so nice to see all the children back to school and happy.
*Thank you very much. I have enjoyed my morning reading books to my little boy and meeting his new teachers.
*Absolutely lovely event! Excellent range of books and refreshments.
*It was a nice experience to sit down with my child in his school environment.
*We thoroughly enjoyed today's reading breakfast. It's lovely to see other pupils and parents, along with hearing our own children read.
Community Litter pick 🗑️
A huge thank you to all our volunteers, community members, staff, parents and pupils for coming along to our litter pick on Saturday morning! The community links are important to us and ensuring we keep our village clean and safe!
We are illustrators!
The Year 2 children have really enjoyed their visits to Laceby Library this term.
Mrs. Wink has inspired everyone to enjoy reading a wide range of books.
Mrs. Wink asked the children for lots of ideas for an adventure story that she wanted to write for them. The children thought of lots of weird and wonderful ideas, such as a castle with a forest and beach, animals and monsters enjoying a sports day with Pokemon spectators and unusual food being eaten like ladybird sandwiches. The children came up with lots and lots of ideas.
Today, Mrs. Wink wowed them with her amazing story. She had included all of their ideas! The children loved listening to her read it and then were inspired to draw illustrations for her story. They decided on the title of the story: 'The Wonderful Outside: The Best Summer Holiday Ever!'
Thank you so much Mrs. Wink. We have really enjoyed working with your this term!
Our Building Project
Our exciting building work is well underway at School! The new 650k building project has commenced! Please be aware there may be more traffic around (builders/deliveries) and we appreciate your understanding with this.
We had an assembly on the safety in school when building work is taking place and we created posters in class on this… we cannot wait to see the transformation!!!
Year 5 Transition Talk
Year 5 pupils had a visit from John Whitgift this morning who came and spoke with them about secondary school. John Whitgift Academy have an open evening on Tuesday 20th June, 4-6pm
Cookery Club at Cloverdale Care Home
We had a great afternoon with people from Cloverdale Care Home, Governors and parents to celebrate Dementia week. The children from the Cookery Club made some marvellous cakes, sausage rolls, and healthy flans for this special occasion. One of the residences said she enjoyed the singing as it reminded her of when she was a Sunday school teacher. Well done year 2's for your fabulous entertainment.
Founders Day
Foundation Stage
Foundation stage really enjoyed learning about their first Founder's Day at Stanford School. We looked at lots of photographs - some that Mrs Brumfield and Mrs Brady had found, as well as some old class photos from Mrs Groves. We found it really interesting to see how much the school and the people had changed. We learned most of the words to the school song and made some birthday cards for the school as well. One of the most fun activities though was making a huge birthday cake, which you can see in our photos!
Birthday Cards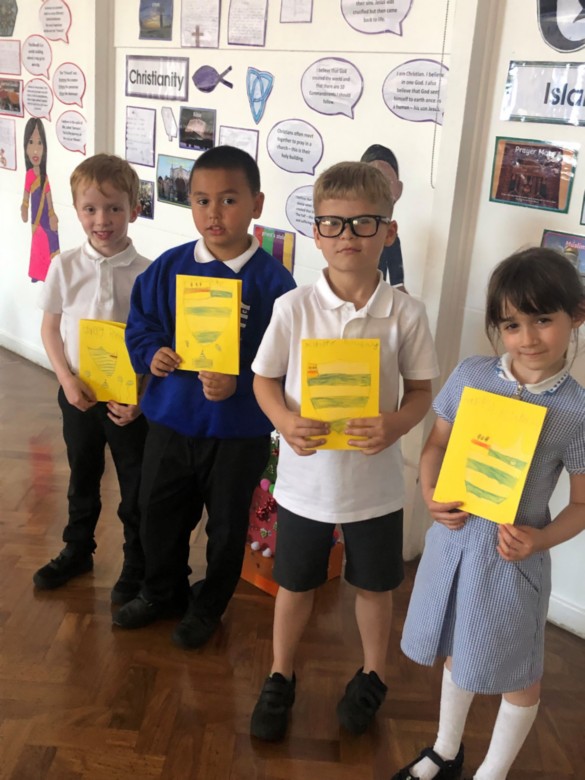 For Founders Day Year 1 have created their own birthday cards for our school. We drew the school badge on the front and wrote a message inside. We showed our work in a special Founders Day assembly.
Year 6 Founders' Day Service 2023
Year 6 celebrated Founders' day with a wonderful service at St Margaret's Church! Pupils reflected on their time at Stanford and presented our Stanford identity: creativity, community, care, curriculum and challenge! Lead by our Head pupils and Rev Chris, they performed these pieces, along with the wonderful Brighter days song to Governors, community members and the Stanford Trust! Well done year 6- a wonderful celebration!
Reading Breakfast
This morning Year 1 invited parents and carers into school for a reading breakfast. We took lots of bean bags outside for the children and adults to relax and share a book together. We hope you enjoyed your morning with us.
Absolutely lovely time! Juice and brioche were perfect.
Really enjoyed my morning with the children.
I love attending these mornings. It is nice to be able to take some extra time to read.
A lovely way to show us how the children are getting on in school and the children love us coming in, really good!
Lovely set up and the staff were really friendly, enjoyed by all.
A Fond Farewell
We all said a huge 'Thank You' to Mrs. Val Brumfield in a special assembly today as she retires from the school's governing body. Mrs. Brumfield (a former pupil and teacher of the school) has volunteered and supported the school in many many ways over the years:including governor, chair of governors and as a volunteer.
We all thanked her with special gifts, and cards made by all the children.
Thank you once again Mrs. Brumfield!
Teddy Bear Picnic
This week, foundation stage were invited to bring in their favourite cuddly toy for a special event - a reading picnic! Children in foundation stage carefully made a healthy sandwich for their parents/carers, in the morning. In the afternoon, we invited in our grown-ups and shared some of our favourite books. We really enjoyed seeing so many faces and sharing a love of reading.
Year 6 celebrations 🥳
To celebrate the end of SATs , Year 6 pupils celebrated with a movie and popcorn! In the afternoon we had a visit from Harrison's Ices and enjoyed an ice cream outside. We also played rounders too!! To make this an even more memorable event, we had to rescue the ice cream van as it got stuck!! According to the Year 6 pupils… it's been the best day ever!! 😃🥳
Walk to School Week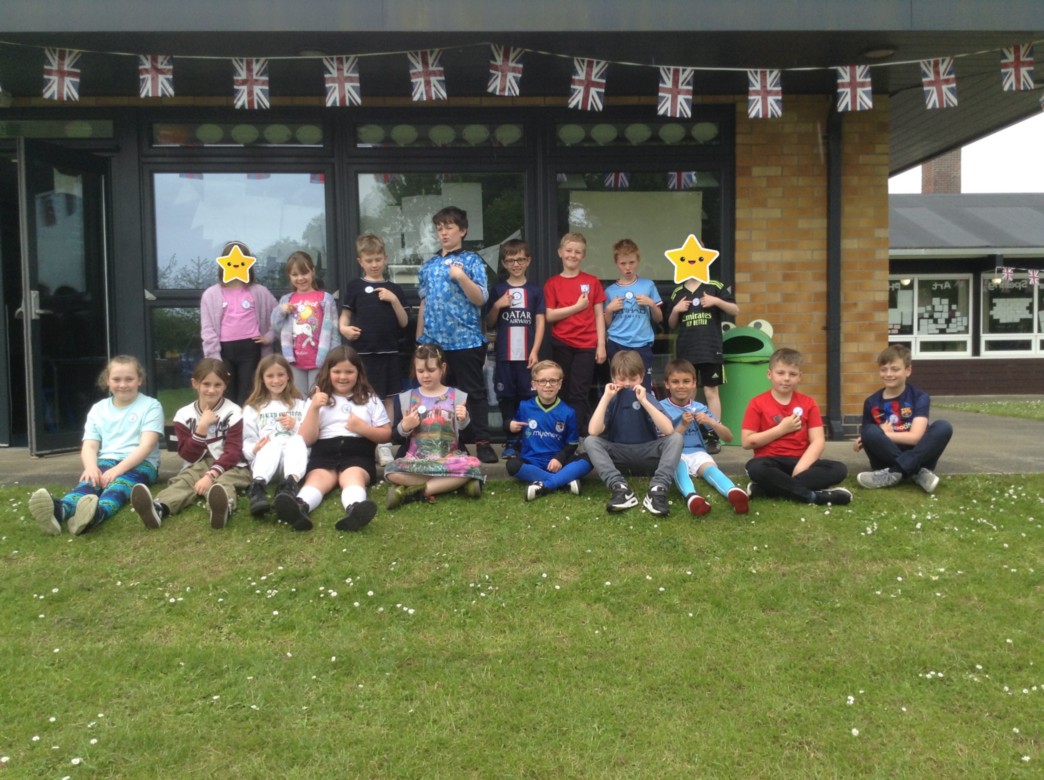 Thank you for supporting us with our walk to school week yet again. Our aim this year was to try to keep Cooper Lane free from school traffic, on Wednesday in particular. We also wanted to promote the benefits of walking to school for our physical and mental health. The Travel Plan Group - made up of pupils, governors and staff - prepared designs for some stickers that were shared with everyone who participated. We had a great push this year, with some classes having as many as 100% of pupils being able to walk to school on Wednesday! Thank you for supporting us with this important initiative.
Music Therapy
The children had lots of fun at Music Therapy tonight. There were different stations to visit to see what area they enjoyed the most. Lots of progress has been since they started! Mrs Smith even came to have a look what we were doing.
Year 3 & 4 Easter Service
The children in years 3 and 4 were fortunate to be invited to take part in an Easter celebration at St Margaret's church. The service included readings about the Easter story and traditional hymns. The children enjoyed sharing their learning about the Easter story including pieces of artwork about the Last Supper, the garden of Gethsemane and the resurrection of Jesus.
Reverend Mark shared his thoughts on Lent linked with some Easter magic which amazed the children. After the service the children enjoyed a drink and a biscuit before returning to school. As ever, we would like to thank St Margaret's church for being a part of our school's community and we hope you enjoyed the Easter card and artwork that we left you. The children were amazing, their singing was inspiring and they were a real credit to the school. We are so proud of them.
Healthy Eating Workshop
A wonderful workshop took place Thursday afternoon for parents and their child. Working with Mrs Jones, our Learning Mentor, they explored healthy eating and made a fantastic fruit crumble. They used many life skills which included weighing, peeling, slicing and the rubbing method for the crumble to go on top. Everyone was given a recipe to follow and had an enjoyable afternoon!
' Lovely event, great atmosphere, very relaxed and friendly. An excellent opportunity to take part with my child in a small group!'
' What a wonderful experience. Mrs Jones has done a sterling job. Really lovely to be asked to be [art of my child's school lessons- Thank you!'
' We really enjoyed the cooking- it was lots of fun!'
Friendship Disco
Foundation Stage and Key Stage One children had great fun at their end of term disco.
E- It was good to meet new friends from the other classes.
R- I danced with lots of different people.
T- I enjoyed all the snacks and a drink!
L- The music was awesome.
Learning Share
Pumpkin Class invited family members to school to show them examples of their wonderful work all about penguins.
S- We dressed up as penguins again and had lots of fun doing a penguin song and dance.
G- I liked showing my penguin painting and the cardboard 3D penguin I made.
F- We had photos on the board showing our parents our computer pictures of penguins.
E- I felt very proud of myself when I read out my own penguin poem.
R- I enjoyed reading the Mr. Penguin poem with my group.
J- We told the parents lots of different facts about penguins- I hope they learnt something new.
V- My mum and some of the other adults got up and joined in with our penguin dance- that was funny.
Parent/Carer- It was a fun way to spend a Thursday morning.
Parent/Carer- Well done Pumpkin Class, you have all been working hard.
Parent/Carer- Great fun! Thank you for inviting me.
Music Therapy
Music Therapy sessions started today with Freestyle Academy, the children really enjoyed the session and can't wait for the next one. The drums seemed a big hit, we may have some budding musicians amongst us!
Class Visit from 'The Ark – Animal Rescue & Retirement Home'
One of our Venturist groups based their project on animal welfare so the Venturist organisers arranged a visit from 'The Ark'. It was really interesting learning about the different animals that they currently have in their care and the wonderful work that they do.
Year 5 and 6 Christmas Carol Service 🌲
A magical evening for our Carol service with our year 5 and 6 pupils! Wonderful singing and performances celebrating Christmas and Peace. Thank you to all for joining us in our Carol singing- we wish you a very Merry Christmas!
Christianity: The Start of Advent
We had an exciting assembly led by our special visitor Mrs. Cockerill. She told the children all about Advent being the time leading up to Christmas Day. The word Advent means 'coming' and the children learnt that it is a time of preparation for Christians to celebrate the birth of Jesus. Mrs. Cockerill made the assembly very interesting and enjoyable with her props, dressing up and whole school singing.
Pennells Garden Centre
A huge thank you to Pennells Garden Centre for donating some wonderful plants for the Christmas Fayre
Polytunnel
Thank you to the Governor and volunteer who helped improve our polytunnel at school.
They have helped plant winter veg - the pupils are excited about watching the cauliflowers, cabbage and cos lettuce grow and using the produce in their cooking!
Preparation for our Christmas Fayre – Plant stall
A group of our Learners made planters in preparation for our Christmas Fayre.  The plants were kindly donated by Pennells Garden Centre. 
Caistor Lions Victorian Craft Market
Year 2 and 3 children enjoyed performing together on the stage at Caistor Town Hall on Sunday 20th November. They performed a wide repertoire of Christmas songs for their parents, family members, friends and community members. It was lovely to see their excited faces and hear their beautiful singing. They certainly brought lots of Christmas cheer to all! Well done to everyone who took part.
A- I enjoyed singing on a big stage. It was exciting when the curtains opened.
V- We had lots of fun and even played some jingle bells.
E- My mum said she'd really enjoyed it and she said well done to everyone.
H- I liked all the catchy tunes, like Jingle Bell Rock. S- We all looked nice in our Christmas clothes.
J- The audience all clapped and cheered. I think they loved it.
S- I think the people were surprised when we finished with a sign language song.
G- I would like to go back and sing again next year!
Year 3 & 4 local fieldtrip
Following on from Remembrance day we decided to go and look at the cenotaph and reflect on the people of Laceby who died in the line of duty.
First we looked at Laceby using ordnance survey and aerial maps then the children plotted the best route to get there.
To ensure road safety we word hi-viz jackets and ensured that we walked safely and carefully through the village.
When we arrived at the cenotaph the children were interested to read the names of the people who had died for their country. We had a minutes silence & reflection then the Year 3 children laid a wreath they had made and the Year 4 children recited poems they had written.
ROAR 8billion Idea winners 🥇

1st place- 2022 Stanford Girls- School Helpout Vending machine for pupils and stationary
2nd place: CFL- An alphabet board to support pupils in their learning
3rd place: Bee Hives- Creating Hives for the homes
Our winners will now be entered into the grand final on National Award Day on 7th December via Teams!
Year 6 ROAR 8billion idea Presentations
Wow! Our amazing Year 6 pupils have been entrepreneurs during this project, creating an innovative idea that could be life changing in the world!
Over the past 8 weeks, pupils have worked as a team to create an idea, design a logo and jingle and then create a prototype of their product! The final part was creating a presentation of their idea and presenting it to our judging panel!
Our judging panel were amazed by their ideas, presentation skills and teamwork 'so much thought and effort has been put into their ideas' ' it was so hard to select a winner!'
Well done Year 6, Mrs Smith and Miss Chilvers are so proud! One winner has been selected and will be entered into the grand final!! See the next post of our top 3 winners ⭐️
Road Safety Week
Foundation and KS1
KS1 and Foundation children enjoyed a very informative assembly all about road safety led by Humberside Fire and Rescue Service.
L- We need to stop, look and listen.
P- Grown ups should not walk and text or look at their phones.
J- If you have ear phones you won't hear the cars.
E- Listen to your adult and hold their hand.
H- I think it's safer to use a crossing when you cross the road.
N- Pedestrian's need to wear something bright at night.
A- I always wear a helmet when I am on my bike.
S- The lady dropped an egg with a helmet on and it didn't crack. The helmet protected it.
O- You should always wear a seatbelt in a car, like the smart family. Seatbelts keep you safe.
KS2
Humberside Fire and Rescue Service came into school to talk to the children about how to be safe on the roads, especially through using seat belts in cars and wearing helmets when riding our bikes. Something as simple as this can save lives and it's so easy to do.
Knife Crime
On Monday, in Year 6, PSCO Rob Dove came to talk to us about knife crime. We learnt dangers and consequences of carrying sharp objects, what to do if we feel we are in danger, and ways to stay safe when we are out without an adult. A very important and interesting session. Thank you!
Shoebox Appeal
A huge thank you to our Year 6 pupils for organising the Shoebox appeal and a huge thank you to our parents/ carers and community members for supporting this worthwhile cause! We had 17 boxes made up to send- amazing!!
A big thank you to everyone who donated towards our MacMillian coffee morning!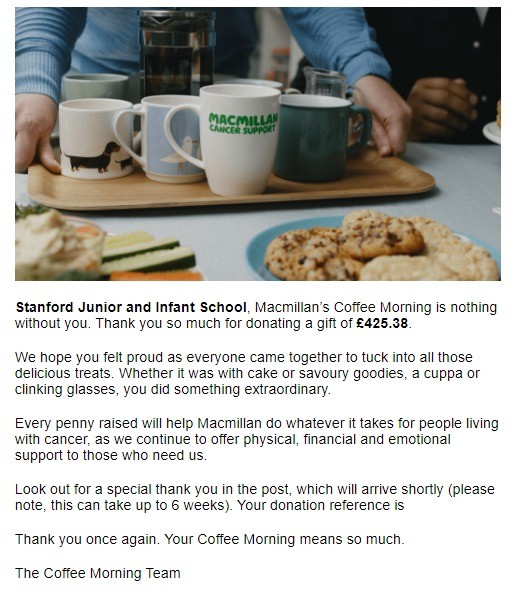 Roar Project Year 6 - Prototype
Year 6 pupils completed the next part of their 8 billion idea project by creating a prototype of their idea/ design, using recycled materials and resources. Our next step is to create an advert and presentation ready to showcase to the judging panel! We will keep you posted of their progress!
Thumbs Up to Healthy Eating
Pumpkin Class enjoyed a special visit today from a Chartwell's chef.
He told them all about healthy eating and demonstrated how to make a healthy breakfast bar with honey, oats and fruit. They really enjoyed tasting the bars.
R- I liked the honey taste , it was so sweet.
T- I know how to make a cereal bar now, so I think I will make some at home.
H- When I make a cereal bar, I will add chopped up apples, grapes and oats.
Remembrance
Mrs. Kennedy and Mrs. Hull from Laceby Royal British Legion led a very informative assembly to launch this year's Poppy Appeal.
"We found out why it is important to remember."
"Soldiers gave their lives in wars for us, this is how we can remember them and say thank you."
"In Flanders Fields, the poppies began to grow after WW:, this is why it is the symbol for Remembrance."
"The money we spend on poppies, slap bands and key rings all goes to help ex-servicemen and woman."
Foundation Stage Reading Breakfast
Thank you very much for such great support with our reading breakfast in Foundation Stage. Sharing a love of reading with the children is very powerful and it was a pleasure to have so many of you be able to join us this week.