Community and Enterprise
Friendship in the Community
The Year 1 children have been writing some lovely friendship letters to the residents of Cloverdale Care Home. They are hoping to put a big smile on their faces! Well done everyone.
Thank you Stanford Trust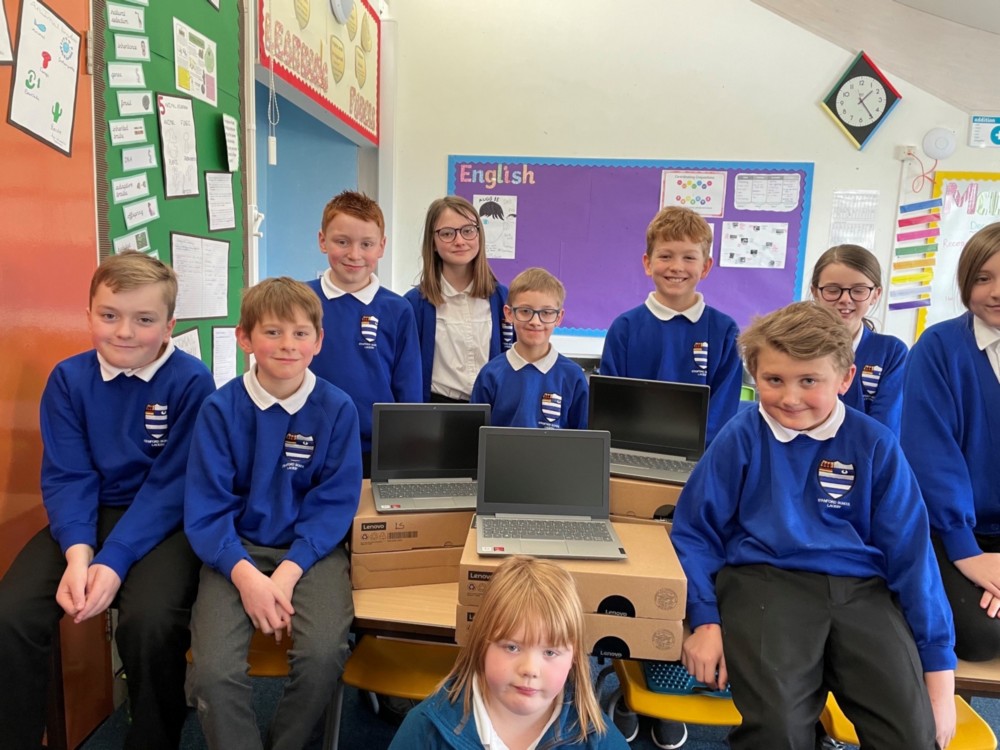 Stanford Trust have kindly donated new laptops to the school to help support the pupils- we would like to say a huge thank you for their continued support, we really appreciate the new tech!! 👩‍💻
Remote Learners Say Thank You!
Here are some lovely cards, pictures and messages from the children at home to say a special thank you to their parents and carers for teaching them so well at home.
Keeping in Touch
A special thank you from our Head Boy and Head Girl!
Thank you to all the local companies for their donations towards our Christmas raffle, we raised over £732!!
Also a huge thank you to our parents/carers for their donations and continued support!
Morrisons Micks Plaice Lees Furnishers Wilkin Chapman LLP Listers Mercedes-Benz Grimsby Parkway Cinemas fusion hair co Duckworth Land Rover, Market Rasen Dunlop Oil And Marine Asda Phillips 66 Gas Pin Gin SPAR and Insomnia Coffee Laceby Lodge Services
Thank You Morrisons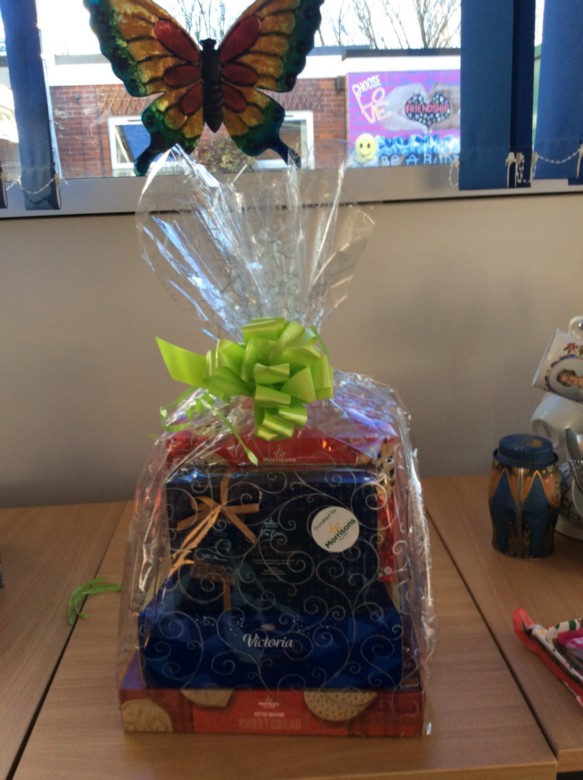 A huge thank you to Morrisons for their donation of chocolates and pastries to Stanford School Team!! We pride ourselves on our Community links at Stanford School with Morrison's being a continued supporter to the school! We wish you a very Merry Christmas.
Three Wise Men competition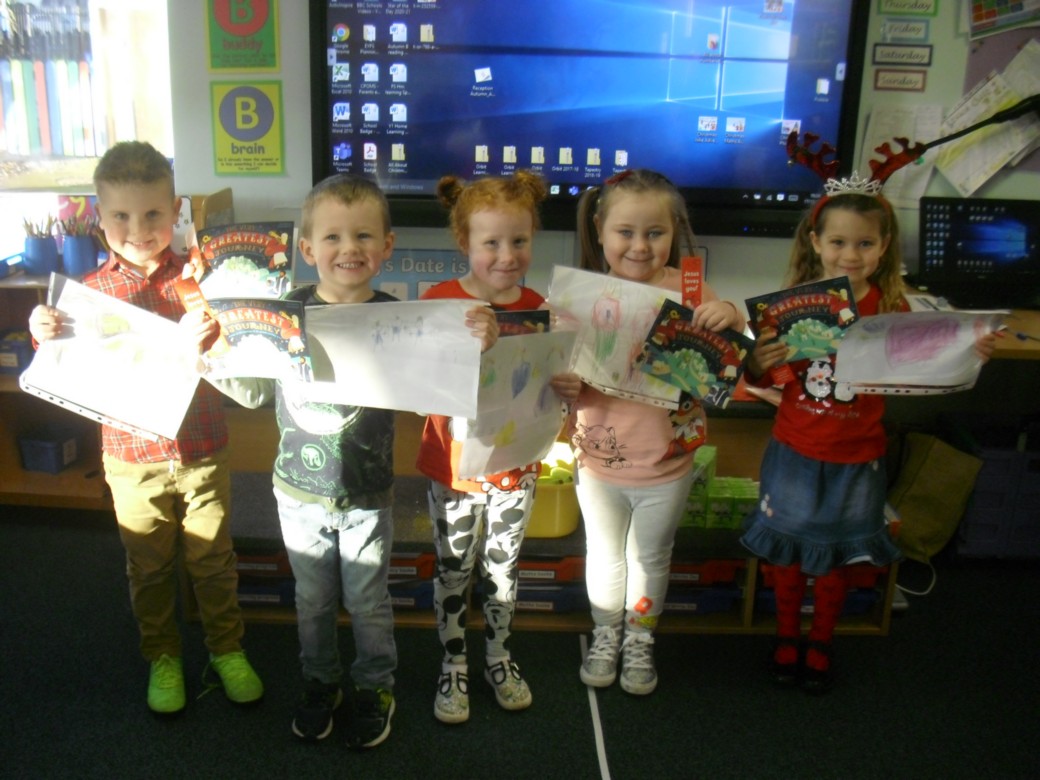 Congratulations to the Seedlings and Sunflower children who took part in St. Margaret's Church competition to draw 'Three Wise Men' from the Nativity story. Children received a book and their drawings will be put onto the church Christmas magazine.
Stanford 12 Days of Christmas
---
Christmas Enterprise Crafts
Foundation Stage
Foundation stage children designed festive crafts as part of our enterprise projects.
They decorated a felt gingerbread man and created winter tree photo frame. Children learnt some new words and what they mean, including design, profit, cost and total. They used their Maths skills involving money, recognising 100p is the same as £1!
Finally, children then found the total of the two items by adding them together.
Seedlings and Sunflower created their Christmas enterprise crafts including as felt gingerbread man, lolly stick photo frame and a wooden snowman. They developed their skills to combine, shape and join materials together.
Year 1
Lovely designs by the Year 1 children. Thank you to Mrs. Amos and Mrs. Drury for helping the children to make such lovely snowmen.
Poppy Class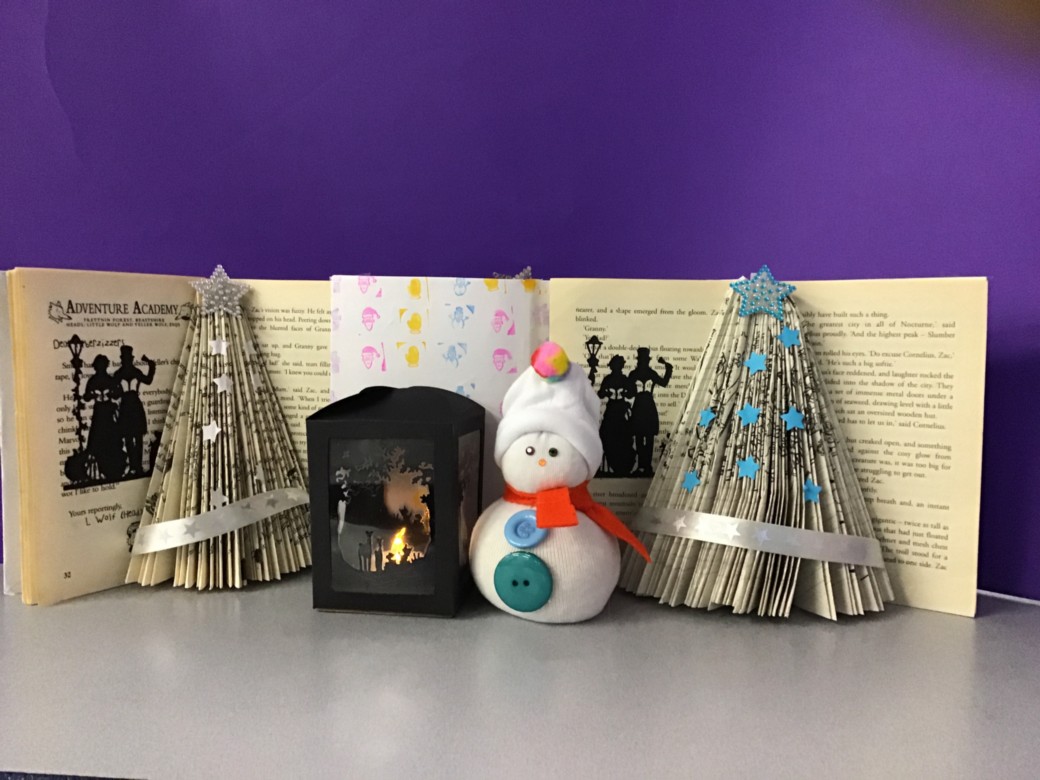 The children have been very busy making crafts to sell as a part of our Enterprise scheme.
To go with our Victorian theme we made a Christmas book ornament. The Victorians liked to make things by hand so we hand printed our book covers and folded the pages to make Christmas trees which we decorated.
Mrs Drury came and helped us to make Victorian Lanterns as they used them in the streets and in their homes.
We also made Sock snowmen …..just because we thought they looked very cute!
Don't they look great?
Barley Class Enterprise
In Year 6 we decided to create some 'Winter Wonderland' decorations and a table centrepiece for our Enterprise Project.
We looked at some existing design ideas for inspiration and then created six of our own designs. We chose our favourite two to create.
In order to decide on a price to sell our products, we conducted some market research to find out the price that we could reasonably sell these items, we then deducted the cost of materials and calculated our potential profit.
After carefully decorating the logs, we evaluated our designs - we are very proud! What do you think?
Please login to you SCOpay account to purchase the Enterprise products.
Spring Bulbs
Foundation stage children planted some spring bulbs to thank our local community, including Cloverdale and St Margaret's church and wish them "A Very Happy Christmas".
Road Safety Awareness Week
We will be taking part in Road Safety Awareness Week later this term and have links with the local PSCO and Road Safety Officer to support this important message..
Road traffic collisions increase by 20% in the fortnight after the clocks go back. We have lots of different resources to share with our pupils about ways to keep safe.
We are planning competitions and have some freebies (bike lights, reflective zip pulls, stickers etc) to share too from Mr Cullam, NEL Road Safety Education Officer.
Happy 300th Birthday Stanford Trust!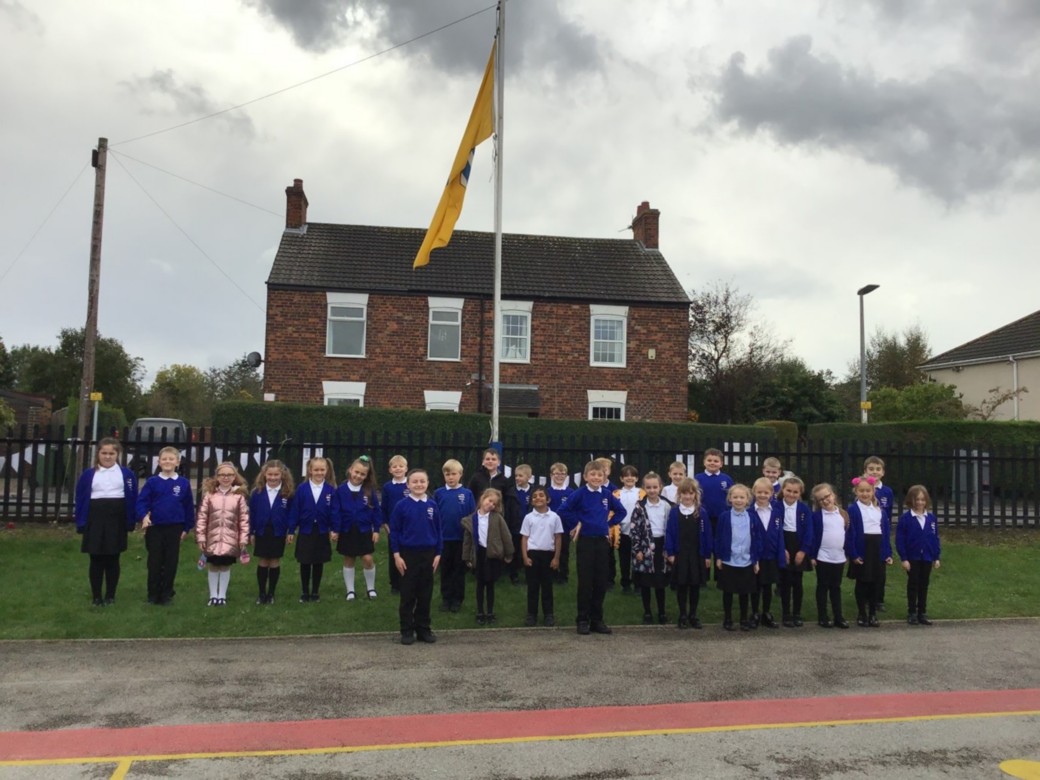 The children enjoyed celebrating this special event. They made bunting to decorate the front of the school, watched a special video message from Mr. Lingard, and enjoyed a Birthday cake. It was great to see the school flag flying. They were all so excited to receive their 50p coins and commemorative mugs! Some children used their mugs straight away where as many others have put them in a special place to keep them safe. Most children have saved their 50ps.
Reverend Stevens
Reverend Stevens has retired recently and Barley class created a retirement card for him. We would like to take this opportunity to thank Mr Stevens for all the services he has delivered over the years with Stanford School and the support he has also shown. We wish you a happy retirement!
Harvest Festival
Thanks to all those who contributed to the Harvest donations for Harbour Place - greatly appreciated.
Macmillan 'Coffee Morning' Event
As ever we are being resourceful and thinking about how we can adapt our lives and carry on regardless. Normally we would be performing in person but this year we will be celebrating this wonderful organisation virtually.
Juniper Class
Enjoying juice and a biscuit on Macmillan Coffee morning.
Can you spot our special Macmillan badges we designed?
We signed a song for you to enjoy too!
Barley Class
Barley class celebrated Macmillan Coffee Morning by designing and then making their own Cake Badge to wear. We also enjoyed a cake and drink to celebrate the world's largest coffe morning!
Happy Birthday
Stanford Pupils made birthday cards for a very special lady, Olive, who turned 107 this week! Olive received 467 cards in total!
Happy Birthday Olive! From The Stanford Family, we hope you had a special day!
Caring for animals during lockdown
One of our pupils has decided to take an active role in caring for exotic creatures during these troubling times. He recently saved up his pocket money to adopt a jaguar for the year but was still keen to do something else.
The family heard about the Jungle Zoo in Cleethorpes who were asking for donations of fruit and veg for the animals as a lack of visitors was affecting finances and their ability to feed them.
This caring pupil decided to approach his neighbours and ask them for help. He did a leaflet drop at 35 houses and got a great result as you can see. He really enjoyed the planning and collecting and was so pleased to be able to take lots of donations. The Jungle Zoo really appreciated his hard work……and we're sure the animals did too!!
VE Day Celebrations
Thank you for all the photos you sent in, it looked like everyone had a fantastic day celebrating VE Day!
This week we made rock plants to brighten up our entrance to school
Our decorated bug stones and painted logs really cheer the front of our school up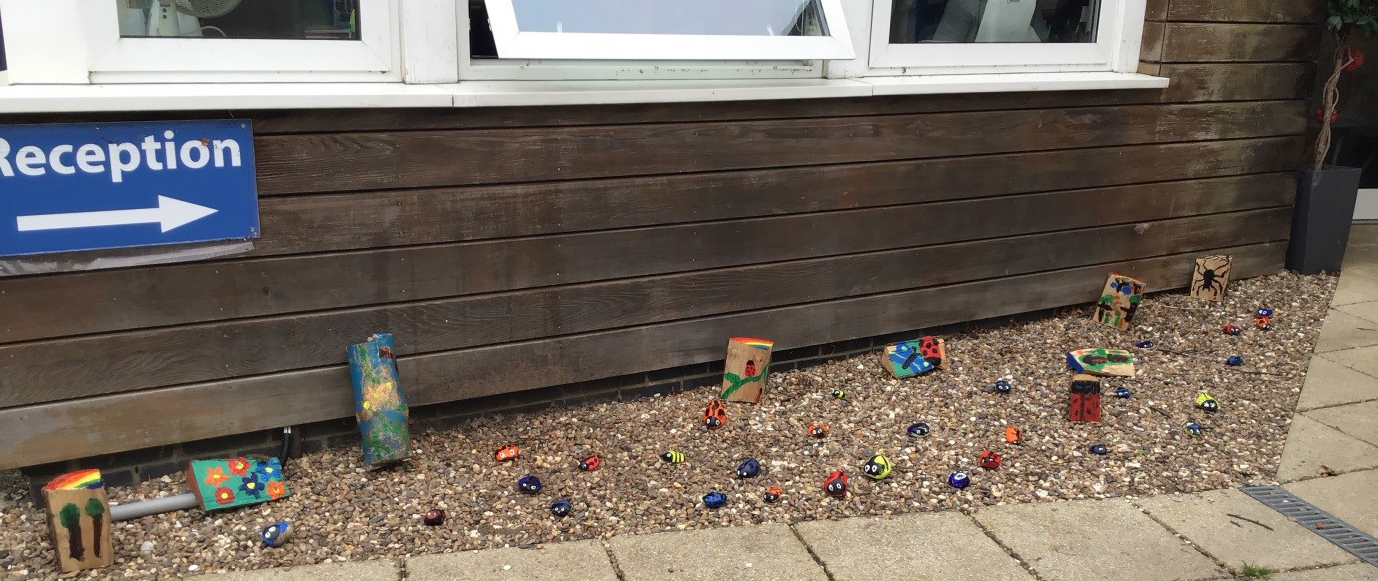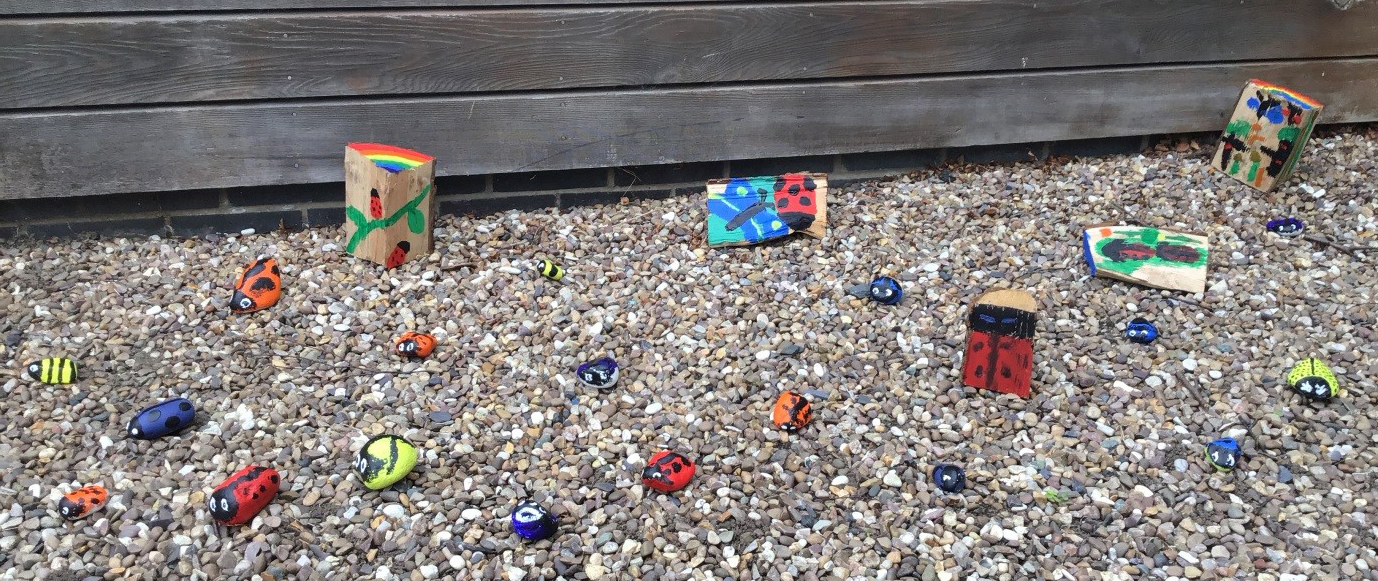 Lockdown Videos
---
Great to keep in touch and help where we can. Thank you.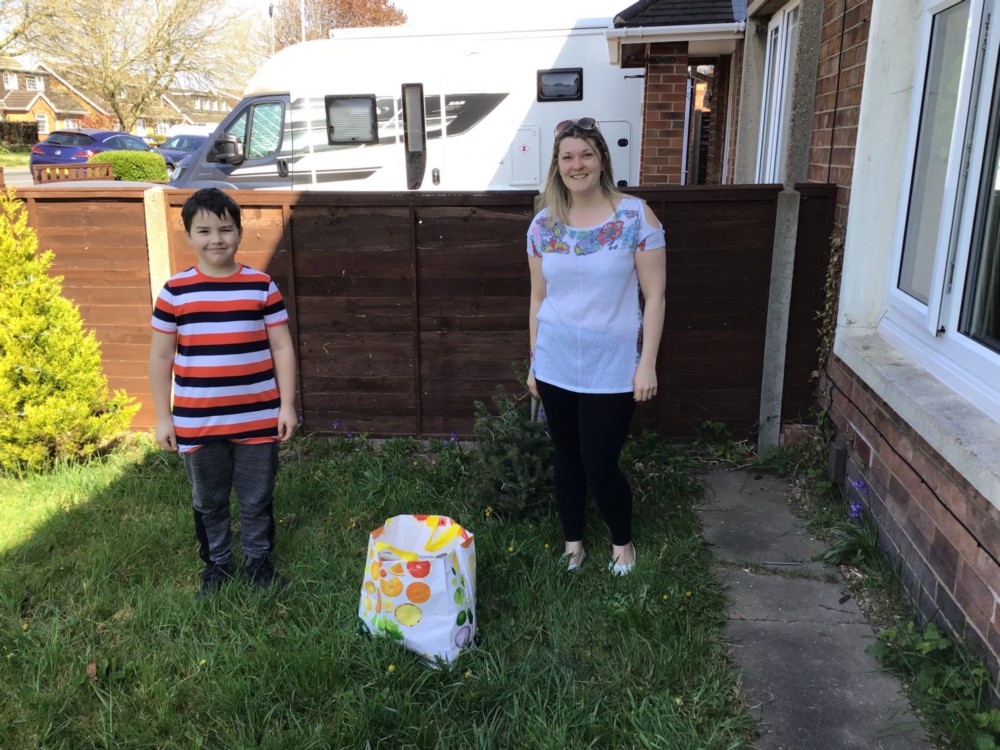 After a storm comes a beautiful rainbow…several bears… and lots of heroes!!
Rainbows are used as a symbol of peace and hope as they often appear when the sun follows a heavy rainfall. They serve to remind us that there is hope and light to follow even after dark times. During this current pandemic children have started a trend of placing them on their windows to brighten up their new 'classrooms' and cheer people up as they pass by.
During the weeks we have been following the current trends and have created window displays to make you smile as you pass by and let you know that we are always thinking of you.
First we created a rainbow extravaganza sun shines, flowers and lots of rainbows. Then, following the news that Michael Rosen was in hospital, we created our own bear hunt so that the children could 'find' a new bear each day. Our current project is producing a 'Thank You' to all the keyworkers who are working hard throughout this difficult time to make our lives easier.
So if you have the chance, have a stroll by the school and check out our work……. who knows what our next project will be!!
Easter cards
Children made and sent Easter cards to the local community including Cloverdale, St Margaret's Church and local shops, to thank them and bring a smile especially during these difficult times. We also made some very special birthday cards for a volunteer and one for Captain Tom Moore.
Stanford Rainbows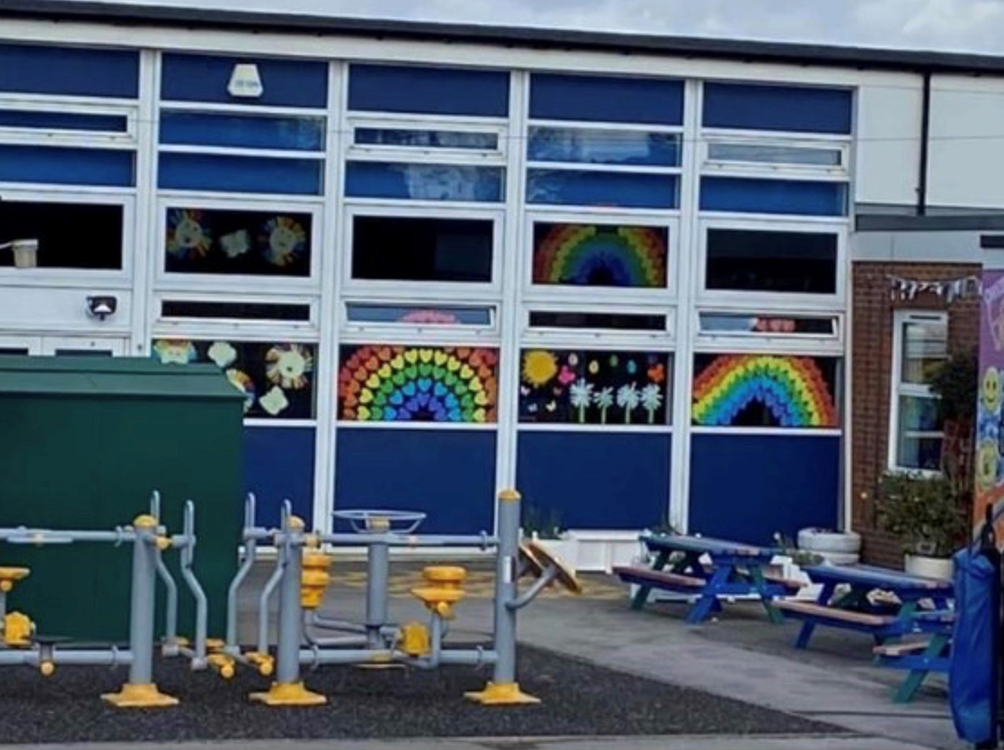 The sun follows the rain. Rainbow art to share hope and peace. Love from Stanford.
Reading Reward Trip to Laceby Library
The Sunflowers really enjoyed their visit to Laceby Library.
W- We got to look at different books.
L- I liked exploring all the areas.
J- Mrs. Wink told us all about the library.
O- I found some books that were funny.
A- I was relaxing and reading at the same time.
M- The cakes and juice made it like a party.
J- I want to bring my mummy to see the library. Keep enjoying your reading and try to continue to read 3 times or more each week at home!
Friendship Event
Our after-school 'Friendship Event' was a great success - the pupils enjoyed the craft, decorating a biscuit and playing fun games with their friends. Well done everyone. There was a lovely, friendly atmosphere and everyone had a super time. Thanks for your support.
Seedlings Learning Share
Seedlings class have invited family members to come and share their learning with them at our learning share this afternoon. Children showed their grow up their phonics, maths and toy town themed skills, which was truly enjoyed by everyone.
"A brilliant idea, really enjoyed sharing what the children had learnt."
"Fantastic examples of how the children are learning and having fun!"
Charity Supporter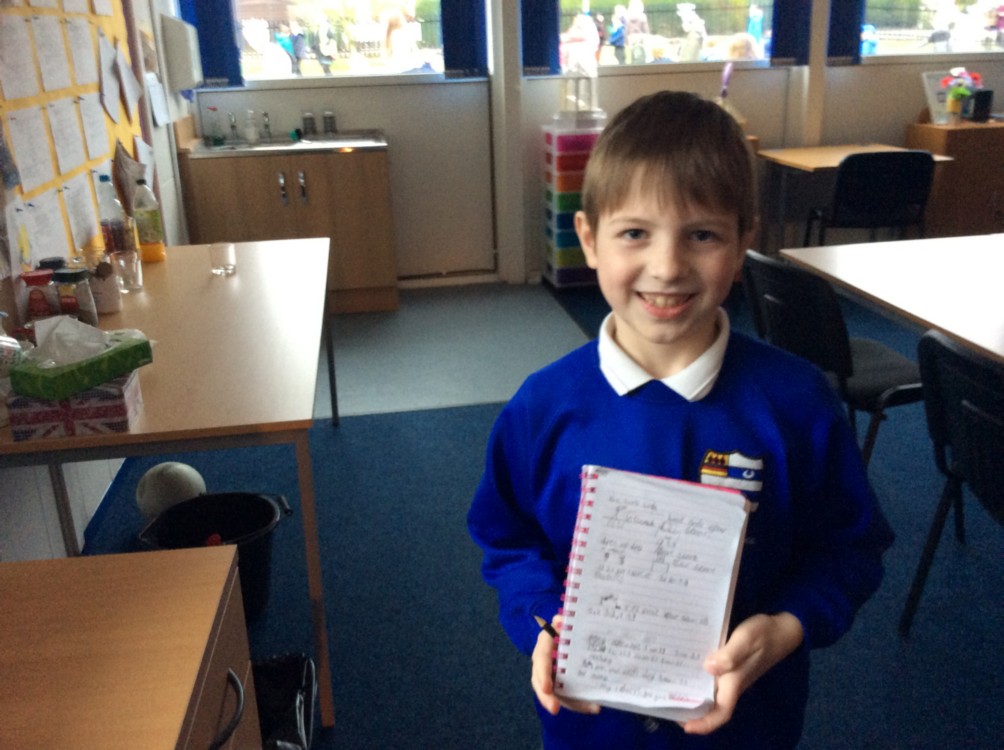 Well done - a wonderful Yr 4 pupil has a super plan to help a charity. He has planned to lead an assembly and a fund-raiser activity to help 'Liberia Chimp Rescue.' Very impressive organisation skills shown and a very caring nature.
Community Thank You Coffee Morning
Well done to all the pupils for their performances at our 'Community Thank You Coffee Morning.' We are so grateful for the help and support we receive from this wonderful group of volunteers who help the school in so many different ways. The nurture group pupils helped make delicious scones for the cream teas and all classes performed - they shared songs a wonderful range of poems and songs. The pupils showed super performance skills and spoke with confidence and clarity. Thank you to all the staff who helped with the refreshments and organisation - it was a really lovely community event.
One visitor said, 'Fabulous morning! Such a wide range of skills demonstrated with such enthusiasm.'
LQ: Can I listen to stories and select a book from Stanford library?
This term we have been visiting the Stanford library and listening to stories read by Mrs Wink, the librarian. Mrs Wink talked to us about what happens at a library, before we then went to look for a book we would like to take home and share with a grown up.
Seedlings Enterprise
We are very proud and excited to have received the Mobilo, which the Seedlings children decided to buy using our Christmas enterprise money. Take a look at some of the models we have made.
Blankets for the Homeless
We had some very excited Year 6 children arrive to the knitting club with their finished squares. I am so proud of them and the work they have done and by the look of their faces so are they!
Soon we will be teaching the Year 5 children how to knit and hopefully we will have more squares to come.
Thank you for your kind donations of wool and size 8/4mm needles, as you can see they are being put to good use!
Competition Kit
A huge Thank you to Strawsons for our new PE Kits for competitions- They are great! We used them at our athletics competition- Thank you!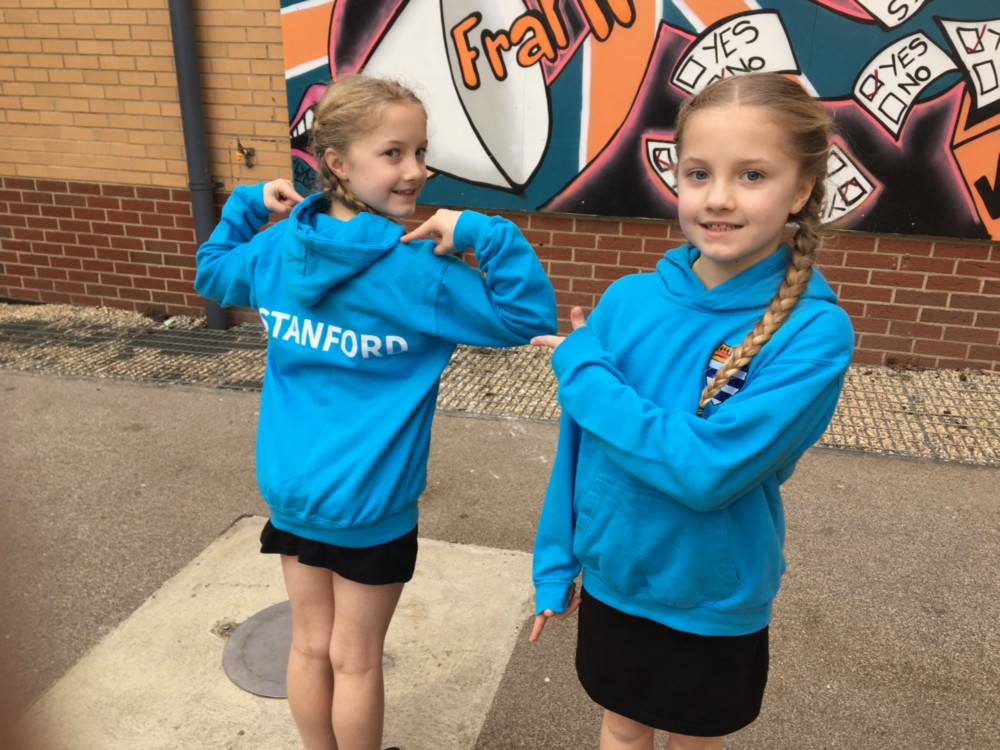 Blankets for the Homeless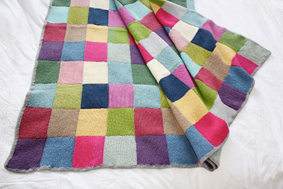 I have decided to start a project where I will teach children how to knit, so that we can make squares to sew into blankets for the homeless, food backs and the Woman's Refuge. I intend to start with a group of Year 6 children and eventually allow children in other year groups to join in. This is a wonderful way to learn a new skill and help others at the same time. The children are really keen to join in with this project and the Year 6 children have already enjoyed their first knitting lesson.
To help with this, I would like to ask for donations of balls of wool and size 8 (4mm) knitting needles. If you have any odd balls of wool at home, you see any in charity shops or in the reduced sections in shops I would be really grateful if you could send them into school to make blankets and to help us make a difference within the community.
Thanks for your support
Miss Perrin
Building Works Complete!
Big thanks to the LA Assets Team - we have a new nurture space, group room and toilet block. This provision will help ensure continued excellent outcomes for our pupils at Stanford. We are really excited about our pupils having access to these new spaces.
Building Works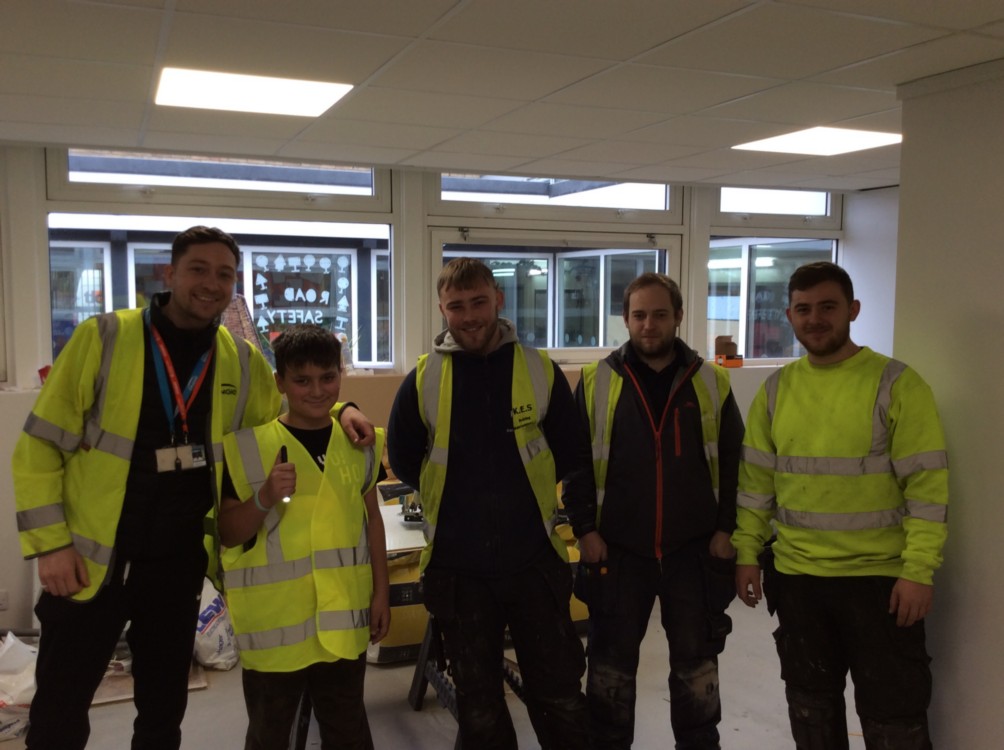 The Assets Team and builders are doing a great job - we are so excited to see the finished new nurture space, corridor and toilet block. This work has inspired some of our pupils o ask questions about the role of builders and the skills they need. Some pupils are considering this profession for when they grow up!
Key Stage 2 Choir Members Out and About at Christmas!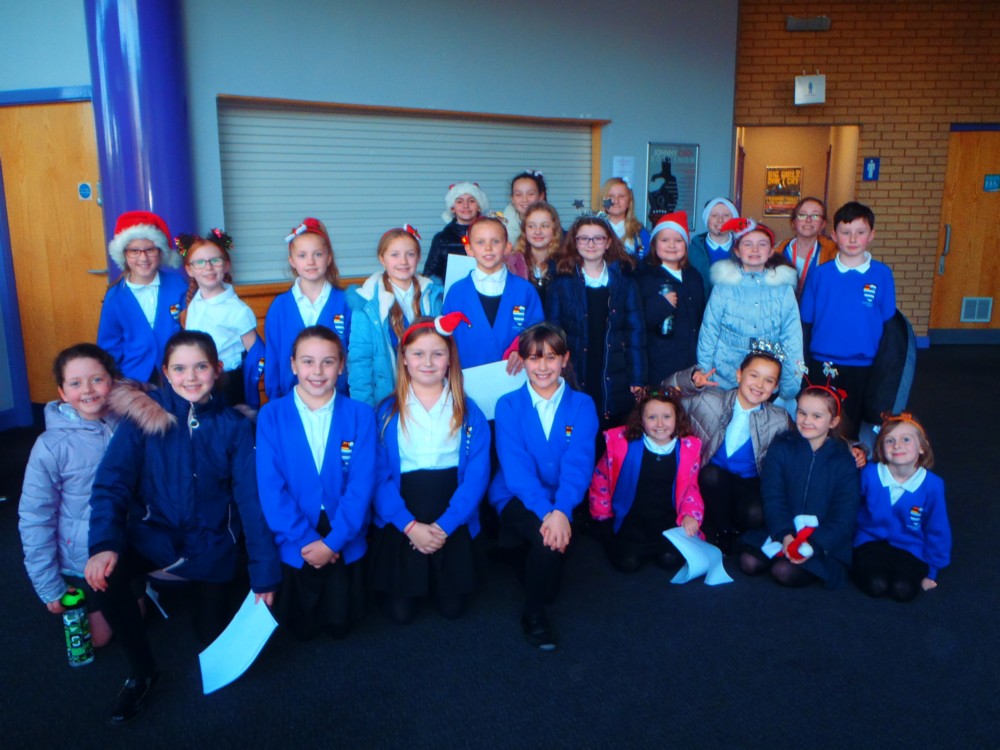 The Key Stage 2 choir have had a very busy time!
Some children sang at Grimsby Auditorium in the Christmas Big Sing and some children entertained the residents at Cloverdale Nursing home with lots of fun Christmas songs.
The children have all worked very hard and have shown great commitment: attending lots of lunchtime rehearsals, learning new songs and performing a wide variety of festive songs with their beautiful singing. Well done everyone!
Christmas Fayre
Fantastic turn out for our Christmas fayre - thank you for all your support! The pupils designed and created wonderful products for sale, Santa visited, Governors and volunteers helped out in the refreshments, parents/carers donated towards the tombola, staff led the stalls with the pupils, Mrs Drury and Miss King made the magic happen, year 6 led the games and local businesses supported the raffle prizes! A fantastic atmosphere helped by Pumpkin Class sharing their Christmas songs. Thank you everyone. All money raised will go towards school funds to purchase resources/events for our pupils.
Big thanks to Mrs Drury for all her work in helping with the enterprise projects for our Christmas Fayre! The end products were amazing!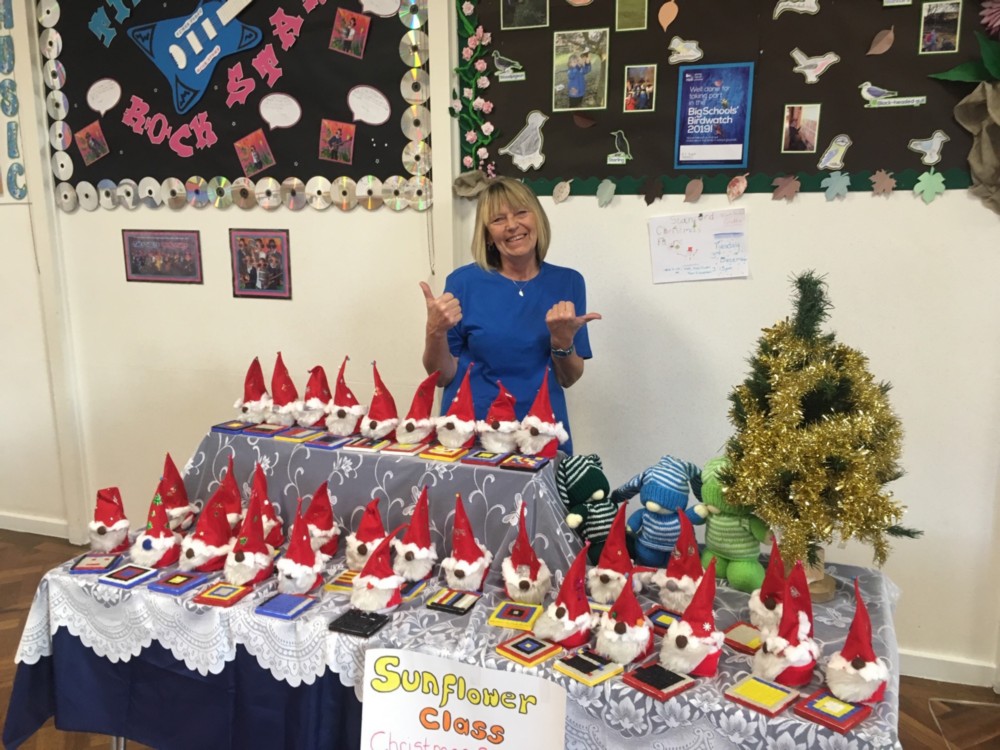 Building Project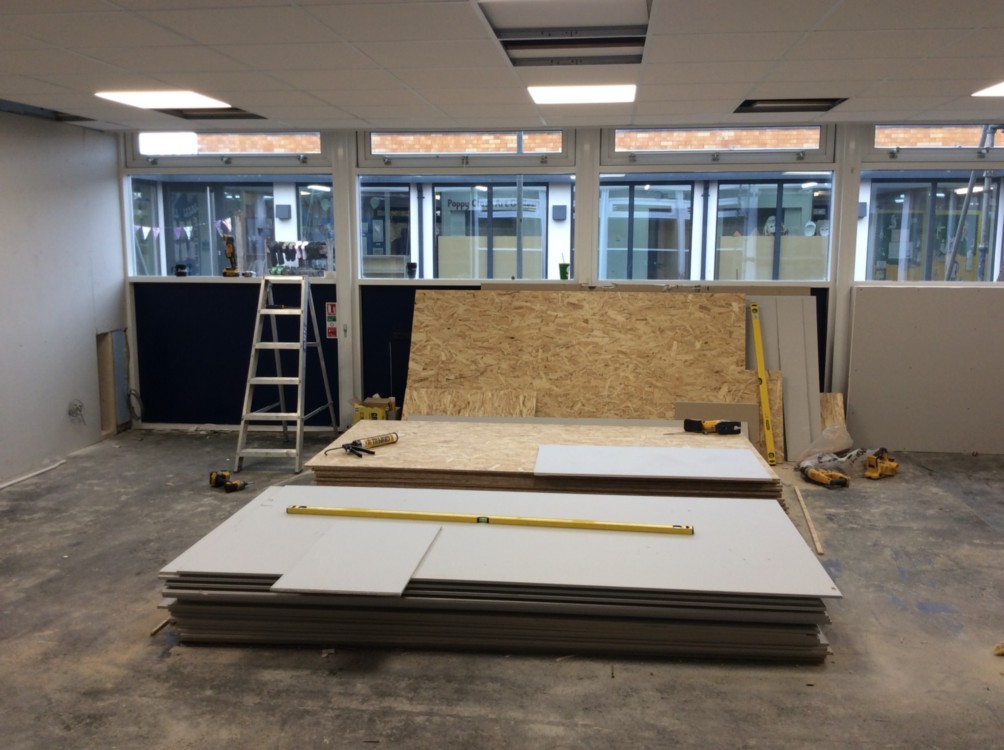 We are all excited about our major building work project - all coming along really well. Pupils will love to have the nurture space and the new toilet block.
Little Princess Trust
Well Done - so proud of our Year 3 pupil who supported the Little Princess Trust.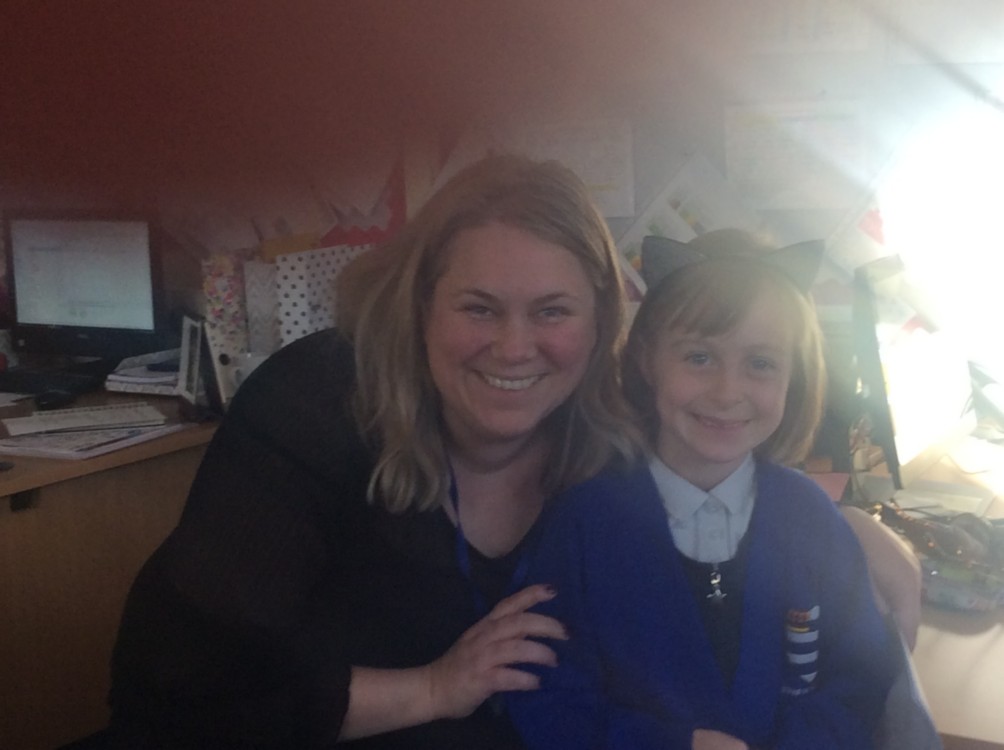 LQ: Can I join materials by sewing together?
Today we have been very busy with our needle and thread sewing tree decorations for our enterprise craft sale. We were delighted to welcome lots of grandmas, granddads and mums for the afternoon's activity. We also managed to practise our cutting skills and find time to read a story too. A very big 'thank you' for all your help.