Community and Enterprise
Activity Day
Year 5 and 6 have been working hard, planning and preparing a range of stalls and games for our annual Summer Activity Day.
All pupils in the school were invited to visit the stalls and spend some of their change to help raise school funds. There were lots of creative ideas this year, such as mask making and 'dream catcher' crafting, as well as a range of sporting challenges and an obstacle course. The 'slime' making activity was particularly popular! Of course, lots of food and drink was on offer as well, including: ice cream, milkshake, popcorn, candy floss and biscuits. In addition, there were some fun games (with prizes to win) and a tombola. We also had a special treat this year, as the children had the opportunity to have horse rides on the field, thanks to support from the local community! It was a fantastic day and a great success.
The children raised over £600 for school funds. Well done everyone!
Athletics Tournament
A small group of pupils from Year 5 and 6 took part in an Athletics tournament at King George V's Stadium. They represented the school brilliantly and competed in 600 m Run, 75m Sprint, standing long jump and Vortex. The pupils' skills and behaviour was fantastic, and we are extremely proud they represented Stanford School, Well Done!
Rase Vets Visit
Today, we enjoyed listening to Vicky, the veterinary nurse and Victoria from Rase Vets, about how they care for animals. Vicky showed us some of her equipment such as a stethoscope, mask and apron and Victoria brought special bandages that stick together without glue, tape or pins and we practise bandaging the toy dogs.
Finally, we learnt not to touch dogs we don't know, that some dogs might wear a 'muzzle' and to always ask its owner before stroking a dog.
JM "I liked dressing up"
AC "I liked everything"
TG "The bandages were very tricky"
Film Night
We enjoyed a fantastic film night at school - we watched 'Peter Rabbit' and ate hot-dogs and pop-corn. A great time was had by all. Thank you to the staff and volunteers for their help. Happy Easter!
LQ: Can I listen to others about the role of a school nurse?
The school nurses Liz and Lorraine came to talk to Seedlings class about how they use their hands to help children in our school. Liz explained how they might check if children are healthy by measuring their weight and height. They showed us some glasses they might use to check our eyes and showed us how to check our hearing using the special machine and the earphones.
"What a lot of things the school nurses do!"
Finally we have enjoyed being nurses and doctors in our role play area too!
LQ: Can I listen to others? Can I ask questions?
As part of our 'Helping Hands' work the children in Seedlings classes learnt about the role of the Police Officer. PCSO's Andy, Kirsty and Becky talked about how the police help us and keep us safe. They showed us the different parts of their uniform such as their badge number, their body protection vest and their radio. We also looked at the police van's blue flashing light, listened to the siren and even sat inside the police van!
J.N. "I liked the siren on the van, it was very loud!"
L.D. "I liked everything"
C.P. "I asked the PCSO if the police helicopter had a name!"
C.S. "I liked sitting in the back of the van. It waas called the cage."
G.W. "I tried the jacket on, it was heavy."
LQ: Can I listen to others about the role of a librarian?
Seedlings children visited Stanford Library to learn about the role of a librarian and the parts of a book such as the title, author, illustrator and blurb. We listened to a story read by Mrs Wink and then borrowed some books to take back to our class. Of course we had to scan the books and stamp them with the date on which to return the book first!
Thank you to Mrs Wink and Mrs Brumfield our librarians.
Can you visit the library this Tuesday or Thursday?
Friendship Event
How lovely that the pupils joined together to make friendship bracelets, design hearts, make fortune cookies and think about what it takes to be a great friend. All the pupils enjoyed their biscuits and juice too! Thank you to all the volunteers for supporting this event.
Gymnastics competition
Pupils from Key Stage took part in our first Gymnastics competition with other local schools. The pupils performed brilliantly with fantastic routines, skills and confidence to impress the judging panel.
Overall we had one of the year 5/6 team place 4th… a fantastic achievement at our first event! Well done to all the pupils who took part, they all have fantastic gymnastics skills where we hope they can showcase these off further in the future, Well done!
Love Lincolnshire Plants
The Lincolnshire Wildlife Trust came to Stanford and delivered an assembly with the theme "Love Lincolnshire Plants". The assembly was about the importance of plants, the Victorian botanist Sir Joseph Banks, the plant collection 'herbarium' that he created and the new Lincolnshire herbarium project.
Community Thank You High Tea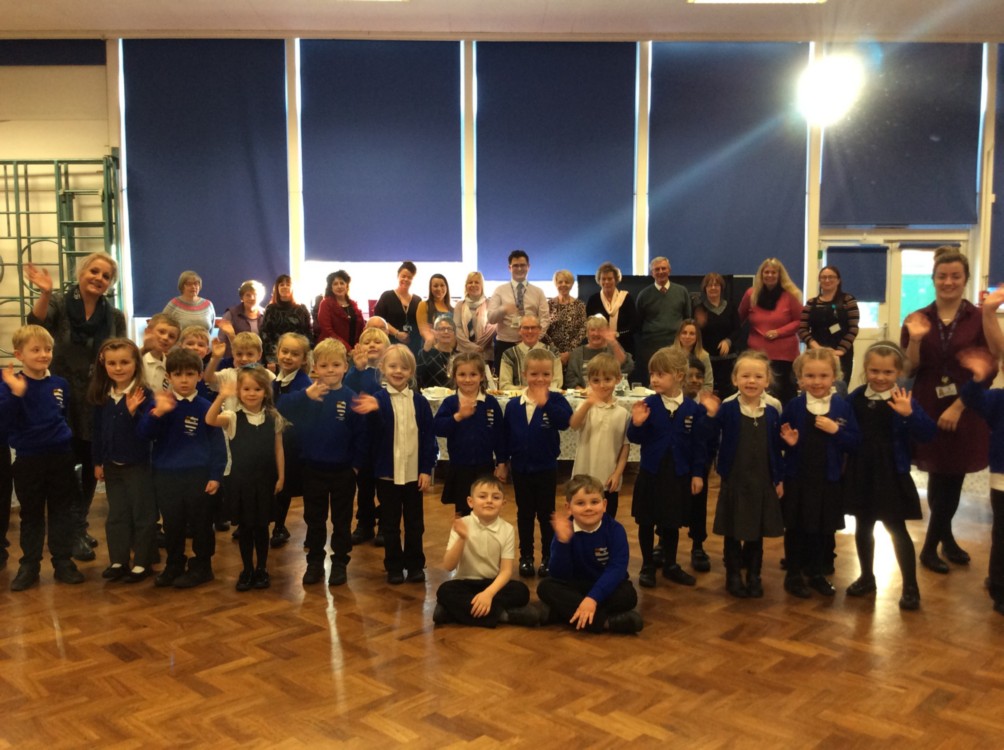 Thank you to all the community members who help the school by giving their time and support. They enjoyed our 'Community Thank You High Tea' and the poetry performances from all the pupils.
7billionideas project
Well done to our Barley Class winners in the 7billionideas project. Thank you to Mr Kemp from Caistor Lions for supporting the event and joining us to judge the competition. All pupils made fantastic prototypes and a special well done to the winners. All pupils enjoyed using their design skills, presentation skills and team work skills.
Festive lights fun
As a special treat today we went to see the festive lights and decorations at Mrs Wink's. We saw penguins, polar bears, a musical pink snowing Christmas tree and lots of more. Finally, we had a drink, biscuit and some fun Christmas songs around the big Christmas tree.
Mrs Wink kindly gave all the children a chocolate Santa treat too. A very big thank you to Mrs Wink and all the helpers.
A.S "The big tree was so pretty."
J.M "The polar bear was the best because it lights up."
H.G. "I liked the pink tree the best because it had snow falling down."
F.G "I liked the penguin because it flashes"
Fantastic Christmas Carol Concerts at St Margaret's
Well done everyone - beautiful readings, lovely singing and excellent class performances. Thank you to all those who supported this lovely event.
LQ: Can I sing songs to others?
Children from Seedlings class went to St Margaret's Pre-school to sing festive songs. There were lots of actions and dancing too.
Spreading Christmas cheer in the community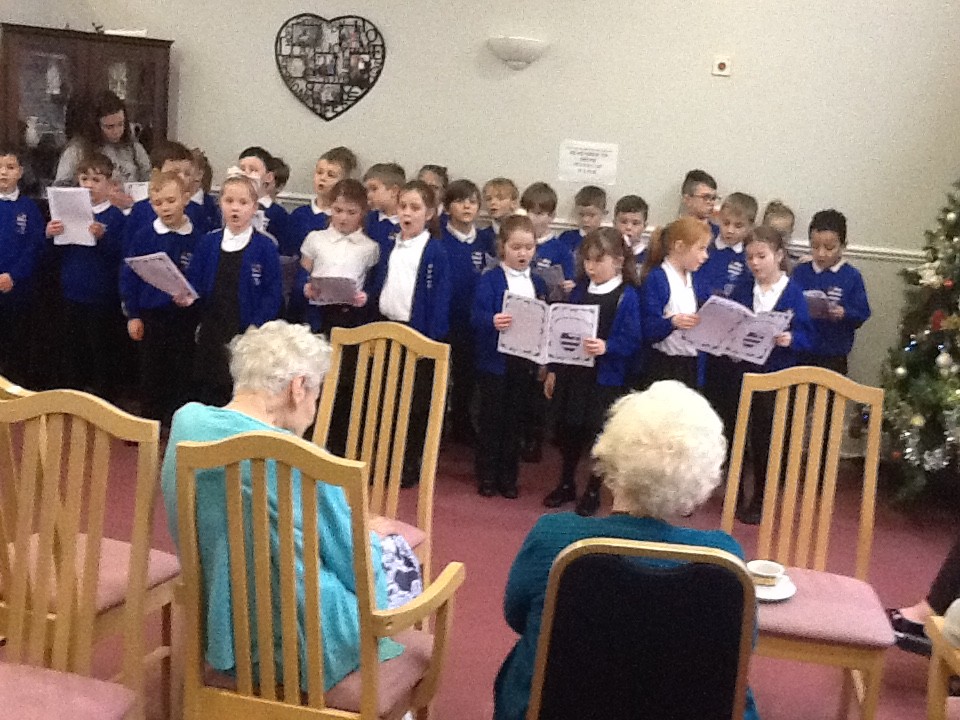 The children had the chance to spread a bit of Christmas cheer to the residents of Cloverdale. We walked down to visit them and sang a few Christmas carols which the residents enjoyed singing along to. The children enjoyed mixing with the residents and wishing them a Merry Christmas.
Christmas Dinner
We had a lovely Christmas Dinner today - thank you to the Governors, pupil helpers and staff for their support - everyone had a super time.
Christmas Fayre
What a fantastic Christmas Fayre - thank you to all those who supported it and to the pupils for showing their enterprise skills through designing, making, evaluating and selling their products. Well done everyone.
Sunflower ClassCan we make a profit?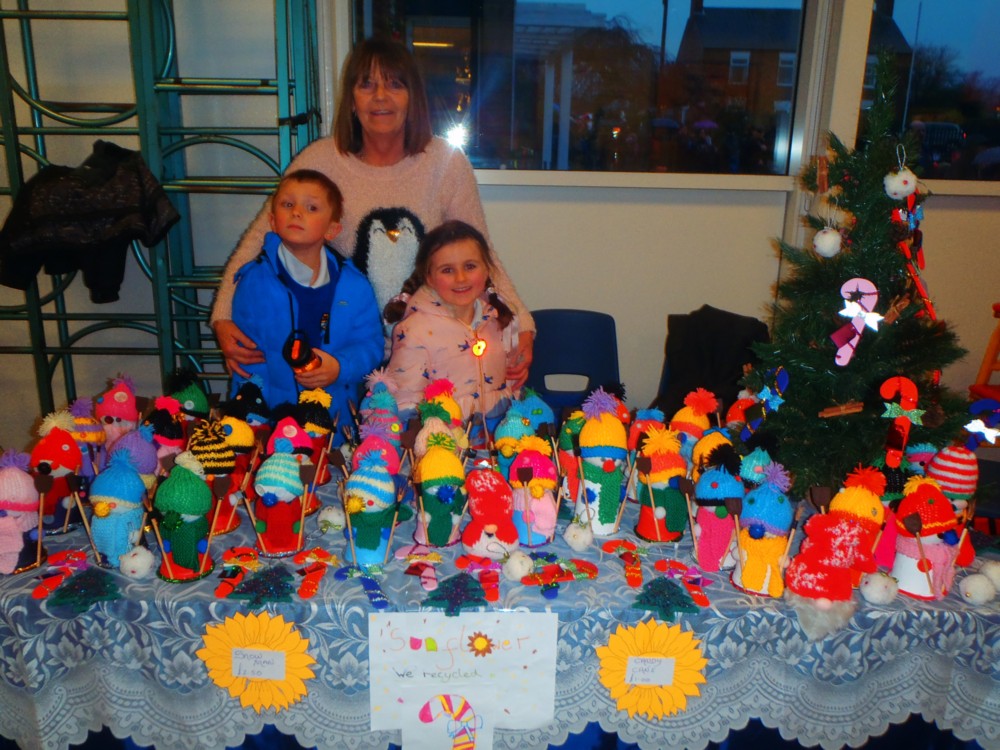 Sunflower Class made some lovely snowmen and candy canes out of recycled materials and sold them at the Christmas Fair. Many thanks to Mrs. Drury for her help and expertise! The children made £70!
Caistor Christmas Market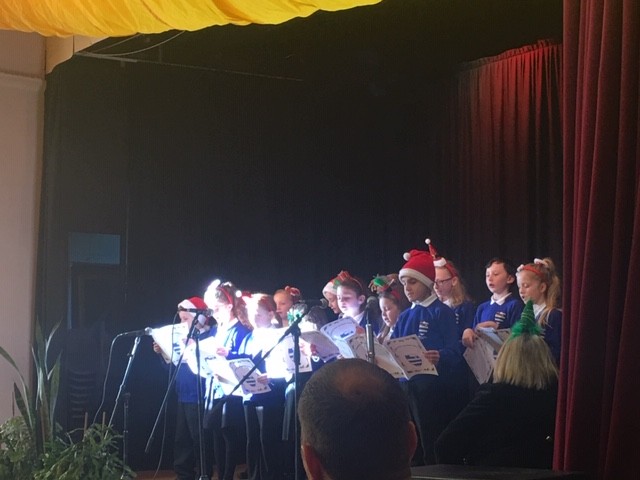 Well done to all the pupils from the School Choir and Poppy Class who joined us at Caistor Christmas Market on Sunday and sang some beautiful Christmas songs. We really appreciate your time and help. A special mention to Miss Perrin for leading the event and all other staff and parents/carers at the event for their support too.

100th anniversary of the end of World War I
Around the globe people are remembering those who gallantly gave up their lives in the line of duty. This year marks the 100th anniversary of the end of World War I.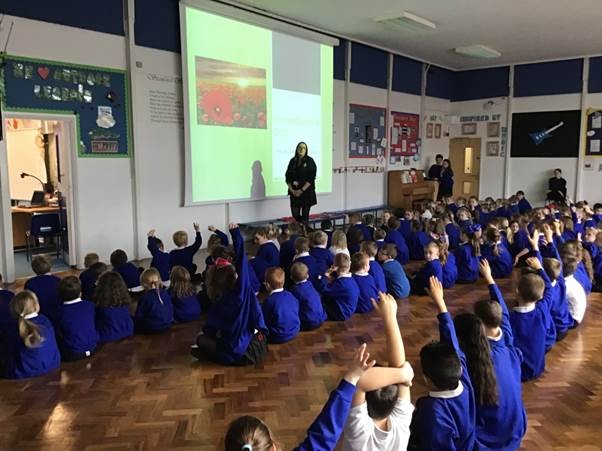 At Stanford School the children have taken part in several activities to reflect on this important anniversary. Today we came together to reflect on those who gave their lives for their countries and shared the work we have prepared.
In addition to this Mrs Amos has created some beautiful poppies from plastic bottles which have been placed as a stunning addition to our Peace Garden.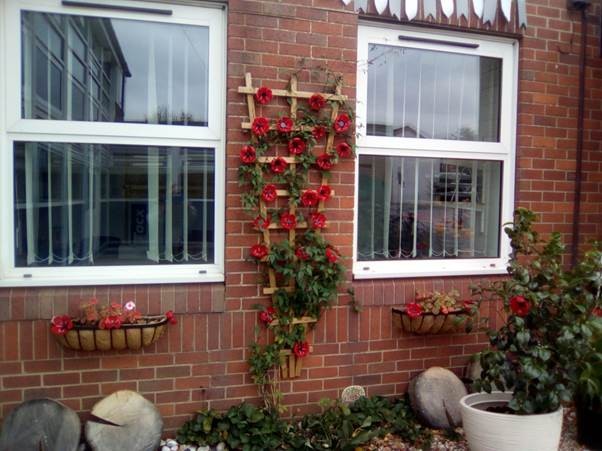 Maths and Reading Workshop for Parents
On Friday 2nd November, a Maths and Reading workshop was held for parents. It was an interactive workshop where parents could learn about the different ways we learn.
In Maths pupils showcased the following:
TT Rockstars- our online times table game where pupils work against the clock to complete times table questions

Numicon- our multi sensory resource used in all classes from FS through to Y6

Purple Mash- our online home learning site where pupils can play a wide variety of math games
www.purplemash.co.uk

CPA- Concrete, Pictorial and Abstract methods we use, linked to our calculation policy
- Calculations- Pupils had created a variety of videos explaining to others, how we solve calculations in different year groups. We also shared our calculation policy and how this links in with CPA methods
In Reading we showcased the following:
Cracking Comprehension- the scheme we use in our reading comprehension lessons

Reading Response- Showcasing our work in Reading

Reading in Topic- cross curricular links to reading in school

Reading Club- our love for reading in school, through an organised reading club, ran by Year 6 pupils
The pupils were brilliant in showcasing what we do at Stanford.
Please find all documents on our Math and English Page.
Positive comments were received by parents and carers:
Shoebox Appeal
We had a representative from 'Operation Christmas Child' come to the school to talk about how we can help children less fortunate than ourselves. Some children throughout the world live in deprivation, in cold areas and have little to call their own.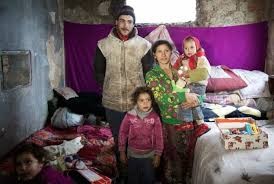 The Shoebox Appeal sends a box of 'love' to these children so they can have something to open as a Christmas Gift, to make their lives a little easier and most importantly to make them smile.
The items in these boxes do not have to be brand new, as long as they are in good condition, and are a perfect opportunity to pass on 'pre-loved' toys, winter scarves & mittens.
We are hoping that we can increase the number of boxes donated last year and bring Christmas cheer to even more children.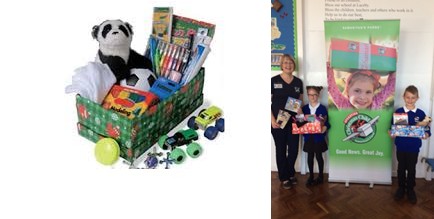 Musical Assembly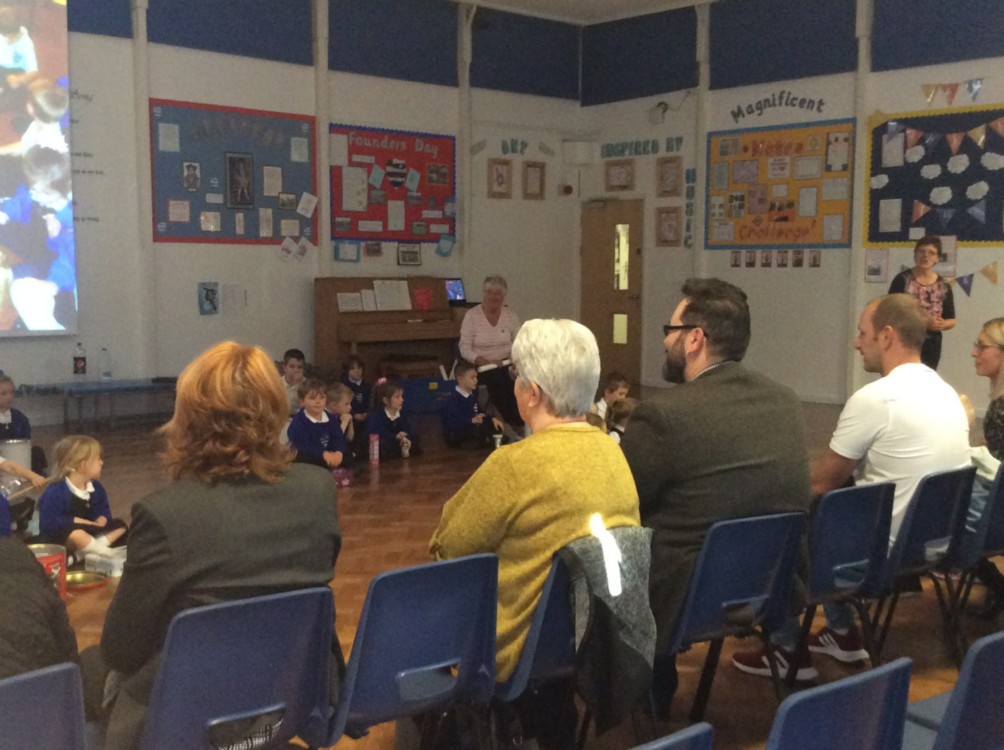 Thank you Sunflower Class for a lovely musical assembly. We really enjoyed seeing and hearing the use of recyclable materials to create important messages about helping the environment. Thank you to Mrs Brady, Mrs Wink and an extra special mention to Mrs Groves for leading the event. The positive feedback from parents/carers was greatly appreciated as was their participation!
Halloween
Halloween fun was had by all who joined the event at school today - ghoulish treats and fun dares!
Thank you to all the staff and volunteers who helped organise the event.
Flu Vaccinations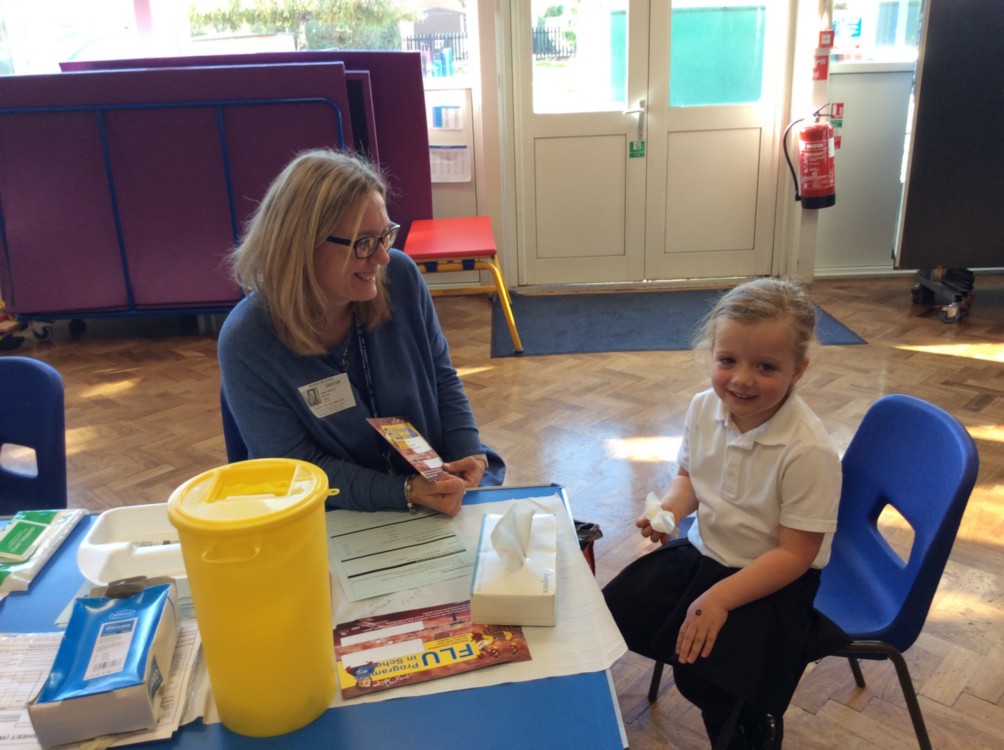 Well done to all the pupils who had their Flu Vac today. Thanks to the School Nurse Team for their help.
Can I understand why Ramadan & Eid are important in the Islamic faith?
In our RE unit Remembering we have been looking at why different faiths have celebrations. They have them to celebrate people and remember special events. We have looked at different Islamic celebrations and have found similarities to those celebrated by Christians, as both remember Moses and Noah. We then looked in more detail about the celebration of Ramadan & Eid and found out that Eid is a lot like the Christian celebration of Christmas. Christians celebrate Christmas as God gave Jesus to the world. Muslims celebrate Ramadan & Eid as that is when they were given the Qur'an to guide them how to live their lives.
We were fortunate as some of our parents came to talk to the children about why Ramadan & Eid is important to them.
In Ramadan the Muslims fast so they can appreciate how lucky they are to have things such as food, they give money and food to others who are not as fortunate as them and they use this time to connect with Allah and their families. At the end of Ramadan they have Eid where they decorate their homes with tinsel and other decorations, they dress in their best clothes, have a feast, give presents and visit their families.
They brought a copy of the Qur'an so the children could see Arabic writing and how beautiful this book it. They also spoke about the Pillars of Islam and how they guide the Muslim people to try and live a better life. They also brought some Henna and showed the children how they decorate their hands for special celebrations. The children loved learning more about the Islamic faith and had lots of interesting questions to ask.
Little Princess Trust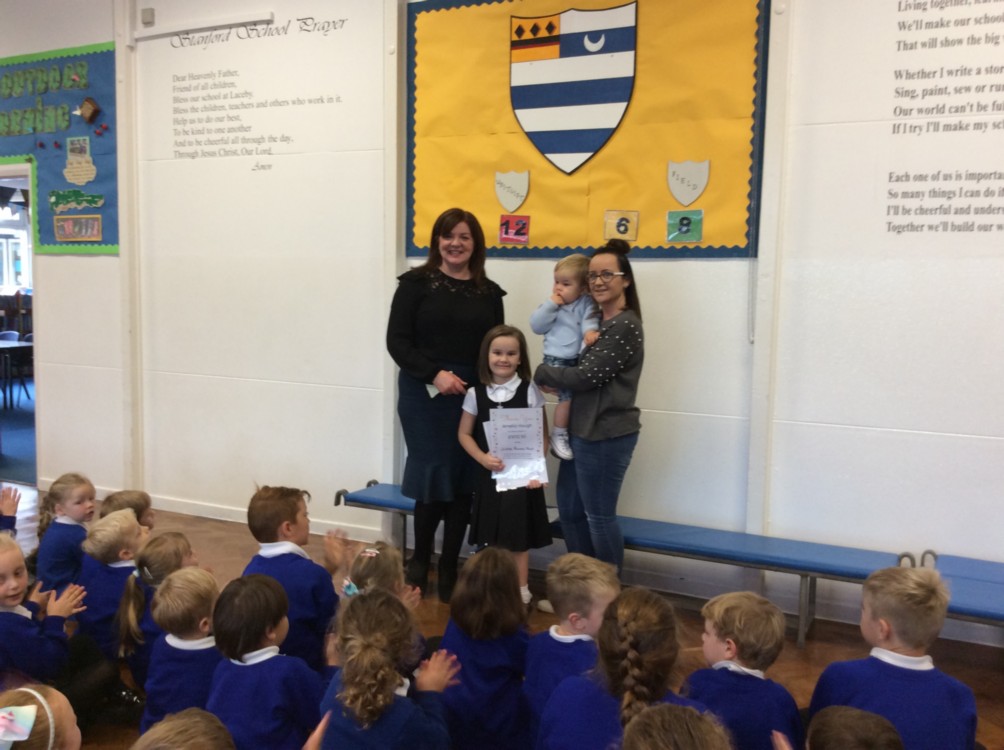 Well done to A for her charity work to support the Little Princess Trust - she raised over £1000! Mum and school were very proud!
Harvest Time
What a lovely scent there is in our quad area.  We have been harvesting out lavender this afternoon.  We are going to dry the flowers out and hopefully use them as a part of our enterprise project.
Can I celebrate the Harvest?
We enjoyed a wonderful Harvest Festival at St Margaret's Church today. Well done to all the pupils for their songs and poems. Mr Stevens helped us remember how important saying 'thank you' for all the food we have. Thank you for all the donations for Harbour Place too.
Ket Stage 1
Key Stage One went to St. Margaret's Church to celebrate the Harvest. They sang Harvest songs, presented Harvest gifts and looked at all the colourful fruit, vegetables, corn and flowers that were on display all around the beautiful church. Mr. Stevens told the children all about Harvest. They said prayers to thank God for the food they have to eat and they also reflected on how their Harvest gifts will help others
Key Stage 2
Key Stage 2 children enjoyed taking part in a harvest celebration in St Margaret's Church, as ever the church looked lovely with its decorations created by the congregation.
The children enjoyed singing hymns and performing harvest poems and songs.