Behaviour
Card System
A central part of our Behaviour Policy is the Pink, Amber, Red Card system.
Sometimes a child will make a choice that will result in either a straight Amber or Red card, without chance for a warning. Although this is unusual, it reflects those choices which children make which we do not accept in school, such as hurting another child or deliberately damaging property.
Pink
If a child breaks one of the 'Stanford Super Six' rules, they will be given a pink card and told, "……… (name), this is your reminder to make the right choice".
If the child continues to make the right choices throughout the remainder of the lesson, the card will be taken back and no further consequences applied.
Amber
If the child continues to make the wrong choices, they will be given an amber card and told, "…… (name) you were asked to make the right choice, but have not done so. At playtime you will go to The Pod to see Mr Hawkins and complete a Reflection Sheet to think about the choices you have made."
The Reflection Sheets will be kept on file and monitored through the year. If a child receives 3 Reflection Sheets in a week, or 6 in a half term, they will be copied and sent home to parents.
Parents will be asked to sign and return a sheet to acknowledge receipt of the sheets. Parents will be able to make comments on the reply slip should they wish.
Red
If the wrong choices continue to be made, the child will receive a red card and sent, with their work, to a partner teacher. The child will be told 'You have made the choice to leave the classroom to reflect on your behaviour and the choices you've made". They will then sit for 5 minutes in the partner teacher's classroom, using the 5 minute timer. A message will be placed on the wall at the place they sit to encourage reflection. As follows:
Once the timer has finished they should return to their classroom of their own accord, thus taking responsibility for their own behaviour.
If the child reaches the third warning, and receives a red card, the Teacher or TA a phone call to their parent to explain their behaviour will take place.
---
Reflection Sheets - A Time to Reflect
We try to give children the opportunity to not only reflect on the good things they do e.g. good work in class, but also the negative choices that they sometimes make.
Reflection Sheets are a chance for children to:
Think about the decisions they made or actions they took in words or pictures, why this may have been the wrong choice to make and what they could do next time to avoid it happening again.
If a child receives 3 Reflection Sheets in a week or 6 in a half term they will be copied and sent home to parents, so they have an opportunity to discuss with their child the behaviours they have been displaying in school and to help them to make more positive choices in future.
Polite Points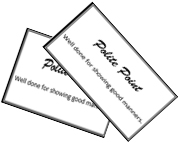 In addition to Team Points and Star of Day rewards, last term we also introduced Polite Points.
Polite Points simply reward behaviour which demonstrates thought, caring,
good manners and a generally positive attitude to fellow members of the school.
Each week every child who has received a Polite Point is entered into raffle to win a small prize and have their picture on the wall!
---
Behaviour Ambassadors
In school we are beginning to use 'Behaviour Ambassadors'  to help ensure that children's behaviours for learning is as good as they can be.
Being a Behaviour  Ambassador is an excellent learning experience and a fantastic opportunity for children to excel, take responsibility and gain knowledge and skills that will benefit them immensely.
In Class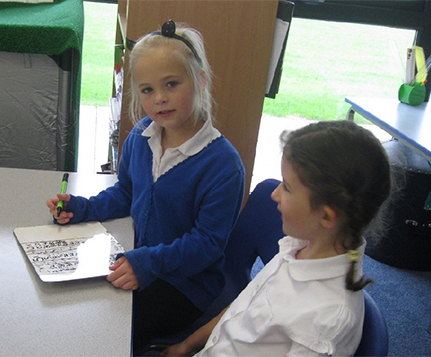 In Year 4 Behaviour Ambassadors are used in a variety of ways. In Guided Reading the class have 2 leaders who have a white board on which they write everyone's name in the group.
If children display positive learning behaviours they get a tick, if they do not they get a slash. If a child gets 3 ticks they get a Team Point, but if they get three slashes they go onto a Pink Card ('Pink for Think'). Each week the leaders change to ensure that everyone gets a chance to show their potential.