Outdoor Learning
At Stanford Junior and Infants School our vision focuses on real-life learning, and we make effective and exciting links to the world, one of the ways we can do this is to take children outside the classroom into their wider school environment in order to engage them.
The use of the 'outdoors' helps to deliver a skills based curriculum, in which touching experiencing and 'being amongst' underpins the learning.
Learning outside enables a child to be immersed in hands on, practical experience and problem solve. Asking questions, working collaboratively, operating in real life and relevant projects improves understanding and engagement in all aspects of the curriculum be it maths, science, geography creative writing and the list goes on…
Please look at our Curriculum Page to keep up to date with the exciting outdoor learning that we are so proud of at Stanford Junior and Infants School.
Autumn Fun!
In Science, the Sunflowers have been learning all about seasonal changes and looking at signs of Autumn. For Golden Time today, they all made these lovely autumnal leaf hedgehogs.
W- It was the best lesson ever!
A- We collected so many leaves. I liked looking at all the different colours.
J- The Autumn leaves were everywhere outside.
Mrs. Brady- The Autumn leaves were everywhere inside too! Happy Half-Term Everyone. Don't forget to go on your own nature walk with your family to find other signs of Autumn.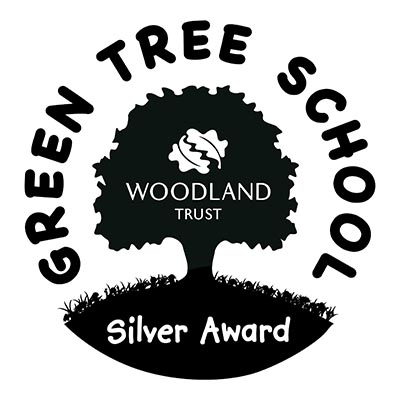 LQ: Can I recognise signs of Autumn
LQ: Can I sort autumn animals and autumn colours?
The sun shone as we put on our wellies and coats and set off in search of autumn animals. We looked in the trees and on the ground to find a spider, owl, squirrel, hedgehog, fox and a bat.
Then, we all searched for autumn colours that were brown, yellow, orange and white in colour.
Next, we worked in teams to sort the animal pictures to find their correct homes.
We then looked for an autumn leaf to bring back to the classroom and look closely at and draw what we see.
Can I learn basic greetings in French?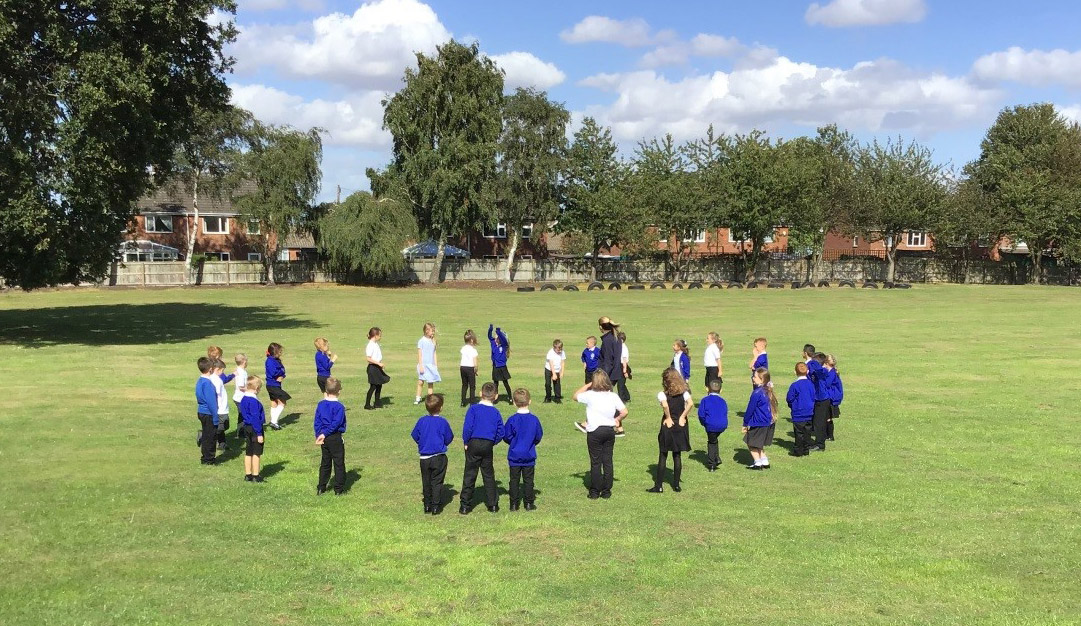 This afternoon Juniper class loved practising their French greetings outdoors.
LQ: Can I share and handle tools safely?
LQ: Can I talk about the plants?
Today the children have been busy planting winter flowers in the Seedlings outdoor area. They did lots of digging with the trowel and looked at the roots on the plants too. We then drew pictures and made marks and letter shapes about what we did.
Mini Beast Hunt
LQ: Can I use my knowledge to identify different minibeasts?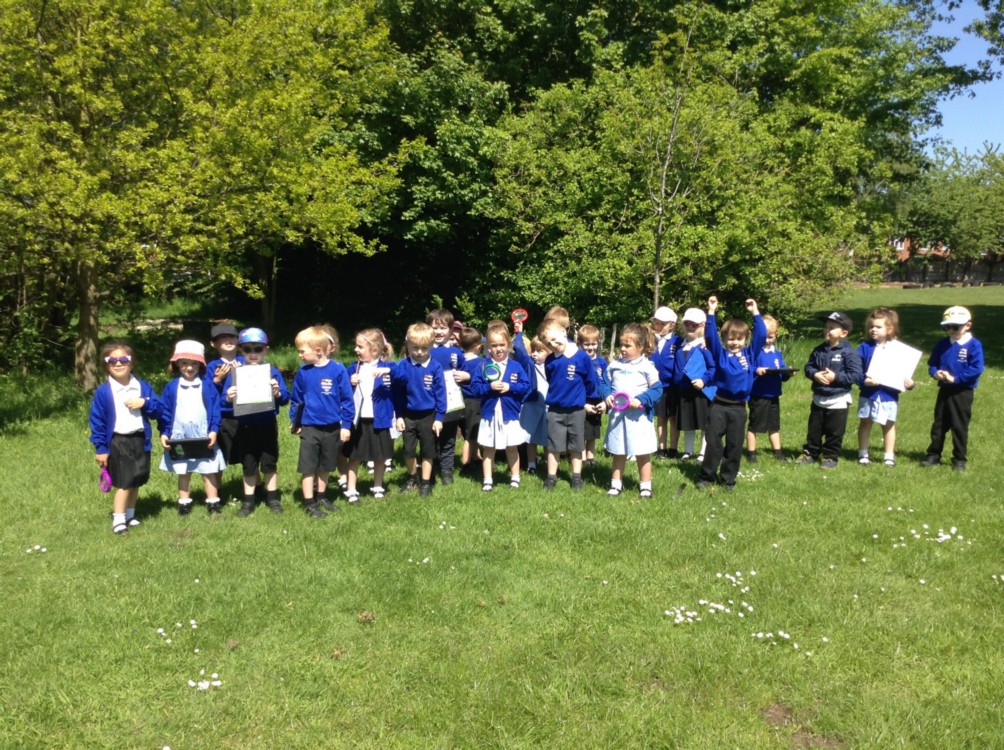 Seedlings went on a minibeast hunt in the nature area. The children have been learning all about minibeasts. They found spiders, worms, butterflies, slugs, snails,woodlice and centipedes. They worked in small groups hunting and creating videos about what they found.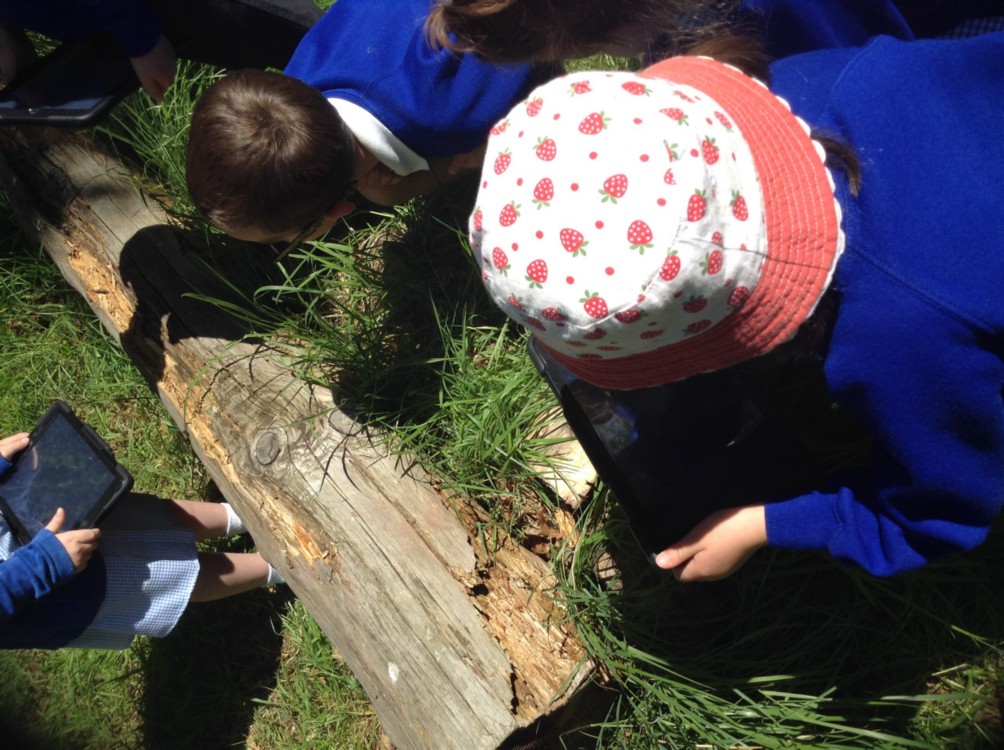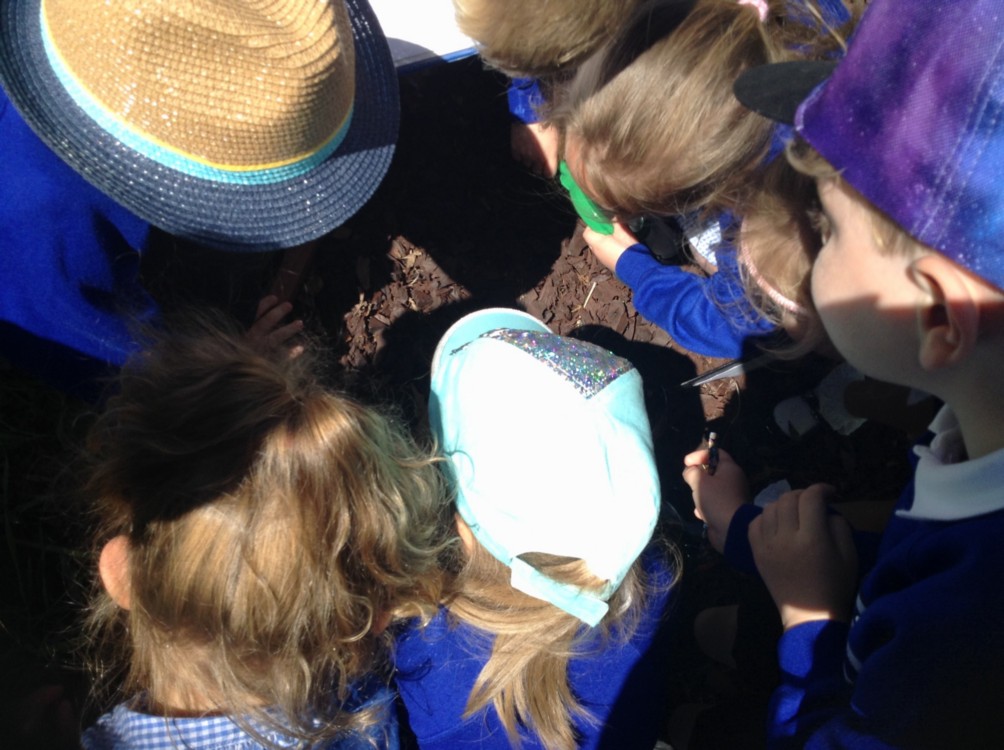 Reading Collaboration
LQ: Can I read and listen to a partner?
Seedling and Sunflower classes enjoyed their reading collaboration on the school field.
Can I improve my spelling?
The Sunflowers are enjoying practising their spelling patterns outside.
FM- It was really good fun to write with chalk.
SS- It was unusual because we used pink chalk.
PB- There's loads of space on the playground to write loads of real and alien words.
CR- It helped me practise my spelling.
Planting tomatoes
Today it was the perfect time for Seedlings class to plant some tomatoes outside. We looked at the different parts of the plant including the roots, truck and leaves and predicted how the plant might change. We watered the tomato plant and will look forward to noticing the changes and hopefully some ripe red tomatoes!!
Looking For Signs Of Spring
Today Seedlings went on a walk to the nature area looking for the signs of spring. We found daffodils, small frogs, flowers and bees. We also spotted lots of different birds. The children looked around the pond area and sat inside the willow hide. We then listened to a story about a tadpole.
Love Lincolnshire Plants
The Lincolnshire Wildlife Trust came to Stanford and delivered an assembly with the theme "Love Lincolnshire Plants". The assembly was about the importance of plants, the Victorian botanist Sir Joseph Banks, the plant collection 'herbarium' that he created and the new Lincolnshire herbarium project.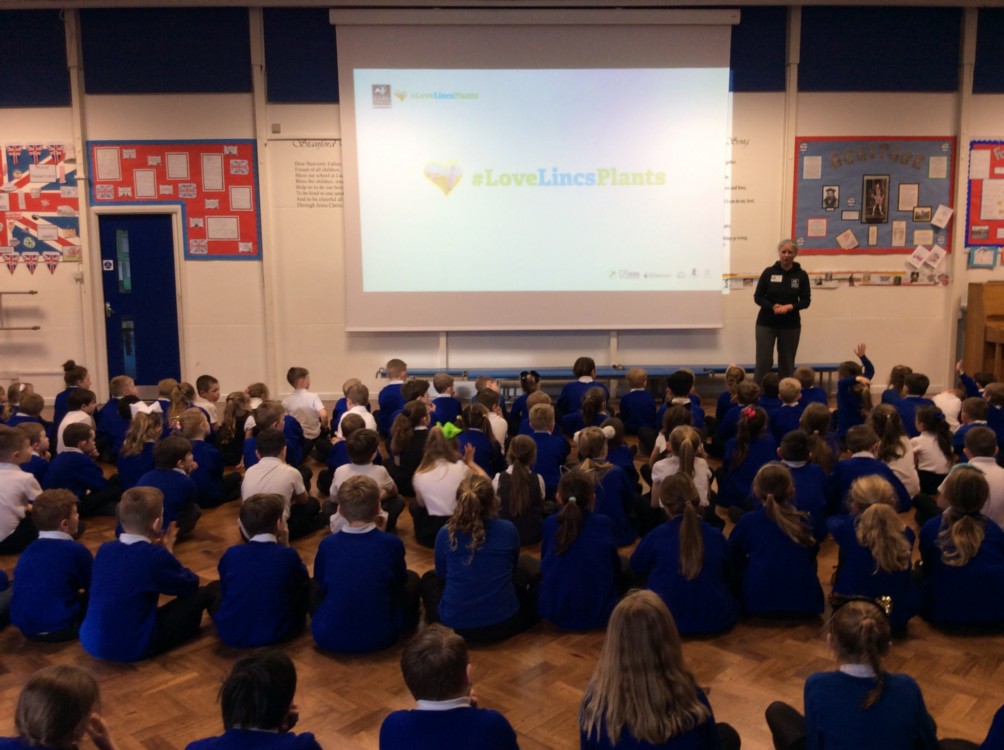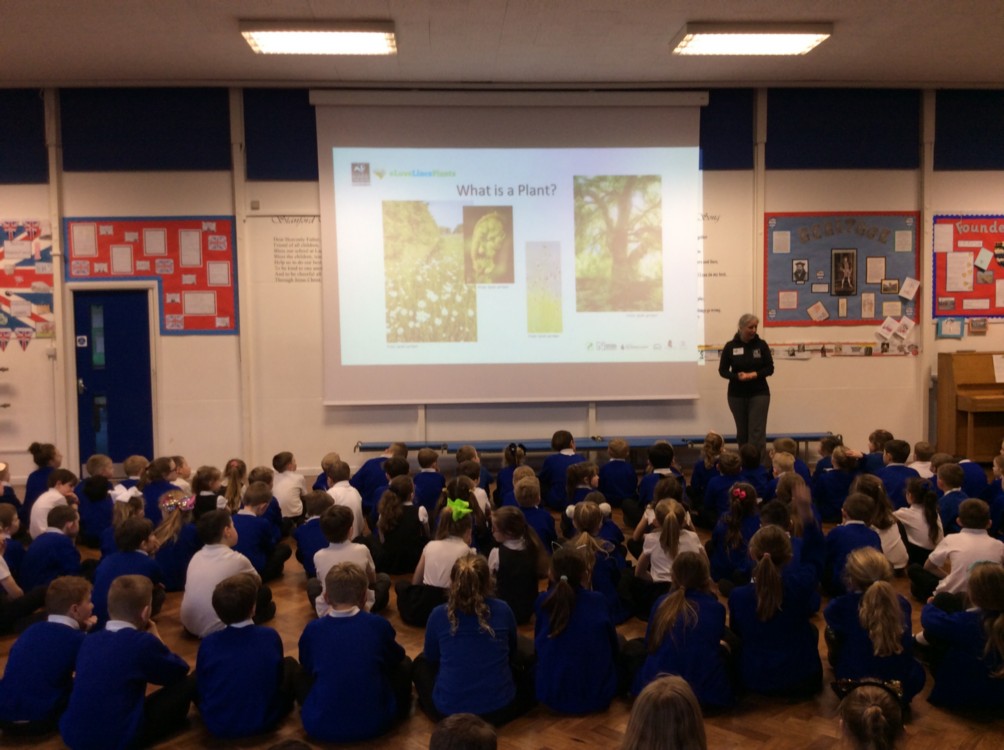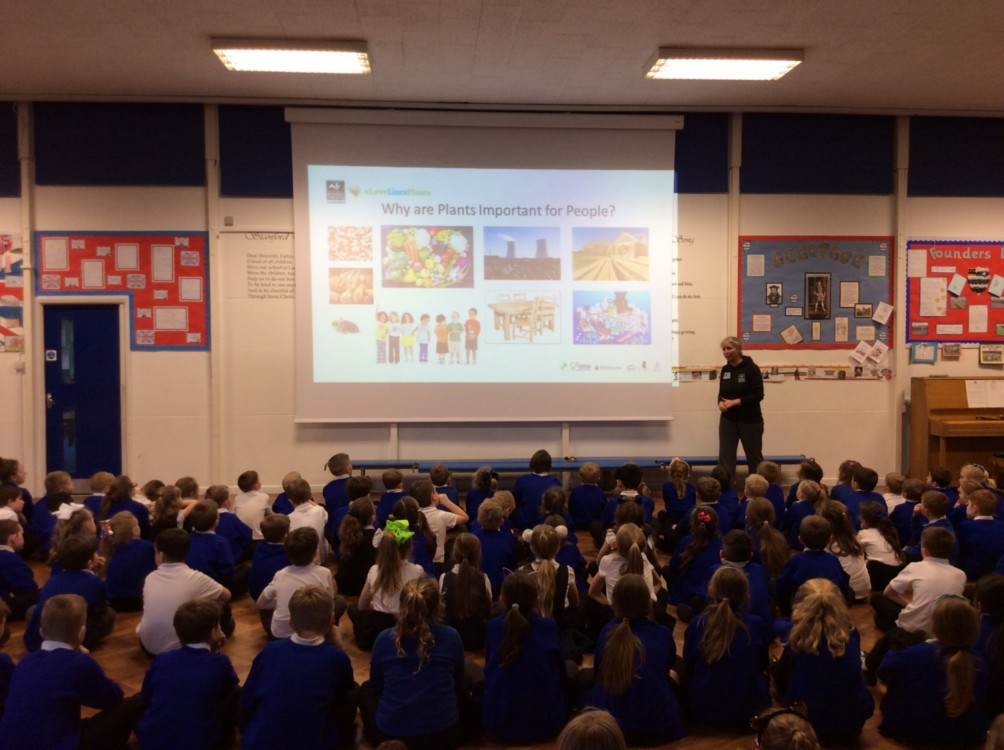 RSPB Big Schools' Birdwatch
Today Seedlings took part in the RSPB Big Schools' Birdwatch. Seedlings worked with a partner to record the different birds that they spotted.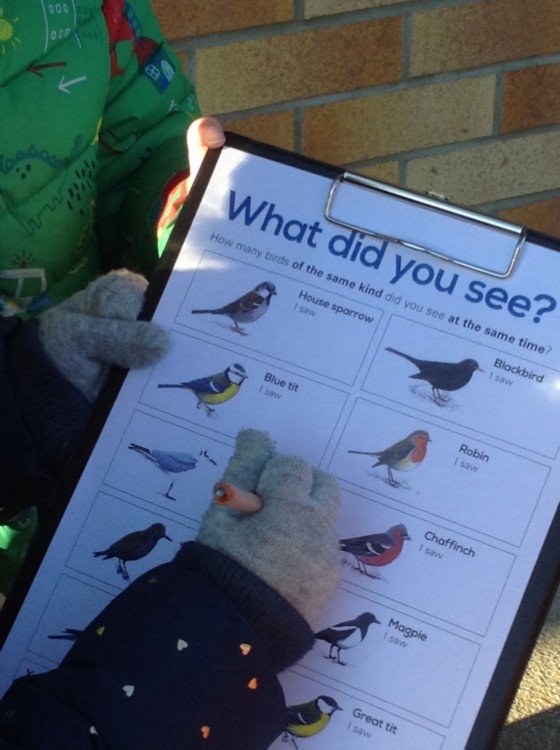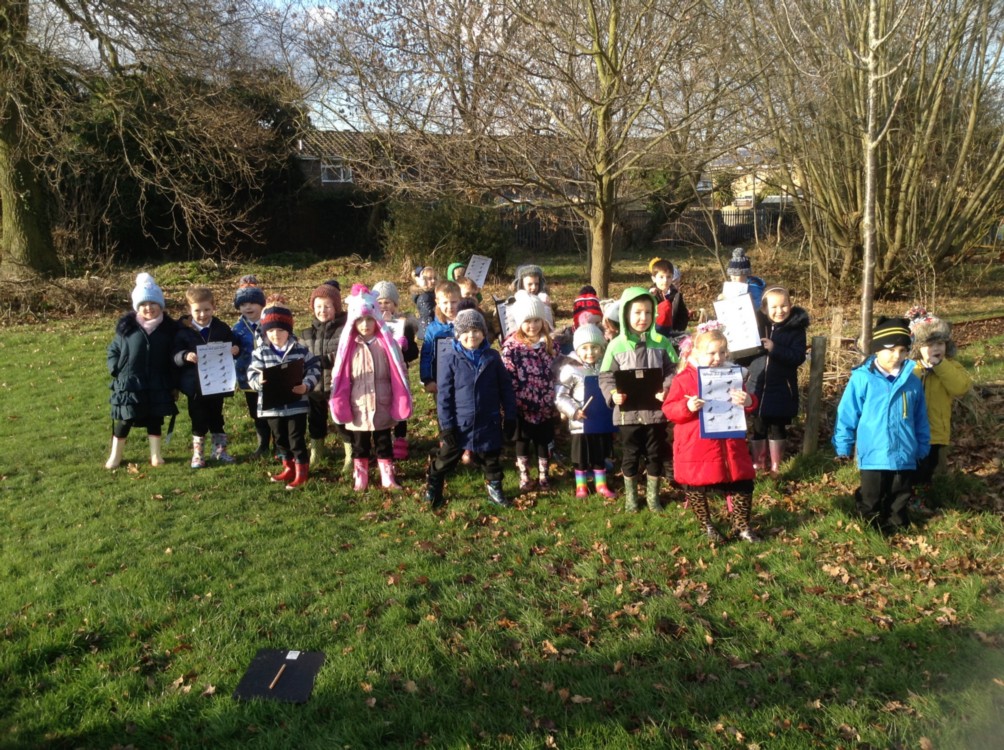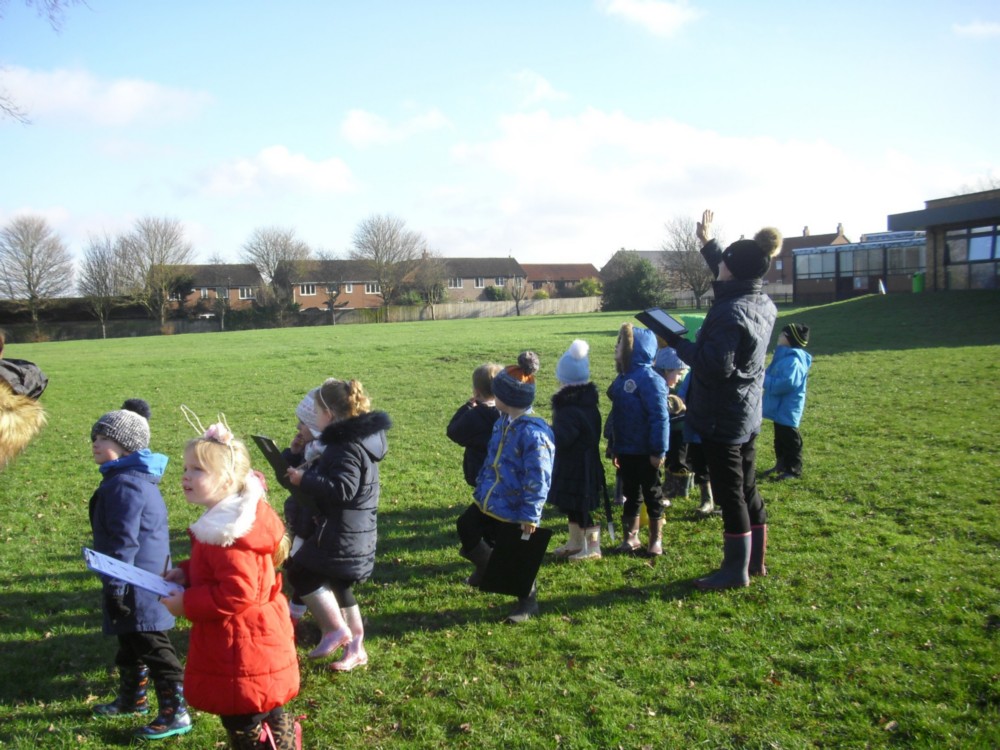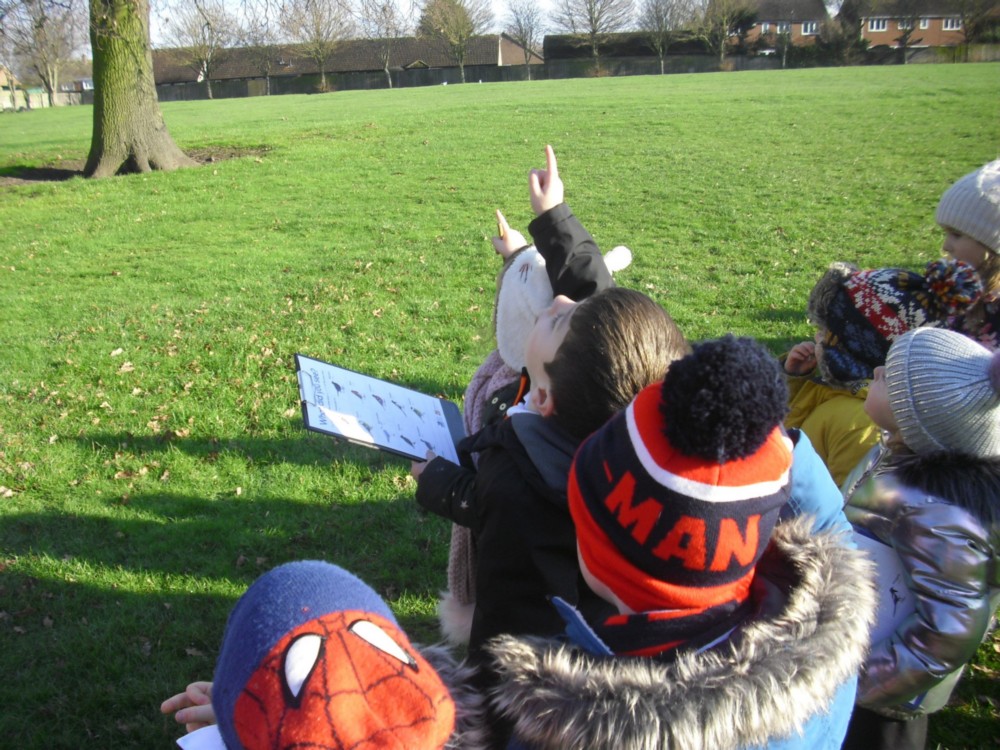 Can I read, spell and write the Year 1 Common Exception Words?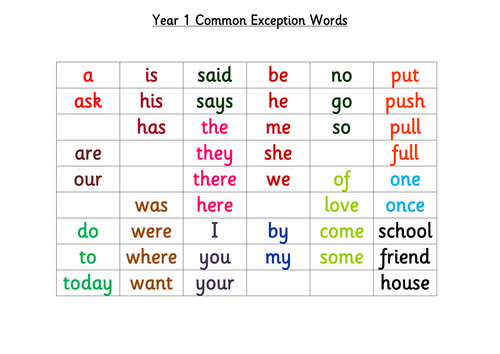 The Sunflowers have been busy learning their Year One words this week, even outside!
LQ: Can I show care and concern for the winter birds?
This week we have been taking care of the winter birds by making bird cakes. We used lard and seeds to make Christmas bird cake. We then went to hang them in the nature area.
Edina Bulb project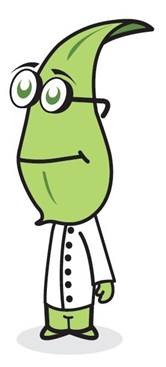 This is Professor Plant!
He works at Amgueddfa Cymru –National Museum Wales, in Cardiff.  He studies plants and nature in the botanical section of the museum.

Juniper class are helping him with an important nature investigation…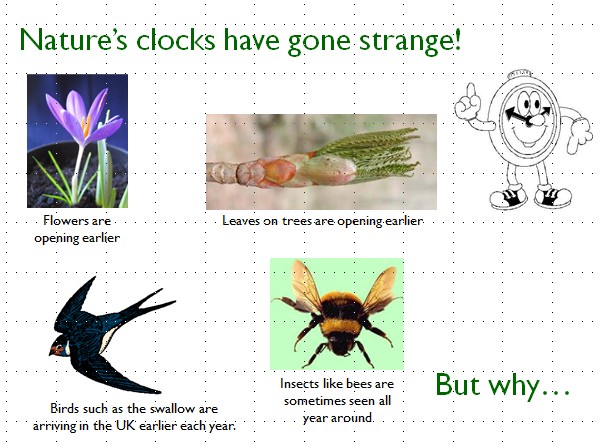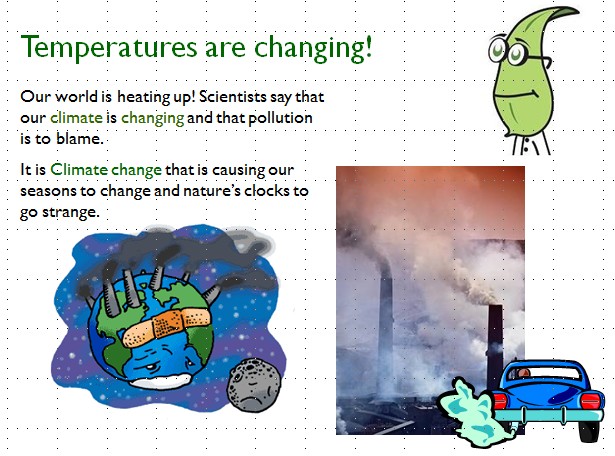 ---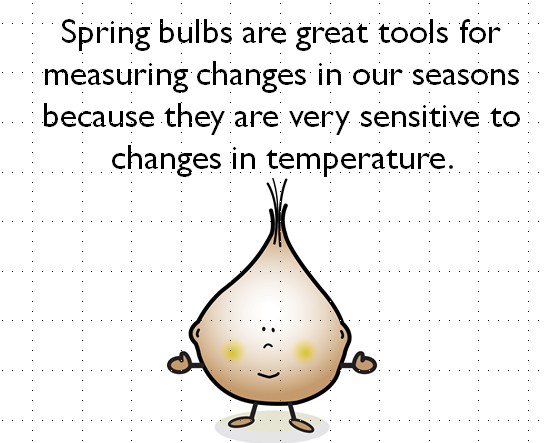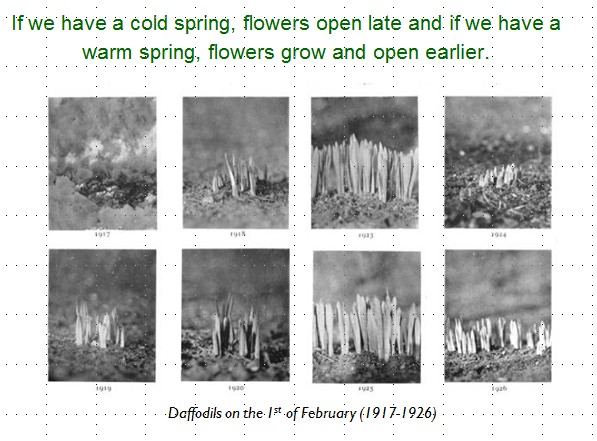 Today we planted our crocus and daffodil bulbs. We had to follow the instructions carefully so the experiment is fair. We will be monitoring the weather from November and recording it. We will send this data to Professor Plant. In the spring we will record when the bulbs flower.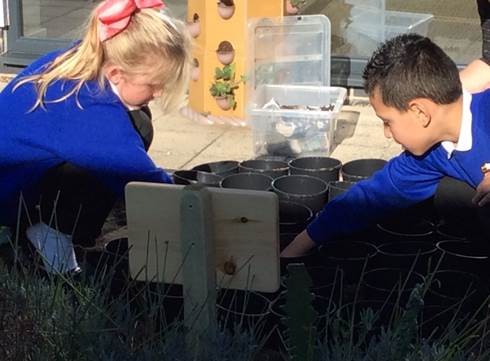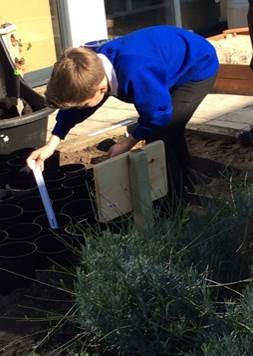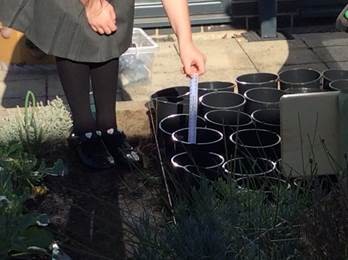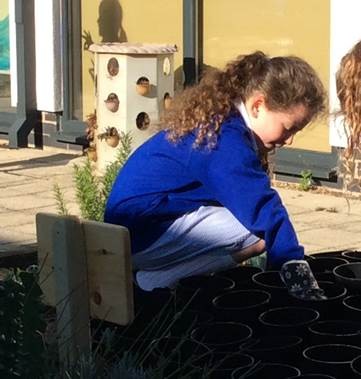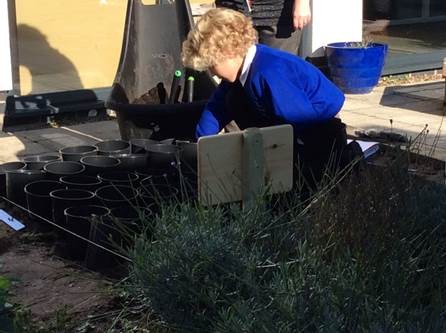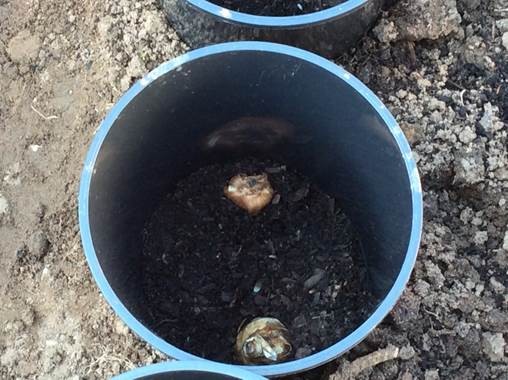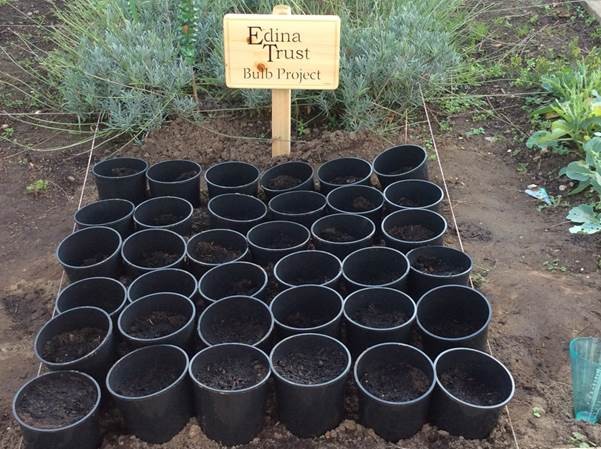 Food Chains
While we were planting our bulbs we noticed we have some visitors to our allotment …. Caterpillars are loving our cabbages!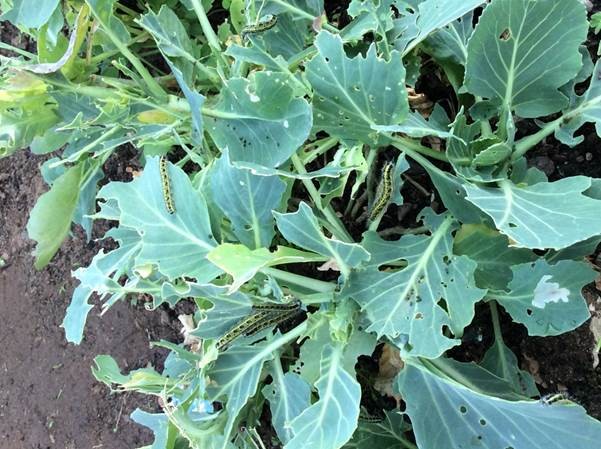 We will research what species they are.
LQ: Can I recognise signs of autumn?
The sun shone as we put on our wellies and coats and set off in search of autumn animals. We looked in the trees and on the ground to find a spider, owl, squirrel, hedgehog, fox and a bat.
Then, we all searched for autumn colours that were brown, yellow, orange and white in colour. Next, we worked in teams to sort the animal pictures to find their correct homes. After that we looked for an autumn leaf before finally sitting down to look closely at the colour and outline of the our leaf and draw what we could see.
J.R -"I liked finding the different things and matching them to the colours."
A.S -"I liked looking for the autumn animals and where they might live."
J.M - "Looking for different leaves and I found an acorn!"
L.D - "It was fun when we played the game to run and put the animal in the right home."
Harvest Time
What a lovely scent there is in our quad area.  We have been harvesting out lavender this afternoon.  We are going to dry the flowers out and hopefully use them as a part of our enterprise project.
Can I create a tile in the style of William Morris?
We have been looking at some of the designs created by William Morris that were inspired by nature. This afternoon we explored our outdoor environment looking for ideas for our tiles. We took photos of the leaves and berries and flowers that interested us to help with our designs.
To our delight we were greeted by a large number of resident frogs as we explored our nature area. They certainly surprised us as they leapt out of the grass.
Can I learn about directions: North, South, East and West?
The Sunflowers have been learning about Christopher Columbus and how he navigated his ships using a compass. Today they navigated their way around the playground using their own compasses.
Street Child
Can I explore the thoughts, feelings and actions of the main characters in Chapter 2 "The Stick Man"?
In groups we discussed the main events in the text then role played each character.
This helped us to consider the thoughts, actions and opinions of each person.   We worked together to act out how each character would react to the key events in the chapter.  We enjoyed performing our ideas on the stage in our outdoor classroom.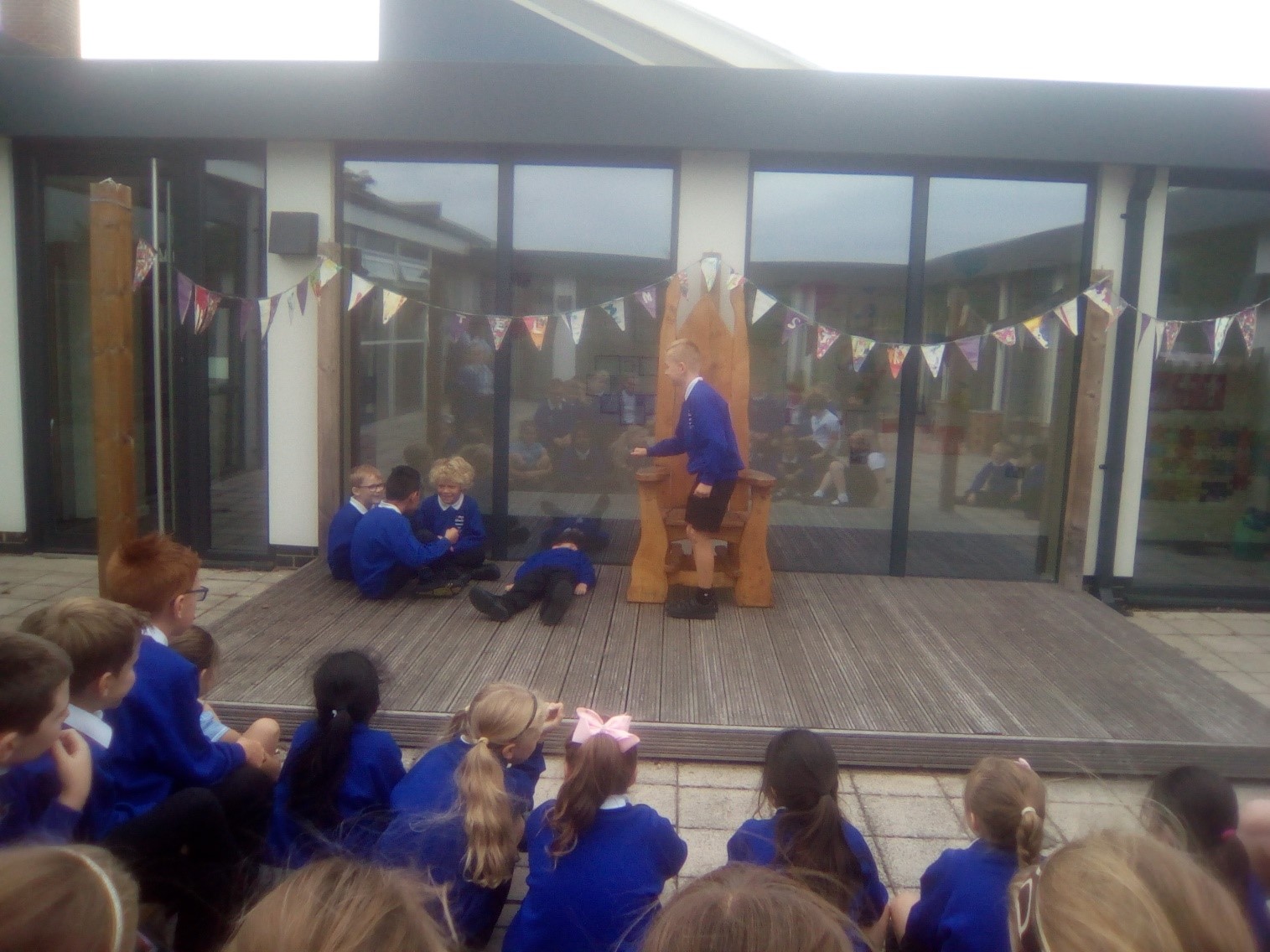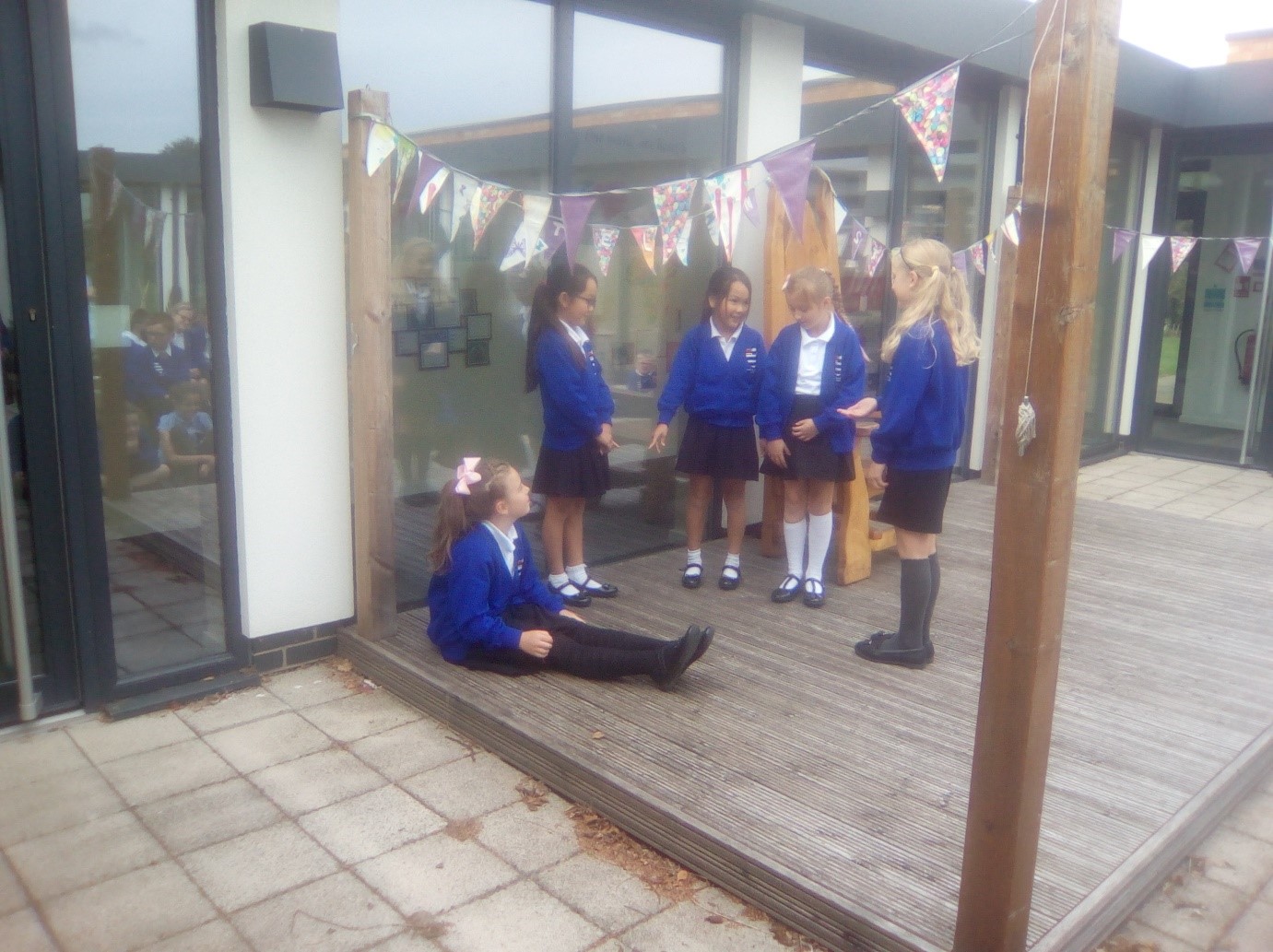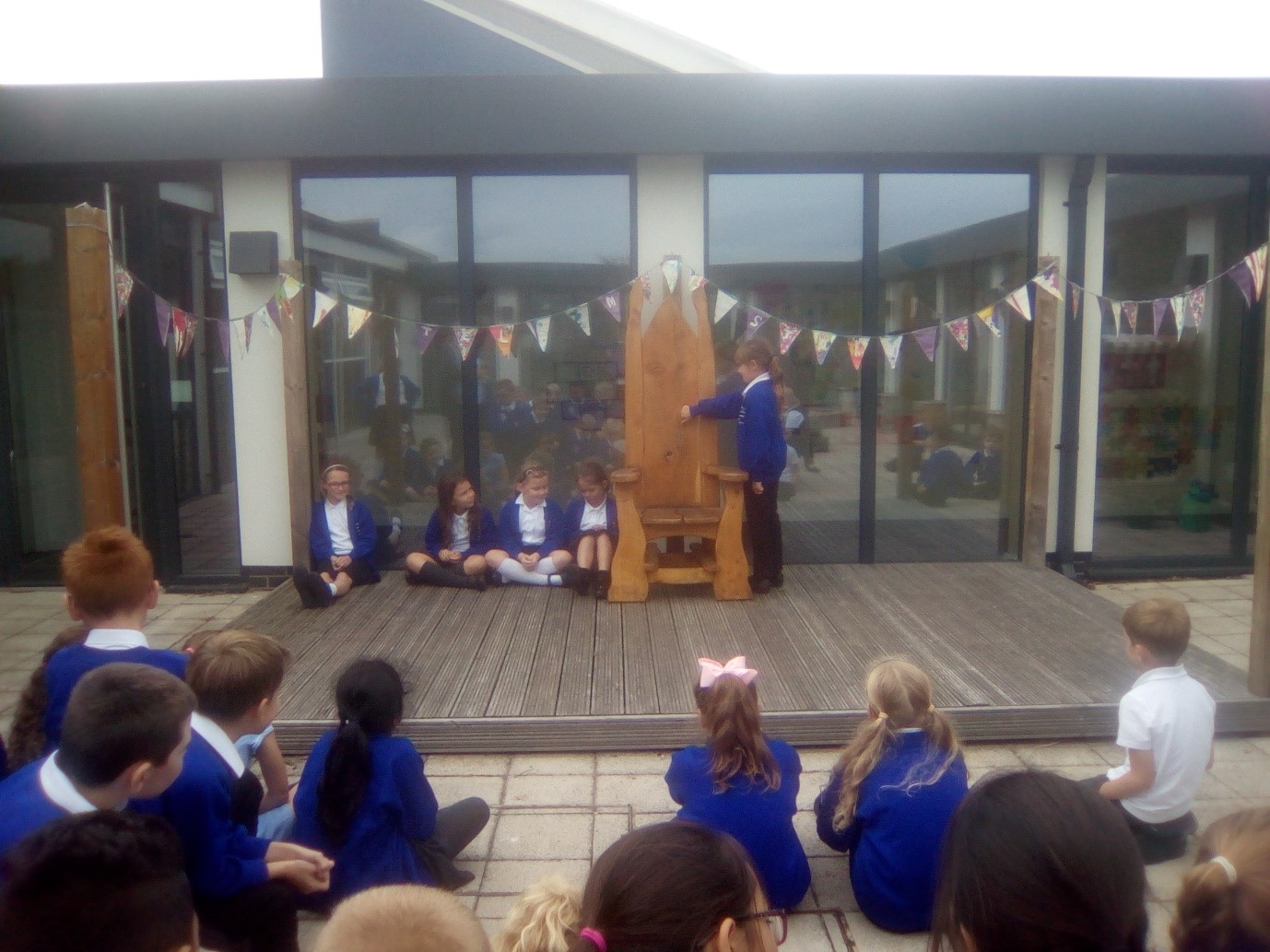 Laceby in Bloom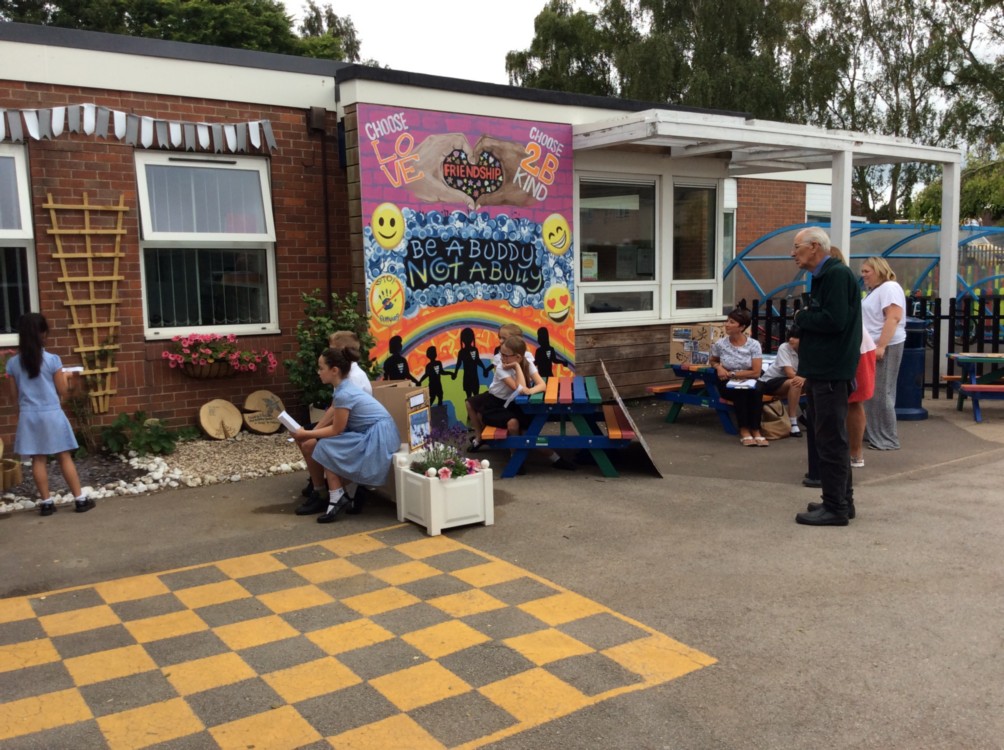 Well done and thank you to everyone involved in Laceby in Bloom. The judges visited this week and the school showed their work on the peace garden. The group of pupils who presented the information were excellent and received many compliments regarding their enthusiasm and knowledge. Good Luck to the Village Entry and to the School.
Strawberries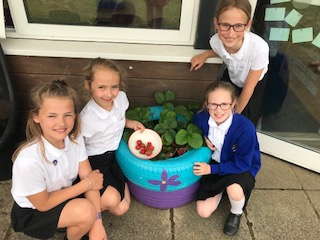 Wow! Don't these look delicious?! Year 5 pupils have thoroughly enjoyed taking on the responsibility of various gardening areas around school. They decided to grow strawberries outside our classroom and they have done a wonderful job. Well done gardeners!
'They have grown so well, they're huge and very red!' – Esmae
'These strawberries are absolutely delicious! – Jessica
Can I create natural sculptures in the style of Andy Goldsworthy?
Sunflower Class worked in groups and altogether as a class to create wonderful natural sculptures outside. Their work was influenced by the environmental artist; Andy Goldsworthy. Summer- I like working altogether to make a bigger and better sculpture.
Mollie- I like art outside because I can use natural materials.
James- Andy Goldsworthy likes shapes, particularly circles and he likes to work outside. I think his art is very interesting and very beautiful.