Weeding, sowing, planting growing
Juniper class took it in turns to weed, plants seeds and plants and water our allotment area. We planted tomato plants, herbs, parsnip seeds, carrots, spring onions and beetroot. We can wait to see them grow.
Can I explain where, when and how strawberries are grown in the UK?
In science Year 3 explored our strawberry patch. We examined the flowers which would eventually turn into strawberries. We looked for the runners from the parent plant and how that is another way to grow new plants instead of using the seeds from the strawberries. Through our research we learnt that this was a quicker way than growing from seed and how the farmers tend to do it on UK strawberry farms. We estimated how many strawberries our patch would produce.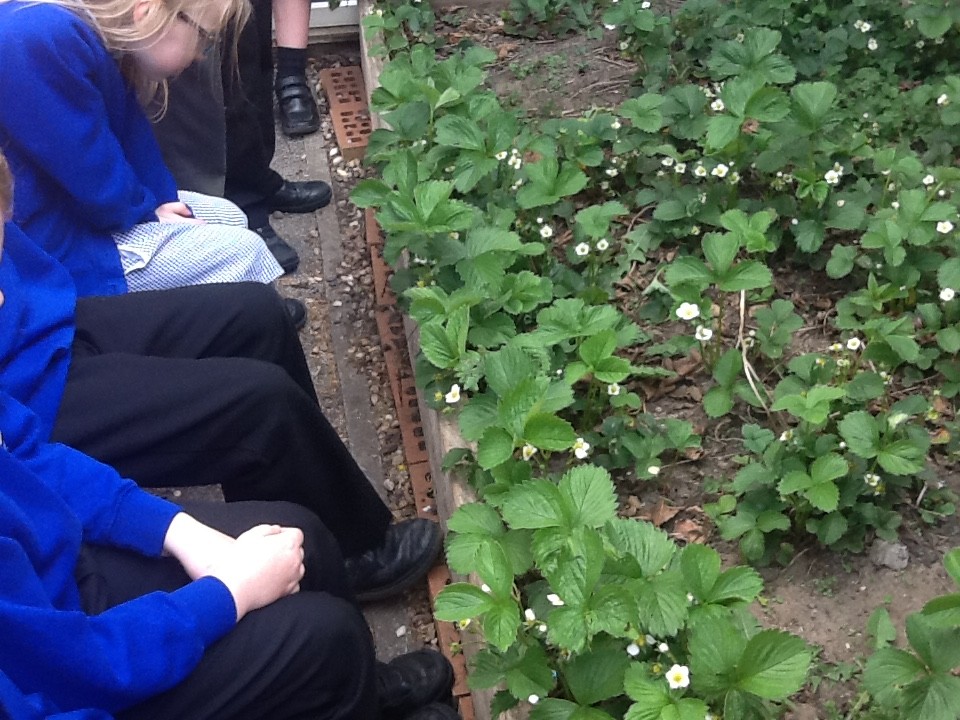 LQ: Can we work collaboratively to present ideas for our Nature area?
Juniper and Barley class have started their collaboration this term linked with Outdoor learning. Their challenge is to work in groups to create and then present a presentation on what they would like to see in our nature area- Dragon Den style! This afternoon they worked together to create their team name, logo and ideas of what they may like in this outdoor area.
Using Stanford Nature Area to Inspire our William Morris designs
William Morris didn't like the mass produced art of the industrialised Victorian society. He began the Arts and Crafts movement which favoured a return to skilled workmanship and high quality goods. His work was heavily influenced by and featured designs based on nature. We studied his artwork and then collected different leaves from the nature area to inspire our own individual designs.
Mini Beasts in the Nature Area
Children from Seedlings worked together to find out about insects and living things. We explored the outdoor area to find worms, woodlouse, spiders and snails! Children identified the different habitats and features of each living thing they observed. Back in the classroom children recorded which insect they found, its habitat and how it moved.
Planting Tomatoes
As we head into springtime and the warmer weather, we decided to plant some tomatoes ready for the summer. We looked at the roots hiding in the soil before planting them into a growbag. Next we gave them a good drink of water. We will look at how they change and measure how much they grow throughout the term and hope to get lots of tomatoes too!
We Care about Our Environment
Litter picking teams give up time during playtimes and lunchtimes to ensure that our school is litter free
This how much litter they collected on one playtime!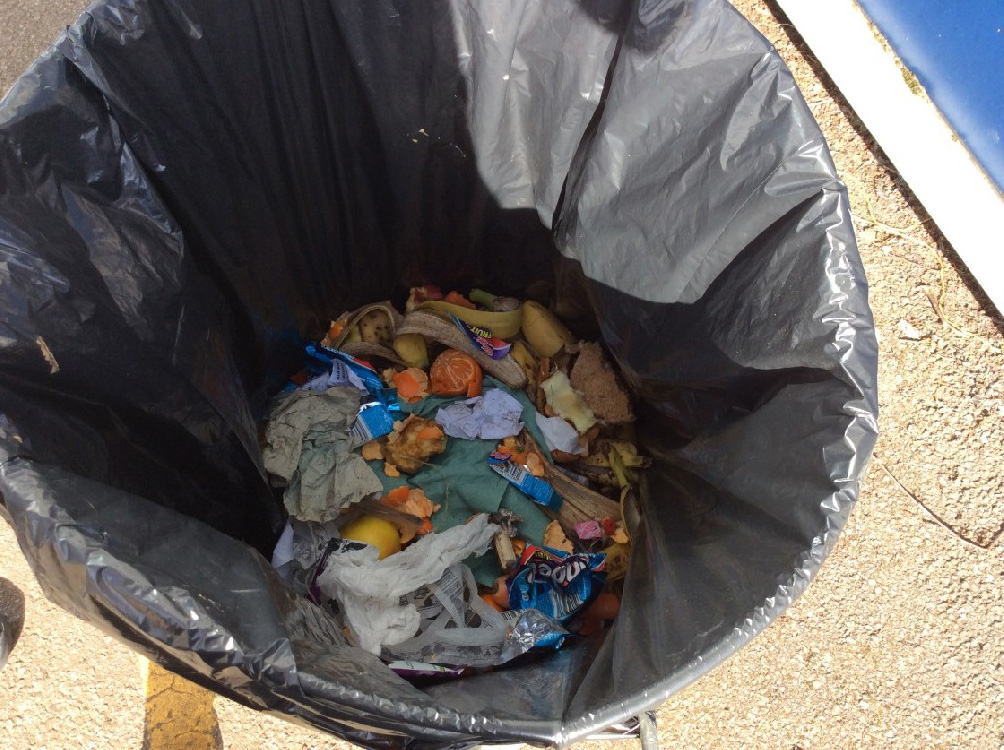 Signs of Spring
As we had such lovely weather today we decided it was the best time to go for a walk around school to look for signs that spring. Before we went we had a discussion about the different seasons and what we should be looking for. We found lots of flowers, buds on the trees and could see where some leaves were starting to open up and grow
Gardening
We have been enjoying gardening activities whilst our friends have been at Kingswood. We have tidied up the outdoor areas on the field and in the quad.
Outdoor Learning
Seedlings class have been outdoors learning how to throw and catch balls! It was quite a challenge but take a look at how we did! We also did plenty of physical activities including digging in the bark pit and riding the bikes
Let it snow!
We had lots of excitement today exploring and having fun in the snow!
Outdoor Angles
We loved our maths learning today outdoors. We when on a right angle, acute angle and obtuse angle hunt and took photos which we later peer assessed to ensure accuracy. Following this we had a challenge to make a shape/pattern with the most right angles. One group made a pattern with over 60 right angles!
RSPB BIRDWATCH 2017 - Stanford Nature Area
On Monday 30th January, 4 children from each class were chosen to represent Stanford School to record valuable data for this year's RSPB Big Birdwatch. We were lucky enough to have mild weather with reasonably clear skies. We were wrapped up very warmly for the hour of observation. The birds were very 'chirpy' and we were able to locate and identify them through their bird calls.
Children worked in pairs to complete the counting sheet. Each pair had a pair of binoculars, a recording chart, a bird identification sheet & a comfy cushion! After half an hour Miss Lucas came round with Birdwatcher Biscuits for sustenance. The children were all very enthusiastic and observant, they were openly grateful for the opportunity to be part of this experience
Owls visit
Mustard Class really enjoyed meeting the different types of owls that made a flying visit to Stanford today. They (the children) were very inquisitive and asked several profound questions about our visitors.
Year 2 Science Learning 13 Janaury
We used our wonderful outdoor area to help us learn.
We looked for different living things and evidence that animals had been in the area.
Look carefully at the pictures. What can you find? Can you explain your thinking?
Bird Seed Cake 1 December
This week in Seedlings Class we have been taking care of the winter birds by making bird cakes. We used lard and seeds to make into Christmas shapes. We then went to hang them in the nature area.
Caythorpe Assembly
The pupils in Mustard Class took charge in planning and performing an entertaining assembly for friends and family with raps ,poems, artwork and recounts of just some of the exciting learning that they have taken part in this term.
Gardening and Tidying
Year 5 had an enjoyable time gardening and tidying up the front of the School with Mrs Amos, in preparation for some Autumn planting.
Cherry Garth
Mustard Class had a fantastic day learning about survival techniques. They were active in archery, built diabolical dens and made fantastic fires. Everyone had a thoroughly enjoyable day at Cherry Garth.
Hedgehog
Frank from Andrew's Hedgehog Hospital brought a hedgehog called Sabrina to show everyone in Sunflower class. The children learnt lots of interesting facts. Frank and his team look after poorly and orphaned hedgehogs. Find out more about the hedgehog hospital at: www.andrewshedgehoghospital.org.uk
Mrs. Brady would like to thank Miss Lucas for organising this special visit and to everyone who sent donations to help the hedgehogs.
Lily- Baby hedgehogs are called hoglets.
Jamie- They come out at night; they are nocturnal.
Alfie- They can climb up walls.
Sam- They roll up in a ball.
Lacey- They eat earwigs.
Anthony- They sleep for a long time; they hibernate.
Ella R.- Hedgehogs can even swim. Mrs. Warton- I have learnt lots of things I didn't know about hedgehog
Autumn animal hunt and leaf drawing
The weather stayed fine as we put on our wellies and coats and set off in search for autumn animals. We looked in trees and on the ground to find a spider, owl, hedgehog, squirrel, fox and bat! After that we looked for things that matched the colours on our card. Next, we worked in teams to sort the animal pictures to find their correct homes. Finally, after lunch we sat down to look closely at out autumn leaf and drew what we could see.
Planting Winter Flowers
This week Seedlings Class have been busy outdoors planting new winter flowers. Once we had managed to put on our gardening gloves, we dug a hole and gently placed the flowers into the soil. We look forward to watching then change and grow.
Potatoes
Weeding and Harvesting
Star Anise enjoyed returning to school for a fun afternoon weeding and harvesting their Summer potato crop. Time to plant Spring bulbs including Narcissi, daffodils and tulips.
Mustard and Pumpkin Collaboration
Our potatoes have really benefitted from all the rain!
Our potatoes are finally beginning to sprout!
Hands on learning
Children in Seedlings Class have been learning outdoors this week hanging their bird feeders in the nature area and Seedlings playground. We now hope to see lots of birds visiting our school soon. Next, we planted tomato plants in a growbag and will look closely at the changes over the coming weeks. Finally, there has been lots of hands on learning in the mud kitchen and painting outdoors too!