Making bird cake
Snowy Phonics
Today in Miss Purshouse's phonics group we wrote our sound of the day (i) in the snow. The children really enjoyed this!
Can I partition numbers?
The children have been exploring ways to represent numbers by splitting them up into tens and ones.
R- I like drawing part-whole models with chalk.
L- We used Base 10 equipment. It is sticks of 10 and small cubes called ones.
J- I like to challenge myself to partition big numbers.
E- It's fun to do Maths outside.
Froglets!
Pumpkin Class have been looking closely at froglets this week. We drew the life cycle of the frog and labelled it using our science vocabulary. We can talk about: frog spawn; tadpoles; changes to their bodies; what they eat; how they live firstly in water and then on land (amphibians); their skin and finally how they mate and lay eggs.
We released them into the school pond and will keep going back to watch them grow. Some of us decided to make the life cycle using play doh!
Outdoor Learning
The Sunflower and Seedlings love to learn together and help each other with a wide range of activities outside.
J- I'm mending all the bikes in the garage.
O- It's fun pouring water and watching what happens.
N- I've been pushing my friends in the little car.
M- The people come to the garage and we fix their bikes and cars for them.
Bubbles
Pumpkin Class celebrated the sunshine today with lots of bubble fun! We made all sorts of bubbles and chased them around the playground. We learnt to blow gently for the bigger bubbles so that they didn't burst. We love our outdoor area!
Measuring Maths Outdoors
Pumpkin Class took their maths outdoors this week to practise their measuring skills. We measured small lines in cm and larger ones in m. We had so much fun learning outside and now we are really good at measuring!
Science
In Science we worked as teams to act out the life cycle of a flowering part. We tried to include the scientific vocabulary: germination, growing and flowering, pollination, fertilization and seed formation and seed dispersal.
It's always good to share a book!
We decided to make the most of the sun and sit on the decking reading to a partner. It was lovely to just enjoy each other's company, the sun and a obviously a good book.
Gardening Donations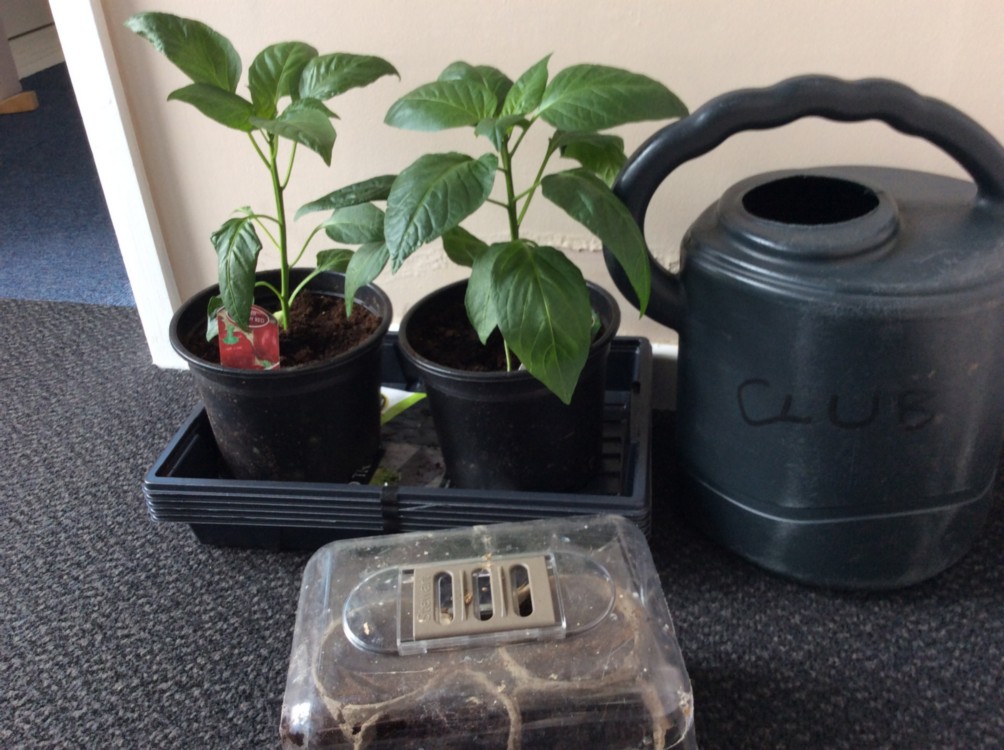 Thank you Woodthorpe Garden Centre for their kind donation of plants and soil for our outdoor learning - greatly appreciated.
Thank you also to The Laceby and District Sports Aid for their donation of £150 for the purchase of a polytunnel for school.
Many thanks Mrs Brumfield, School Governor, for her help sourcing the funding.
The Club and pupils are really enjoying planting and watching the seeds grow!
Year 2 Gardening Hook Day
Today we enjoyed a whole day of gardening and planting as an introduction to our work on Growing and Changing.
We started the day by following instructions on seed packets to plant leeks and carrots. We made labels so that we remembered where we planted them. We used our maths skills to make 1cm holes in the compost. Next we planted sunflowers for our height competition. We are going to see who can grow the tallest sunflower. Watering the seeds once they were planted was very important. We also put them in the sun.
We are also growing beans but we want to see how the beans change so we have put them on wet paper towels, inside plastic bags and hung them in the sun. Each week, as part of our science work, we will make observational drawings and record the changes we see.
Finally we all took part in a big tidy up around our playground and peace garden. This involved raking and sweeping dead leaves; pulling up weeds; gathering sticks and twigs and generally clearing up!
A great day was had by all and we can't wait to see our seeds and beans grow. Keep watching our page to find out what happens.
Y4 - Classification of invertebrates
In science we are learning about the different types of organisms in this world and how we classify them. Today we looked at different invertebrates, looked at their features and learnt their scientific names. After this we went out onto the field and in the nature area to look for different invertebrates in their natural habitats. We looked at their features and tried to use their scientific names to identify them.
Juniper Class – Easter gardens
After listening to the Easter story we working in teams to design and create our Easter gardens to represent the Easter story. It was so lovely to make use of our outdoor classroom space on such a sunny afternoon. We also enjoyed searching our outdoor space for resources for our gardens including our home grown daffodils.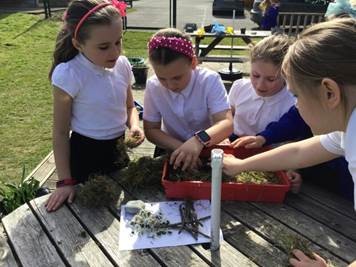 RSPB Birdwatch
Foundation children have been learning all about British birds, their habitats, foods they eat and how to care for them this week.
We threaded foods onto garden wire to make bird feeders that we then hung around the outdoor areas at school.
Children then went outside to take part in the RSPB Birdwatch to look for birds and then record they birds they spotted.
Outdoor Planting Bulbs
Seedlings and Sunflower classes have been busy outdoors planting bulbs in preparation for the Spring. We noticed that the bulbs had no roots!
Spring Bulbs
Foundation stage children planted some spring bulbs to thank our local community, including Cloverdale and St Margaret's church and wish them "A Very Happy Christmas".
Outdoor Learning
It's been a busy start to the year, taking our learning outdoors. From investigating sound travel through pipes, writing letters and numbers with sticks in mud, brushes of water or pens to serving delicious meals in the outdoor cafe. There is certainly always lots to do.
Green Bubble Outdoor Activities
We have been enjoying our outdoor learning space so much over the past few weeks. Have a look at what we have been up to.
Chalking and measuring:
Playing with scooters and bikes; we even opened a 'Car Wash'
Making Windmills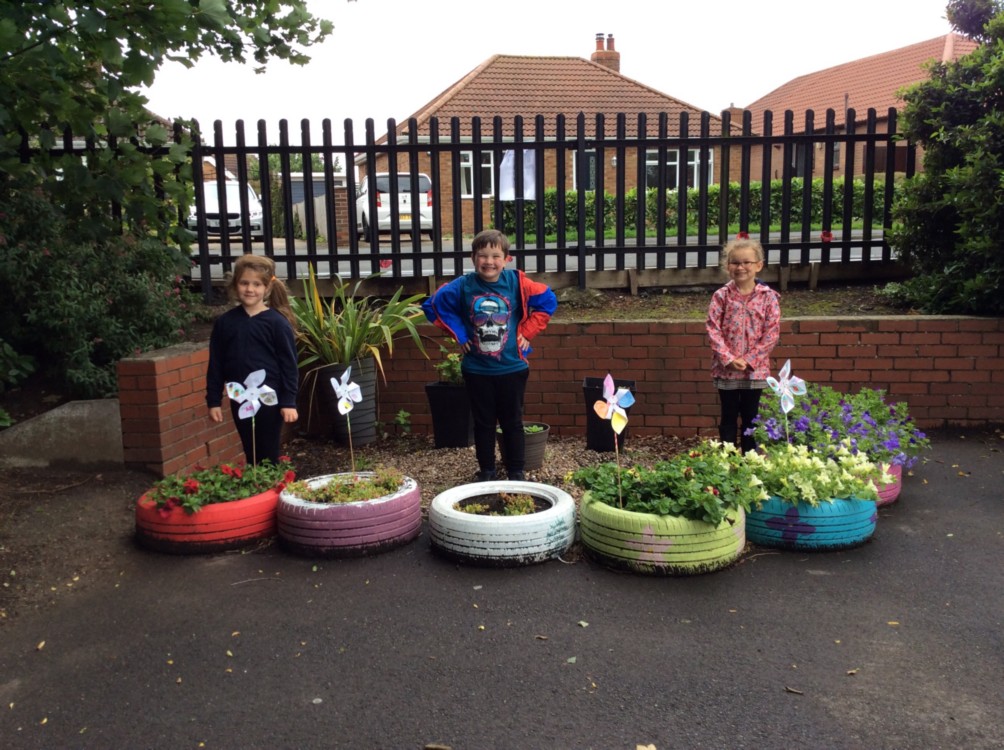 Daisy hunting
Bug's Life
This week Turquoise Bubble's theme is "It's a Bug's Life". To make the most of the beautiful weather we 'booted' up and set off on a bug hunt in the Nature Area and around school. The children had lots of fun finding hidden areas in the Nature Area. We even found some bug hotels but unfortunately the children were not so keen on the residents!!!
I hope you enjoy the pictures!
Miss Perrin
This week we made rock plants to brighten up our entrance to school
Our decorated bug stones and painted logs really cheer the front of our school up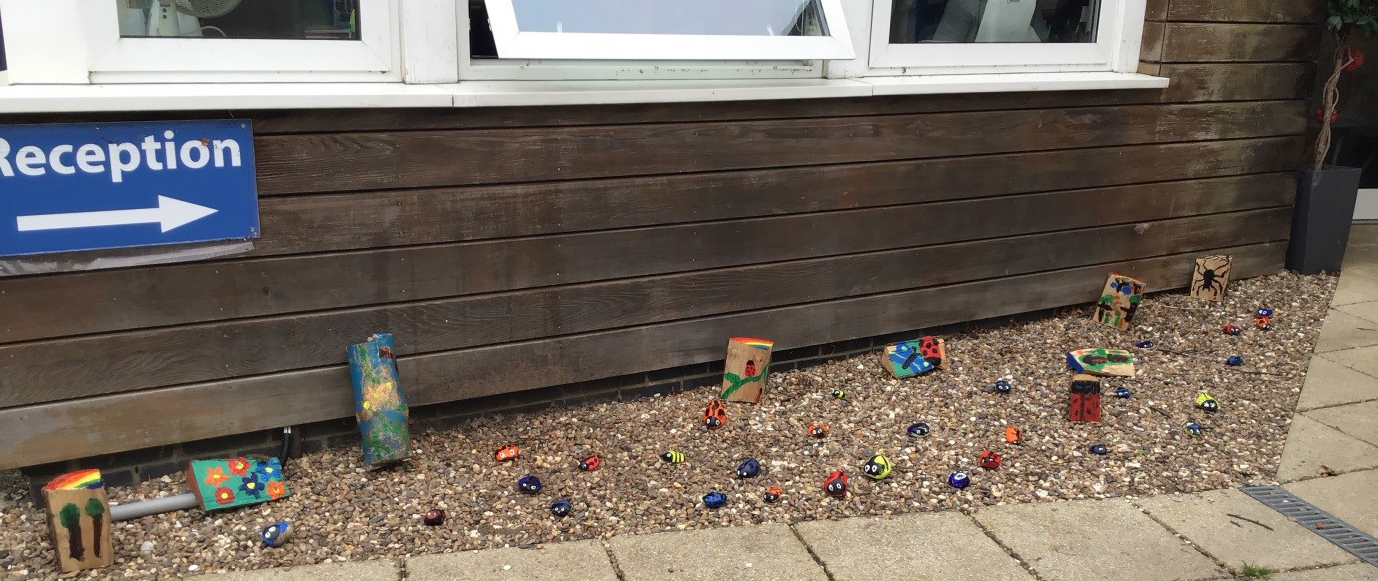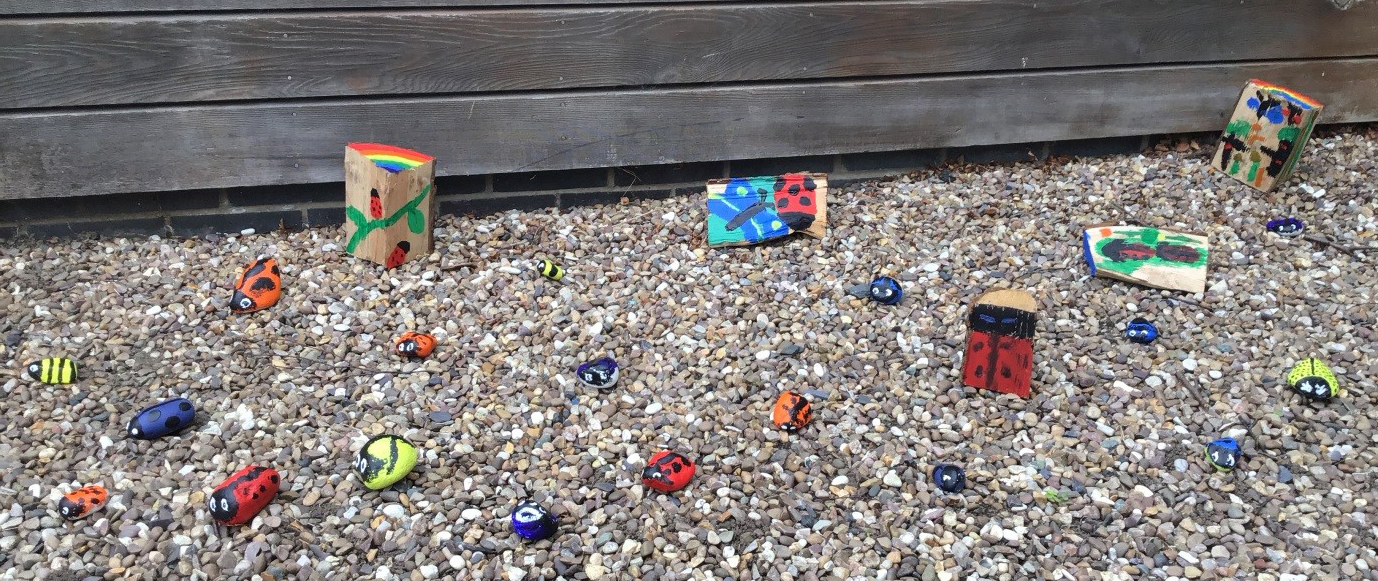 LQ: Can I observe and count the birds?
As part of the RSPB 'Big School Birdwatch' we went outside to the school's nature area to observe all the different birds that were coming into our school grounds. We talked about the different types and colours of birds and counted the birds we spotted using our binoculars! There were some nests and bird boxes, where birds might live and spotted some bird food on the table!
Can you talk to a grown up about ways to help care for the birds?
LQ: Can I enjoy taking part in stories outdoors?
It was a cold day so we wrapped up warm, took our woodland maps we had drawn and set off to the nature area for our teddy bears picnic. We sang songs and ate teddy bear biscuits. We took care of our teddy bears and made sure they had a little bite to eat too!
Next we acted out the story 'Were going on a bear hunt' and squelched through the mud!
Finally, we journeyed back to the classroom with our tired little teddy bears….
Stone Age Hook Day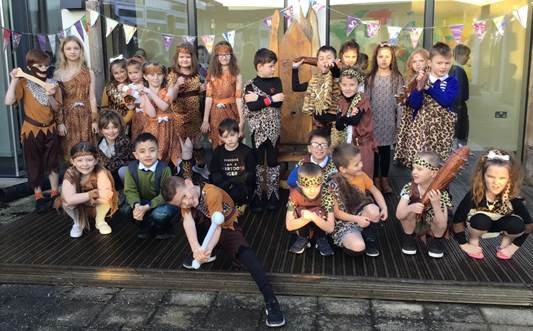 We started the day learning that the early stone age people were hunters and gatherers.  We enjoyed searching for food on KS1 playground. We learnt the sorts of foods that they might find to eat and that they would have to move places throughout the year to find food.
We thought about how Stone age Hunter-gathers survived by thinking about Assets and threats in the environment.