Religious Education
Eid
Awis talked to the class all about Eid. He was very happy and excited about this special time. He explained that Eid came after Ramadan and that often the family may receive special presents or treats.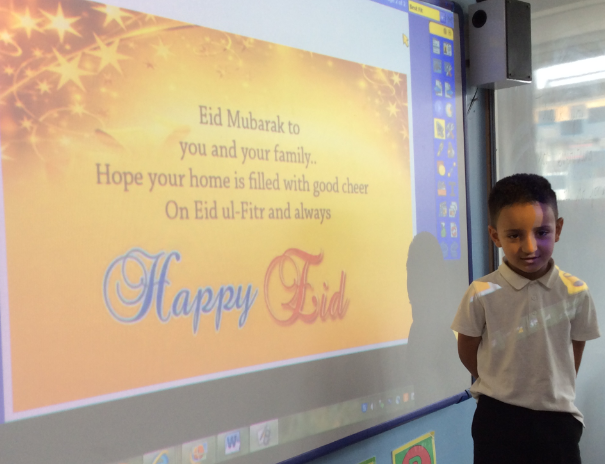 Awis even received a special gift at school, which he was delighted with.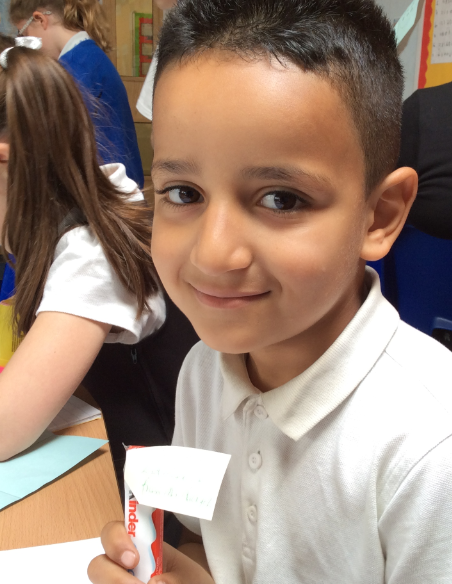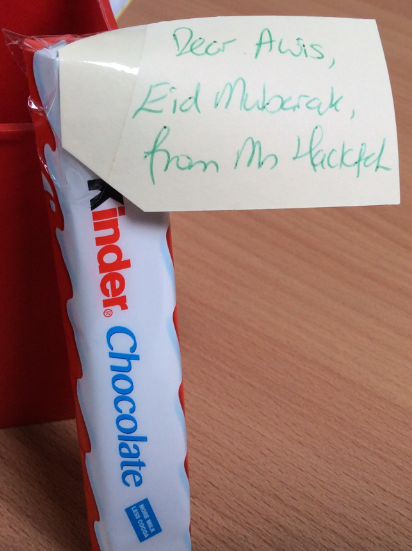 Founders Day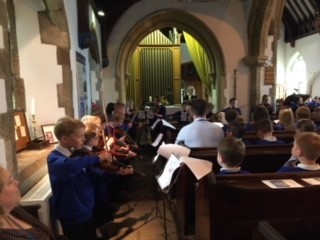 What a wonderful Founder's Day – it is so special for the community to come together to celebrate Stanford School's birthday! Thanks you to Mr Lingard and Mrs Brumfield for supporting the assembly in the morning and to Rev Pam for leading the Church service at St Margaret's. Our pupils spoke about the special heritage of our school, their reflections of Stanford and their hopes for the future. We were so proud of the singing and viola group. The high tea was also beautiful with over 60 guests enjoying the day.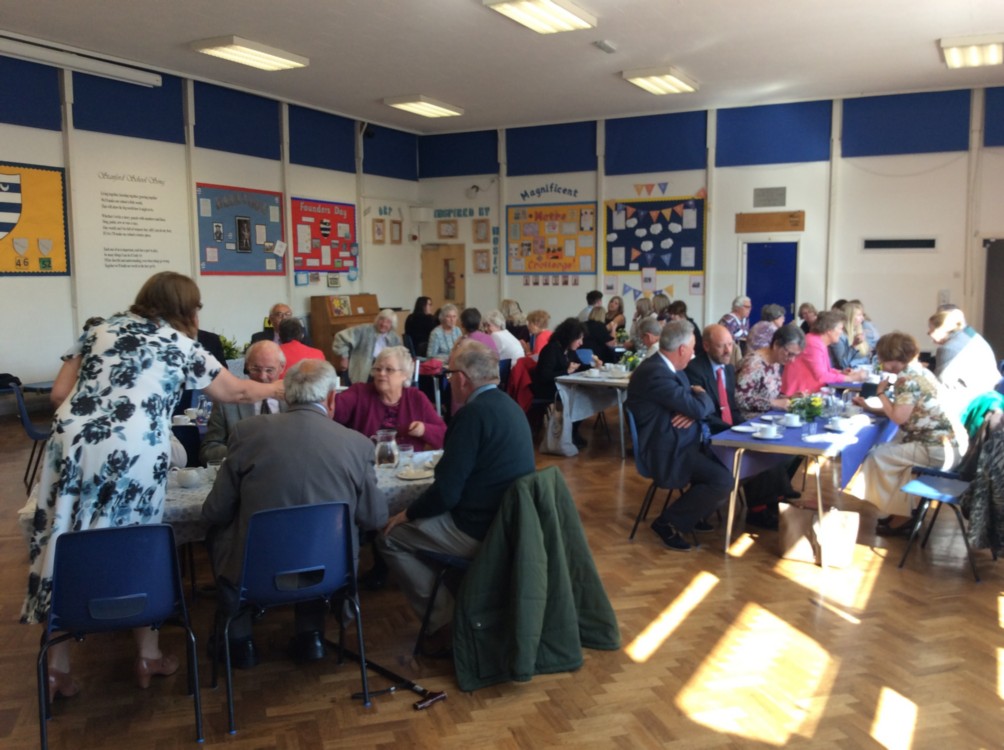 Easter Bonnet Parade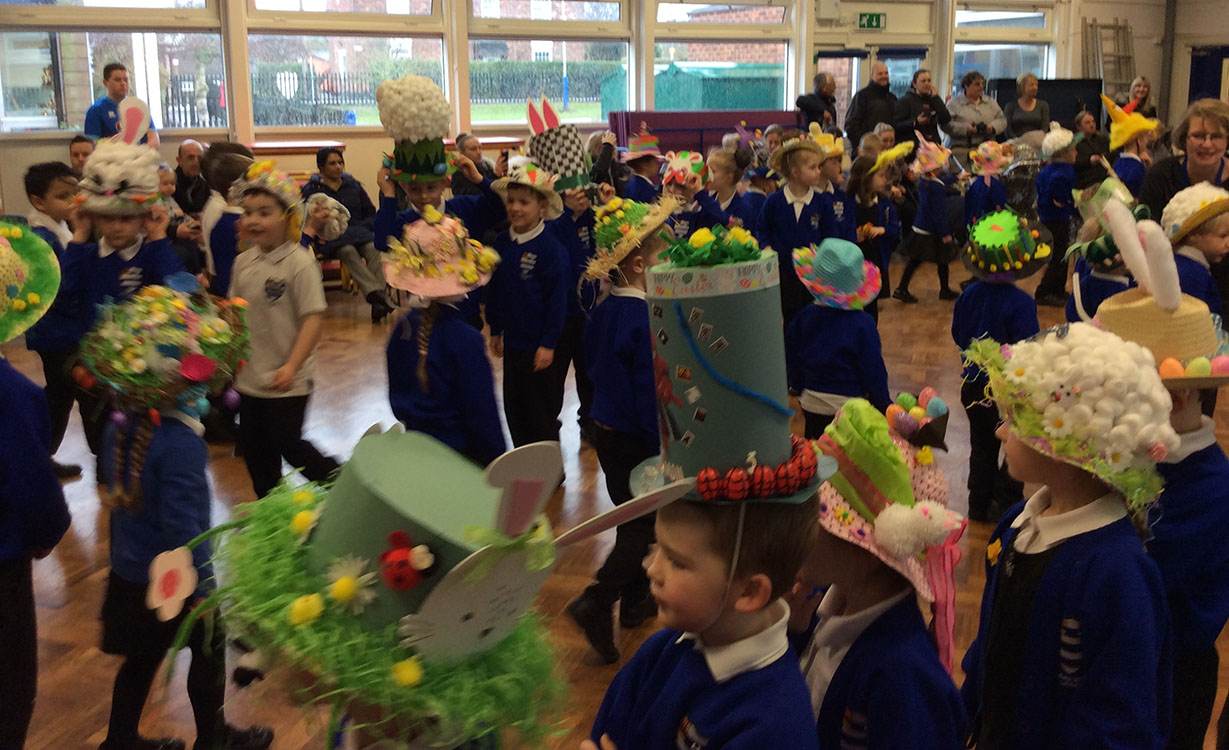 Well done to Seedlings and Key Stage 1 pupils – they took part in our Easter Bonnet Parade this morning and showed their creative and egg-citing designs. Thanks to all the parents/carers and friends of the school who came along to support us.
KS1 Disco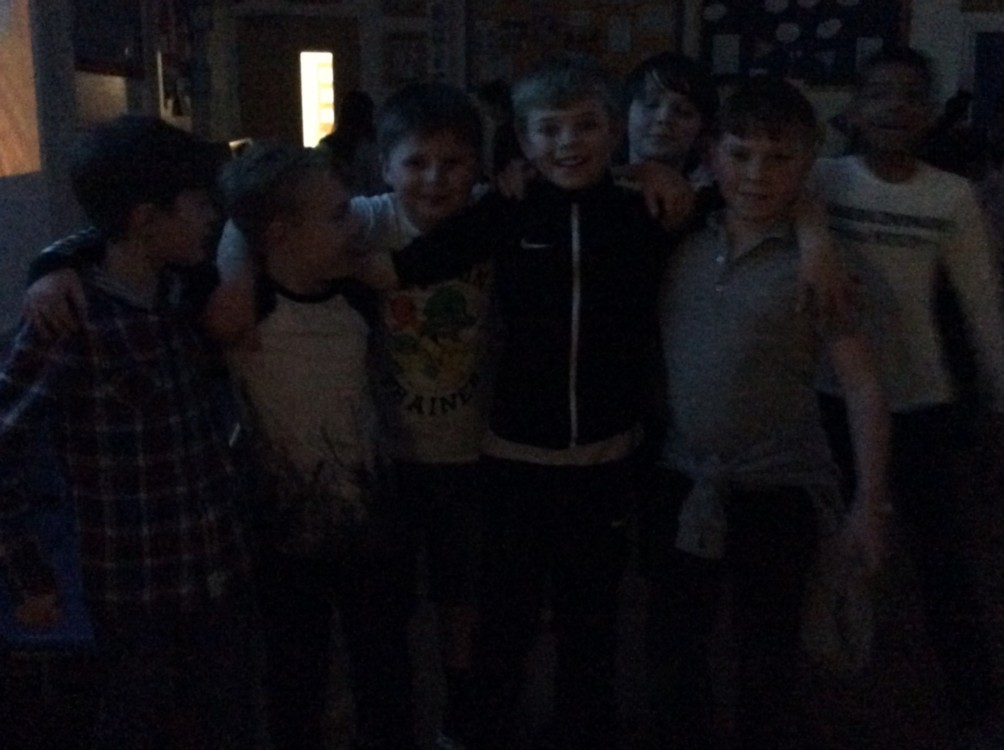 Everyone had a brilliant time at the Easter Discos – great dance moves, excellent behaviour and pupils enjoyed the refreshments. Thank you to everyone for their help. A great community event.
Pancakes
Today we made pancakes ahead of Pancake Day next week. We talked about why some people celebrate this day and that it is known a 'Shrove Tuesday'. What is your favourite pancake topping? What shall you 'give up' for Lent?
Gung Hay Fat Choy! – Happy New Year.
This week we have been celebrating the Chinese New Year, the year of the 'Dog'. There have been lots of different activities including, listening to the Chinese Zodiac story and sequencing the animals, tasting Chinese food, serving customers in the Chinese restaurant and using chopsticks! Next, we learnt some Chinese words, sang songs, made and performed a dragon dance around school and wrote in Chinese too!
KS2 Carol Concert
Our KS2 Carol Concert at St Margaret's Church was beautiful – lovely singing, clear and loud readings of the Bible and wonderful performances from each class. Thank you to everyone who attended and to Mr Stevens for welcoming us. Merry Christmas.
Christmas Carol Concerts
Our Head Boy, Ethan, and Head Girl, Jasmine, led the Christmas Carol Concerts at St Margaret's Church with the help of Mr Stevens. They did a wonderful job and showed their super communication and organisational skills. Thank you children.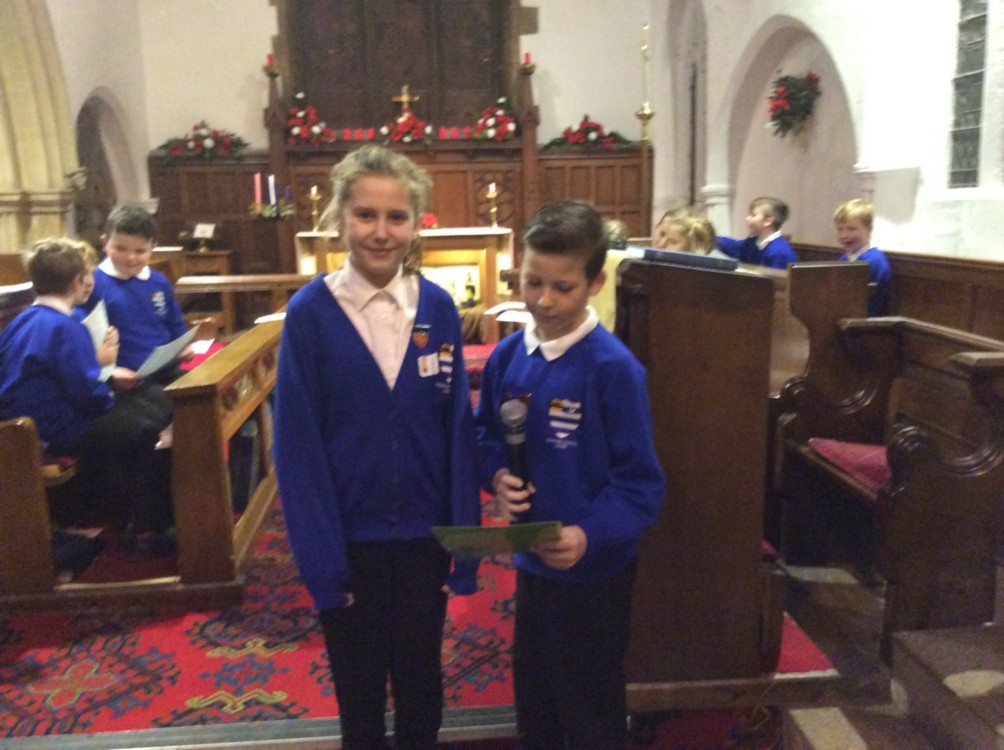 Carol Concert
Year 5 and 6 Carol Concert at St Margaret's Church was a beautiful community event – the pupils retold the Christmas story in word and song helping us remember the real meaning of this special time of year. Thank you to those who attended. Merry Christmas.
Advent Assembly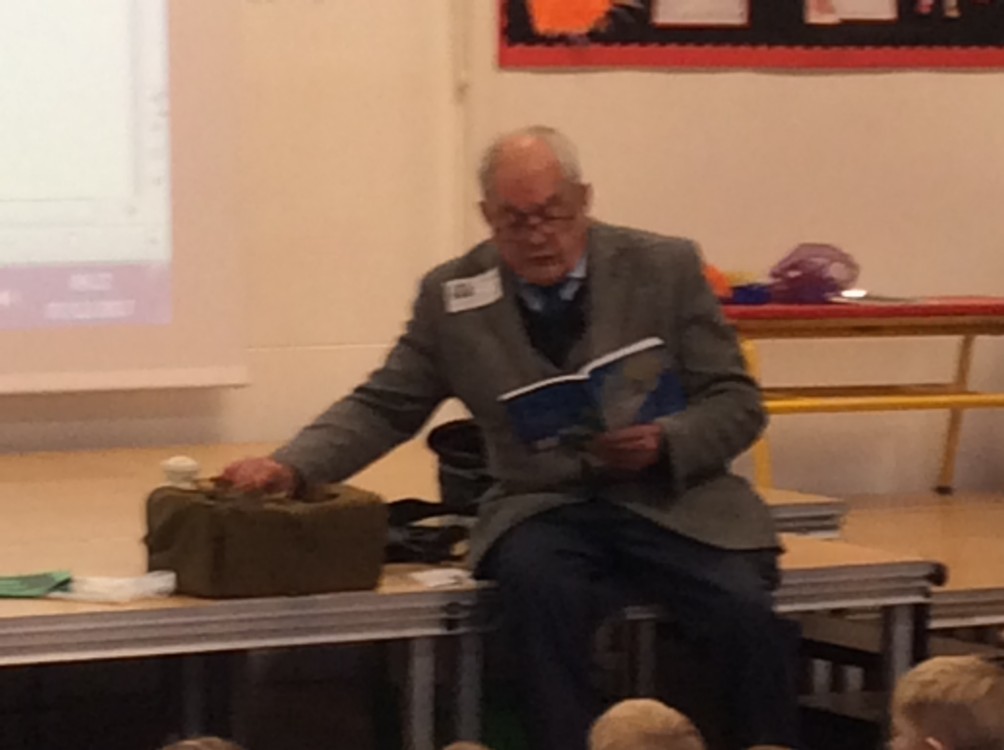 Mr Read led a special Advent Assembly in school and shared stories about the Christmas Rose and the Christmas Lantern. The pupils enjoyed listening to the stories and are looking forward to seeing our Christmas Rose grow. Many thanks Mr Read.
Foundation and KS1 Christmas assembly
Mr Stevens came to Foundation and KS1 Christmas assembly.
Children sang some songs from their nativity and Mr Stevens said a special prayer
KS1 Christmas Service: Poppy Class
Mr Stevens came for a visit.
He talked to us about the Christmas story. If you look really carefully you might be able to see Mary, Joseph and Jesus.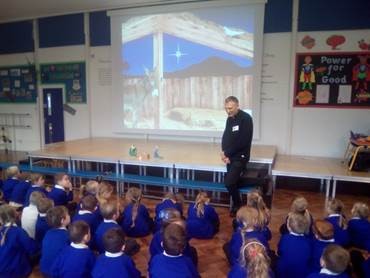 We shared a song from our Christmas Play 'How life has changed'.
Anthony said "It was lovely when we all swayed along to the song. It made me feel calm and peaceful."
Mr Stevens reminded us to think about people who may not be quite as lucky as us.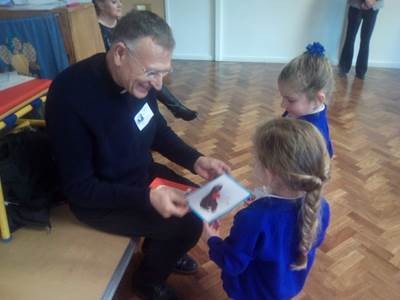 We gave Mr Stevens some Christmas cards and thanked him for coming.
Jacob said "It was fun when we sang we wish you a Merry Christmas."
Discussing and debating
In English Star Anise Class have been discussing and debating if this quote from our book " Floodland" is true
"They're just people. They're not good or bad. It's just these are bad times and it makes people do bad things". said by a character from our book, who's name is William.
We have written a debate letter to a place in our book, Eels Island, we are writing as the main character, Zoe.
By James Marsden
Can I discuss a story from the Bible?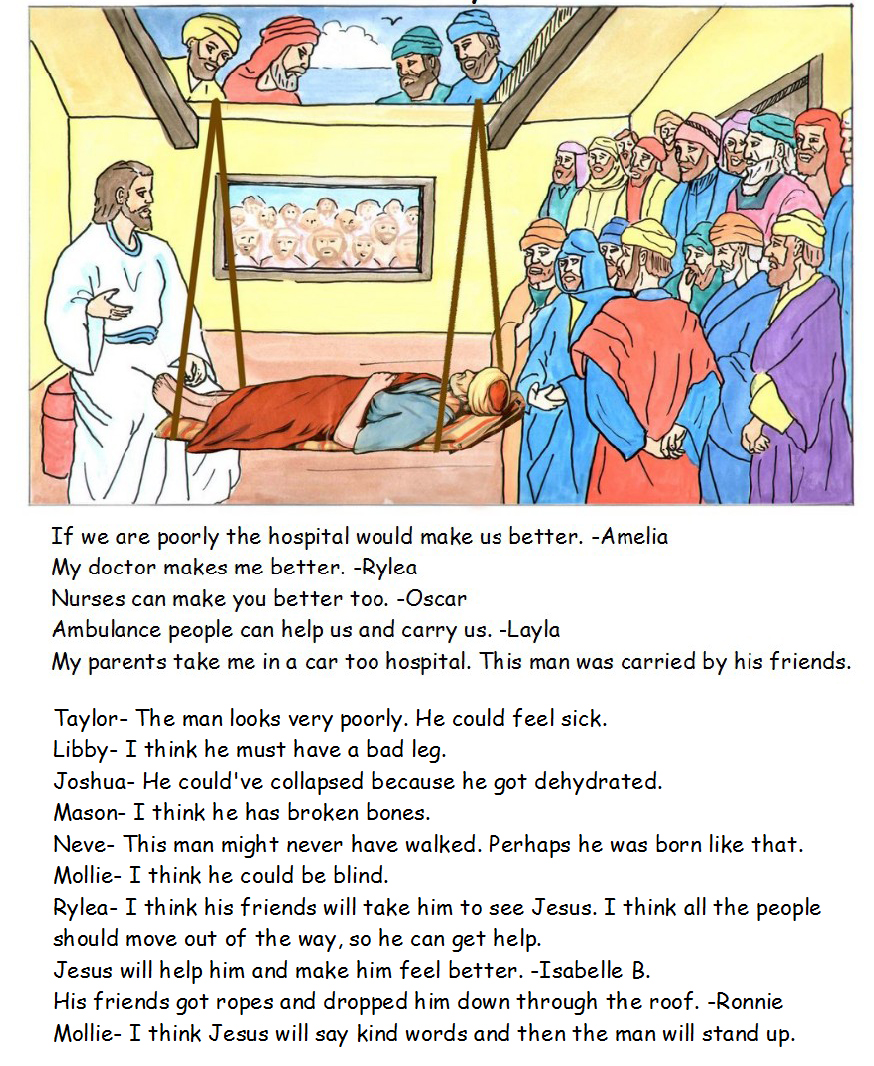 Remembering
We thought carefully about what peace is and how it makes us feel. We realised that we are very lucky as our lives are peaceful and free from conflict.
Connor said 'Peace is when everything is calm and friendly.'
Lily added 'We looked at peace symbols like a dove, a cross, white poppies. I used a a love heart and a cross when I created my peace pebble design.'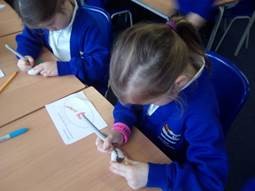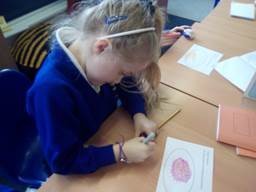 We were very proud of our completed pebbles as we had thought about the designs so carefully.
We invited Mrs Wink in to be part of our peace pebble ceremony.
We walked outside calmly and thought about how we were lucky to live in peace and perhaps how everyone could work together to create a peaceful world for everyone. As we placed our pebbles in our brand new peace garden we said words that we hoped the whole world could be.
Holly said 'My word was respect.'
Finley said 'My word was caring.'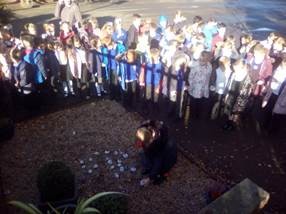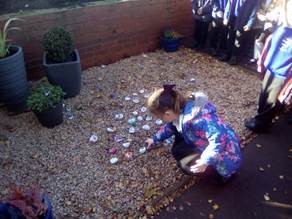 Peace Pebble Reflection
Pupils in Star Anise and Barley class wrote short poems and thoughts for our Peach reflection. We laid our peace pebbles down, around the Dove, as we read out some of our poems. We had a few moments quiet reflection thinking about the importance of peace within our own lives, in the community, in the country and in the world.
Peace Poem
In Juniper Class we S all shared our poem Peace is around our 3/4 garden. As we said our line we placed our peace pebble around the edge. We had a few moments quiet reflection thinking about the importance of peace within our own lives, in the community, in the country and in the world.
Peace Pebbles
Seedlings Class
As part of a whole school project Seedlings class drew a peace symbol designs onto a white pebble. We laid the pebbles among the flowers whilst being quiet, peaceful and still. We shared thoughts of being peaceful and happy in our world, our homes and our school. Thank you to Mrs Brumfield and Mrs Wink who came along to support.
Sunflower Class
Sunflower Class designed a peace pebble. They thought carefully about their design. They transferred their design on to a white pebble and respectfully laid it in the Key Stage One Peace Garden. Prayers, thoughts and words of reflection were said to mark Remembrance Day.
Oliver H: I drew nice flowers because they make me feel peaceful.
Isabelle S: I chose stars for my peace pebble because I like to sit and watch the stars at night. It is relaxing.
Charlie: I drew a sunflower because it is calm and peaceful like our class.
Pumpkin Class
In RE we have been considering what Peace means and how this can be achieved.
The children were asked to design a Peace Pebble as a positive symbol that could be placed in a Peace Garden.
On Remembrance Day we had a little ceremony where we placed our pebbles around our little garden. As each child placed their pebble they said the word they had chosen and we thought about how, if we remember and use these words, we can make the world a more peaceful and positive place to live in.
Juniper Class
We have been exploring the concept of Peace during our RE lessons.
We shared our thoughts and ideas of what images we thought of when we think of peace. We used these to design our own peace pebble.
Today we reflected on what peace means by listening to a variety of famous quotes about peace. We then shared our own thoughts on what peace means.
We collaborated all our ideas to create a class poem which we will share in our Remembrance service tomorrow.
Barley Class
Barley class have been learning about the word peace and what they think this means to them. They created a peace pebble design using both symbols and words and phrases. These were then transferred onto a pebble.
Diwali
Today we have been learning about Diwali. We listened to the story about 'Rama and Sita'. There were lots of fun activities too including songs, making Rangoli patterns on the floor, Mehndi patterns, Diva lamps and Diwali cards!! Can you sing the song to a grown-up? Little lamps are burning bright, Burning bright, burning bright. Little lamps are burning bright. It's Diwali.
Harvest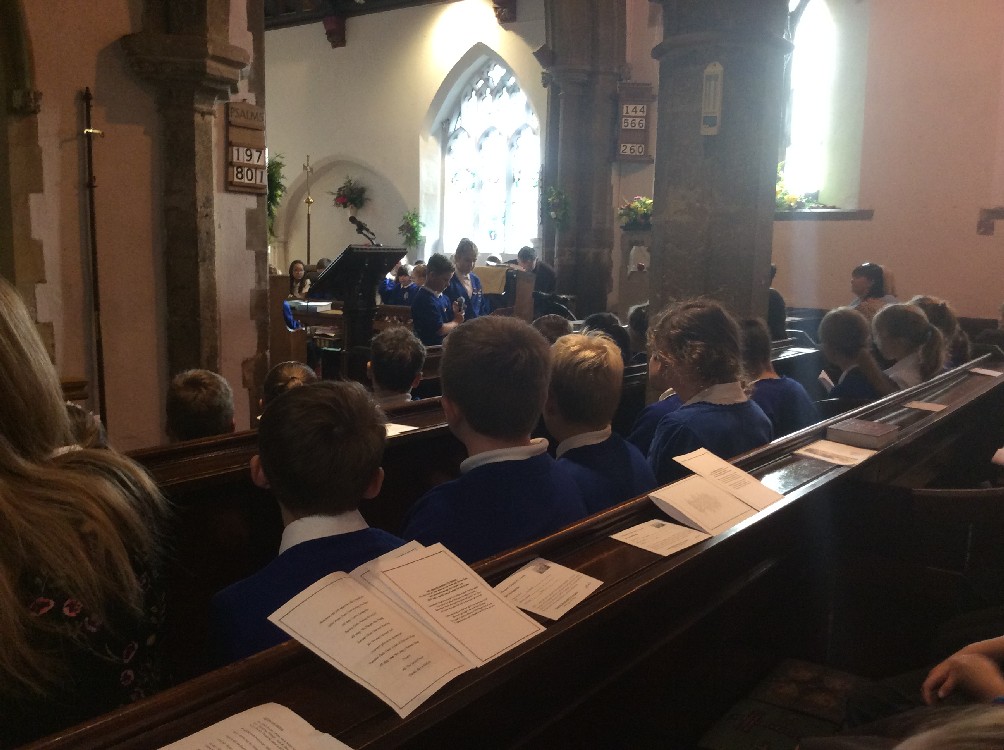 The pupils have enjoyed celebrating Harvest. KS 1 and KS 2 pupils have taken part in a Service at St Margaret's Church and Mr Stevens visited FS stage this morning to lead a special assembly. Well done everyone – the singing was beautiful and everyone performed their poetry and reading with clear and loud voices. Some groups took part in choral speaking really well and Ethan, Head Boy, and Jasmin, Head Girl, introduced the order of service confidently. The Governors who attended agreed that the events were very special. Thank you for all your donations of food which will be going to Harbour Place. Juniper class summed it up perfectly, 'Lettuce care for one another.'
Seedlings Class
Our Harvest Festival was a great success, with everyone joining in to sing songs and actions. Reverend Stevens came to say a prayer and give thanks for the food at harvest time. Thank you to everyone who contributed to our celebration, the donations of food will be sent to the homeless charity, Harbour Place.
KS1
Thank you Mr Stevens, Mrs Mawer and Mr Read for welcoming our KS 1 pupils to St Margaret's Church today for the Harvest Service. The singing was beautiful and the children listened very well to Mr Steven's important message about sharing.
Awis said, 'I enjoyed the singing.'
Olivia said, ' I will remember the chocolate cake – it taught us how important it is to share.'
Isabella said, 'I like joining in with prayers.'
Thanks too to all the staff and Governors who helped with the trip – a very memorable first trip to Church with school for KS 1.
KS1 Harvest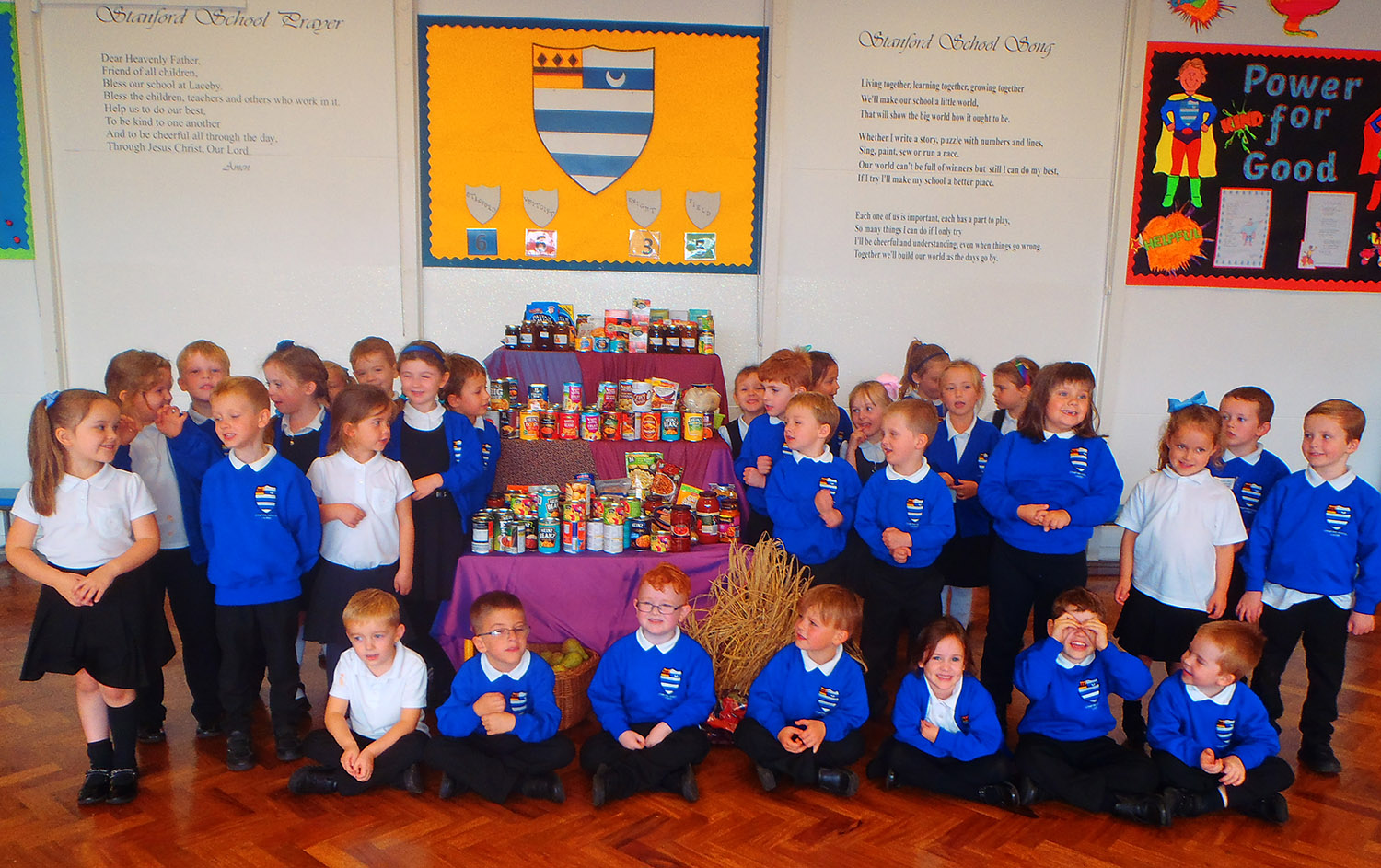 Many thanks to all those who kindly donated gifts of food or money to the Harbour Place Charity. We had a wonderful Harvest display. Thank you everyone!
Mosque Visit
Year 4s visited the Mosque this morning to learn about Muslim worship and some of their religious festivals, as part of their RE learning.
Mia: 'It was fun and interesting to learn about a different religion and the Arabic language.
James: I enjoyed learning about the leader of the Mosque (Imam) and about the Qur'an (written in Arabic)
Learning about Islam
Mustard Class
Jeanette came in to talk to Mustard Class about her religion (Islam) and to explain what Muslims believe. We learnt about the importance of Ramadan and the Eid celebrations. We asked some great questions like: 'Do children fast during Ramadan? Do you have to pray 5 times a day?
Barley Class
Jeanette Morrison came and visited Barley class to discuss Ramadan and give the pupils an insight into her religion- Islam. During this talk they investigated the similarities between Christianity and Islam and asked a range of interesting questions that gained them further understanding.
Can I draw a detailed picture of St. Margaret's Church?
Sunflower Class enjoyed drawing pictures of the church. These particular pictures were presented to Mr. Stevens during a recent visit to thank him for showing the class around the church.
Visit to St. Margaret's Church
Sunflower Class went on an R.E. visit to St. Margaret's Church, Laceby. We had lots of learning questions:
What is worship? What happens in a church? Who goes to church? Why do they go? Who looks after the church? Who leads the worship? What do they wear? What do they do? What special objects do you find in a church?
Anthony: Mr. Stevens and Mrs. Mawer were very nice people. They answered all of our questions.
Jacob: I was 'Star of the Day' because I asked lots of interesting questions!
Finley: I saw a golden cross and a lectern and a stained glass window. Mr. Stevens told me he does weddings, funerals and Christenings. I sang the school song and I joined in with the prayer. The church also gets used for Sunday worship.
Ella M: I showed Mr. Stevens my little Bible. His Bible was bigger than mine.
Alfie: Mrs. Brady played the organ for us.
Dexter: We know lots about the special things inside the church.
Ella R.: I saw the Stanford badge on a window, on a wall and on a cushion!
Joe: Mrs. Mawer showed me Lincoln Cathedral. It was a tiny picture on the window!
Mrs. Wink (School Governor), had this to say: Just a quick note to say how much I enjoyed the trip with Sunflower Class. Their behaviour, singing and listening skills were outstanding. I was so impressed with their knowledge about the church and worship. Well done Mrs Brady you should be applauded for having such a wonderful class.
Mrs. Brady: Well done Sunflowers! You were all WAGOLLs at the church!
Our letter prior to Y1's visit to the church
Hindu Day
Seedlings Class
This week we have been learning about Diwali. Sunita came to tell us a story about 'Rama and Sita' in our assembly. Sunita then helped us to make big rangoli patterns that Hindu's use to decorate their door step. We did lots more fun activities including making playdoh diva lamps, singing songs, drawing Mehndi patterns, using tile to make more rangoli patterns and writing Diwali cards!!
"Happy Diwali everyone!"
Sunflower Class
Sunita came to talk to us about her religion. She told us lots of stories about her Hindu gods.
Elissa- I enjoyed making a mask of a god.
Holly- I liked the pretty stickers Sunita brought.
Cloe-Ella- Sunita had very colourful clothes.
Isabella- I loved seeing the Indian dancing.
Y2 Rangoli Patterns
We were really lucky to have Sunita come into school to help us make rangoli patterns. It is used in Diwali to make homes look bright, cheerful and welcoming. Rangoli patterns use bright colours and are symmetrical.
We used stencils and coloured in the gaps using chalks. We had to make sure that we talked to each other to make sure that we were all using the same colours. As we had worked so hard Sunita suggested we use glitter to make them even more fabulous.  Look how much fun we had making them!
Look how beautiful the rangoli patterns are!!
Star Anise and Juniper Classes
Mustard Class
The whole school really enjoyed participating In the interactive story of Rama and Sita, led very enthusiastically by Sunita in our Assembly on Wednesday morning.
In Mustard class, we compared life in india to life in England, and the children became aware that, although there are many differences in the culture of the two countries, there are also lots of similarities.
Some of the things the children learned were that Hindus are vegetarians, as they value all life; and that India also has Ferraris and very expensive buildings!
Barley Class
Sinitta visited Barley class and challenged their perception of India, using an interactive activity. The concept's the children had formed in their minds about India, it's culture, people and infrastructure, were challenged. The class realised how wrong their perception was.
Year 2 travelled on a coach to a local Synagogue.
Mr & Mrs Solomon greeted us and showed us around. We were all very polite and respectful. Boys covered their heads with hats just like the Jewish boys and men do when they enter the Synagogue. We listened and we learned.
We looked at a Torah Scroll and learned about how it was read. We even got to have a look inside the Ark where the Scrolls are kept.
We asked lots and lots of questions. Mr Solomon answered every single question. He was fascinating to listen to. We even managed to teach Mr Solomon something too! We talked about how different faiths are sometimes similar and sometimes different.
Mr and Mrs Solomon congratulated our children on their exceptional behaviour. They said that we were the most well-behaved group of Year Two children to have visited the Synagogue. We were all very, very proud.
Visit to St Margaret's church 23 May
Today Seedlings visited our local church and met Mr Stevens. He told us that St Margaret's church is over 800 years old before listening to the story about Noah's Ark. We then searched for lots of different features such as stained glass windows, a cross, a candle and the lectern. Can you tell a grown up what else you might see in the church?
Grimsby Minster
Year 4 and 5 visited Grimsby Minster to learn about symbolism in relation to RE and Art.
The children explored Christian symbols around the minster, they handled precious artefacts from different religions and visited an art exhibition by Richard Bartle called 'Deities at the Bottom of the Garden.' Mrs Brady photographed inside the miniature sheds. Can you identify the different world religions? Look for symbols and religious artefacts.
Ben- 'I found St. James on a stained glass window. He was holding a shell.'
Grace- 'I was looking around the church for symbols like crosses, doves and shells.'
Eid
Azem told Sunflower class all about how he and his family celebrate their special festival called Eid-Ul-Adha. He showed the children his special clothes, demonstrated how he prays on his prayer mat and then gave everyone a chocolate! The class wished him 'Happy Eid!'
Eid
Seedlings Class have celebrated Eid-Al-Adha this week. Mrs Feghia and Mrs Harib came to talk to Seedlings class. We were shown a prayer mat and how to kneel and pray. Mrs Feghia showed us the writing in a special book called The Quran and how to wear a hijab. Awis even brought a chocolate for everyone too. 'Happy Eid to everyone'.