Religious Education
Imran Kotwal
Stanford School had a special visitor on Tuesday, Imran Kotwal from The Muslim Learner Services. He came and spoke with Key Stage 2 pupils about Islam and their key beliefs and also challenging stereotypes.
Parent Workshop delivered by Imran from The Muslim Learner Centre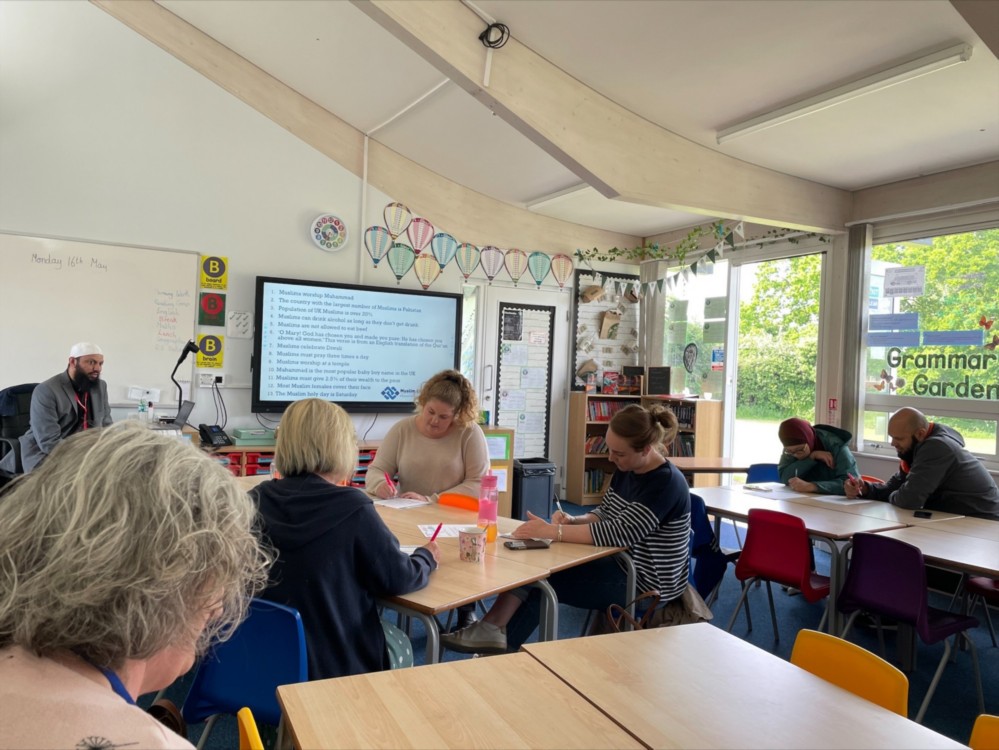 A fantastic workshop for Parents and Carers on Islam. Thank you for the wonderful feedback:
"Really helpful and welcoming"
"Fantastic to learn about Islam, really enjoyed being able to ask questions and find out more about this amazing religion. Would love to learn more."
"Very interesting and so informative. I really appreciate the time this took, so informative- would come again!"
"Very insightful and lovely session to meet other parents who are interested in exploring Islam. The discussion time/Q and A time is great to open up discussion on topics amongst parents."
"It is definitely worth learning about other religions. Imran you are an asset to us and the kids at this school."
How do we express feelings?
Juniper class explored how we express how we are feeling through different methods: poetry, songs, dance, art etc
We used different facial expressions, body language and tone of voice to show this in small groups, with our peers having to guess the emotion we were displaying. We linked this to different faiths and how expressing faiths involve feelings and emotions.
Year 2 Visit to St. Margaret's Church
As part of their RE work, Pumpkin Class visited the church. They learnt all about the Easter story with Rev. Mark and enjoyed exploring the church and asking lots of questions.
Mrs. Brady would like to thank Rev. Mark and all the community members for their warm welcome and help with the visit.
M- Rev. Mark talked about Easter and did some magic tricks.
E- I felt excited because I had never been in the church before.
R- We gave Easter cards and a pot of daffodils to the church.
H- We thought of the people in Ukraine and prayed for them. We put Ukraine flags on a cross.
E- We sat on the pews.
J- Rev. Mark had a bowl made of melted toy soldiers which he put Ukraine flags in. He talked about wanting peace in the world, not war.
E- We had biscuits and juice.
O- Mr. Swallow showed us a kneeler with the Stanford badge and a cross on it.
K- Mrs. Brady played the organ and we all sang Easter songs. A- The altar is a special table and it had flowers and candles on it.
A- I saw lots of crosses all over the church. Jesus died on a cross.
W- Jesus was on a stained glass window and there were pictures of people praying. I liked it, it was colourful.
F- I saw the font where the babies get christened.
P- There were lots of Bibles.
C- I stood at the lectern.
E- I saw the pulpit.
H- I enjoyed my trip there, it was so interesting!
Five Pillars of Islam
In our RE lessons this term we are learning about the life journey that Muslim's follow.
In our most recent lesson, we recapped the place of worship (Mosque), the religious leader (Imam) and the holy book (Qu'ran), which lead us to discuss the Five Pillars of Islam, which are the core beliefs and practices that Muslim's follow.
They are;
Profession of Faith (Shahada). The belief that "There is no god but God, and Muhammad is the Messenger of God" is central to Islam.
Prayer (Salat).
Alms (Zakat).
Fasting (Sawm).
Pilgrimage (Hajj).
We are excited to learn more about the Islam faith and to compare and contrast to Christianity and Hinduism as we continue our RE lessons in Year 6.
Why is the Christmas story good news for Christians?
Pumpkin Class have been learning all about the First Christmas. They enjoyed drawing nativity scenes, acting out the story and learning a special poem.
D- Mary was told she would have God's baby. It was special news from Angel Gabriel.
J- I think the shepherds were scared at first of the angels, but they got good news about Jesus being born and wanted to go and see him.
L- The Wise Men believed that Jesus was a special kind. They were so excited to see him because they travelled a long way.
C- Christians believe Jesus is the Son of God. Christmas is when people celebrate his birthday.
---
Hindu Experience
We were really lucky today as Sunita came to our school to teach us about how Hindus live their life, pray and celebrate, The morning started with an assembly where she told us about the story of Rama & Sita. The children loved listening to this story and taking part with actions & sound effects.
Year 3 - Welcome to Bollywood!!
For our Hindu experience, starting with Miss Perrin, we all had to dress up in costumes suitable for Bollywood. Sunita them showed us several dance moves. It was really fun!
O - I liked using the sticks in our dance.
M - I like that we got to meet a new person today.
W - I liked dressing up
T - I liked the dancing
---
---
---
Willow Class - Rangoli Art
Willow class had a fantastic experience with Sunita as she visited the school this week. We had a special lesson where we learned all about creating Rangoli patterns. Our main focus was to ensure that the artwork was symmetrical and colourful. We worked really well in teams to make sure that we communicated the symmetrical patterns across our group.
Barley Class Indian Experience
We had a wonderful Indian Experience Workshop this afternoon with Sunita.
We discussed the similarities and differences between the UK and India - identifying misconceptions and stereotypes surrounding houses, pets, vehicles, transport, schools, toys and games, sports, festivals and celebrations, roads and streets and children working.
We discovered that there are lots of unexpected similarities between India and England, however we did also find out two surprising differences - although England has a Royal Family, India has a Space Centre!
From our discussions with Sunita, a very important message was clear - skin colour, hair colour and clothing does not tell you where someone is from, you should never judge someone by the way that they look and never assume you know something about someone because of their appearance.
Thank you, Sunita.
Interfaith week
Pumpkin Class
Pumpkin Class enjoyed exploring and handling a wide range of special religious items from different religions for Interfaith week. They remembered some of the names of the special items and could explain how they might be used by different religions during worship, prayer and celebrations.
D- I tried on a Kippah. Jewish boys wear them when they go to the synagogue.
E- I read the Qur'an. It's from the Muslim religion. You have to have washed your hands before you can touch it.
F- I liked the Hindu Gods. I loved their bright colours.
H- Lots of religions have candles for celebrations. I've seen some different ones today.
J- I saw lots of crosses. That's because Jesus died on a cross.
E- The Advent calendar had a picture of Baby Jesus when he was born in a stable. I think it will be Advent soon.
K- I couldn't believe how long the Torah was. It was on a long scroll.
L- I've enjoyed seeing all these things. I liked picking them up.
Poppy Class
In our RE lesson we went to look at this displays of religious artefacts for Judaism, Christianity, Hinduism & Islam. We looked at the different items for each table then we noticed how these different religions have many similarities. Several religions use candles, prayer beads, prayer mats, skull caps and special books. A lot of them share the same stories from the Old Testament.
The children found it fascinating handling these items and looking at the similarities and difference between these religions.
Willow Class
Children really enjoyed engaging with the wealth of RE resources that we have in school, displaying a range of religions and allowing children to learn about faiths in a practical and exciting way.
"I learned a lot from the Jewish display"
"The Christian display was so colourful"
"I was shocked at how long the Jewish scroll is"
"Hinduism is a much more colourful religion than I knew"
"The Muslim resources were really interesting - particularly the Qur'an"
Remembrance
Willow class created some beautiful artwork and some wonderfully descriptive poetry as we learned about Remembrance.
Islam - the straight path
In our RE learning, we have started to focus on some of the key beliefs of Islam. We learned about the Muslim idea of a straight path to God (Allah). To help us internalise the idea we tried walking a path but adding more obstacles and barriers. As more obstacles were introduced, more guidance was required. This helped us to understand the concept of working together in harmony, as well as how Muslims take guidance from the Qur'an.
Happy Diwali
Foundation and Year 1 children celebrated the start of Diwali on Thursday 4th November. We had already joined an online workshop with the authors of the book, 'The Best Diwali Ever' and learnt all about the celebrations. We loved sharing the story book and meeting the authors too. Our celebrations on Thursday were great and ranged from Diwali dancing and making Divas to creating Rangoli patterns in lots of different ways. We hope you enjoy looking at our photos.
Celebrating The Harvest
Pumpkin Class enjoyed celebrating the Harvest. Many thanks for all the kind donations of food for Harbour Place.
P- We sang Harvest songs which were all about food from around the world.
E- I liked singing 'It's Harvest Time.'
C- We are sending the food to help homeless people. It's good to share our food and help people.
L- We all watched a special assembly about saying thank you for all the food we eat.
H- I liked the Harvest table. I brought some tins to help people.
Spirited Arts
Year 5 have been creating some art for the Spirited Arts competition. This is an annual competition by National Association of Teachers of RE and this year's theme is 'God's Good Earth'.
Children were challenged with creating an environmentally-aware piece of art, linked to their feelings about climate change and nature.
Sharaih - Following the straight path in life
Believing: Muslims believe God created the world to be harmonious. Harmony means 'joined together'.
Thinking: We then thought about when we are joined together harmoniously and how this makes our lives better both in an out of school.
We then had races between two teams, one with obstacles, one without (the straight path). The team without the obstacles always finished first
Believing: Muslims believe that God has set out a straight path (shariah) for humans to follow to help them keep things in harmony (muslim). If they follow the 'straight path' and don't let obstacles in their way their life will be better.
Ramadan
In Barley Class this term, we are exploring the Islam faith. So far we have begun to find out about traditions and customs that are important to Muslims.
We have been learning about the Five Pillars of Islam and Ramadan, which is currently being celebrated in the UK.
In our school hall, have displayed some interesting artefacts, including: Hajj robes, Qiblah, prayer mat and key pieces of information about mosques, prayer times and fasting, as well as some of our written work explaining what we have learnt so far.
Throughout this term we will be further developing our understanding of the Islam faith and comparing and contrasting Islam and Christianity.
Easter Signing Song
The children have been learning about the Easter Story and finding out ways Christian people celebrate Easter at this time. Here is a song that those who believe might sing in their special place of worship.
Happy Easter everyone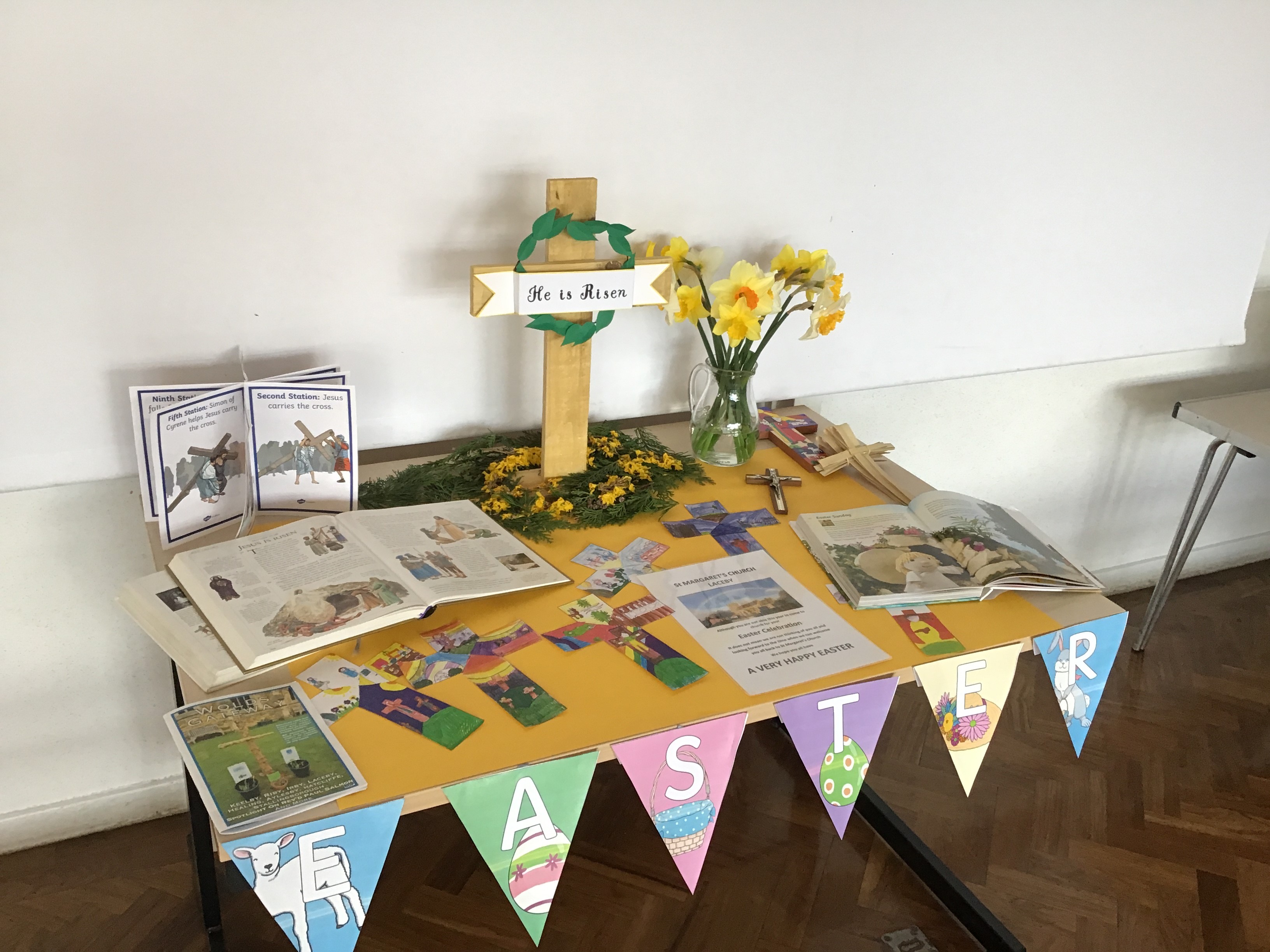 Y4 Easter Focus – The Cross & Holy Week.
As a part of our Easter Celebrations the children learnt about Holy week and the different days which lead to Easter Sunday
Palm Sunday - when Jesus arrived in Jerusalem on a donkey and the crowds celebrated by waving palm leaves
Maundy Thursday – when Jesus had the Last Supper with his disciples
Good (Holy) Friday – When Jesus was placed on a cross Easter Sunday – When Jesus was resurrected.
The children were shown different types of crosses including a bright one with an image of Jesus on it. The children used this as inspiration to design their own crosses depicting Holy week and the different events.
Juniper Class – Easter gardens
After listening to the Easter story we working in teams to design and create our Easter gardens to represent the Easter story. It was so lovely to make use of our outdoor classroom space on such a sunny afternoon. We also enjoyed searching our outdoor space for resources for our gardens including our home grown daffodils.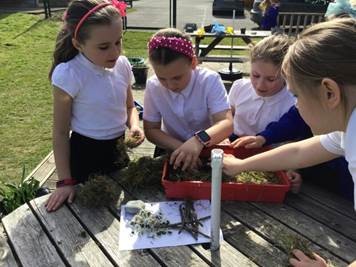 Easter
This week Juniper class having been exploring the Easter story. We have created stain glass windows of the Christian symbol the cross.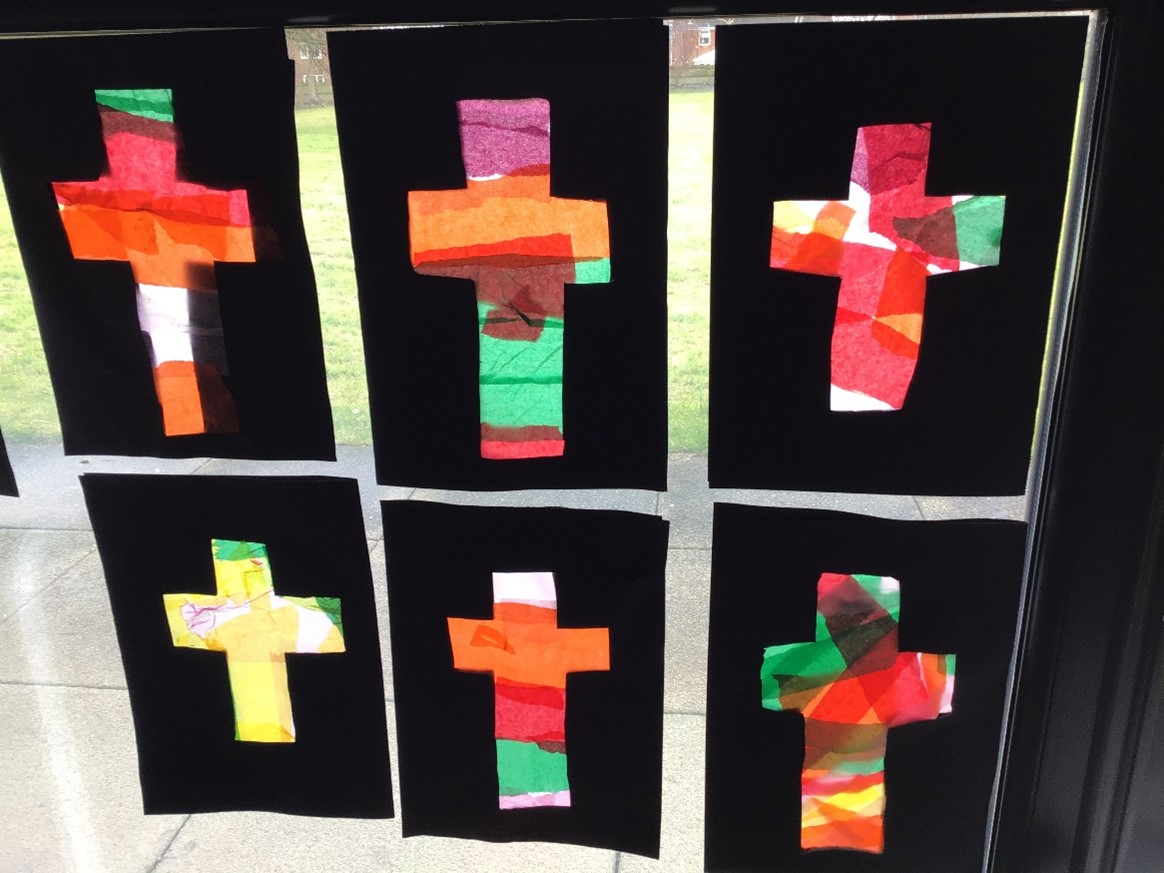 Baptism & The Trinity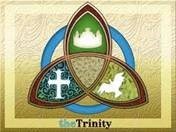 Thinking: The children were asked to work in teams to try and lift an object – they had 3 rulers to do this. With 1 ruler the book fell, with 2 it was slightly more stable but when 3 were used and worked together the book was given a solid base. We then looked at how Tripods are used to give support from bicycles to stands.
Believing: The children were then introduced to the idea that, for Christians, God is not three separate strands, but a single being woven together as Father, Son and Holy Spirit which Christians call 'The Trinity'
God the Father is the creator of everything, the Son refers to how God chose to send a part of him as a human being in the form of Jesus his son who built a bridge between God & mankind, the Holy Spirit the power of God in our daily lives.
Living: After Jesus was resurrected, He commanded His disciples to "teach all nations, baptizing them in the name of the Father, and of the Son, and of the Holy Ghost" (Matthew 29: 19). Ever since then, baptism has been a way to take upon oneself the name of Christ and become part of His kingdom, to believe in The Trinity and be supported by it.
Building a bridge
Thinking – The children were set a task to get a character across a 'river' but it couldn't touch the water. They decided to build a bridge using items around the classroom. The children were not allowed to cross more than halfway over the river and nothing they touched could touch the river bank. This took the children a while to figure out until they realised that they had to work in pairs, communicate and work together.
Believing – The children were then told the story of Adam & Eve and how they broke the bond of trust with God and did not communicate with each other. It wasn't until God sent his son Jesus down to 'bridge the gap' and communicate between man & God that their bond was re-established.
Experiencing – The children were then asked to put this into a real life context to show their understanding. We discussed how when 2 friends fall out sometimes they need a friend to go between the 2 of them to sort out their conflicts and open the line of communication so they can start to talk and make friends again.
Who thought we could learn so much from just building a bridge?
Inter-Faith Week
Inter-Faith Week in Pumpkin Class
With the theme of 'I believe', we have been looking at the way three different religious groups believe that The World was created.
First we looked at the Christian Story of Creation and made story wheels to show this.
Secondly we compared it to the Islamic Story of Creation and noted the similarities and differences. This is what we thought:
OW: 'Both stories have their God making the sky and land and seas.'
DI: 'In the Islamic story they believe Allah made angels.'
TS: 'In the Christian story God just made man and woman but in the other one Allah modelled it first then breathed on it to make it alive.'
OH: 'Both stories start with nothing and end up with the living things on the World.'
Finally we looked at the Hindu Story of Creation and noticed how very much different this one was. We liked the part where Vishnu grew a lotus flower out of his navel. We also liked how Brahma used petals of the flower to make things. We got creative and made our own lotus flowers:
Interfaith week by Juniper class
This week for interfaith week we have been learning about many different religions around the world. To help us understand some of the places that they pray we have done some drawings of the Buddhist temple.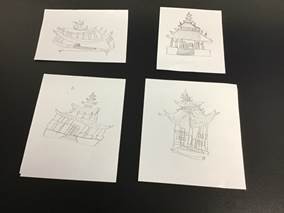 Next, we learned about Judaism and how Jewish people follow the religion with the place that they worship, sacred items to them and the events that they attend to celebrate Judaism. We did an activity labelling the different parts of a Jewish synagogue.
We have looked at Sikhism and the various things that they belief. After we looked at what the Sikh religion believes we were able to create a mind map of different drawings and key words of what the Sikhs belief in their religion.
Reflections on interfaith week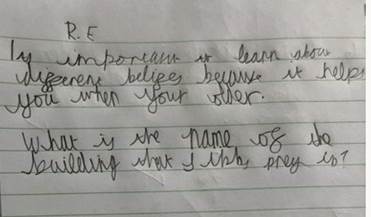 Buddhism and Meditation
As part of Inter faith week in Juniper class , we looked at the faith Buddhism and how they use meditation. Meditation is a very important part of Buddhism. Through meditation, Buddhists believe they can calm and clear the mind, making it peaceful. We thought this was a good way to start our day. Well done those at home who joined in.
Poppy Class: Buddhism
The children in school have been learning about a different religion each day this week. When we were learning about Buddhism we learnt about how Buddhists use meditation to try an reach 'enlightenment'. We tried meditating and listened to a meditation track called 'The Gratitude Tree' which involved thinking about all the positive things in our life.
After we finished meditating we were given a picture of a tree and were asked to fill the tree with everything in our lives which is good. We then looked at our trees to see how full our lives are and how there is so much positivity in our lives when it is such a troubling time.
Star Anise Class
We completed a selection of different activities during our 'I Believe'/inter-faith week.
We learned about different stories, beliefs, places of worship, etc. for a range of different faiths. This included: watching videos of festivals and thinking about our different senses; identifying areas of places of worship; understanding how people dress to reflect their beliefs; recreating art from religious stories. We also reflected on the question of "Where is God?" thinking about our own or other people's beliefs, which resulted in some beautiful artwork.
Wolds Gateway Parish Magazine Wise Men Competition
Pupils at school were invited to take part in a special competition to design the cover of the January 2021 edition of the church magazine to celebrate The Epiphany. There were so many wonderful entries, that the judges decided to include all the drawings in the magazine. Well done to everyone who took part!