Religious Education
Spirited Arts
Year 5 have been creating some art for the Spirited Arts competition. This is an annual competition by National Association of Teachers of RE and this year's theme is 'God's Good Earth'.
Children were challenged with creating an environmentally-aware piece of art, linked to their feelings about climate change and nature.
Sharaih - Following the straight path in life
Believing: Muslims believe God created the world to be harmonious. Harmony means 'joined together'.
Thinking: We then thought about when we are joined together harmoniously and how this makes our lives better both in an out of school.
We then had races between two teams, one with obstacles, one without (the straight path). The team without the obstacles always finished first
Believing: Muslims believe that God has set out a straight path (shariah) for humans to follow to help them keep things in harmony (muslim). If they follow the 'straight path' and don't let obstacles in their way their life will be better.
Ramadan
In Barley Class this term, we are exploring the Islam faith. So far we have begun to find out about traditions and customs that are important to Muslims.
We have been learning about the Five Pillars of Islam and Ramadan, which is currently being celebrated in the UK.
In our school hall, have displayed some interesting artefacts, including: Hajj robes, Qiblah, prayer mat and key pieces of information about mosques, prayer times and fasting, as well as some of our written work explaining what we have learnt so far.
Throughout this term we will be further developing our understanding of the Islam faith and comparing and contrasting Islam and Christianity.
Easter Signing Song
The children have been learning about the Easter Story and finding out ways Christian people celebrate Easter at this time. Here is a song that those who believe might sing in their special place of worship.
Happy Easter everyone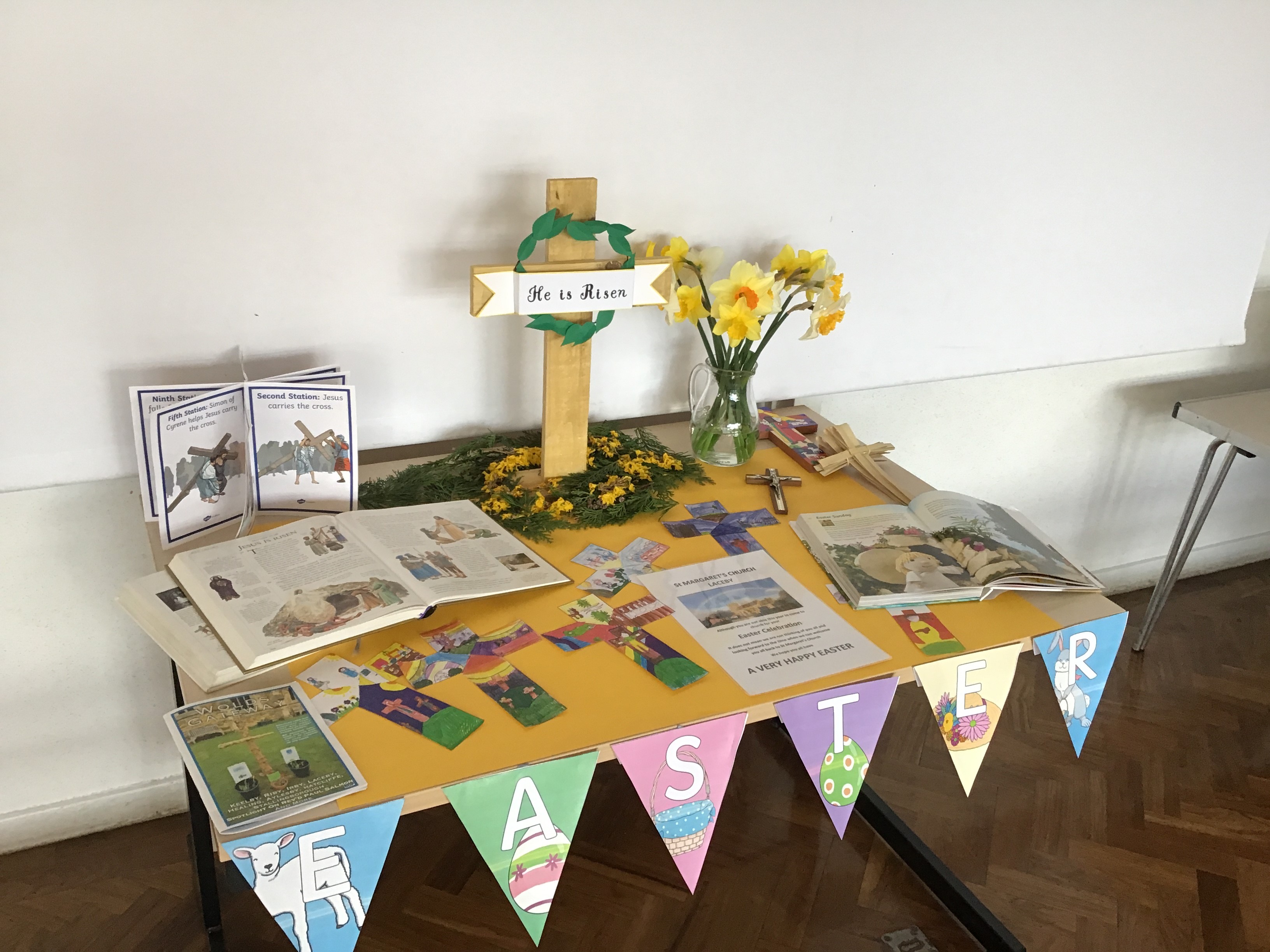 Y4 Easter Focus – The Cross & Holy Week.
As a part of our Easter Celebrations the children learnt about Holy week and the different days which lead to Easter Sunday
Palm Sunday - when Jesus arrived in Jerusalem on a donkey and the crowds celebrated by waving palm leaves
Maundy Thursday – when Jesus had the Last Supper with his disciples
Good (Holy) Friday – When Jesus was placed on a cross Easter Sunday – When Jesus was resurrected.
The children were shown different types of crosses including a bright one with an image of Jesus on it. The children used this as inspiration to design their own crosses depicting Holy week and the different events.
Juniper Class – Easter gardens
After listening to the Easter story we working in teams to design and create our Easter gardens to represent the Easter story. It was so lovely to make use of our outdoor classroom space on such a sunny afternoon. We also enjoyed searching our outdoor space for resources for our gardens including our home grown daffodils.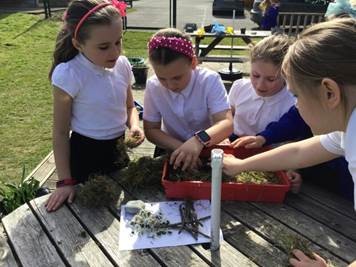 Easter
This week Juniper class having been exploring the Easter story. We have created stain glass windows of the Christian symbol the cross.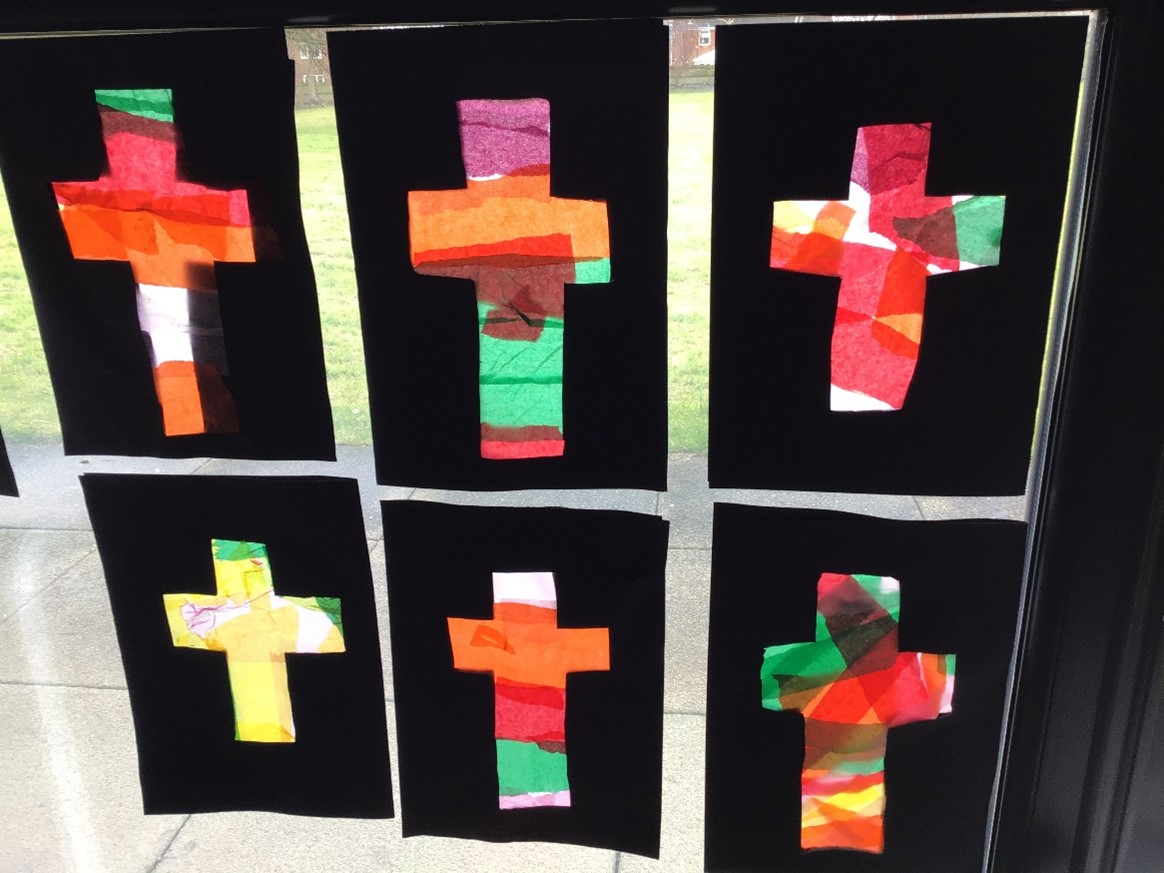 Baptism & The Trinity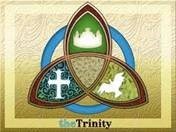 Thinking: The children were asked to work in teams to try and lift an object – they had 3 rulers to do this. With 1 ruler the book fell, with 2 it was slightly more stable but when 3 were used and worked together the book was given a solid base. We then looked at how Tripods are used to give support from bicycles to stands.
Believing: The children were then introduced to the idea that, for Christians, God is not three separate strands, but a single being woven together as Father, Son and Holy Spirit which Christians call 'The Trinity'
God the Father is the creator of everything, the Son refers to how God chose to send a part of him as a human being in the form of Jesus his son who built a bridge between God & mankind, the Holy Spirit the power of God in our daily lives.
Living: After Jesus was resurrected, He commanded His disciples to "teach all nations, baptizing them in the name of the Father, and of the Son, and of the Holy Ghost" (Matthew 29: 19). Ever since then, baptism has been a way to take upon oneself the name of Christ and become part of His kingdom, to believe in The Trinity and be supported by it.
Building a bridge
Thinking – The children were set a task to get a character across a 'river' but it couldn't touch the water. They decided to build a bridge using items around the classroom. The children were not allowed to cross more than halfway over the river and nothing they touched could touch the river bank. This took the children a while to figure out until they realised that they had to work in pairs, communicate and work together.
Believing – The children were then told the story of Adam & Eve and how they broke the bond of trust with God and did not communicate with each other. It wasn't until God sent his son Jesus down to 'bridge the gap' and communicate between man & God that their bond was re-established.
Experiencing – The children were then asked to put this into a real life context to show their understanding. We discussed how when 2 friends fall out sometimes they need a friend to go between the 2 of them to sort out their conflicts and open the line of communication so they can start to talk and make friends again.
Who thought we could learn so much from just building a bridge?
Inter-Faith Week
Inter-Faith Week in Pumpkin Class
With the theme of 'I believe', we have been looking at the way three different religious groups believe that The World was created.
First we looked at the Christian Story of Creation and made story wheels to show this.
Secondly we compared it to the Islamic Story of Creation and noted the similarities and differences. This is what we thought:
OW: 'Both stories have their God making the sky and land and seas.'
DI: 'In the Islamic story they believe Allah made angels.'
TS: 'In the Christian story God just made man and woman but in the other one Allah modelled it first then breathed on it to make it alive.'
OH: 'Both stories start with nothing and end up with the living things on the World.'
Finally we looked at the Hindu Story of Creation and noticed how very much different this one was. We liked the part where Vishnu grew a lotus flower out of his navel. We also liked how Brahma used petals of the flower to make things. We got creative and made our own lotus flowers:
Interfaith week by Juniper class
This week for interfaith week we have been learning about many different religions around the world. To help us understand some of the places that they pray we have done some drawings of the Buddhist temple.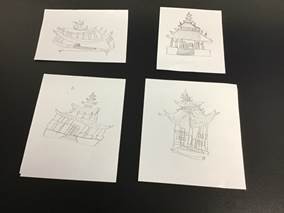 Next, we learned about Judaism and how Jewish people follow the religion with the place that they worship, sacred items to them and the events that they attend to celebrate Judaism. We did an activity labelling the different parts of a Jewish synagogue.
We have looked at Sikhism and the various things that they belief. After we looked at what the Sikh religion believes we were able to create a mind map of different drawings and key words of what the Sikhs belief in their religion.
Reflections on interfaith week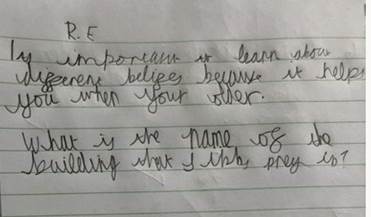 Buddhism and Meditation
As part of Inter faith week in Juniper class , we looked at the faith Buddhism and how they use meditation. Meditation is a very important part of Buddhism. Through meditation, Buddhists believe they can calm and clear the mind, making it peaceful. We thought this was a good way to start our day. Well done those at home who joined in.
Poppy Class: Buddhism
The children in school have been learning about a different religion each day this week. When we were learning about Buddhism we learnt about how Buddhists use meditation to try an reach 'enlightenment'. We tried meditating and listened to a meditation track called 'The Gratitude Tree' which involved thinking about all the positive things in our life.
After we finished meditating we were given a picture of a tree and were asked to fill the tree with everything in our lives which is good. We then looked at our trees to see how full our lives are and how there is so much positivity in our lives when it is such a troubling time.
Star Anise Class
We completed a selection of different activities during our 'I Believe'/inter-faith week.
We learned about different stories, beliefs, places of worship, etc. for a range of different faiths. This included: watching videos of festivals and thinking about our different senses; identifying areas of places of worship; understanding how people dress to reflect their beliefs; recreating art from religious stories. We also reflected on the question of "Where is God?" thinking about our own or other people's beliefs, which resulted in some beautiful artwork.
Wolds Gateway Parish Magazine Wise Men Competition
Pupils at school were invited to take part in a special competition to design the cover of the January 2021 edition of the church magazine to celebrate The Epiphany. There were so many wonderful entries, that the judges decided to include all the drawings in the magazine. Well done to everyone who took part!
See the Wolds Gateway Parish Magazine
Three Wise Men competition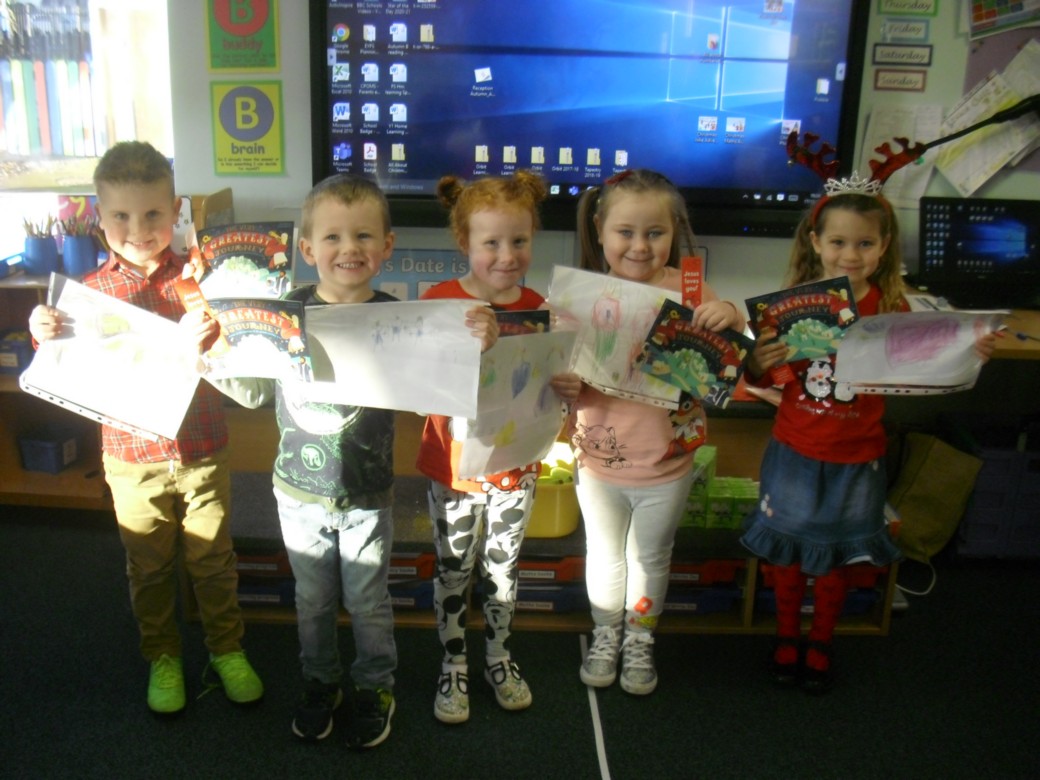 Congratulations to the Seedlings and Sunflower children who took part in St. Margaret's Church competition to draw 'Three Wise Men' from the Nativity story. Children received a book and their drawings will be put onto the church Christmas magazine.
Drawing Competition
Pumpkin class have been drawing the kings and camels who visited Jesus. This is for a church competition and here are some of our entries. We all have our fingers crossed that we might win!
Buddhism Video Call
We had a special meeting with Buddhist Marcus Czarnecki this afternoon. We learned a bit about the history of Buddhism and about rituals which Buddhists practise. We also had a go at some Buddhist chanting ourselves.
Harvest Festival
Celebrating Harvest
Many thanks to everyone who brought in food for our Harvest Celebration. All your kind donations have been gratefully received by the Harbour Place charity in Grimsby.
/p>
Pancake Day
Today is Pancake day and children have been learning about why people celebrate this day. We learnt that pancake day is also called Shrove Tuesday and that it is celebrated on the Tuesday before Lent. Christians celebrate this time of year and might promise to give something up, such as chocolate or sweets for 40 days until Easter.
Children made pancakes with the playdoh and wrote a pancake promises.
Key Stage One Stars Shine in Christmas Nativity Performances
Well done to Sunflower and Pumpkin classes for their wonderful performances of 'Shine Star Shine.' Lovely singing, acting, dancing, reading and instrument playing.
Special visitor
As part of interfaith week, we had a special visitor in school, Marcus Czernecki. He shared information about his faith Buddhism. Our class had a workshop where we listened to stories and looked at artefacts linked to the faith. We were given special bookmarks as a gift.
LQ: Can I recognise ways to celebrate Diwali?
LQ: Can I recognise similarities and differences in various celebrations?
This week we have been learning about Diwali. We listened to the story about 'Rama and Sita'. There were lots of fun activities too including songs, making Rangoli patterns on the floor, Mehndi patterns, and Diva lamps!! Can you sing the song to a grown-up? Little lamps are burning bright, Burning bright, burning bright. Little lamps are burning bright. It's Diwali
Harvest Festival
Our Harvest Festival was a joyful celebration introduced by our head boy and girl and Star anise class performed a poem. Rev. Philip Stevens came to say a prayer and give thanks for the food at harvest time. Thank you to everyone who contributed to our celebration, the donations of food will be sent to the homeless charity, Harbour Place.
Sunflowers enjoyed celebrating the Harvest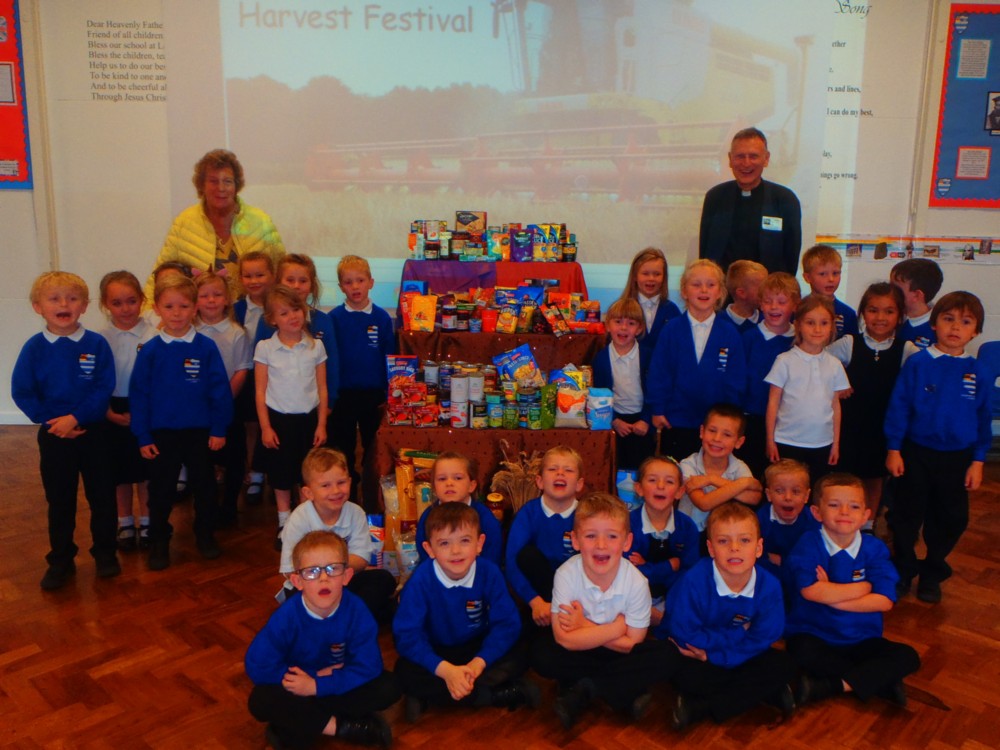 Thank you for all your kind donations of food which have all gone to the Harbour Place charity. Many thanks also to Mr. Stevens and Mrs. Mawer who came along to help us celebrate.
Baking Bread
Following the story 'The Little Red Hen' and in preparation for our Harvest Festival we were inspired to make some bread.
Our hands and fingers were very busy kneading and rolling the dough. We looked at the ingredients needed and thought of lots of words to describe the dough including 'squidgy', 'soft' and 'stretchy' and how the bread changed once cooked.
Of course the best bit was eating our fresh bread and enjoying the delicious smell!
Pupil Voice:
C.M-S: We put warn water in so it didn't kill the yeast.
J.M: We put bread flour in. We mixed it with our hands - it was messy!
A.V: We used our hands to squeeze the dough.
E.A: We stretched the dough.
C.M: We put the tray on top of the oven where it was warm. This made the dough grow
RE: Worship and Festivals Can I find out what happens in a church?
Sunflower Class visited St. Margaret's Church in Laceby. They enjoyed exploring the church, handling special objects and asking Mr. Steven lots of questions!
EW: I really liked looking around the church. It was very interesting.
ED: I sat down and wrote a prayer on a piece of paper.
HN: I liked opening all the special books and seeing if I could read some of it.
CR: I found lots of school badges inside the church.
SS: We all sang the school song and Mrs. Brady played the organ.
RJ: Mr. Stevens told us all about the stained glass windows. I could see a picture of Jesus.
FR: I sat in the choir pews and I liked singing.
TB: I stood in the pulpit.
SS: I saw the font that Mr. Steven's uses for Christenings.
LC: Mr. Stevens does weddings and funerals. Lots of special things happen in a church.
LS: I found out that the church is over 800 years old.
LQ: Can I take part in Easter celebrations?
Seedlings class showed their Easter bonnets at our annual Easter Bonnet Parade!
Easter Assembly
Children from Seedlings and KS1 joined together for our Eater assembly. We sang Easter songs, listened to Reverend Hutson talk about Jesus at Easter and finished with a quiet moment of prayer. As a reminder of when Jesus died on the cross we then received a palm cross.
Reverend Philip Stevens' Visit
Reverend Philip Stevens came to talk to the children in Seedlings class about how he uses his hands to help other people. We learnt about using hands to baptise children, marry mums and dads and help older people come and visit the church. He then showed us the different coloured stoles he wear, their colours and what is embroidered on them. Finally, we all used our hands to show how we might pray.
Diversity Workshop
Special visitors were recently invited into school, to talk to the children about inclusiveness, diversity and treating each other with respect. Children were encouraged, as always, to embrace each others differences and celebrate what makes each of us unique and special.
Buddhism Workshop
Year 5 and 6 were treated to special visitors recently, when we invited in Marcus and Fumiko, who practise the Buddhist faith.
We learned a lot about the origins of Buddhism, as well as the core beliefs and morals. It was a very calming and enlightening afternoon, where lots of deep questions were asked and considered. We also all got to have a go at some Buddhist chanting and all children received a bookmark as a souvenir of the visit.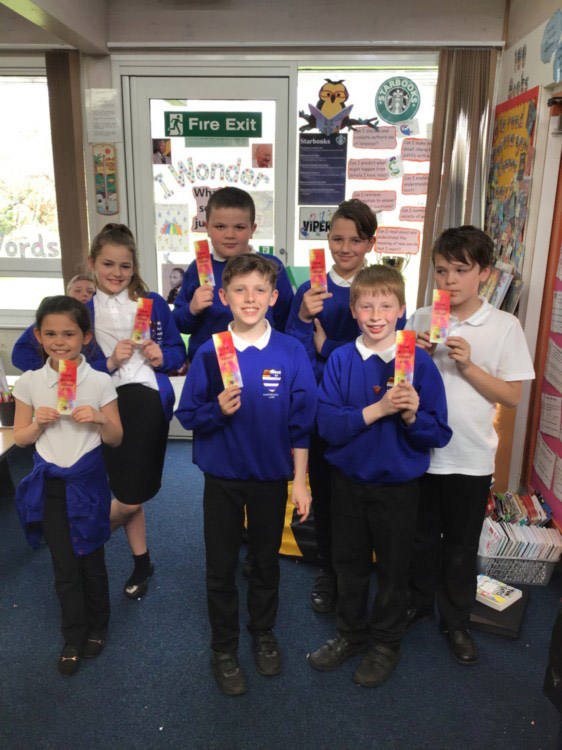 L.Q: Can I recognise way to celebrate Chinese New Year?
Gung Hay Fat Choy! – Happy New Year.
This week we have been celebrating the Chinese New Year, the year of the 'Pig'. There have been lots of different activities including, listening to the Chinese Zodiac story and sequencing the animals, tasting Chinese food, serving customers in the Chinese restaurant and using chopsticks! We explored Chinese writing and tasted noodles, rice, spring rolls and prawn crackers!