Art and Design
Remembrance
Willow class created some beautiful artwork and some wonderfully descriptive poetry as we learned about Remembrance.
Enterprise Project
Juniper class started to complete their enterprise project, ready to sell at the Christmas Fayre. One of the projects we are creating are rag wreaths.
Can I make a replica of an Egyptian Cartouche?
A cartouche is an Egyptian nameplace which the Egyptians would put on a sarchophagus so a person's soul would recognise their body when they reached the afterlife. To make this the children used clay to make their shape. They had to figure out how to write their name in hieroglyphics and carefully etch their name into the clay. Our next step is to wait for them to dry, then paint them to look authentic. Watch out for the finished products!!
Black History Month
The children in Pumpkin Class have been finding out all about the life of American artist Alma Thomas.
They discovered that during her life she had been treated very unfairly because of the colour of her skin.
The children enjoyed exploring her art work and found her colourful pictures inspiring and so they decided to create some of their own.
Painting
We have really enjoyed painting our families.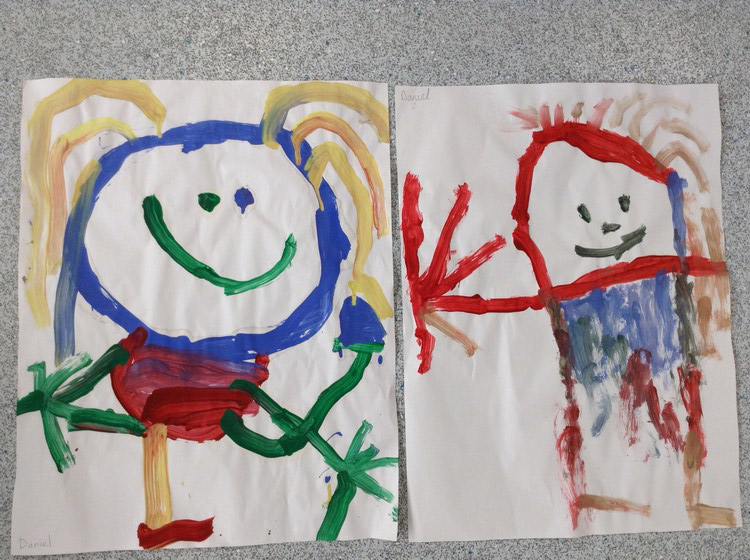 Can I create a replica of papyrus?
On our hook day we learnt that the Egyptians were one of the first civilisations to create 'paper' which they called papyrus. They used parts of the papyrus plan which they wove together. We used strips of paper which we laid out in strips and glued together. When they are dry we are going to use them to make Egyptians drawings.
Can I recreate an Egyptian Necklace?
On our hook day we researched Egyptian jewellery. We found out that they were big, had lots of blues & golds in them and a lot had eagles on them. We used a paper plate to make the base of our necklace, created a design and started to paint them. We can't wait to show you them when we've finished.
Nature Photography
In Year 6, we were inspired by Andy Goldsworthy to create, and photograph, some Nature Art. We used the Nature Area and school field to collect materials of different shape, size, texture and colour to create our 3D art pieces.
We created flowing patterns in concentric circles and explored different filters with camera. We will continue learning about different effects and filters using the cameras - keep checking our class blog for updates!
Clay coins
We looked carefully at a range of artefacts from Roman times including coins. We decided to design and create our own coin in Art and design. We experimented with using different tools to shape the clay and carve in our designs. We included our year of birth which we wrote in Roman numerals. We used a range of metallic paints to complete our coins.
Parts of a Plant
On Friday, Pumpkin Class created collages with felt to show our knowledge of parts of a plant. In Science we have learnt about the different parts of a plant and their purpose. We used our art skills of collage to cut felt and create our masterpieces. What do you think?
When civil rights, history & music combine with art
In music we have listened to a piece of music by The Beatles called 'Blackbird'. When we investigated further we discovered that Paul McCartney created this piece of music after he learnt about the struggles of civil rights for black people in America. We researched further into how people of colour were treat in history including slavery in America. We looked at the piece of music again to further understand the music then we created a piece of art to accompany this track.
Here is the link if you would like to listen to this poignant piece of music while you enjoy our art - Blackbird
Make Do & Mend
In history we learned about how people would need to repair and re-use their clothing during World War 2. During this time, one quarter of the population were in services that required uniform, so clothes manufacturing had to prioritise this. Ordinary people at home would therefore need to "make do and mend". Manufacturing toys was not a priority because the factories were re-purposed for the war effort, meaning that some families would take to making their own toys. Inspired by this piece of history, in Year 5 we have been making our own toy bunnies out of our old socks!
Year 1 Art: Fantastic Flames!
The Year 1 children are enjoying learning all about The Great Fire of London. In Art, they made fire and flame effects by experimenting with ripped and layered tissue paper.
A- My fire looks really hot. K- I am bending the tissue paper to make it look like the flames are moving. E- I scrunched up small bits, to look like sparks from the fire. E- If you put a different colour over the top, you get a new colour. H- I have enjoyed tearing the paper and making different shapes.
Tree Collages
Over the past three weeks Pumpkin Class have been creating tree collages using pumpkin seeds. We have already looked at why trees were important to humans, animals and the environment so we decided some art work would go nicely with this work. It took several weeks to design, create and paint the pieces. Here are some of our finished pieces:
Can I create a Mexican Mirror?
The Maya come from Central America. One of the countries situated in this area is Mexico. We thought we would bring some colour into the classroom by making our own Mexican mirrors. Central America is known for its bright colours and the intricate decorations.
The children enjoyed making them and they look really effective.
Mayan Masks
On our hook day we learnt a little bit about the Mayan culture. We found out that there are lots of similarities with the Egyptians as the Mayan temples were pyramid shaped and they also put the bodies of important people in sarcophagus and put death masks on the bodies so they could be recognised in the afterlife. We then looked at different types of masks and tried to create our own. The children had to design their mask and the use tiny bits of paper to create a mosaic effect. It was very fiddly and took a lot of sticking to complete each mask but the children persevered and made some fantastic masks.
Y4 Science & Art come together
As a part of Science Week the children had to design their own 'Robobug' which could be built to use in space exploration. Today the children were able to finish off their creations and give them some colour. Here is a selection of them. I could just imagine them in space. They look amazing!
Landscape Art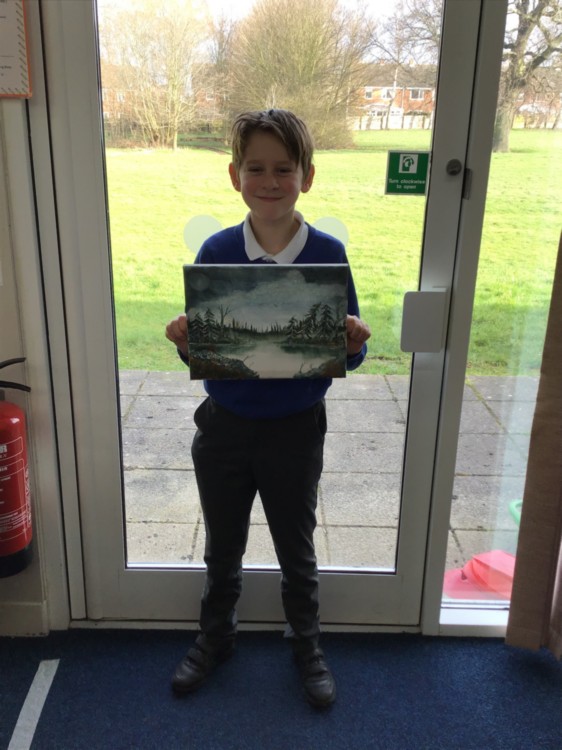 Wow! Well done to one of our very talented pupils in Y6 - a remarkable canvas art shared with the class! A wonderful masterpiece!
Jewellery designers - Can I make a bracelet?
In Art we have looked at different types of jewellery. Today we looked at bracelets and had a go at making our own by weaving wool. The children really had to concentrate to make sure they were following the pattern and to ensure that the wool didn't get knotted. It was also very therapeutic and the children enjoyed making them.
Well-being Wednesday Activities – Can I design a charm or a pendant?
In Art we have been learning about jewellery. Today we learnt about Tiffany & Co. We looked at the pendants & charms that they have on necklaces & bracelets. The children were tasked to design a pendant/charm and then make a large scale model using salt dough. They loved moulding and sculpting the dough to bring their creations to life. We can't wait to paint them !!
Year 2 History: Learning all about Florence Nightingale
As part of their History work on Florence Nightingale, the children in Pumpkin Class watched a video showing them how to draw her. Here are their fantastic drawings!
School's Virtual Art Gallery
Take a look at this wonderful virtual art exhibition: 'A View from my Window.'
Year 1 Art: Can I learn about the Artist Arcimboldo?
Giuseppe Arcimboldo 1527-1593 became famous for his unusual portrait paintings. He liked to create weird and wonderful faces with flowers, vegetables and books. Here the Year 1 children have explored his famous fruit faces and created some of their own.
Making Jewellery
We have been learning about different gems and where they come from, then we had a go at making them by drawing on stones and sticking them with glue. The children loved it and had lots of fun. Don't they look lovely?
Frida Kahlo
In Art we are studying the artist Frida Kahlo. Barley Class pupils drew some fantastic self portraits in their task set this week. Mrs Smith enjoyed seeing our talented artists who sent in their remote learning task.
Christmas Cards
We have been very creative with our Christmas cards this year. The children created a snow scene where a snowman is watching TV….but… there is a hidden surprise on the TV. When you scan it with your camera on your phone you can see what the snowman is watching! How clever!!!
A Moving Picture
We linked several aspects of our learning to create a moving picture. In Art we have been learning about how the Victorian's believed in hand-made crafts rather than mass produced items. We have also researched the toys & games that Victorian children liked to play with and we decided to make a 'toy' with moving parts. We found some templates online and we used them to make templates. We cut out the shapes in card and used split pins to put the parts together. We then mounted them so they looked like toys in a nursery. As they looked so great we chose to use them as our calendars for next year. Don't they look fabulous?
Drawing Competition
Pumpkin class have been drawing the kings and camels who visited Jesus. This is for a church competition and here are some of our entries. We all have our fingers crossed that we might win!
Cartouches
Juniper Class really enjoyed creating cartouches. They followed their plans carefully. The next step will be painting them. The finished product will be sold as part of our enterprise project.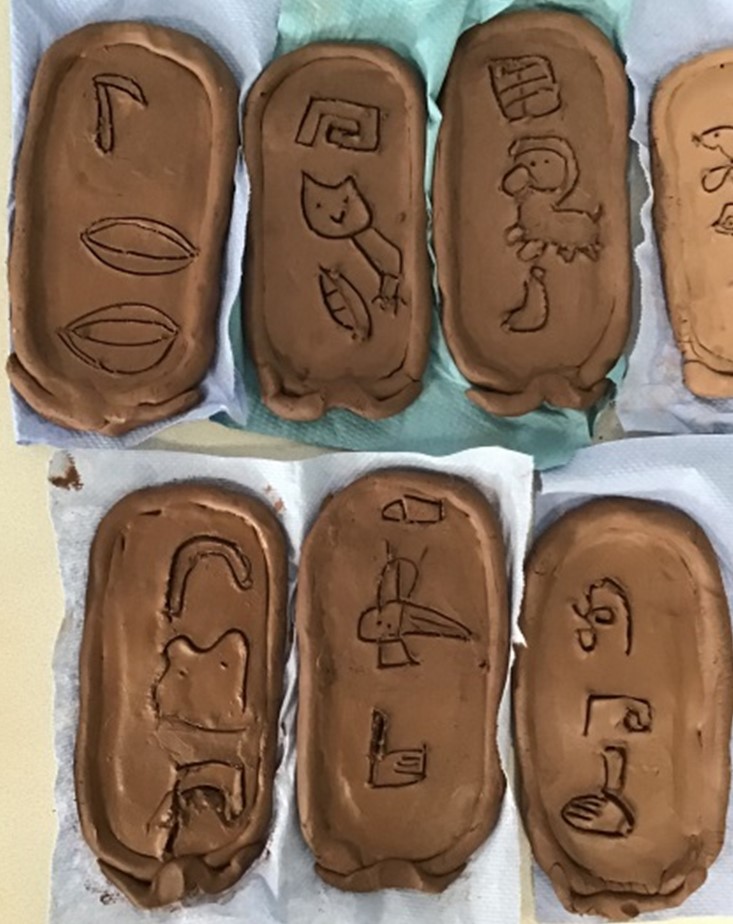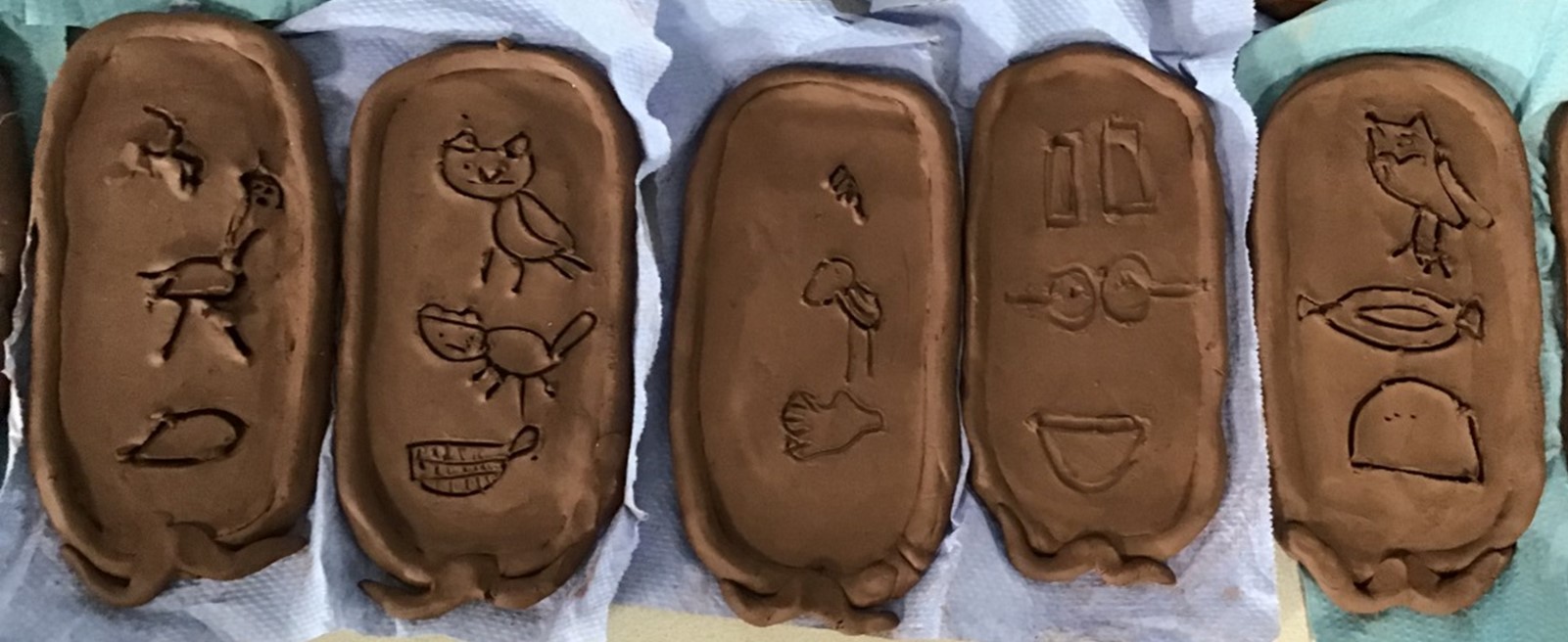 Ancient Greek Masks
Barley Class used a range of art techinique and skills to add the final touches to their Ancient Greek comedy and tragedy masks. The styles and colours used linked closely to the styles of the Nacient Greeks- Well done Barkey task for your artistic flare!
3D Masks
Barley class continued with their tragedy mask project- this week we started to build the 3D effect of the mask using newspaper. We concentrated on the key features within our masks to ensure these elements stand out when we use the mod roc next week.
Collage Art
Year 5 created some fabulous art, using collage as a background and adding details of animal faces on top. These are now proudly displayed around the school.
Mask Making
Barley class completed the next step in creating their own comedy and tragedy masks- They took their initial design and cut this out using cardboard. Kepp a look out as our next step will be using Modroc to make our masks 3D
Chalk Drawing
In Green Bubble we drew pictures to celebrate someone's birthday!
Ocean Life
In our first week as Turquoise Bubble we looked at the creatures in the Ocean. First we turned ourselves into deep sea divers then we made junk jelly fish and an ocean diorama. The children had lots of fun being creative.
Miss Perrin
Can I use tints and shades to create tone to my painting?
We explored some flower paintings by the artist Georgia O'Keeffe to look as how she made them look 3D.
We then tried really hard to add tints and shades to our flower paintings.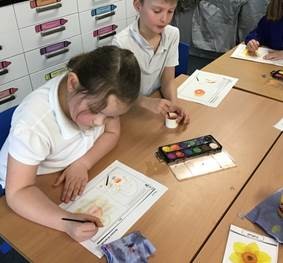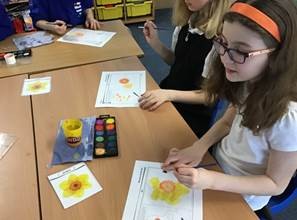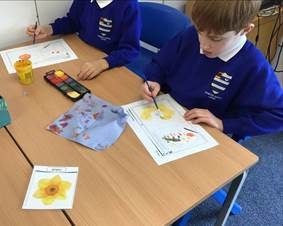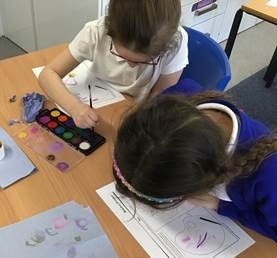 Rainbow Collage
Children have coloured their rainbow and used various collage materials including orange lentils, purple sand and blue shiny paper.
Creating Pictish Stones
A Pictish stone is a type of monument that the Picts used to carve symbols. They decorated them with designs or wrote on them using the ogham alphabet. During Poppy classes' Art lesson, we looked at the Pictish stones. We designed one using the ogham alphabet and then made them using clay. The children had lots of fun making them.
Botanical Illustrations
We have been exploring botanical studies in art. We took samples of plants from our playground and had ago at improving our observational skills to create our own botanical illustrations.
Pop-up puppets
Linked to our toy town work Seedlings class have been combining and joining materials together to make a pop-up puppet. They painted a face, added hair and cut and shaped materials to create a pop-up hat!
Exploring the famous artist Giuseppe Arcimboldo 1527-1593
The Sunflower's have been finding out about Arcimboldo and have been fascinated with his fruit and vegetable faces.
Arcimboldo is well known today for painting portraits of people made out of different types of fruit, vegetables, meat and fish. He would pick food that had a connection to whatever he was painting. For example, when creating a picture of autumn, he used fruit and vegetables that grew in autumn.
The Sunflowers have created fruit and vegetable faces of their own using oil pastels and also on the computer.
Can I create a charm for a piece of jewellery?
In Art we are learning about jewellery design & designers. Today we learnt about Tiffany & co who are famous for their elaborate pieces of jewellery.
A lot of their jewellery have pendants or charms on them so we tried making them for ourselves out of clay.
When they are dry we will paint them and make them beautiful.
Can I make a replica of an Anglo-Saxon broach?
As a part of our Hook Event, the class were given an introduction to the Anglo-Saxons. They discovered where they came from and where they fit on the timeline of events in British history. We know a lot about the Anglo-Saxons through the discovery of a burial ship at Sutton Hoo. The Anglo-Saxons were experts at metal work and created some fine pieces of jewellery.
The children then learnt about Jewellery, its uses throughout history, and about the different types of gemstones and their names. We discovered that Anglo-Saxon broaches were often circular, symmetrical, and intricate. They were decorated with gemstones and enamel. The designs were usually made by embossing the metal.
The children were asked to design a broach similar to the ones we have researched. We made the designs by using thick cardboard and string to raise parts of the pattern. The children then covered their brooch with tin foil and gently pressed it down so the pattern emerged through the foil. The brooches were then painted and 'gems' were added.
Watch out for pictures of the finished products on this blog!
Frida Kahlo (1907 - 1954)
This term, one of our Art objectives is to learn about 'Great artists in history'. We have been studying the self portraits of Frida Kahlo - a surrealist artist in the 1920s - 1950s.
Kahlo mainly painted portraits of herself and was inspired by nature, animals and Mexican artifacts. We have enjoyed learning about a new artist and also discussing how we all interpret her artwork differently.
This particular piece, 'Wounded Deer', generated some very mature and thought provoking ideas;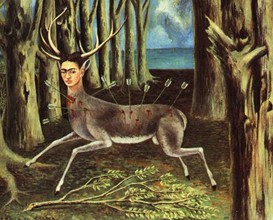 'It shows that humans and nature should be at peace with each other. The arrows represent the criticism that Kahlo received for going against gender stereotypes - they hurt her, but she still stood strong, like a majestic deer.'
'I think this piece shows that animals and humans are equal but people should not be hunting and hurting animals,'