Art and Design
Implementation: The Art and Design curriculum is purposeful and relevant to the pupils. The knowledge and skills pupils acquire, build on their previous learning, allowing them to transfer key skills, knowledge and concepts to their long-term memories.
Impact: We are proud of the achievements of our pupils in Art and Design. Our pupils fluently apply their skills and knowledge within Art and Design and make connections to their existing knowledge and to other curriculum areas.
At Stanford School, pupils are encouraged to develop their understanding and enjoyment of a variety of media and processes so that they can record, communicate and express their ideas, thoughts and feelings in many different ways. The pupils gain a developing awareness of the wide range of work by artists and designers from different times and cultures including those from their own locality. The pupils are encouraged to respond and evaluate their own and other's work.
We have visiting artists to the school to enhance the pupil's knowledge and learning and to provide further inspiration.
Our Intent: For Art and Design at Stanford School we offer the children:
The ability to use visual language skillfully and convincingly (for example, line, shape, pattern, colour, texture, form) to express emotions, interpret observations,&nbspconvey insights and accentuate their individuality.
The ability to communicate fluently in visual and tactile form.
The ability to draw confidently and adventurously from observation, memory and imagination.
The ability to explore and invent marks, develop and deconstruct ideas and communicate perceptively and powerfully through purposeful drawing in 2D, 3D or digital media.
An impressive knowledge and understanding of other artists, craftmakers and designers.
The ability to think and act like creative practitioners by using their knowledge and understanding to inform, inspire and interpret ideas, observations and feelings.
Independence, initiative and originality which they can use to develop their creativity.
The ability to select and use materials, processes and techniques skillfully and inventively to realise intentions and capitalise on the unexpected.
The ability to reflect on, analyse and critically evaluate their own work and that of others.
A passion for and a commitment to the subject.
From the Early Years to Year 6 children develop a wide range of art skills and use these to create fantastic work to display.
See our Art and Design work
3D Masks
Barley class continued with their tragedy mask project- this week we started to build the 3D effect of the mask using newspaper. We concentrated on the key features within our masks to ensure these elements stand out when we use the mod roc next week.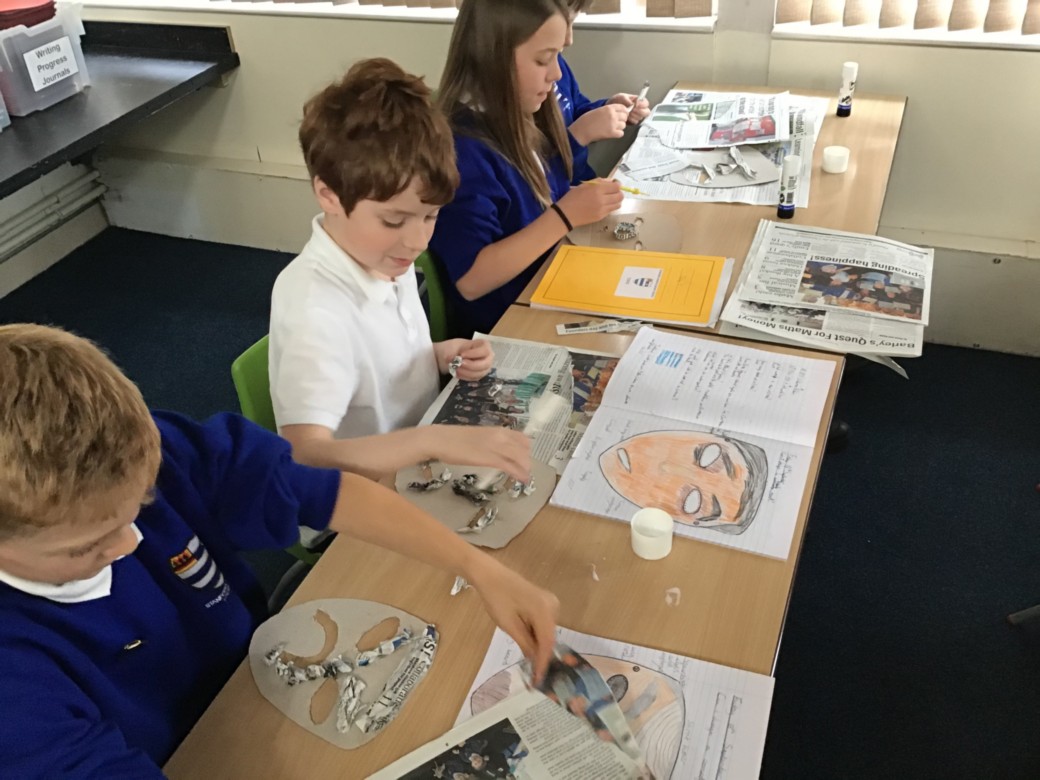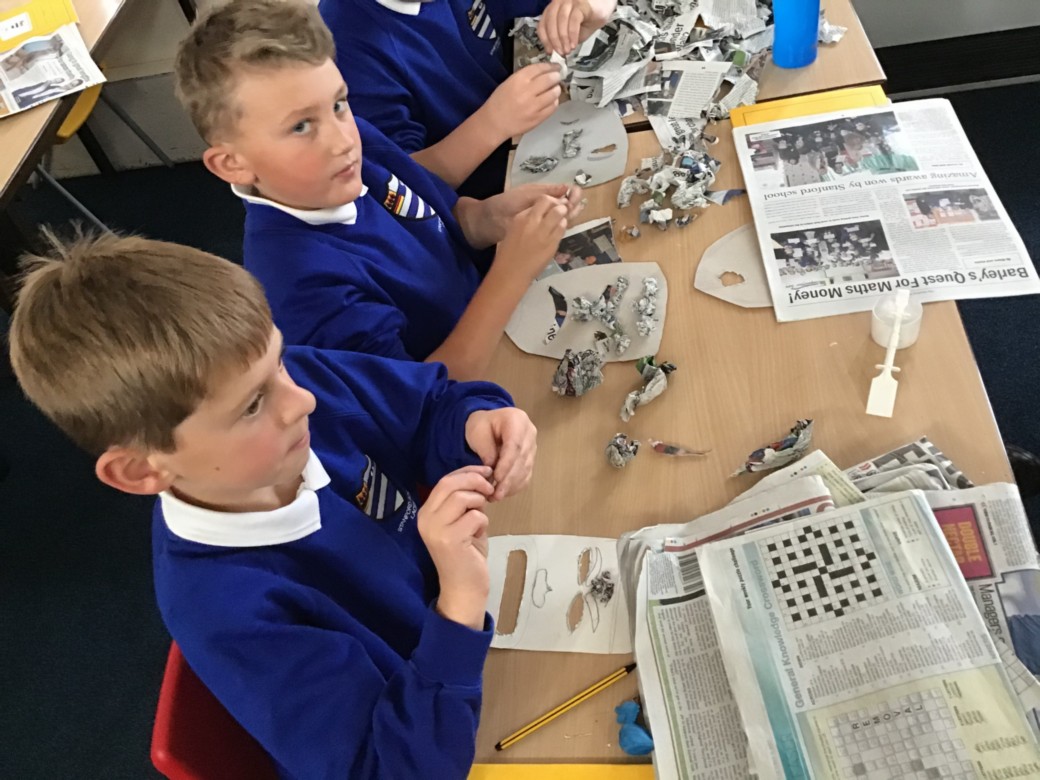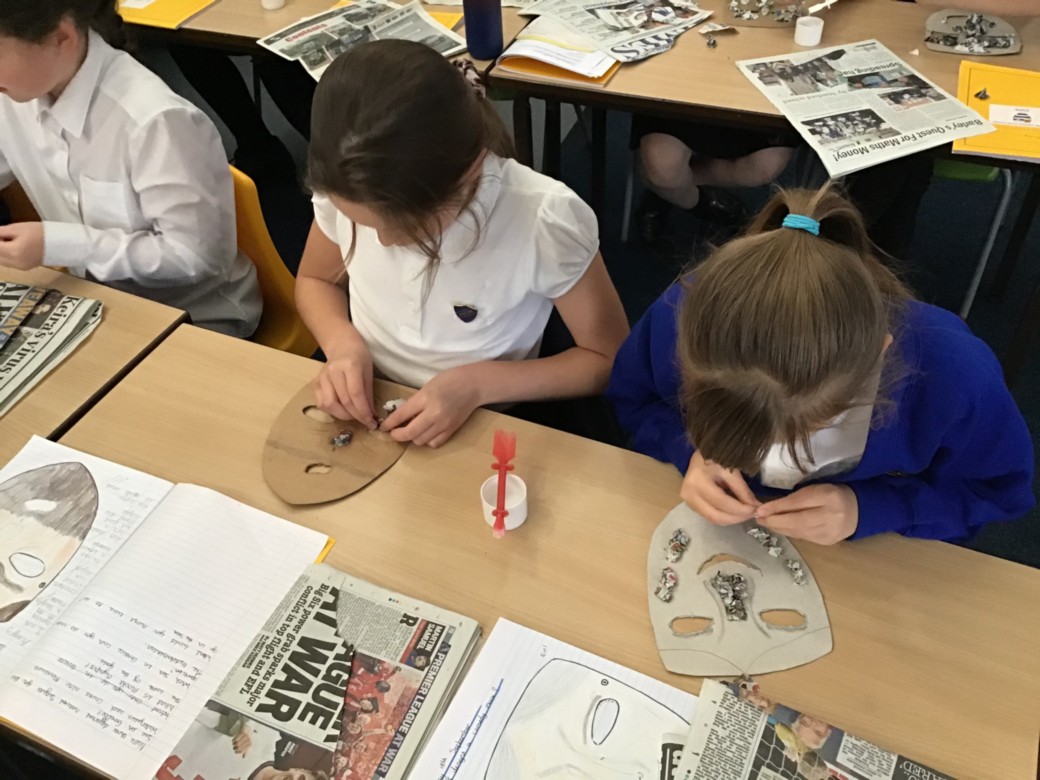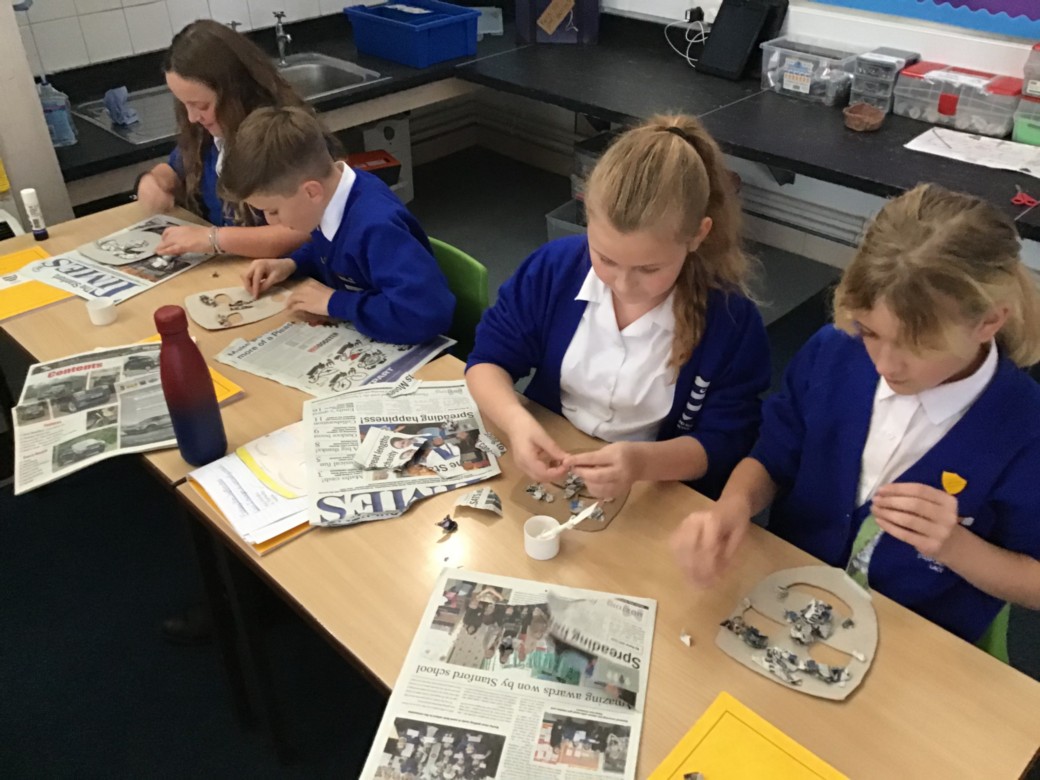 Collage Art
Year 5 created some fabulous art, using collage as a background and adding details of animal faces on top. These are now proudly displayed around the school.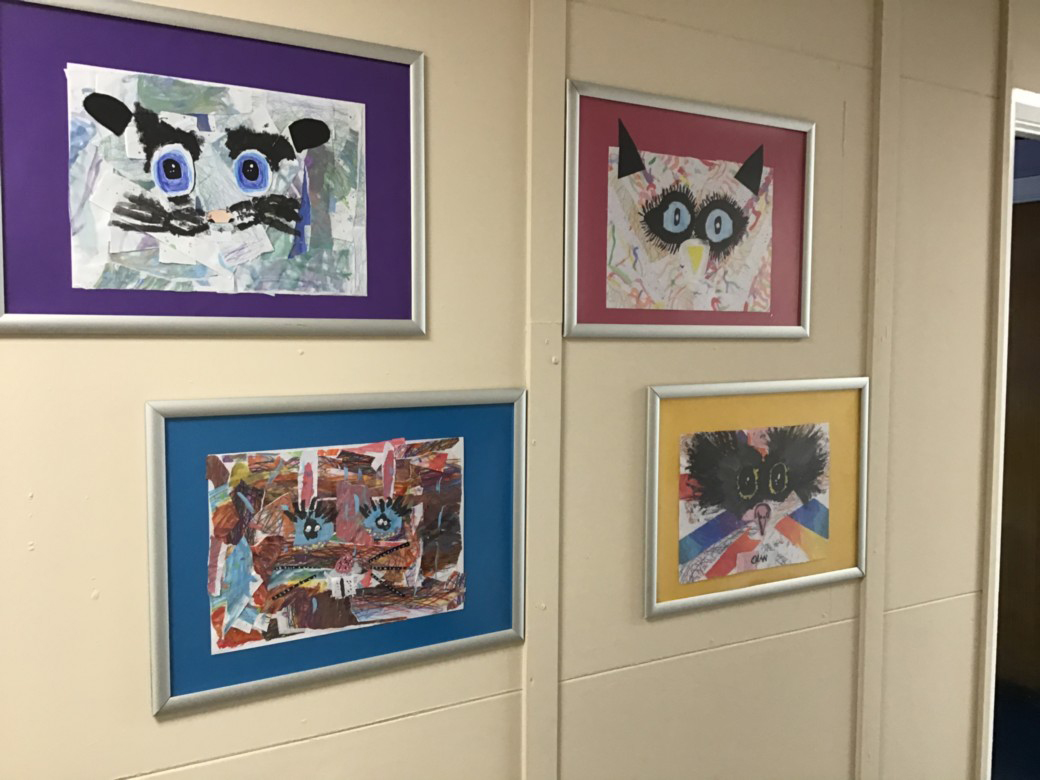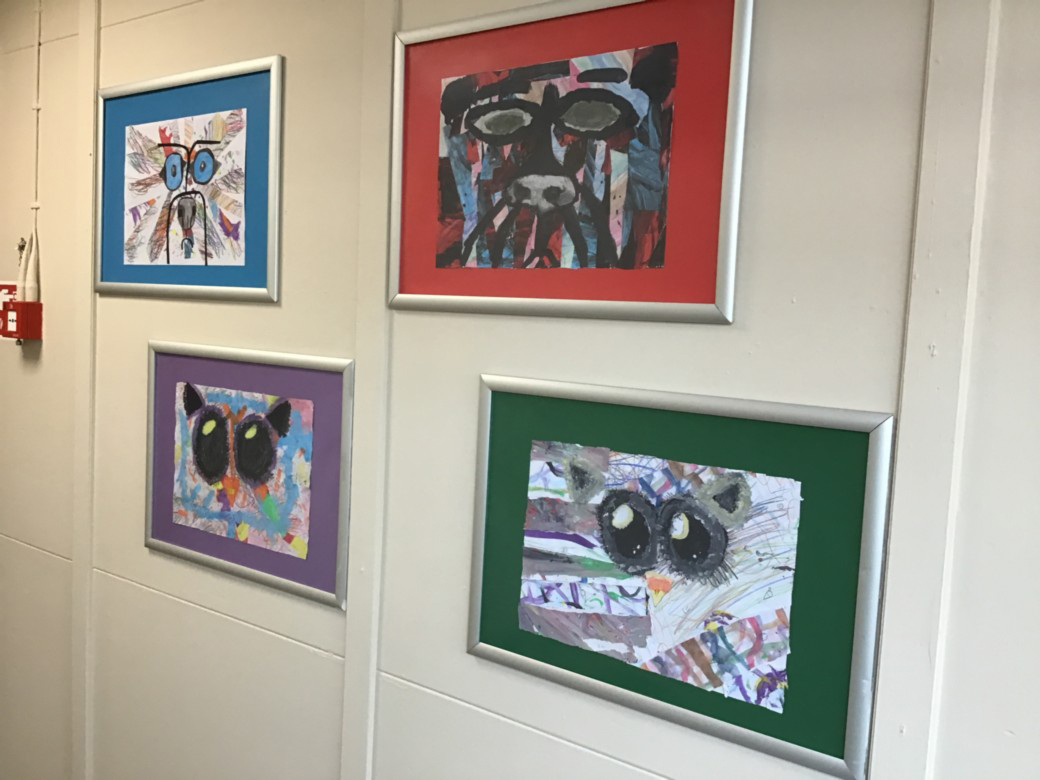 Mask Making
Barley class completed the next step in creating their own comedy and tragedy masks- They took their initial design and cut this out using cardboard. Kepp a look out as our next step will be using Modroc to make our masks 3D
Chalk Drawing
In Green Bubble we drew pictures to celebrate someone's birthday!
Ocean Life
In our first week as Turquoise Bubble we looked at the creatures in the Ocean. First we turned ourselves into deep sea divers then we made junk jelly fish and an ocean diorama. The children had lots of fun being creative.
Miss Perrin
Can I use tints and shades to create tone to my painting?
We explored some flower paintings by the artist Georgia O'Keeffe to look as how she made them look 3D.
We then tried really hard to add tints and shades to our flower paintings.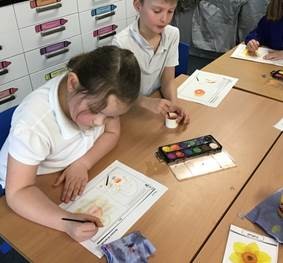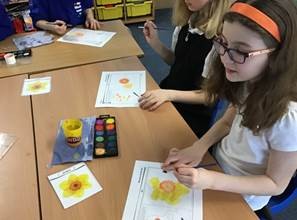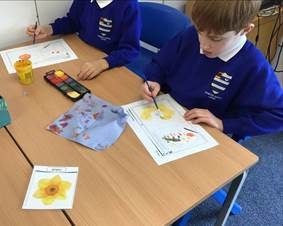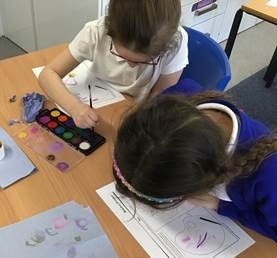 Rainbow Collage
Children have coloured their rainbow and used various collage materials including orange lentils, purple sand and blue shiny paper.
Creating Pictish Stones
A Pictish stone is a type of monument that the Picts used to carve symbols. They decorated them with designs or wrote on them using the ogham alphabet. During Poppy classes' Art lesson, we looked at the Pictish stones. We designed one using the ogham alphabet and then made them using clay. The children had lots of fun making them.
Botanical Illustrations
We have been exploring botanical studies in art. We took samples of plants from our playground and had ago at improving our observational skills to create our own botanical illustrations.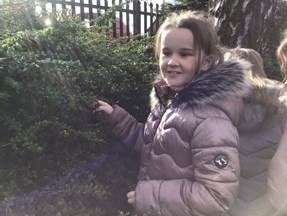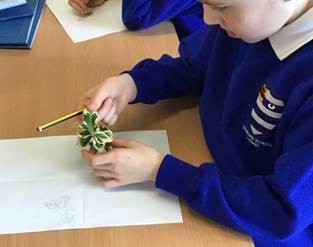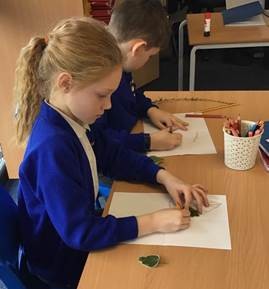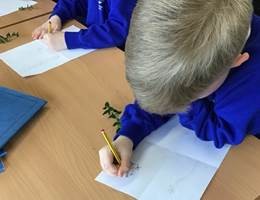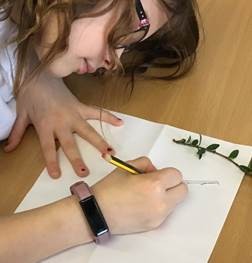 Pop-up puppets
Linked to our toy town work Seedlings class have been combining and joining materials together to make a pop-up puppet. They painted a face, added hair and cut and shaped materials to create a pop-up hat!
Exploring the famous artist Giuseppe Arcimboldo 1527-1593
The Sunflower's have been finding out about Arcimboldo and have been fascinated with his fruit and vegetable faces.
Arcimboldo is well known today for painting portraits of people made out of different types of fruit, vegetables, meat and fish. He would pick food that had a connection to whatever he was painting. For example, when creating a picture of autumn, he used fruit and vegetables that grew in autumn.
The Sunflowers have created fruit and vegetable faces of their own using oil pastels and also on the computer.
Can I create a charm for a piece of jewellery?
In Art we are learning about jewellery design & designers. Today we learnt about Tiffany & co who are famous for their elaborate pieces of jewellery.
A lot of their jewellery have pendants or charms on them so we tried making them for ourselves out of clay.
When they are dry we will paint them and make them beautiful.
Can I make a replica of an Anglo-Saxon broach?
As a part of our Hook Event, the class were given an introduction to the Anglo-Saxons. They discovered where they came from and where they fit on the timeline of events in British history. We know a lot about the Anglo-Saxons through the discovery of a burial ship at Sutton Hoo. The Anglo-Saxons were experts at metal work and created some fine pieces of jewellery.
The children then learnt about Jewellery, its uses throughout history, and about the different types of gemstones and their names. We discovered that Anglo-Saxon broaches were often circular, symmetrical, and intricate. They were decorated with gemstones and enamel. The designs were usually made by embossing the metal.
The children were asked to design a broach similar to the ones we have researched. We made the designs by using thick cardboard and string to raise parts of the pattern. The children then covered their brooch with tin foil and gently pressed it down so the pattern emerged through the foil. The brooches were then painted and 'gems' were added.
Watch out for pictures of the finished products on this blog!
Frida Kahlo (1907 - 1954)
This term, one of our Art objectives is to learn about 'Great artists in history'. We have been studying the self portraits of Frida Kahlo - a surrealist artist in the 1920s - 1950s.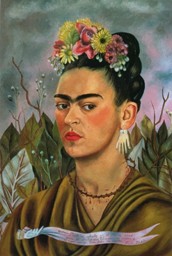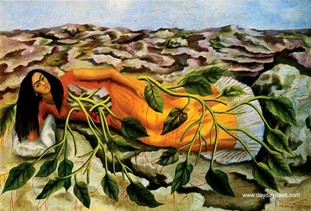 Kahlo mainly painted portraits of herself and was inspired by nature, animals and Mexican artifacts. We have enjoyed learning about a new artist and also discussing how we all interpret her artwork differently.
This particular piece, 'Wounded Deer', generated some very mature and thought provoking ideas;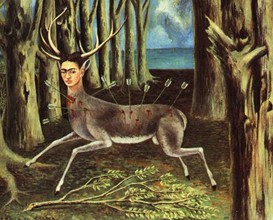 'It shows that humans and nature should be at peace with each other. The arrows represent the criticism that Kahlo received for going against gender stereotypes - they hurt her, but she still stood strong, like a majestic deer.'
'I think this piece shows that animals and humans are equal but people should not be hunting and hurting animals,'
Christmas Enterprise
Each year the classes take part in an enterprise scheme where we design products to sell at the Christmas Fayre, to raise money for the class. This year we decided to link our products to our history and art work.
In the Victorian period the Arts and Crafts Movement started. William Morris, and others like him, didn't approve of mass-produced art that was the result of the industrialised Victorian society. The Arts and Crafts movement favoured a return to handmade goods instead of machine-made items. He was famous for his wallpaper which he created by printing on the paper with printing blocks. As arts and crafts supplies at that time were often unavailable, creative artists made use of the simple materials they had at hand either in the home or found in surrounding nature.
To link our product with these ideas we decided to use things around us to create our items. We used some books and turned them into a beautiful Christmas ornament by folding the pages to create a Christmas tree. To link this to our learning about William Morris we created our own printing blocks and created book covers which we decorated by hand to make them look bright and cheerful. They looked really effective.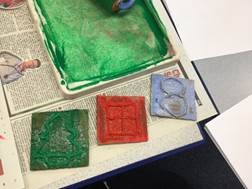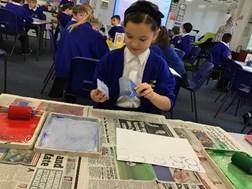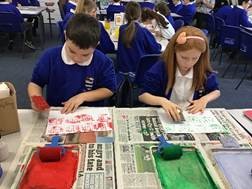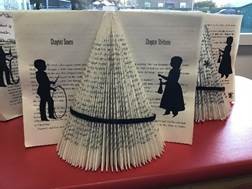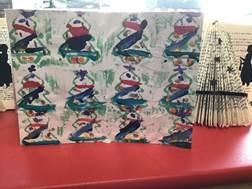 We carried our handmade theme onto our hoops. As the theme was 'Winter Wonderland' we made hats, scarves and snowballs out of wool. They looked really cute but they were tricky to make!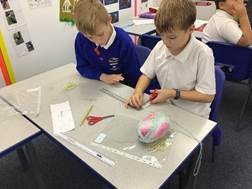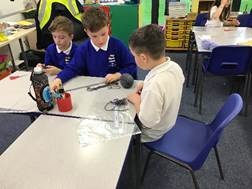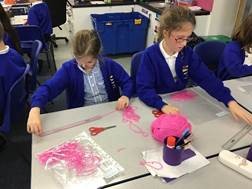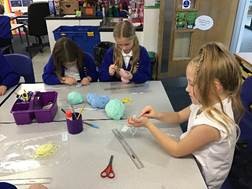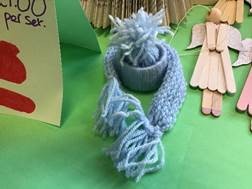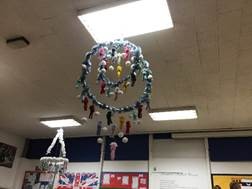 Our stall looked amazing with all the handmade goods for sale! Well done Poppy Class!!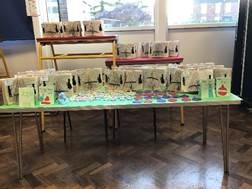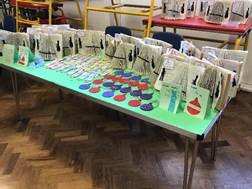 Art – Painting our Cartouches ready to sell at the Christmas Fayre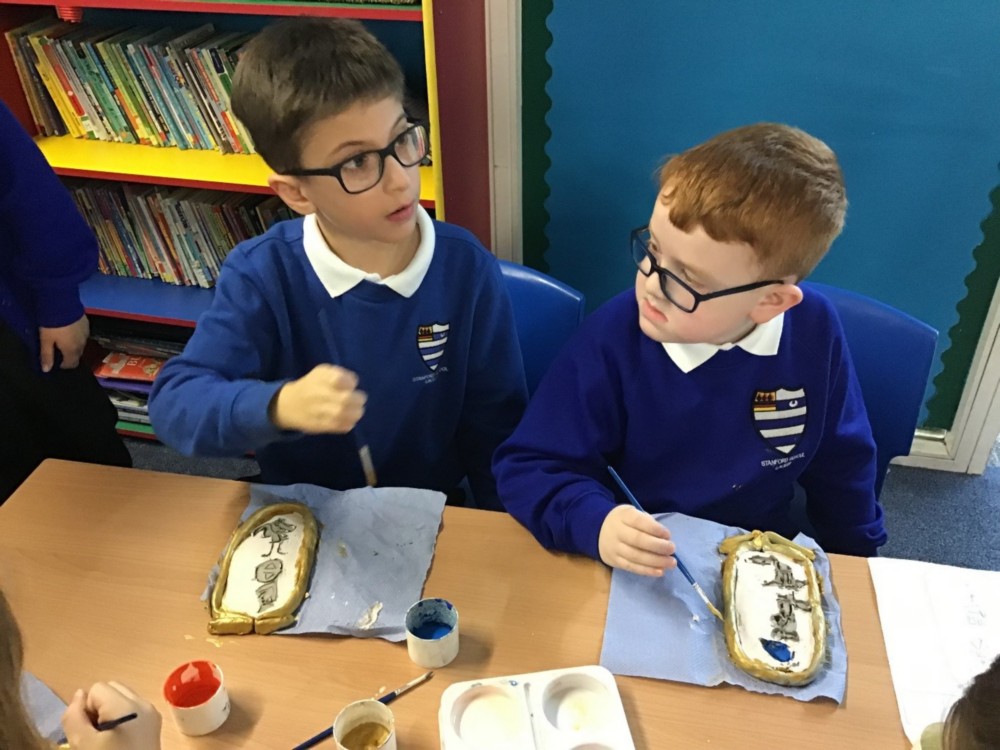 Can I create a replica of an Ancient Egyptian Cartouche?
We learnt in history A cartouche is a nameplate that was used by the ancient Egyptians (usually pharaohs or very rich people). A cartouche
had the person's name written in hieroglphyics and was usually placed on a sarcophagus. The ancient Egyptians believed that it was important to have your name written down and recorded otherwise you might disappear in death and not find the underworld. The oval shape of the cartouche was important because it represented eternity - no beginning and no end.
We used pictures of these and information about hieroglyphs to design and create our own cartouches.
Today we have used our sketches to help us as we used a range of techniques to create our cartouche using clay.  We had to make sure the clay had no air in it. We used wood to ensure that our cartouche was an even size.  We used tools to cut out the shape (we used a template to get the correct shape).    We had to roll the clay into a long worm shape for the boarder.  We used slip to help stick the border round the shape.
Now they are left to dry.  We can't wait to paint them.