Art and Design
Making Catapults
Welcome to Poppy Class Art Gallery
Because we have so many fantastic pieces of art we have decided to set up our own art gallery. Each child has a piece of work displayed that they are proud of. We will keep on adding to this and posting more blogs to show the different pieces that we have created. We hope you like them.
Can I create a modern version of a papyrus picture?
The word 'paper' comes from the word Papyrus. In Egyptian times the people would use the Papyrus plant for many purposes. They would tear the stem of the plant to make strips which they would lay in a criss-cross pattern. They would beat the sheets so the strands of the plant would knit together, put weights on it and leave it for several days to dry. They would then polish them with stones to make them smooth. The Egyptians were the first civilisation to develop and use a portable form of 'paper-like' writing materials.
To replicate this we tore strips of brown paper, dipped them in glue and laid them in a criss-cross pattern. We then left them for several days to dry. After that we used the paper to draw Egyptian Gods on them. Egyptian Gods were believed to be part animals and could transform into animal form. They were always drawn facing one side and were drawn using bright colours. We used drawings of Egyptian Gods as an inspiration for our drawings.
Can I design a Maasai headband?
The Sunflowers have been enjoying learning all about Africa. In Art they explored African shapes, colours and patterns and created these colourful Maasai headbands.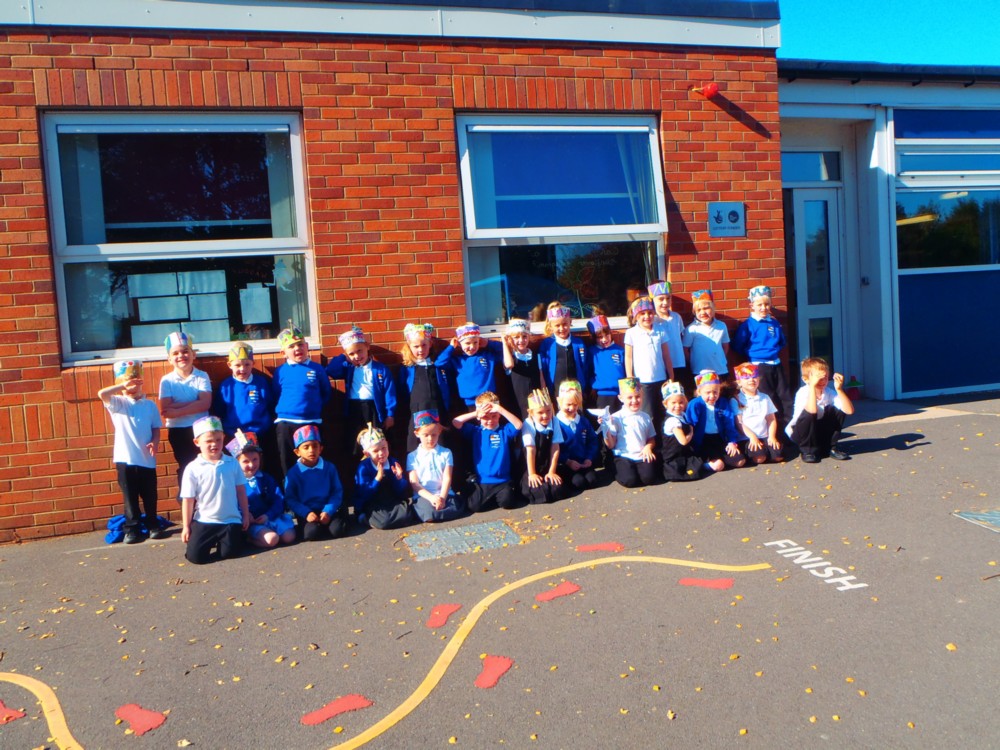 Can I create an Egyptian necklace?
Over the last few weeks we have been creating our own versions of Egyptian necklaces. First we researched them and we found out that rich people had necklaces made of gold and poorer people had necklaces made of beads. They liked to have bright colours on them and they often had eagles on them to represent the God Ra. We created designs and then we made them using paper plates, cardboard, paint, pasta and beads. It was quite tricky painting the pasta & beads and getting them to stick onto the necklaces but I think we did a good job. What do you think?
Can I create a tile in the style of William Morris?
We have been looking at some of the designs created by William Morris that were inspired by nature. This afternoon we explored our outdoor environment looking for ideas for our tiles. We took photos of the leaves and berries and flowers that interested us to help with our designs.
To our delight we were greeted by a large number of resident frogs as we explored our nature area. They certainly surprised us as they leapt out of the grass.
Egyptian Hook Event
Poppy class has a wonderful morning launching our learning about the Ancient Egyptians.
Papyrus Making
First the children learnt about how the Egyptians were the first civilisation to start writing on a form of paper called papyrus.
We tried making our own version of this. It was very messy!
Keep looking out on the blog for these as we have great plans for them once they are dry.
Egyptian Necklaces
The Egyptians liked to look good and most of the wealthy people wore necklaces as they were a status symbol. They liked them to be made of gold with lots of bright colours and beads on them. The children started to design their own necklaces which we will be making shortly, so keep checking the blog to see the finished results.
The children looked fantastic dressed as Egyptians, Mummies and Explorers.
Thank you for all the effort you put into making the children look so fabulous!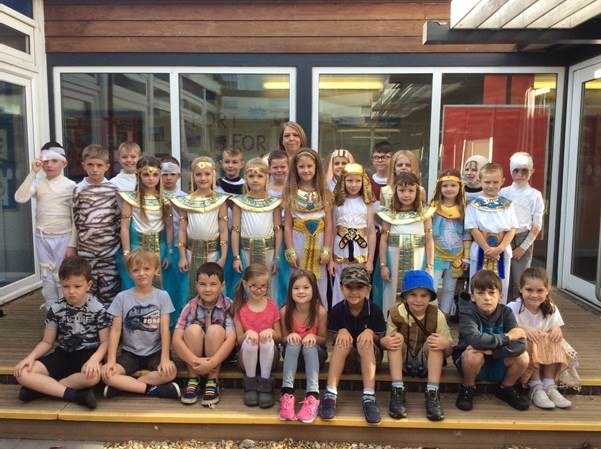 Can I create natural sculptures in the style of Andy Goldsworthy?
Sunflower Class worked in groups and altogether as a class to create wonderful natural sculptures outside. Their work was influenced by the environmental artist; Andy Goldsworthy. Summer- I like working altogether to make a bigger and better sculpture.
Mollie- I like art outside because I can use natural materials.
James- Andy Goldsworthy likes shapes, particularly circles and he likes to work outside. I think his art is very interesting and very beautiful.
Can I begin to learn about the sculptor Andy Goldsworthy?
The Year 1 children have begun to explore the work of environmental sculptor Andy Goldsworthy. After seeing some of his work today, they were inspired to get outdoors and have a go themselves!
Oscar- I'm enjoying making shapes.
Millie- We are working as a team to make a giant circle.
Tarik- I'm using twigs and leaves.
Jack- I can find lots of things to use.
Creating masks in the style of the Ancient Mayan Mask?
We researched the different masks that were discovered from the Ancient Mayans. We used this as a stimulus to create our own mask designs. We are using a variety of different media to complete our masks.
Some of our designs:
Today we started to create our masks from our designs.
Year 5 and 6 Activities
Children in Star Anise and Barley over the last two days have enjoyed baking biscuits ( and eating them} painting tyres and decorating them, ready to plant herbs and strawberries as part of outdoor learning. Making clay Tudor Roses and learning about graffiti art.
Whole School Project Update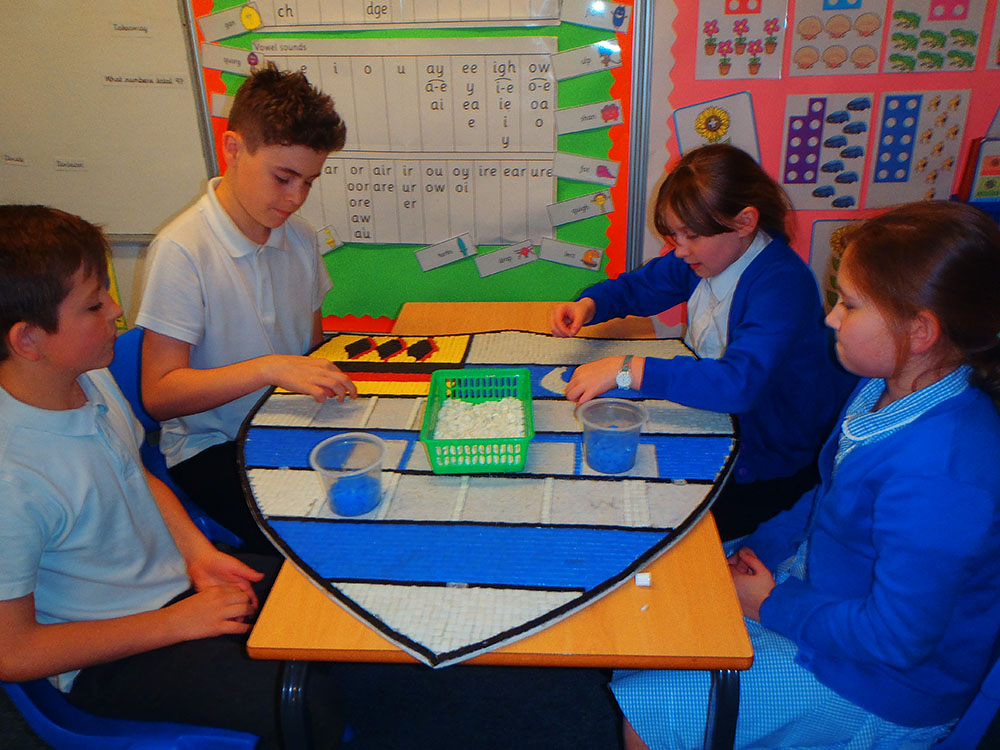 We are making great progress with our mosaic of the school badge.
Can we create a mosaic of the Stanford badge?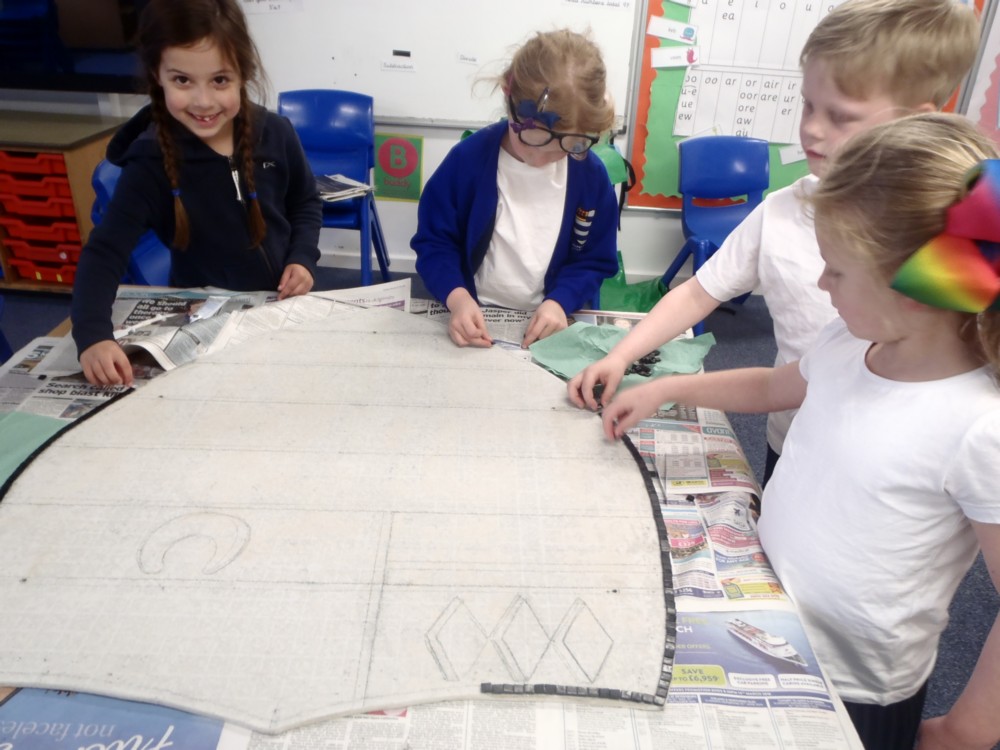 Sunflower Class have had fun starting off this wonderful mosaic today. Every child in the school will get the chance to work on this exciting project.
Mrs. Brady would like to thank The Stanford Trust for sponsoring this worthwhile activity, Mr. Hodson for drawing and cutting out the badge and Mrs. Drury for teaching the children this exciting technique.
Juniper Hook Day – The Ancient Maya
Many of the class researched the types of clothing and headwear that the Ancient Maya wore.
We started the day listening to A Mayan Folktale called "The Chocolate Tree" by L Lowery and R Keep. The story told us that the king Kukulkan, who was also a God, gave the Cacao tree to the Maya as a gift from paradise.
We enjoyed re-acting the folktale in groups:
The Maya used cocoa beans to make a frothy drink using spices. It was quite bitter. However when the Spanish explorers came they added sugar. We all tried a version of Maya Hot Chocolate. The chilli and cinnamon gave it a slightly spicy flavour which many of us enjoyed. Some of us were less keen.
We were introduced to a range of Mayan Gods and used our observation skills to sketch then paint using cocoa as paint. Our paintings smell delicious!
Romans on the Rampage! Y3 Hook Day
We had lots of fun on our hook day. Both parents and children have worked really hard in putting together some amazing costumes. The children really enjoyed dressing up as citizens, soldiers, gods and goddesses. Don't they look amazing?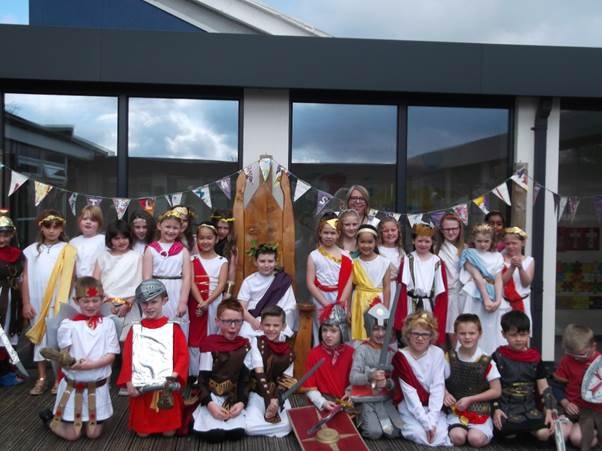 The children enjoyed taking part in the different activities and more importantly learning about the Romans.
Roman wreaths
The Romans liked to wear laurel wreaths on their heads. It was a symbol of victory and honour. The children made their own laurel wreaths using paper plates and paper.
Roman Masks
Another activity was preparation for a Roman mask. In the theatres the Romans played lots of different parts, they used masks to show different characters and emotions. Today we started to make the base for the masks by using papier mache and balloons. We are going to work on these and produce masks for our very own Roman tragedies.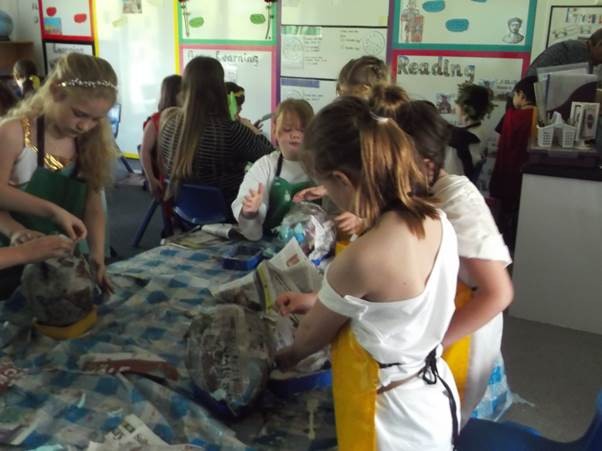 Roman Mosaics
The romans used tiles to make pictures which they called Mosaics. The wealthier the Romans were, the more intricate the mosaics they had on their floors. The children designed their own tiles and then created them with tiny paper squares. It was quite tricky getting the tiny pieces in the right places. Some children helped with larger mosaics which we will put outside our classroom for everyone to see.
Roman Numerals
We learnt about how the Romans wrote their numbers as letters. It is very tricky working them out as they have to be in a certain order and they work from the largest value to the smallest
We learnt a way of remembering the order and value of the letters by using a mnemonic.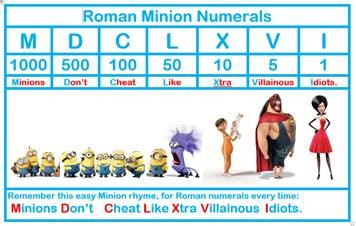 The children enjoyed using Roman numerals in different ways using them to work out shopping lists, break codes and simple addition and subtractions problems. Roman numerals are also handy for telling the time.
Roman costumes
The children looked at the different costumes that the Romans wore, depending on their social status. They chose an appropriate outfit for a Roman citizen or soldier.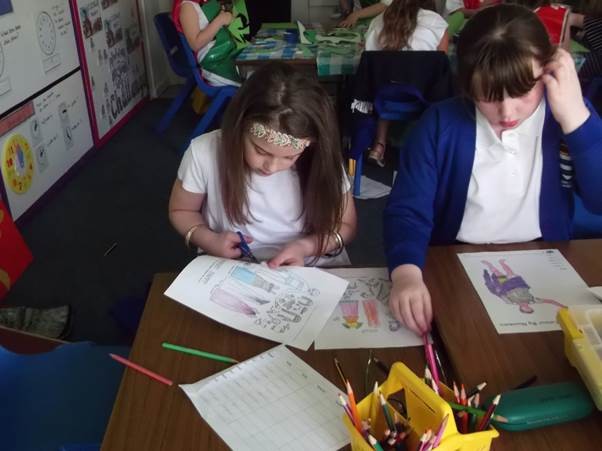 Roman Forum – Recyclng from different eras
The Romans had a place called a Forum where they discussed important matters of the day. At the end of the day the children were split into 2 teams and took part in a discussion. We looked at an important matter – Recycling first from a Roman point of view where they didn't consider it important and then discussing how recycling is far more important today considering the polution of the oceans and its harm to the environment.
Can we create a poem and wonderful art work all about sea creatures?
Sunflower Class were inspired by a poem by Michael Rosen all about Jellyfish. They found out about sea creatures, they moved like sea creatures and together wrote a wonderful poem and created exciting art work outside with colourful chalk.
Sea Creatures by Sunflower Class
I have seen a real jellyfish
Wiggly like an octopus
The jellyfish jumps
The jellyfish wobbles through the night
Waving like a hand
Wiggling like my toes
Shaking like my body
Flying like a bumble bee
Swimming like a whale
Very smoothly, moving gently
Squishy and squashy
The clam snapping like a stick
Wiggling like coral and wiggling like a worm
Wiggling like fingers
Squids swim in water and swim like a fish
Gold fish shine
Fins are very pointy and sharks have fins
The jellyfish are squishy like playdough
The fish swim round and round
The starfish stay still
Sharks eat fish
Our creative hook day!
Can I use a range of materials creatively to imagine a journey into outer space?
The Sunflowers had a busy time and lots of fun creating wonderful space art. They made aliens flying colourful spaceships, they baked and iced constellation cookies and used chalk to create a solar eclipse. They used wax and paint to create the milky way and explored the technique of marbling with amazing results. In addition to all of this, lots of children brought interesting space items and information from home.
Taylor- I liked colouring a star. I did a repeating pattern.
Joshua- I used loads of chalk to make a solar eclipse. I used a brush to spread the chalk.
Libby- I liked seeing what happened on my paper when I did marbling.
Bella- I did lots and lots of home learning. I made the Earth, wrote about the sun and drew big posters of the whole solar system.
Lily W- My biscuit was nice.
Over the Rainbow
For our themed work 'Over the Rainbow' we have been very creative using all the various colours. From a rainbow collage and a rainbow of coloured streamers to mixing paint to create new colours in a rainbow. Can you name all the colours in the rainbow? Can you sing a song about a rainbow?
Friendship Activity event
We had a lovely Friendship Activity event after school – pupils came along to make friendship bracelets, do craft activities and enjoy a chat over a biscuit and a juice. Thank you to the staff for supporting this – lots of kind words from everyone!
The Winter Wildness
In English we have been inspired to improve our descriptive language by describing a snowy landscape. This is in preparation for this term's main fiction texts, "The Ice Palace" and "The Princess' Blankets".
Here is our shared poem that we created as a class: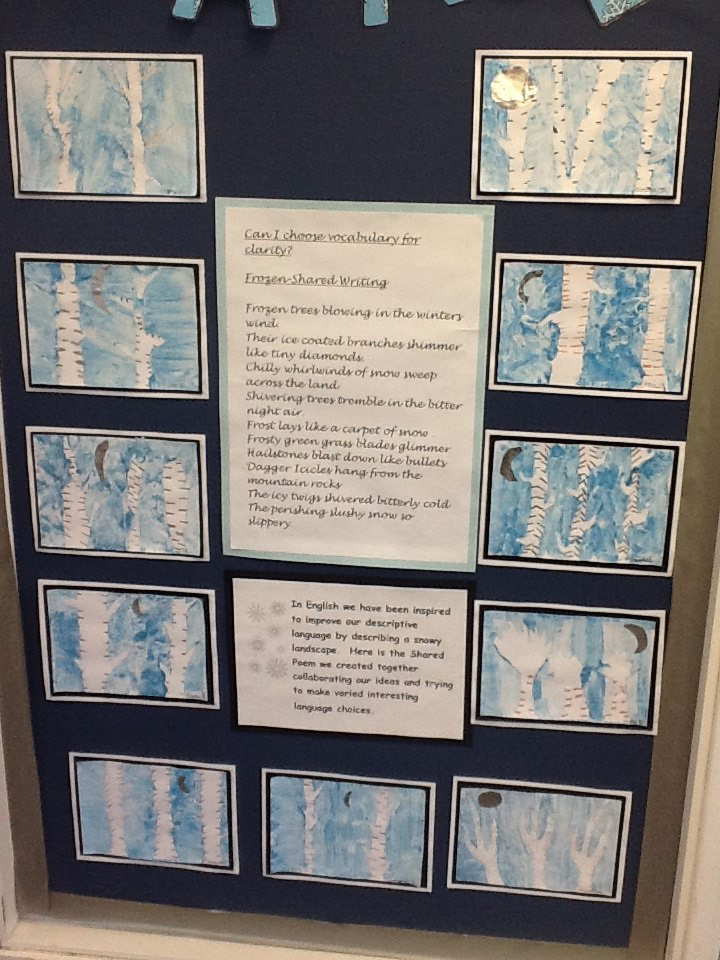 Alongside this in Art we have created Winter forest artwork. We have been exploring different effects using paint. We mixed salt and glitter with paint to create a frosty effect. We made tree branch stencils which we carefully placed on white cartridge paper then colour washed over. After this we removed our stencils which left white tree branches with a cold shimmery blue sky. When dry we added details to the branches and added a silver moon.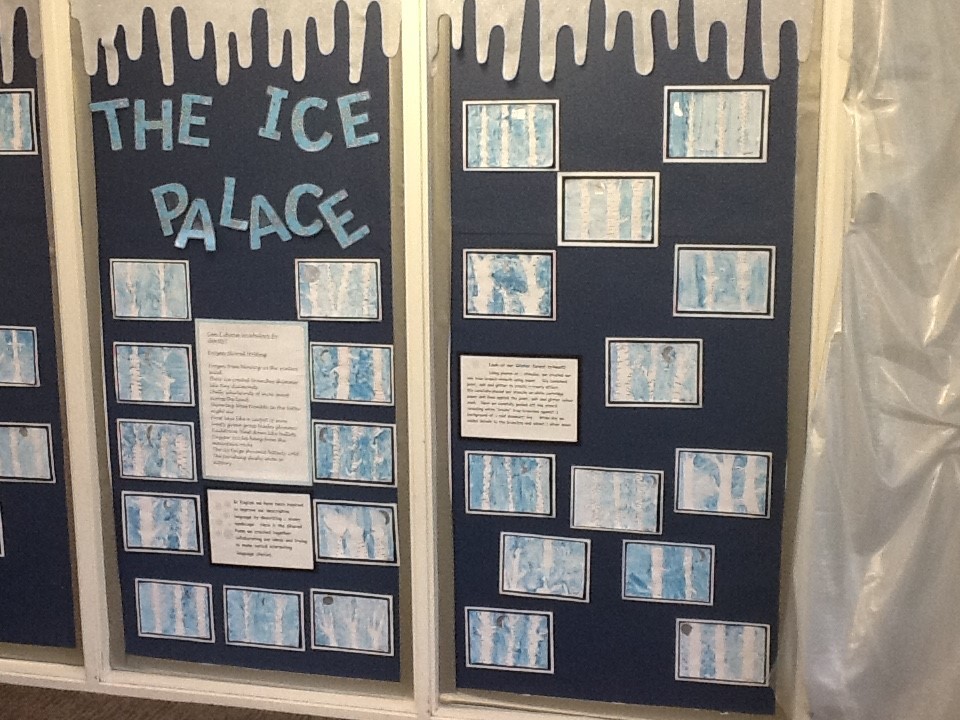 Can I build vocabulary by interpreting a piece of text and producing a visual image?
We read about the world before creatures lived and how volcanoes erupted turning lava into rock formations. We chose words and phrases that helped us to mentally picture this event. The children then worked in pairs to draw the images they had created in their minds and labelled them with the wonderful imagery and phrases we have discovered. They produced some wonderful pieces of art linked to the text and enjoyed working creatively as a team.
Christmas Craft
Can I use a range of materials creatively to design and make products?
What a busy time Sunflowers have had. They have made glistening winter trees for their hoop decoration, sewn beautiful felt winter robins with Mrs. Warton and made wonderful decorations at home to decorate our class Christmas tree
Can I make a fun Christmas card?
Sunflower Class enjoyed making these lovely Rudolph cards. Some great colouring, cutting and sticking. Well done everyone.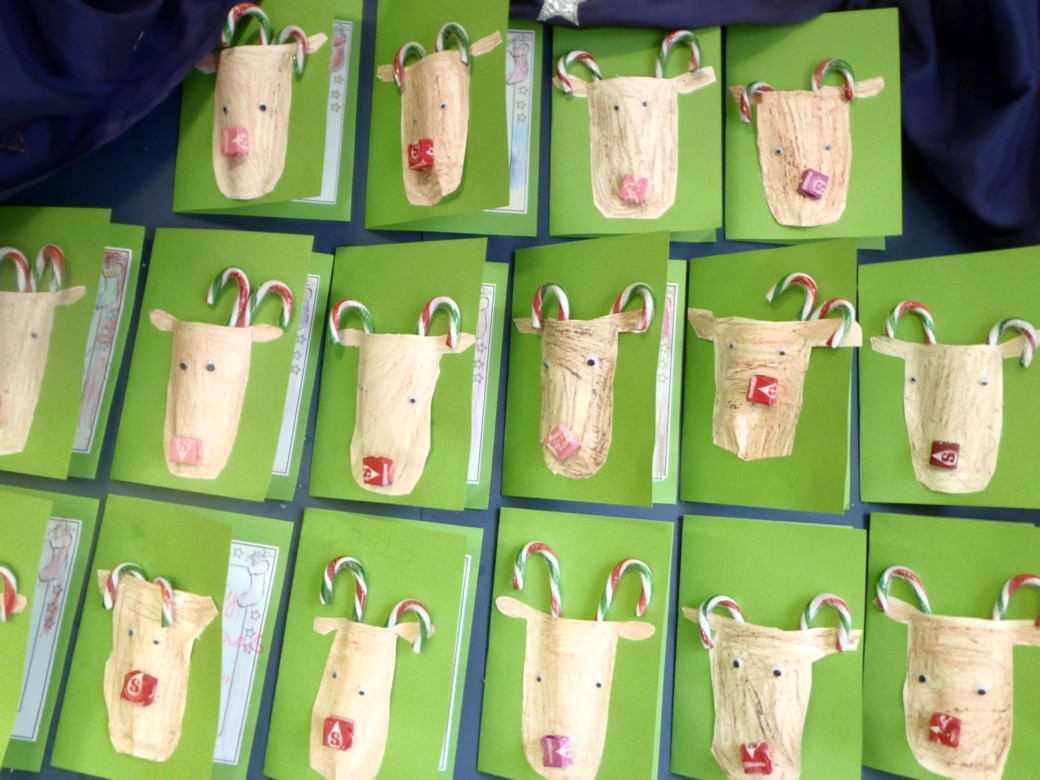 Pumpkin Class
The children loved making our Christmas cards and calendars this year. We decided to get our hands dirty by printing with our fingers on the cards and with sponges on the calendars. Don't they look effective?
Rachel McWilliam
This afternoon we met Rachel McWilliam, a local Blacksmith Artist who shared her expertise as designing and making sculpture. We were wowed by her pieces of work and really interested in hearing about the design process. During our question and answer session we found our her favourite piece, the largest piece and the smallest. Many of us were surprised we have seen some of Rachel's work on the sea front at Cleethorpes.
Can I create a papyrus style picture?
The Egyptians used to write on paper made from papyrus. They would tear it into strips, weave it together, beat it to make it flat and leave it to dry for several days.
We tried to make our own papyrus style paper. We tore paper into strips and dipped it into glue and water so it would stick together. We laid the paper out in strips and we had to do several layers to make it thick enough to write on. We left it for 4 days to dry then we painted it so it looked like ancient papyrus.
We researched Egyptian gods and found out that they were half human and half animal. We designed our own gods and drew them on our paper. Some chose to colour theirs in felt tips and others chose paint.
Don't they look fantastic?
Can I use art to visualise a setting after reading?
Barley class read a short passage from their Power of Reading book, Skellig. They discussed what they could se and then sketched a picture to represent their visualisation using charcoals on white paper. They then describe the picture.
Blitz Artwork
Look at our fantastic pieces of artwork depicting the city skyline during the Blitz.
We used a mixed media approach including paint, pencil crayon and collage.
Can I design and create an African mask using a range of materials and techniques?
Barley class enjoyed their Hook day- designing and then creating their own African masks using a variety of materials and artistic techniques. We discussed African mask designs, colours and textures and then designed our own using a design prototype. We then started to bring our designs to life!
Barley class completed their African masks using a range of materials.... don't they look amazing and effective!?
Egyptian Hook Day
On Thursday 7th September we had a hook day to start off our learning about the Ancient Egyptians. As ever the parents were incredibly supportive and creative with the costumes based upon the theme 'Egyptians, Mummies and Explorers'. The children looked wonderful.
(Keep the togas safe Mum and Dads as we will be 'visiting' the Roman Era in the summer.)
---
Can I create a canopic jar?
This will link into a DT project where the children will design their own canopic jar. The children used kitchen paper towels with glue to cover a plastic cup. The children were full of questions about what these jars were used for, and we will find out about the gory details of the mummification process later this term…..if they can wait that long!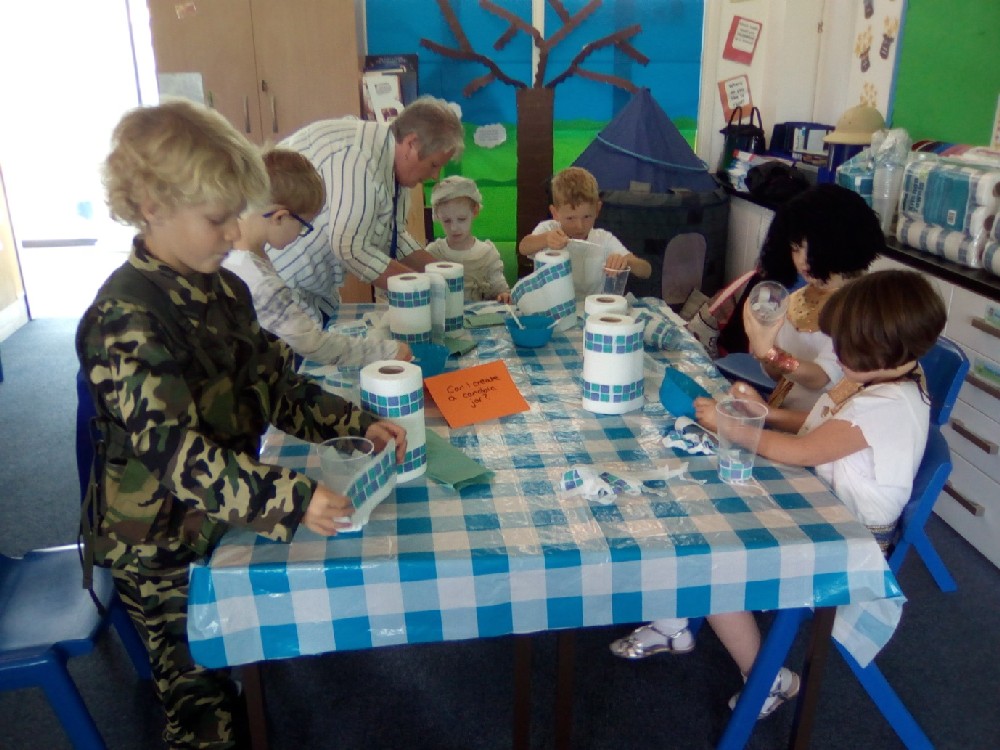 Can I make papyrus?
The children learnt about how the Ancient Egyptians invented the earliest paper. They made it from the papyrus plant which is where the word paper comes from. Papyrus was made by splitting the stems of the plant into thin strips and soaking the strips in water. The strips were then placed onto top of each other in a criss-cross pattern. The sheet would then be hit with a mallet to bond the fibres together and then left for a few days to dry with heavy weights on the top. We used strips of newspaper and placed them in a criss-cross pattern. We had to use several layers to make one piece of paper. We then had to leave it until it had thoroughly dried which took 4 days. We are going to try drawing and writing on the paper. What a lot of hard work! Let's hope we don't make a mistake as it took days to make 1 sheet!
Maths Challenge: Can I estimate, calculate and check how many cubes it would take to make a pyramid?
The children were given a base of 10x10. The children had to first estimate how many cubes it would check. Then they had to look at the base & visualise each layer and work out how many cubes would be in each layer and find the total number of cubes. Finally the children were allowed to get the cubes and check their work. This wasn't easy as they needed steady hands!! Luckily they had plenty of friends to help.
Can create an Egyptian Costume?
The children were given paper dolls for them to create Egyptian costumes. The children enjoyed getting creative.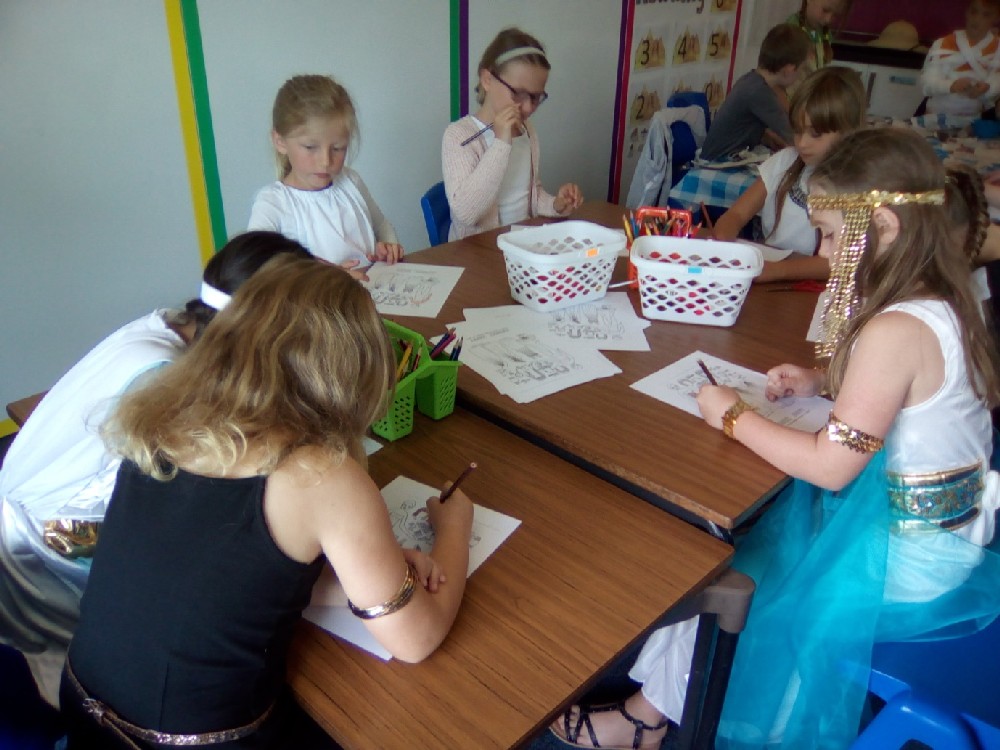 These are just some of the activities we enjoyed. We built pyramids. We tried 'Walking like an Egyptian' and we have learnt some Egyptian songs which I am sure you will be hearing the children sing at home.
We had a fabulous day and we had lots of fun! 
Can I know about the work of artists, describing similarities and differences and make links to my own work?
Sunflower Class were really inspired by the artist Arcimboldo, not only did they create their own fruit faces, but they learnt about his life and researched the other kinds of paintings he made.