Skipping Workshop
We were really lucky as Georgia Toay came to the school to provide a skipping workshop. Georgia represented Team GB in the world skipping
championship!
The children had lots of fun trying out different ways of skipping.
Pupil Voice Sports Equipment
As part of our latest Pupil Voice meeting, children in each class discussed how they would like to have more playtime equipment, including bats, balls and a volleyball net.
Here we are enjoying this equipment on the playground and field.
Y4 Swimming Lessons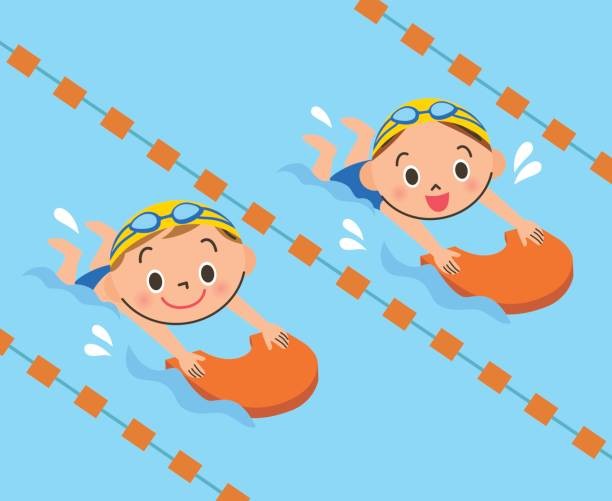 This week the children started their swimming lessons which is a part of the Y4 PE curriculum. The children were extremely well behaved and all the swimming instructors commented on this which made Miss Perrin very proud.
There were lots of beaming faces in the pool, as swimming is something we have not been able to do for so long, and I am sure there were lots of tired children at the end of the day.
Wow! Super Sports Day!
Foundation Stage
The Foundation children had a great time learning lots of new sports skills with Mr. Dean from Premier Sport today.
E- I liked throwing the javelins.
A- I was good at kicking the big footballs.
C- I had lots of fun.
S- I learnt how to do cricket.
S- I liked chasing people and being a robber.
J- I could throw my beanbag and get it in the net.
V- We did lots of activities. It was fun!
Year 1
The Year 1 children had great fun learning a wide range of sports activities with Mr. Dean from Premier Sports.
A- I enjoyed learning how to hit a ball with a cricket bat.
J- I was very good at football and I could knock the stumps over.
D- I liked the basket ball activity. I got 15 points.
K- I had fun playing the cops and robbers game.
O- Exercise is good because it make your body fit.
Pumpkin Class
Pumpkin Class had such a great day yesterday doing their super sports day. The morning was great weather so it was games on the field and the afternoon was just as fun in the hall despite the rain outside. This is what the children had to say:
JJ – "It was fun and my favourite day ever! I liked batting and catching balls."
DI – " I loved the dance floor game, you had to copy each other's dances and then freeze."
AB – "My favourite was rounders."
JR – "Sports day was brilliant and I sweated a bit!"
CP – "I worked hard."
GR – "It was a fun and exciting day."
TS – "It was really good and I enjoyed working at it. It was the best ever sports day!"
Poppy Class
We were lucky to have Premier Sport come and provide a sports day for the children. The children were playing games and taking part in team building activities throughout the day. They had so much fun and were exhausted by home time. I bet they will all sleep well tonight!!!
Barley Class
Year 6 had their Wow! Sports Event - the children loved taking part in the team games and also learning about healthy lifestyles with Mr Playford and Mr Dean from Premier Sport.
'It has been so much fun playing new games that we haven't played before'
'The best word I can think of to describe it - AMAZING!'
'It was so fun, but also tiring - your legs will feel sore the next day!'
Bikeability
Star Anise class had lots of fun learning how to safely navigate their bikes around the streets of Laceby.
Intra-sport competition
Pumpkin Class
As part of our Intra-sport activities on Friday last week, Pumpkin Class took part in an amazing event! The Cricket tournament was between our four Teams at Stanford and we had semi-finals and Finals. We all had a great time learning a new PE skill; working as part of a team; encouraging and supporting our friends and having lots of fun!
Here are some pictures we'd like to share.
Juniper Class
Juniper class really enjoyed taking part in the intra school sport event today playing 3 Tee cricket. Ist place in our class was Yellow team. Some great team work skills.
Poppy Class
We were very lucky to have Premier Sport come in and organize cricket competitions for each class. The children played for their houses and had lots of fun learning a new game to play. They were very good at striking the balls so I daren't get any closer!!!!
Barley Class
This morning we took part in an intra-sport cricket event - the Premier Sport coaches were really impressed with our teamwork and enthusiasm! We enjoyed it so much that we even played a class game of cricket at playtime and Golden Time too!
Well done to Whitgift and Knight who drew in the Y6 game.
Juniper Class PE Wow day
Today we had our PE wow day, we played lots of different games that needed many skills. We had to use communication to our teammates, learn how to play fairly and work as a team. We really enjoyed the variety of games and had great fun! We also created a poster to show all of the benefits of sports and what we think when we think of sports! We have had a great day and hope we can do it again soon.
We played some warm up games, archery, cops and robbers and lastly dodgeball which was really fun!
Year 5 Sports Event
Star Anise class had a whole day of sporting fun this week, where they took part in a range of multi-sport activities. As well as being lots of fun, there was also a focus on well-being, mental health and healthy eating. There was lots of great teamwork on display throughout the day.
Going for Gold
Year 2 are hoping to achieve the Golden Mile award with Mr Page. Every Friday morning we are walking or running as many times as we can around the playground. We are counting our miles as we go. This is good for our HEARTS, good for our HEADS, great for our WELLBEING and LOTS OF FUN!! Here we are running and walking in the sunshine.
PE with Mr Page
Keeping fit and active is not only good for us physically - but mentally too.
Mr Page has created some fun work out videos for you to use at home - hope you enjoy them!
---
---
Year 5 and 6: Star Anise and Barley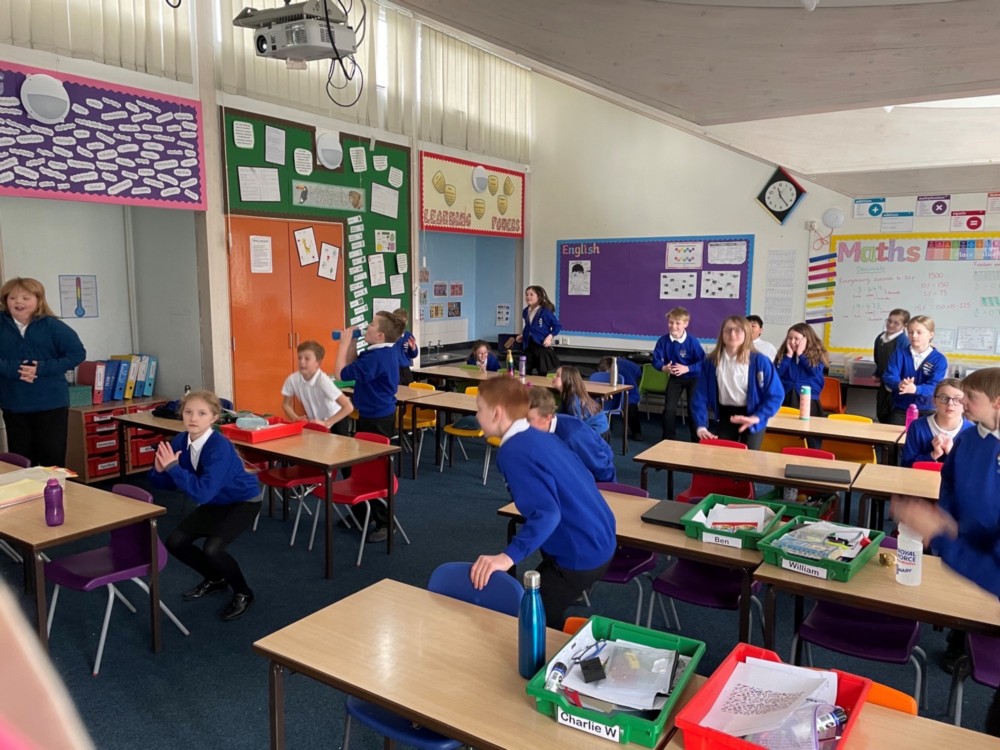 Year 5 and 6 pupils took part in the Live Premier Education session today and completed some short exercises that get the heart racing!
Healthy eating
Year 6 pupils in school watched a healthy eating session delivered by Premier Education all around healthy eating and food portions- we learnt so much!
Year 6 Exercise
Mr Page has been leading some yoga sessions in Year 6 - he has also shared some useful websites and exercise ideas (including yoga!) to our remote learners.
We hope you have enjoyed your exercise sessions at home - send in some photographs to show us what you have been up to!
Bikeability
Children in year 5 had an excellent time on Thursday, when all who took part were able to achieve the level 1 grade for Bikeability. We look forward to completing the next stage of training in the new year.
Can I balance in pairs and groups?
In PE we looked at the different ways that we could balance and support each other. We had to be creative as we had to avoid being face to face and think of how we could support each other in different ways.
PE Silver Award
We were very pleased to receive the North East Lincolnshire School Competition Mark for the 2019/2020 academic year, celebrating the sports activities attended or held within the school. Stanford achieved the Silver level of the award due to our commitment to attending a range of competitions and promoting lots of sport within our curriculum. In our feedback it was mentioned how we have "raised the profile of PE, School Sport and Physical Activity with inspirational athletes invited for sports assemblies and physical activity embedded into the school day".
We are very proud of the children's achievements in sport and look forward to continuing sporting activities in a safe, secure and hygienic way as this year progresses.
Athletics
Today has been our first day of Year 6 PE - we had a great time!
Our unit this term is 'Athletics', today's PE session has been focused on the three areas of athletics; running, throwing and jumping.
It has been lovely to enjoy our outdoor area!
Moving
In Green Bubble we have been moving in different ways. Sometimes inside, sometimes outside. Whenever we move we have fun!
Sports Week
Our focus has been keeping active as part of National Sports Week.
Monday's athletic challenge was to see how many jumps we could do in 1 minute.
Tuesday's aiming sports challenge involved counting how many times we could aim and throw the bean bag into the hoop.
Wednesday's challenge involved practising skills used in team sports such as throwing and catching a bean bag.
Thursday's adventure sports skills focused on skipping.
Friday's artistic sports gave us time to practise our yoga moves!
What a busy week!
Intra School Sports competition
Sports Competition
We recently had our second intra school competition, led by Premier Sports, on Archery and Dodgeball. Please see the overall winners…. Well done to Red team!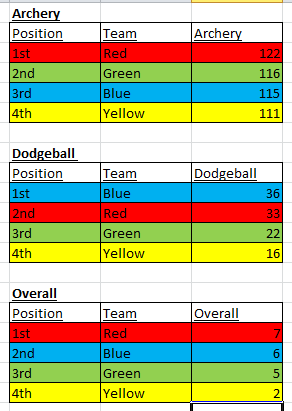 Juniper Class
This morning we enjoyed taking part in teams playing dodge ball and archery. Super effort and great enthusiasm along with good sportsmanship was evident throughout. Well done Juniper Class.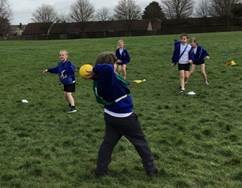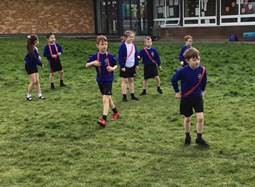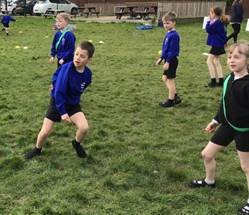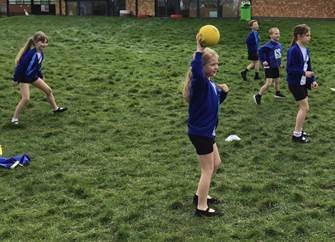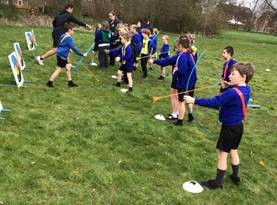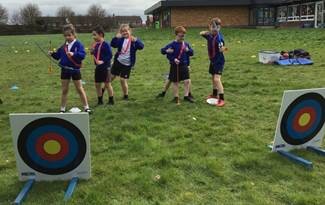 Sports Relief
Seedlings Class
An Olympic Badminton player Jenny Wallwork and Swimmer James Kirton, came to work with Stanford school pupils as part of a sponsored circuit challenge. Take a look at how Seedlings class did!
As part of Sports Relief, Year 5 pupils designed and created a range of sports circuits for the pupils to complete. They had one minute to complete the exercises- great fun was had by all!
Seedlings Class
What an amazing day. The Sunflowers have all been very active exercising in the hall and also in the classroom. M- Jumping Jacks made me very fit.
B- The push-ups made me have strong arms.
J- I enjoyed meeting the badminton lady.
O- I really liked all the sports.
N- I enjoyed doing the exercises in the classroom, I did loads
Juniper Class
Gymnastics in PE
Children have been exploring different ways to travel in P.E. Moving on two hands and feet, showing different ways to roll along a mat and travelling high and low along a bench.
Competition Kit
A huge Thank you to Strawsons for our new PE Kits for competitions- They are great! We used them at our athletics competition- Thank you!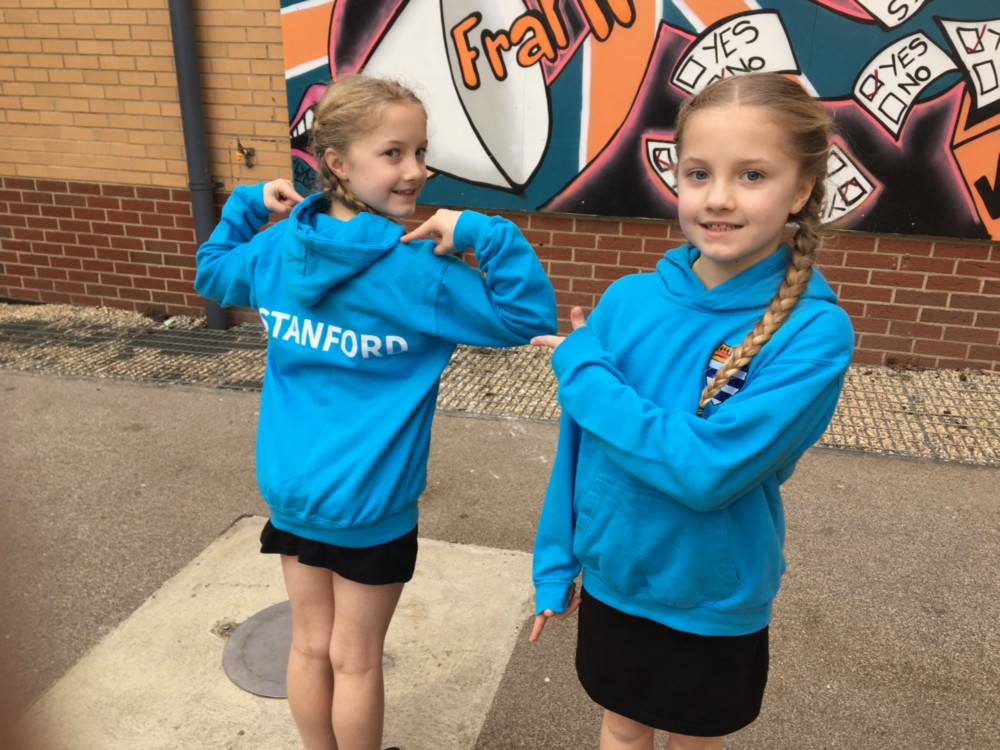 Year 3 / 4 Indoor Athletics
This week some of the children had the opportunity to represent the school in an indoor athletics competition. It involves 26 schools in the area and this was the first set of heats.
The children were amazing. Their behaviour, attitude and effort was outstanding, they showed fantastic teamwork and supported their peers during the events.
At the end of the event we found out that we had come joint 4th in our heat so we have yet to find out whether we will progress further. Well done Year 3 / 4, we are very proud of you!!
Dodgeball
Sunflower Class
The Sunflowers competed in a very energetic session of dodge ball led by the Premier Sport's Team. They learnt some new skills and enjoyed being really active!
L- We had to throw balls at each other.
O- If the ball touched your tummy, you were out.
T- It was a hard game because everyone was really good.
W- I love competitions and the blue team won.
Poppy Class
Today the children enjoyed an Intra-school Competition where the different houses battle against each other in sport activities. Today we were playing dodgeball. The children had lots of fun.
African Animal Yoga: Can I improve my concentration, balance and control?
The Sunflowers have been enjoying some yoga sessions and making African animal shapes with their bodies.
A- I liked doing the lion because I could stick out my tongue and look fierce.
M- The butterfly was a nice one to do because my legs moved like wings.
B- The snake was my favourite one.
T- I was a very strong mountain.
G- The giraffe pose was very tricky to do. I have been practicing it and can do it now.
W- I like yoga because my Grandma does yoga too.
L- I loved being a flamingo.
T- I had to concentration really hard and listen to the instructions.