Homelearners PE
PE Tutorials from Premier Sport
---
---
---
Daily Exercise:
---
School Games Active Championships – TOP YA!
The School Games Active Championships is a national activity campaign to help young people across the UK to #StayInWorkOut using the video-based platform powered by TopYa!. New challenges will be available every Monday, Wednesday and Friday to engage with.
Primary and secondary-aged children can join the School Games Active Championships at any time with free active challenges being set via videos within a designated School Games version of the TopYa! Active app. All they need to do is download the app, register as a player and type in the Invite Code 23880.
Children practise the challenges, then submit their best video using a mobile device to receive personal coaching feedback from the TopYa! team of experienced virtual coaches. Points are earned for each video submitted, leading to climbing leaderboards and winning prizes!
The TopYa! Active app is committed to online safety and meets rigorous COPPA and GDPR safeguarding standards. No one can communicate within the app. All children can do to communicate with one another is give each other a virtual 'high-five', which functions like a social media 'like'.
Video content is suitable for young people of all ages and abilities, with regular submissions from National Governing Bodies of Sport.
How do I get involved?
Students
Download the TopYa! Active app from the App Store or Google Play
Create your Player (child) account
When prompted to enter an Invite Code enter 23880 and then choose Primary or Secondary School League based on which type of school you attend
If you are under 13 years old, ask your parent or guardian set up the TopYa! Active account first, and then create player (child) accounts afterwards.
Moving
In Green Bubble we have been moving in different ways. Sometimes inside, sometimes outside. Whenever we move we have fun!
Sports Week
Our focus has been keeping active as part of National Sports Week.
Monday's athletic challenge was to see how many jumps we could do in 1 minute.
Tuesday's aiming sports challenge involved counting how many times we could aim and throw the bean bag into the hoop.
Wednesday's challenge involved practising skills used in team sports such as throwing and catching a bean bag.
Thursday's adventure sports skills focused on skipping.
Friday's artistic sports gave us time to practise our yoga moves!
What a busy week!
Intra School Sports competition
Sports Competition
We recently had our second intra school competition, led by Premier Sports, on Archery and Dodgeball. Please see the overall winners…. Well done to Red team!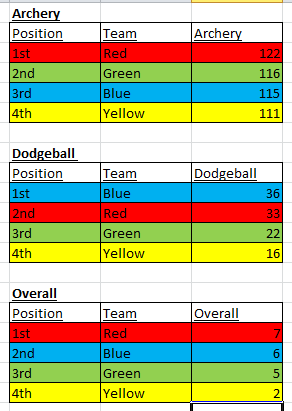 Juniper Class
This morning we enjoyed taking part in teams playing dodge ball and archery. Super effort and great enthusiasm along with good sportsmanship was evident throughout. Well done Juniper Class.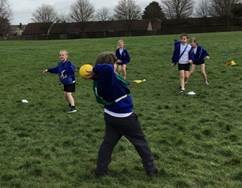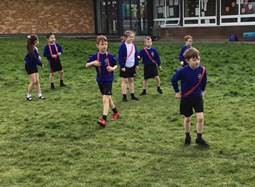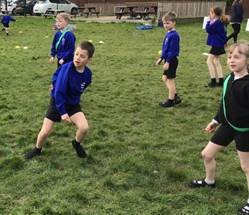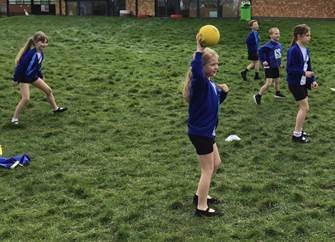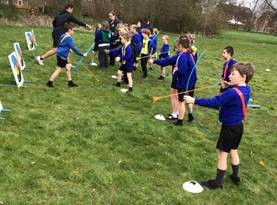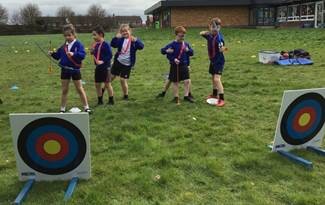 Sports Relief
Seedlings Class
An Olympic Badminton player Jenny Wallwork and Swimmer James Kirton, came to work with Stanford school pupils as part of a sponsored circuit challenge. Take a look at how Seedlings class did!
As part of Sports Relief, Year 5 pupils designed and created a range of sports circuits for the pupils to complete. They had one minute to complete the exercises- great fun was had by all!
Seedlings Class
What an amazing day. The Sunflowers have all been very active exercising in the hall and also in the classroom. M- Jumping Jacks made me very fit.
B- The push-ups made me have strong arms.
J- I enjoyed meeting the badminton lady.
O- I really liked all the sports.
N- I enjoyed doing the exercises in the classroom, I did loads
Juniper Class
Gymnastics in PE
Children have been exploring different ways to travel in P.E. Moving on two hands and feet, showing different ways to roll along a mat and travelling high and low along a bench.
Competition Kit
A huge Thank you to Strawsons for our new PE Kits for competitions- They are great! We used them at our athletics competition- Thank you!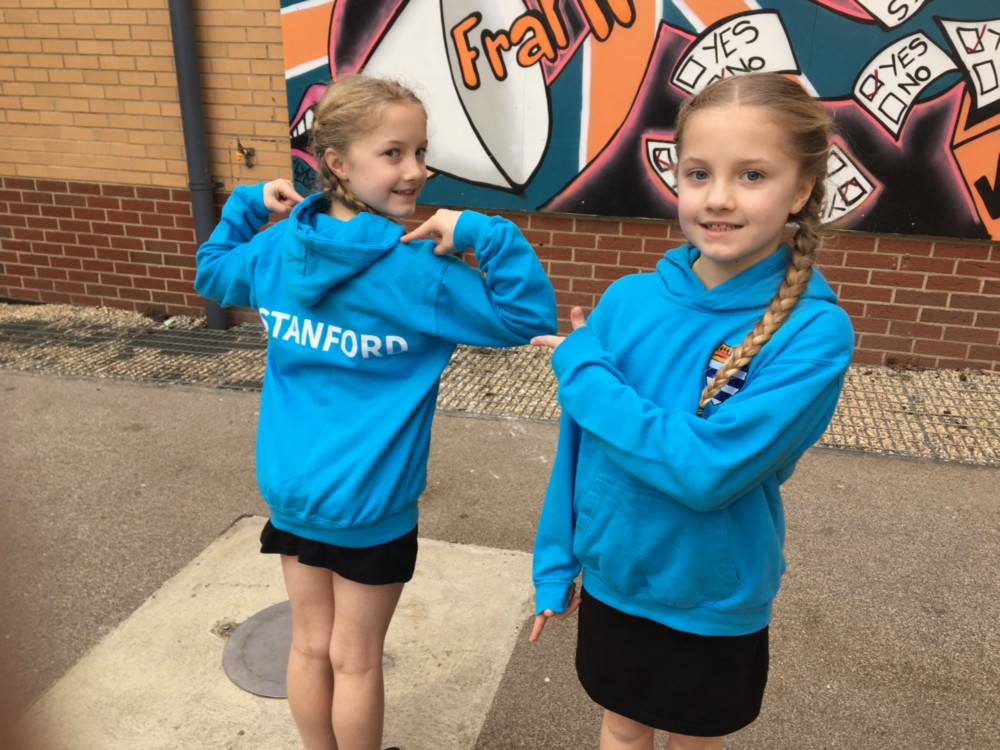 Year 3 / 4 Indoor Athletics
This week some of the children had the opportunity to represent the school in an indoor athletics competition. It involves 26 schools in the area and this was the first set of heats.
The children were amazing. Their behaviour, attitude and effort was outstanding, they showed fantastic teamwork and supported their peers during the events.
At the end of the event we found out that we had come joint 4th in our heat so we have yet to find out whether we will progress further. Well done Year 3 / 4, we are very proud of you!!
Dodgeball
Sunflower Class
The Sunflowers competed in a very energetic session of dodge ball led by the Premier Sport's Team. They learnt some new skills and enjoyed being really active!
L- We had to throw balls at each other.
O- If the ball touched your tummy, you were out.
T- It was a hard game because everyone was really good.
W- I love competitions and the blue team won.
Poppy Class
Today the children enjoyed an Intra-school Competition where the different houses battle against each other in sport activities. Today we were playing dodgeball. The children had lots of fun.
African Animal Yoga: Can I improve my concentration, balance and control?
The Sunflowers have been enjoying some yoga sessions and making African animal shapes with their bodies.
A- I liked doing the lion because I could stick out my tongue and look fierce.
M- The butterfly was a nice one to do because my legs moved like wings.
B- The snake was my favourite one.
T- I was a very strong mountain.
G- The giraffe pose was very tricky to do. I have been practicing it and can do it now.
W- I like yoga because my Grandma does yoga too.
L- I loved being a flamingo.
T- I had to concentration really hard and listen to the instructions.
Bikeability
Children in year 5 had a fantastic time when the specialist teachers from Bikeability came in to support for 2 days. The children showed excellent behaviour, attitude, skills and ability, as they learned how to signal correctly and confidently cycle on the road. Well done year 5.
LQ: Can I recognise different feelings and ways to relax?
LQ: Can I experiment different ways of moving through yoga?
As part of World Mental Health day, Seedlings class wore yellow. We talked about things that help us to feel happy and calm and learnt some yoga moves too!
Pupil voice
Being with friends - L.B
Watch TV, I feel happy - W.C G
oing to the park with my family - P.D
Special times like birthday parties - E.R
Holding 'Avra' my favourite toy - H.G
Foundation and KS1 Sports Day!
Super FS and KS 1 Sports Day this morning - fun PE activities, athletic skills being used and great team spirit! Well done to Green Team for being the winners today!
Thank you to all the staff, helpers and parents/carers for attending. The pupils were excellent and showed resilience, determination and skill.
Seedlings
Children took part in lots of fun sporting activities for our annual school sports day. From javelin to island hopping and the sack race, there were plenty of things to do. What champions we all are!
Pupil Voice
A.D - That was fun, I liked the skipping race best.
J.F - I liked the lolly it was yummy!
L.D - I got lots of stickers, this sticker was for the sack race.
Sunflowers: Can I participate in team games?
A great Sport's Day was enjoyed by the Sunflowers.
SS- I liked the skipping race. It was hard and a long challenge.
HE- I knew how to skip.
TB- I enjoyed it all!
OB- I liked the running race, it was very good exercise. It was good for my muscles!
FM- I liked dribbling the ball.
FR- I demonstrated all the skills to my group.
AM- I liked running because it was exciting to see who would win.
EH- I'm slow at skipping, but I got a bit faster this time.
Specialist Instruction
Although Key Stage 2 sports day was cancelled due to poor weather and school having a very wet field, pupils still managed to participate in PE activities today led by Premier Sports on the playground. Each class benefited from specialist instructions and as you can see from the photos, everyone had a super time!
Julia Scardone
Stanford School had an inspirational speaker visit- Julia Scardone. Julia is a Judo athlete, who has represent Great Britain in many competitions all around the world. She spoke to the pupils about her inspirational, yet challenging journey to become a successful Judo competitor and how having passion, determination, resilience and sportsmanship made her the successful competitor she is today. Julia then demonstrated some basic Judo skills to some KS2 pupils. Thank you Julia, for inspiring Stanford pupils to achieve through hard work and determination!
Rounders Festival
Barley class had a wonderful afternoon on Wednesday when they attended a rounders festival at Healing Academy. The children played really well, showing great team skills, and one of our teams even made it to second place in their league. Well done!
Athletics Tournament
A small group of pupils from Year 5 and 6 took part in an Athletics tournament at King George V's Stadium. They represented the school brilliantly and competed in 600 m Run, 75m Sprint, standing long jump and Vortex. The pupils' skills and behaviour was fantastic, and we are extremely proud they represented Stanford School, Well Done!
Rounders
Barley class enjoyed a morning of Physical Activity with Mr Page. They were developing their rounder's skills ready for some up and coming competitions in the summer term. They had a great morning working in teams, fielding and batting their way to victory!
Intra-School Competition Winners… Green!
On Friday 17th May, Stanford School pupils took part in an archery and dodge ball competition. Each class took part, representing their house team. From archery to Dodge ball, the results were collected from each class, counted and verified with the winners of this competition going to GREEN!! Well Done!
| | | | | | | | | | | |
| --- | --- | --- | --- | --- | --- | --- | --- | --- | --- | --- |
| Archery | | | | | | Dodgeball | | | | |
| | Red | Blue | Green | Yellow | | | Red | Blue | Green | Yellow |
| Year 1 | 30 | 30 | 26 | 32 | | Year 1 | 2 | 2 | 2 | 2 |
| Year 2 | 30 | 25 | 26 | 28 | | Year 2 | 2 | 2 | 2 | 2 |
| Year 3 | 45 | 48 | 47 | 40 | | Year 3 | 1 | 1 | 2 | 1 |
| Year 4 | 52 | 47 | 39 | 30 | | Year 4 | 1 | 1 | 2 | 0 |
| Year 5 | 48 | 46 | 65 | 51 | | Year 5 | 1 | 1 | 4 | 2 |
| Year 6 | 65 | 76 | 80 | 59 | | Year 6 | 2 | 3 | 1 | 0 |
| Total | 270 | 272 | 283 | 240 | | Total | 9 | 10 | 13 | 7 |
| Position | 3rd | 2nd | 1st | 4th | | | 3rd | 2nd | 1st | 4th |
LQ: Can I skip with a skipping rope?
This term Seedlings have been learning to skip in P.E. From exploring and controlling the rope, learning to turn the rope over our head, to our first skip, it has been hard work but we kept on trying. We can now practise skipping at playtime too!
Dodgeball & Archery – Intra-school Competition
Today there was a competitive spirit in the air as the houses 'battled' for points in our intra-school competition. They had lots of fun practising their archery school and being allowed to throw balls at each other In dodgeball.
Can I learn some new skills in PE?
The Sunflower's really enjoyed learning how to play dodge ball today with The Premier Sport's Team. They also had a go at archery!
LS- It was lots of fun.
AM- I liked shooting the arrows.
ED- It was tricky, but I think I got better.
BJ- I was trying to hit the target.
JS- I had to run very fast when I played dodge ball.
Lunchtime Football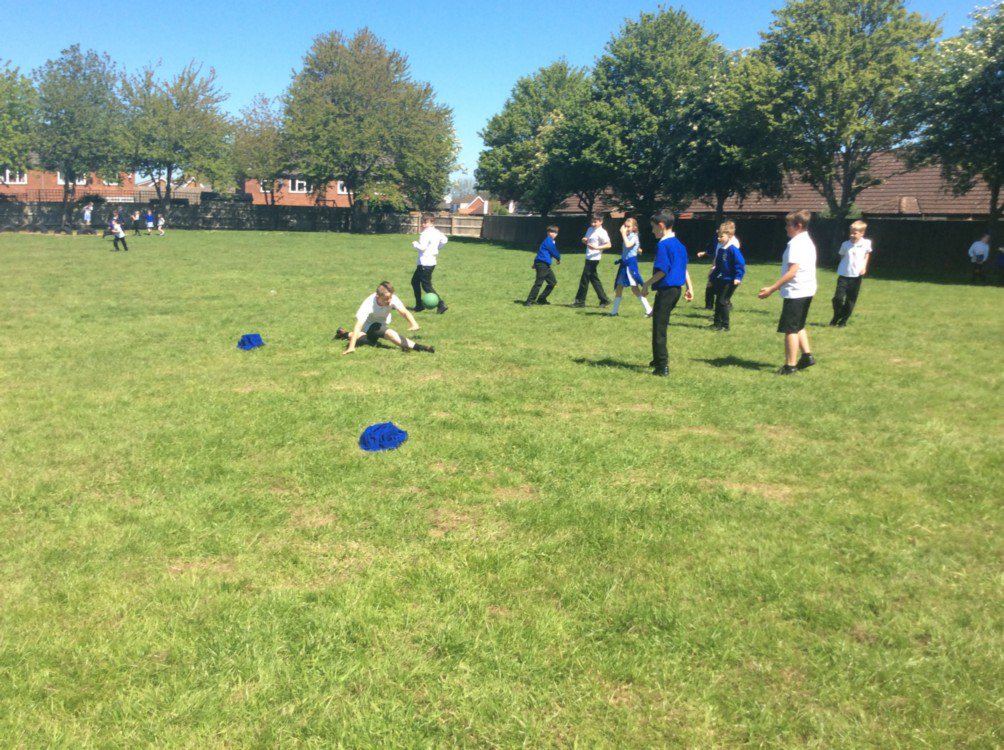 Great game of football in the sun at lunchtime today!
Inter- School Competition- Archery and Dodgeball
Some pupils from Year 2,4 and 5 took part in an inter- school archery and dodgeball competition on Tuesday. at North Thoresby Primary Academy. They used a range of sport skills to compete against other schools. Overall, both KS1 and KS2 pupils came 3rd! A fantastic achievement from the pupils. They had a fantastic day and showcased their sporting skills and teamwork, well done!
Gymnastics Competition
Key Stage 1 entered a multi-school gymnastic competition. We are so proud of our 5 competitors. They behaved impeccably and really showed their talents off on the gym equipment – well done girls. They returned to school with certificates.
Swimming Gala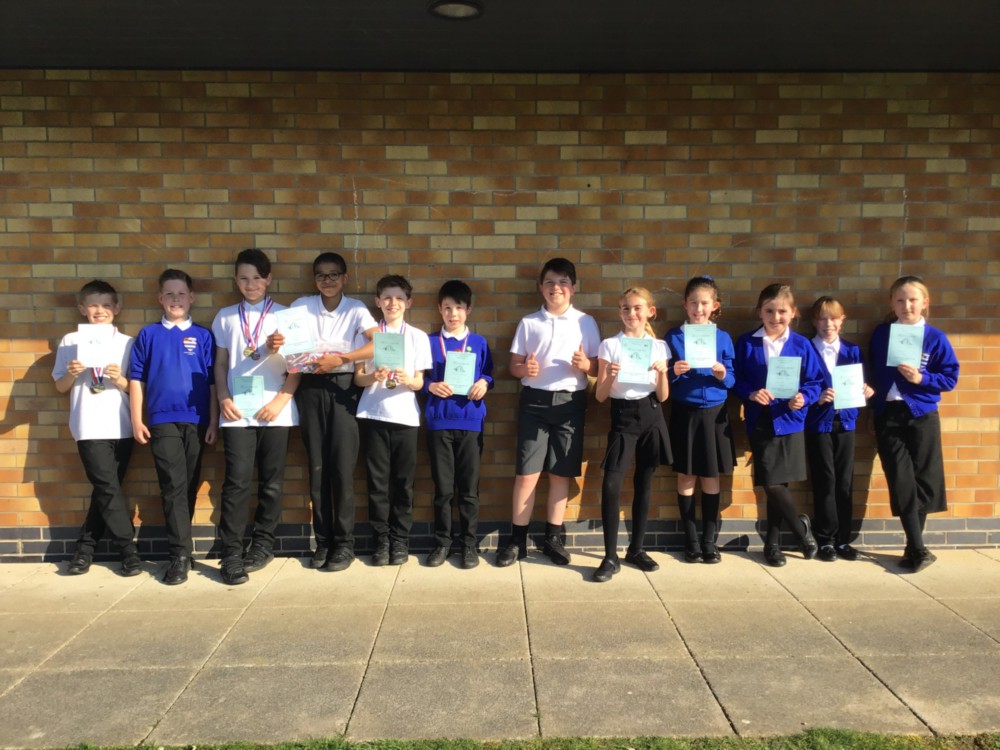 Children from key stage two recently took part in a Junior Swimming Gala at Grimsby Leisure Centre. It was a fantastic afternoon and a great experience for all of the children. They were strong participants and showed great sportsmanship and teamwork skills. They represented the school proudly and all received a medal and certificate.
Yoga Namaste!
Mental Health and Well-Being are an integral part of our curriculum at Stanford. One way to promote this is to take part in whole class yoga sessions!
Year 5 have been enjoying their Friday afternoon yoga sessions, here is a link if you would like to continue your yoga sessions at home www.cosmickids.com