Design and Technology
Year 2 Hook Day: Castle Making
Pumpkin Class enjoyed making castles out of recycled materials. They had a busy time cutting, painting, drawing and finding the best ways to fix materials together. They also faced the challenge of how they could make their drawbridge open and close.
J- It was hard work cutting out the battlements, but I did it.
G- I made my drawbridge open and close by pulling string. I did this all by myself.
J- I think the turrets I made were too small, next time I would make them bigger.
M- I made a huge castle, it took a long time to paint it all.
J- I made sure my castle had windows and arrow slits.
S- I think everyone did a good job making their castles!
Coleslaw Making
The children in Pumpkin Class enjoyed designing, making and eating their own coleslaw. Mrs. Christie taught them the techniques of; grating, chopping, squeezing and slicing. They experienced a wide variety of vegetables and fruit.
A- It was fun.
E- I like that my coleslaw turned pink.
J- I liked chopping and grating.
W- I liked the smells and colours of all the different coleslaw.
M- I liked squeezing the lemon.
H- I can't wait to try it.
E- I liked the look of mine and I think that it looks just like the coleslaw you can buy from a shop.
R- They were all so different and so colourful.
Food Technology
Pumpkin Class have been learning how to make coleslaw, reading different recipes and taste testing some shop bought ones- with mixed reviews! They have been discussing their own recipe ideas for making a healthy coleslaw and thinking about the different equipment and techniques they will need.
A- I sniffed them all, I could smell a lot of onion.
J- The best coleslaw was a lighter colour, I think this is because it had more cream in it.
L- I really didn't enjoy tasting the coleslaw. I thought they all tasted horrible. I think this is because I don't like onions.
E- I would put yoghurt in my coleslaw because it's better for you than cream.
C- I think adding lemon juice, would give it a better taste.
K- I would like to make a rainbow coloured coleslaw.
O- I would like to use a grater and a peeler. I think it might be tricky, but I would like to do it.
H- I want to add lots of fruit to my coleslaw.
E- The crunchy coleslaw was nice to eat. I enjoyed that.
H- Before the lesson, I really thought that I didn't like coleslaw, but now I do. I've surprised myself!
Craft Club - Making 'God's Eyes'
A God's eye (in Spanish, Ojo de Dios) is an object made by weaving a design out of yarn upon a wooden cross. We had a go at making them ourselves. It was tricky at first but once they got the hang of it they were really quick at it!
Bread Baking
Each group designed a way of changing the basic bread recipe by adding extra ingredients.
We all had great fun learning how to make bread.
Once our bread was cooked and cool we got the chance to evaluate our different recipes.
Healthy Scotch Eggs
This week in Cookery Club we made a healthy version of scotch eggs by baking them in the oven instead of frying them, and using low fat sausages.
We also looked at the eatwell plate and discussed the importance of a healthy balanced diet.
What shall we make?
This week some reception children decided they wanted to make crowns. They selected the materials they wanted to use, problem solved to make them fit each other, worked together to help everyone succeed and were successful in their chosen challenge.
Well done to all those involved!
Animals
As part of our learning about animals, reception children are exploring crocodiles. We have learnt how to mix two primary colours to make the green we needed to paint crocodiles. We made a huge crocodile outside with wooden bricks. We also painted, drew and cut out crocodiles for a display. In the story making area we used wild animals to make stories about how a crocodile hunts and kills its prey. Look at the fun we've had along the way.
Bread Testing
As part of our DT project this term, we tasted a variety of different types of bread, analysing their appearance, texture and taste. We then rated these and have them our star ratings!
Cookery Club: Pizza!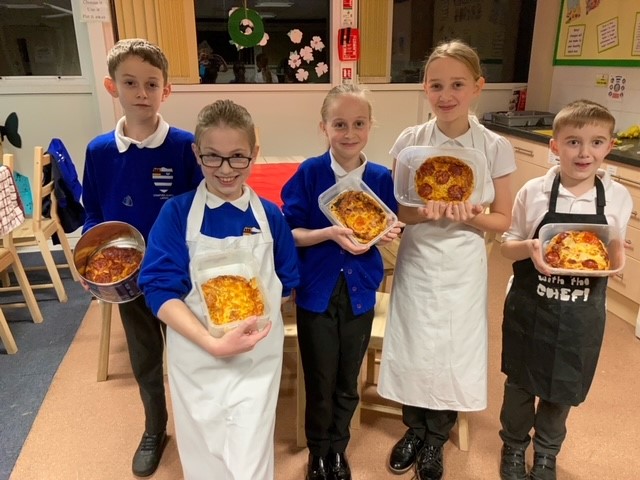 Welcome to the new cookery club, tonight we used the rubbing in method to make our pizza base then we had to chop, slice and grate other ingredients for the topping. Everyone went home to enjoy pizza for tea!
Can I make a replica of an Egyptian Cartouche?
A cartouche is an Egyptian nameplace which the Egyptians would put on a sarchophagus so a person's soul would recognise their body when they reached the afterlife. To make this the children used clay to make their shape. They had to figure out how to write their name in hieroglyphics and carefully etch their name into the clay. Our next step is to wait for them to dry, then paint them to look authentic. Watch out for the finished products!!
Castle Hook Day
The Pumpkins have been very busy learning all about different kinds of castles. They have made a great start making their own castles out of recycled materials.
J- I have enjoyed painting my castle.
H- I thought it would be hard to make a castle, but then I found it all worked out really well.
W- I have found out that there are different kinds of castles and it's very interesting.
H- I worked out how to cut windows and a door that opens like a drawbridge.
R- I am going to add bricks and a flag tomorrow.
L- I liked listening to a story about a castle today.
Music Animal Instruments
The Year 1 children designed and made their own animal castanets to play in their end of term performance.
D- I made a frog because I like frogs and so does Mrs. Brady
H- We put coins inside to make them click.
J- 2ps made the best sound I think.
M- It was tricky cutting the card.
E- I enjoyed painting my animals and sticking on googly eyes.
L- I can't wait to take my instrument home and play it to my family.
Y4 Design & Technology Project - Poison Dart Frogs
Our DT project this term is based on a tropical rainforest creature - the poison dart frog. These are beautiful creatures who use their vibrant colours to warn off predators.
First we looked at different pictures of the poison dart frogs - they are all different bright colours and have spots & stripes on them. Next we designed our own frog & made a set of instructions so we could remember how to make them. After that we used our templates to cut out the parts of our frogs and we have begun to sew them. We will show you the finished products when they are completed.
Making Roman Wallets
We are busy making our Roman wallets, we are sewing our initials at the bottom of the wallet and then experimenting with how to tie the wallet together.
Science Week
In Year 6, our Science Week project was inspired by the Perseverance rover landing on Mars!
We found out all about why we are exploring Mars, how we are doing it and discussed all of the components that are needed for a successful space rover mission.
For more information, please visit mars.nasa.gov/mars2020/
Firstly, we created a design brief, then built prototypes out of cardboard - this was much trickier than it looks!
Next, we are going to be creating our Mars rovers with wood, cardboard and an electrical circuit - we can't wait to show you the finished product!
Can I design and make a healthier sandwich for Paddington?
The Year 1 children had to think of a different kind of sandwich with healthier ingredients that Paddington might like instead of his sticky marmalade sandwiches.
H- I put lots of healthy salad in my sandwich.
C- We used brown bread because it's healthier.
W- Paddington's sandwich was full of sugar in the marmalade.
R- It was tricky cutting up the tomatoes.
L- My sandwich tasted really good.
Plane investigation
Barley Class pupils have been working hard both in school and remotely this week! Take a look at their plane investigation linked with David Attenborough's planet lessons- fantastic responses to those working from home too.
A Moving Picture
We linked several aspects of our learning to create a moving picture. In Art we have been learning about how the Victorian's believed in hand-made crafts rather than mass produced items. We have also researched the toys & games that Victorian children liked to play with and we decided to make a 'toy' with moving parts. We found some templates online and we used them to make templates. We cut out the shapes in card and used split pins to put the parts together. We then mounted them so they looked like toys in a nursery. As they looked so great we chose to use them as our calendars for next year. Don't they look fabulous?
Christmas Enterprise Crafts
Foundation Stage
Seedlings and Sunflower created their Christmas enterprise crafts including as felt gingerbread man, lolly stick photo frame and a wooden snowman. They developed their skills to combine, shape and join materials together.
Poppy Class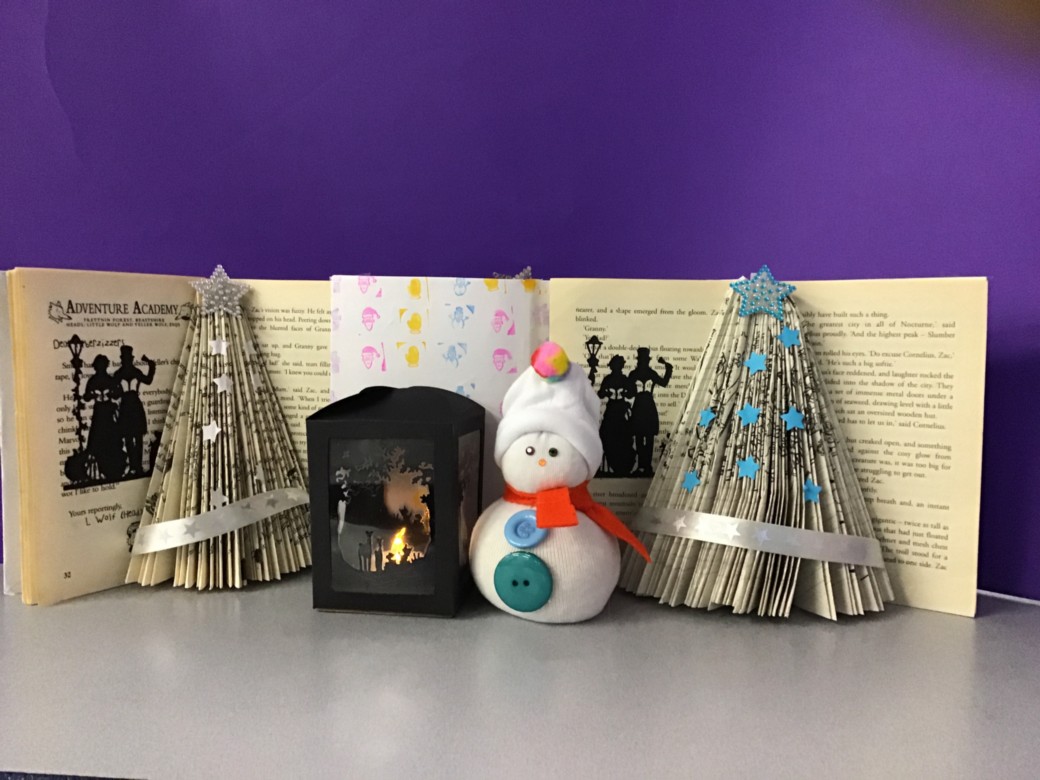 The children have been very busy making crafts to sell as a part of our Enterprise scheme.
To go with our Victorian theme we made a Christmas book ornament. The Victorians liked to make things by hand so we hand printed our book covers and folded the pages to make Christmas trees which we decorated.
Mrs Drury came and helped us to make Victorian Lanterns as they used them in the streets and in their homes.
We also made Sock snowmen …..just because we thought they looked very cute!
Don't they look great?
Project Super Sucker!
Our DT project is to use complex circuits and switches - we had decided to make a vacuum cleaner!
Each team were given a battery, two wires, a motor and a piece of A4 card. As you can see, we had lots of fun making our fans blow ten bits of paper across the table - we will continue to work on this over the next few weeks, eventually building up to making a working handheld vacuum cleaner.
Year 1 Design and Technology Can I design and make a moon buggy?
The Year 1 children had great fun making the moon buggies that they had designed with Mrs. Amos and Mrs. Christie.
C- It was tricky to put the wheels on.
L- I made a satellite with a straw and some foil.
E- My moon buggy has seats inside, so the astronauts can drive it.
L- We used old boxes and old lids, it was recycling things.
K- I stuck buttons on my moon buggy. They are the controls.
Turnip Soup
The Sunflower and Seedlings children really enjoyed reading the story 'The Gigantic Turnip' and so they decided they would like to make their own turnip soup.
E- I liked chopping some swede.
D- I liked eating the soup. It was spicy.
E- I mixed it with a wooden spoon.
H- Mrs. Christie cooked it for us.
F- We had to wash all the vegetables first.
H- We all had to wear aprons.
T- We washed our hands first.
H- The soup tasted salty.
Ancient Greek Pottery
Here are our completed Ancient Greek pots! We researched the different patterns and designs of Ancient Greek pottery and sketched them before we painted on our pots. We are very proud of how they turned out - what do you think?