Design and Technology
Bread Taste Test
Our Design and Technology work this term is all about researching, designing, baking and evaluating different breads. As an introduction to this topic we decided to taste different breads to inspire us with choosing different flavours, textures and types of bread we could bake. Some were certainly more popular than others!
'Brioche and Farmhouse were delicious, definitely my favourites' - Jacob
'Eurgh! Onion and tomato ciabatta is disgusting!' - George S
Let's Bake!
Pupils in Year 5 and Year 6 worked together to create delicious bread buns. We have perfected the basic bread recipe and will now research and experiment different ingredients to add.
We certainly enjoyed eating our bread and Charlie was relieved to see we were eating it with 'proper' butter!
Anglo Saxon Broach
This afternoon we used our designs to make an Anglo-Saxon broach using a variety of materials. Afterwards we evaluated the process.
Making Paper Toys - Sunflower Hook Day
Can I create purposeful, functional, appealing products for myself and others to use based on design criteria?
Sunflower Class enjoyed showing their moving toys from home. They sorted their toys into groups, explaining how they move.
Oscar- Some you can pull and some you can push.
Rylea- Lots of toys have batteries or a remote control.
Harry- Some toys you can wind up.
The children were challenged to read and follow instructions. They made; paper snails, flapping birds, circus riders, pecking birds and a paper helicopter. Throughout the day, the children used a wide range of skills; cutting, colouring and drawing, folding, rolling up paper, gluing, using a ruler, assembling and joining parts with split pins, sellotape, staples and string.
Harvey- I liked following the instructions to make a paper snail.
Libby- I drew patterns on the pecking birds.
Ronnie- Folding the card on my bird was tricky.
Isla- My helicopter flew well.
Amelia- I liked colouring in and putting my bird together.
James- It was the best Hook Day ever!
Mrs. Brady and Mrs. Graham would like to thank all the wonderful helpers; Mrs. Bennett, Mrs. Drury and Mrs. Warton for helping the children develop and improve their Design and Technology skills.
Air Raid Shelters
Wow look at our fabulous models of Air raid Shelters we made this term as part of our home learning.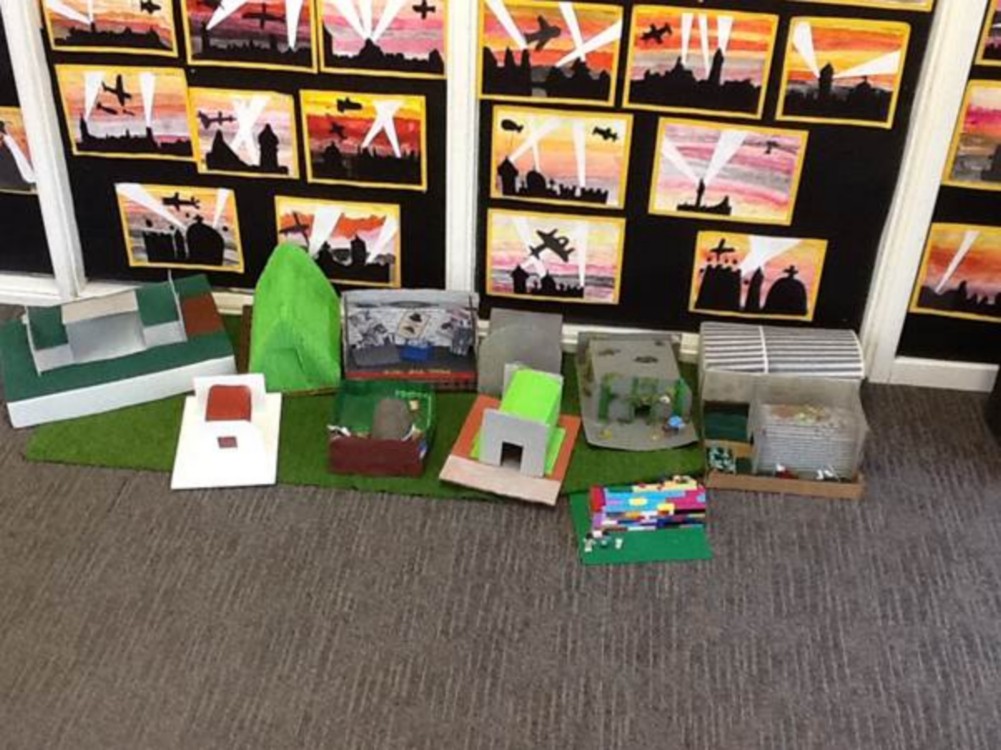 Can I design, create and evaluate an Egyptian style necklace?
The Egyptians liked to wear necklaces. We looked at examples of necklaces found from this era and discovered that most of them were collar necklaces with eagles and beadwork on them. To make them we used a paper plate to create the collar and then we cut out an eagle. We painted our designs and used pasta to represent the beadwork. When we had finished we thought about whether our finished product looked like our designs, what we liked, what we weren't happy with and what we would change if we did this again. We were really proud of our designs.
Sewing Winter Trees
Today we have been very busy with our needle and thread sewing tree decorations for our enterprise craft sale. We were delighted to welcome lots of grandmas and mums for the afternoon's activity. A very big 'thank you' for all your help.
Healthy Tuck Shop
The Healthy Tuck Shop led by the Well Being Team and Year 6 pupils is a real success. Pupils made banana bread and muesli treats to sell. There was also sugar-free fruit jelly and yummy carrot sticks on offer to choose. Year 6 pupils reported lots of positive feedback from customers today who loved the choice of healthy snacks.
Woodwork Club
Mrs. Drury is really pleased at the great start her group have made on making planters and bug hotels this term.
Baking Bread
Following our Harvest Festival we were inspired to make some bread. Our hands and fingers were very busy kneading and rolling the dough. We looked at the ingredients needed and thought of lots of words to describe the dough including 'squidgy', 'soft' and 'stretchy' and how the bread changed once cooked. Of course the best bit was eating our fresh bread and enjoying the delicious smell!
A big 'thank you' to Mrs Wink and Mrs Christie, our expert bakers.
Can I design, make and evaluate a replica gas mask to a specific design brief?
We imagined we work for a company who designs and makes bespoke gas masks for customers who don't like the dull and boring design and colour of the standard issue gas masks.
We chose a client to design and make a gas mask suitable for.
Here are our finished gas masks. What do you think?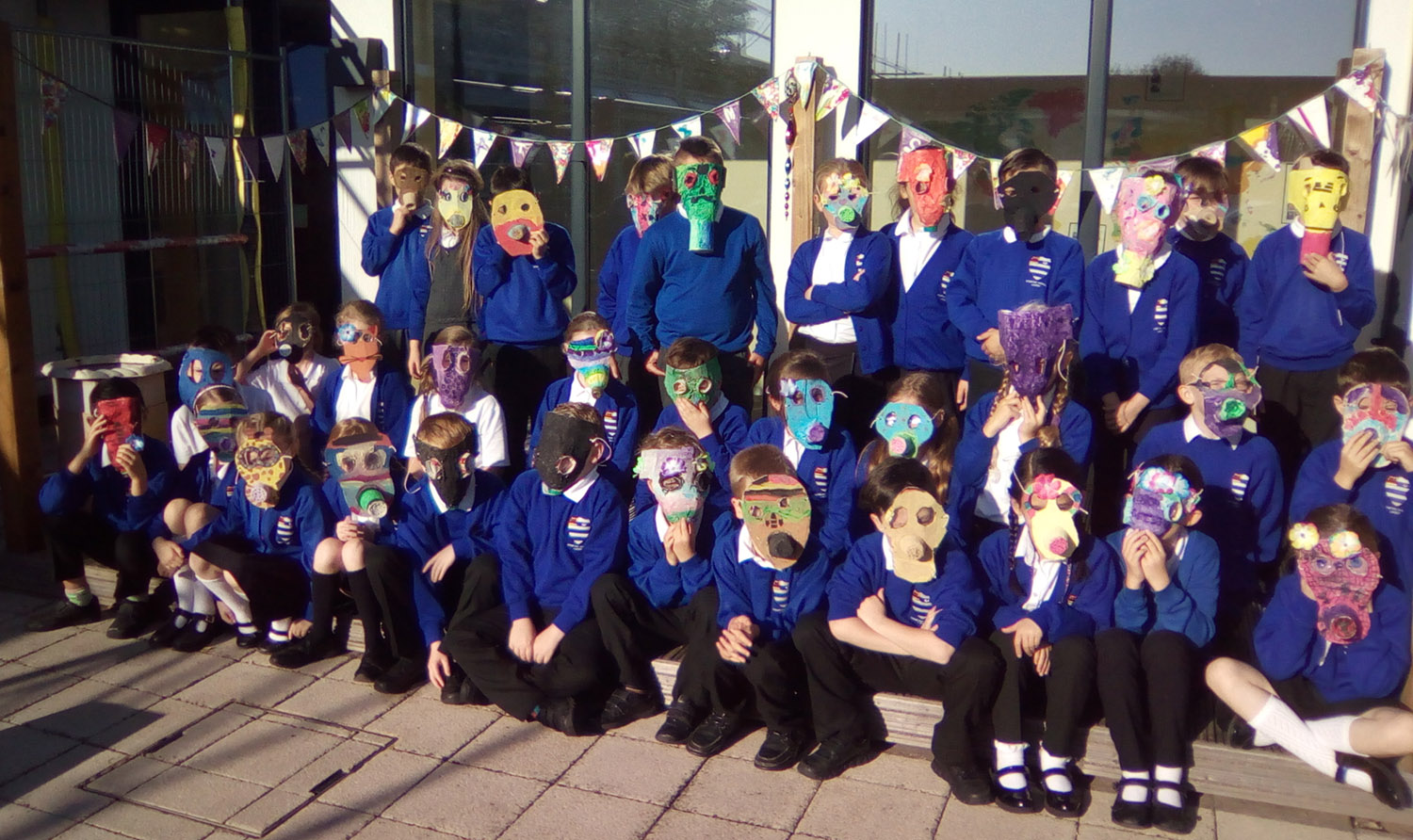 We evaluated our finished result against our designs.
Can I design and create an African mask using a range of materials and techniques?
Barley class enjoyed their Hook day- designing and then creating their own African masks using a variety of materials and artistic techniques. We discussed African mask designs, colours and textures and then designed our own using a design prototype. We then started to bring our designs to life!
Barley class completed their African masks using a range of materials.... don't they look amazing and effective!?
Egyptian Hook Day
On Thursday 7th September we had a hook day to start off our learning about the Ancient Egyptians. As ever the parents were incredibly supportive and creative with the costumes based upon the theme 'Egyptians, Mummies and Explorers'. The children looked wonderful.
(Keep the togas safe Mum and Dads as we will be 'visiting' the Roman Era in the summer.)
---
Can I create a canopic jar?
This will link into a DT project where the children will design their own canopic jar. The children used kitchen paper towels with glue to cover a plastic cup. The children were full of questions about what these jars were used for, and we will find out about the gory details of the mummification process later this term…..if they can wait that long!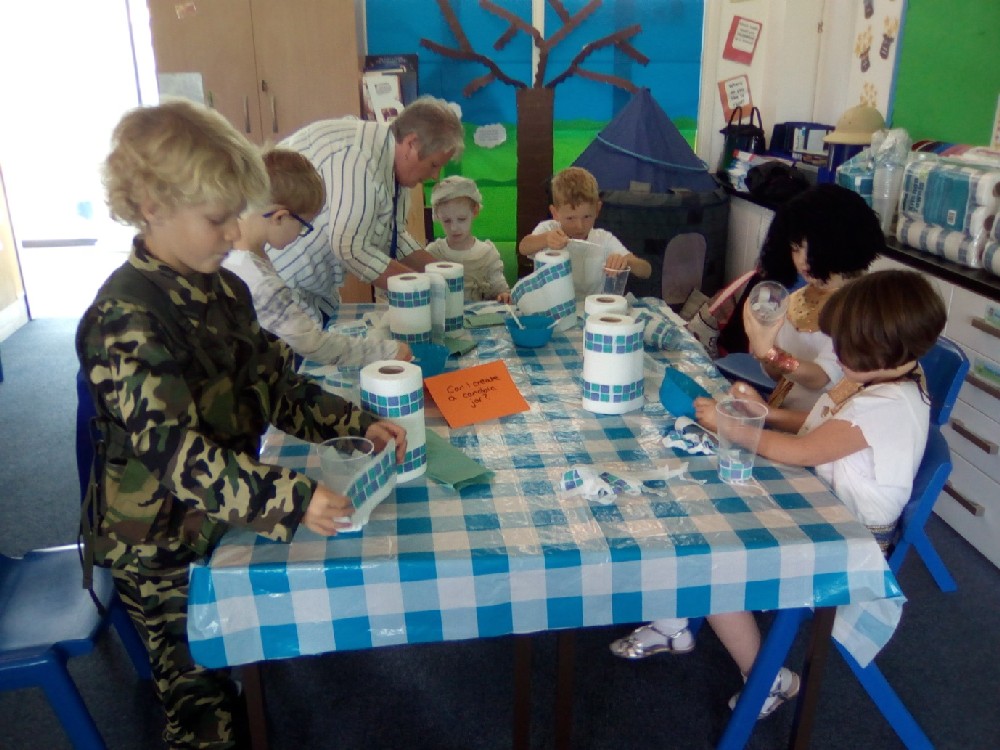 Can I make papyrus?
The children learnt about how the Ancient Egyptians invented the earliest paper. They made it from the papyrus plant which is where the word paper comes from. Papyrus was made by splitting the stems of the plant into thin strips and soaking the strips in water. The strips were then placed onto top of each other in a criss-cross pattern. The sheet would then be hit with a mallet to bond the fibres together and then left for a few days to dry with heavy weights on the top. We used strips of newspaper and placed them in a criss-cross pattern. We had to use several layers to make one piece of paper. We then had to leave it until it had thoroughly dried which took 4 days. We are going to try drawing and writing on the paper. What a lot of hard work! Let's hope we don't make a mistake as it took days to make 1 sheet!
Maths Challenge: Can I estimate, calculate and check how many cubes it would take to make a pyramid?
The children were given a base of 10x10. The children had to first estimate how many cubes it would check. Then they had to look at the base & visualise each layer and work out how many cubes would be in each layer and find the total number of cubes. Finally the children were allowed to get the cubes and check their work. This wasn't easy as they needed steady hands!! Luckily they had plenty of friends to help.
Can create an Egyptian Costume?
The children were given paper dolls for them to create Egyptian costumes. The children enjoyed getting creative.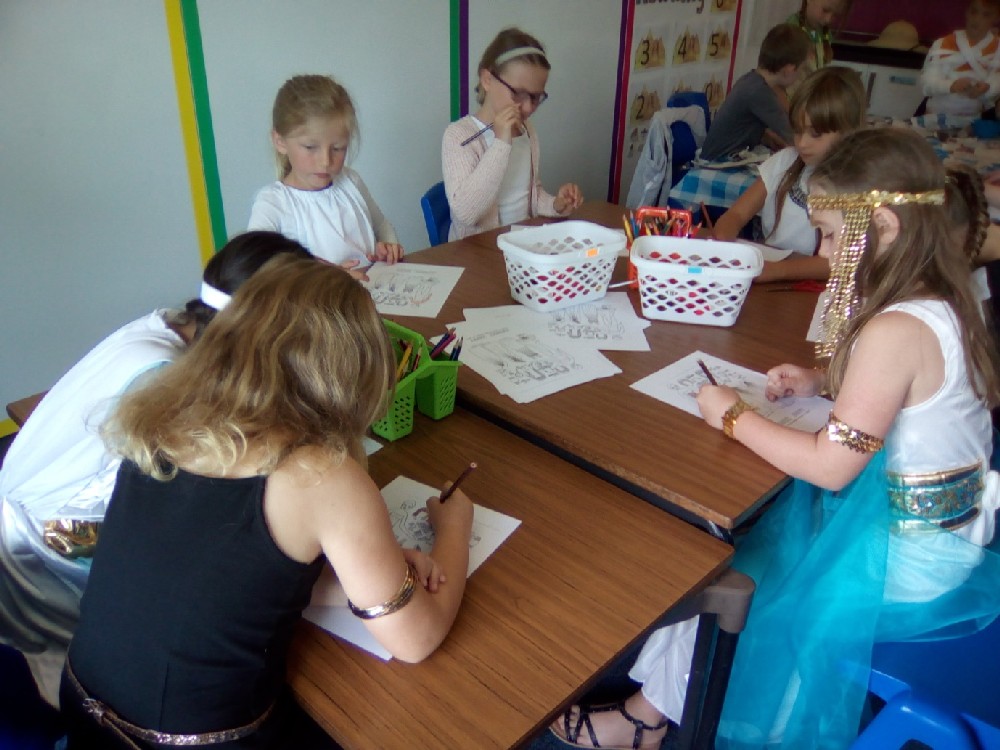 These are just some of the activities we enjoyed. We built pyramids. We tried 'Walking like an Egyptian' and we have learnt some Egyptian songs which I am sure you will be hearing the children sing at home.
We had a fabulous day and we had lots of fun! 
Can I use the basic principles of a healthy and varied diet to prepare dishes?
Sunflower Class worked cooperatively in small groups to make a healthy edible sunflower.
Can I design a functional product and make an honest evaluation?
Sunflower Class designed and made castanets. They researched ideas and were inspired to make them like animals. They planned and improved their designs. They tested materials and made prototypes. Finally they performed with them in their end of year assembly!
Olivia- I had to change my design. I did the flamingo's whole body and then realised I was supposed to just do the head.
Jayden- I wasn't happy at first with my castanet, as the coins inside fell out.
Ella R.- I think bigger coins inside the mouth would've made a louder sound.
Alfie- I loved playing my castanet. It was good fun.
Healthy Eating Workshops
Food for Fitness led workshops for parents and pupils all about health eating. Pupils enjoyed preparing food from scratch and tasting the delicious choices – they were inspired to start cooking! Thank you to the families who attended and to Mrs Harvey for leading these workshops.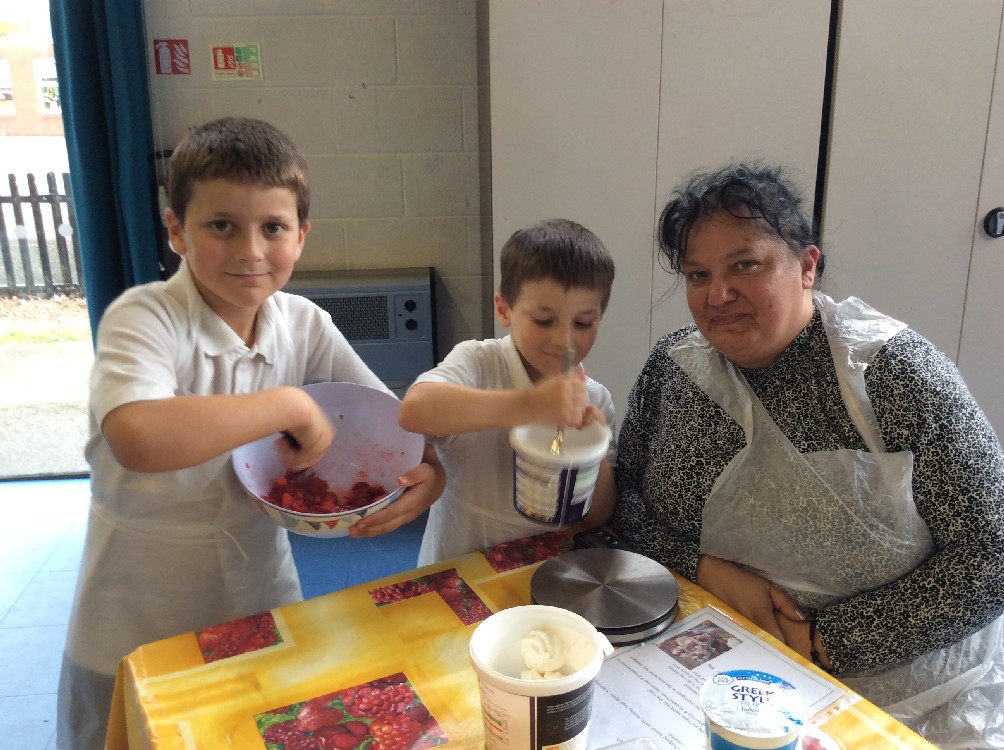 Cooking
Year 3 prepared and made a healthy and tasty meal using tomatoes and herbs as the main ingredients.  They made pasta with tomato and basil sauce with herby garlic bread. This involved ensuring hygiene procedures were used, following a recipe, and evaluating the finished dish. Most agreed it was delicious!  Many were inspired to want to cook this recipe using fresh ingredients at home.  We also identified which part of the Eat well plate each of the ingredients belonged to applying our previous learning on healthy eating.
Can I learn how bread is made?
Gav The Chef, who works for Cygnet, worked with Barley class this afternoon. He taught them how bread is made and the many different designs and flavours of bread there are in the world! Pupils made a wide variety of designs, from the traditional round or plaited bread to hamsters, hedgehogs and even people made of bread! Their creations came out amazing! A wonderful afternoon had by all!
Sunflower class use their environment to inspire their learning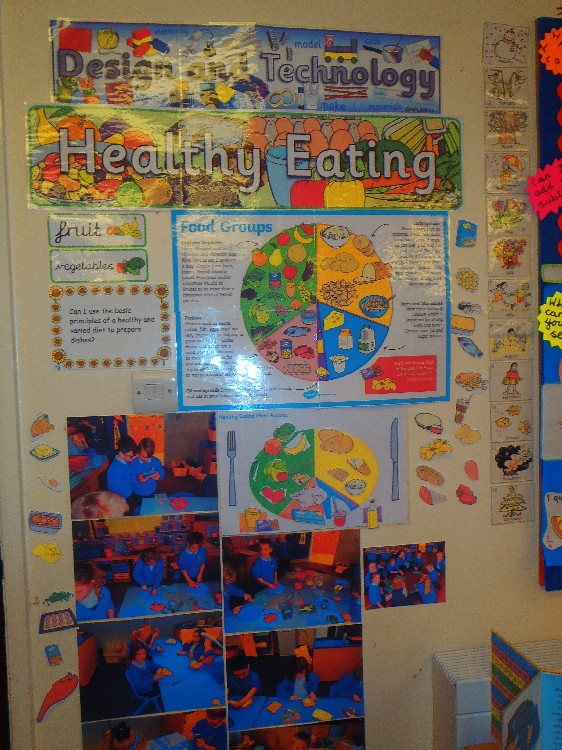 KS1 Hook Day
Can I bake bread?
Beau: My bread was soft and it was easy to make.
Cole: We used flour, water and yeast.
Elissa: We baked the dough in the oven.
Bailey: I liked baking, especially kneading the bread.
Maddie: I liked learning how to make bread from all the ingredients.
Can I use a range of tools and materials to create a Tudor-style house?
Olivia H: We made houses that looked like the houses in 1666.
Anthony: We painted cereal boxes.
Azem: Flour and sugar went into the paint to make it lumpy.
William: The roof was made out of straw.
Daisy: I liked making the houses because we had to do lots of different things to make it.
Cooking and Nutrition: Can I use the basic principles of a healthy and varied diet to prepare dishes?
Sunflower Class designed and prepared sandwiches which were healthier than Paddington's marmalade sandwiches. Everyone enjoyed making and eating their food.
Elissa- My ingredients were; brown bread, margarine, chicken, cheese and ham. I liked how it looked and it tasted really good. I wouldn't want to change it. It was my favourite!
Connor- I've been looking at all the food packets and checking how much salt and sugar is in the food. The stripes on the packet told me how healthy it was. Green is really good, amber is ok, but red really isn't good.
Dexter- I made my sandwich carefully. I cut it into halves and it didn't look messy. It tasted really nice.
Louie- My sandwich wasn't easy to make. I found cutting the cheese hard.