Design and Technology
Healthy Eating Workshops
Food for Fitness led workshops for parents and pupils all about health eating. Pupils enjoyed preparing food from scratch and tasting the delicious choices – they were inspired to start cooking! Thank you to the families who attended and to Mrs Harvey for leading these workshops.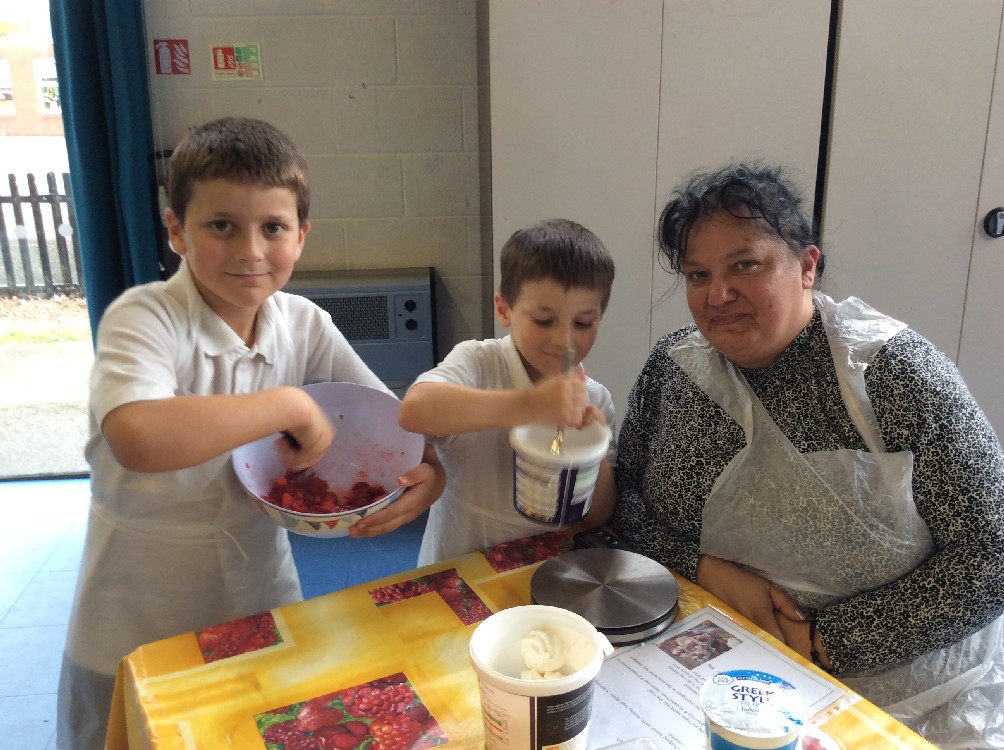 Cooking
Year 3 prepared and made a healthy and tasty meal using tomatoes and herbs as the main ingredients.  They made pasta with tomato and basil sauce with herby garlic bread. This involved ensuring hygiene procedures were used, following a recipe, and evaluating the finished dish. Most agreed it was delicious!  Many were inspired to want to cook this recipe using fresh ingredients at home.  We also identified which part of the Eat well plate each of the ingredients belonged to applying our previous learning on healthy eating.
Can I learn how bread is made?
Gav The Chef, who works for Cygnet, worked with Barley class this afternoon. He taught them how bread is made and the many different designs and flavours of bread there are in the world! Pupils made a wide variety of designs, from the traditional round or plaited bread to hamsters, hedgehogs and even people made of bread! Their creations came out amazing! A wonderful afternoon had by all!
Sunflower class use their environment to inspire their learning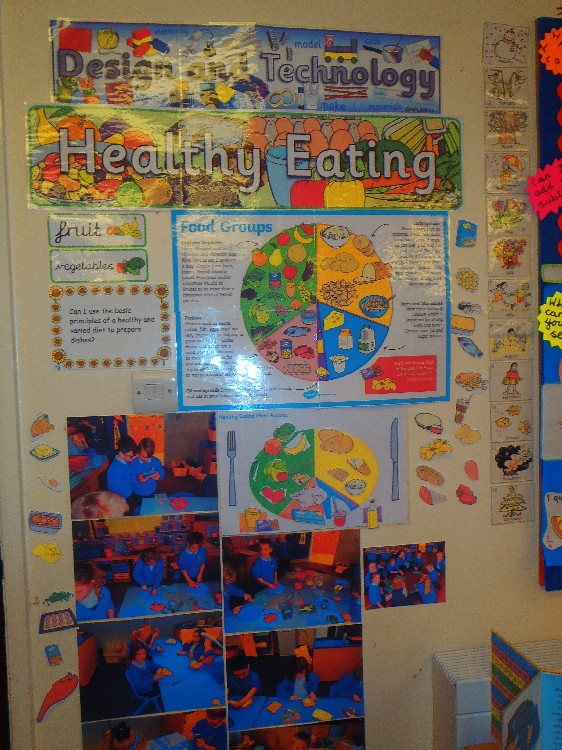 KS1 Hook Day
Can I bake bread?
Beau: My bread was soft and it was easy to make.
Cole: We used flour, water and yeast.
Elissa: We baked the dough in the oven.
Bailey: I liked baking, especially kneading the bread.
Maddie: I liked learning how to make bread from all the ingredients.
Can I use a range of tools and materials to create a Tudor-style house?
Olivia H: We made houses that looked like the houses in 1666.
Anthony: We painted cereal boxes.
Azem: Flour and sugar went into the paint to make it lumpy.
William: The roof was made out of straw.
Daisy: I liked making the houses because we had to do lots of different things to make it.
Cooking and Nutrition: Can I use the basic principles of a healthy and varied diet to prepare dishes?
Sunflower Class designed and prepared sandwiches which were healthier than Paddington's marmalade sandwiches. Everyone enjoyed making and eating their food.
Elissa- My ingredients were; brown bread, margarine, chicken, cheese and ham. I liked how it looked and it tasted really good. I wouldn't want to change it. It was my favourite!
Connor- I've been looking at all the food packets and checking how much salt and sugar is in the food. The stripes on the packet told me how healthy it was. Green is really good, amber is ok, but red really isn't good.
Dexter- I made my sandwich carefully. I cut it into halves and it didn't look messy. It tasted really nice.
Louie- My sandwich wasn't easy to make. I found cutting the cheese hard.
LQ: Can I create a labyrinth using a range of materials and techniques?
Barley class are continuing their DT project- to design, create and evaluate a labyrinth, as part of our topic this term. We have started to create our designs using cardboard and art straws- measuring accurately to create the outline of our labyrinth. We will be continuing this project over the coming weeks
Juniper Class: Poison dart frogs
This half term in Design and Technology we have designed, made and evaluated our frog "bean bags"
We are proud of our finished product. What do you think?
Peruvian Weaving
Sunflowers have started doing some Peruvian weaving with wool. Thank you to Mrs. Bennett for showing us how to use a cardboard loom.
Oscar- I like it; it's easy.
Cerys- It's hard and you have to concentrate.
Jayden- It's a challenge and I can do it a bit.
Katie- It goes in a pattern; over, under, over, under...
Greek sculptures
Mustard Class enjoyed a lesson carving Ancient Greek-inspired sculptures using soap. They were surprised how difficult it was, and discussed how skilled the artisans of Greece must have been to sculpt in marble and bronze.
Stone Age Soup
As part of Design Technology, Star Anise and Juniper Year 4's enjoyed researching, designing and making their own Stone Age Soup. Some of the soups were e a very interesting colour and had some strange flavours. Everyone worked together in groups and it was lovely seeing all the children praising each other, even when the soup didn't taste that nice. Mrs Hackfath came and sampled the soups and scored them on flavour, colour and appearance.
Winter Robins
Sunflower Class have enjoyed sewing felt to make their winter robins. Many thanks to Mrs. Warton for all her help with this. They look beautiful.
Christmas Fayre
We all enjoyed the PTFA Christmas fayre – lots of planning, designing, making and selling took place – great enterprise skills and fabulous festive fun!
Sewing with parents and grandparents
In Seedlings Class we have been very busy with our needles and thread sewing bell decorations for our Enterprise craft sale. We are delighted to welcome lots of grandmas and mums for the afternoon's activity. A very big 'thank you' for all your help.
Sunflower Class Making Scarecrows
Part 1
We have started making our mini scarecrows. We had to saw the wood carefully and stick the body, arms and legs on. Thank you to Mrs. Bennett for helping us
Part 2
We are enjoying making mini scarecrows for out Design and Technology project. As you can see, they are really taking shape! Many thanks to Mrs. Bennett for all her help this term.
Baking Bread in Seedlings Class
In preparation for our Harvest Festival we have been inspired to make some bread. Our hands and fingers were very busy kneading and rolling the dough. We looked at the ingredients needed and though of lots of words to describe the dough including 'squidgy', 'soft' and 'stretchy' and how the bread changed once cooked. Of course the best bit was eating our fresh bread and enjoying the delicious smell!! Perhaps you could try baking fresh bread at home?
Edible Sunflowers
In Maths today, each person was given a number and everyone had to line up in order. Can you remember how many people are in our class? Everyone had fun working in small groups making sunflowers that we could eat. We had to chop, cut and arrange the food to make it look like a sunflower. Then we shared our sunflower and ate it! Everyone enjoyed trying the very healthy food.
Lacey- The peppers are a bit sweet.
Anthony- I know I don't like celery, but I will try it again.
Finley- We used a knife to share out the cucumber.
Jacob- That food is smashing!
Millie- I tried the cucumber. D
exter- I love all the food!
Mrs. Brady - All the sunflowers looked amazing and everyone worked very cooperatively.
Well done everyone!
Lego
Sunflower Class had fun building together at their Lego day.
Puppets
In Sunflower Class after listening to the 'Carnival of the Animals' by Saint-Saens, we decided to design and make some animal puppets. We used card, fabric, split pins, string, wood, glue and sellotape. Do you like our rod puppets? We made them dance in our class assembly!"
DT Day
Mustard and Star Anise really enjoyed our creative DT Day today.
Thomas said, 'It's been really exciting and fun'.
Brandon expressed how weird it was kneeding the dough.
Jasmin said, 'It was cool making the bread.'
Jorja enjoyed making everything.
Wood Work
Seedlings class have been busy making wooden claves. We first needed to mark out and measure where to cut the wood using a ruler. Then Mrs Drury showed us how to saw the wood safely. Next, we sanded the edges of the wood using sandpaper to make the claves smooth. We will then finish our wooden claves by drawing decorative patterns on them before using them to tap musical patterns and accompany songs.