Design and Technology
Cookery Club: Pizza!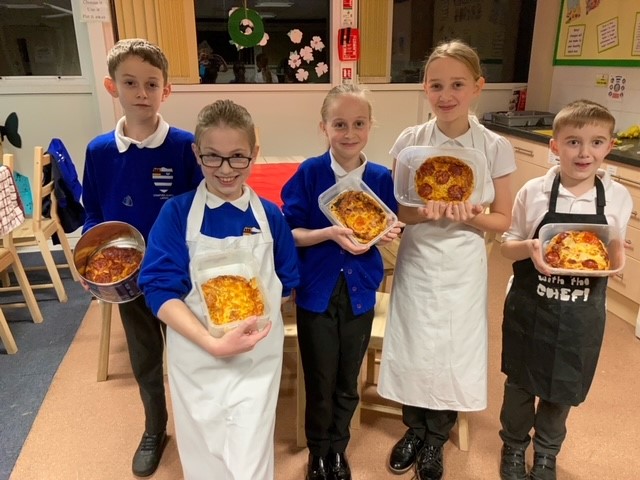 Welcome to the new cookery club, tonight we used the rubbing in method to make our pizza base then we had to chop, slice and grate other ingredients for the topping. Everyone went home to enjoy pizza for tea!
Can I make a replica of an Egyptian Cartouche?
A cartouche is an Egyptian nameplace which the Egyptians would put on a sarchophagus so a person's soul would recognise their body when they reached the afterlife. To make this the children used clay to make their shape. They had to figure out how to write their name in hieroglyphics and carefully etch their name into the clay. Our next step is to wait for them to dry, then paint them to look authentic. Watch out for the finished products!!
Castle Hook Day
The Pumpkins have been very busy learning all about different kinds of castles. They have made a great start making their own castles out of recycled materials.
J- I have enjoyed painting my castle.
H- I thought it would be hard to make a castle, but then I found it all worked out really well.
W- I have found out that there are different kinds of castles and it's very interesting.
H- I worked out how to cut windows and a door that opens like a drawbridge.
R- I am going to add bricks and a flag tomorrow.
L- I liked listening to a story about a castle today.
Music Animal Instruments
The Year 1 children designed and made their own animal castanets to play in their end of term performance.
D- I made a frog because I like frogs and so does Mrs. Brady
H- We put coins inside to make them click.
J- 2ps made the best sound I think.
M- It was tricky cutting the card.
E- I enjoyed painting my animals and sticking on googly eyes.
L- I can't wait to take my instrument home and play it to my family.
Y4 Design & Technology Project - Poison Dart Frogs
Our DT project this term is based on a tropical rainforest creature - the poison dart frog. These are beautiful creatures who use their vibrant colours to warn off predators.
First we looked at different pictures of the poison dart frogs - they are all different bright colours and have spots & stripes on them. Next we designed our own frog & made a set of instructions so we could remember how to make them. After that we used our templates to cut out the parts of our frogs and we have begun to sew them. We will show you the finished products when they are completed.
Making Roman Wallets
We are busy making our Roman wallets, we are sewing our initials at the bottom of the wallet and then experimenting with how to tie the wallet together.
Science Week
In Year 6, our Science Week project was inspired by the Perseverance rover landing on Mars!
We found out all about why we are exploring Mars, how we are doing it and discussed all of the components that are needed for a successful space rover mission.
For more information, please visit mars.nasa.gov/mars2020/
Firstly, we created a design brief, then built prototypes out of cardboard - this was much trickier than it looks!
Next, we are going to be creating our Mars rovers with wood, cardboard and an electrical circuit - we can't wait to show you the finished product!
Can I design and make a healthier sandwich for Paddington?
The Year 1 children had to think of a different kind of sandwich with healthier ingredients that Paddington might like instead of his sticky marmalade sandwiches.
H- I put lots of healthy salad in my sandwich.
C- We used brown bread because it's healthier.
W- Paddington's sandwich was full of sugar in the marmalade.
R- It was tricky cutting up the tomatoes.
L- My sandwich tasted really good.
Plane investigation
Barley Class pupils have been working hard both in school and remotely this week! Take a look at their plane investigation linked with David Attenborough's planet lessons- fantastic responses to those working from home too.
A Moving Picture
We linked several aspects of our learning to create a moving picture. In Art we have been learning about how the Victorian's believed in hand-made crafts rather than mass produced items. We have also researched the toys & games that Victorian children liked to play with and we decided to make a 'toy' with moving parts. We found some templates online and we used them to make templates. We cut out the shapes in card and used split pins to put the parts together. We then mounted them so they looked like toys in a nursery. As they looked so great we chose to use them as our calendars for next year. Don't they look fabulous?
Christmas Enterprise Crafts
Foundation Stage
Seedlings and Sunflower created their Christmas enterprise crafts including as felt gingerbread man, lolly stick photo frame and a wooden snowman. They developed their skills to combine, shape and join materials together.
Poppy Class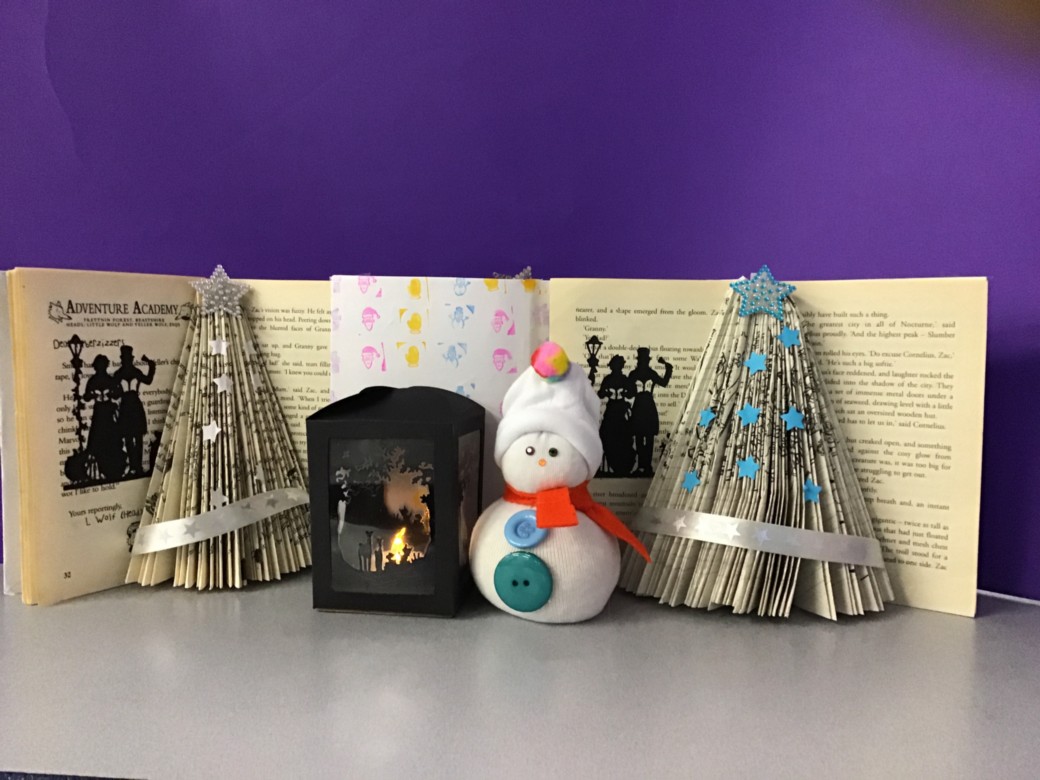 The children have been very busy making crafts to sell as a part of our Enterprise scheme.
To go with our Victorian theme we made a Christmas book ornament. The Victorians liked to make things by hand so we hand printed our book covers and folded the pages to make Christmas trees which we decorated.
Mrs Drury came and helped us to make Victorian Lanterns as they used them in the streets and in their homes.
We also made Sock snowmen …..just because we thought they looked very cute!
Don't they look great?
Project Super Sucker!
Our DT project is to use complex circuits and switches - we had decided to make a vacuum cleaner!
Each team were given a battery, two wires, a motor and a piece of A4 card. As you can see, we had lots of fun making our fans blow ten bits of paper across the table - we will continue to work on this over the next few weeks, eventually building up to making a working handheld vacuum cleaner.
Year 1 Design and Technology Can I design and make a moon buggy?
The Year 1 children had great fun making the moon buggies that they had designed with Mrs. Amos and Mrs. Christie.
C- It was tricky to put the wheels on.
L- I made a satellite with a straw and some foil.
E- My moon buggy has seats inside, so the astronauts can drive it.
L- We used old boxes and old lids, it was recycling things.
K- I stuck buttons on my moon buggy. They are the controls.
Turnip Soup
The Sunflower and Seedlings children really enjoyed reading the story 'The Gigantic Turnip' and so they decided they would like to make their own turnip soup.
E- I liked chopping some swede.
D- I liked eating the soup. It was spicy.
E- I mixed it with a wooden spoon.
H- Mrs. Christie cooked it for us.
F- We had to wash all the vegetables first.
H- We all had to wear aprons.
T- We washed our hands first.
H- The soup tasted salty.
Ancient Greek Pottery
Here are our completed Ancient Greek pots! We researched the different patterns and designs of Ancient Greek pottery and sketched them before we painted on our pots. We are very proud of how they turned out - what do you think?
Construction Challenge
In Green Bubble, Mrs Smith gives us different Construction Challenges which we love to make.
For this one we had to make an enclosure for our creatures. We could choose what to use to make the enclosure.
What do you think of our results?
Designing and Making Sea Creatures
Green Bubble have looked at different pictures of sea creatures and then designed their own.
They used different materials to build their models.
What do you think of them?
Year 1 Kite Making
The Sunflowers have made a great start on making their kites. They are using a great range of skills, including Maths skills.
M- We cut out a paper diamond shape.
G- We carefully measured the kite with a ruler to see how long the pieces of wood would need to be.
L- My pieces of wood were 22 cm and 17 cm.
O- I liked sawing the wood. I drew a pencil mark first when I measured, so I knew where to cut the wood.
A- Mrs. Bennett helped me join the pieces of wood together by tying some string.
A- I fixed my wooden frame on my diamond kite with sellotape.
The 'Lady of the Lamp'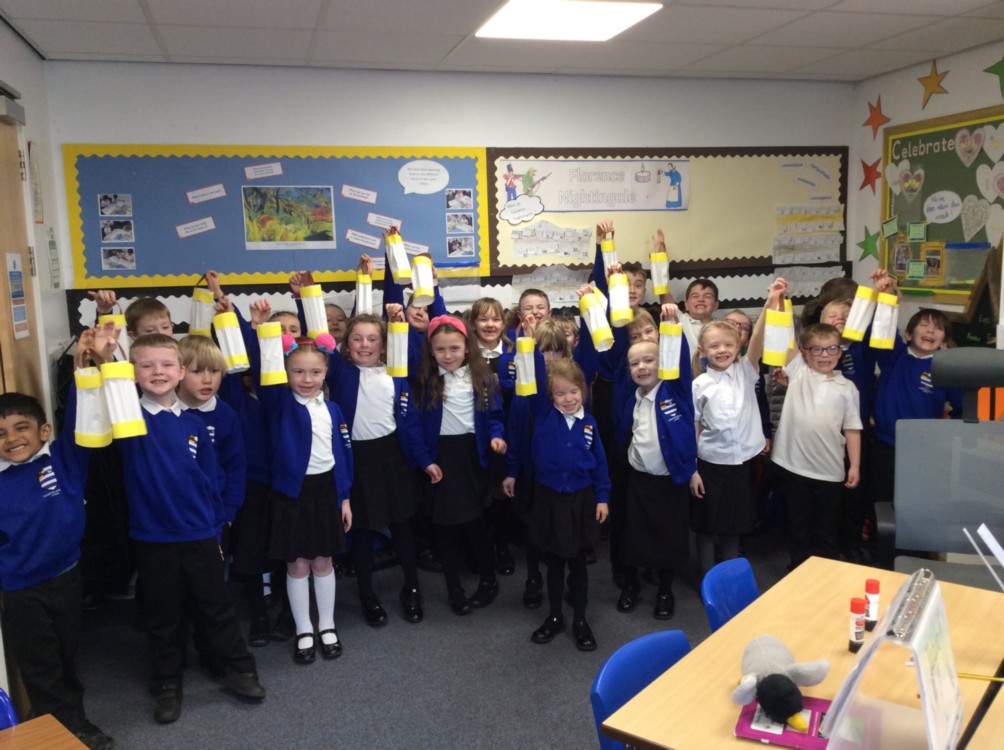 We have combined our learning skills this week to make Florence Nightingale's lamp.
In History we have learnt about the work Florence did in the past and how nursing changed because of her.
In Design Technology we have used skills to join materials to make her lamp.
In English we are writing diaries in character as Florence – watch out for these – we will be publishing them very soon.
Baking Bread!
Star Anise class had a wonderful time baking different types of bread for a recent DT project!
We began with sampling lots of different varieties and evaluating their taste, texture, appearance and what they might be eaten with (as well as thinking about different cultural purposes of bread). Following this, we worked in small groups and designed a range of different fillings and toppings that we could add to a basic bread mix. The fillings ranged from chocolate to popping candy to garlic and chilli powder.
Once the bread had been mixed and baked we asked a range of staff in school to sample the bread and give it a score out of ten. Whatever was left we ate ourselves!
Can we make a healthier sandwich for Paddington?
The answer is yes we can! The Sunflowers all designed, made, ate and evaluated a wonderful selection of very healthy sandwiches.
T- I made a banana sandwich, it was yummy.
J- I had lots of tuna, it's healthy because it doesn't have lots of sugar.
H- My sandwich had fruit inside it. I put watermelon in it and all the bread went soggy.
W- I loved eating mine!
M- I cut my sandwich into triangles to make it look good.
O- I wouldn't put lots of pickles in it again, as it tasted very sour.
B- My sandwich wasn't very nice. I think it was because I put too much pepper in it.
J- It was fun making sandwich and I liked eating mine.
F- We used lots of skills like chopping, cutting, peeling and grating.
C- My sandwich was healthier than Paddington's because mine didn't have any sugar in it.
Pop-up puppets
Linked to our toy town work Seedlings class have been combining and joining materials together to make a pop-up puppet. They painted a face, added hair and cut and shaped materials to create a pop-up hat!
Can I make a carp kite?
The Sunflowers read instructions on how to make a Japanese carp kite. They used paper, wool, sellotape, wood, glue and tissue paper to construct their kites. M- I made my kite very colourful because the Japanese kites were very colourful too. F- I used a hole punch to make the holes where my wool would go through. L- When we rolled it up, it made a cylinder shape. They had lots of fun seeing if their kites would fly outside.
A- It flew really well in the wind.
J- I made mine fly up high in the sky.
A- It looked like a flying fish.
J- Mine wasn't very good at flying. I think it wasn't windy enough.
The children then evaluated their kite and discussed what worked well and what could have been improved.
T- I would have liked a longer string, so it could have gone up higher.
G- My fish broke a bit because I hadn't used enough glue.
O- I wish I had made mine with more colours. I think it could have looked nicer.
STEM Vacuum Cleaner
As part of our Design Technology topic, we researched different circuits and switches that are used in household items such as hairdryers and vacuum cleaners.
We trialed different materials that could be used to create our vacuum cleaner and fans, along with different ways to create a circuit that would include an on and off switch, as well as the option to suck and blow.
We had great fun designing, building, amending and evaluating our products - we also worked on our discussion and team work skills.
Below are our finished products - what do you think?!
Can I design and make a moon buggy?
The Sunflowers have enjoyed the challenge of making a moon buggy this term.
B- The astronauts can move more quickly on the moon if they drive a moon buggy.
T- Astronauts drive around and collect moon rocks.
H- I really liked making my satellite. I wanted my moon buggy to look real.
O- I liked using real tools, like a saw. It was tricky to attach the wheels.
C- I liked using lots of different materials that I brought from home.
H- I can't wait to play with mine. The wheels really move round.
LQ: Can I join materials by sewing together?
Today we have been very busy with our needle and thread sewing tree decorations for our enterprise craft sale. We were delighted to welcome lots of grandmas, granddads and mums for the afternoon's activity. We also managed to practise our cutting skills and find time to read a story too. A very big 'thank you' for all your help.