English
Snowy Phonics
Today in Miss Purshouse's phonics group we wrote our sound of the day (i) in the snow. The children really enjoyed this!
Blackout Poetry
As part of our work on The Wolf Wilder book by Katherine Rundell, we created a blackout poem based on one of the characters dancing. Blackout poetry is when you take a written piece of text from a book and redact words, in order to come up with your very own poetry!
The Boy at the Back of the Class
In Willow class we have been following the story from a wonderful book, called 'The Boy at the Back of the Class', by the author Onjali Q. Rauf. The book tells the story of a young boy called Ahmet, who has travelled as a refugee from Syria to the United Kingdom. We have also compared this story to the book 'The Journey' by Francesca Sanna, which is also a tale about refugees.
From these books, we have produced a lot of purposeful and creative writing. This has included writing letters to politicians to ask for more help to be provided for refugees in crisis. We have also used lots of strategies to add description to our writing, including exploring some exotic fruits (based on some fabulous description of pomegranates in the book).
In addition to this we have completed some comparison work about the UK and Syria in our geography lessons. Learning about refugees through these stories has taught us important skills of empathy and understanding other people.
Remembrance Day Poems
Willow Class
Willow class created some beautiful artwork and some wonderfully descriptive poetry as we learned about Remembrance.
Juniper Class
Juniper class worked with their peers to create an emotive poem for Remembrance Day. The emotive language and word choices created wonderful poems- Well Done Juniper.
These poems are displayed on our display in the school hall and were shared in our Remembrance assembly.
Thank you Mrs Wink!
We would like to say a huge thank you to Mrs Wink for very kindly organising and donating some new books to help enhance our curriculum at Stanford.
Pupil Voice discussed how they would like some more non-fiction books in classrooms about the topics we are learning about. Mrs Wink donated almost 100 books around a range of topics, including; Anglo Saxons, Vikings, Ancient Greeks, religious festivals and religions, equality and diversity, farming, homes and keeping our bodies healthy.
Our helpful Year 6 pupils distributed the new books to the classrooms on Friday - we can't wait to start reading them!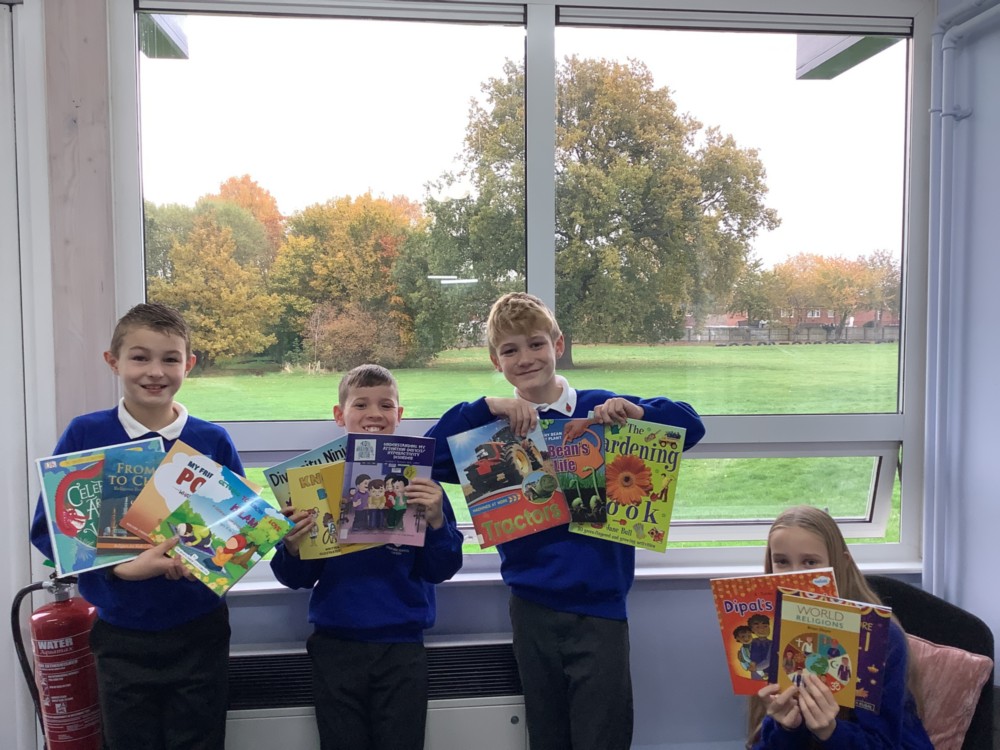 Story Telling
Year 2 invited all the Year 1 children to special story telling session.
They told the story of 'The Adventures of Egg Box Dragon' by Richard Adams. They showed them their drawings, read their writing out loud, used their story maps to tell the story in their own words and even acted out the story with great character voices. The children were proud to show their wonderful writing on display too and were able to teach the Year 1 children lots of wonderful vocabulary and exciting story words.
H- I liked drawing the dragon. I didn't know this story before, but now I can write some words about him.
E- I enjoyed listening to the Year 2 children reading.
L- I liked it when I told my story and when I acted it out. It was fun.
Mrs. Wink (School Governor)- It was great to see such enthusiasm from everyone.
L- I can use the special words on the wall now.
W- I felt like I was a teacher.
Go Read! Reading Challenge
Some of our Y6 pupils have been helping to promote our weekly home reading challenge and using our new Go Read app.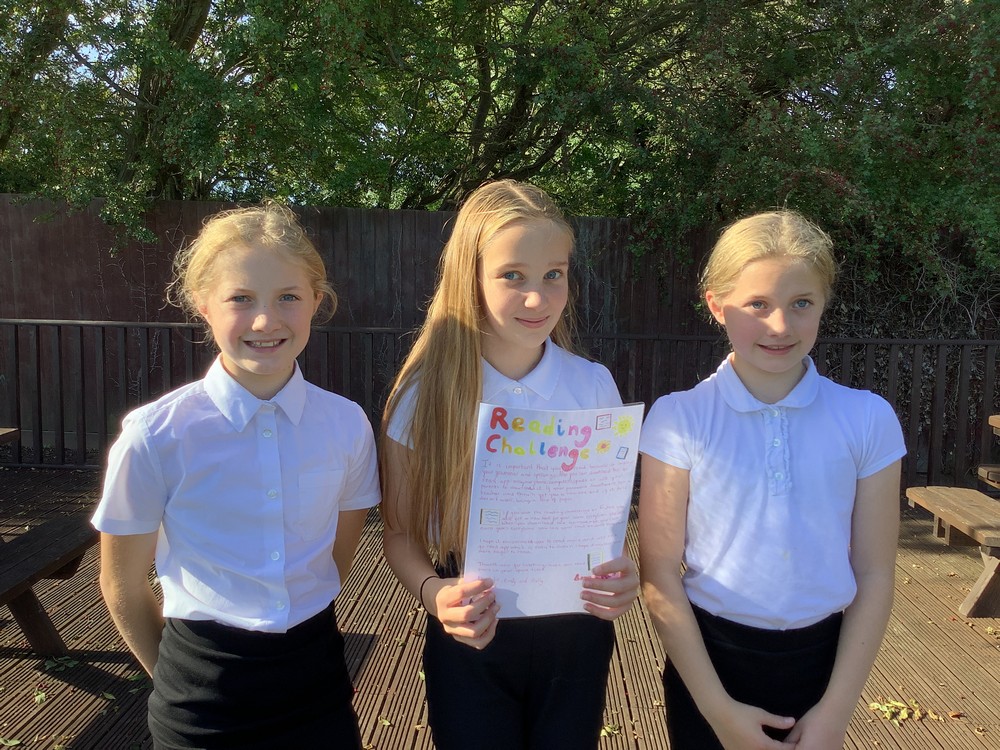 They have made posters to put around school and will also be visiting each class to share why reading is so important and how fantastic our new online app is.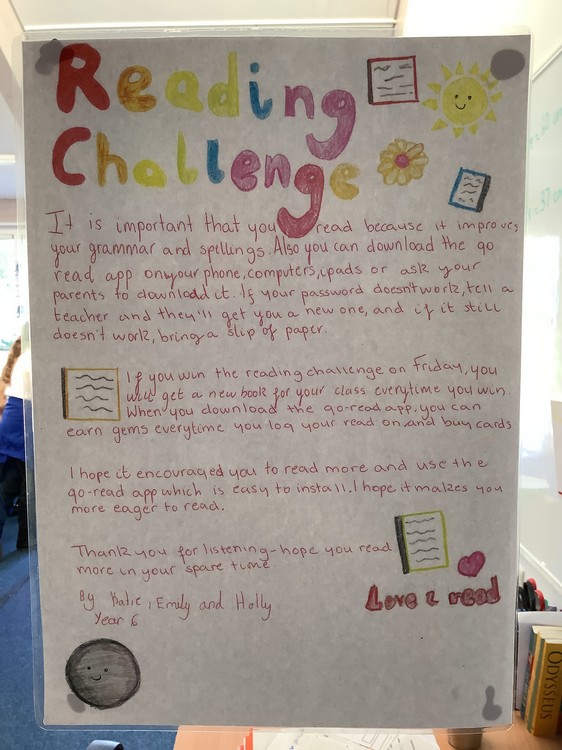 Well done to all of the pupils who have been successfully logging their home reading this term.
We Love Sharing Books
We share books with our friends.
Can I understand and use prepositions?
Juniper class learnt about prepositions using a catchy song! We then had to identify prepositions within sentences and explain what sort of preposition they are: Location, Time or movement. We may be coming home singing the song!
Y2 and Y6 Reading Collaboration
On Friday, Barley and Pumpkin classes had a wonderful time sharing their stories during reading collaboration.
F - I really liked reading my book with the Y6s because it had nice pictures in it.
E - It was fun to sit with another class and listen to them reading to me.
K - The Pumpkin Class reading corner is so cosy! I enjoyed helping the younger children sound of the words in their stories.
Story Writing
Year 1s and Reception children have been using their new story shelves to make stories and write their own books this week.
The Miraculous Journey of Edward Tulane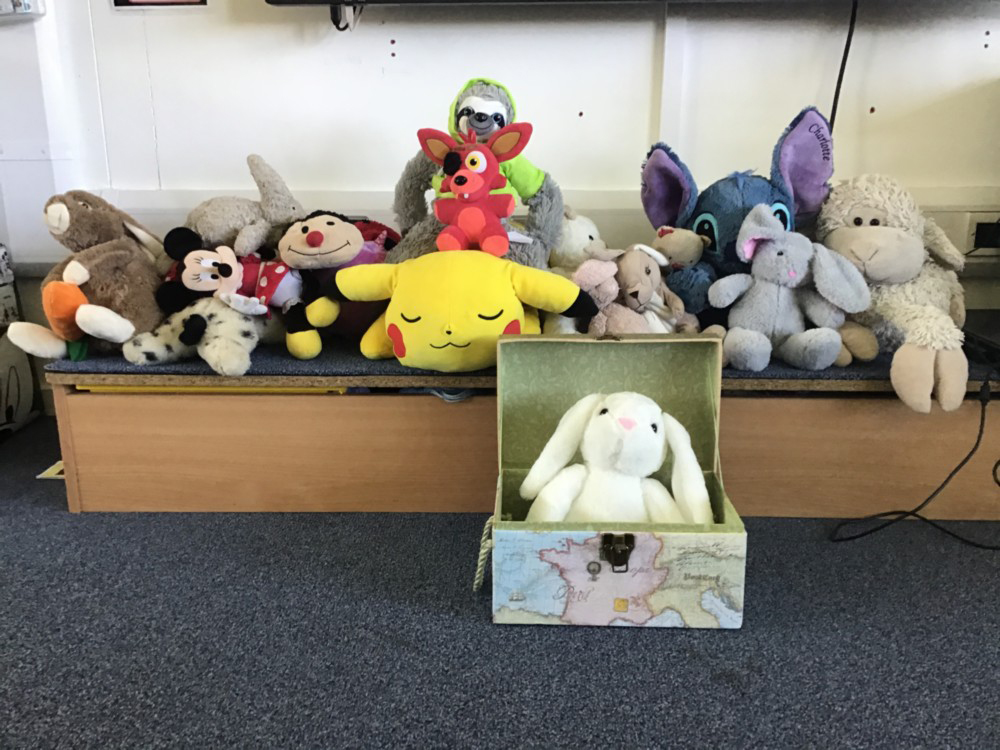 Miss Perrin showed us a treasure chest with a map over it an postcards from around the world, We were told it belonged to someone called Edward Tulane and we had to guess what he looked like..... and he's a toy bunny. We brought our favourite cuddlies from home and compared them to Edward. Edward looked pristine and white and is very condescending whereas our toys looked played with and extremely loved.
We wondered if Edward will look as pristine and immaculate by the end of his miraculous journey?
Collaborative Poetry
The children have been working collaborative poetry. First they listened to a documentary to hear some wonderful vocabulary then they worked in pairs to put their ideas together to create these marvellous poems. Here are a few examples of their work
It's always good to share a book!It's always good to share a book!
We decided to make the most of the sun and sit on the decking reading to a partner. It was lovely to just enjoy each other's company, the sun and a obviously a good book.
Can I participate in a piece of performance poetry?
As a part of our English & geography curriculum we are looking at the rainforest, the impacts of deforestation and the book 'The Great Kapok Tree'.
We looked at a poem called 'For Forest' written by Grace Nichols and we arranged our own performance of this with some children reciting the poem and others adding sound effects. We hope you enjoy it.
Can I be a vocabulary detective?
As a way of developing the vocabulary used within our writing the children became 'vocabulary detectives' today. We listened to a documentary about the rainforests and the children were given the task to take notes of any adventurous vocabulary used. After that we used dictionaries to look up the meaning of some of the fabulous words which were used. We gave the award of vocabulary detective of the week to the child who managed to find the most powerful vocabulary. Well done!
Poem Preparations in Vocabulary Week
In Pumpkin Class today we are preparing to write poems. We have read a story about seasons changing and how different the same place can look in the Winter and in the Summer. We have worked in pairs today to come up with some really good vocabulary to use in our poems. We can't wait to share them with you but for now here's our work in progress:
'beautiful, fluttering butterflies'; 'crisp frozen lake'; 'bright dazzling sun'; 'trees as still as statues'; 'bare and bony trees'; 'spiders spinning webs'; 'rabbits hopping playfully'.
Funky Fingers
In Pumpkin class we have all been giving our fingers a workout! Our new Funky Fingers activity case is great! The activities help to strengthen our finger muscles and to develop our fine motor skills. Take a look:
World Book Day
Sunflower and Seedlings Classes
We enjoyed dressing up as a story character and sharing our favourite books for World Book Day. Children also created their own puppet theatre and entered various competitions too. We celebrated the day with fun and a love for books, stories and laughter...
Pupil Voice:
Can I talk about why I enjoyed about World Book Day?
C.P. - "I brought my favourite book to school."
J.M and A.B. - "We liked it because we could dress up."
T.T. - "I enjoyed painting the theatre."
A.T. - "We had fun listening to 'What the Ladybird Heard' story and colouring the characters for the theatre."
H.F. "I made a story character with my toilet roll and showed the class."
The Year 1 children enjoyed making their own theatre and puppets. They loved telling the story 'What the Ladybird Heard' by Julia Donaldson.
'I loved the story because I love animals.'
'It's fun making puppets.'
'I didn't know you could make a theatre out of a cardboard box.'
'I liked telling the story and using all the puppets on sticks.'
'I would like to make my own theatre at home now.'
Seedlings Class
Seedlings class World Book Day toilet roll book character and postcard competition entries.
An amazing and creative array of characters and postcards. Congratulations and well done everyone.
Sunflower Class
The Sunflowers enjoyed dressing up as their favourite story characters today. Which ones can you recognise?
World Book Day Competition
Look at all these wonderful story book characters and postcards! The Sunflowers have all worked very hard. A big thank you to everyone who entered the competition.
Pumpkin Class
World Bood Day Competition Entries
Poppy Class
Children both at home and at school have been celebrating World Book Day. We have had lots of fun activities today like our toilet roll character competition, an 'Author and Illustrator' masterclass by Henry White and Humza Arshad and we have taken part in a design a book token & a David Walliams draw a book character competition. The children have been really excited to dress up as their favourite book characters, some of them even matched their toilet roll characters. Don't they look great?
World Book Day Toilet Roll Characters
Here is a presentation showing the entries from Poppy Class
Juniper Class
On World Book Day we all shared our favourite books and looked at the authors 'Jonny Duddle'. He wrote the 'Giganotosaurus' books and this relates to our topic this term. We all loved making dinosaur drawings and researching different facts about them and we also loved making our own dinosaurs up to fill our own 'Dino- Spot' book and having them named after our names.
World Book Day Competition Entries
Barley Class
Formal and Informal Language
Barley Year 6: Pupils have been learning about formal and informal language- we have been linking this with our English short film called The Lighthouse.
Have you read any of Marcus Sedgwick's stories? They're magnificent! He has a wonderful imagination and a superb writing skill that engages the reader - here is one of his most popular novels, each chapter read by Marcus himself!
I hope that you enjoy it; keep me updated with how you are finding the story!
Reading Reward
Poppy class have done really well with the reading challenges each week. There have been many weeks where our class has had the highest percentage of readers in the school!
Most of the class managed to pass the reading challenge and chose to play Bingo as their reward. It was a very exciting game with a lot of the children only needing a few numbers to win. Miss Perrin did get a little carried away with giving out prizes so there were many very happy players.
Commas
Barley class have been learning about the importance of commas within sentences and how, if commas are not used correctly, they can change the meaning of the sentence. We had great fun reading these!
Year 2 Continuous Provision Word Work
As part of their English learning, Year 2 children have been practising their spelling using letter tiles to make high scoring words. Can you spot the highest scoring word?
Reading Reward
Seedlings Class
We all enjoyed our reading reward today to celebrate the fantastic home reading we have achieved. Seedlings listened to the story 'The Gingerbread Man', decorated a gingerbread man and enjoyed a tasty ginger biscuit.
Sunflower Class
To celebrate their wonderful home reading, Sunflower Class enjoyed listening to the story of The Gingerbread Man, making a felt gingerbread man decoration and eating a ginger biscuit. Well done everyone for reading three times or more at home each week!
Pumpkin Class
Pumpkin class really enjoyed their reading celebration on Wednesday this week. We wanted to do craft activities so we made dragon bookmarks and tiny dragon pets. We loved using felt, sequins, glue and all things sticky! Here are some photos.
Juniper Class
Juniper class love reading. We really enjoyed our treat in the hub relaxing and sharing stories. The juice and biscuits were a yummy treat too.
Poppy Class
Today the children who have passed the reading reward challenge were allowed to have a little treat for their continuous reading at home. The children chose to play games.
First we played Bingo which got the children really excited, we had a drink & a biscuit and then we played 'Flap the fish' where the children raced fish across the finishing line.
We had lots of fun!!
Star Anise Class
Star Anise enjoyed juice and biscuits, while they made Halloween crafts and listened to their favourite music.
Barley Class
Barley Class enjoyed their Reading Challenge Reward yesterday, well done to all of the children that read three times a week - keep it up!
Can I create a freeze-frame to show my understanding of the text?
In 'The Street Child' Jim Jarvis and his family are living in a tiny room in the slums. Their mum is very sick and cannot work. Jim spends their last shilling on a pie so they can eat. The next morning their evil landlord arrives demanding his rent……. and the drama unfolds!
The Gigantic Turnip
The Year 1 and Foundation children had great fun acting out the story together. It was hard work pulling up that huge turnip! Mrs. Christie made a great mouse!
Underwater Poems
Green Bubble made their own poems about underwater creatures.
We are so proud of our work.
Building and Writing Words
As part of our work about under the sea, Green Bubble have been building words and using the words to label our pictures of the underwater world.
World Book Day
Seedlings Class
Seedlings had great fun on 'World Book Day' dressing up as their favourite story characters. There was The The Hungry Caterpillar Butterfly, The BFG, Alice in Wonderland, a Wolf and even a new teacher for the day called Miss. Poppins! Lots of paired reading took place too before joining together to share our costumes and announce the book in a box winners in assembly.
Sunflower Class
The Sunflowers enjoyed a great day of stories, book sharing and fun activities to celebrate this year's World Book Day.
O- I've had a nice book day because I love reading. My favourite book is 'Avengers.'
M- I love World Book Day because I like to see everyone dressed up. I was Dorothy from 'The Wizard of Oz.'
G- I like dressing up and my friend was the golden ticket from 'Charlie and the Chocolate Factory.'
M- I brought a book about Elsa and enjoyed learning about the story 'Little Red Riding Hood' with Mrs. Brady.
C- I made a 'Going on a Bear Hunt' map with children from other classes.
L-Miss Wilson read a story about elephants and we drew a cake.
Sunflowers did some wonderful home learning too and made some fantastic book in a box models.
KS1 Group Activities
KS2 Group Activities
Books in a box
Our favourite books
Today some of Seedlings and Pumpkin children worked together for the day with Mrs Smith.
Our whole day was about our favourite books. In Maths we made pictograms and tally charts showing the most popular book we've read this year.
In English we wrote about our favourite books and shared our fabulous reading together.
In art we read FUNNYBONES by Janet and Allen Ahlberg, then made skeletons out of many different pasta shapes.
What a great day we had!
Rainbow Fish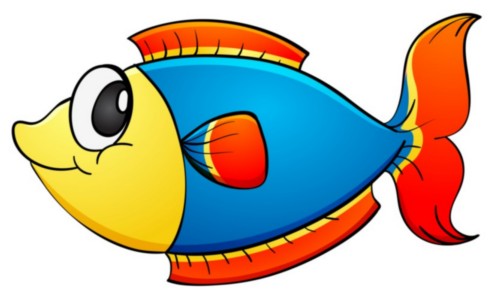 Rainbow Fish Vectors by Vecteezy
Our class story this term is 'Rainbow Fish' by Marcus Pfister. It is about a fish who doesn't want to share his shiny scales with the other fish. Here are some suggestions why we would recommend this book to others.
W.C – "This story is good to read because, when Rainbow Fish shares his scales at the end of the story it makes everyone feel happy."
MH – "Rainbow Fish went to the deep, dark cave to see the wise Octopus. Octopus helped Rainbow Fish to do the right thing."
E.E – "We lent about what happens when you don't share – you don't have friends."
C.M "Little blue fish asked nicely and said 'please'."
H.W "The shiny scales shimmer on the page in the book."
The 'Lady of the Lamp'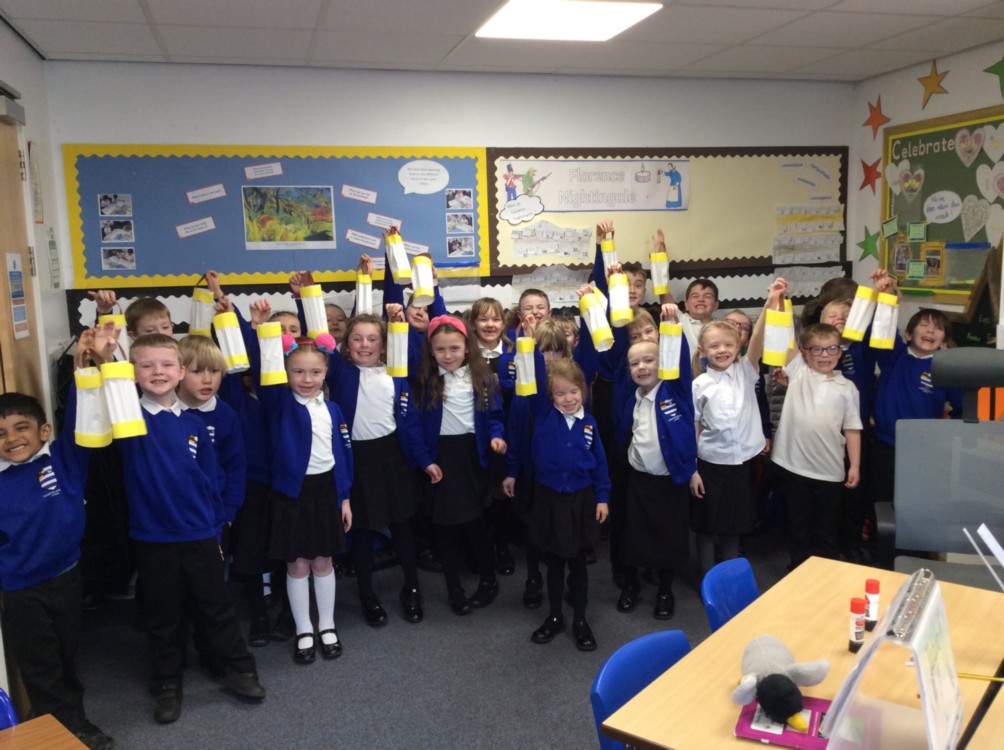 We have combined our learning skills this week to make Florence Nightingale's lamp.
In History we have learnt about the work Florence did in the past and how nursing changed because of her.
In Design Technology we have used skills to join materials to make her lamp.
In English we are writing diaries in character as Florence – watch out for these – we will be publishing them very soon.
Reading Reward Trip to Laceby Library
The Sunflowers really enjoyed their visit to Laceby Library.
W- We got to look at different books.
L- I liked exploring all the areas.
J- Mrs. Wink told us all about the library.
O- I found some books that were funny.
A- I was relaxing and reading at the same time.
M- The cakes and juice made it like a party.
J- I want to bring my mummy to see the library. Keep enjoying your reading and try to continue to read 3 times or more each week at home!
World Book Day 2020