English
Fred Talk
Many children have learnt lots of sounds and are beginning to learn how to use these sounds to read some simple words. Can you 'Fred Talk' and blend these words?
Can I evaluate texts and explain and share how these can be improved?
We looked at a variety of explanation texts and worked in small groups to evaluate these texts and explain and share how these could be improved using the key features we learnt in the previous lesson.
Can I use art to visualise a setting after reading?
Barley class read a short passage from their Power of Reading book, Skellig. They discussed what they could se and then sketched a picture to represent their visualisation using charcoals on white paper. They then describe the picture.
This Week's Library Visit
We read aloud to each other and chatted about our books and life experiences.
We enjoyed our visit to the library and we shall definitely visit again.
We Love to Read!
Barley class love to read and have recently bought new class reading books to enjoy reading even further! From Alex Rider to C S Lewis, fiction to non- fiction... we can't wait to read them all!!
Eels
In English today we worked in small groups imagining if we were Eels on Eels Island. We considered the following questions; What rules will they need? How will they organise themselves, or distribute food? We designed a list of rules for life on Eels Island. This work is linked to our Power of Reading book' FLOODLAND' by Marcus Sedgwick.
Our Library Adventure
We were very excited to go to the library.
Reading fun.
We even stamped our own books.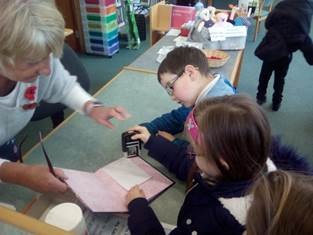 We enjoyed our lunchtime library adventure and are looking forward to returning next week.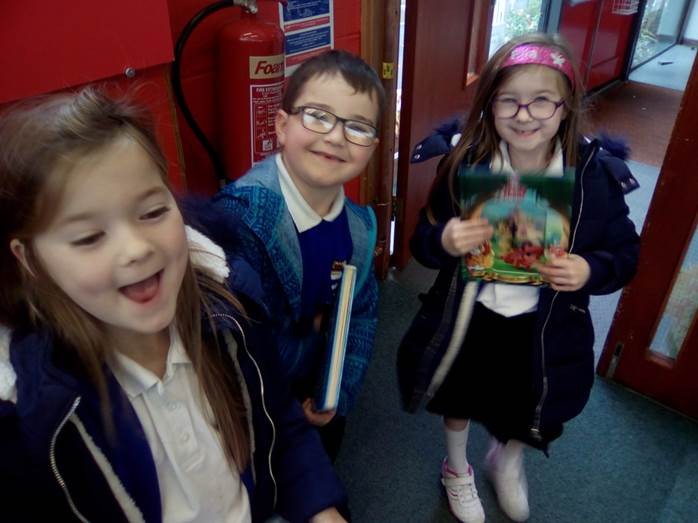 Reading Club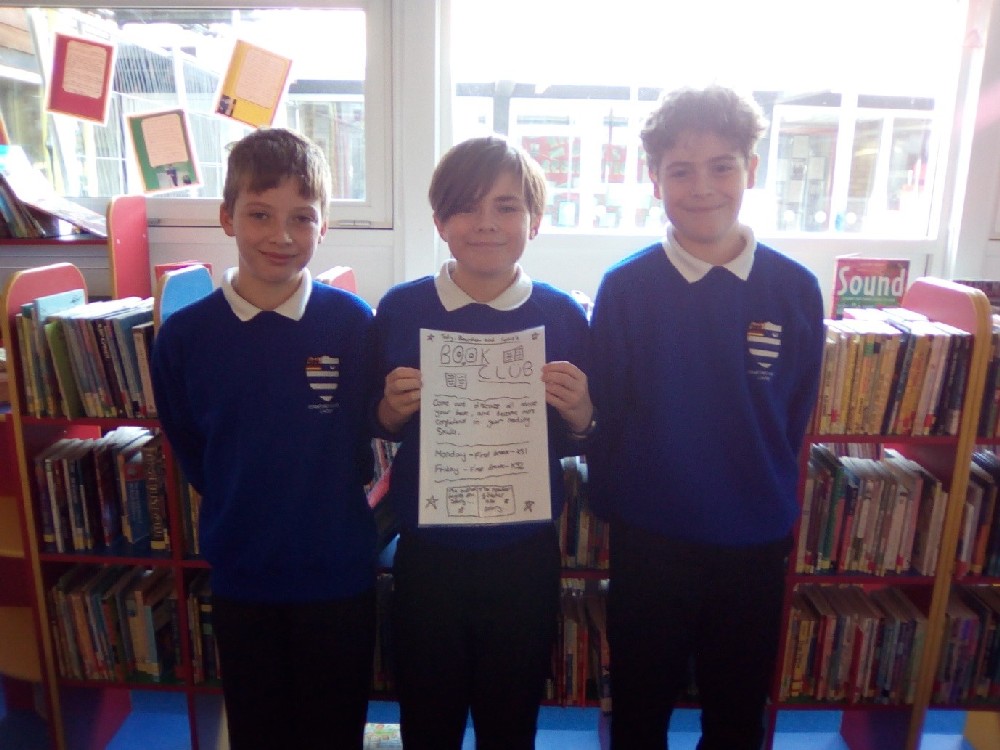 These three inspirational boys have decided to run their own reading club, twice a week during playtimes. They started by advertising their club using some very informative posters. Louis said, "We love reading and we want to motivate other children to read more."
Toby added, "We are hoping to help some of the younger children improve their reading by helping them to read more regularly."
Brandon continued, "We hope to encourage people who don't read as much to want to read more. Simply because we love to do it, we hope that they will too."
Can you use sound buttons?
In Year 1 we use sound buttons to help us see the letter sounds in words. This really helps us to read, write and spell words.
Reading Collaboration
Barley, Star Anise and Poppy Class joined together this afternoon for their reading collaboration. Pupils from Barley visited Poppy, Pupils from Poppy visited Star Anise and pupils from Star Anise visited Barley. We worked as reading buddies to inspire others and improve our reading skills but most of all because we simply love to read.
Summer Reading Challenge
Thank you Mrs Wink for leading the Summer Reading Challenge – so many pupils have impressed you with their holiday reading! The pupils received a certificate of congratulations and Juniper class received a set of books – they were the class who had the most reads. Mrs Wink says 1750 books have been read by Stanford pupils over summer from the Stanford Library - wow! Children at Stanford have a great love of reading and we are so proud of them. Well done.
Can I take place in a class debate?
Using our Critical Thinking Learning Powers
We have been reading the book 'The Egyptian Cinderella'. In this story the girl never meets the Pharaoh but because he gets her slipper from the Gods he decides he will marry her. He turns up and tells her she will be his wife and the story ends.
First we looked at various statements about the ending and tried to think about whether they would make the girl happy or not e.g. She will marry the pharaoh and live in a palace. We then thought about the statements and wondered if they would really make her happy - she might not like the pharaoh and she was never asked if she wanted to marry him. We realised that there were positives and negatives to a lot of the statements and it wasn't as straight forward as we originally thought.
We then split into 2 teams and discussed about whether the main character would actually be happy at the end and whether all fairy stories have a happy ending.
Reading Collaboration
Barley and Poppy class pupils came together to share their love for reading! They discussed their favourite books and characters as well as reading together.
Letters to St James Rotary
Sunflower class wrote formal letters to St James Rotary for support with our Friendship Art project. The Rotary Club donated £100 to the school during our Sunflower Class assembly. Many thanks to Mrs Vaughan and President, Mr Duckworth, for attending and for the generous donation.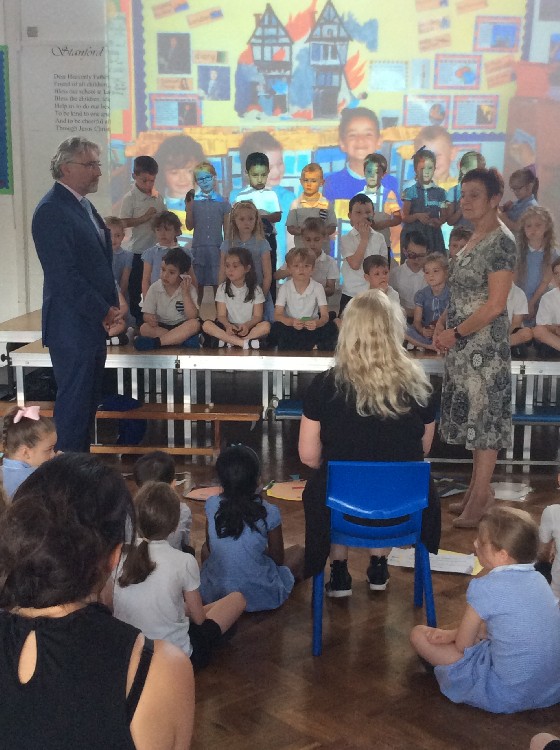 Can we write formal persuasive letters?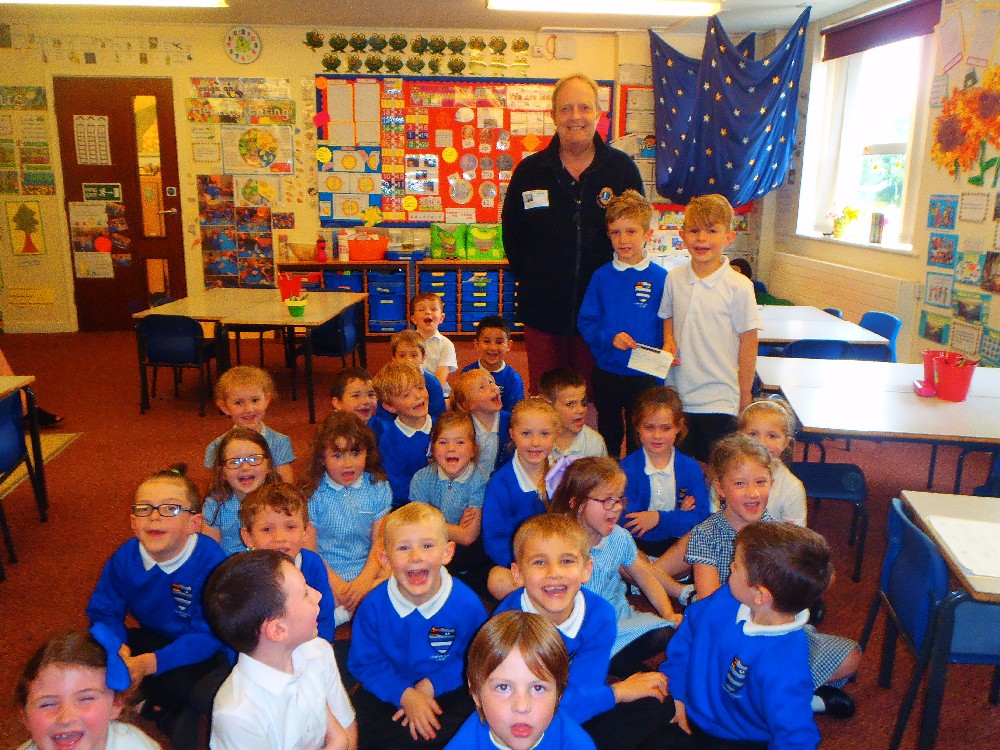 Sunflower Class have been writing letters to Caistor Lions and the St. James Rotary Club asking for donations towards an exciting Art project.
Finley- We will be making a special friendship wall in the playground.
Oscar- We will be working with Zoe the artist again.
Cerys- It will make the playground nicer and there will be a place for us to stop and make friends. Elissa- The children will paint designs with Zoe.
Today Mr. Kemp from The Caistor Lions visited Sunflower Class and kindly presented a cheque for £480. Mrs. Brady would like to thank Caistor Lions for this very generous donation and would also like to congratulate the children for writing such wonderful letters. Mr. Kemp is looking forward to returning to school to see the finished project.
Reading Challenge
In Star Anise we have had Reading Generals patrolling the classroom during the mornings and supporting their individual teams in their reading – well done generals. Many different children have taken on the role of General for a week.
Week One we won with 91.6%; Week Two we won with % 90.7%; and Week Three we got the hat trick and won for a third time with 91.6%. Congratulations to all our readers, all the support from home and Thank You to our Generals.
The Victorian Workhouse
We researched information about the workhouse. We wondered what the food tasted like so we sampled some gruel and broth. Also we shared an extract from "Street Child" which described Jim Jarvis being sent to the workhouse and the conditions there. These are helping to inspire us to create diary entries that describe a day in the life of a child in the Workhouse.
Sunflower class use their environment to inspire their learning
LQ: Can I revise key Grammar terms?
Barley class worked together to revise key Grammar terms. We did this in a variety of ways. First we had a Grammar treasure hunt, in small groups, to find and answer key questions. We were timed which made it fun! The other activity we completed was identifying the grammar terms within a given paragraph. Pupils worked in small teams to identify these using a variety of colours and keys.
Writing Skills
Take a look at the wonderful Flashback writing display that has been created by Barley Class! All their wonderful writing skills are on display to showcase the fantastic, high quality writing in Year 6!
Reading
As part of our reading focus this term not only have we been challenged to read at least three times but we wanted to find out about reading from adults in our community. We asked Reverend Stevens and Mel Robson from our local Family Hub. Here are their responses.
Sunflower Class interviewed their Reading Champion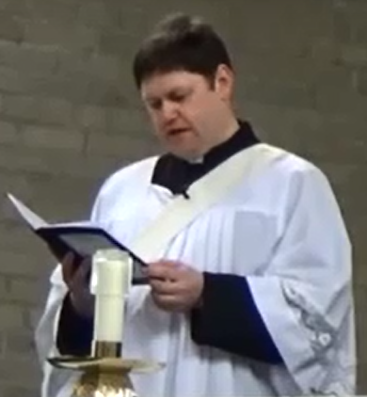 They emailed their questions to Mr. Callan. Mr. Callan is a Secondary School Science Teacher, a Church Minister and a Musician.
When you were five, what stories did you like?
I liked Mr. Men. My favourites were Mr. Bump and Mr. Uppity. Also Mr. Snow, he was nice because he reminded me of Christmas.
What kind of things do you read when you are at school?
I read Science books at school, children's work and information on the internet.
Can you read music notes?
Yes, I can play a church organ. I began learning when I was seven. I also sang in a Cathedral choir.
Do you enjoy reading?
Yes, I like to read the news and know what's going on in the world every day. I have two little nephews and I love to read bedtime stories to them.
Do you get much time to look at books?
Yes, particularly when I'm on holiday and then I have time to relax and enjoy a good book.
How did you learn to read?
I had reading books and I read every night to my parents.
Are you a good reader?
I have to be a good reader to be a teacher. I spend evenings marking school books and reading all the children's work. When I'm in church I have to be able to read tricky words in the Bible.
What do you read when you are in church?
I read the New Testament in the Bible. I read the Gospel's of Matthew, Mark, Luke and John. They tell you all about Jesus and how he helped people.
World Book Day
Seedlings Class
Seedlings had great fun on 'World Book Day' dressing up as their favourite story characters. There was Batman and Harry Potter, Little Red Riding Hood the Singing Mermaid and even a new teacher for the day called Miss. Poppins! Lots of paired reading took place, before joining together to learn a new song and share our costumes in assembly.
Sunflowers celebrate World Book Day 2017
Today it was fabulous to see that all the children had taken on a character from one of their favourite books. The children introduced their character to the rest of the class. Their costumes were amazing as were the props and accessories that they had. Each child brought their book in and we shared the stories. They could all tell everyone about their favourite thing their character did in the book.
What an exciting day we've had.
Poppy Class: Wonderful World Book Day
All of the children and staff enjoyed themselves thoroughly on World Book Day.
Do you recognise any of the characters?
Poppy class would like to thank their families for their support and hard work creating these outstanding costumes. Miss Whiting and Miss Peck were simply overwhelmed!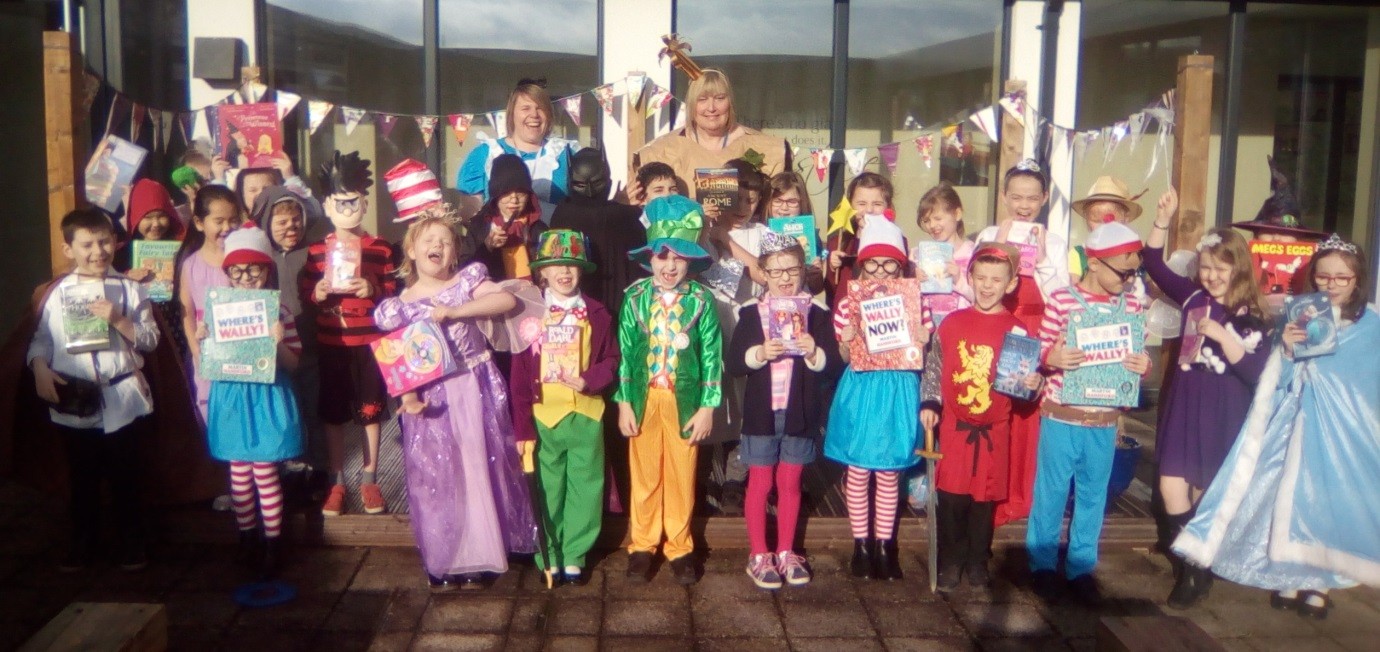 The whole class used their design technology skills to create some magnificent design sheets that explained how their costumes were created. Miss Whiting covered up all of the names and then gave Miss Peck the tricky task of choosing four winners. Miss Peck really struggled as all of the competition entries were exceptional.
We created book marks for our friends.
Has anyone spotted Wenda?
Poppy Class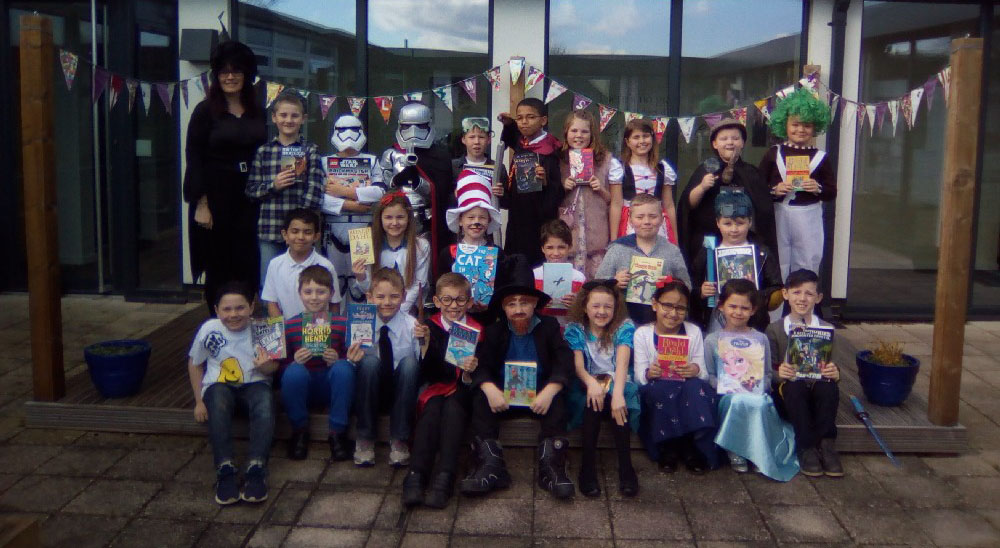 Star Anise class had a wonderful World Book Day on the 2nd March. We all came dressed as a character from our favourite book.
Our four winners of the character study writing competition are Mia , Abigail , Thomas and Isobel. Well done everyone who took part.
Mustard Class
We have enjoyed taking part in World book day. The costumes were fantastic with all the class getting into their character's role. We have shared our favourite books and characters and really enjoyed the day.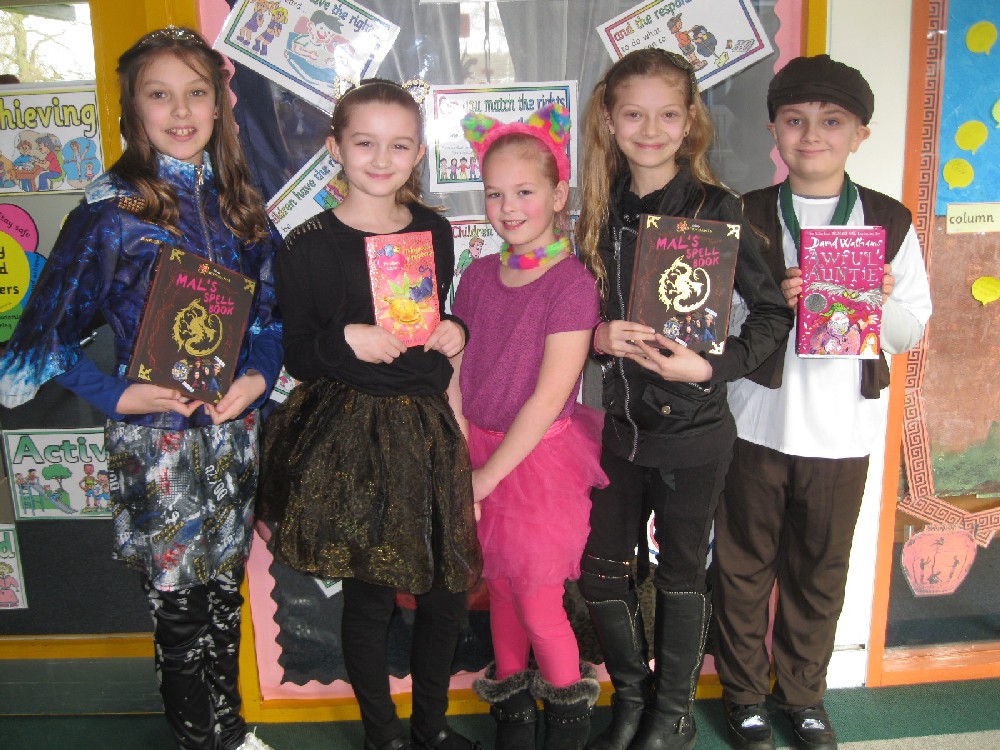 Harry Potter Evening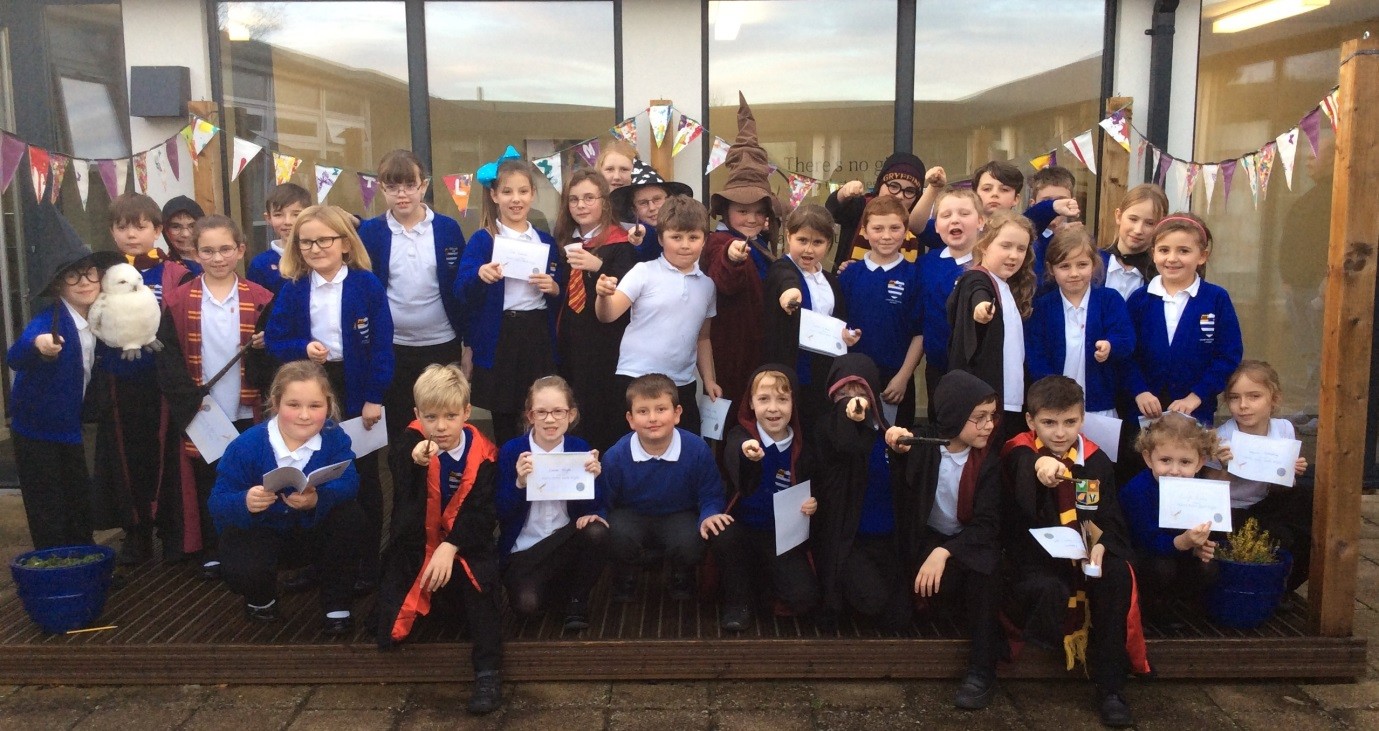 The sorting hat started the fun.
Reading by candlelight was quite magical.
Home Readers
Star Anises home readers for last week, we managed to achieve 88%. Lets see if we can achieve even better results this week.
Amazing Readers!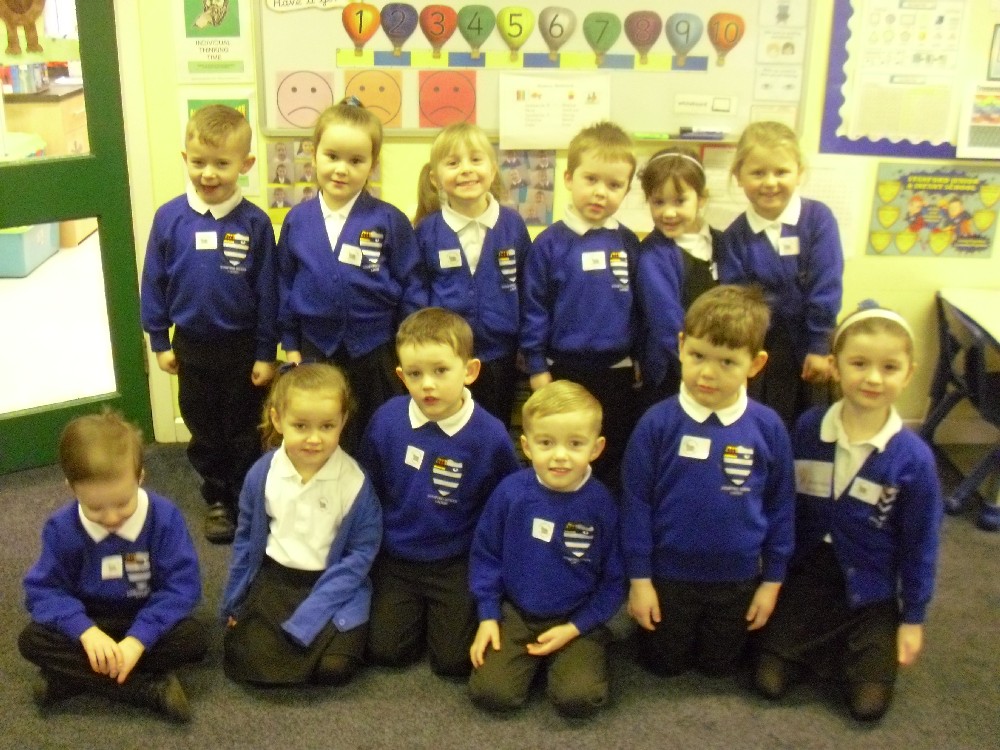 Well done to the Seedlings children who have read at least three times or more this week. They are very proud of their reading sticker. Keep up the amazing reading!!
Virginia McLean 17 January
Visiting author Virginia McLean shared her book 'Journey to the Beginning of the World' with Mustard and Barley. The pupils developed their deeper thinking skills and posed thoughtful philosophical questions. Many thanks to Virginia for visiting our school. Many pupils enjoyed receiving signed copies!
Roald Dahl Reading Challenge
Retelling Stories
This term Seedlings and Sunflower classes have joined together to share some traditional stories with each other. Children explored the characters in the 'Three Little Pigs', 'The Enormous Turnip' and 'Hansel and Gretel' and acted out their favourite part. Finally, we chose one story to retell to our partner.
"I like the scary stories. I liked it when the lady put the boy in the cage." Taylor (F)
"The bricks were too strong for the wolf to blow down." Lacey (Y1)
"I thought the stories had a good ending because the bad character got caught!" Finlay (Y1)
"It was nice to make new friends with children from Sunflower Class." Neve (F)
"We could share our ideas with each other which made the story better." Awis (Y1)
"I liked acting out the stories and being a 'scary' wolf. I blew the houses down!" Oliver. R (F)