English
Sharing Stories
Also there are two excellent videos for parents about the benefits of sharing stories with children on the World Book Day website: World Book Day Share a Story
Can I share my opinions about a text?
Juniper and Pumpkin class reading collaboration this week was all about sharing their opinions of their books. Not only did children read some of their books to their collaboration partner but they also spoke about their views of the text; the characters; their choice of book; and author.
Children were also asked about their thoughts on the reading collaboration this term. These were comments shared:
"I think it's great to share stories with each other."
"I like getting to know the children in Year 2."
"I think it's a good idea to listen to others read and share our thoughts."
"I look forward to Friday's collaboration time because we can enjoy reading."
Community Thank You Coffee Morning
Well done to all the pupils for their performances at our 'Community Thank You Coffee Morning.' We are so grateful for the help and support we receive from this wonderful group of volunteers who help the school in so many different ways. The nurture group pupils helped make delicious scones for the cream teas and all classes performed - they shared songs a wonderful range of poems and songs. The pupils showed super performance skills and spoke with confidence and clarity. Thank you to all the staff who helped with the refreshments and organisation - it was a really lovely community event.
One visitor said, 'Fabulous morning! Such a wide range of skills demonstrated with such enthusiasm.'
LQ: Can I listen to stories and select a book from Stanford library?
This term we have been visiting the Stanford library and listening to stories read by Mrs Wink, the librarian. Mrs Wink talked to us about what happens at a library, before we then went to look for a book we would like to take home and share with a grown up.
LQ: Can I enjoy taking part in stories outdoors?
It was a cold day so we wrapped up warm, took our woodland maps we had drawn and set off to the nature area for our teddy bears picnic. We sang songs and ate teddy bear biscuits. We took care of our teddy bears and made sure they had a little bite to eat too!
Next we acted out the story 'Were going on a bear hunt' and squelched through the mud!
Finally, we journeyed back to the classroom with our tired little teddy bears….
Can I show my understanding of the text through a freeze frame?
We have started to read 'Ice Palace' by Robert Swindells. The blog has told us that in the dark during the winter Starjik takes a child from the village. The children listened to the blog and the introduction and were given the task to think about how the villagers might look and feel in the summer months and how this would change in the winter. They had to use their bodies and expressions to show the difference.
LQ: Can I enjoy reading and listening to stories with others?
Seedlings and Sunflowers are joining together on Friday mornings to read to each other. Children will talk about the types of characters within the story and suggesting other possible endings too.
Pupil Voice:
WV: The Seedlings like to listen to us read.
DI: It gives me practice to get better at my own reading.
JM: My reading book makes me laugh.
EE: I can't wait to share my new book next time.
EA: I liked look at the pictures. The story was funny.
AV: I like stories
Congratulations
Congratulations to all our pupils who achieved last term's reading challenge.
Today they all enjoyed their reading reward which was a visit to Stanford Library where they enjoyed stories, discussions, sharing books with friends and 'afternoon tea'.
Well done to all! I was extremely proud of their behaviour, good manners and enthusiasm on the trip. Let's hope the next Reading Challenge is just as successful. Good luck everyone.
Reading Collaboration
Barley, Star Anise and Poppy are collaborating together each Friday morning to share their reading books. We will be listening to each other read, sharing what we enjoy about the stories and also discussing key vocabulary and themes within the different stories.
Year 2/3 reading collaboration
Juniper class used the story plan created with our visiting author Pippa Goodhart to write our own stories. We edited our drafts and then presented our finished versions in little story books along with illustrations.
This morning Juniper class were proud to share their stories with Pumpkin class.
LQ: Can I listen to the musical performance 'Giraffes Can't Dance'?
We thoroughly enjoyed the story 'Giraffes Can't Dance' performed through music by MAPAS. There were lots of actions and we learnt all about the different types of musical instruments including 'percussion' and 'string' instruments.
Pupil Voice
R.M "The shakers were a percussion instrument."
O.B "I liked the big taiko drums."
E.S "I liked the giraffe song when he learnt to dance."
S.C "I was chosen to play a percussion apple, I had to shake it in time with the music."
J.M "A bow is made from a horse's tail!."
Meeting an author!
Seedlings Class
Seedlings class were very excited to welcome the author Pippa Goodheart. Pippa talked about what the author and illustrator do. She shared some of her books with the class including 'Nelly paints a monster' and 'You Choose'.
Pupil Voice:
M.H "I liked the monsters!."
C.M "It was nice to see Pippa Goodheart. I liked her book You Choose!"
W.C "I liked seeing what was under the flap!"
Sunflower Class
The Sunflowers met Pippa Goodhart and enjoyed a really exciting story time.
They had the opportunity to ask her lots of questions. This is what they found out:
Pippa has been writing children's books for over 25 years!
She has written a total of 120 books so far!
She became interested in children's books when she worked in a bookshop.
Pippa told us how her books were made in a factory and how she works with different illustrators.
We really enjoyed her catalogue style book called 'You Choose.'
Poppy Class
We were very lucky to have a visit from a published author called Pippa Goodhart.
Pippa spoke about her childhood, she didn't find writing easy and her spelling was (in her words) atrocious. Pippa spoke about how she became inspired to be a writer when she was telling stories to her children and her husband encouraged her to send her ideas to a publisher. She has now written approx. 123 books under her own name and under her 'author' name of Laura Owen. One of the series of books she is most famous for is about Winnie the Witch and her cat Wibur.
The children loved listening to her story and how she comes up with inspiration for her writing by looking at normal items and situations and asking herself "What if…….?"
"What if …..I was so small I could fit in a pocket?"
"What if …..I was as tall as a mountain?"
The children had lots of fun coming up with ideas for her "What if……?" game.
The children then worked together to make their own story map for an adventure for Winnie the Witch. It was lovely having Pippa in the classroom and I am sure she has inspired many children to image & write today.
Juniper Class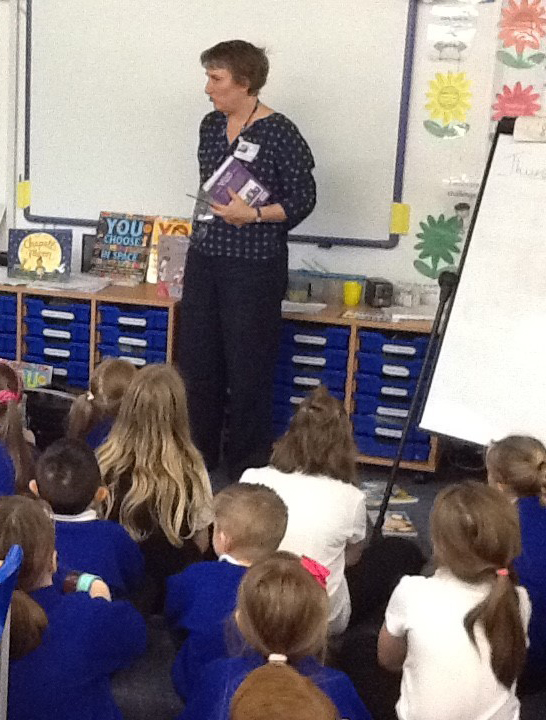 We were really excited to work with a real author today.  Pippa shared a few of her stories with us.   We worked with her to plan our own Winnie the Witch story.  After this we used the ideas we created together to make our own story maps.   Next we are going to use these to write our stories.
When Pippa visited us we got to ask her a range of questions about her writing.  We found out she has been writing for 25 years.  She has had 120 books published.  In her house she has a room filled with books and a lovely rocking chair to sit on and read them.
In the afternoon we shared our story plans with Year 2.  We can't wait to read them our finished stories.
Key Stage 1 Reading Breakfast
Sunflower Class
The Sunflowers invited their parents and grandparents in to school for a special reading breakfast. They enjoyed reading together and tucking into some lovely breakfast snacks. Some children selected books from the class book corner, some children decided to read their reading book and other children brought their favourite books in to share. We had some lovely feedback too:
'Very enjoyable. I have really enjoyed this morning and look forward to another. Thank you.'
'Fabulous. It was lovely seeing all the children excited about reading and I think everyone enjoyed all the yummy treats. Well done to all the staff.
''Very much enjoyed coming to read with my daughter and see her new classroom. Her reading has come on in leaps and bounds. Thank you for the snacks!'
Pumpkin Class
Pumpkin class invited parents, carers and other adults into the classroom on Thursday for a special reading event.
As well as reading some of our favourite stories we shared some breakfast treats and juice. Lots of adults came and read with us, we shared picture books, chapter books and information books. Thank you to all who came.
Can I create a play script from a piece of text?
In 'The Street Child' Jim has been told that his sisters have gone to a big house to live a fairy-tale life. The children discussed whether this was actually the case and whether they had a different fate. The children were set the task to create a play-script to explain what they believe actually happened. This was a difficult task as the children had to work in a large group collaboratively, ensuring that all ideas were listened to and that each person played a part in creating the script.
Can I create a freeze frame to depict a scene from a piece of text?
In Poppy class we are reading 'The Street Child' by Berlie Doherty. Jim (the street child) and his family are living in a room and their mother is sick and is near to death. Their landlord arrives to collect his rent but he is furious when he realises that have spent their last shilling on food. He is so angry that he tells the family to leave immediately. It is snowy outside and they have nowhere to go. What will they do and how will they survive?
After each group depicted their scene the class talked about how the groups had effectively shown their emotions through their bodies alone.
Can I create and perform a group poem?
The children are studying 'Escape from Pompeii' where the people of Pompeii were so used to earthquakes they used to sing rhymes about them before they knew how much danger they were in.
The children used a thesaurus to find different synonyms for the word shake. They then used these words to create their own poems in the style of the book.
Each child within the group had to give their own ideas to produce their collaborative work.
Can I improve my spelling?
The Sunflowers are enjoying practising their spelling patterns outside.
FM- It was really good fun to write with chalk.
SS- It was unusual because we used pink chalk.
PB- There's loads of space on the playground to write loads of real and alien words.
CR- It helped me practise my spelling.
Reading Collaboration: Year 1 and Seedlings Can I enjoy reading with a partner?
Every week, the children have enjoyed sharing books and reading with a new friend.
OB- I like it because I get to make new friends in Seedlings.
JM- I like to see what the Year 1's are reading.
HN- It helps me practice my reading.
CP- It's good to join the classes together.
HM- I like doing it: it's fun.
EH- I like helping other people learn to read.
Reading Collaboration
Year 4 and Year 2 have been enjoying some reading collaboration work this term.
LQ: Can I read and listen to stories?
Working collaboratively, children from Year 6 and Seedlings class joined together to develop reading and build social skills.
Reading Collaboration
At Stanford we promote a love for reading! Year 5 have teamed up with Year 6 and Year 3 recently to listen to each other read and discuss our favourite books.
We also shared our class novel 'The 1,000 Year Old Boy' and as a class discussed what we predict might happen next...