English
At Stanford we believe that English skills are central to the development of all learning.
Mastery over language empowers children to communicate (both verbally and in the written form) effectively and creatively, allowing them engagement with the world at large. The ability to read widely, think critically, and communicate effectively are essential skills that underpin all learning.
Secure literacy skills give pupils the opportunity to contribute to the development of a successful life, where they can appreciate, enjoy, understand, evaluate, discuss and make informed choices and decisions.
We are passionate about promoting the love of language through the spoken and written word encouraging pupils by creating a stimulating learning environment within which all students can learn to read widely, think critically, and communicate effectively. We aim to provide engaging real life learning opportunities to practice their skills and real contexts for learning.
Phonics
What is phonics?
There has been a huge shift in the past few year in how we teach reading in UK schools. This is having a big impact and helping many children learn to read and spell.
Phonics is recommended as the first strategy that children should be taught in helping them learn to read.
Children are taught to read by breaking down words into separate sounds or 'phonemes'. They are then taught how to blend these sounds together to read the whole word.
In Foundation and Key Stage 1 we teach phonics using the "Read Write Inc programme". Read our Parents Guide to find out more.
Useful websites
This is an award-winning free website packed with expert advice, top tips, eBooks and activities to help you support your child's reading and maths at home.
The free area of the PhonicsPlay website is filled with free interactive games, phonics planning, assessment ideas and printable resources. There is lots of advice to support parents in helping their children learn to read.
This BBC Schools website has Phonics games and printable resources to boost reading of high frequency words and practise your sounds.
The CBeebies ALPHABLOCKS has a great site where your children can play games and watch short video clips - all with phonics as the focus.
World Book Day
Year 6 had a wonderful World Book Day, dressing up as their favourite literary characters and designing spoons for a competition.
Children in Key Stage 2 took part in several activities across the different classrooms. In Barley class, the activity was focused on 'Fantastic Beasts', where the children created their own beasts and wrote descriptions about them.
LQ: Can I listen to others about the role of a librarian?
Seedlings children visited Stanford Library to learn about the role of a librarian and the parts of a book such as the title, author, illustrator and blurb. We listened to a story read by Mrs Wink and then borrowed some books to take back to our class. Of course we had to scan the books and stamp them with the date on which to return the book first!
Thank you to Mrs Wink and Mrs Brumfield our librarians.
Can you visit the library this Tuesday or Thursday?
Community Thank You/ Author of the Term
This term the school are focusing on the work of Michael Rosen, a fantastically, funny poet. Each Class was asked to recite a poem at the 'Community Thank You' afternoon, where we take the opportunity to thank members of the community who help out at the school in various ways.
Poppy class chose a poem called 'Fast Food', Everyone was impressed with how we had remembered such a long poem.
We hope you enjoy it!!
Visit from Matt Goodfellow, an inspirational poet
We were really lucky to have a poet come to school to share his work.
He spoke to us about why he decided to be a poet and where he gets his inspiration from. He was really funny and we had a lot of fun joining in. After that he went into the classrooms and helped us to write poems.
---
Can I interpret a piece of text through an image?
The children listened to a piece of text and thought about the words which painted images in their minds. They read the text and highlighted descriptive phrases and then used these phrases to create a picture of a volcano with one half erupting and the other showing the aftermath. They then annotated their drawings with the phrases that had inspired them.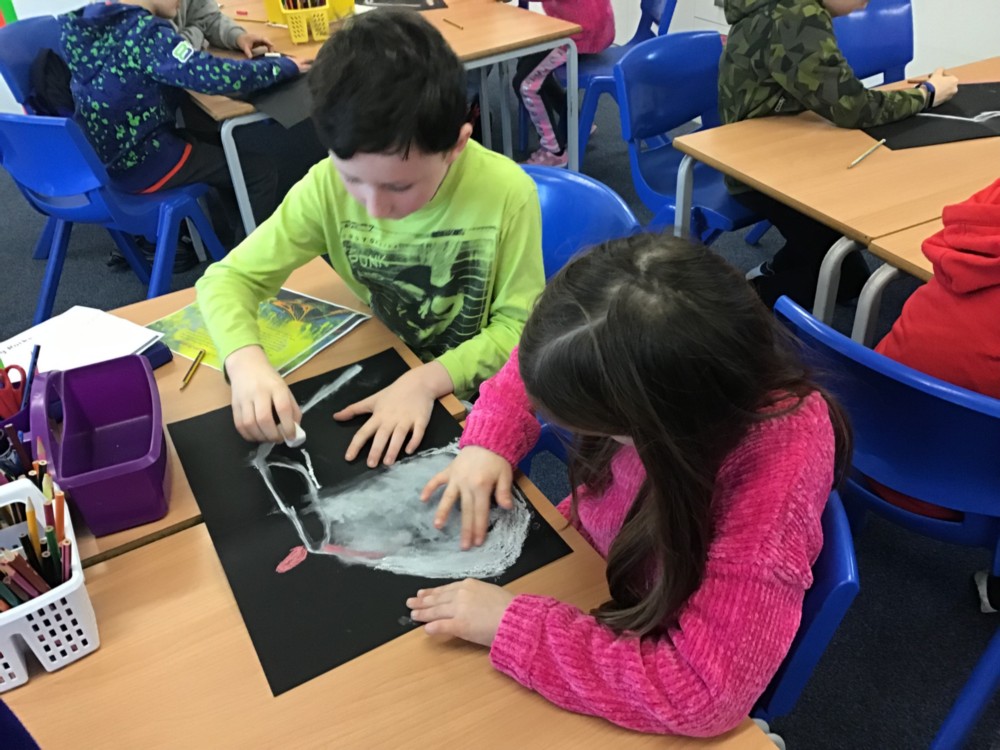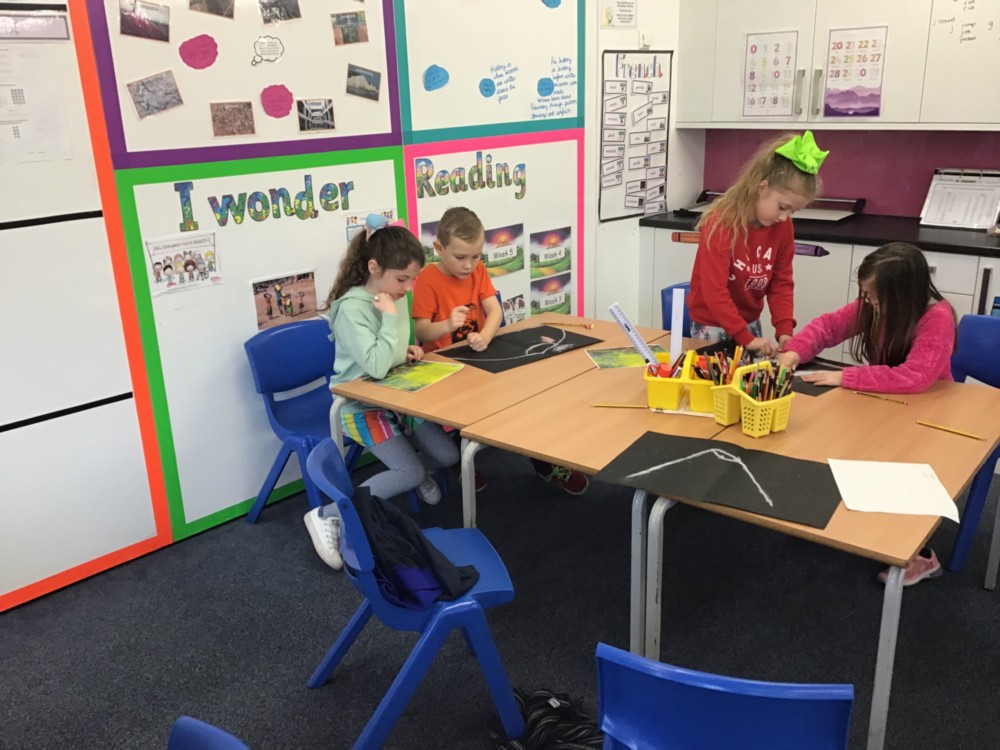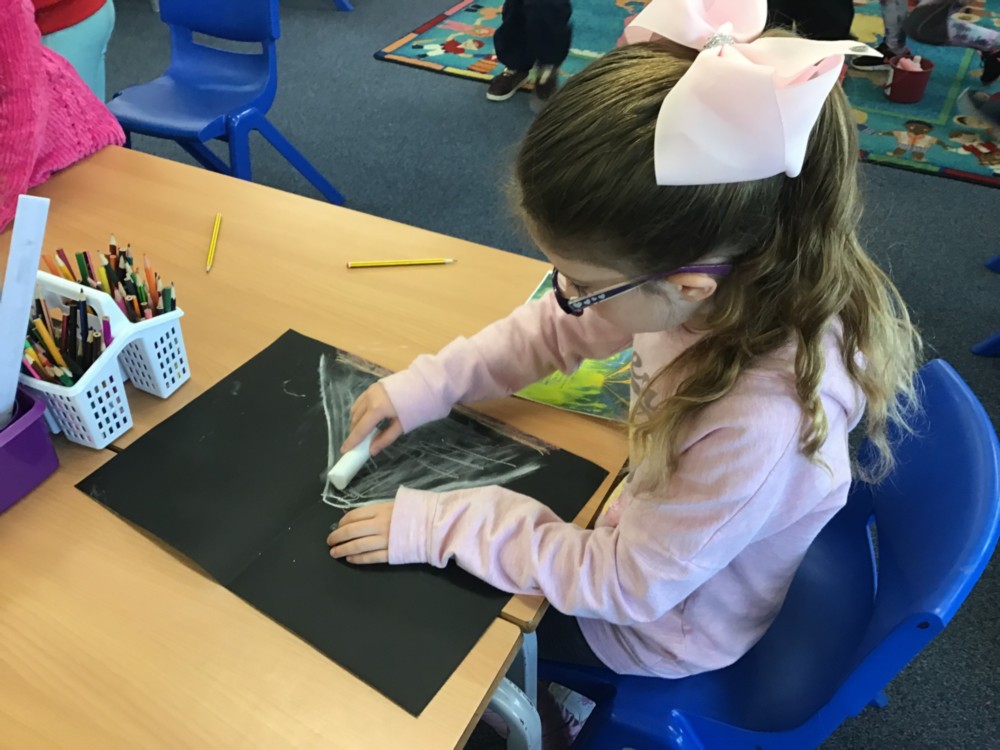 Can I develop pleasure in learning rhymes and poems, and begin to recite some by heart?
The Sunflowers enjoyed meeting the author Matt Goodfellow today who shared his love for writing poetry with the children.
OL: The poems were so funny.
EH: Matt showed us actions and we joined in.
OB: Matt moved in funny ways. He changed his voice to a deep voice, a whisper and a funny voice.
LA: He told funny stories about his family.
CR: My favourite poem was The Zany Zoo!
Matt worked with the class and together they wrote this wonderful poem:
We Play Outside by Sunflower Class
We are superheroes
When we play outside
We climb on the trim trail
When we play outside
We gallop like horses
When we play outside
We spin all around
When we play outside
We're dinosaur babies
When we play outside
When We Play Outside!
L.Q: Can I 'Fred Talk' and blend these words?
Children have learnt lots of sounds and are beginning to learn how to use these sounds to read some simple words.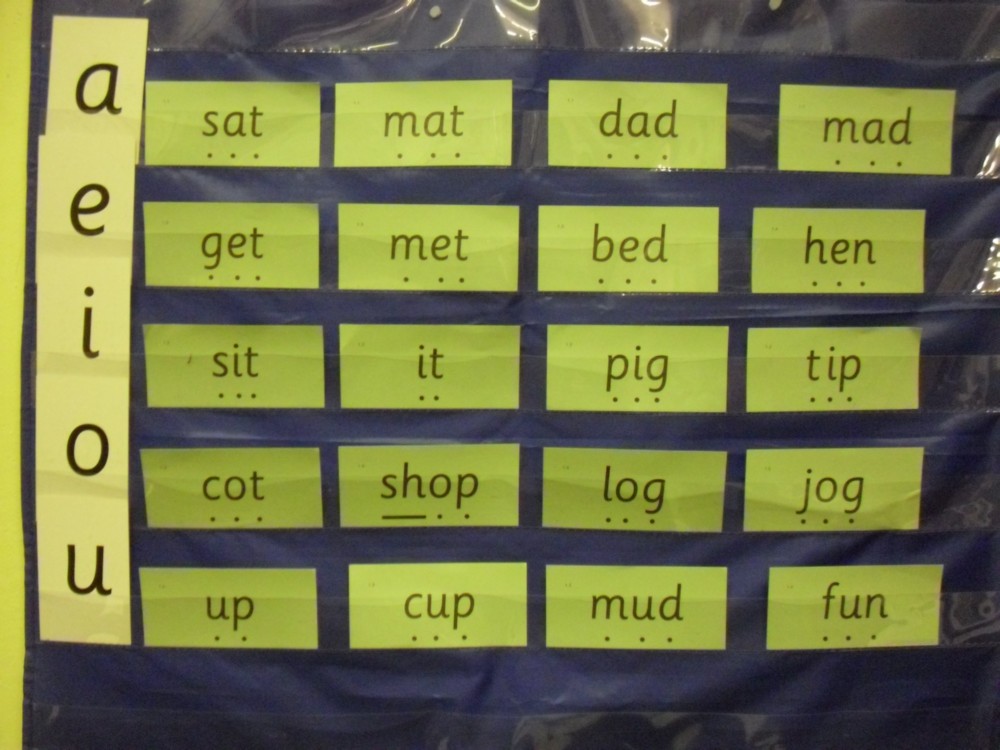 Can we write a class poem?
The Sunflowers have been enjoying reading lots of stories from Africa this term. They have learnt lots of interesting facts about the different kinds of animals that live on the Savannah.
They are currently enjoying a new story called 'One Day On Our Blue Planet... In The Savannah' by Ella Bailey and it was this story that inspired them to write this special whole class poem called 'Daytime in the Savannah.'
Well done to everyone for sharing their thoughts and ideas. Well done to E for writing the poem beautifully and well done to T for performing the poem so well!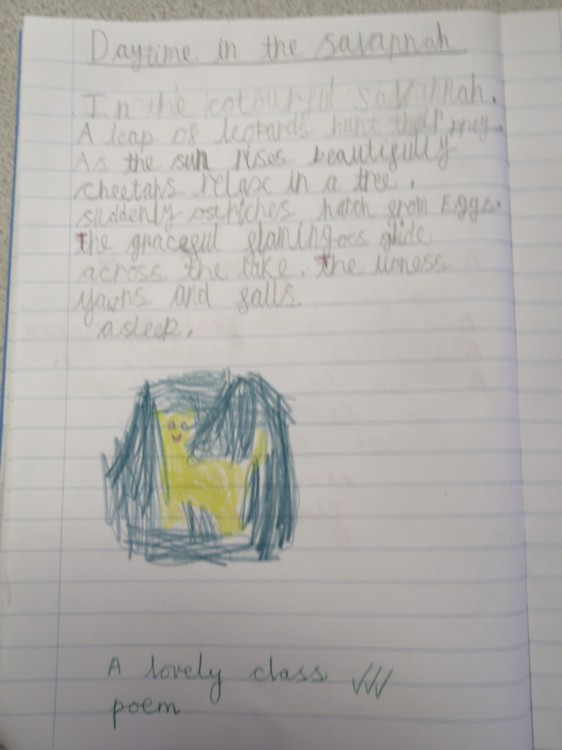 LQ: Can I work together to share traditional stories?
This term Seedlings and Sunflower classes have joined together to share some traditional stories with each other. Children explored the characters in the 'Three Little Pigs', 'The Enormous Turnip', 'Little Red Riding Hood' and 'The Little Red Hen'. Children acted out their favourite part and thought about the moral in each story. Finally, we chose one story to retell to our partner.
"If Little Red Hen shares the bread, then the other animals might help to make it next time." C.J (Y1)
"I liked Little Red Riding Hood when she visited grandma. I like visiting my grandma." B.A (F)
"I think the hen should eat the bread on her own, she made it." C.P (F)
"She shouldn't share the bread because they haven't helped her" O.B (Y1)
"I liked working in different classrooms." F.R (F)
"I enjoyed The Enormous Turnip because it was about lots of people working together." L.S (Y1)
"I liked working with Seedlings class, I would like to make friends with them." T.B (Yr1)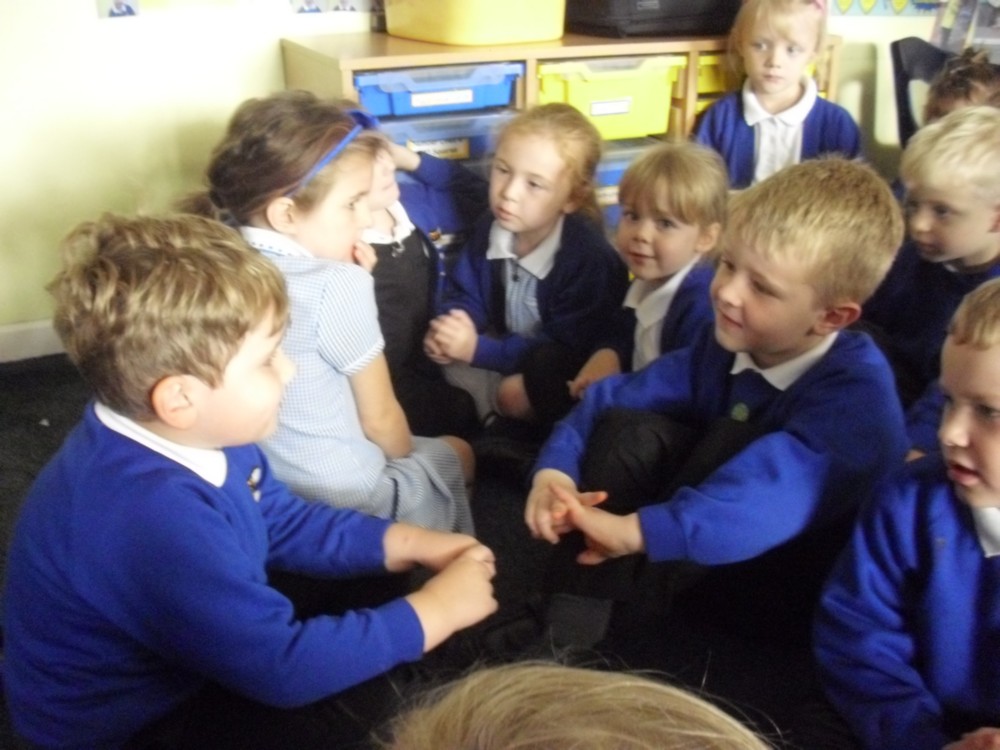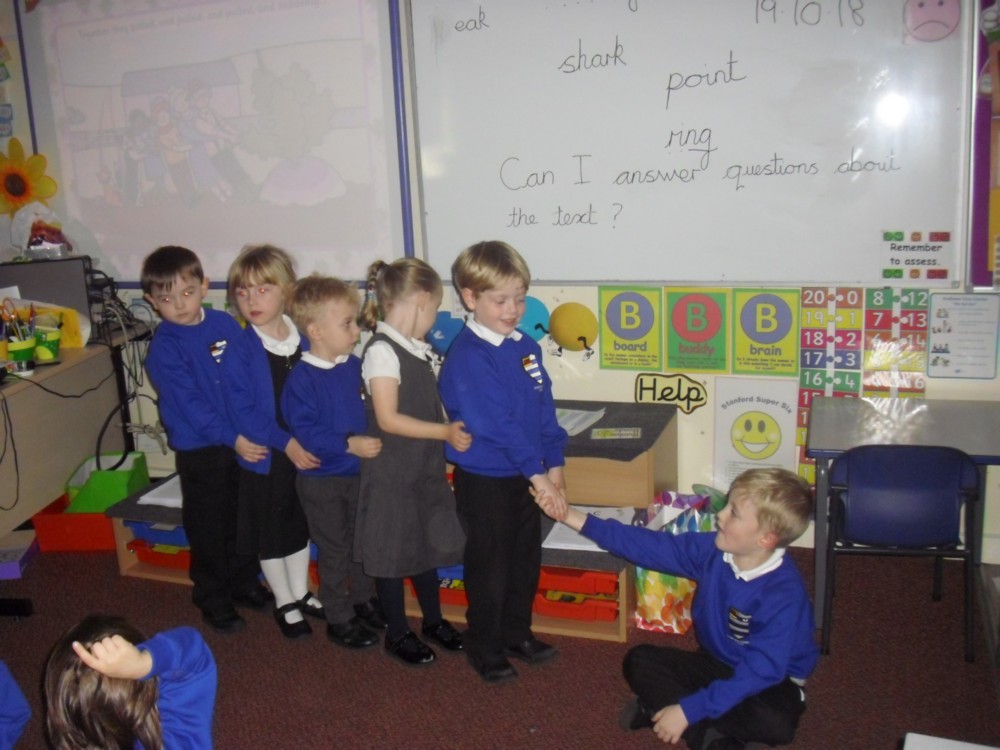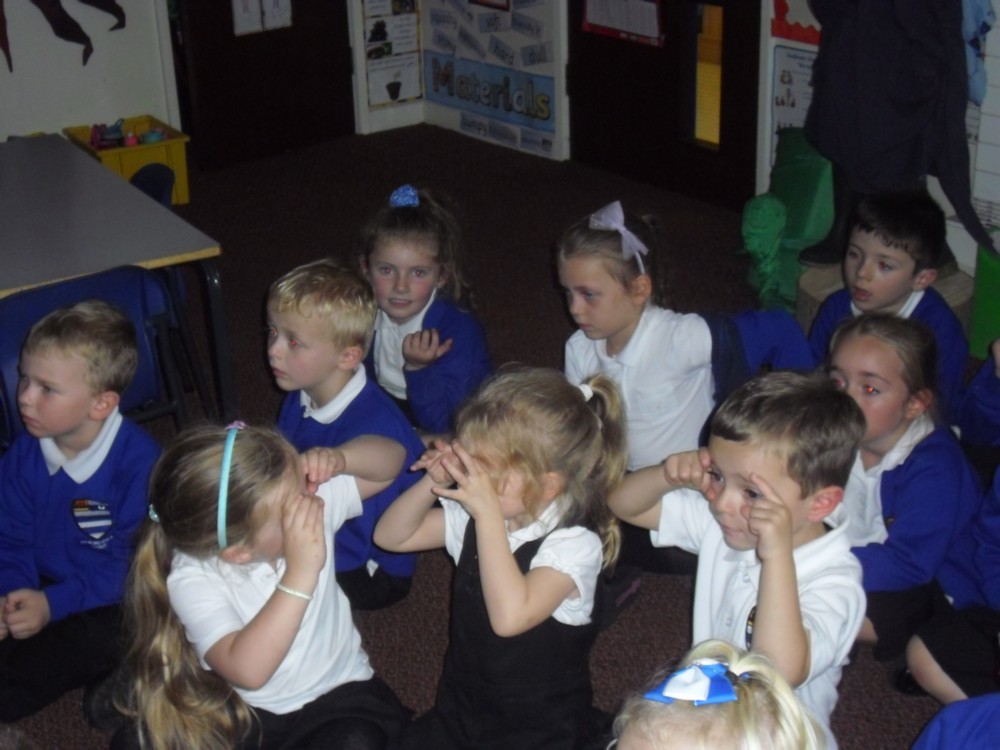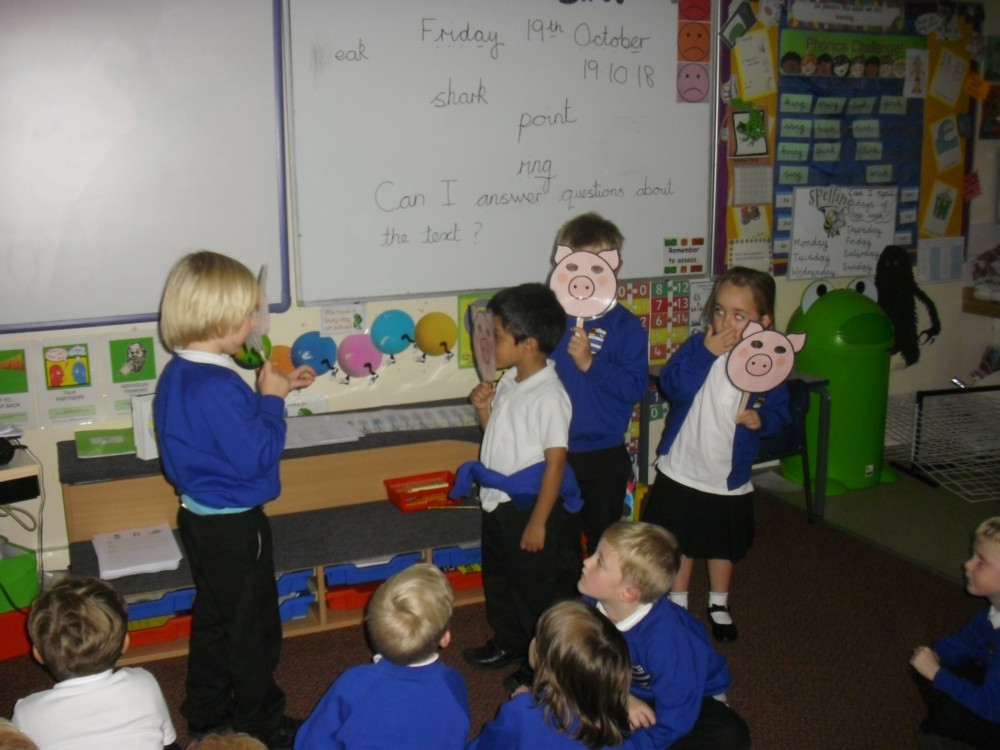 Maths and Reading Workshop for Parents
On Friday 2nd November, a Maths and Reading workshop was held for parents. It was an interactive workshop where parents could learn about the different ways we learn.
In Maths pupils showcased the following:
TT Rockstars- our online times table game where pupils work against the clock to complete times table questions

Numicon- our multi sensory resource used in all classes from FS through to Y6

Purple Mash- our online home learning site where pupils can play a wide variety of math games
www.purplemash.co.uk

CPA- Concrete, Pictorial and Abstract methods we use, linked to our calculation policy
- Calculations- Pupils had created a variety of videos explaining to others, how we solve calculations in different year groups. We also shared our calculation policy and how this links in with CPA methods
In Reading we showcased the following:
Cracking Comprehension- the scheme we use in our reading comprehension lessons

Reading Response- Showcasing our work in Reading

Reading in Topic- cross curricular links to reading in school

Reading Club- our love for reading in school, through an organised reading club, ran by Year 6 pupils
The pupils were brilliant in showcasing what we do at Stanford.
Please find all documents on our Math and English Page.
Positive comments were received by parents and carers:
"Great event- well done to all. Excellent techniques seen for maths learning!"
"A lot of useful information thank you."
"Very interesting learning things about Maths and English that I was unaware of."
"Excellent set up! Explanations by children and staff were outstanding. Well done everyone."
LQ: Can I enjoy a wide range of books?
Children have been busy enjoying books in our new literacy lodge and the class reading area. Which books do you like and why?
C.P: I like Star Wars books, the one that looks like bears called Chewbacca. I like bear books too.
A.B: I like butterfly books because they can fly and their pretty colours.
J.M: I like looking at books about aliens because I like aliens, they live on the moon.
A.C: - I like books about princesses because they have pretty dresses like Cinderella.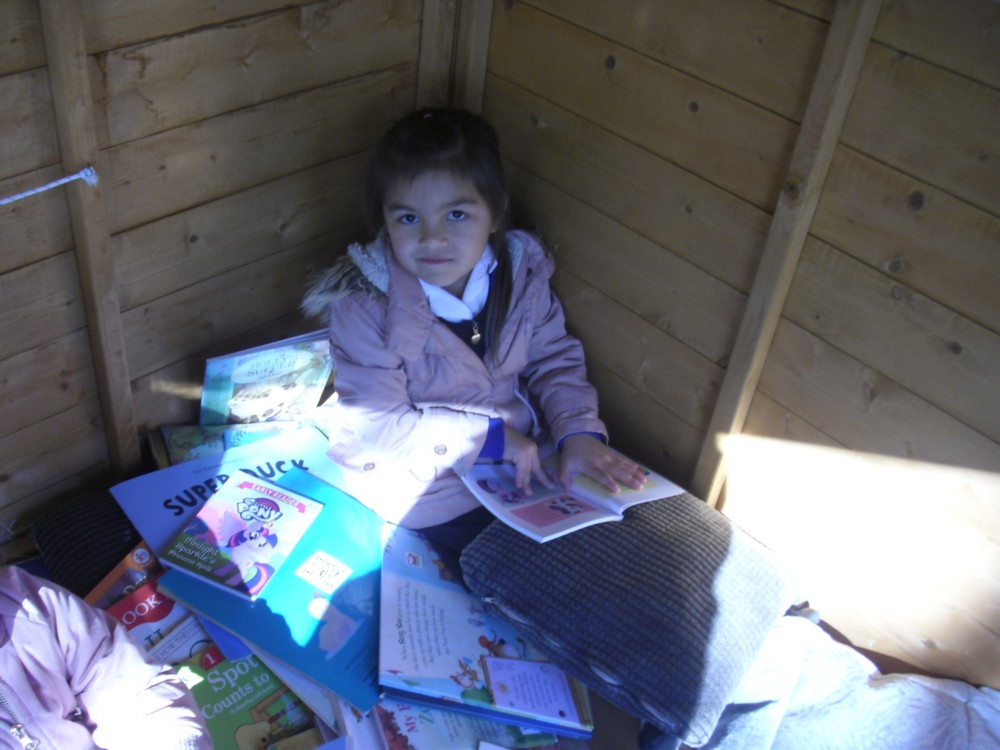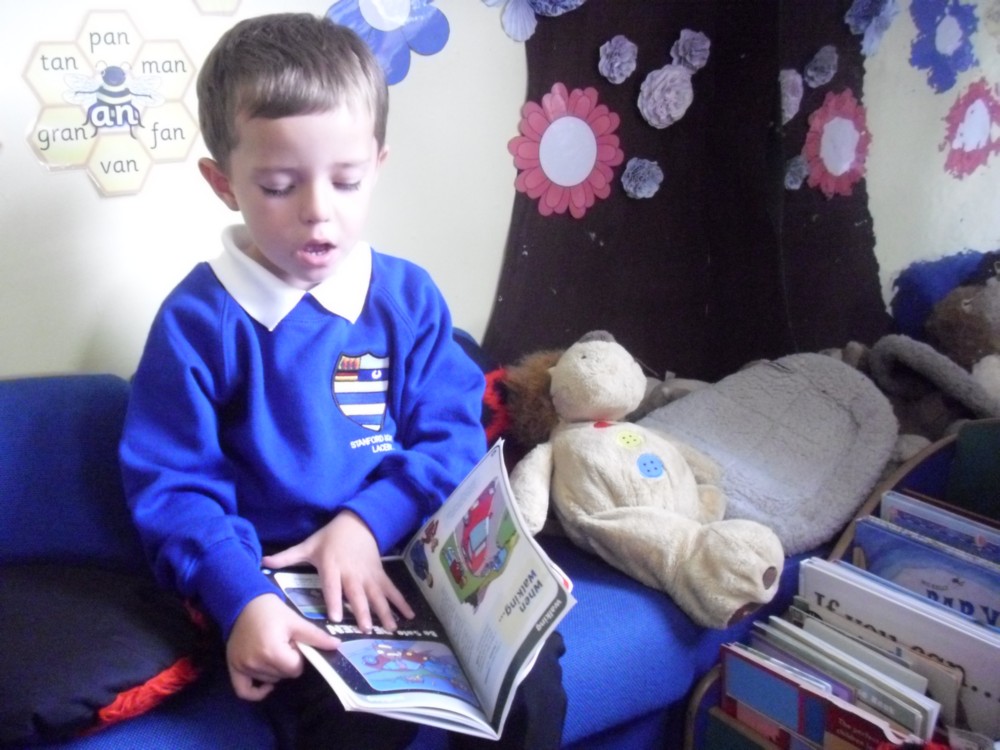 English/reading collaboration
Year 2 and Seedlings yellow class sharing books in Literacy Lodge
Reading in the Sunshine
Everyone enjoying a good book in the sunshine! Thank you to our Reader Leader Lunchtime Club helpers.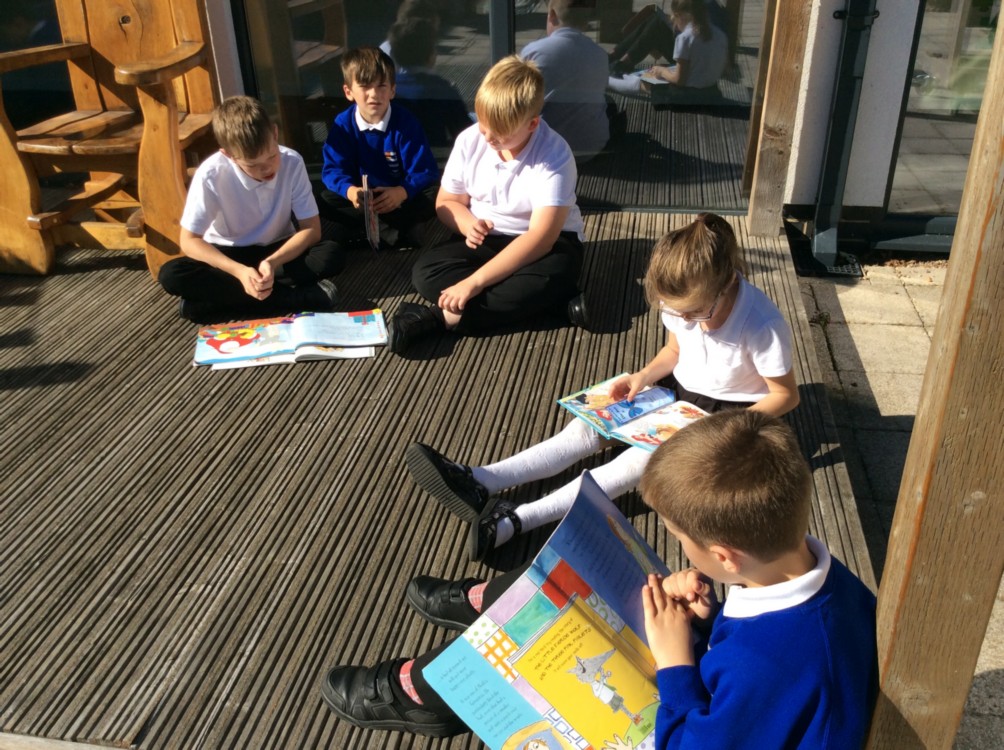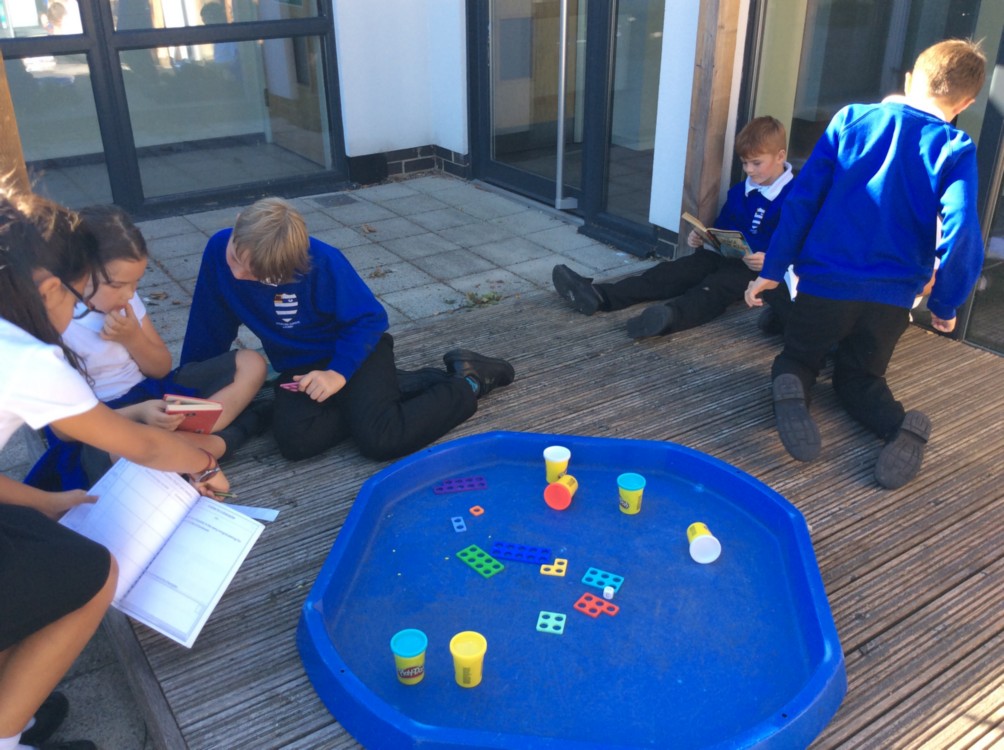 Can I take part in a class debate?
'The Egyptian Cinderella' is a version of the traditional tale Cinderella. In this version Rhodopis (Cinderella) was kidnapped as a child and sold as a slave in Egypt. An Egyptian God Horus steals her slipper and takes it to the pharaoh. He decides, as this is a gift from God Horus, he must marry the person who fits it. When he finds Rhodopis he falls in love with her and tells her that he is going to marry her.
We discussed the ending of the story. Whereas Cinderella gets her Prince Charming, Rhodopis has never met this man who is pharaoh and she is told she is going to marry him. She is not asked whether this is what she wants and is not given the opportunity to refuse.
The children were given slips of paper stating facts about the ending and Rhodopis' s future. The children had to decide whether these were good or bad for Rhodopis. When we looked at where we had placed them half of the facts about the ending showed it was a good thing for Rhodopis but these were balanced out by counter arguments about why Rhodopis could still be unhappy.
After this we took part in a debate to see whether Rhodopis actually did live happily ever after.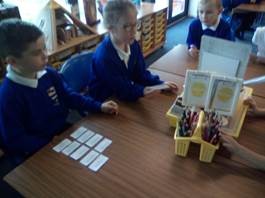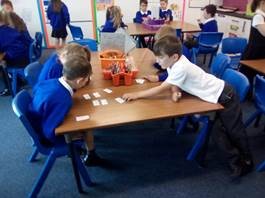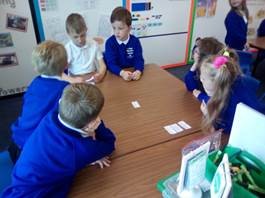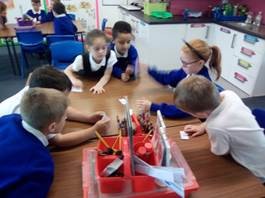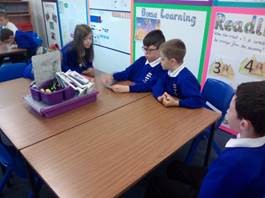 Summer Reading Challenge Assembly
At Stanford we are very lucky to have fabulous links with the Stanford Centre Library and all of the dedicated people who run the library. We were delighted to welcome Mrs Wink and Mrs Brumfield into school to introduce the Summer Reading Challenge. They were both extremely impressed with our fantastic assembly behaviour.

Mrs Wink presented certificates to the children who had participated in the 500 word challenge.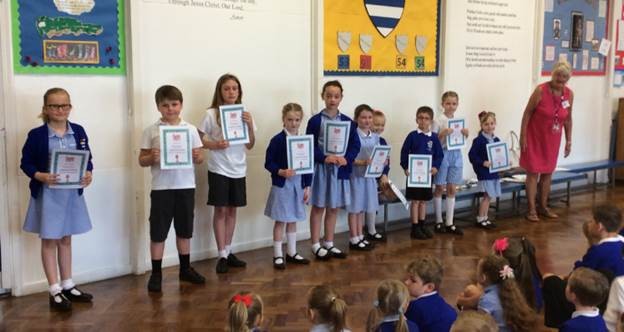 These children talked about how proud they were and how much they had enjoyed this activity.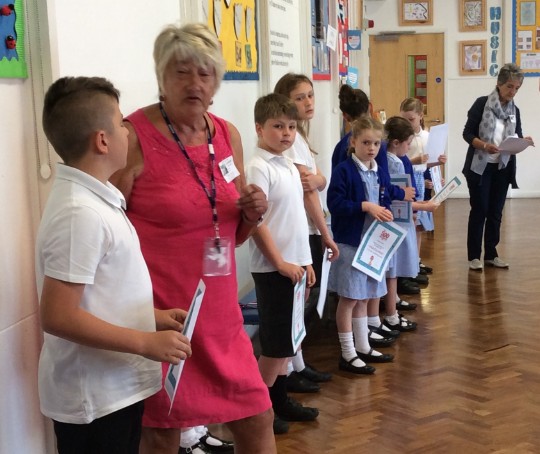 The children and staff listened intently as Mrs Brumfield and Mrs Wink explained how the reading challenge would run.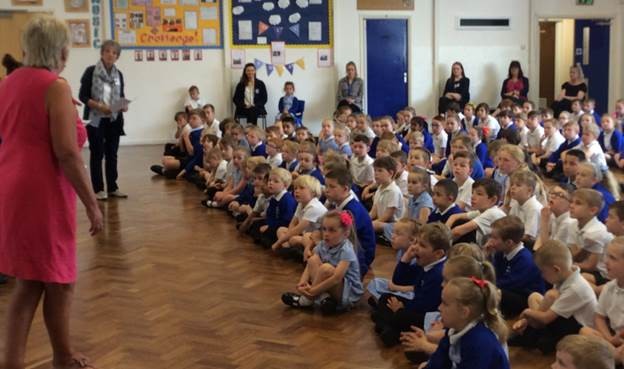 Take a look at all of the magnificent rewards that everyone who takes part will receive. The children who take part will also get plant their very own sunflower and pumpkin. 'It doesn't sound like a challenge at all!' Miss Whiting exclaimed.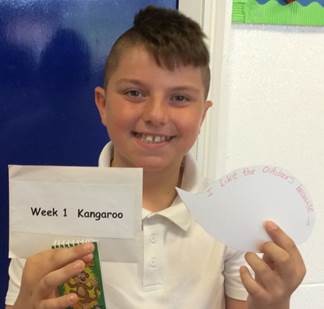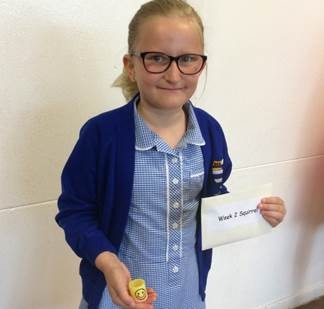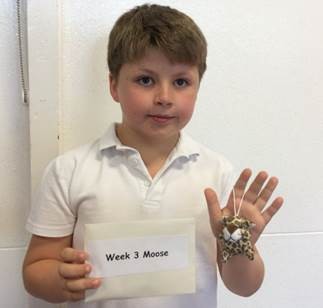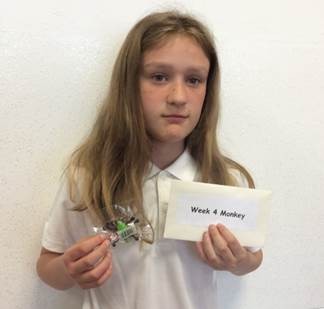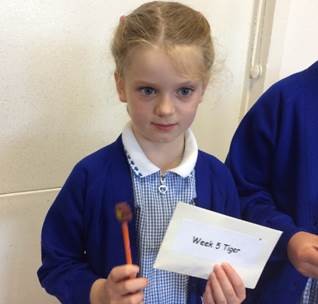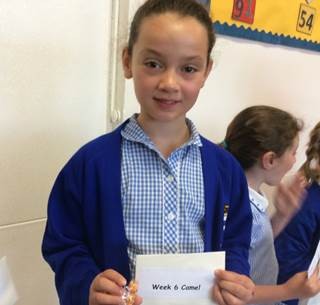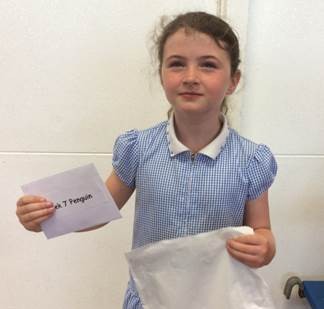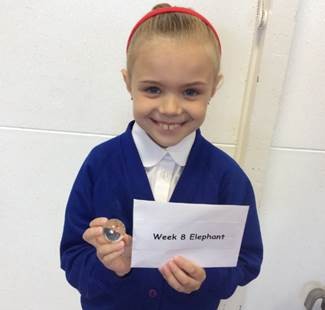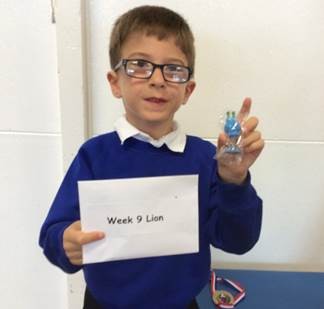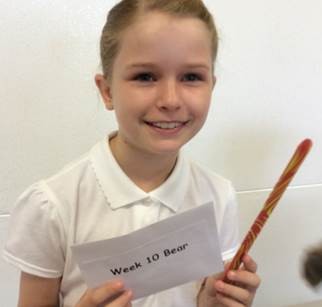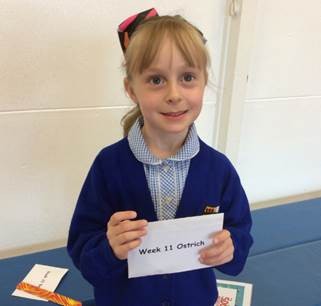 Lots of the children were very keen to take part.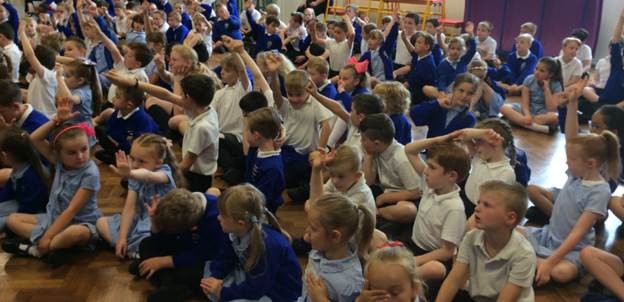 Let's work together to make this the most successful reading challenge ever! Just go along to the library once a week, have fun, join in with the exciting activities and receive a prize each week as a reward!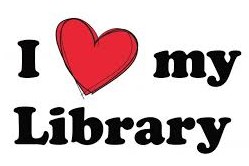 Spelling Shed @ Stanford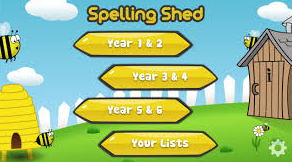 Just a little reminder that all children at Stanford have a username and log in for the school spelling shed account. If you have any difficulties logging in then please contact your class teacher. Happy spelling 'Busy Bees'.
Katie said 'It has really helped me to improve my spelling and it is fun!'
Stanley added 'It helps me to read and spell new words.'
Jayden said 'I like to challenge myself beyond the easy level!'
As a newcomer to spelling shed Zach said 'It challenges you with harder words to spell. I like it.'
School History
Seedlings class learnt about the history of Stanford school and about Sarah and Philip Stanford. Children then wrote about Founders' day.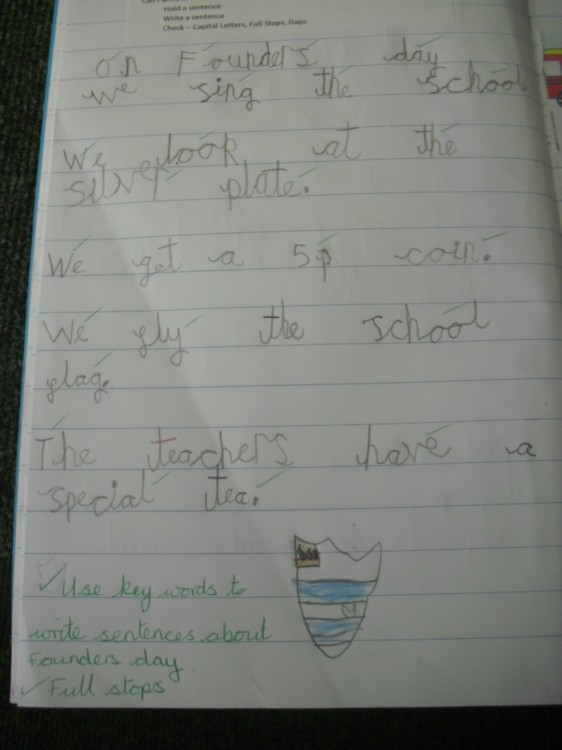 Reading Collaboration
Seedlings and Sunflower
This term children from Seedlings and Sunflower classes have been enjoying reading together and sharing stories. It has been a great opportunity to share with others our amazing reading skills.
Pumpkin and Juniper
Pumpkin and Juniper class enjoyed their reading collaboration this afternoon under the shade of our wonderful oak tree.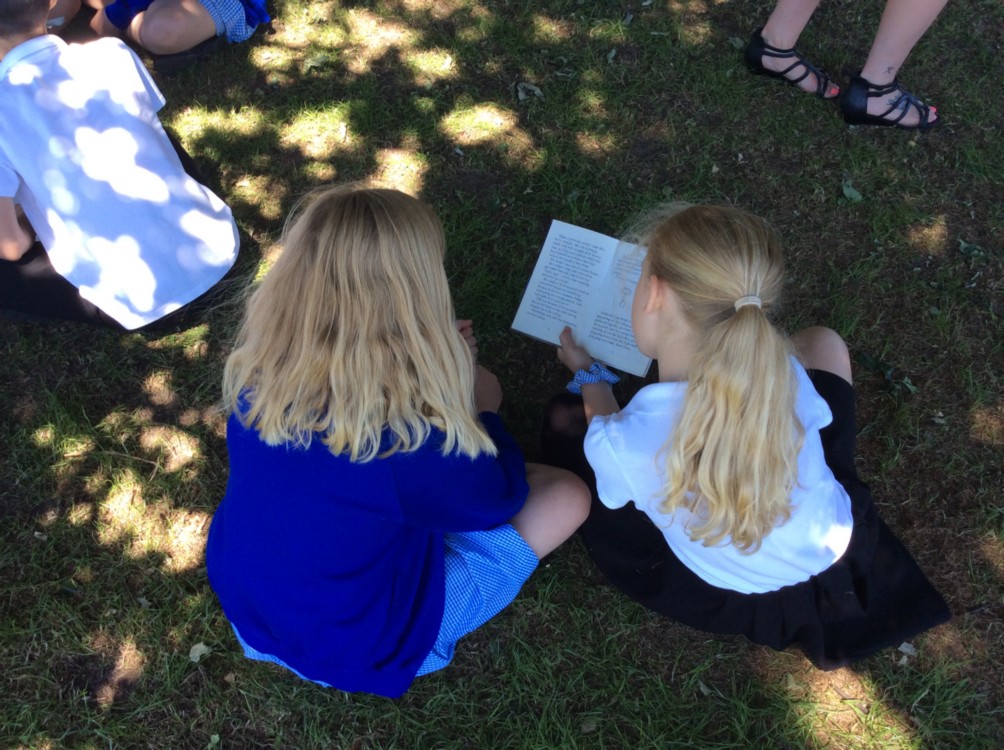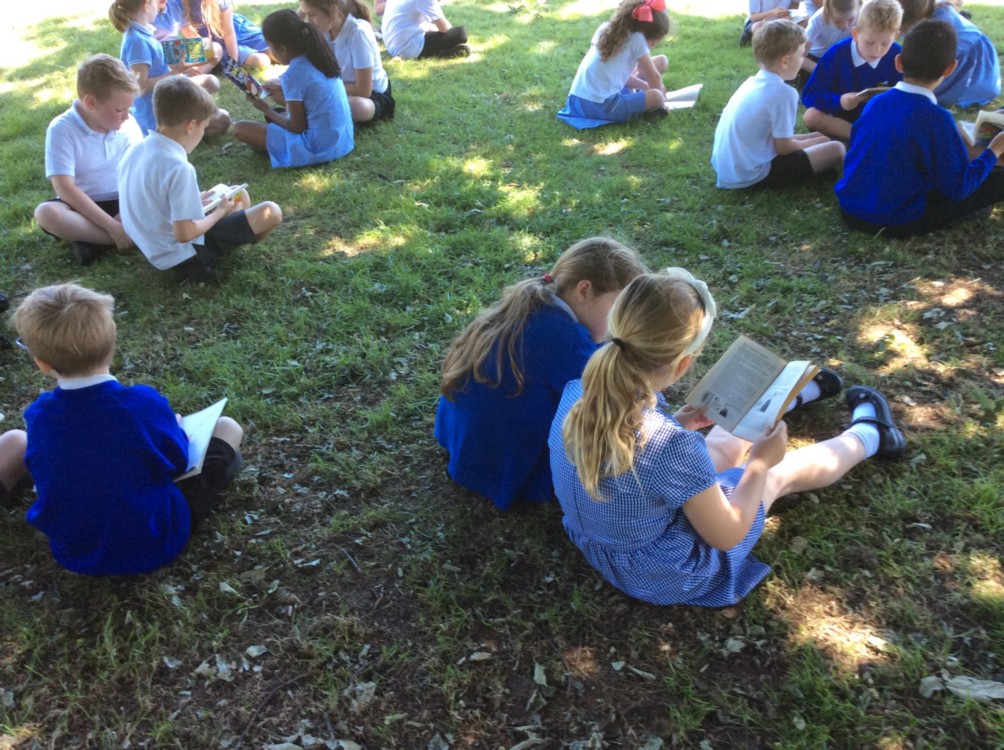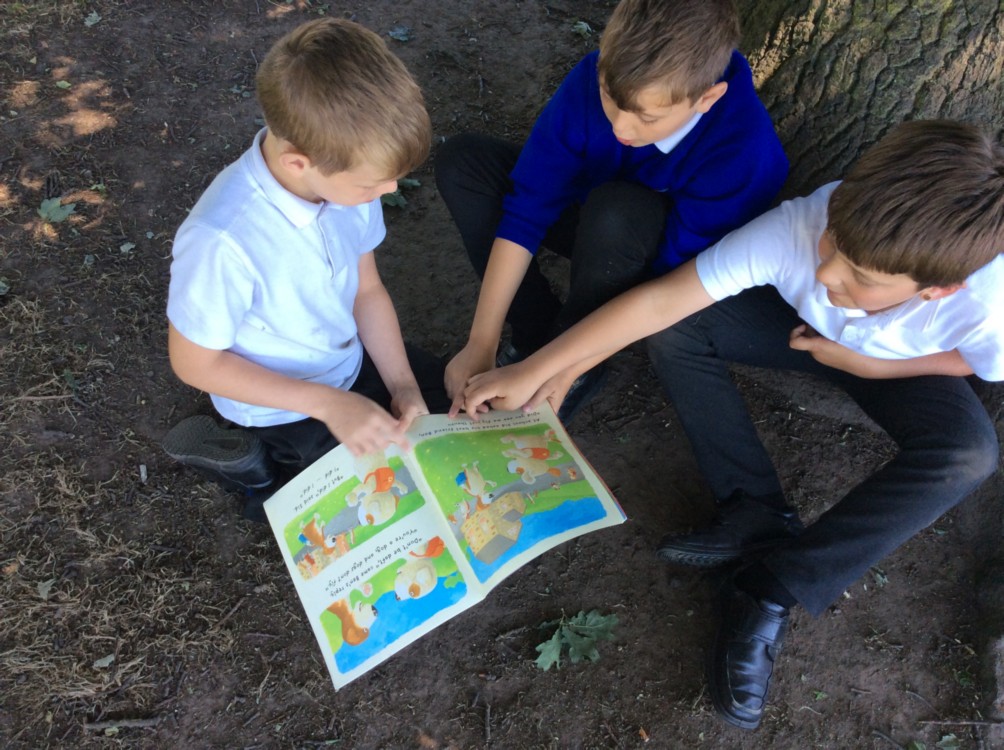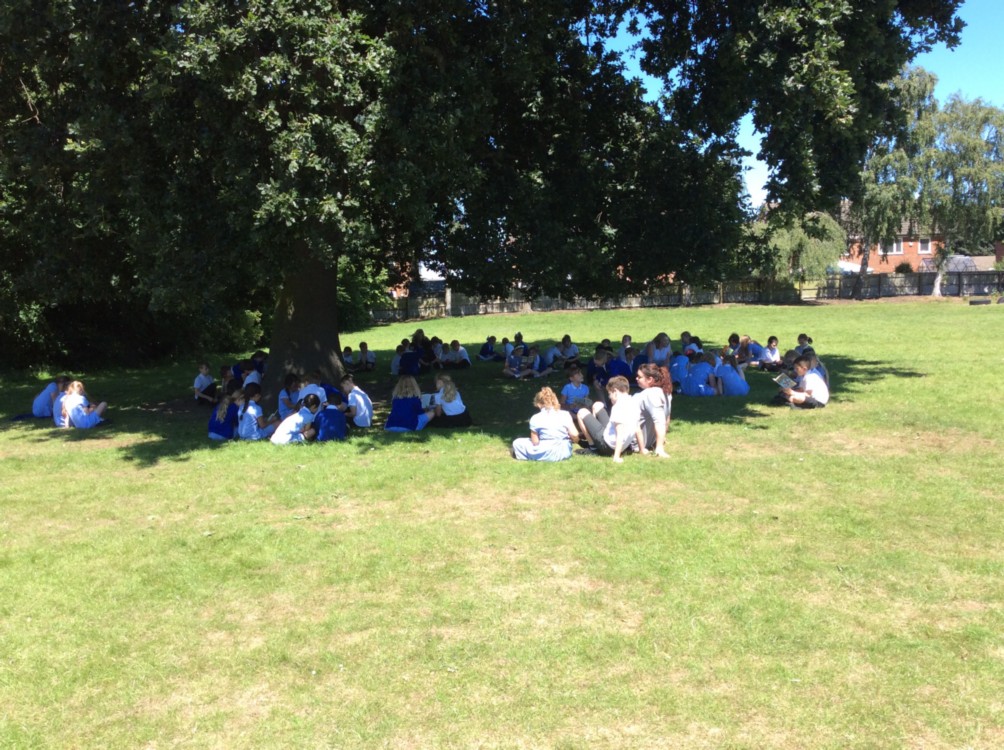 Reading at Stanford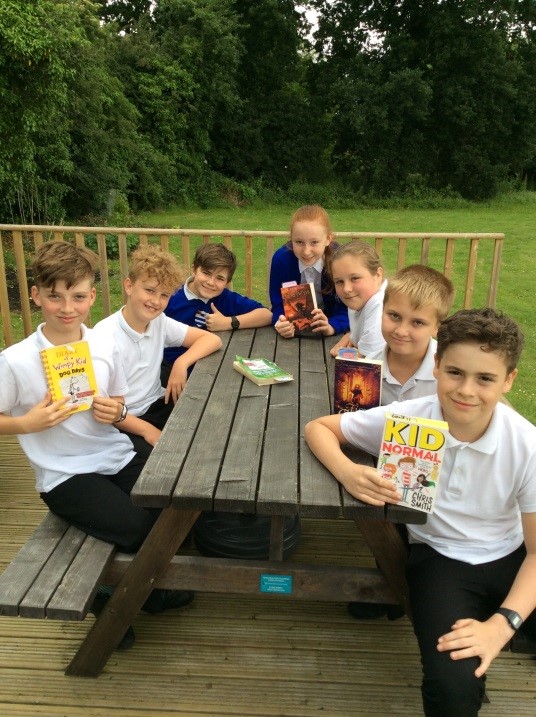 Book Talk session with a group of Year 6 pupils, June 2018
What do you think of reading?
Emily said 'Reading exercises your imagination.'
'The pleasure of reading is really relaxing', Louie added.
Do you do home reading? Why?
Toby said 'We should always read as later when we are older we will just need to read to live well.'
Emily added 'Home reading really is a priority for me, I just love to do it!'
Ben added 'Lots of children at Stanford just really enjoy reading and that's why they participate.'
What's good about reading at Stanford?
'We have lots of reading events and everyone really enjoyed doing our WBD book bags and we like the way that one year we dress up and the next year we do something a little different.'
Our next 'Book Talk' session will be with Year 2 and pose the big question: 'Do you prefer books or films?'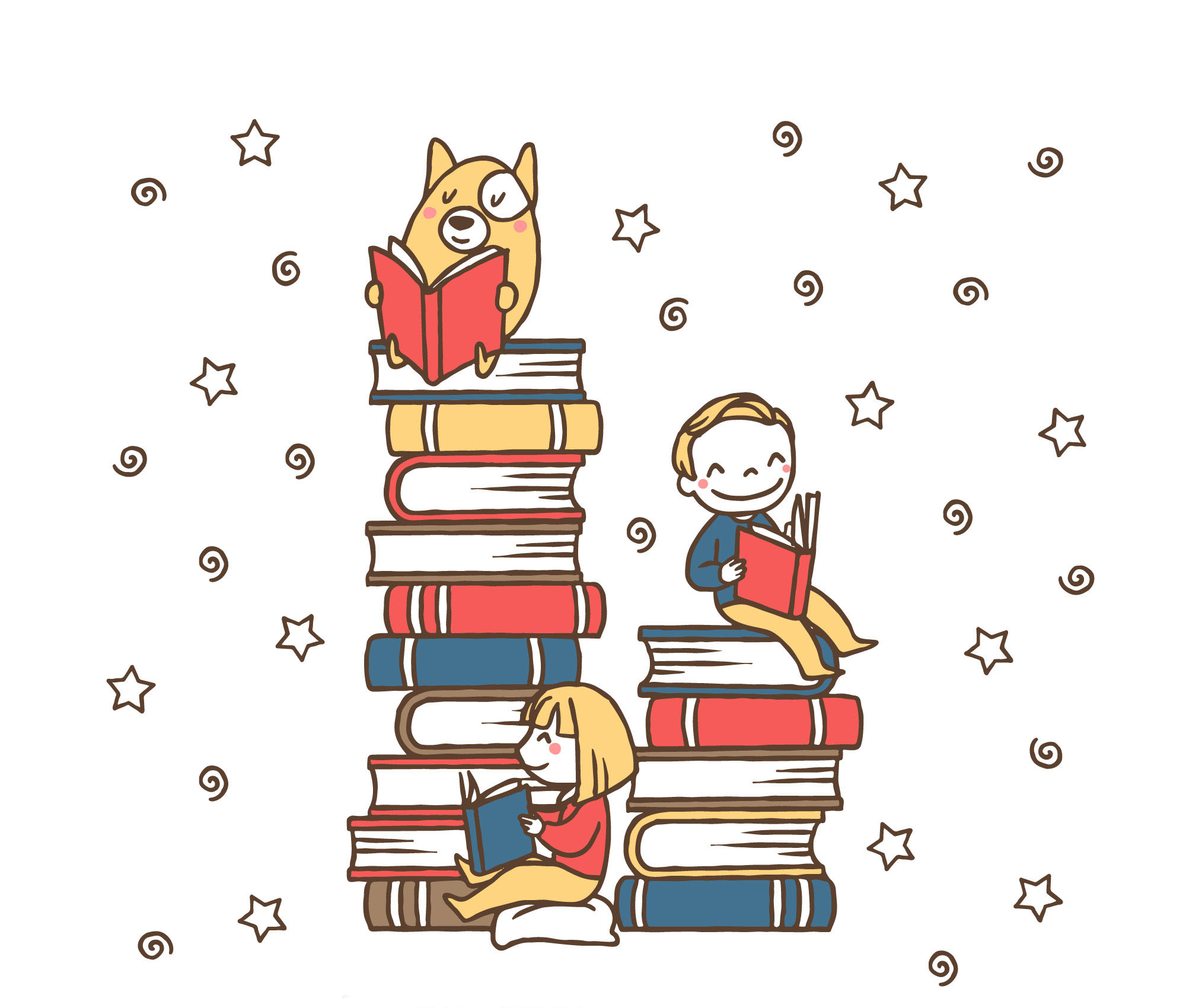 Home Reading
Our Foundation and Key Stage One home reading system has had a revamp. Outdated, tatty reading material have been replaced by new decode-able fiction and non fiction. The old books haven't gone to waste however... instead we have donated them to charity. They will support reading in schools in Africa.
Hope you and your child enjoy the new books.
Download our Reading Together booklet.
For the love of Reading!
Poppy class shared one of their favourite books with Barley class pupils. They read to them and shared why they love reading. Barley pupils then shared their favourite books to them.
Can I enjoy reading?
Sunflower Class participated in a special reading breakfast! Healthy snacks and fruit juice were enjoyed during this special reading time. Some children shared books with family members, whilst other's read with their friends.
Amelia- I liked reading a book from the book corner to my baby brother.
Indianna- I liked listening to my mum read to me.
Ronnie- I liked the brioche and all the food.
James- I liked reading hard books to my grandpa.
Neve- I liked spending time reading to daddy.
Mollie- I liked spending time with my daddy at school.
Lucas- I liked the strawberries and reading.
Mason- I liked showing my Star Wars book.
Kobi- We had healthy food, like fruit.
Charlie- Mrs. Wink showed me an old book, that she liked when she was little.
Mrs. Brady and Miss Whiting would like to thank all the parents who attended, Mrs. Wink and members of staff who also helped out.
Can I perform a group poem?
In 'Escape from Pompeii' the citizens make up poems about earthquakes from the past, not knowing what is about to happen to them. First the children were given the word 'shake' and were asked to use a Thesaurus to find different synonyms for this word. We then looked at the text to find examples of words describing the earthquakes. The children were given the task to use their synonyms and incorporate them into a poem about the earthquakes. The children then worked together to perform their group poem. Their poems were amazing, I am sure you will agree!
---
Can we create a poem and wonderful art work all about sea creatures?
Sunflower Class were inspired by a poem by Michael Rosen all about Jellyfish. They found out about sea creatures, they moved like sea creatures and together wrote a wonderful poem and created exciting art work outside with colourful chalk.
Sea Creatures by Sunflower Class
I have seen a real jellyfish
Wiggly like an octopus
The jellyfish jumps
The jellyfish wobbles through the night
Waving like a hand
Wiggling like my toes
Shaking like my body
Flying like a bumble bee
Swimming like a whale
Very smoothly, moving gently
Squishy and squashy
The clam snapping like a stick
Wiggling like coral and wiggling like a worm
Wiggling like fingers
Squids swim in water and swim like a fish
Gold fish shine
Fins are very pointy and sharks have fins
The jellyfish are squishy like playdough
The fish swim round and round
The starfish stay still
Sharks eat fish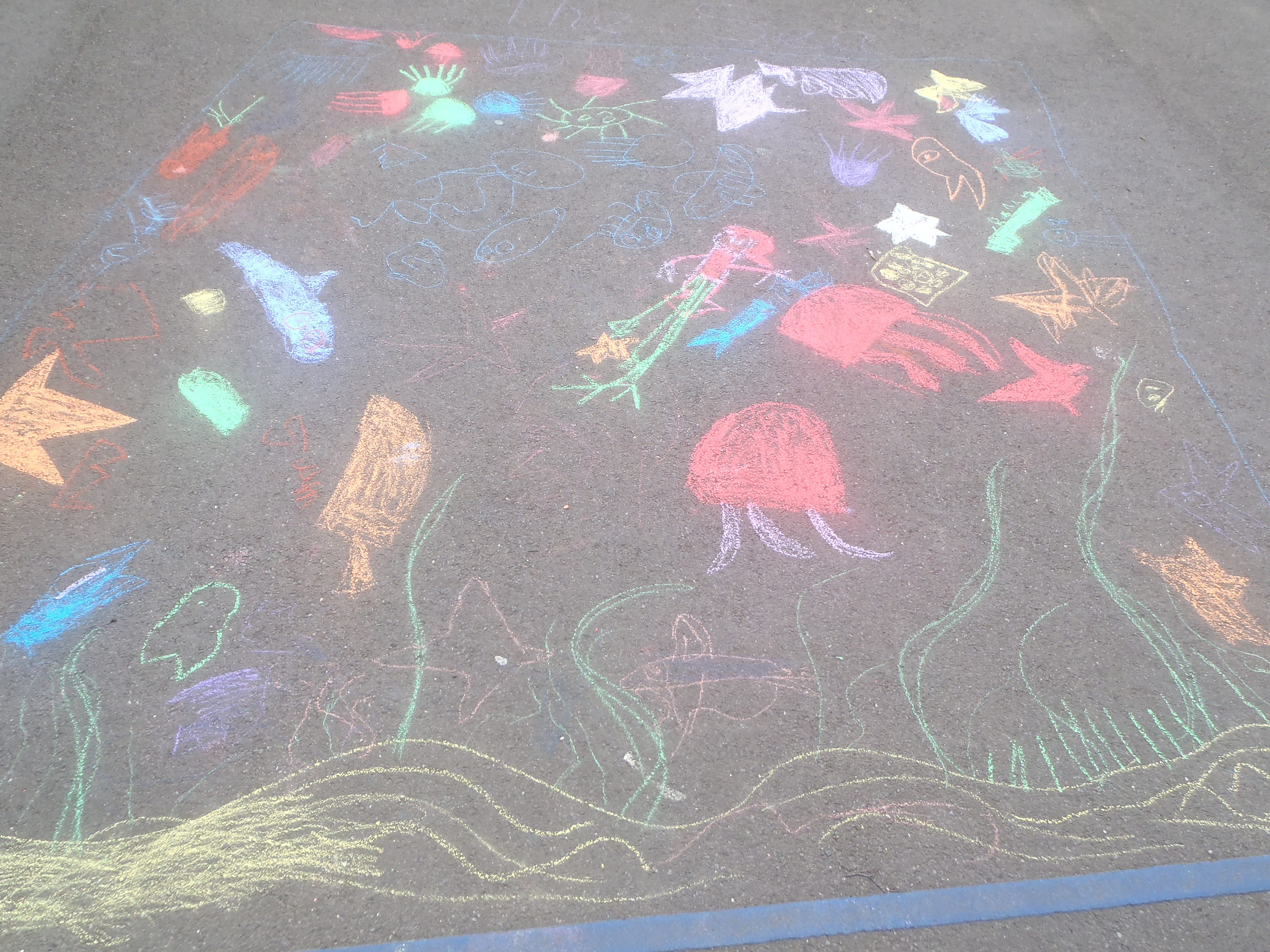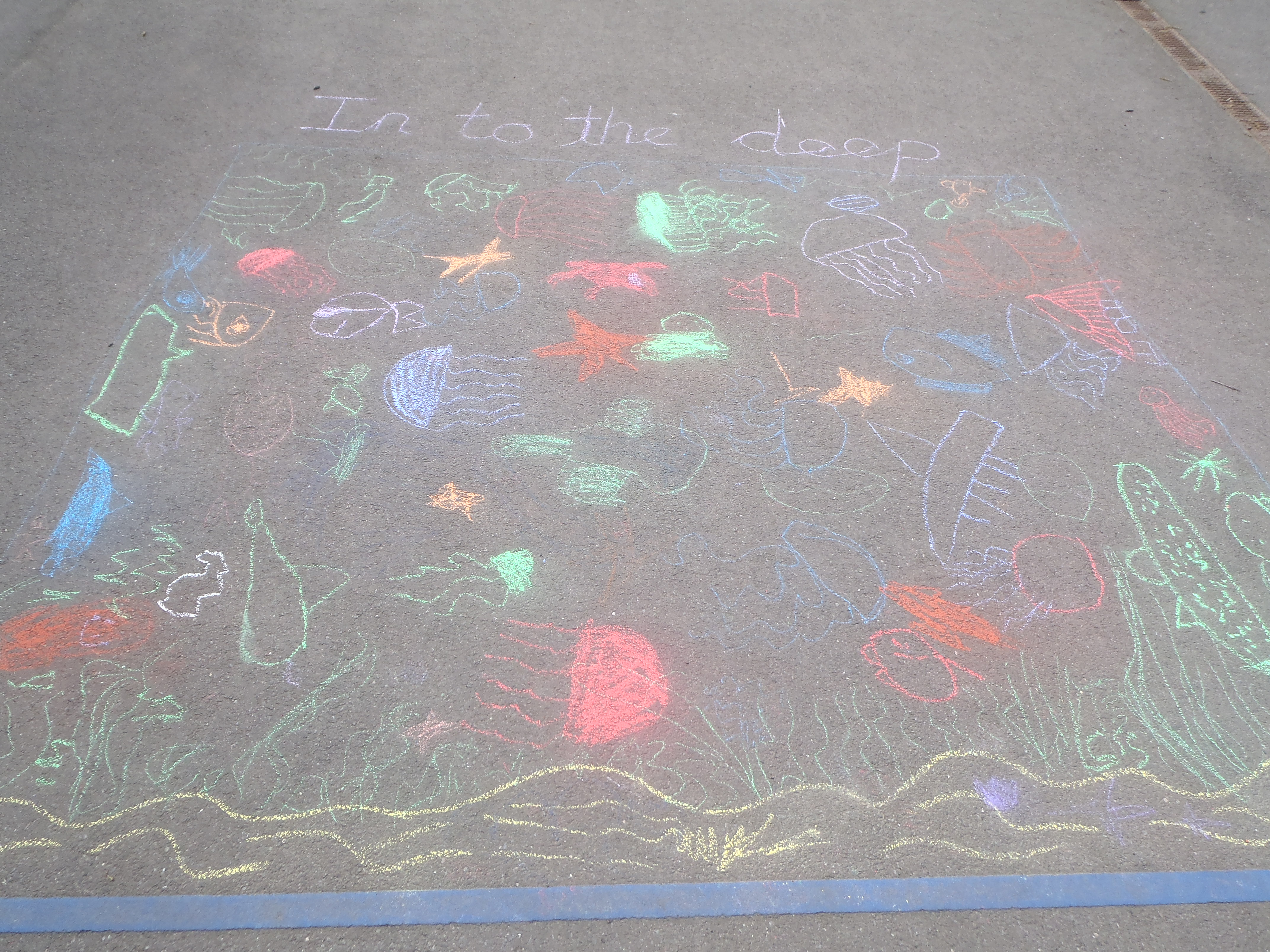 Spelling Bee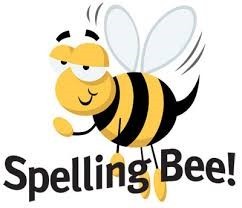 We have been having fun practising our spelling skills.
First we split into table teams then the competition began.
In round 1 we had to choose a person from our team to spell a word and come to the front with their word written on their wipe boards. We had to choose which person would be the best person for each given word as they could only be chosen once.
In round 2 we had to choose either consonants or vowels, like 'Countdown', and then we were asked to find as many words as we could using those letters.
Round 3 was the quick spell buzzer round, the children were so quick it was often difficult to say who had buzzed first.
The children had lots of fun scoring points for their table team.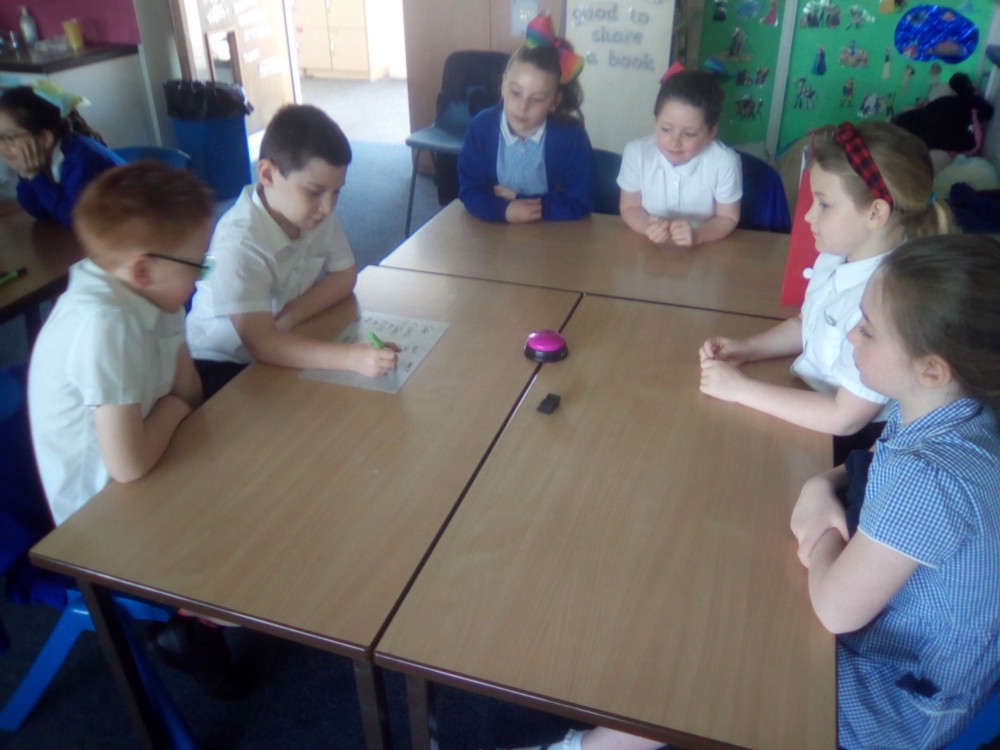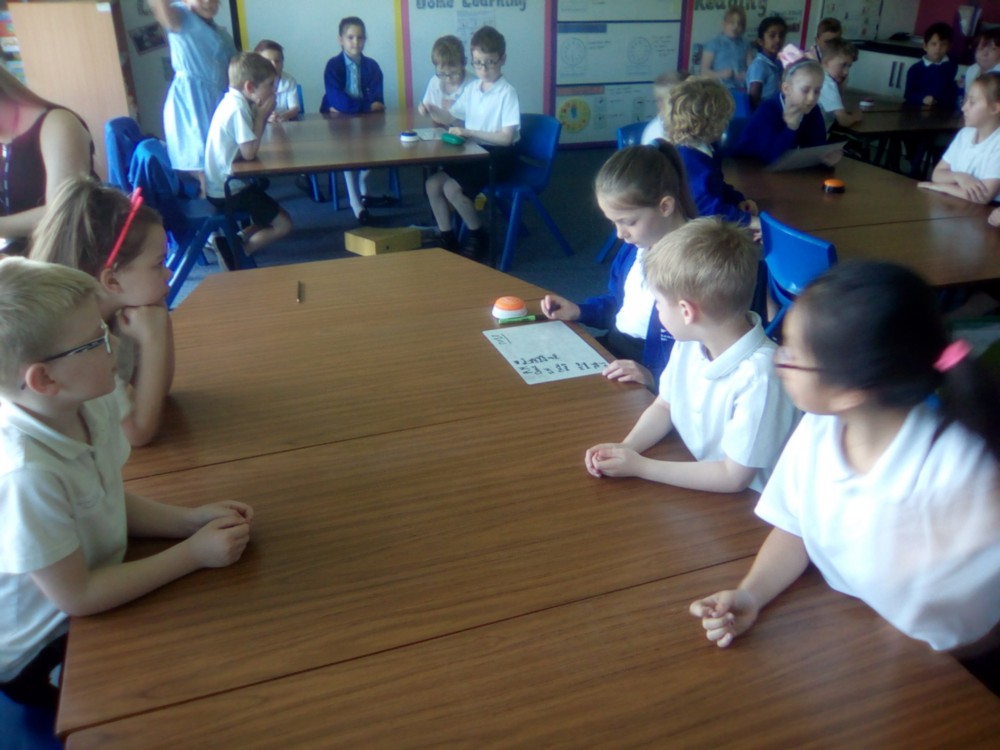 Outdoor Writing
Take a look at our creative outdoor writing and mark making this week. We had lots of fun writing letters, our names and sentences too.
Reading Collaboration Poppy Class with Star Anise Class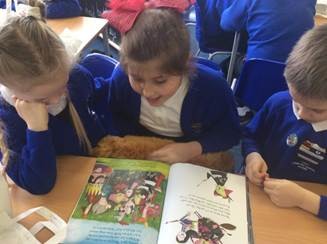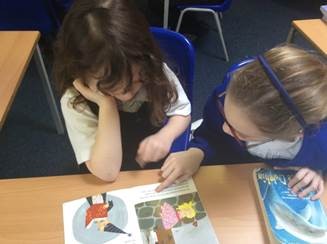 James said 'I've really enjoyed working with the younger children and from my perspective it would certainly be something that I would like to do more often. I was really impressed with Y2 comprehension skills.'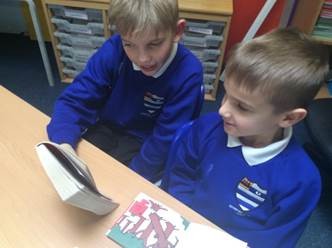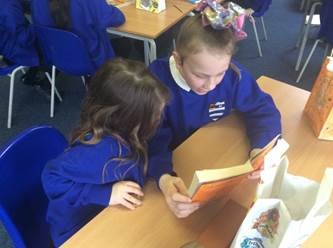 Abi added 'I think that I have helped to broaden the younger children's vocabulary.'
Alfie 'This collaboration has meant that I could inspire younger children to read and that opens up a whole new world for them.'
World Book Day Governor Visit
At Stanford our governors take an active interest in everything that we do.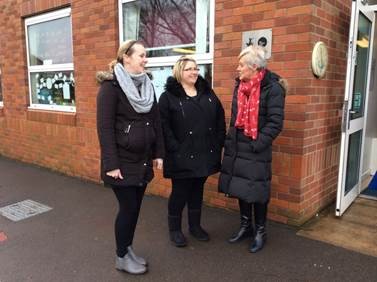 Our English Governor is Jill Tatler. Mrs Tatler came into school nice and early and even shared the morning door duty with Miss Whiting. She chatted to parents and the children as they entered school for their exciting World Book Day.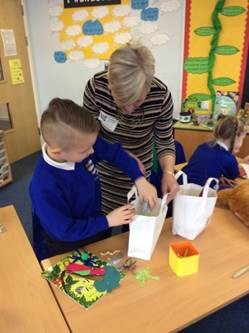 We invited Mrs Tatler to join in with the fun and we gave her the very tricky job of judging the books bags to find the most creative designs in each class. She said that it was a really tricky job as every single one was an absolute winner!
Rainbow Fish
Our class story this term is 'Rainbow Fish' by Marcus Pfister.  It is about a fish who doesn't want to share his shiny scales with the other fish.  We have acted out the story and labelled parts of the Rainbow Fish.
Here are some suggestions why we would recommend this book to others.
Poppy. R – "This story is good to read because, when Rainbow Fish shares his scales at the end it makes everyone feel happy."
Oliver. L – "Rainbow Fish went to the deep, dark cave to see Octopus.  Octopus helped Rainbow Fish to do the right thing."
Ollie – "Rainbow Fish shared his scales because it me feel nice. It was a good thing to do."