English
Shackleton's expedition to Antarctica
Over this half term, we have really enjoyed learning all about Shackleton and his expedition to Antarctica!
This week, we studied imagery and how a picture of the Weddel Sea made us feel, considering how we would feel if we had been part of the crew. We created a word bank of excellent vocabulary and used this to create short poems- we wrote these on different strips so we could move them around to create the best effect.
We love to read!! 📚
Barley and Pumpkin class came together to share their love of reading! Pumpkin class shared their favourite book with year 6 pupils whilst enjoying the sunshine!
"I loved reading with a year 6"
"The year 6 explained to me about speech marks in my story"
"I read my favourite story outside and it was very calming"
"I had a lovely time reading"
"Me and my partner took it in turns to read"
"I liked my partners book more than my own"
"I liked the author of my partners book and have looked for another book by that author"
A Super Reading Breakfast
The Year 2 children enjoyed sharing books and delicious food with their family, friends and community members. It was great to see everyone enjoying reading together!
P- My mum got to read with me and she had a smile through the whole entire thing!
C- I really enjoyed eating the fruit and talking to my friends about books.
F- My mum and dad both came. We all read together!
C- It was the best day ever! W- I loved reading to my mum.
R- It was a lovely morning. I enjoyed reading two books and loved eating my breakfast!
O- I liked reading with Grandma and eating lots of yummy food!
R- I really enjoyed my mummy coming into my school to read with me.
Parents and Carers Feedback:
*It was great for parents to get involved.
*A lovely morning, thank you. Lovely food, welcoming atmosphere, so nice to see all the children back to school and happy.
*Thank you very much. I have enjoyed my morning reading books to my little boy and meeting his new teachers.
*Absolutely lovely event! Excellent range of books and refreshments.
*It was a nice experience to sit down with my child in his school environment.
*We thoroughly enjoyed today's reading breakfast. It's lovely to see other pupils and parents, along with hearing our own children read.
Class debate!
Today in English we thought about what happens to Rhodopis the main character of our book. We argued whether different things that happen to her are a positive or a negative. For example, she becomes a Queen. Which some children said would be a positive, but others said a negative. We then made a list and split them positives and negatives whilst debating which side they should go on.
Today in Year 1 we celebrated finishing our Phonics Screening.
This morning we decorated biscuits and made our own sandwiches either jam, cucumber, cheese or butter. Then this afternoon we went onto the field and played different games with the parachute; we had lots of fun!
We sat in the shade and ate our picnic. Once we had come into to cool down Miss Purshouse and Mrs Smith surprised us with ice lollies! A big WELL DONE to all the children, we are so proud of you!
"This is the best day of my life!"
"I've been eating all day"
"My ice lolly was yummy"
"This day ROCKED!"
We Love Books!
Pumpkin Class enjoyed their first class visit to Laceby Library.
They were very excited to explore all the books and find out how the library is organised.
Many thanks to Mrs. Wink for all her help. The children loved choosing a book to borrow.
M- I enjoyed being the librarian and stamping all the books.
V- It was a lot of fun to look round and read lots of books.
E- I chose a book about sea creatures because I want to learn about the creatures I might see when I go on holiday because I am going to explore rock pools.
H- I go to the library a lot with my Grandma, so I was able to help people find the books they wanted.
S- There were such a lot of books. I was excited to find ones about Lego and Pokemon!
Reading Collaboration: Fun in the Sun!
For Wellbeing Wednesday the Year 1 and Year 2 children teamed up to share books and listen to each other read. It was great to see them enjoying reading books and hear them talking enthusiastically about their favourite stories, as well as the non-fiction books that they like. Well done everyone!
Outdoor Reading Collaboration
Poppy and Willow class are enjoying sharing their love of reading outside this afternoon.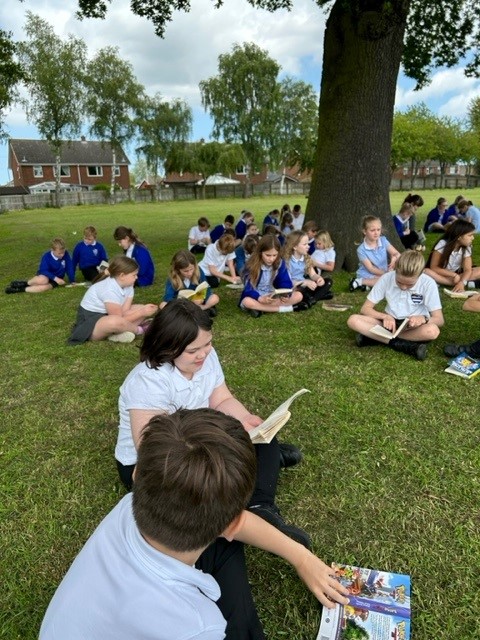 Reading Breakfast
This morning Year 1 invited parents and carers into school for a reading breakfast. We took lots of bean bags outside for the children and adults to relax and share a book together. We hope you enjoyed your morning with us.
Absolutely lovely time! Juice and brioche were perfect.
Really enjoyed my morning with the children.
I love attending these mornings. It is nice to be able to take some extra time to read.
A lovely way to show us how the children are getting on in school and the children love us coming in, really good!
Lovely set up and the staff were really friendly, enjoyed by all.
Character's Feelings
Today Year 1s have been looking at a character's feelings throughout a story. In the book, 'The Secret Sky Garden' Funni (the main character) has different feelings. She starts the story feeling sad and makes a plan to create an amazing garden, which she is so happy with and feels proud of herself. Later Funni is lonely and feels miserable. Until a new character turns up and she is surprised to find he likes the same things she does. Funni is delighted at the end as she has a new friend. They are so very friendly with each other.
Year 1 children came up with all the feeling words and were able to work with coaching buddies to write about why Funni felt this way. We are so proud of their writing today. Great coaching work Year 1s!
The Victorian Workhouse - A Prison for the Poor?
In English we are reading "Street Child" and learnt the main character, Jim, ended up living at the Workhouse. In history we explored a range of sources of evidence to learn what it was like in the workhouse. We used this history knowledge to write a diary as if we were in the workshouse.
Drama: Goodnight Mister Tom
Juniper Class has been enjoying exploring English through drama this week. We have started our new book Goodnight Mister Tom and in groups we began to act out the first scene as the characters meet. We explored the thoughts and feelings of these characters and how they might interact with each other. We tried really hard to stay in character as we performed for the rest of the class!
Kahoot Grammar Revision
This week in Year 6, we have used Kahoot to aid our grammar revision. It was great, interactive quiz that supported our retrieval practice and grammar knowledge- with only a little competitiveness! We will definitely be using Kahoot again!
Blackout Poetry
During World Book Day Year 6 pupils created their own blackout poems from a chosen page from their favourite book.
Blackout poems are made using pages from books, newspapers or magazines. pupils picked out single words or phrases from the existing text, then pieced them together to make something new. This kind of poetry embraces randomness, and also gives writers a chance to mix poetry and visual art. How amazing do they look!!
World Book Day
Foundation Stage and Year 1
Foundation Stage and Year 1 had a fantastic World Book Day, where we celebrated the wonderful stories of Julia Donaldson. We have read so many of her stories and the children find it difficult to pick their favourite. We took part in lots of reading response activities, including: craft, outdoor learning, writing books, sharing books, making books, and more... We were also blown away by the creativity of the spoon designs and the marvellous costumes. Well done everyone!
Pumpkin Class
Pumpkin Class really enjoyed celebrating World Book Day!
H- Everyone enjoyed dressing up as their favourite book character.
T- We had an assembly in class about World Book Day. Mrs. Brady told us about a £1 book token that we will get to buy a special book.
J- At school we are going to have a book sale soon where people can come with their parents and buy books. We looked in magazines to find out which books we might like to buy.
V- It was good to share books with friends today. I shared the book 'Stick Man' and my friend really enjoyed it.
R- We had a spoon competition where we had to decorate a spoon as a book character. I was so surprised when Mrs. Griffiths said I was the winner!
A- We learnt about the author Nathan Bryon who wrote the stories 'Look Up' and 'Clean Up.'
J- We learnt about an illustrator who drew the pictures for 'Clean Up.'
H- We discussed the story 'Clean Up' and we wrote about the settings, main character and what happened at the beginning, middle and ending.
S- We recommended our own books for friends to read.
Year 3 - World Book Day
The children had lots of fun dressing up as characters from books and showing their character spoons. Being democratic the children were asked to vote for the winning spoon and it was a close competition as their creations were so great. Throughout the day the children did activities based on our featured author David Walliams. He has written a series of books based on 'The worst child in the whole world'. The children had to think of what a child like this might do and look like. They created a character description, book cover and blurb. I don't know how David Walliams could think of an idea of 'the worst child in the whole world' the children in Poppy class are always so well behaved and polite!! Imagining such a child would be a stretch of the imagination!!
Willow Class
We are loving the day focussed about reading.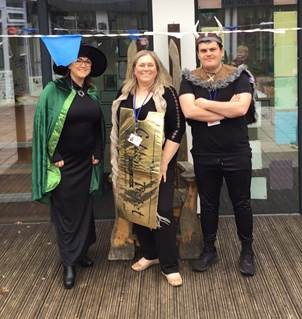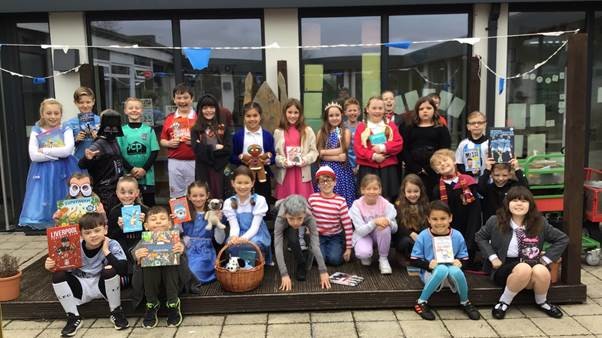 We shared our thoughts about what sorts of books we like to read and where we like to read.
Whether it's in the garden, snuggled up on a sofa, on a special reading chair or in a homemade den, we love to read.
Our Author focus is Gillian Cross.  We have learnt about her as an author and looked at the blurb on a range of her stories. We have also studied the first part of The Demon Headmaster.
Look at our fantastic character spoons that we created at home: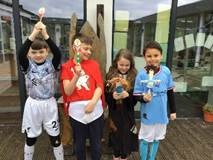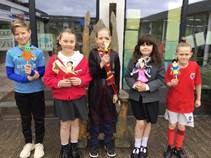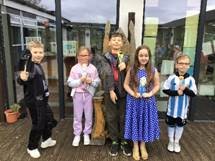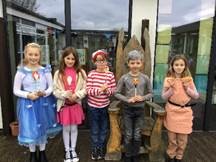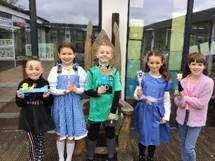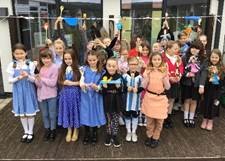 Juniper Class
Juniper class really enjoyed World Book Day, we dressed up in our favourite story book characters and read to each other! We brought in our spoons in to be displayed and eagerly waited for the results at the end of the day. Researching our author was really interesting too!
Year 6
Barley and Blossom class had a great day celebrating world book day! Pupils shared their favourite books and characters throughout the day!
Pumpkin Class improve their writing!
In English lessons the Year 2 children have been visiting their Editing Station to check and improve their writing.
R- I checked that my sentences all started with a capital letter.
S- I checked I'd got question marks at the end of my questions.
R- I double-checked that I had spelt all my polar bear words properly.
J- The Editing Station has lots of useful words to help you check your spelling.
A- I am getting better at spotting my mistakes. Also my partner helps me check my work too.
Penguin Vocabulary
Can we find out how penguins move?
Pumpkin Class enjoyed watching videos of penguins and they used lots of descriptive words to describe how the penguins were moving. They explored moving like penguins themselves and then listed all the wonderful words they had collected together to describe penguin movements. H- I got on to the Extra Challenge and used suffixes to change words. I added 'ing' and 'ed' to the end of root words. If you add 'ed' it changes the words into the past tense. J- I liked sliding on my tummy and pretending I was an Emperor penguin on the ice. E- We loved making a huddle in the playground. R- I really like the word 'trundle' it makes me think of the penguins shuffling along together.
Pumpkin Class Love Reading!
This week the children have been exploring non-fiction books, not only the selection of books in the classroom, but also their own books from home.
J- I liked looking at my friend's books.
H- People have brought lots of different kinds of information books.
V- We are getting good at reading and then answering questions. I also like writing book reviews.
T- If we read all the non-fiction books we might learn lots of new things. I enjoy finding things out.
A- I've been reading about Lewis Hamilton and Formula 1.
Year 1 Reading Breakfast
Year ones welcomed lots of family members to come into class and share some books. Whilst children read with their guests they also enjoyed a great breakfast. Everyone had such a good morning. Here are some of us enjoying the reading.
PICS
We asked visitors and children what they thought of the event, these are some of the comments:
Parent A, "Really nice to come and share the time with my daughter in the place where she is every day."
Parent B, "It was nice to see their classroom and listen to them read."
Parent C, "Really enjoyed it."
Parent D, "Nice to see the lovely school environment and see the teachers and parents. Thank you for the food too."
Parent E, "A lovely event which was very well organised and well thought out."
Child 1, "I have enjoyed this morning."
Child 2, "I really enjoyed reading books with my Grandma and I enjoyed the fruit."
Child 3, "I really liked the reading breakfast can we do it again?"
Year 6 Reading Breakfast 📚
Barley and Blossom Class enjoyed having the opportunity to have a family member come into school, experience our reading comprehension skills and have a healthy breakfast snack. It was lovely seeing families come together to share a love of reading, meet the class teachers and have a look at our fantastic learning environments.
Foundation Stage Reading Breakfast
Thank you very much for such great support with our reading breakfast in Foundation Stage. Sharing a love of reading with the children is very powerful and it was a pleasure to have so many of you be able to join us this week.
Collaboration Year 1 and Foundation
Year 1 and Foundation have spent time collaborating with our focus being in English with our grammar. The year 1 children in Mrs Smith's group showed Miss Purshouse's group their author study work. We looked at what grammar we need when we are writing a sentence. Then Miss Purshouse's group showed the Foundation children their work. The Year 1 children showed the Foundation children how we use a full stop and why.
O-"I liked seeing my year 1 friends."
J-" I liked showing my work."
B- "I felt proud."
A- "It was fun!"
SPAG: What Do Sentences Need?
Pumpkin Class have been focussing on punctuating their sentences correctly, making sure they begin with a capital letter and end with a full stop. They can identify the subject of a sentence, verbs and nouns.
E- The songs we sing help us to remember what our sentences need.
O- I sing the verb song and the noun song- I like them a lot.
I- I looked at Ferdy Frog's sentences, he hadn't used any capital letters or full stops, so I had to write them.
S- We used different coloured cubes to show which words were verbs and which words were nouns.
Reading is Fun!
Pumpkin Class have been enjoying reading a wide range of books with their reading partners. They also like recommending books to their friends and writing book reviews.
S- I love reading Mr. Men books because they remind me of our reading breakfast and that was a really happy time.
R- It's good fun reading with a partner. I like to take turns and then ask my partner lots of questions about the story.
E- I enjoy writing book reviews and drawing pictures of the bit I liked best.
L- I like to read the information books. I've been reading about the seasons this week with my partner.
Happy Birthday
Our first staff Birthday has been celebrated with a donation of a book for all classes to share and enjoy! Thank you Miss Purshouse!! 📚
Willow and Poppy class Reading Collaboration – 7th October
We loved sharing our love of reading pairing with pupils from a different class and sharing our reading.
Library Visit
Year 1 have been to the library this week. We are lucky to have Laceby Library next door to school and Year 1s are making the most of this! Children were able to meet Mrs Wink, learn about the library and choose a book to take home and share with their family. We plan to visit every week to exchange our books and extend our passion for reading.
The children all had a great time and chose some fabulous books.
Year 3 & 4 Reading Breakfast
Willow & Poppy Class enjoyed having the opportunity to have a family member come into school, share a book with them and have a healthy breakfast snack. It was lovely seeing families come together to share a love of reading, meet the class teachers and have a look at our fantastic learning environments.
Y3 - Improving our vocabulary
Today we learned about the difference between a dictionary and a thesaurus. Dictionaries tell us what a word means whereas a thesaurus gives us synonyms (words that have the same meaning). We played a game where Miss Perrin gave us a word and we had to find synonyms for that word. We got very competitive! After that, we used a thesaurus to improve our writing by finding different words for travel and search.
A Super Reading Breakfast
Pumpkin Class enjoyed sharing books and delicious food with their family, friends and community members. It was great to see everyone enjoying reading together!
J- Me and N liked looking at a space book together.
H- I enjoyed reading with Mrs. Wink.
E- My Dad taught me a new word 'nocturnal', it means when things come out at night.
R- I learnt something new about pandas, that baby pandas can't see.
R- Me and J ate lots of food! We enjoyed it! J- I read with Mrs. Lawson, it was a book about a king.
A- Thank you Mrs. Brady for organising a lovely morning.
S- Thank you to all the parents and helpers.
H- The breakfast food was delicious!
T- Thank you A's parents for reading with me.
M- I would love to have another reading breakfast!
Mrs. Wink- The morning was superb. Happy children engaging with their parents and grandparents and showing such a delight in their reading.
Author Visit: Grandad Wheels
Pumpkin Class
The author Brian Abram aka Grandad Wheels visited our school and told us all about his disability, his family and the great stories he writes.
R- People with disabilities might be in wheelchairs, but it doesn't stop them doing things like writing books and playing sport.
E- We learnt that people with disabilities are just like us. E- Grandad wheels told us how people in a wheelchair get dressed, get a shower and go to the toilet!
E- Grandad Wheels uses a banana board to help him get dressed.
H- I think he is a really good writer, as he has written lots of stories.
W- He donates money from his book to people with spine injuries.
J- He writes stories about him and his grandson- they are exciting and funny adventure stories.
F- I really enjoyed listening to his story and then we found some more on YouTube to watch.
W- Grandad Wheels was in a wheelchair because he'd banged into a tree. I love how he has changed his life and is writing books for children to read. He makes children realise what it is like to be in a wheelchair.
C- We all had to design a new wheelchair for Grandad Wheels. Mine was crazy and I drew one with a food tray, springs for bouncing and a disco umbrella!
Juniper and Barley Classes
This morning, we had the wonderful opportunity to meet Brian Abrams, author of the Grandad Wheels series of books. He shared his personal experiences of using a wheelchair and also helped to address any misconceptions around wheelchair users.
We found the workshop really fun and certainly learnt a lot. We also had a great time stretching our imaginations to create unique and rather spectacular wheelchair designs (including popcorn machines, jet packs, TV screens, giant springs and hot dog holders!) which Brian thought were fantastic when he came to the classroom to see them.
Thank you Brian, 'Chaos at the Supermarket!' was hilarious!
Year 5 Reading Breakfast
Year 5 had a wonderful reading breakfast this morning with parent/carers. They enjoyed croissants, fruit and fresh juice whilst using our VIPERS skills to answer ke questions from a given text. The sun was shining also!
"Such a lovely event! It's great to be back in school after the pandemic; thank you so much for organising it for the pupils and parents."
"Lovely to be able to join in and share learning with the children."
"Really nice for parents to be involved in the children's learning in this way."
"It was lovely to see what the children have been learning and how they socialise together."
Year 3 - Reading Breakfast
It's always good to share a book! It's been such a long time since we have been able to have parents in the school, so we were really excited to invite parents in for a reading breakfast. We were overwhelmed by how many parents were able to make it to this event. It was a great opportunity for parents to look around the classroom and our learning environment, have a chat with the staff and most importantly share a book with the children. Thank you so much for all those who were able to attend and we can't wait until the next event that we can share with you!
Year 1 Reading Breakfast
It was wonderful this week to see parents and carers enjoying a reading breakfast event in the Year 1 classrooms. Adults and children alike had an amazing time. Here are some comments and photos to share:
SG: I loved my Mum coming in to my class to read with me.
AB: I enjoyed helping pass the food round to everyone as well as reading with my Grandad.
VS: It was good to show Mum around the classrooms and enjoy reading.
TT: We loved the food and would like to do it again. AH: I loved reading in school with Mum.
Juniper Class - SkySong
Juniper class have started their new whole class read- SkySong. As part of the pre read, we researched Inuits and Kazakh Eagle Hunters, which will be in the book and presented our findings in a fact file!