Science
Circuits
Year 6 have thoroughly enjoyed being scientists this week! We have built circuits, using bulbs and buzzers. We evaluated whether ours were complete or incomplete, before assessing what we could do to ensure they were complete. A brilliant lesson!
Year 3 Harvest Live – Scientists at work
Today we joined a live link to see how scientists are working to improve harvests. They are looking at the soil used to see if carrots can be grown carbon free to improve global warning. They are also growing flowers amongst the crops so the insects attracted to the flowers can feed on more harmful creatures who could ruin the crops thus avoiding using chemicals. The children were amazed as they didn't realise how technical farming can be.
Pupil Voice
- I didn't know that carrots could be different colours
- I didn't know that nematodes existed and lived in the soil
- I found out that some parasitic wasps lay their eggs in caterpillars
-I was surprised that they use boxes to track the sound that insects make to identify them
-I didn't realise that plants can affect global warming
Year 3 - Being a scientist - Friction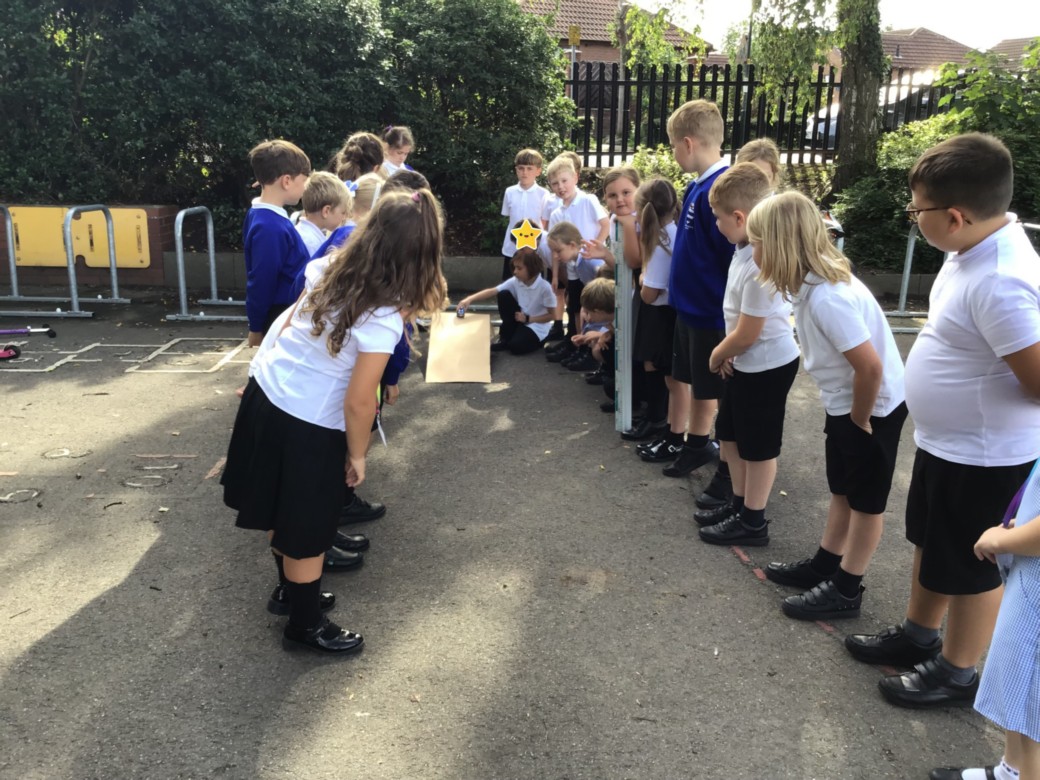 We have been learning about different forces which act upon objects and this week we looked at friction. This is when a force acts on a moving object to slow it down/stop it. We conducted a comparative investigation to see which surfaces have the most friction and slow down a moving toy car. The children made accurate predictions and enjoyed taking ownership of their investigation.
Year 1's are Scientists!
Today Year 1 have been Scientists! We have been sorting different objects by their materials. We listened to see if different materials made different noises.
Science Investigation - Refraction
This week's science investigation was to explore refraction.
We made predictions about what we thought would happen to an object/image when seen through a glass of water and discussed how light travels differently in different mediums, e.g. water. We explored how this is due to light waves travelling at different speeds and distorting the portrayal of the object.
We will continue to investigate how light travels and how we see things over our next few lessons.
Yorkshire Wildlife Park
Wow! What an amazing day!
Willow and Barley classes had a wonderful day at Yorkshire Wildlife Park last week! The day was spent exploring the park, focusing on the animal's habitats and how animals are adapted to their environment, which links to their science topics of 'Rainforests' and 'Evolution and Inheritence'.
Children visited the different animal's enclosures and discussed the types of vegetation, the similarities and differences between males, females and offsprings and how the animals are well suited to their environments.
It was a fantastic day, made even better by the glorious weather.
Keep checking our class blogs for further work related to our trip.
British Science Week 2022: The Theme of 'Growth'
Pumpkin Class
This term Pumpkin Class have been learning all about growth from a baby to an adult. They have explored different kinds of animals as well as humans. To begin Science Week, they investigated the heights of their friends.
C- I predicted that J would be the tallest and M would be the shortest in the whole class.
W- It was fun to use our new height chart and get good at measuring in centimetres.
D- I enjoyed our group's work. We had to find out who was the tallest on our table and who was the shortest and then put everyone's measurements in order. It was a challenge, but we did it!
H- I was surprised at how similar our numbers were.
L- I'm going to keep measuring myself to see if I can grow even taller by the summer.
Year 3 - Growing
This week the children have been undertaking tasks linked with growing. This fitted in perfectly with our gardening project in the KS1 playground and our learning about Rocks & Soils. We learnt about how important worms are putting nutrients into the soil and where we would find different types of worms. We then moved some soil into the tyres looking for worms that we could relocate and planted some flowers to make the tyres look pretty. We then went into the nature area to see if we could find worms there. We have put them in a temporary home - our plan is to make a small compost pot so we can observe the worms at work.
Science Week in Year 4
Year 4 have enjoyed having some very practical science investigations this week as part of Science Week. This year's theme was 'growth'.
During one investigation we followed a line of enquiry linked to our rainforest topic and work on deforestation. We were introduced to the conservationist Gerald Durrell and looked at his work linked to Madagascar. We then explored the impact of soil erosion on nutrients as part of the impact of deforestation. We set up a comparative investigation to find out what would happen if the soil also had bark or plants growing from it.
Another practical observation we made was linked to whale call and how they appear to be getting lower in frequency. Scientists speculate that this is linked to a growth in numbers and not having to communicate over long distances. We made observations of how a tuning fork's vibration creates ripples within water. This will link to our work in science on 'sound' next term. The tuning fork was such a low frequency that we had to listen very carefully and closely to hear it.
Year 3 How are fossils made?
In science we have been learning about how fossils are made when creatures die and they are left underground for millions of years. One of the children brought in a lovely example of an ammonite fossil. We learnt that when they die and are buried underground the body of the ammonite rots away leaving a cast fossil. Sometimes this cast is filled with sediment which turns to rock and makes a mould fossil. We used water to show this process adding water to a cast to make an icy 'fossil' of our own.
Y3 - Investigating the properties of rocks
We have learnt that rocks have different properties: density; permeability; durability and hardness. We had a carousel of activities for the children to undertake to test their properties.
Density - how quickly does the rock sink? The quicker it sinks the more dense the rock is Permeability - does it let water through? We dropped water onto it to see if it soaked into the rock or stayed on top.
Hardness - Can it be marked with a table knife?
Durability - does it easily wear away?
When we had investigated this we looked at the different rocks and what properties they had. We found out that sedimentary rock is less dense, permeable. less durable and softer whereas igneous and metamorphic rock which had been changed by heat were harder, impermeable, durable & had a greater density. The children found this work really interesting and loved trying different investigations.
Invertebrate Hunt
Recently, Willow class explored the school grounds in search of invertebrates. After being briefed on how to respectfully handle small creatures, we put on our coats and headed down to the nature area. We used our retrieval skills to remind ourselves how animals can be classified as invertebrates and predicted what we might find. We worked in small groups and used "bug viewers" to explore the invertebrates in greater detail. We found even more than we expected and had a really fun afternoon.
Year 3 - Types of Rocks
In this lesson we learned that rocks come in 3 types: Igneous; Metamorphic & Sedimentary.
Sedimentary rocks are where rocks are formed by layers/bits of sediment pressed together.
Igneous rocks are formed when rocks are melted in magma or lava and cooled down.
Metamorphic rock is formed when sedimentary rocks or igneous rocks are warmed enough to change but they haven't melted.
To help the children understand this we used Starburst to show these processes. Can you look at the pictures and see which types of rocks we were trying to make?
Animals
As part of our learning about animals, reception children are exploring crocodiles. We have learnt how to mix two primary colours to make the green we needed to paint crocodiles. We made a huge crocodile outside with wooden bricks. We also painted, drew and cut out crocodiles for a display. In the story making area we used wild animals to make stories about how a crocodile hunts and kills its prey. Look at the fun we've had along the way.
Baby Cooper
Marigold, Daisy and Cornflower Class: To help with our keeping clean topic, we were lucky enough to have a lovely visit from Mrs Smith's new baby- Cooper! We watched how Cooper enjoys bath time and what Mrs Smith and his Grandma do to keep Cooper clean. This was a great experience to help us with our understanding of the world which features in the EYFS curriculum.
A big thank you to Mrs Smith, Cooper and his Grandma for coming to visit us, and helping us learn!
Year 3 - Light
Can I investigate which materials are the most reflective?
Today we have looked at reflection and that it involves light bouncing off surfaces. We investigated different materials to find out which are the most reflective. We concluded that materials which are smooth and shiny are the best at reflecting light.
Investigating Conductivity
In Science Juniper class investigated the conductivity of different materials. They set up a simple circuit with a battery and bulb, and used different metals to complete the circuit. They observed the brightness of the bulb with each material and measured the light levels.
Year 3 Science - Light
Today we started our new topic of Light. We looked at different items which produced light, side-tracked slightly as Miss Perrin described why the moon does not produce light but reflects the sun, and thought about what darkness is.
We then played a game where we had to feel things & try to figure out what things are - we realised how much we rely on light and our sight to make sense of our surroundings.
Investigating magnetic poles
The children have learnt that magnets have a north & a south pole. They were asked to predict whether magnets would attract or repel each others depending on which poles were put together.
They discovered that if the same poles were put together they would repel each other but opposite poles would attract.
---
Year 3 - Can I investigate the strength of different types of magnets?
The children were introduced to different types of magnets: bar magnets; button magnets; ring magnets; horseshoe magnets & cylindrical magnets. They were asked to make a prediction about which type of magnet would be the strongest then we investigated this by seeing how many paper clips the magnet could hold in a chain. The children found this really tricky but they kept persevering. We found that the size of the magnet does not indicate the strength of the magnet.
Can I sort materials using magnets?
First we looked at a magnet and Miss Perrin used iron filings to show its magnetic field. The children found this really fascinating. The children were then asked to predict which materials would be attracted to magnets and which ones wouldn't. They then used magnets to see if their prediction was correct. The children were really surprised to find out that not all metals are attracted to magnets and that some coins are and others are not. The children decided that they must be made from different types of metal.
Can I investigate which materials will dissolve in liquid to make a solution?
Juniper Class predicted and then investigated which materials would dissolve in water to make a solution. We predicted which we thought were soluble and which were insoluble. Sugar is soluble whereas cooking oil is insoluble!
States of matter
Year 4 asked: Can you pour a liquid?
H: Honey is a thick liquid. We know it is a liquid because it flows together.
L: Honey is a liquid but it has some similar features to a solid.
We tried pouring different materials and noticed that you can pour oats like you would liquid, however we agreed that individual oats are a solid.
H: Oats are solid because you can hold them in your hand.
L: You can pour oats in a group, but they are still a solid
M: When you pour them they bounce and there are gaps between the different oats. This shows they are a solid.
L: When they are poured, they form into a shape or a mound. A liquid would fill the space and lay flat.
The final part of our investigation involved making a mixture using cornflour and water. We found that this reacted differently, depending on whether it was moving or still.
L: When I moved my fingers slowly through it, it reacted like a liquid.
I: When I moved quickly, I could pick it up like a solid. If I kept moving it, it would stay solid. If I relaxed my grip, it would drip like a liquid.
L: If I punch or hit the surface it feels like a solid against my hand.
I: If we apply more force, it reacts like a solid. If we apply less force, it reacts like a liquid.
Can I investigate friction on different surfaces?
In Science we were learning about friction. This is a force between two surfaces that are sliding, or trying to slide, across each other. Friction always slows a moving object down. We chose different surfaces to investigate: bubble wrap, thick carpet, thin carpet, the polished hall floor and lino flooring and thought about how we could investigate this and make it a fair test. Which surface do you think would have the most friction and slow the car down? Watch the clips and see if you were right.
---
Froglets!
Pumpkin Class have been looking closely at froglets this week. We drew the life cycle of the frog and labelled it using our science vocabulary. We can talk about: frog spawn; tadpoles; changes to their bodies; what they eat; how they live firstly in water and then on land (amphibians); their skin and finally how they mate and lay eggs.
We released them into the school pond and will keep going back to watch them grow. Some of us decided to make the life cycle using play doh!
Friction Experiment
Year 5 have been learning about different forces in science across the year. This week we learned a bit more about the force of friction. We investigated why friction is an important force when it comes to things like brakes on scooters and bikes. In order to investigate friction, we tested how long it took a scooter wheel to slow down, using a variety of different materials. The different materials were our independent variable, which meant that we had to keep all of our other variables the same for each test. It was also a lovely opportunity to get outside in the sun.
Parts of a Plant
On Friday, Pumpkin Class created collages with felt to show our knowledge of parts of a plant. In Science we have learnt about the different parts of a plant and their purpose. We used our art skills of collage to cut felt and create our masterpieces. What do you think?
Science Investigation - Light
Our Science topic during Summer 1 is 'Light'.
We have been learning about light sources, how light travels in straight lines and how light travels to enable us to see objects.
We conducted a Scientific Investigation to find out if the distance of the light source from the object affects the shadow size - including a title, prediction (hypothesis), equipment list, method, results chart, conclusion and evaluation.
M - It was really interesting to see the shadow increase, I thought they would just stay the same because the shape we made was the same each time!
F - We know ours was a fair test because we had controlled and independent variables and measured everything really accurately with the ruler.
Science
In Science we worked as teams to act out the life cycle of a flowering part. We tried to include the scientific vocabulary: germination, growing and flowering, pollination, fertilization and seed formation and seed dispersal.
Growing and Changing
Today Pumpkin Class have been looking at their plants to make scientific observations. Two weeks ago, on our Hook Day, we planted lots of seeds and today, two weeks later, we are looking to see what differences there are.
Sunflower Seeds
Wow! In two weeks this is what we noticed:
"I can see a root growing through the bottom of the pot!"
"The seed coat of the sunflower is stuck to a leaf"
"My sunflower has a stem which is tall."
"The shoot is reaching for the sun and the root is going down."
Beans
Our beans are planted in plastic bags so we can easily see the changes. This is what we observed:
"Some beans have grown more than others."
"Most have cracked open."
"One bean is growing smaller roots on the large root!"
We made some great observational drawings too.
Crime Scene Investigators!
Our Hook Day is based on our history topic this term, 'Crime and Punishment'.
We came into school to discover that a crime had been committed - someone had stolen our iPad!
We observed the crime scene, collected evidence, sketched the crimes scene and narrowed down our investigation to four suspects.
From this we then learnt about handwriting analysis, fingerprint lifting, chromatography, classifying fingerprints and discussing alibis and motives!
We had a brilliant day and cannot wait to find out more about how crime and punishments have changed over time.
Y4 Science & Art come together
As a part of Science Week the children had to design their own 'Robobug' which could be built to use in space exploration. Today the children were able to finish off their creations and give them some colour. Here is a selection of them. I could just imagine them in space. They look amazing!
Y4 - Classification of invertebrates
In science we are learning about the different types of organisms in this world and how we classify them. Today we looked at different invertebrates, looked at their features and learnt their scientific names. After this we went out onto the field and in the nature area to look for different invertebrates in their natural habitats. We looked at their features and tried to use their scientific names to identify them.
Science week
Seedlings and Sunflower Classes
Making a water purifier
As part of our Science week on 'Innovating for the Future', the Year 1 children made water filters to show how dirty water becomes clean. They discussed how some people are not as lucky as us and don't have clean water. When they were doing their investigation, they were surprised to see how the very dirty water came out so clean!
Crunchy Architecture You Can Eat!
This activity encouraged the Y1 children to be creative and to think of innovative designs for building crunchy architecture with biscuits and edible chocolate cement!
O- It was fun making the buildings.
C- I enjoyed making a tower.
L- Putting all the chocolate on was very sticky.
E- You had to think of the shapes of the biscuits and how they could fit together.
H- I had to put my biscuits together carefully, so they didn't fall down.
E- It was fun to be able to eat our Science activity today!
Today we got creative and thought about innovative designs to build some crunchy architecture with biscuits and edible melted chocolate cement! There were lots of problems solving and investigating the best ways to create structures that could stand up. We then enjoyed eating our structures and welcoming everyone back.
Pupil Voice;
J.Ch. - It was tricky making the roof, it kept falling down."
J.M - "Spreading the chocolate cement it was nice and runny."
A.T - "The chocolate cement was sticky."
E.G - "Putting the biscuits together with the chocolate cement was fun."
Juniper Class enjoyed taking part in Science week.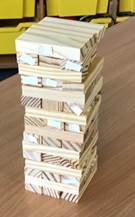 We played Jenga to learn about herd immunity.
On our tower of Jenga each block represented a group of people.
We put stickers on 10 blocks. The stickers represented groups of people that have been vaccinated.
Unmarked blocks were removed as they were infected with the virus. After a while the blocks collapsed.
Next we put stickers on 20 blocks. Unmarked blocks were again removed. This time the tower stayed up. This is because more people in the community are protected by the vaccine.
This is called Herd immunity.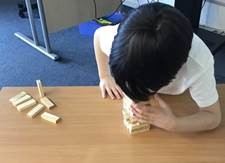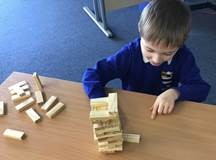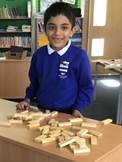 We investigated different types of plastics by testing some for their properties. We learnt about the problems with single use plastics and ways these can be reused.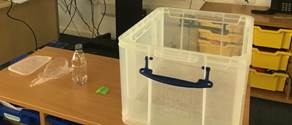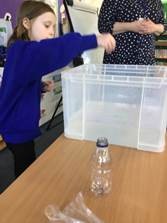 Poppy Class
Design your own Robo-bug
Insects have evolved to help them survive in many different habitats and have been the inspiration for many robots for rescue missions and space exploration. The recent exploration of Mars and the robots used have been in the news recently and were the inspiration for this activity. The children were given the task to design their own robo-bug which could be used for exploration, search & rescue & construction using different parts of different insects. After they designed them the children made a prototype out of salt dough. They had lots of fun making them.
Jenga Herd Immunity
In British Science week the theme is 'INNOVATING THE FUTURE'.
This activity is based on the principle of Herd immunity. The children were asked to build their Jenga tower to represent a community. They then placed 10 stickers to show people who have been inoculated. They were then able to 'infect' the other blocks by removing them. The community fell apart very quickly. They then repeated this with 20 stickers and then 30 stickers. The more stickers there were the stronger the community was as it was difficult to spread the infection.
In real terms inoculations make it more difficult to spread disease and protects those who cannot have inoculations themselves due to medical conditions. The world has faced a battle against COVID and the development of inoculations in a relatively short time shows how important scientists are constantly innovating and working to find cures for many diseases.
Barley Class
In Year 6, our Science Week project was inspired by the Perseverance rover landing on Mars!
We found out all about why we are exploring Mars, how we are doing it and discussed all of the components that are needed for a successful space rover mission.
For more information, please visit mars.nasa.gov/mars2020/
Firstly, we created a design brief, then built prototypes out of cardboard - this was much trickier than it looks!
Next, we are going to be creating our Mars rovers with wood, cardboard and an electrical circuit - we can't wait to show you the finished product!
Y4 Science – Sound – Which material is the best for soundproofing?
We have been learning about how sound travels through vibrations. In this lessons we wanted to know how we can reduce sound by soundproofing it with different materials. We played a track on a loop so the song was consistent. Then we wrapped the tech playing the music with different materials such as tin foil, newspaper, thick fabric and sponge.
We found out that it was very difficult to judge which material was the best. Sometimes we learn more by things not working well and we used our problem solving skills to think why the investigation was not accurate and how it could be improved next time. We researched further and found that items with air in them, such as bubble wrap or sponge are the best materials to use as the air particles are further apart to pass on the vibrations.
It was nice to see some of the children at home joining in too.
Y4 Sound over distance
In science we have looked at how sound gets quieter the further we move from it. First Miss Perrin set off a timer and each time we moved further away from the sound if got quieter and quieter. We then tried making string telephones. The children were amazed at how loud their voices were through a paper cup and a piece of string. It was lovely to see that others at home have been having fun trying this too.