Science
Can we investigate ways in which the brightness of a bulb is changed?
Barley class investigated the brightness of a bulb using different amounts of batteries, wires etc They had challenges to investigate in small groups and questioned the brightness of the bulb each time. Pupils are able to explain what makes a bulb bright or dim.
Can I recap knowledge on Electricity?
Electricity is our topic in Science this half term. To start our topic off, we re-capped and showed our current knowledge on Electricity. We looked at the various equipment and materials used to create electrical circuits and what each component is used for.
Can I understand the importance of hygiene to keep our bodies healthy?
In science we looked at the importance of hygiene to prevent germs and bacteria from spreading. We conducted an investigation to find out how the temperature of water and the use of soap effect how well we can clean our hands. First some children coated their hands in oil and flour and they were given a limited time to wash their hands. One bucket had cold water only, one cold water and soap, one with warm water only and the last warm water and soap. To ensure it was a valid result we repeated the experiment with some more children. The cleanest hands were the ones using warm water and soap. We then looked at how to clean our hands properly.
The children loved getting messy!
Cooking
Year 3 prepared and made a healthy and tasty meal using tomatoes and herbs as the main ingredients.  They made pasta with tomato and basil sauce with herby garlic bread. This involved ensuring hygiene procedures were used, following a recipe, and evaluating the finished dish. Most agreed it was delicious!  Many were inspired to want to cook this recipe using fresh ingredients at home.  We also identified which part of the Eat well plate each of the ingredients belonged to applying our previous learning on healthy eating.
Weeding, sowing, planting growing
Juniper class took it in turns to weed, plants seeds and plants and water our allotment area. We planted tomato plants, herbs, parsnip seeds, carrots, spring onions and beetroot. We can wait to see them grow.
Can I explain where, when and how strawberries are grown in the UK?
In science Year 3 explored our strawberry patch. We examined the flowers which would eventually turn into strawberries. We looked for the runners from the parent plant and how that is another way to grow new plants instead of using the seeds from the strawberries. Through our research we learnt that this was a quicker way than growing from seed and how the farmers tend to do it on UK strawberry farms. We estimated how many strawberries our patch would produce.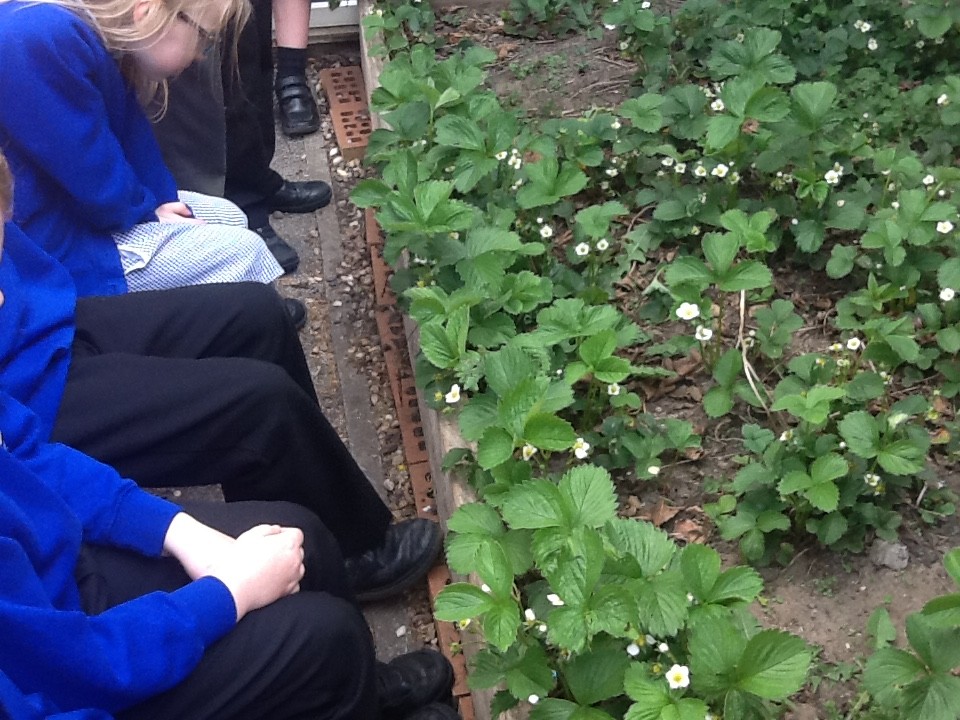 Mini Beasts in the Nature Area
Children from Seedlings worked together to find out about insects and living things. We explored the outdoor area to find worms, woodlouse, spiders and snails! Children identified the different habitats and features of each living thing they observed. Back in the classroom children recorded which insect they found, its habitat and how it moved.
Sunflower class use their environment to inspire their learning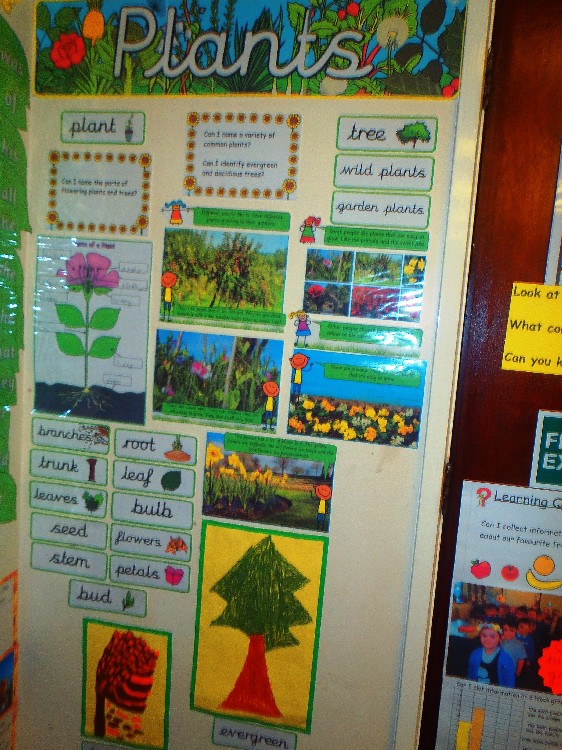 Planting Tomatoes
As we head into springtime and the warmer weather, we decided to plant some tomatoes ready for the summer. We looked at the roots hiding in the soil before planting them into a growbag. Next we gave them a good drink of water. We will look at how they change and measure how much they grow throughout the term and hope to get lots of tomatoes too!
Exploring Plants
Year 3 enjoyed exploring a range of plants including herbs. We learnt that we eat different parts of different plants.
"One smelt like chewing gum!" Nour
"Chives reminded me of the smell of onions" Lily
Today has been Seedlings 'Hook' day. We dressed as animals and enjoyed painting our favourite animal. We found out how to record information on a tally chart to find out our favourite class pet. We then use the tally to make a graph. In the afternoon we enjoyed listening to Mrs Harper, the veterinary nurse who talked to us about how she cares for animals. We learnt about cold blooded animals and looked at a tortoise called 'Thomas'. We learnt about guinea pigs and looked at their long teeth! Mrs Harper showed us some of her equipment such as a stethoscope to listen to animal's heartbeat. Finally, we bandaged pet toys using special bandages and enjoyed stroking 'Whisper' and 'Gizmo' the guinea pigs. You can see more pictures on Seedlings Hook Day Gallery page.
Signs of Spring
As we had such lovely weather today we decided it was the best time to go for a walk around school to look for signs that spring. Before we went we had a discussion about the different seasons and what we should be looking for. We found lots of flowers, buds on the trees and could see where some leaves were starting to open up and grow
Welly Wednesday - Planting Seeds
Sunflower class have decided to start planting our crops for this year. Our first crop is beetroot. In class we used our phonic's knowledge and sound buttons to read about the variety we have chosen. We also read the instructions carefully before going out side. As you can see we were very busy indeed. We worked together as a team. In the middle we had a two minute break and whilst we were sitting on the picnic benches we observed two magpies in the wildlife area. We were amazed at their long tails. At the end of the morning we returned all the equipment and we still had big smiles on our faces.
Hatching Eggs
There has been lots of excitement in school as we have been watching our 11 eggs in the incubator. Today we there were only 2 eggs and 9 chicks had hatched over night!! We have been learning about the life cycle of an hen and some interesting facts too. Did you know.... ... a chick pecks a hole in the shell with its egg tooth. ... chickens can live between 10 and 15 years
Can I make systematic and careful observations?
Poppy Class Egg Watch – Day 1
If you look carefully, then you will see a camera that is recording any changes in the eggs. What a useful piece of scientific equipment!
Can I notice that animals, including humans, have offspring which grow into adults?
Can I describe the differences in the life cycles of a mammal, an amphibian, an insect and a bird?
Star Anise were very excited by the arrival of the chick eggs today, which they will be looking after in their class. Eleven eggs are in the incubator and have to be kept at 37 degrees Celsius. Classes throughout the school will be coming to observe and monitor what happens during the week.
The Growth of Plants
In Science Year 3 pupils worked in teams to investigate how the amount of water, soil or light affects the growth of plants.
We had to ensure that the test was fair and to only change one thing.
We made predictions and gave reasons for them.
Can I investigate the way in which water is transported within Plants?
Year 3 set up an experiment to see if water dyed with food colouring would change the colour of the petals.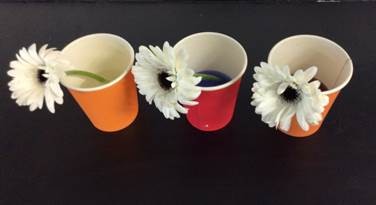 Science Investigation:
Do taller people have bigger feet than smaller people? Sunflower and Star Anise children joined forces to carry out a Scientific investigation. Here are some comments from the Year 1 children:
Oscar- We had to use a metre stick and measure people's feet and see how tall they were.
Sam- I liked working with another class. I measured taller people.
Ella M- I wrote down everyone's name and their shoe size.
Lily- A boy in my group had the biggest feet and he wasn't the tallest!
Anthony- It was fair because we measured everything with centimetres. I used a tape measure
LQ: Can I learn about eating healthy eating and how to have a balanced diet?
Key Stage 2 pupils had a fantastic afternoon, learning how to have a balanced diet and learning about the key food groups. A 'Ready, Steady, Cook' Interactive Challenge was created with Chartwells. Four pupils worked in two separate teams to create two healthy and nutritious meals... in 15 minutes! It was a great afternoon with critiques from our audience members and tasters as well!
Daffodils
We are so proud of our positive community links. Thank you to Laceby in Bloom for donating the daffodil bulbs and to Mr Lester for leading the lunchtime gardening club. We are looking forward to seeing the daffodils grow.
Animals Encounters
Seedlings Class
Tom from 'Animal Encounters' came to show us lots of wild animals including, a royal python, a bearded dragon, a tarantula, a hedgehog and a polecat. We learnt interesting facts such as 'the polecat has no shoulder blades and it is extremely flexible!" Mrs. Christie even held the animals too!
Sunflower Class
Our Science learning question: Can I identify and name a variety of animals? Tony Butler from Exotic Encounters showed us a variety of animals. He told us lots of interesting facts and we asked and answered lots of questions. Mrs. Brady said it was a really good talk because it was introducing the children to carnivores, herbivores and omnivores- which they will be learning more about in their Science lessons soon
Year 2
Year 2 were very excited to meet the animals.
Year 4
Today on the 9th of February Year 4's from Star Anise and Juniper class had an exotic animal visit from Tony Butler and his many unusual animals, including a polecat and a Komodo dragon. This was to help us understand and classify animal groups which we have been learning about in Science. "Living Things and their Habitats".
Millipede
RSPB BIRDWATCH 2017 - Stanford Nature Area
On Monday 30th January, 4 children from each class were chosen to represent Stanford School to record valuable data for this year's RSPB Big Birdwatch. We were lucky enough to have mild weather with reasonably clear skies. We were wrapped up very warmly for the hour of observation. The birds were very 'chirpy' and we were able to locate and identify them through their bird calls.
Children worked in pairs to complete the counting sheet. Each pair had a pair of binoculars, a recording chart, a bird identification sheet & a comfy cushion! After half an hour Miss Lucas came round with Birdwatcher Biscuits for sustenance. The children were all very enthusiastic and observant, they were openly grateful for the opportunity to be part of this experience
Owl Day
Star Anise
Today 27th Jan we had a busy day In Star Anise Class with visits from PDSA People's Dispensary for Sick Animals. They told us all about the good work they do supporting sick animals and how we need to care for our pets. We also had a display of beautiful owls.
Mia- not all owls are nocturnal
James- owls can't rotate their heads all the way around.
Juniper Class
Today, our school field has some special visitors -
Julie and Mark from Lincoln Owl Rescue. They have brought with them an European Eagle Owl, Tawny Owl , Barn Owl, North American Screech & Australian Boobook for the pupils to see and learn about.
"I liked Jesse the Eagle owl the best because of his massive orange eyes." Owyn
"I loved seeing Sunbeam the tawny owl. His feathers looked so soft." Archie
Carroll Diagrams
As part of our theme on Animals Including Habitats, Year 4's from Star Anise and Juniper classes sorted animals in a variety ways using Carroll Diagrams.
Energy Heroes 13 Janaury
Rob and Kate came to talk to us in our school 'Energy Heroes' assembly about taking care of our world and using less electricity.
Year 2 Science Learning 13 Janaury
We used our wonderful outdoor area to help us learn.
We looked for different living things and evidence that animals had been in the area.
Look carefully at the pictures. What can you find? Can you explain your thinking?
Switch Off Fortnight winners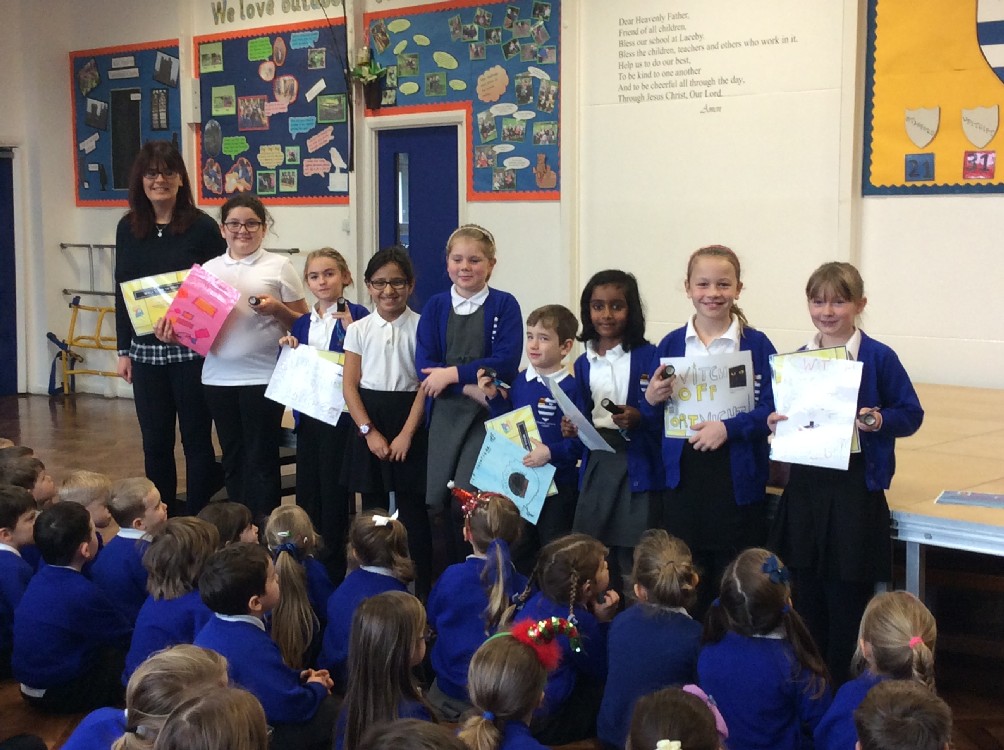 The winners of our Design a Poster competition to encourage us to save energy by switching off lights and devices when not in use. The winners received a small torch and a certificate. Well done to all those who took part.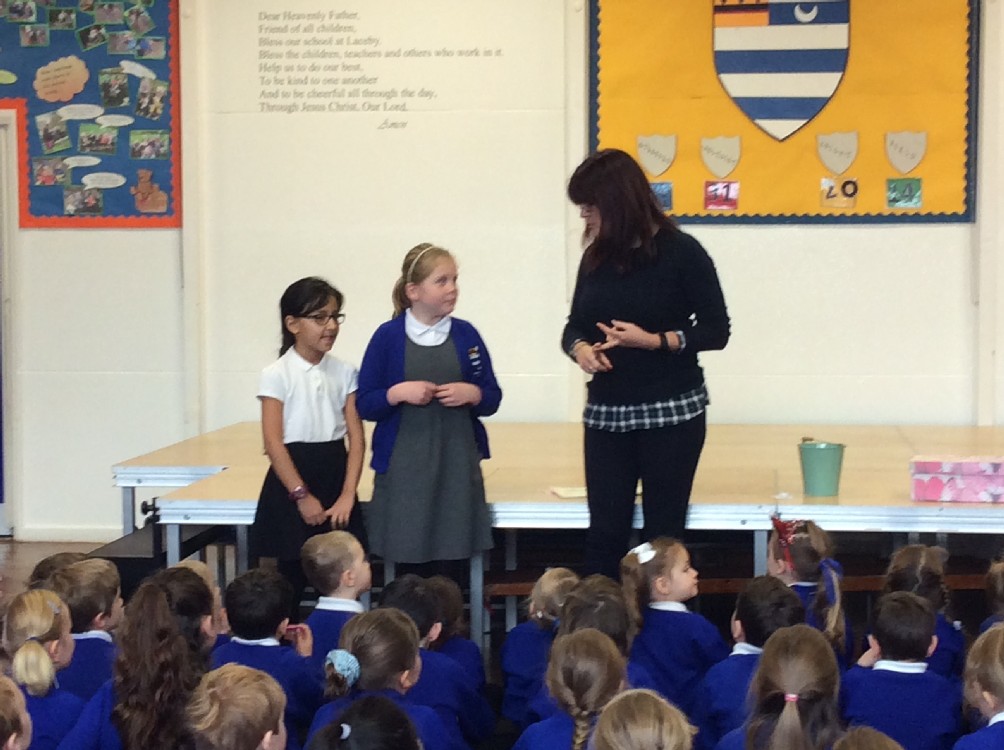 A big thank you to Finlay, Mareen and Mia for all their help monitoring.
Investigating whether materials are waterproof or not?
We tested different materials to find out which material would be best for making an umbrella. Dexter- It was a fair test because we measured the water with spoons. Finely- All the pieces we tested were the same size. Betsie- I tested Mrs. Brady's umbrella and it was waterproof! Sam- There was only one waterproof material and that was plastic. Lily- All the other materials went soggy.
Magnets
Year 3s enjoyed investigating which materials are attached to magnets today.
Switch Off Fortnight
Children from Seedlings class encouraged others to save energy by creating a poster, at home, as part of the 'Switch Off Fortnight'.
Well done to all those who took part in our school competition.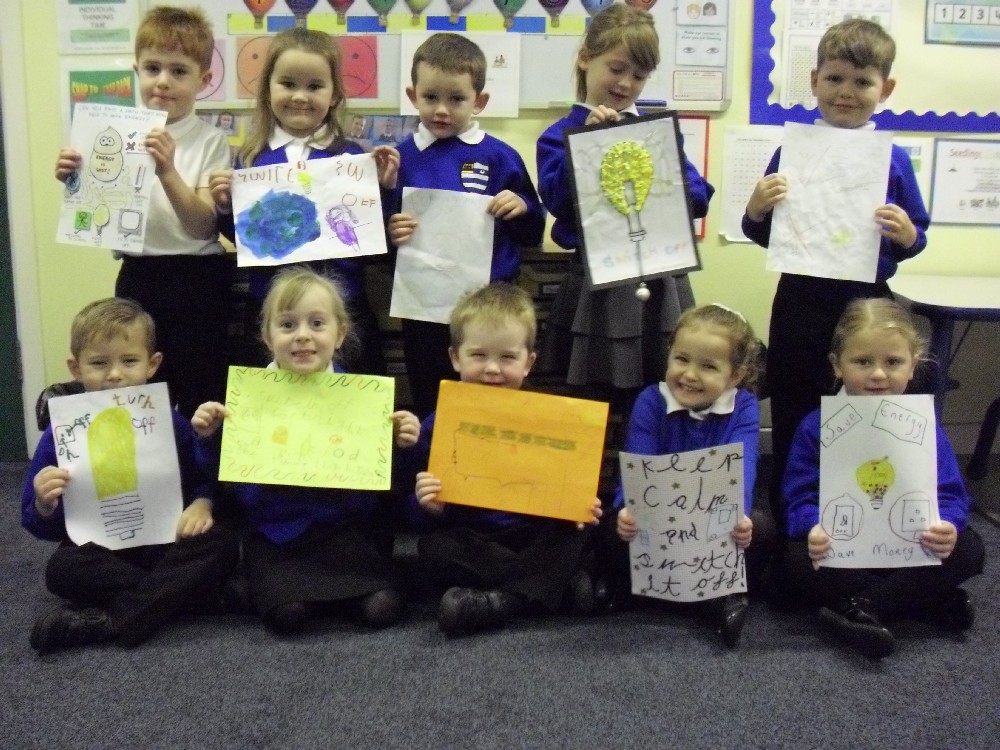 Year 5 Dissolving Investigation
In Mustard Class we have been investigating the different variables that can affect materials and the rate that they will dissolve. We used our Scientific Enquiry knowledge to predict, plan, implement and analyse our results. We independently conducted the investigation in pairs and discussed how we ensured it was a fair test. We used a range of scientific vocabulary such as soluble, insoluble, translucent, independent variables, controlled variables and anomaly, to conclude and evaluate our investigation.
Harrison said, "This was such a fun lesson, I really liked using the equipment and measuring accurately."
Simon said, "I learnt all about dissolving and how it doesn't mean disappear, it's still there even if you can't see it."
Reflections and Shadows
Barclay Class have been investigating reflections and shadows in Science this week. We looked at different surfaces and tested whether they were reflective by making predictions and then shining a torch beam on the surface.
' We really had to focus to see if there was a reflection in different surfaces' Y6 Pupil
They then planned an experiment to find out what happens to the size of a shadow when an object is moved further away from the light source. They carried out the investigation and recorded our results.
' We really enjoyed investigating shadows! I liked seeing what shapes were made and what happened to the shadow!' Y6 Pupil
Gardening and Tidying
Year 5 had an enjoyable time gardening and tidying up the front of the School with Mrs Amos, in preparation for some Autumn planting.
Our eyes are a wonderful thing!
In Science Barley Class studied the eye and learnt about the different parts of an eye. It was amazing to see how the eye works and that the eye can trick us into seeing things that are not there. Did you know our eye is like a camera and actually sees images upside down?
The Water Cycle!
Barley Class have had a fun afternoon learning about The Water Cycle. We used a catchy song to help us learn the process of the water cycle using the key terminology. Can you sing the song?
"The water cycle, takes the water and moves it up and down and all around the earth....Whoop Whoop!"
Weeding and Harvesting
Star Anise enjoyed returning to school for a fun afternoon weeding and harvesting their Summer potato crop. Time to plant Spring bulbs including Narcissi, daffodils and tulips.
Today is Space seed planting morning.
In Juniper Class we had to follow the instructions to set the experiment up precisely - Mrs Amos helped us.
This included making labels for each seed out of recycled milk bottles.
We had to be careful to only plant one seed in each pot. Everyone in Juniper class got the opportunity to do some planting.
We have a special "space lab" section in our classroom. Monitors will check on the seeds daily ensuring they get the same amount of water. Every other day we need to rotate them so they get equal light.