Science
Baby Cooper
Marigold, Daisy and Cornflower Class: To help with our keeping clean topic, we were lucky enough to have a lovely visit from Mrs Smith's new baby- Cooper! We watched how Cooper enjoys bath time and what Mrs Smith and his Grandma do to keep Cooper clean. This was a great experience to help us with our understanding of the world which features in the EYFS curriculum.
A big thank you to Mrs Smith, Cooper and his Grandma for coming to visit us, and helping us learn!
Year 3 - Light
Can I investigate which materials are the most reflective?
Today we have looked at reflection and that it involves light bouncing off surfaces. We investigated different materials to find out which are the most reflective. We concluded that materials which are smooth and shiny are the best at reflecting light.
Investigating Conductivity
In Science Juniper class investigated the conductivity of different materials. They set up a simple circuit with a battery and bulb, and used different metals to complete the circuit. They observed the brightness of the bulb with each material and measured the light levels.
Year 3 Science - Light
Today we started our new topic of Light. We looked at different items which produced light, side-tracked slightly as Miss Perrin described why the moon does not produce light but reflects the sun, and thought about what darkness is.
We then played a game where we had to feel things & try to figure out what things are - we realised how much we rely on light and our sight to make sense of our surroundings.
Investigating magnetic poles
The children have learnt that magnets have a north & a south pole. They were asked to predict whether magnets would attract or repel each others depending on which poles were put together.
They discovered that if the same poles were put together they would repel each other but opposite poles would attract.
---
Year 3 - Can I investigate the strength of different types of magnets?
The children were introduced to different types of magnets: bar magnets; button magnets; ring magnets; horseshoe magnets & cylindrical magnets. They were asked to make a prediction about which type of magnet would be the strongest then we investigated this by seeing how many paper clips the magnet could hold in a chain. The children found this really tricky but they kept persevering. We found that the size of the magnet does not indicate the strength of the magnet.
Can I sort materials using magnets?
First we looked at a magnet and Miss Perrin used iron filings to show its magnetic field. The children found this really fascinating. The children were then asked to predict which materials would be attracted to magnets and which ones wouldn't. They then used magnets to see if their prediction was correct. The children were really surprised to find out that not all metals are attracted to magnets and that some coins are and others are not. The children decided that they must be made from different types of metal.
Can I investigate which materials will dissolve in liquid to make a solution?
Juniper Class predicted and then investigated which materials would dissolve in water to make a solution. We predicted which we thought were soluble and which were insoluble. Sugar is soluble whereas cooking oil is insoluble!
States of matter
Year 4 asked: Can you pour a liquid?
H: Honey is a thick liquid. We know it is a liquid because it flows together.
L: Honey is a liquid but it has some similar features to a solid.
We tried pouring different materials and noticed that you can pour oats like you would liquid, however we agreed that individual oats are a solid.
H: Oats are solid because you can hold them in your hand.
L: You can pour oats in a group, but they are still a solid
M: When you pour them they bounce and there are gaps between the different oats. This shows they are a solid.
L: When they are poured, they form into a shape or a mound. A liquid would fill the space and lay flat.
The final part of our investigation involved making a mixture using cornflour and water. We found that this reacted differently, depending on whether it was moving or still.
L: When I moved my fingers slowly through it, it reacted like a liquid.
I: When I moved quickly, I could pick it up like a solid. If I kept moving it, it would stay solid. If I relaxed my grip, it would drip like a liquid.
L: If I punch or hit the surface it feels like a solid against my hand.
I: If we apply more force, it reacts like a solid. If we apply less force, it reacts like a liquid.
Can I investigate friction on different surfaces?
In Science we were learning about friction. This is a force between two surfaces that are sliding, or trying to slide, across each other. Friction always slows a moving object down. We chose different surfaces to investigate: bubble wrap, thick carpet, thin carpet, the polished hall floor and lino flooring and thought about how we could investigate this and make it a fair test. Which surface do you think would have the most friction and slow the car down? Watch the clips and see if you were right.
---
Froglets!
Pumpkin Class have been looking closely at froglets this week. We drew the life cycle of the frog and labelled it using our science vocabulary. We can talk about: frog spawn; tadpoles; changes to their bodies; what they eat; how they live firstly in water and then on land (amphibians); their skin and finally how they mate and lay eggs.
We released them into the school pond and will keep going back to watch them grow. Some of us decided to make the life cycle using play doh!
Friction Experiment
Year 5 have been learning about different forces in science across the year. This week we learned a bit more about the force of friction. We investigated why friction is an important force when it comes to things like brakes on scooters and bikes. In order to investigate friction, we tested how long it took a scooter wheel to slow down, using a variety of different materials. The different materials were our independent variable, which meant that we had to keep all of our other variables the same for each test. It was also a lovely opportunity to get outside in the sun.
Parts of a Plant
On Friday, Pumpkin Class created collages with felt to show our knowledge of parts of a plant. In Science we have learnt about the different parts of a plant and their purpose. We used our art skills of collage to cut felt and create our masterpieces. What do you think?
Science Investigation - Light
Our Science topic during Summer 1 is 'Light'.
We have been learning about light sources, how light travels in straight lines and how light travels to enable us to see objects.
We conducted a Scientific Investigation to find out if the distance of the light source from the object affects the shadow size - including a title, prediction (hypothesis), equipment list, method, results chart, conclusion and evaluation.
M - It was really interesting to see the shadow increase, I thought they would just stay the same because the shape we made was the same each time!
F - We know ours was a fair test because we had controlled and independent variables and measured everything really accurately with the ruler.
Science
In Science we worked as teams to act out the life cycle of a flowering part. We tried to include the scientific vocabulary: germination, growing and flowering, pollination, fertilization and seed formation and seed dispersal.
Growing and Changing
Today Pumpkin Class have been looking at their plants to make scientific observations. Two weeks ago, on our Hook Day, we planted lots of seeds and today, two weeks later, we are looking to see what differences there are.
Sunflower Seeds
Wow! In two weeks this is what we noticed:
"I can see a root growing through the bottom of the pot!"
"The seed coat of the sunflower is stuck to a leaf"
"My sunflower has a stem which is tall."
"The shoot is reaching for the sun and the root is going down."
Beans
Our beans are planted in plastic bags so we can easily see the changes. This is what we observed:
"Some beans have grown more than others."
"Most have cracked open."
"One bean is growing smaller roots on the large root!"
We made some great observational drawings too.
Crime Scene Investigators!
Our Hook Day is based on our history topic this term, 'Crime and Punishment'.
We came into school to discover that a crime had been committed - someone had stolen our iPad!
We observed the crime scene, collected evidence, sketched the crimes scene and narrowed down our investigation to four suspects.
From this we then learnt about handwriting analysis, fingerprint lifting, chromatography, classifying fingerprints and discussing alibis and motives!
We had a brilliant day and cannot wait to find out more about how crime and punishments have changed over time.
Y4 Science & Art come together
As a part of Science Week the children had to design their own 'Robobug' which could be built to use in space exploration. Today the children were able to finish off their creations and give them some colour. Here is a selection of them. I could just imagine them in space. They look amazing!
Y4 - Classification of invertebrates
In science we are learning about the different types of organisms in this world and how we classify them. Today we looked at different invertebrates, looked at their features and learnt their scientific names. After this we went out onto the field and in the nature area to look for different invertebrates in their natural habitats. We looked at their features and tried to use their scientific names to identify them.
Science week
Seedlings and Sunflower Classes
Making a water purifier
As part of our Science week on 'Innovating for the Future', the Year 1 children made water filters to show how dirty water becomes clean. They discussed how some people are not as lucky as us and don't have clean water. When they were doing their investigation, they were surprised to see how the very dirty water came out so clean!
Crunchy Architecture You Can Eat!
This activity encouraged the Y1 children to be creative and to think of innovative designs for building crunchy architecture with biscuits and edible chocolate cement!
O- It was fun making the buildings.
C- I enjoyed making a tower.
L- Putting all the chocolate on was very sticky.
E- You had to think of the shapes of the biscuits and how they could fit together.
H- I had to put my biscuits together carefully, so they didn't fall down.
E- It was fun to be able to eat our Science activity today!
Today we got creative and thought about innovative designs to build some crunchy architecture with biscuits and edible melted chocolate cement! There were lots of problems solving and investigating the best ways to create structures that could stand up. We then enjoyed eating our structures and welcoming everyone back.
Pupil Voice;
J.Ch. - It was tricky making the roof, it kept falling down."
J.M - "Spreading the chocolate cement it was nice and runny."
A.T - "The chocolate cement was sticky."
E.G - "Putting the biscuits together with the chocolate cement was fun."
Juniper Class enjoyed taking part in Science week.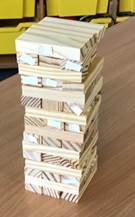 We played Jenga to learn about herd immunity.
On our tower of Jenga each block represented a group of people.
We put stickers on 10 blocks. The stickers represented groups of people that have been vaccinated.
Unmarked blocks were removed as they were infected with the virus. After a while the blocks collapsed.
Next we put stickers on 20 blocks. Unmarked blocks were again removed. This time the tower stayed up. This is because more people in the community are protected by the vaccine.
This is called Herd immunity.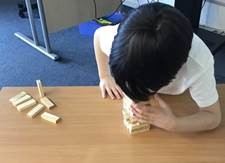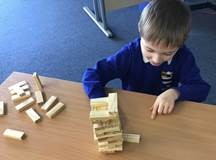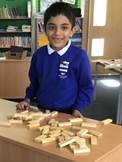 We investigated different types of plastics by testing some for their properties. We learnt about the problems with single use plastics and ways these can be reused.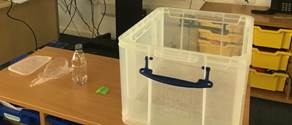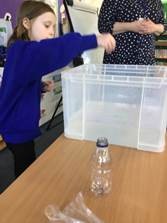 Poppy Class
Design your own Robo-bug
Insects have evolved to help them survive in many different habitats and have been the inspiration for many robots for rescue missions and space exploration. The recent exploration of Mars and the robots used have been in the news recently and were the inspiration for this activity. The children were given the task to design their own robo-bug which could be used for exploration, search & rescue & construction using different parts of different insects. After they designed them the children made a prototype out of salt dough. They had lots of fun making them.
Jenga Herd Immunity
In British Science week the theme is 'INNOVATING THE FUTURE'.
This activity is based on the principle of Herd immunity. The children were asked to build their Jenga tower to represent a community. They then placed 10 stickers to show people who have been inoculated. They were then able to 'infect' the other blocks by removing them. The community fell apart very quickly. They then repeated this with 20 stickers and then 30 stickers. The more stickers there were the stronger the community was as it was difficult to spread the infection.
In real terms inoculations make it more difficult to spread disease and protects those who cannot have inoculations themselves due to medical conditions. The world has faced a battle against COVID and the development of inoculations in a relatively short time shows how important scientists are constantly innovating and working to find cures for many diseases.
Barley Class
In Year 6, our Science Week project was inspired by the Perseverance rover landing on Mars!
We found out all about why we are exploring Mars, how we are doing it and discussed all of the components that are needed for a successful space rover mission.
For more information, please visit mars.nasa.gov/mars2020/
Firstly, we created a design brief, then built prototypes out of cardboard - this was much trickier than it looks!
Next, we are going to be creating our Mars rovers with wood, cardboard and an electrical circuit - we can't wait to show you the finished product!
Y4 Science – Sound – Which material is the best for soundproofing?
We have been learning about how sound travels through vibrations. In this lessons we wanted to know how we can reduce sound by soundproofing it with different materials. We played a track on a loop so the song was consistent. Then we wrapped the tech playing the music with different materials such as tin foil, newspaper, thick fabric and sponge.
We found out that it was very difficult to judge which material was the best. Sometimes we learn more by things not working well and we used our problem solving skills to think why the investigation was not accurate and how it could be improved next time. We researched further and found that items with air in them, such as bubble wrap or sponge are the best materials to use as the air particles are further apart to pass on the vibrations.
It was nice to see some of the children at home joining in too.
Y4 Sound over distance
In science we have looked at how sound gets quieter the further we move from it. First Miss Perrin set off a timer and each time we moved further away from the sound if got quieter and quieter. We then tried making string telephones. The children were amazed at how loud their voices were through a paper cup and a piece of string. It was lovely to see that others at home have been having fun trying this too.
RSPB Birdwatch
Foundation children have been learning all about British birds, their habitats, foods they eat and how to care for them this week.
We threaded foods onto garden wire to make bird feeders that we then hung around the outdoor areas at school.
Children then went outside to take part in the RSPB Birdwatch to look for birds and then record they birds they spotted.
Year 1 Science:
The Human Body The children have had a lot of fun learning all about the human body. They played games, like 'Simon Says' and explored the great outdoors with their five senses. They can name the parts of the human body and have been finding out lots of interesting facts from their National Oak Academy lessons. Well done to everyone at home and at school!
Pumpkin Class Learn about Germs!
As part of our work about germs, we have learnt how Louis Pasteur discovered that pasteurization kills germs in our drinks. We watched a video all about the journey of milk from a farm to the shops. In the video it showed a machine that pasteurized the milk. We know that what a scientist did a long time ago is still being used today! Look at our journey maps with an explanation of what Louis did.
Making switches for electrical circuits
This week we have been learning about different electrical switches that are used around our homes and on electrical appliances.
We then tried to make our own switches using paperclips, bulldog clips and tin foil. They were quite tricky to make!
Insulators and Conductors
In Science we have been learning about electrical circuits. Today we have investigated conductors and insulators. Insulators are materials which do not allow electrical charge to go through them and conductors are materials which allow electrical charge to pass through them. We found out that most of the materials we tested are insulators and that metallic items are conductors.
Complete and Incomplete circuits
In science we have been learning about electrical circuits and how they work.
For electricity to work the circuit must have a power source, the circuit must be complete and have no gaps and the wires must go to the positive and negative sides of a battery or cell.
We tried acting this out in person- one person was a cell and sent off a pulse around the circuit and when it reached the 'bulb' she went "shine". We then looked at what happens when the circuit is broken, when someone wasn't connected to both sides of the cell, when there was no cell and when the bulb was removed.
We looked at different circuits and we predicted if they would work, then we made the circuits to see if our predictions were right. How illuminating!!!
Science Investigation
The Year 1 children worked with Mrs. Amos (our Science leader). They investigated which material would be the most suitable to make a new umbrella for Winnie the Pooh.
W- We dropped water on different materials to see if any of them were waterproof.
H- I predicted cardboard would be waterproof. I waited to see if it soaked up the water and after a long wait it did. So it wouldn't be very good to make an umbrella with.
E- The fabric went very soggy.
E- My tissue paper got wet and started to tear.
D- We found out that plastic is waterproof. The water didn't soak in. The water just stayed on top.
C- We found out that Winnie the Pooh's new umbrella should be made of plastic because plastic is waterproof.
Investigating Magnets
We enjoyed looking at how iron filings are attracted to the magnet. The magnetic force pulls them towards the magnet.
We enjoyed investigating which objects are attracted to the magnets in our classroom.
The Water Cycle – Rain in a bag.
In science have been looking at how water changes state through freezing, melting, evaporation & condensation, We applied this knowledge to the world in general and looked at how water goes through these processes in the water cycle.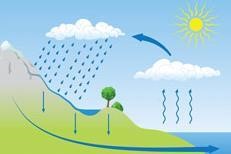 To show this process in the classroom we made 'Rain in a bag'. We labelled a bag with the processes and put some coloured water in the bottom of the bag then we taped it to the window. Each child was given their own bag of 'rain' so they can observe the science at home.
Can I identify and observe the processes that cause water to change state?
We have already been learning about how materials have a melting and a freezing point. Today we developed our understanding of changing states of matter by looking at how liquids change into gases and reverse back to liquids. These processes are called evaporation and condensation.
Ice Cube Investigation
Reversing the changes
Salt and Ice
Investigating the melting point of chocolate
In science we have been looking at how materials melt and freeze at different temperatures. We know that water freezes and melts at 0 degrees C. We thought we would look at chocolate to see at what temperature it starts to melt. We used 3 bowls of water at different temperatures (5, 30 & 40 degrees C) to place our chocolate in then we observed them closely. We discovered that the chocolate melts between 30 and 40 degrees C.
This is why chocolate will melt in our hand as our body temperature is higher than the melting point of chocolate.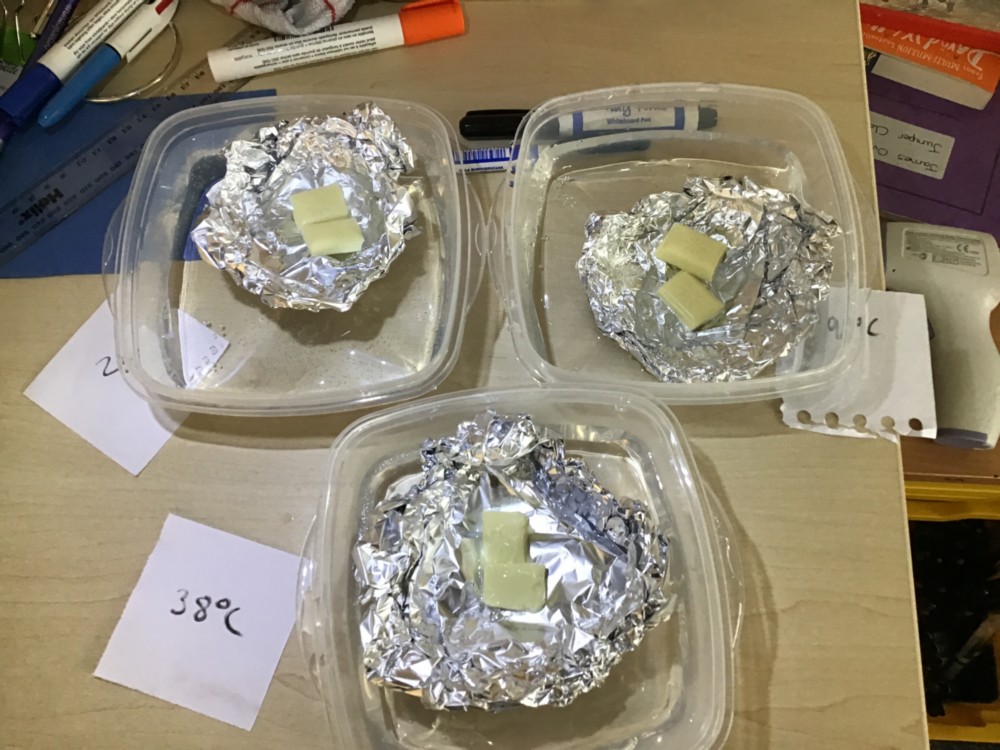 Does gas have weight?
We have been learning about solids, liquids and gases. We know that solids and liquids have weight but we wanted to see if it was the same for gas. To prove that gas has weight we thought about where we could easily find a source of gas and we decided to use fizzy drinks for our investigation.
First we weighed the sealed bottle to find the weight of the bottle, liquid & gas. Then we shook the bottle to release the gas. We continued to do this until the liquid was flat then we weighed the bottle again. The bottle was lighter so this proved that the gas in the liquid had weight.
We looked at the different brands of fizzy drinks to see which brand was the fizziest, it was Tango. We then placed the bottles in order of fizziness. We had lots of fun completing this investigation.
Electricity
Our science topic this term is 'Electricity', we looked at naming and identifying the basic electrical components; wire, buzzer, bulb, switch, motor, battery. We then created a circuit using these components.
Weather
In Green Bubble, when it rained, we dressed in our waterproofs and wellies and went to investigate the puddles. Some were deep, but others were deeper! Some made small splashes, but others made huge splashes! We loved the rain.
Chromatography
On Tuesday we learnt about 'Chromatography' and investigated how colours can be 'separated', looking at which colours made each felt pen! We drew a coloured spot using a felt pen onto filter paper and carefully put the bottom of the paper into water. Then we watched the colours separate. Look at what we found out.
'Don't Tip The Ship!' Science Investigation
On Tuesday's Science Day Seedlings, Sunflower and Pumpkin classes all joined together to investigate 3 different things. In this group we made boats that were all the same and tried to keep them afloat with different objects. We counted how many cubes, stones or counters we could put into the boats without them sinking. We had lots of fun investigating in the water!
Our Diverse Planet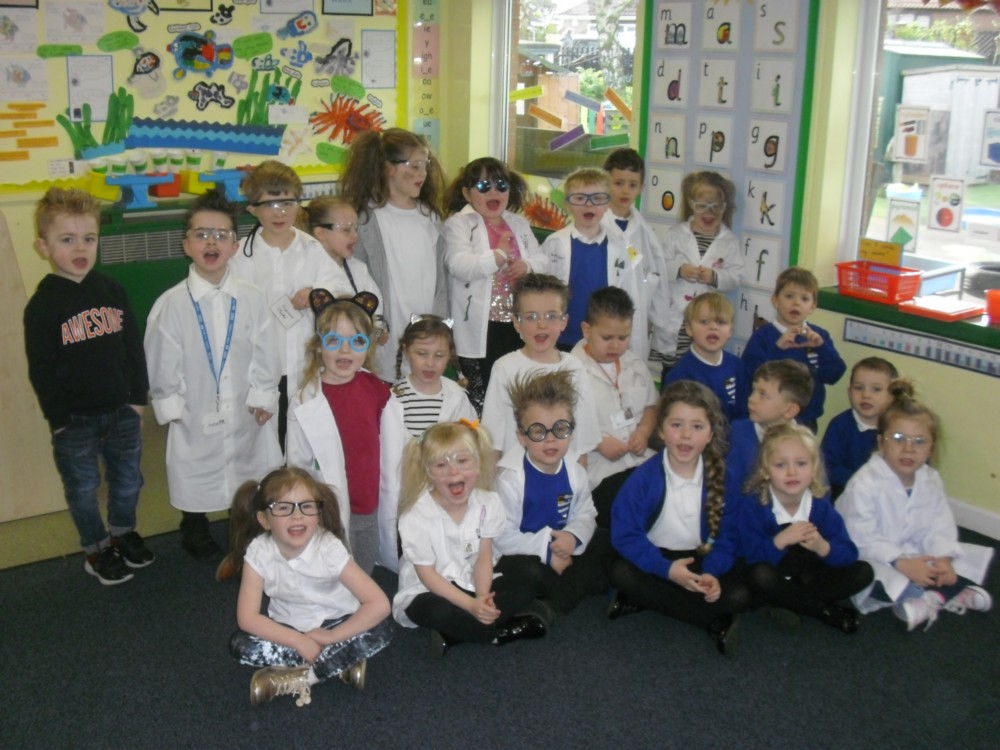 As part of our Science week, we have been scientist learning about our diverse planet. Children have worked collaboratively with Year 1 and 2 to find out about native animals, our bodies and objects that float or sink.
British Science Week: Is everyone's body the same?
The children played 'Simon Says' to learn the different parts of the body. They compared their bodies with others: looking at eye colour, hair colour, height, size of their hands and feet and length of their arms and legs.
J- I looked in the mirror and I could see that I have blue eyes.
J- My hand was bigger than a Year 2 boy's. I was surprised because I'm in a little class and he is older than me.
C and T- We found out that we have the same sized hands.
A- Mrs. Brady's hand was almost the same size as mine!
B and E- We are what we thought: the older person is taller.
W and J- We had the same sized feet, even though we are not the same age.
T- Everyone in our group has two arms, two hands, two eyes- but some things look different. There might be different colours and different sizes and shapes.
F- I enjoyed drawing around a person and making the picture look just like them.
Science Day in Juniper Class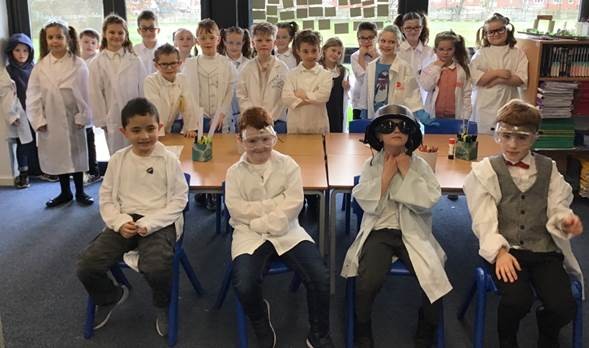 Snowdrop Experiment
Seedlings class have been investigated what would happen when we put snowdrops in different coloured water. Can you tell a grown up what happened?
Evolution and Inheritance
In Year 6 we have been learning about 'Evolution and Inheritance'.
We have investigated inherited and adaptive traits, examined fossil evidence to support the idea of evolution and discussed the ethical issues of human intervention in the process of evolution by natural selection.
Some fossils were brought in by a pupil and we examined them under the visualiser, thinking about what made the fossilised imprint and discussing any present day ancestors.
In Year 6 we have been learning about 'Evolution and Inheritance'.
We have investigated inherited and adaptive traits, examined fossil evidence to support the idea of evolution and discussed the ethical issues of human intervention in the process of evolution by natural selection.
Some fossils were brought in by a pupil and we examined them under the visualiser, thinking about what made the fossilised imprint and discussing any present day ancestors.
Weight and Mass
As part of our theme on 'Forces' we investigated if there was a link between the weight and mass of an object. Class Star Anise measured the weight and mass of different objects using a force metre and scales and then compared the results.
The children discussed all objects are made of matter and that the amount of matter they are made of is called their mass. This is measured in Kg. The pulling force of gravity on an object is the weight. It is measured in Newtons.
Famous Scientists – Alexander Graham Bell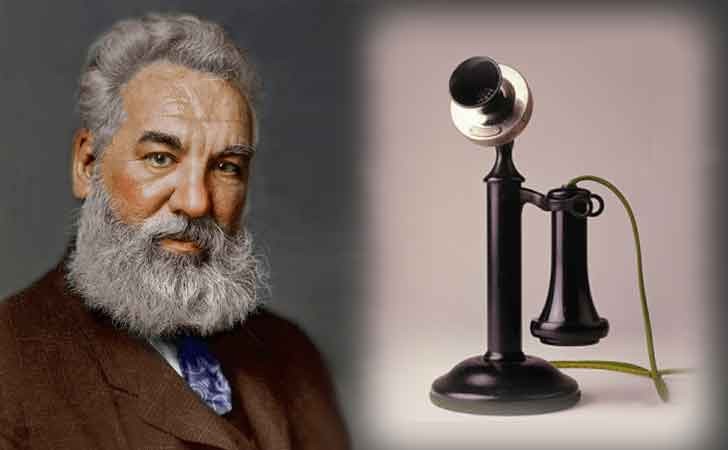 As well as learning about different aspects of science we also learn about famous scientists and how they have made an impact on our lives.
This term we have been learning about sound and how it moves through vibration in the air. Alexander Graham Bell spent his life investigating sound and thinking of ways that he could help people. He did a lot of work with the hearing impaired and his most famous invention was the telephone.
The children looked at how sound changes over distance. As the children moved away from each other they could not hear as clearly. The children then tried to make telephones using paper cups and string.
The children realised that if the string was loose it did not work but if the string was kept taught they could hear each other. This is because the vibrations caused by speech vibrate through the cup, through the string, through the receiving cup and into the ear. The children were amazed when they looked at photos of the original phones and how they have changed over time to the current mobile phones.
The children had lots of fun recreating the work of Alexander Graham Bell, but I don't think we are at the stage to compete with any of the mobile networks….yet!
Properties of Rocks
In Science, we have been investigating properties of different rocks.
LQ: Can I recognise how things change?
LQ: Can I add features to my map?
In preparation for our teddy bear's picnic tomorrow, Seedlings class have been busy baking teddy bear biscuits inspired by our toys themed work. Children counted the number of spoons, measured the ingredients and explored the mixture both before and after they had been cooked. We have also drawn maps that we will follow to help us find our way there. Children learned about the different features on a map, such as a path, bridge, stream and woods. All we need now are our wellies and teddy bears!
Animals including Humans
In our science this week we have been using the following vocabulary: predator, prey, hunt, food chain
We have all made food chains for the emperor penguin.
We learnt that:
an emperor penguin's prey is fish, squid and krill
an emperor penguin's predators are leopard seals
We can read the 'story' of our food chains too.
"Plankton is eaten by Krill; Krill is eaten by squid; squid is eaten by fish; fish is eaten by penguins and penguins are eaten by leopard seals."
Can I change the pitch of a sound?
We have been investigating the pitch of sound and how we can change it from low to high. We looked at stringed instruments, wind instruments and percussion instruments.
We discovered the shorter something was the more it vibrated sound and the higher the pitch. The longer something was it vibrated less and the pitch was lower.
We then tried to show this by making straw instruments and shortening them as we blew into them.
It was really hard, especially as we couldn't stop laughing…… but we got there eventually!