SMSC
Great Get Together
In Juniper class we have been thinking about the meaning of Community. We considered the benefits of the different communities we each belong to. We thought about how this related to Jo Cox's Quote, " We are far more united and have far more in common with each other than things that divide us."
Together we created a poster with what community means to us. We used the symbol of a tree.
We thought how are communities like trees? Here are some of our ideas:
Rebecca, " Roots hold the community strong for lots of Years."
Auden "The branches are like the different community groups. Some are long and some short. All different but all part of a larger group. "
Sophie, "The leaves like people are all different. They may have different patterns, shades, sizes, textures but they are all leaves and do the same jobs - shelter and make food. People are all different shapes and sizes and have different things they like but every one is human and lots of the same things we need are the same. We need family and shelter and food and friends. Also everyone likes to have fun."
James, "The tree is home to lots of different species all different but in harmony with each other."
Jacob, "Each tree is individual but everyone does a similar jobs with the same parts."
George, "The bark protects the tree and communities support and protect people."
Esmae, "The leaves make oxygen which we all need to live and people need communities."
We shared our ideas during todays Great Get together event.
During the week some of us made cakes and biscuits for the event which we shared together - our own Juniper Class community
Growing Up and Keeping Safe
Big Talk Education were asked to lead a workshop for parents all about our SRE curriculum about 'Growing Up and Keeping Safe.' This work links to Internet Safety work too. Thank you to those who attended – the feedback was very positive. Big Talk Education will be leading lessons in school this term and working with the teachers and pupils.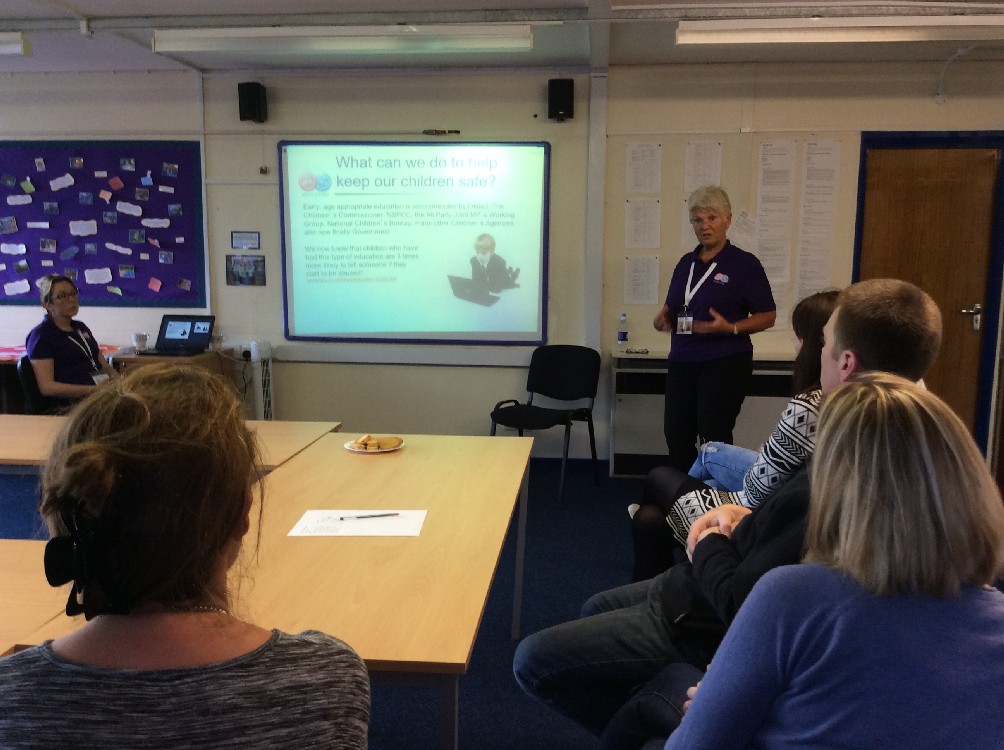 Water Safety
Callum from Grimsby Aquatics Swimming School led our school assembly today on the theme of 'Water Safety.' Keeping yourself and other safe is very important to us at Stanford and this links with the work we do on Internet Safety, Fire Safety and Road Safety etc.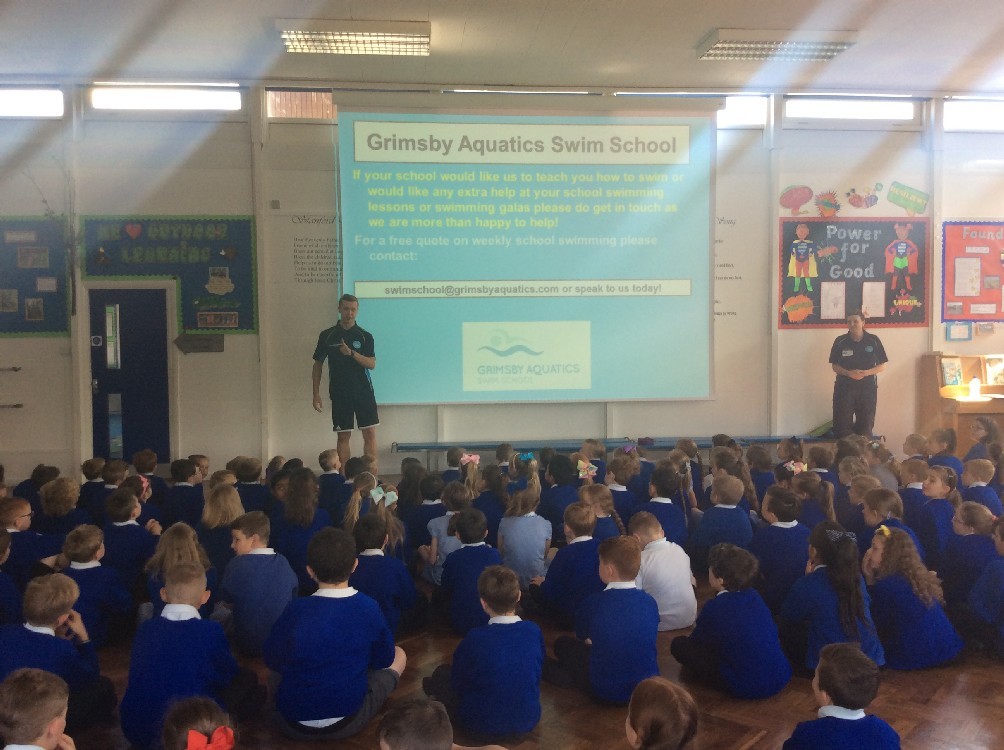 British Values: Can I learn how an election works?
Sunflower Class
Sunflower Class found out how to vote today. They discussed what was happening in the General Election and participated in the voting process themselves. They each cast their vote in order to choose a charity that the school would raise funds for.
Before they visited the polling station (school library) they listened carefully and discussed information about each charity. The charities were: Unicef, Blue Cross, Teenage Cancer Trust, Manchester One Love and St. Andrew's Hospice.
Jacob- I put an X in the box next to my favourite charity.
Lily- I had to fold up my voting slip and put it in a box.
Dexter- I really hope my charity wins.
Sam- It was fair because everyone could vote.
Mustard Class
Mustard class worked in groups to research information about a variety of charities and then gave a presentation back to the rest of the class, so that they all understood what each charity represented. They then all took part in a secret vote using ballot papers and posted their votes in a ballot box.
This was all very exciting and allowed them to vote like adults.
Barley Class
Recently, Barley class have been learning about the general election and the parties that are involved. As a school pupil voice decided to have a vote on which charity we would like to support in school this year: One Love, Unicef, St Andrews Hospice, Teenage Cancer Trust and Blue Cross
Barley class worked in groups to research information about the charities that we were voting for and then gave a presentation back to the rest of the class, so that they all understood what each charity represented. They then all took part in a secret vote using ballot papers and posted their votes in a ballot box.
This was all very exciting and allowed them to vote like adults. The votes were counted and verified with the winner being... Blue Cross!
Walk to School Week
Wow what a healthy class. All these pupils either walked, scooted or biked to school every day as part of Walk to School week.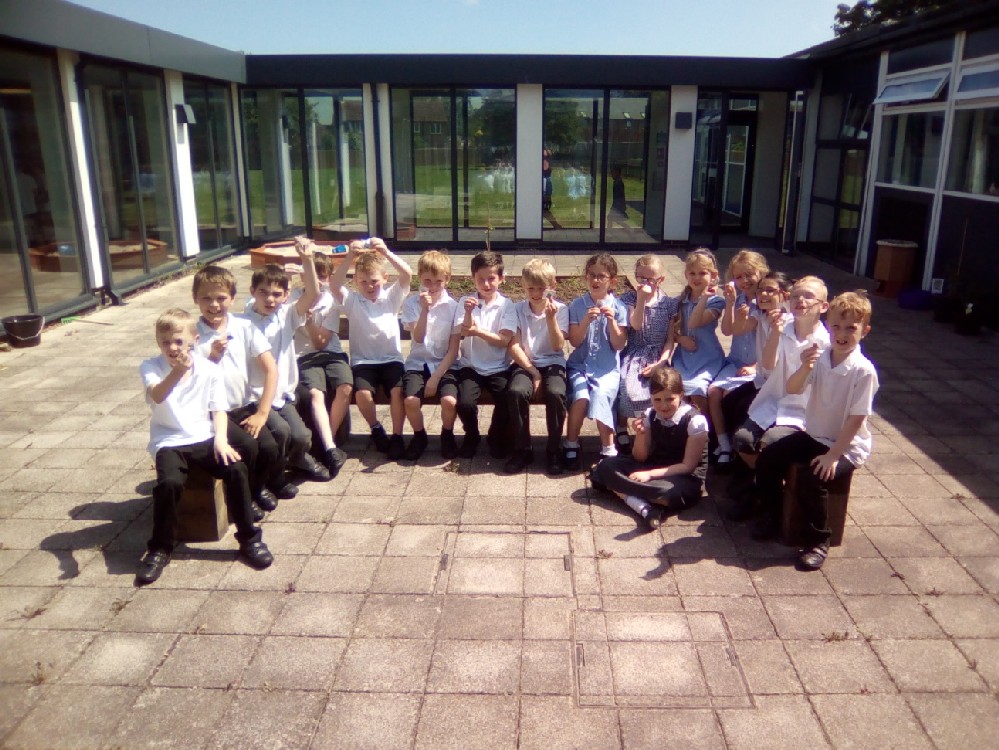 Feeling relaxed
Juniper class practised some yoga moves under the shade of our wonderful Oak tree.
"I had to really concentrate to keep my balance." Rebecca
"I loved being outside especially near this tree on a hot day." Owyn
"I felt lovely and relaxed and calm afterwards." Auden
Healthy Eating Workshops
Food for Fitness led workshops for parents and pupils all about health eating. Pupils enjoyed preparing food from scratch and tasting the delicious choices – they were inspired to start cooking! Thank you to the families who attended and to Mrs Harvey for leading these workshops.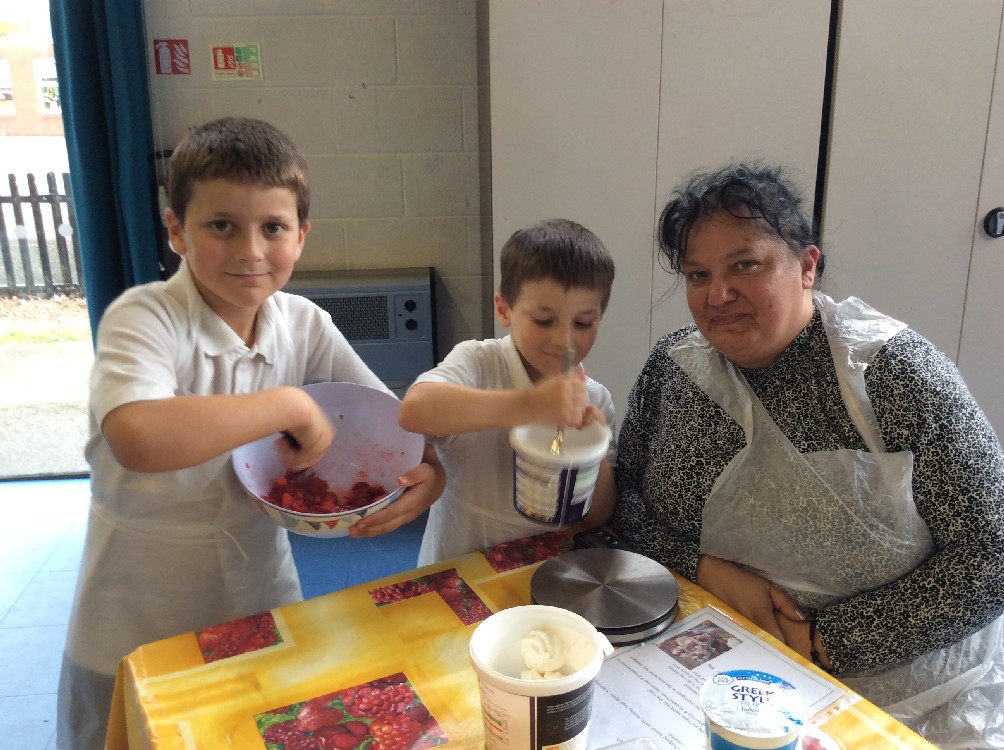 Road Safety Sticker Day
This month's Road Safety Sticker Day was another great success – 207 pupils (89%) chose to walk, bike or scoot to school today to help reduce traffic congestion and make healthy choices ! Well done! Great community links, support from parents, pupils and staff. Abi (Head Girl) and Connor (Head Boy) were great role models too and also helped hand out stickers. Many thanks.
Cooking
Year 3 prepared and made a healthy and tasty meal using tomatoes and herbs as the main ingredients.  They made pasta with tomato and basil sauce with herby garlic bread. This involved ensuring hygiene procedures were used, following a recipe, and evaluating the finished dish. Most agreed it was delicious!  Many were inspired to want to cook this recipe using fresh ingredients at home.  We also identified which part of the Eat well plate each of the ingredients belonged to applying our previous learning on healthy eating.
The Club - Thank you!
We are very grateful for the community links we have – thank you for the donations from His Church Charity and GTFC regarding free breakfast cereal for The Club at Stanford.
Can I learn basic First Aid skills?
Barley class learnt the basic skills needed in First Aid. They worked in small groups to act out what they would do in different scenarios.
Well Done Emily!
We are so proud of Emily who swam 5Ks for the Marie Curie Charity – she has raised £855! Well done Emily! Thanks to those who supported her too – Alysia was there to cheer her friend on and award the medal!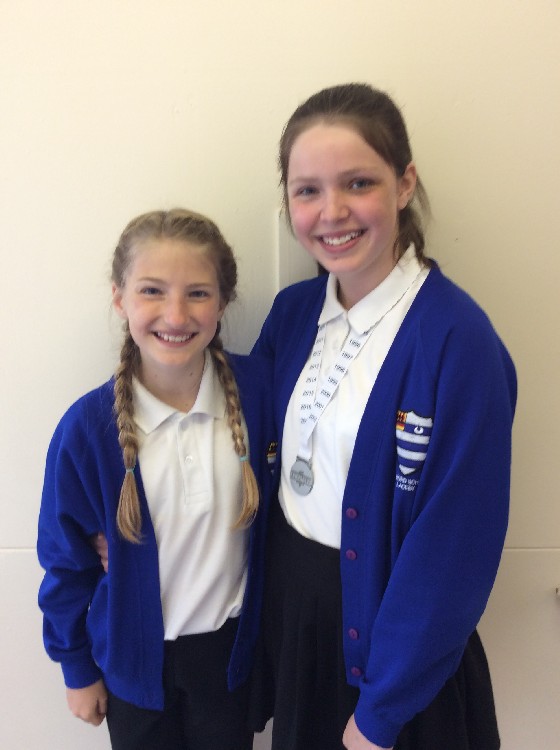 Relax Kids
Mrs Gresham came and worked with Barley class on ways to help them relax, breathing exercises and mindfulness exercises.
Some of the activities pupils took part in were describing themselves using one word, listening to relaxing music- meditating, 'compliment cloud'. Pupils were shown how to relax their bodies by shaking out their arms, legs, rotating their ankles and wrists. Making a figure of 8 round their eyes and rubbing their cheeks in a circular motion also helps you relax.
The pupils had a wonderful afternoon, thank you to Mrs Gresham for delivering these sessions- the pupils really enjoyed relax kids programme!
Humberside Fire Service 27 April
Foundation and KS1
Today our assembly was led by Sara and Shona from the Humberside Fire and Rescue Service who talk to us about Fire Safety. We learnt about smoke alarms and which rooms to put them in around our homes. Then we were told what to do if someones clothes caught fire and to 'STOP, DROP and ROLL'. Can you tell a grown up the rhyme? 'Get out, Stay out, call 999'
KS2
The Humberside Fire and Rescue team came to speak to Key Stage 2 pupils about the dangers of fires, what to do in an emergency and also what to do if there is a fire. Pupils asked some excellent questions and learnt about fire safety.
LQ: When the going gets tough, how do we cope?
Barley class have been discussion the following question, 'When the going gets tough, how do we cope? We had an excellent discussion on the different types of activities we do when we are feeling stressed, worried or in need of a break. Barley class use a wide range of activities to help them relax.
Mental Health Discussion: Feeling unhappy? How could we help?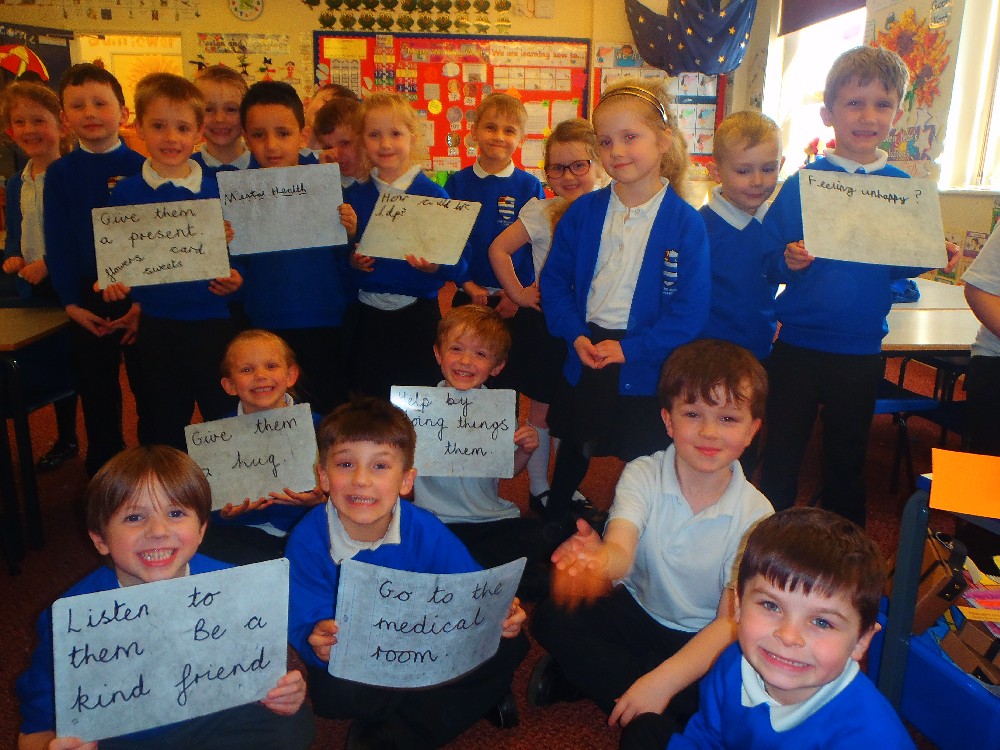 The Sunflowers discussed how important it is to look after each other and enjoy good health. They agreed that healthy eating and exercise are important ways to look after our bodies. Then they thought about looking after our mental health. If someone was feeling unhappy, how could we help them?
Stanley- Give them a card to cheer them up.
Holly- Talk to them and ask what's wrong.
Finley- Listen carefully to them. It might help them to just talk about their problems.
Ella- Let Mrs. Cawley talk to them. She helps people when they are worried.
Awis- I would help someone who was upset by putting their things away for them.
Mustard Class: Mental Health
We were asked to consider what is meant by Mental health as part of our SMSC (Social, moral, spiritual and cultural) learning.
We talked with partners and in small groups to discuss positive and negative mental health and thought of strategies to help us when we have negative feelings. Some of the responses were recorded on the interactive white board.
Most of us had a clearer insight as to what mental health meant by the end of the lesson.
International Day of Happiness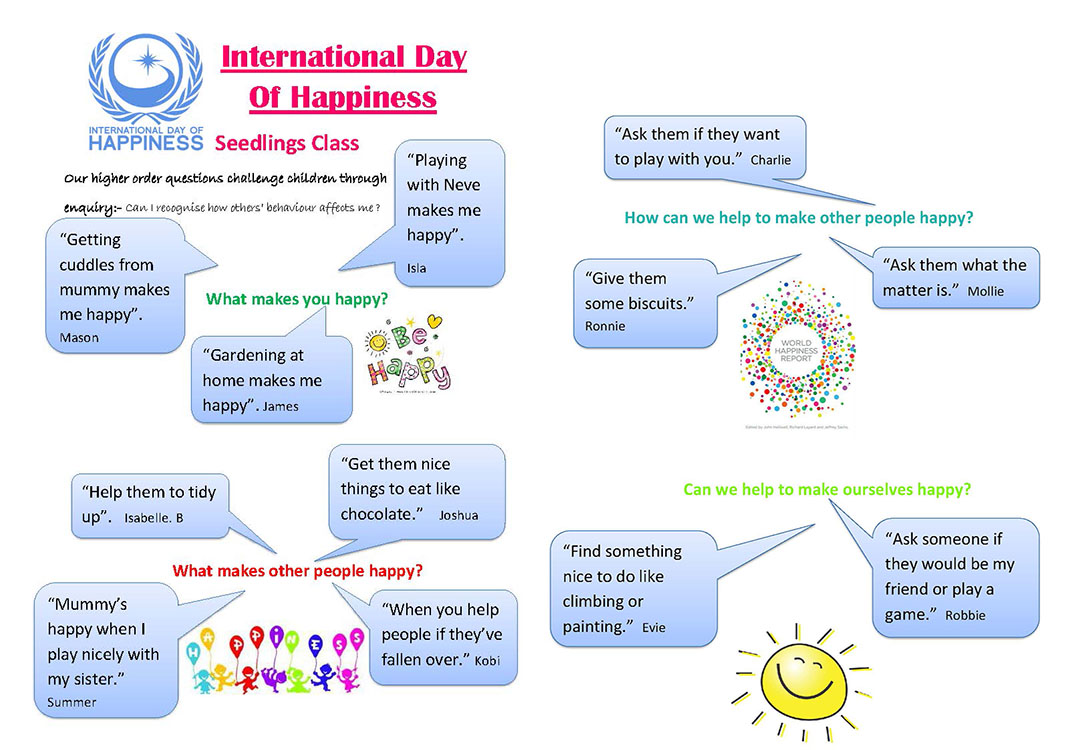 Red Nose Day
Sunflower Class raised a total of £27.35 on Red Nose Day for Comic Relief. Well done everyone!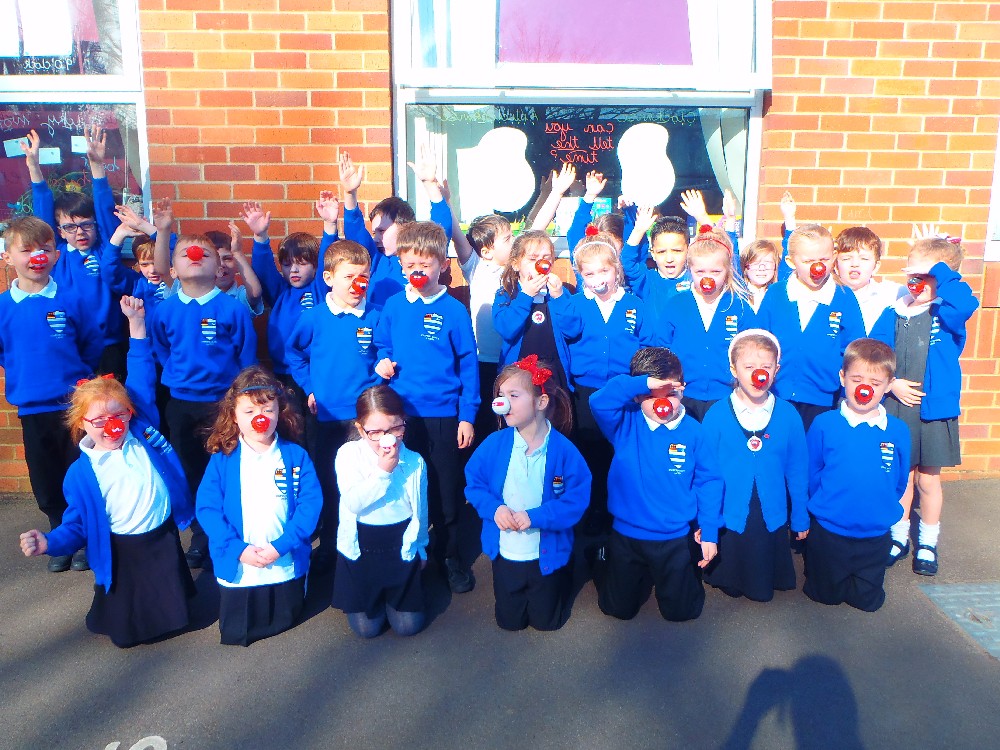 After School Club
Thank you to the members of the after-school club for donating their lovely baking to raise funds for Red Nose Day. The pupils enjoyed developing their baking skills too and there were lots of happy customers.
Dentist Visit
Children from Seedlings class have been learning about how the dentist helps us and ways to look after our teeth. Tracy, the dentist, showed us some of her tools and equipment then talked about how to brush our teeth correctly for 2 minutes. Tracy then showed us some real teeth that had not been brushed correctly and had tooth decay! Next, we played a game to find out which foods were 'good' and which were 'bad' for our teeth. Later, we dressed up as dentists, looked closely at each other's teeth and took home a new toothbrush too!
LQ: Can I learn about eating healthy eating and how to have a balanced diet?
Key Stage 2 pupils had a fantastic afternoon, learning how to have a balanced diet and learning about the key food groups. A 'Ready, Steady, Cook' Interactive Challenge was created with Chartwells. Four pupils worked in two separate teams to create two healthy and nutritious meals... in 15 minutes! It was a great afternoon with critiques from our audience members and tasters as well!
Sticker Day Campaign
Stanford takes road safety very seriously. Pupils, Parish Councillors, Governors, staff and parents support our Sticker Day' campaign. Pupils are encouraged to make healthy choices to walk, ride a bike or scoot to school every day. This help develop a healthier life style and also helps reduce traffic congestion in and around school. Pupils receive a sticker in recognition of their support. Today 207/234 pupils chose to support the event – our highest number yet! A big thank you to all involved.
LQ: Is the Internet safe? Is the internet a good thing? Is it always right to put your opinion online?
As part of our deeper questioning focus in Barley Class, we posed the following questions: Is the internet safe? Is the internet a good thing? Is it always right to put your opinion online? Pupils created posters of their thoughts and opinions and then discussed these questions in small groups. There were some very powerful discussions from each pupil.
Internet Safety Week
As part of Internet Safety Week we are developing our deeper thinking skills. We posed the question "Is the Internet Safe?" We discussed as a class the positives and negatives of the Internet and chose the ones we thought were the best.
How safe is the internet?
Mustard Class were involved in a debate relating to 'How safe is the internet?' There were some very interesting and profound questions posed by the children, which were then answered by some of their peers. The children definitely showed their understanding of using the Internet safely. Well done Mustard Class!
Road Safety
Mustard Class learnt about blind spots in lorries and the importance of keeping their distance from large, heavy vehicles, in order to keep themselves safe on the road.
Community Volunteers 1 February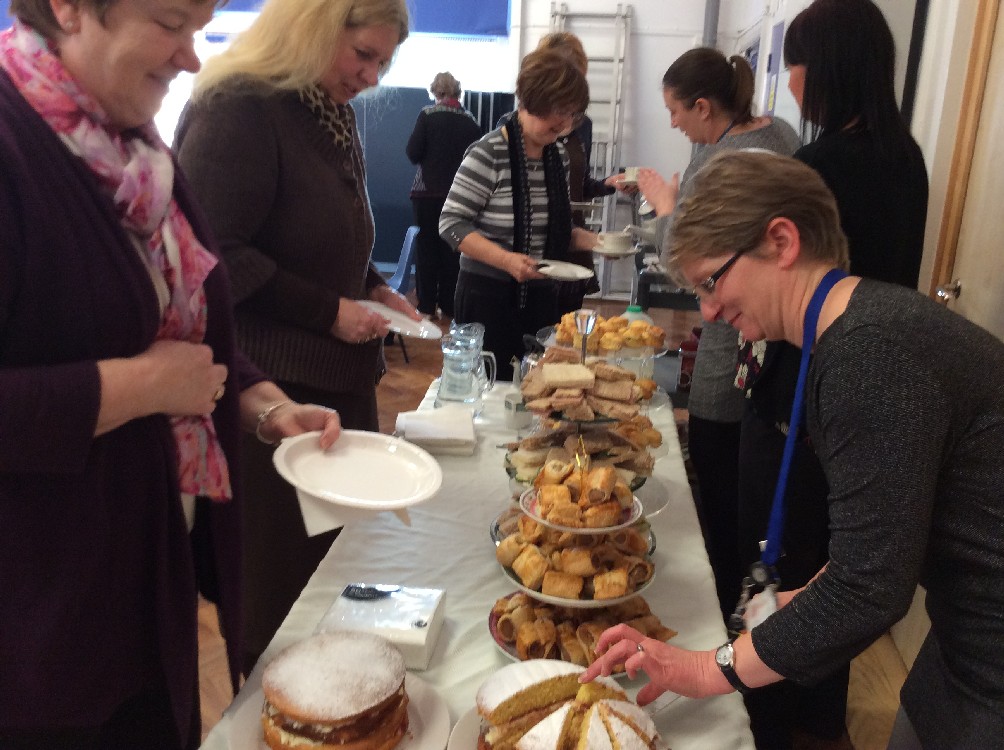 Stanford appreciate all the support they receive from community volunteers. We organised a 'Thank you High-Tea' and were delighted that so many parent and grandparent helpers, Governors, agencies, Stanford Trust, St Margaret's Church and PTFA members could attend.
Each class presented a poem, song or dance and pupils made mini-scones, finger sandwiches and cakes for the guests. We had a lovely afternoon.
One guest commented, 'I so enjoyed the afternoon. The children obviously enjoy their learning at Stanford. So many aspects of life skills, such as helping each other were seen etc along with the inspiring staff. Thank you for the varied entertainment and lovely tea.
Owls visit
Juniper Class
Today, our school field has some special visitors -
Julie and Mark from Lincoln Owl Rescue. They have brought with them an European Eagle Owl, Tawny Owl , Barn Owl, North American Screech & Australian Boobook for the pupils to see and learn about.
"I liked Jesse the Eagle owl the best because of his massive orange eyes." Owyn
"I loved seeing Sunbeam the tawny owl. His feathers looked so soft." Archie
Mustard Class
Mustard Class really enjoyed meeting the different types of owls that made a flying visit to Stanford today. They (the children) were very inquisitive and asked several profound questions about our visitors.
Year 5 and 6 Collaboration
Mustard and Barley Classes worked together to find a Newspaper clip to analyse and label with the features of a newspaper. The children enjoyed supporting one another with their learning.
Dental Hygiene
Today Miss Devaney came to talk to Seedlings class about dental hygiene and ways to keep our teeth healthy. We learnt about cleaning our teeth for 2 minutes, twice a day and foods we should not eat too often such as sweets
Road Safety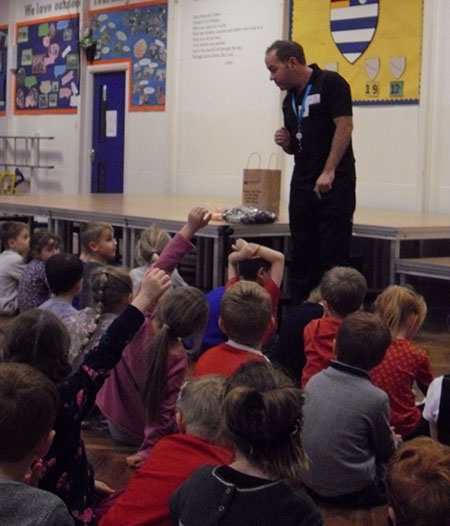 Mr Cullum from NEL Road Safety Dept kick started our 'Road Safety Week' at a special assembly attended by community members , councillors and governors. We ensure road safety is an important part of the curriculum as Stanford. Mr Cullum was very impressed with the work we do and the excellent listening skills and knowledge the pupils showed.
Children in Need
Well done to all the children in Stanford for their contributions towards Children in Need day. The amounts for each team have been totalled and are as follows:
Blue £61.85
Green £47.84
Yellow £56.60
Red £61 79
Altogether, £228.08 was raised to support this needy cause. Once again, thank you to all the parents who continue to give their support
A huge thanks to parents and children for supporting this event. Each class went in turn to place all their loose change onto a Pudsey Bear of their team colour. We have not, as yet, calculated the amount given, but will send a text as soon as we know. Please look at the photos. A brilliant effort!
Sunflower Class
Sunflower Class kindly donated lots of money for Children in Need and Elliott baked special Pudsey cakes for everyone! Bestsie- It was very kind of Elliott to bring them in. Jamie- The money will help children who haven't got many things. Millie- The money will help poorly children get better.
Anti-Bullying Week
The children had a busy week reminding them about anti-bullying, what it is and what to do about it. We shared some of the activities they were involved in in our Friday morning Assembly. Some of the activities included acting out scenarios, designing super heroes to combat bullying and a rap. All the classes collaborated with another class at some time during the week. This has really reinforced the importance of anti-bullying. Well done Stanford!'
Seedlings Class
This week our focus has been about 'Anti-bullying'. During the week children from Seedlings class thought about who they might talk to if they felt sad, talked about 'top tips for a happy school' and played collaboratively with Pumpkin class. We also recognised extra friendly children during the week.
Sunflower and Mustard Class
Sunflower class and Mustard class worked together during Anti-Bullying Week. They made wreaths out of their hands and wrote down the qualities of a good friend. They acted out scenarios to show what a good friend would do if they saw someone who was injured or who felt lonely. This collaboration enabled the children to make new friends with someone from a different class. The children sang a rap together and taught each other games outside to develop all the positive friendship messages further.
Awis- I liked playing with Brandon. We played tig.
Thomas- I enjoyed making new friends and playing with them.
Louis- I enjoyed playing with new friends. We played 'Piggy in the Middle.'
Charlie- I liked teaching Connor how to balance.
Jess K- It was good to make new friends.
Brandon- I liked learning the rap. It was about good anti-bullying messages.
Olivia- I liked playing with Jasmine and Jorja outside.
Holly- I liked making my hand for the wreath. I wrote kind things on it.
Mr Fairfax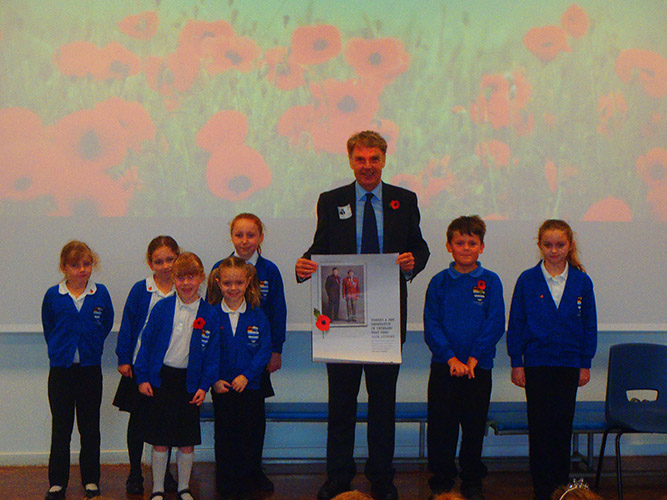 Mr. Fairfax from The Royal British Legion came to school to talk to us about Remembrance.
The children in Sunflower class explained what they learnt:
Olivia- We remember people who have been in the war.
Katie- He told us if we wear a poppy it will help us to remember.
Finley- The poppy money goes to a charity. They help people who have been injured or families who have lost a mum or dad.
British Values
Mustard Class worked in groups to discuss various aspects of British Values, which they then presented back to the class. Some of the children were surprised that most of these values are followed through in school! They all shared some brilliant explanations. Well done Mustard Class!
Litter Picking
Some of our Year 5 children led an assembly relating to keeping our school environment litter free.  These children give up playtimes and lunch times to pick up litter around the school.  They do a wonderful job!
Playleaders
The majority of the children in Mustard Class have volunteered to be 'Play leaders' to support KS1 children at playtimes.  They all produced Powerpoints and voted for the best one to be presented in an Assembly.
Sun Safety
Some Year 5 children came to Poppy class with a very important reminder.
They showed us a presentation that they had created, reminding us how to stay safe in the sun.
Road Safety
Seedlings class learnt about road safety. They found out about different safe places to cross the road such as a 'Pelican crossing' or 'Zebra crossing'. We also practised crossing the road safely, remembering to 'Stop', 'Look', 'Listen' and 'Think'
Relaxed Kids
Seedlings class have been working with Amy from 'Relaxed Kids' to learn about ways to relax and be calm. First we explored and imaginary woods, gently held a tiny bird and carefully put it back in its tree. Next, we stretch up tall before learning how to breathe in through our nose and slowly out through our mouths with our teddies on our tummy. Finally, we curled up with our teddies and listened to some calm twinkling music. What a wonderful relaxing afternoon. Thank you Amy
British Values
At Grimsby Minster the Year 4 and Year 5 children learnt all about British Values. They drew pictures of British symbols and displayed their work on a giant frieze. Ava- 'I drew the English rose and added a crown, to represent the Royal family.' Simon- I drew fish and chips because it's the best British meal.' Grace- 'I've drawn a poppy and a medal to remember people who died in the war.
Healthy Eating
Star Anise and Mustard classes enjoyed tasting a variety of exotic fruits related to Healthy Eating.