Comenius Project
Sharing Traditions, Creating Unity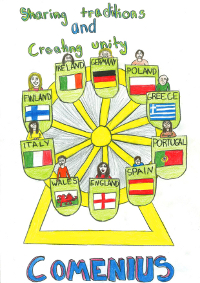 At Stanford, we are very fortunate to be part of a Comenius project with 9 other European countries. We have links with schools in Spain, Portugal, Poland, Finland, Ireland, Wales, Germany, Greece and Italy. Every child in the school has a pen pal from one of these countries. We regularly receive and write letters to tell each other all about our countries traditions.
On this page you will find out about some of the learning activities we have taken part in to learn about and share the traditions from each of the countries involved in the project.
We spent a half term learning traditional dances from our country to share with our partner schools.
We also learnt and performed the English National Anthem in assembly.
For Halloween, all the countries wrote their own Spooky Stories. Here is the book we created.
In KS1 we learnt all about the traditions of Finland, Germany and Greece. We made traditional items from these countries and then sold them to our parents to raise money to buy new wet play time toys.
(Insert pictures already on class HH page)
We looked at 'Healthy Meals' from each country and made a powerpoint about our 'Healthy Eating'.
We also got to hear about and see pictures of the schools from our partner countries. 
Portugal Visit
Germany Visit
Greece Visit