Arts
Barley class completed their African masks using a range of materials.... don't they look amazing and effective!?
Egyptian Hook Day
On Thursday 7th September we had a hook day to start off our learning about the Ancient Egyptians. As ever the parents were incredibly supportive and creative with the costumes based upon the theme 'Egyptians, Mummies and Explorers'. The children looked wonderful.
(Keep the togas safe Mum and Dads as we will be 'visiting' the Roman Era in the summer.)
---
Can I create a canopic jar?
This will link into a DT project where the children will design their own canopic jar. The children used kitchen paper towels with glue to cover a plastic cup. The children were full of questions about what these jars were used for, and we will find out about the gory details of the mummification process later this term…..if they can wait that long!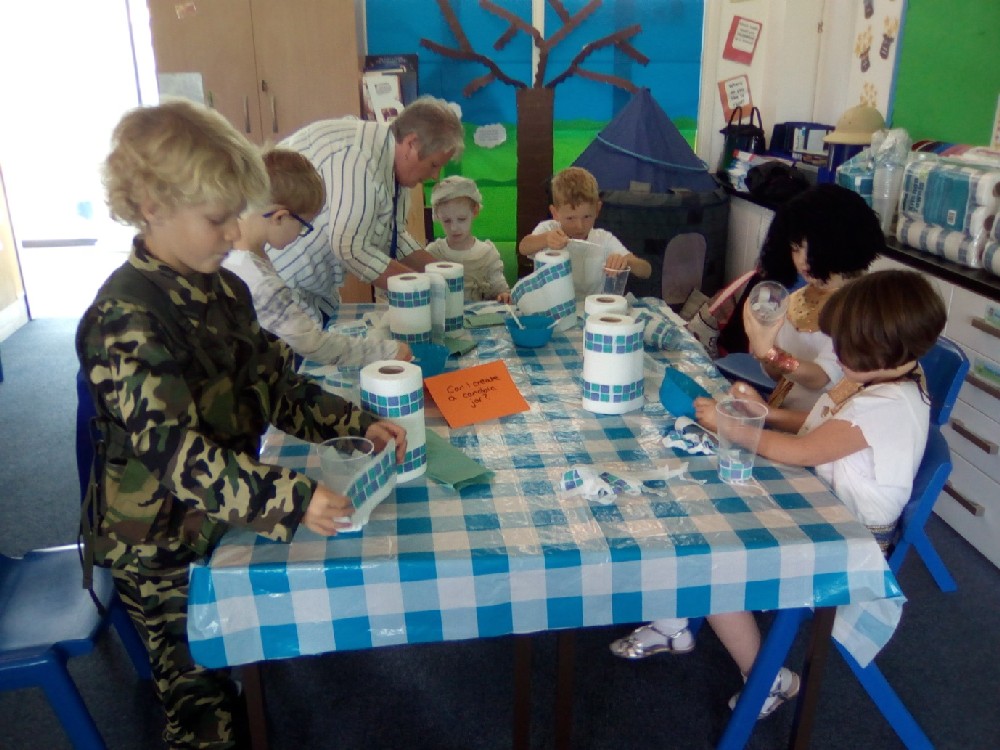 Can I make papyrus?
The children learnt about how the Ancient Egyptians invented the earliest paper. They made it from the papyrus plant which is where the word paper comes from. Papyrus was made by splitting the stems of the plant into thin strips and soaking the strips in water. The strips were then placed onto top of each other in a criss-cross pattern. The sheet would then be hit with a mallet to bond the fibres together and then left for a few days to dry with heavy weights on the top. We used strips of newspaper and placed them in a criss-cross pattern. We had to use several layers to make one piece of paper. We then had to leave it until it had thoroughly dried which took 4 days. We are going to try drawing and writing on the paper. What a lot of hard work! Let's hope we don't make a mistake as it took days to make 1 sheet!
Maths Challenge: Can I estimate, calculate and check how many cubes it would take to make a pyramid?
The children were given a base of 10x10. The children had to first estimate how many cubes it would check. Then they had to look at the base & visualise each layer and work out how many cubes would be in each layer and find the total number of cubes. Finally the children were allowed to get the cubes and check their work. This wasn't easy as they needed steady hands!! Luckily they had plenty of friends to help.
Can create an Egyptian Costume?
The children were given paper dolls for them to create Egyptian costumes. The children enjoyed getting creative.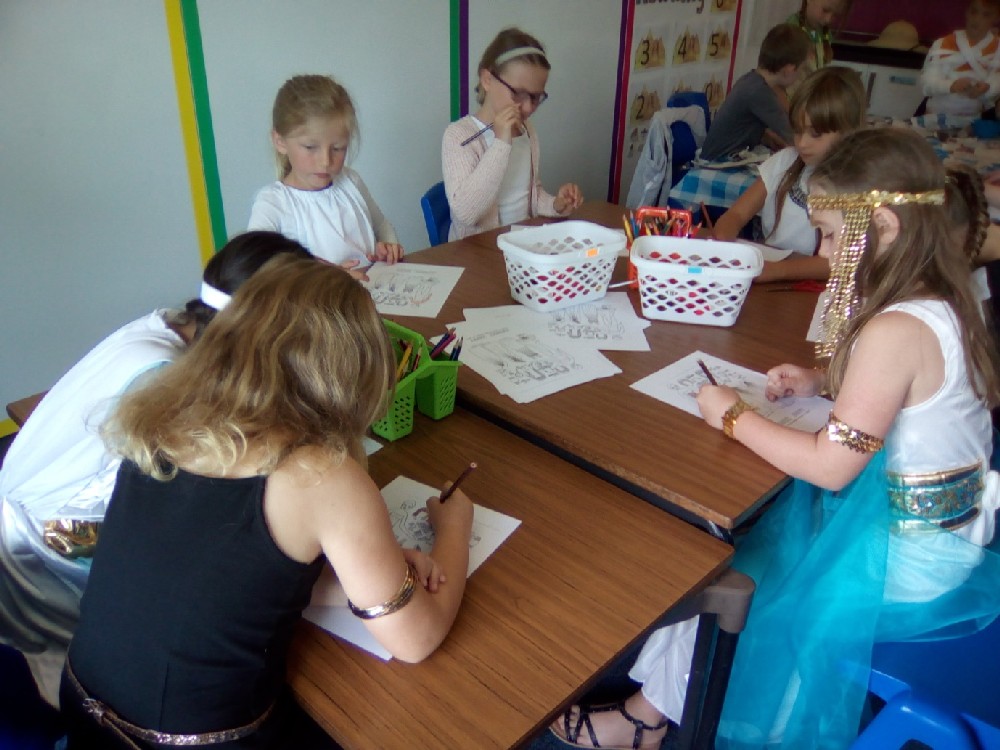 These are just some of the activities we enjoyed. We built pyramids. We tried 'Walking like an Egyptian' and we have learnt some Egyptian songs which I am sure you will be hearing the children sing at home.
We had a fabulous day and we had lots of fun! 
Can I create fruit faces like Giuseppe Arcimboldo?
For their Hook Day, the Year 1 children learnt all about Arcimboldo and were inspired to create exciting fruit faces using both art materials and real fruit. James- Arcimboldo was born in Italy and he was an artist when the years started with 15 (1500s). Oscar- I enjoyed painting fruit faces and liked to put a face on a pineapple shape. Jack- I made a face with real fruit and I ate it all up! Millie- I made a fruit face. I did some cutting and sticking. Mason- I could make a fruit face on the laptop. I played a game. Indianna- My group worked together to make a big fruit face. We had black cherries, watermelon and grapes. Isabelle B- We used apples, blueberries, strawberries and we had cherries. It was nice to eat. Neve- I really enjoyed making a big fruit face on the carpet with pineapples and lots of bananas. Taylor- I found out that Arcimboldo made faces with vegetables too
Can I draw a detailed picture of St. Margaret's Church?
Sunflower Class enjoyed drawing pictures of the church. These particular pictures were presented to Mr. Stevens during a recent visit to thank him for showing the class around the church.
Using Stanford Nature Area to Inspire our William Morris designs
William Morris didn't like the mass produced art of the industrialised Victorian society. He began the Arts and Crafts movement which favoured a return to skilled workmanship and high quality goods. His work was heavily influenced by and featured designs based on nature. We studied his artwork and then collected different leaves from the nature area to inspire our own individual designs.
Lovely Leaves
Our finished leaves have finally arrived in school. Each of them is absolutely unique, just like us!
We were delighted with our leaves and we will treasure them forever.
Poppy class would like to thank Zoe from Firefly Ceramics for all of her hard work.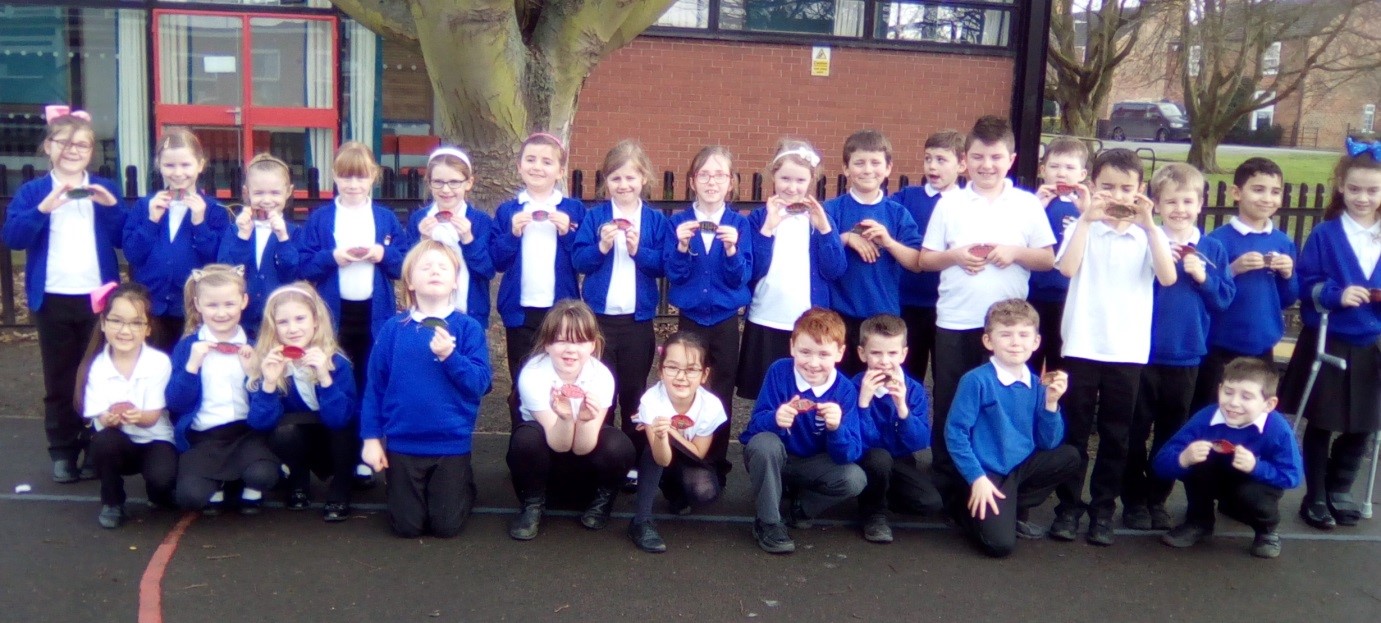 Valentine's crafts
A Valentine's craft session after school brought children together of all ages to learn new skills and produce beautiful craft items. Many thanks to all the staff for their help and to Mrs. Drury for all her wonderful craft ideas and hard work!
Megan (age 8)- It's really good and it helped people to improve their sewing.
Betsie (age 6)- It's nice sewing.
Olivia (age 5)- I like doing lots of crafts.
Katie (age 6)- The love heart making was tricky.
Emma (age 7)- I made a Valentine's box. The cutting was hard, but the decorating was easy.
Ruby (age 9)- I was pleased with my card. I liked making the hanging heart.
Sam (age 6)- I enjoyed being with other people and having a drink and a biscuit.
Peruvian Weaving
Sunflowers have started doing some Peruvian weaving with wool. Thank you to Mrs. Bennett for showing us how to use a cardboard loom.
Oscar- I like it; it's easy.
Cerys- It's hard and you have to concentrate.
Jayden- It's a challenge and I can do it a bit.
Katie- It goes in a pattern; over, under, over, under...
Around the School 8 December
Look at all the creative art work that is on display around the school.
Displays 18 October
Sara Look at all our lovely art work and wonderful displays around our school.
Clay Tile Home 16 October
This week Seedlings Class have had busy fingers working with clay to make a house. They pressed, patted and rolled the clay flat before using the square and triangle shapes to cut around. They finished their clay tile house by drawing features such as windows and a door.
Clay Painting
Sunflower Class 4 October
Zoe from Firefly Ceramics came back today to show us our sunflowers now they have been fired. We all painted them and we are looking forward to seeing them completed.
Seedlings 29 September
Today, we have had an exciting afternoon working with Zoe, the pottery specialist, who has shown us how to make clay seedlings! With busy fingers we rolled the clay into a ball to make the base then used a rolling pin to roll the clay flat before cutting out leaves and a seedling. Finally, we joined it all together using a mix of water and clay called 'slip'. Zoe will then fire the seedlings in the kiln before she brings them back for us to paint. We look forward to seeing what they look like and how they have changed!
Hokusai's Great Wave! 9 September
As part of our Extreme topic in Braley Class, we have been looking at Hokusai's picture called 'The Great Wave'. Hokusai was a Japanese artist who was a painter and printmaker. Barley's challenge was to recreate 'The Great Wave' using different mediums they felt most comfortable with. We still need to complete these but we think they are already looking great!
Art Clay
The new Sunflowers had great fun working with a local artist called Zoe during the transition week. They learnt how to make sunflowers and leaves out of clay. Dexter- I liked making slip, when we poured water on the clay.
Alissa- I loved all of it!
Cloe- Ella- I made a leaf with my name on.
Holly- We had to roll out the clay and press it on a sunflower shape
Beast Assembly
Sunflower Class created exciting beasts and animal puppets using mixed media. They were very proud to show off their lovely work in their class assemb
BBC Ten Pieces Artwork 20 June
Mrs Brady introduced ten exciting pieces of classical music to all the children in the school. Everyone was engaged and immersed in the music.
The BBC film 'Ten Pieces' presented the music in a creative way through vibrant action and animation. It took the children on a journey of wonder through its wide range of pieces. Each class looked at one of the pieces in more detail, learning about the Composer and doing further listening and appraising. The children responded by producing exciting art work.
'Mars' from 'The Planets' by Holst had Pumpkin Class drawing with chalk. Seedlings wanted to know more about the story behind the music of 'In the Hall of the Mountain King' by Grieg and they watched a video.
A Night on the Bare Mountain' by Mussorgsky inspired Poppy Class to create volcanoes and scary chalk drawings.
Juniper Class explored Kandinsky style designs whilst listening to 'Short Ride in a Fast Machine' by Adams.
'The Storm Interlude' from 'Peter Grimes' by Britten was analysed in depth and historical and geographical facts were researched by Star Anise Class before they began drawing.
'Symphony No. 5' (1st movement) by Beethoven inspired interesting pencil sketches of the composer by Barley Class.
'Zadok the Priest' by Handel inspired imaginative drawings from Mustard Class.
'The Firebird' (Finale) by Stravinsky inspired Sunflower Class to create vibrant collages of birds.
There are two more pieces, that you might like to listen to at home: 'Horn Concerto No. 4' (3rd movement) by Mozart and 'Connect it' by Meredith.
Seedlings Class
Today Seedlings listened to various pieces of music from the 'BBC Ten Pieces'. We were inspired by Edvard Grieg's 'In The Hall Of The Mountain King'. The music tells the story of a boy named Peer Gynt who ran into the mountains and was chased by ugly trolls! Take a look at or pictures we created from the music.
Andy Goldsworthy Art
All the Year 1 children got together to find out more about the work of the land artist Andy Goldsworthy. Outside, they worked together to create a human sculpture and a sculpture, like Andy Goldsworthy's; using natural materials.
Finley- 'This is my favourite thing to do.'
Amelia- 'I like doing this so much, that I make my own sculptures in my garden.'
Cole- 'I would like to make some on the beach.'
William- 'It won't last forever, so we have to take a photo.'
Grace- 'I hope it doesn't blow away.'
Leo- 'Andy Goldsworthy likes to use ice. He licks the ice to make it stick together.'
Bailey- 'Andy Goldsworthy likes circles.'
Sam- 'We made a wiggly line out of stones, like Andy Goldsworthy does.'
This week Sunflower Class have started looking at the environmental art by Andy Goldsworthy. They were so excited by it, that they rushed outside and made lots of exciting sculptures themselves, using different natural materials. For home-learning, why not read the information about Andy Goldsworthy and perhaps search online to see more of his wonderful art work!
Minster Art
Year 4 and 5 went to Grimsby Minster to see a fantastic exhibition of mini sheds called 'Deities at the Bottom of the Garden' by artist Richard Bartle.
Here is some information about the artist and his work:
Richard Bartle is a contemporary artist living in Sheffield who creates sculptures, installations, videos and paintings about society, current affairs, religion and politics.
Each one of the 'Deities at the Bottom of the Garden' sheds is beautifully crafted with intricate detailing. As a piece of sculpture they have been extensively researched and wherever possible Richard has used the same materials that would be used in their life-size counterparts. Details include hand-woven rugs, painted ceilings, hand-turned furniture and glass light fittings.
The children were lucky enough to meet the artist and ask him questions about his work, then they designed and made their own mini shed. We found out that Richard's sheds had been insured for £90,000! His sheds took 3 years to complete and the most difficult item he made was a miniature rug for the Islamic shed.
Jorja- 'They are so colourful. I can't believe how many different things are in them.'
Joseph- 'I have met the artist and had a good look at all these sheds. I like making my own too.'
Jasmine- 'Everything inside is so small.'
Jessica- 'They look so real.'
Mrs. Brady- 'I would like to thank Mrs Denton for inviting us to this wonderful exhibition. Everyone has thoroughly enjoyed it and we have all learnt such a lot about religious symbols, artefacts and sculpture.'
The Queen is 90 colouring competition
Congratulations from Mrs Brady to all the children who took part in The Queen is 90 colouring competition. The President of Grimsby Rotary Club, Mrs. Vaughan said the competition was very hard to judge, as all the entries were very good. The winners all received Smyth's Toy Shop Vouchers and their work will soon be on display in Asda. Mr Vaughan who also came to present the prizes, said that the winning entries will be entered again into another competition!
Mrs Brady would like to thank Mr and Mrs Vaughan for organising the competition and for presenting the children with such generous prizes.
Mrs Wink (School Governor) on behalf of the school received a very generous donation of £50 from the Rotary Club which will be used to buy new Art equipment.
Paper Making
KS1 and Foundation experienced paper making with artist Mrs Burdin. They learnt how to transform wet pulp into decorative paper.
Sam- I had never done this before.
Azem- It's great, my paper will have interesting colours in it.
Beau- I liked stirring the pulp.
Ryan- Alfie and me worked as a good team drying our paper.
Gracie- It was hard to stop the wet paper tearing.
Mrs Brady- All the children were fascinated with this process and they all worked cooperatively together. It also linked to our learning in Science, as we have been learning about properties of materials.
Displays around school
Look at all the wonderful art displays around our school. Can you see the different techniques and skills that have been used?
Rainbow Activities
On Monday Seedlings Class used paint in spray bottles to create different effects and played games with the parachute.
On Wednesday it was time to blow bubbles with the paint and create patterns by tie-dying fabric.
Felt making
On Thursday Seedlings class worked with a local felt artist, Vivienne Morpeth, who taught us how to create felt using sheep's fleece.
Vivienne showed us some of her artwork such as puppets, slippers and even clothes!
Then it was time to select the coloured fleece and gently 'tease out' pieces to create our design.
Next we used a 'bulb' to slowly squeeze soapy water onto the fleece before gently rubbing, stroking and rolling the fleece.
We are very proud of the felt bunting we all made.
Our artwork will be displayed in school to remind us of our wonderful day. Thank you Vivienne.
Over the Rainbow
For Seedlings topic 'Over the Rainbow' we have been very creative and used the various colours to create lots of different things. From a rainbow collage and a rainbow of coloured streamer to rainbow coloured bottles and mixing paints to create new colours in the rainbow. Can you name all the colours in the rainbow? Can you sing a song about a rainbow?