Healthy Schools
The Healthy Places 'Education' award is designed to help educational settings in North East Lincolnshire to create a programme of work to promote health, as they act as vehicles to empower individuals to live well where they work, learn and play.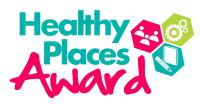 This is a fantastic award for schools and academies to work towards, which not only benefits the children and young people but also has a positive impact on the health of staff, parents/carers and wider community.
What are the Benefits ?
Improved health and happiness
Improved engagement and morale
Raised attendance levels for staff and children
Raised attainment and progression for staff
& children
Reduction in bullying
Better engagement with parents/carers and wider community.
Reduced absence level and increased attendance levels in workplace
Improved productivity and performance
Fewer accidents and injuries
Aims of the Project
Up skill and empower people to champion health
and take care of each other.
Inspire sustainable health related change.
Gain recognition for creating a healthier setting.
Deliver healthy lifestyle promotion on topics.
What we do
Breakfast Club (Mon, Weds & Fri)
Provide healthy lunches & encourage parents to do the same.
Encourage children to take part in physical activity with a range of out of school clubs.
Ask children to discuss their thoughts and feelings, related to well-being both in class and through 'Pupil Voice'.
---
Silver Award 2 February
Stanford School has achieved the Silver Award for the Healthy Places Scheme. We have shown that we follow an exciting, healthy curriculum, where everybody, children and staff, are encouraged to lead a healthy lifestyle. Well done Stanford!
A Health Start 22 September
Today got off to a healthy start as we ran a mile round the school field before lessons.
Healthy Eating 4 July
As part of our Healthy Places project we are moving towards earning the Silver award and, as part of this, we are keeping a close eye on Healthy Eating. Next week, Mustard Class will be looking at lunchboxes and awarding stickers to those children who have a healthy and balanced lunchbox. This will begin on Tuesday the 12th July and will continue for the week.
Some of our children in Mustard Class led an Assembly today to remind the school of the importance of eating healthily.
Typeonesie day 18 November
Today Juniper Class came dressed in our onesies to support Typeonesie day. We were given a talk by a class member with type 1 diabetes where we learnt all about the condition and how it affects people. We looked at the equipment needed and got to cuddle the type1diabetes bear which shows all the places where people with diabetes can be injected/tested.
"I didn't realise how hard it must be for her"
"I hope they find a cure"
"I now understand all about type one diabetes and glad that we learnt about it so I know about it."
'Stanford in Action' evening 30 September
Our presentation